If coffee was a love language, it would definitely be one of mine. Every morning, I look forward to making my first latte of the day – so much so, that I even got a Nespresso machine for my desk at work (I have the white one). It may seem a little "extra," but I spend so much time at work and don't want to shell out for Starbucks every day. I get so many questions about how I make my lattes and my Nespresso machine, so I hope this post will answer all of your questions!
Here's everything you need to know about my Nespresso + exactly what I use to make my lattes.
Which model do you have?
At work, I keep this Nespresso machine at my desk and at home we have this one. You can also find them here, here, here and here.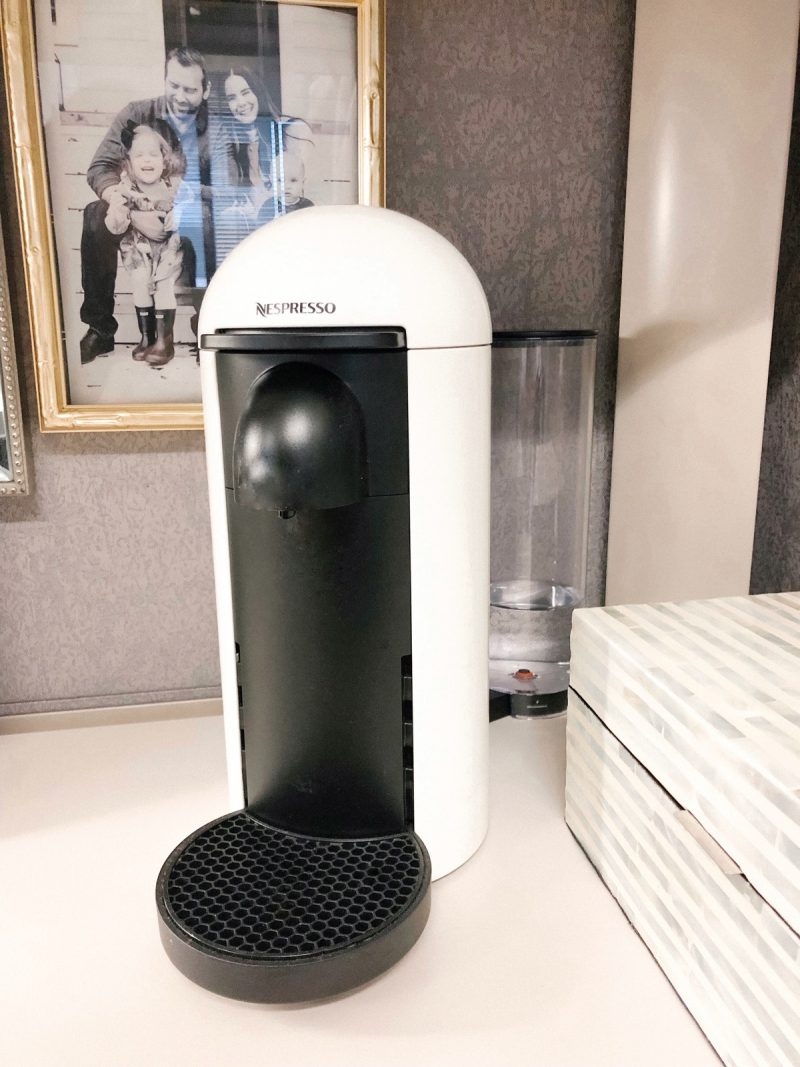 Do you have to buy pods?
Yes – I order my pods directly from Nespresso's website and they always arrive quickly. You can also buy them on amazon sometimes. Even with ordering the pods, it's still much cheaper than a daily Starbucks habit. Nespresso also has a recycling program for their pods, so I add a couple recycling bags to my order so I can send my used pods back.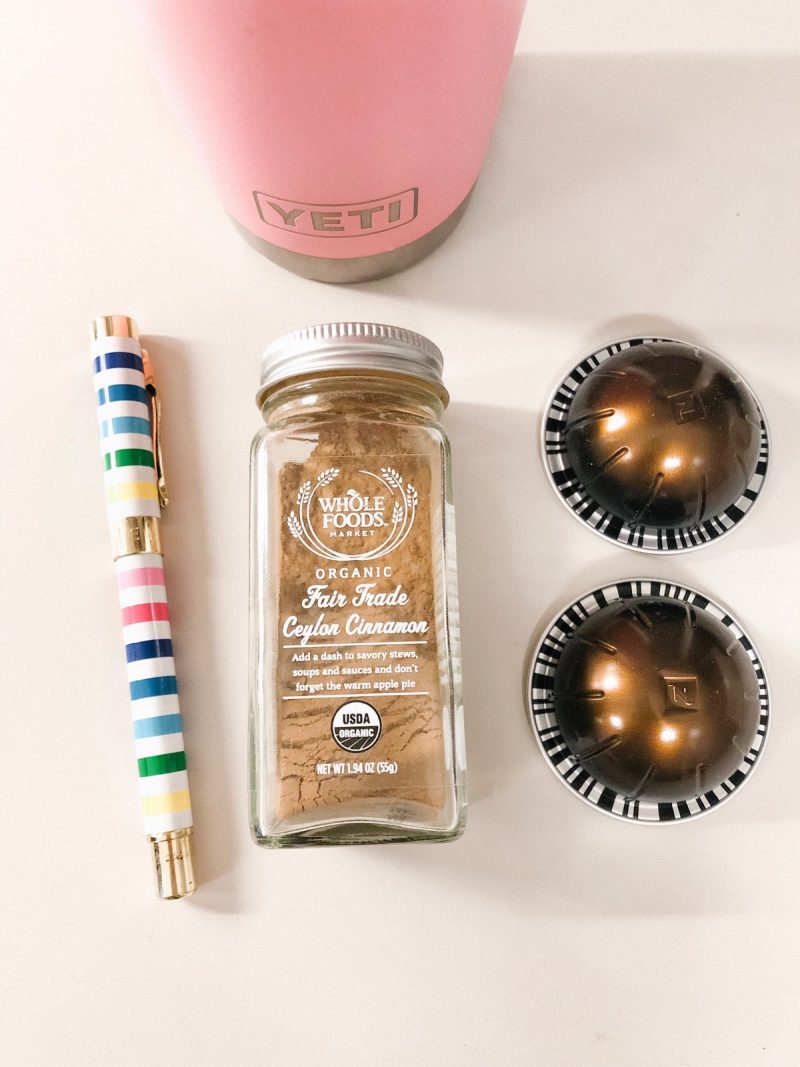 Do you have to have the milk frother?
Yes, and the milk frother is KEY. I don't think you should get a Nespresso without one (if you love lattes like I do). Both of our machines came with one as part of a bundle – the milk frother steams and fluffs your milk into latte goodness and makes your latte so creamy. I brew my espresso first and then top it with the steamed/frothed almond milk.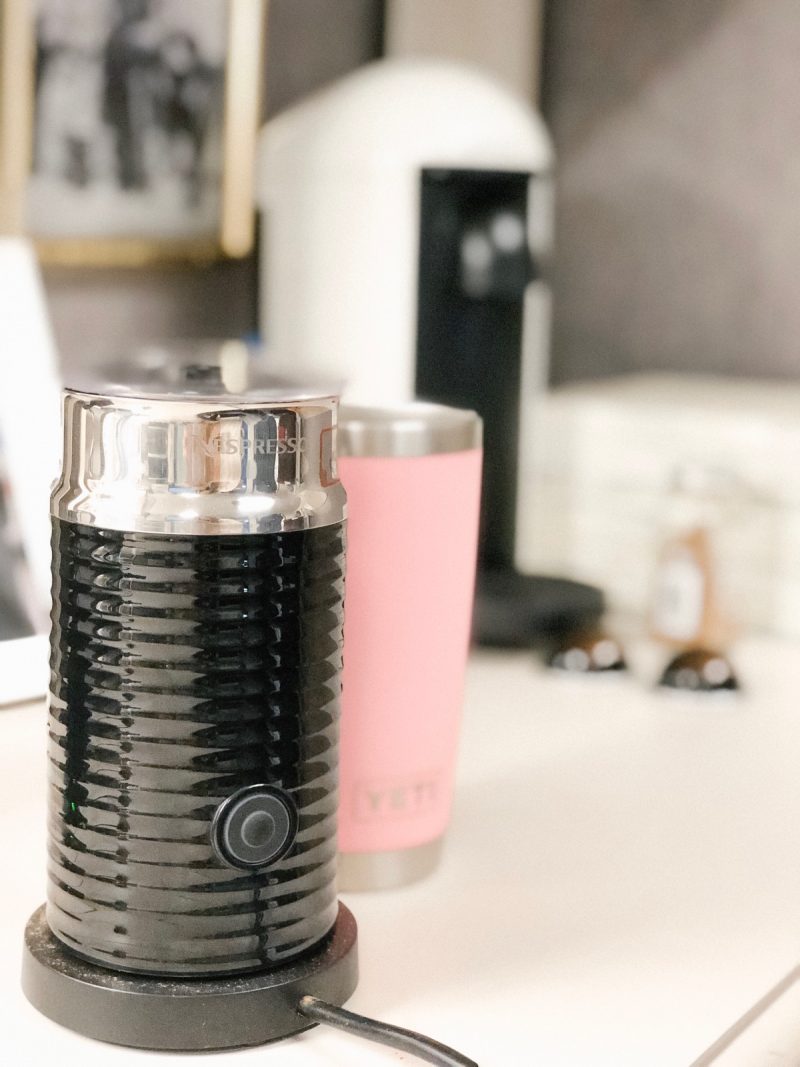 What kind of milk do you use?
I either use Silk unsweet vanilla almond milk or Trader Joe's unsweet vanilla almond drink. Both of them froth pretty well in the Nespresso milk frother compared to other brands and I love that there's no added sugar. I'm often asked if I use other milks – I don't drink cow's milk, find coconut milk to be too sweet and oat milk has more sugar and carbs than other varieties, so almond is the winner for me! I love the taste too, especially the vanilla.
How do you add the cinnamon to your almond milk?
I add it directly to the milk in the frother before pressing the button to turn it on. I like this better than adding it after the fact, because the frother will infuse the almond milk with cinnamon – SO GOOD!
Do you add any sweetener to your latte?
I don't add sugar or any other sweetener – I think the cinnamon infuses so much flavor that you don't need anything else.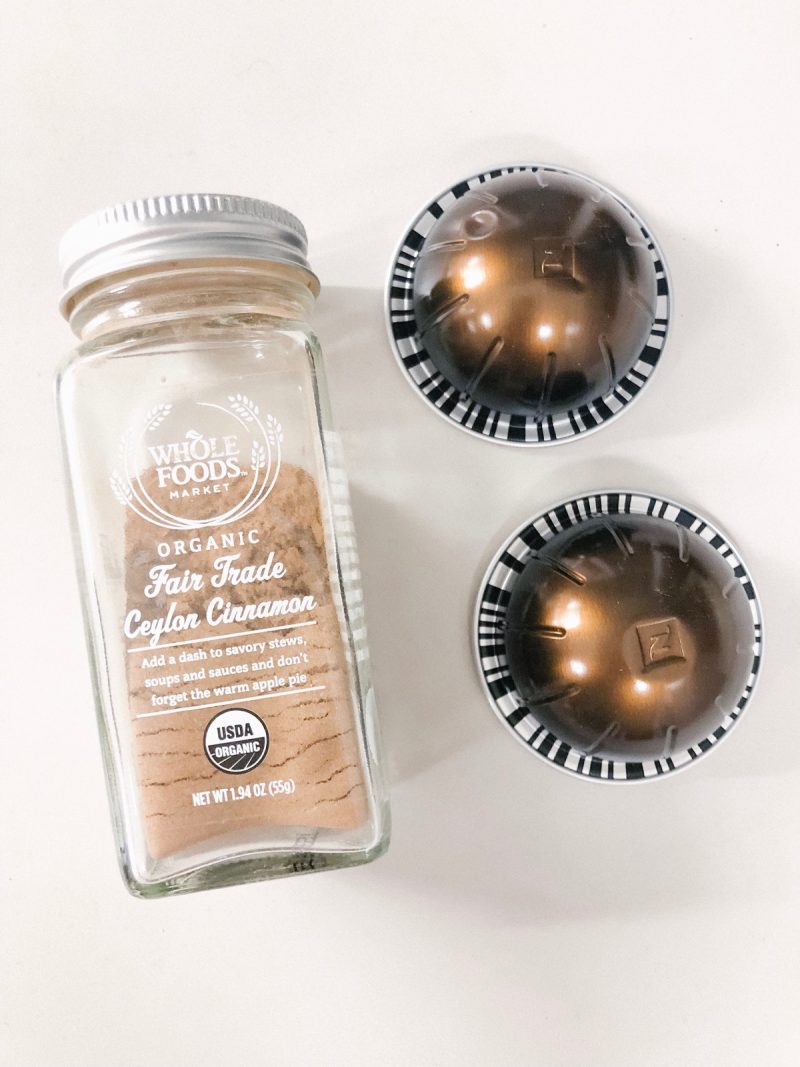 Do you buy the coffee pods, or just espresso?
I used to buy the Nespresso coffee pods, but I exclusively buy espresso pods now. I prefer a latte and like the way the espresso tastes versus the coffee pods. Nespresso's coffee pods aren't bad, they're just not my favorite – I'd rather brew regular coffee if I want to drink coffee. One of my favorite coffees (that you'd brew in a traditional coffee maker) is Starbuck's ground vanilla coffee. We always keep a bag of this at home for weekends.
Which pods do you purchase?
For my Vertuo machine (the one I have at work) I purchase the double espresso pods in "Chiaro" and "Scuroalso." I also purchase single espresso pods in Paris Black and Voltesso.
How do you make your lattes?
I use a double or single espresso pod and brew it in the Nespresso
While it's brewing, I add Silk unsweet vanilla almond milk or Trader Joe's unsweet vanilla almond milk to the milk frother and then I sprinkle cinnamon powder directly into the milk in the frother
Once the espresso is brewed and the milk frother turns off (it turns off when the milk is ready) I pour the milk over the espresso
Drink and enjoy!
What do you like about the Nespresso?
I like lattes because they're creamy – and Nespresso brews the espresso pods in a way that is very creamy (I think the term is "crema"). Once you add the frothed milk, it just feels so indulgent whereas regular coffee feels more watery. Nothing wrong with that, the Nespresso just feels like more of a treat! I also love that it's less expensive than Starbucks. Don't get me wrong, I love Starbucks and still get a latte there every Saturday, but during the week, it's all Nespresso.
What do you drink your lattes in?
99% of the time, I use my 20 oz Yeti tumbler. Your coffee will never go cold again, no matter how busy you are – promise.
If you have any other questions, feel free to leave them in the comments!