I realized this week that I haven't shared a lot of new beauty finds recently – so it's time to remedy that! I'm sent a ton of PR packages by various cosmetics and beauty/skin cafe brands (which I'm so appreciative for), but relatively few make it onto the blog as favorites. I often use a product for weeks or months before ever mentioning it – I want to make sure it's something I stick with and it can take time to see results (if it's a results-oriented product, like skin care).
Here are a few products I'm using + loving:
O NE
Kerastase Shampoo Resistance for damaged hair
I had used the brand's ciment thermique for years and loved it – in fact, I need to repurchase it since I have been trying different products and always thought this one was the best of the best. I'm waiting to run out of my other heat-protectant styling creams before repurchasing (I'm trying to wait until I finish products I like before purchasing another one to try). I was sent Kerastase's shampoo Resistance and adore it. It cleanses the hair without stripping and isn't heavy at all – my hair always feels fresh and clean, but not deprived. In terms of product quality, I think Kerastase is one of the best hair care lines on the market – and the price reflects that. Definitely a splurge, but the $30 bottle will last you a very long time. I only wash twice a week and use this shampoo once – so as you might imagine, that really extends its longevity. Plus, it's a concentrated formula, so you don't have to use a ton to really get a lather going.
T W O
BRIOGEO – Don't Despair, Repair!™ Super Moisture Shampoo
I was sent this shampoo and deep conditioning mask in a PR package and have been using the combo for over a month now. I really love the way this shampoo lathers and it has become a favorite. I wash with it once a week – alternating it with other shampoos in my shower. First of all, I wish all shampoo companies would have a pump like this one does – it's so much easier to use in the shower and easier to control how much product you use. This formula feels really smoothing and moisturizing, yet once you rinse it out, your hair is totally clean and there is zero residue.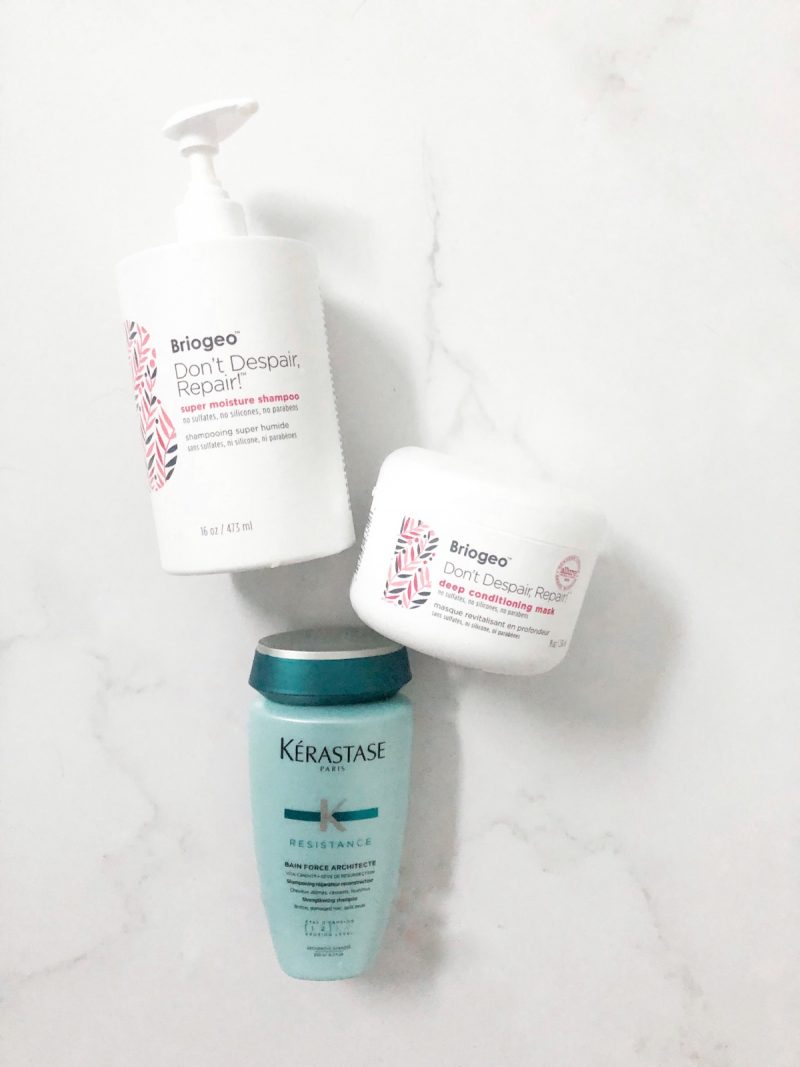 T H R E E
I'm way late to this train, but I finally started to double cleanse at night after realizing my beloved cleanser wasn't always fully removing my makeup and I had to use my face towel to rub off the rest (in particular, the sides of my nose would often have makeup residue as well as areas around my hairline). My new cleansing routine goes like this: use this eye makeup remover on a cotton round to take off my waterproof mascara. Then, I apply either this cleansing balm (here too) or this pre-cleanse liquid (I prefer the dispenser on this one, but love the smell and feel of the balm). I don't wear a ton of makeup (in comparison to say, a YouTube or Instagram beauty guru) but I found that using the cleansing balm first really melts it away and allows my skin to be truly clean. After using the balm, I cleanse with my normal cleanser (note: I also use and love this one). So, I'm a believe now. I get why people do the "extra step." I used to think it was kind of pointless, but as someone who wears makeup, I get it now. The pre-cleanse is to melt the makeup off – the second cleanse is to wash the skin and leave it clear and clean for your skin care products to do their best work.
F O U R
A nail polish combo you'll love…this is my favorite combo as of late, and maybe ever. One coat of CND's cake pop and two coats of OPI's funny bunny. Both colors are great on their own as well – cake pop is a summer favorite of mine! Funny Bunny is literally the perfect shade to layer over any pink polish. You're welcome
F I V E
Oribe styling cream
I talked about this styling cream on my stories last weekend – and I realized I've had the bottle for at least 18 months. They only have the smaller size available at the link above, but I found the full size here. I apply the cream from the nape of my neck down to the ends of my hair and let my hair dry overnight (it's about 75% dry in the morning). I also use it to add smoothness when I'm on third or fourth day hair. It's such a great product and doesn't weigh down your hair at all. Truly one of my favorites and lasts such a long time – I still have ¼ of the tube left and have had it for almost two years.
S K I N C E U T I C A L S U P D A T E
FOR A LIMITED TIME, GET 15% OFF OF SKINCEUTICALS HERE WITH CODE SKINC15 AT CHECKOUT.
I'm getting a lot of DMs from y'all on Instagram asking how it's going with Skinceutical's CE Ferulic vitamin C serum that I purchased at Blue Mercury about a month ago. I actually had the PR team reach out to me when they saw me posting about it on stories and they ended up sending me a bottle of their Discloration Defense serum a couple of weeks ago. I want to clarify that the CE Ferulic was purchased on my own and the discoloration serum was sent to me.
I plan to share a full review when more time passes, but what I can say is that I do feel I see a difference in my skin using the CE Ferulic vs. Drunk Elephant's serum. I only added the discoloration defense recently, but I noticed the difference before I added that in. So far, I feel that my skin is brighter and more even and that dark spots fade more quickly using the Skincueticals, however, I'd like to wait another month or two before providing a more concrete comparison.
S H O P B E A U T Y F A V E S


L I N K S I L O V E
O N M Y W I S H L I S T
W H A T' S O N S A L E

LOFT is having a 40% off sale and the new arrivals are so cute! Here's what I'm loving:




Shop the Post