Hi friends! Old Navy has a 40% off sale with NO exclusions going on right now, so I did a try-on session of my recent order. I'm also sharing some H&M finds from a recent order. I honestly haven't felt super motivated to buy clothes over the last few months and felt pretty "blah" about what was out there. Now that the Spring styles have arrived, I've been more excited to add things to my closet.
You can also come see my try-on session of all of these items on Instagram! Hope you enjoy!
Jeans worn in this post: here
Chambray tie-up wedges: here
Yellow scalloped heels: here
My name necklace: LolaJames

---
O L D N A V Y
THE RAINCOAT
The first item is this rain jacket – I got it in navy and this purple color, but the green finally came back in stock so I ordered that today and will return the two others since the green is my favorite version! This one is a size small and I would say it's OK to size down a size in this jacket as it has a generous fit.
SHOP IT HERE: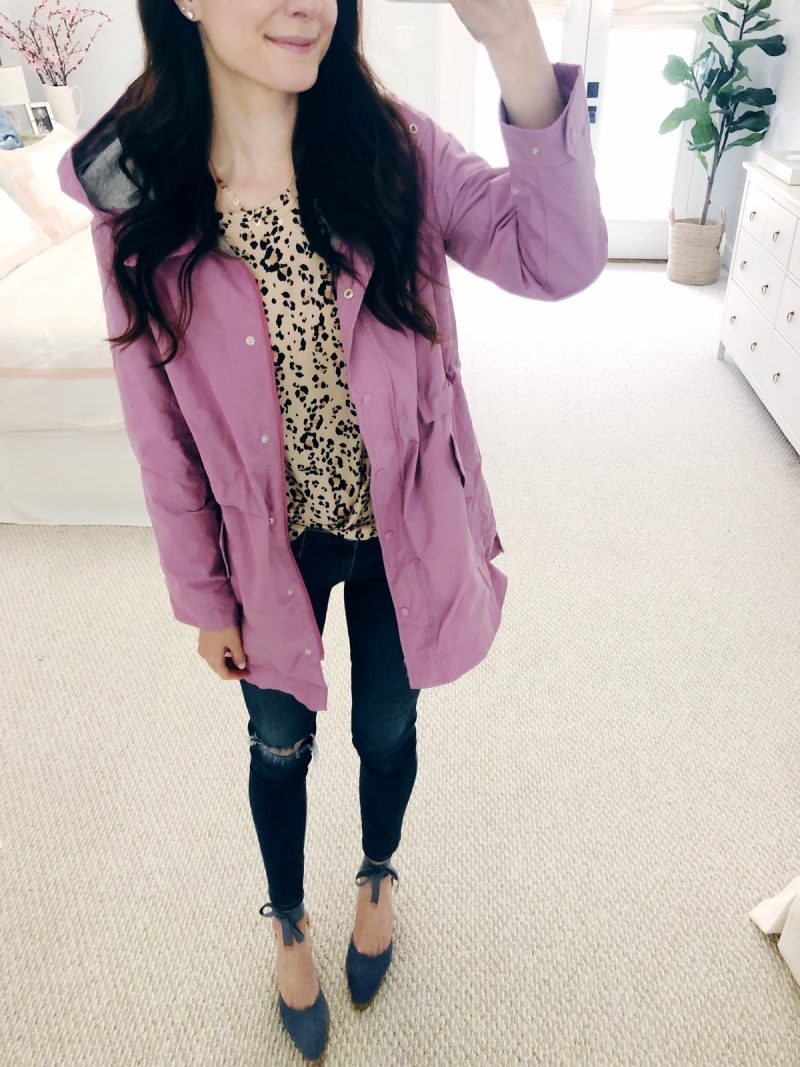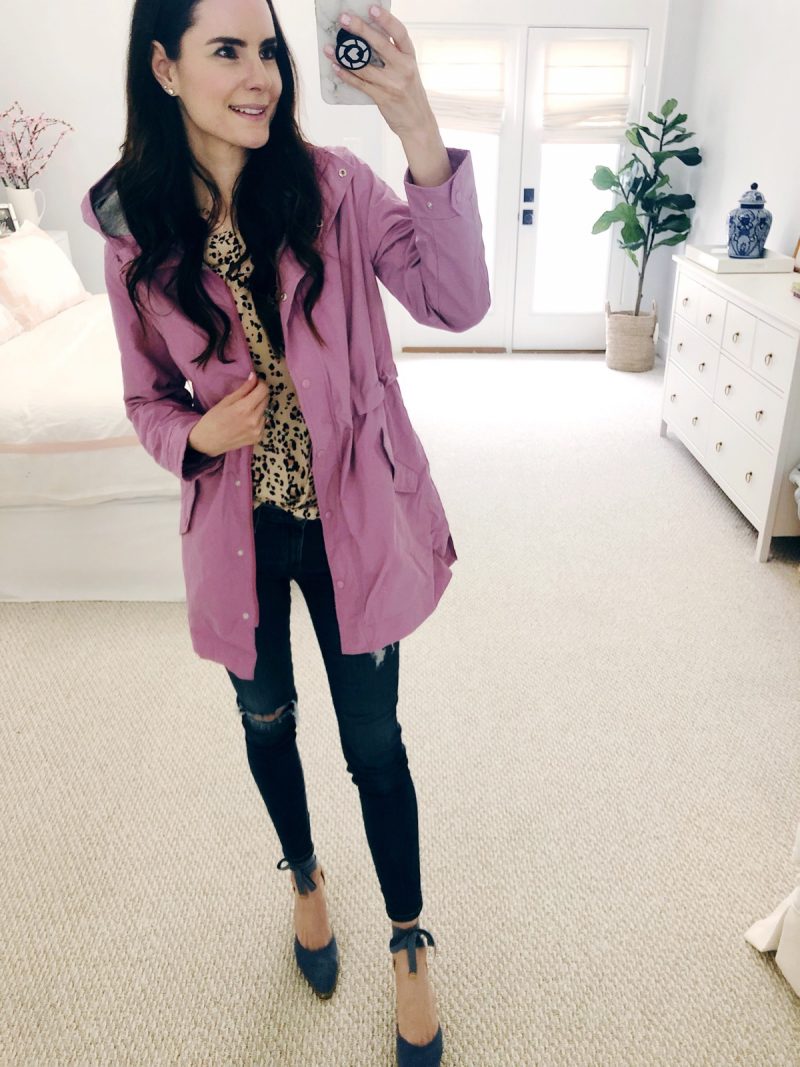 THE HOT PINK SWEATER
I was fully expecting to feel "meh" about this but I adore it. Is has great ribbed detailing on the sleeves and bottom and has side slits as well. This is a size small tall. It's lightweight enough to transition into spring and a very comfortable (breathable, non-scratchy) fabric.
SHOP IT HERE: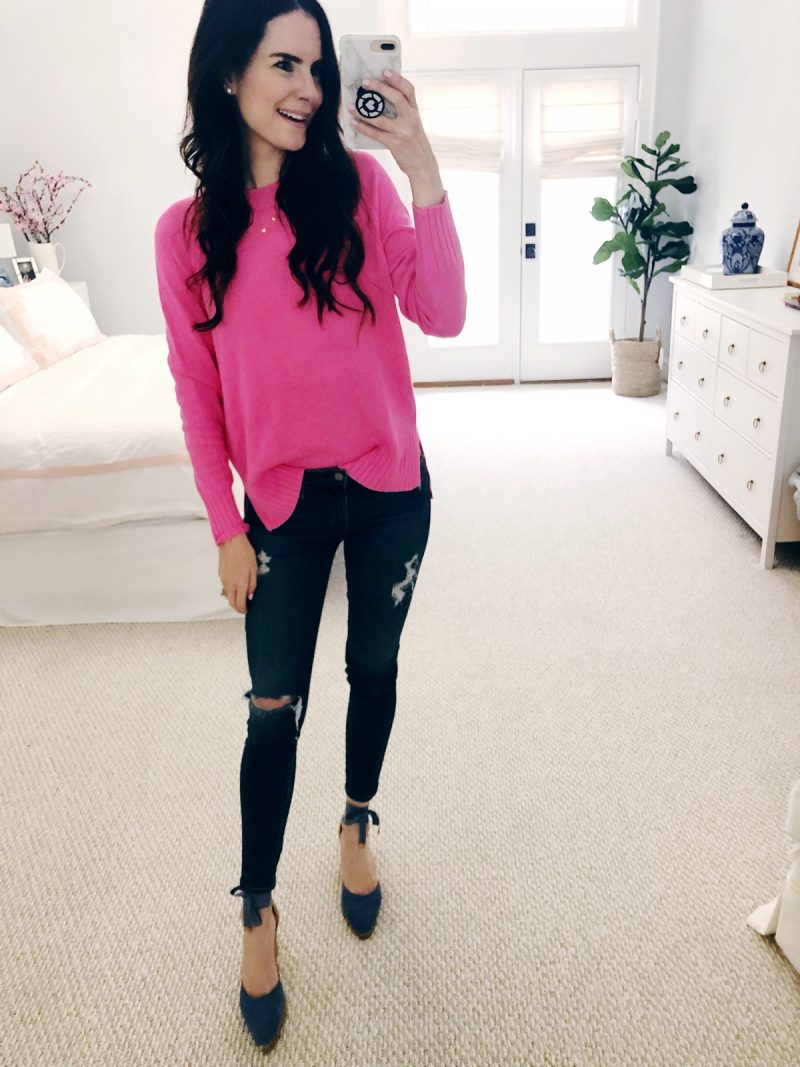 THE YELLOW FLORAL BUTTON UP BLOUSE
Well, this just may be the sweetest top in my closet at the moment. Darling feminine ruffles at the sleeves and such a stunning color. I only own one yellow top thus far but I get compliments every time I wear it – so this color is on my radar and this floral print reminds me of Liberty of London, for much less! Mine is a small tall.
SHOP IT HERE: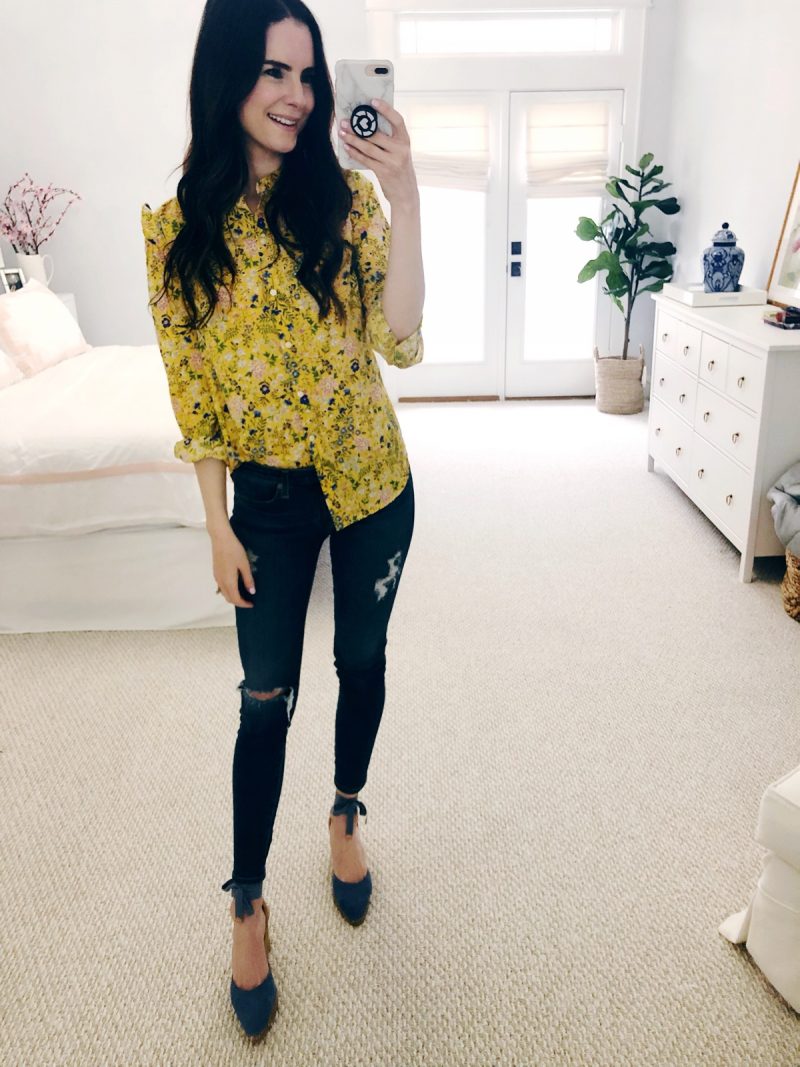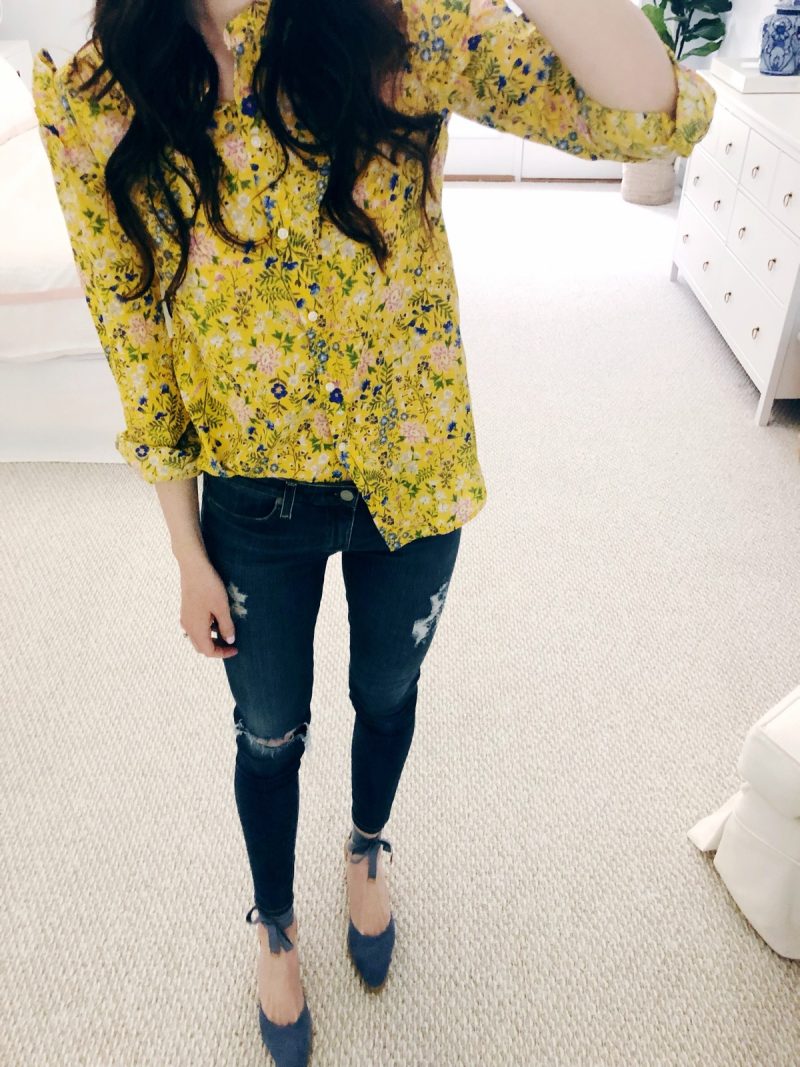 THE PRINTED PIXIE PANTS
Pixie pants are my holy grail item from Old Navy. I wear them to work every day. Each season they come out with new prints and colors and these daisy print ones NEED TO BE IN YOUR CLOSET. They are so cute and flattering and FUN! I wear a size 4. Keep in mind – these are the regular long pixie pants NOT the ankle. The full length ones fit me like an ankle pant because I'm 5'10. I don't like the fit of the ankle pants, but if you're shorter, they may work for you! I also purchased them in the chambray dot, light pink. and white!
SHOP THEM HERE: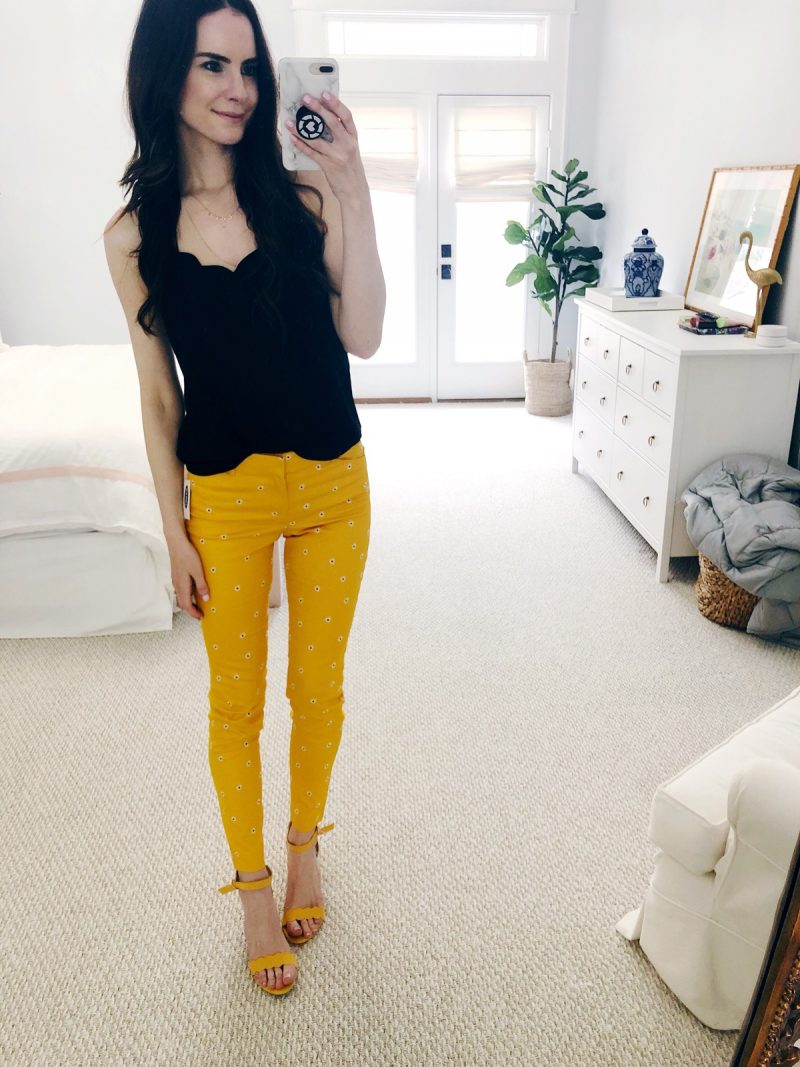 ---
H&M
THE $5 LEOPARD TEE
Do I feel like a fool for buying a super pricey leopard tee months ago? Yes, yes I do. Because this one is amazing and $5. So, don't overpay and pick this one up ASAP! I have a small and medium, and this pic is the medium, the one I kept. Tees like this can shrink and I prefer a boxier/looser look.
SHOP IT HERE: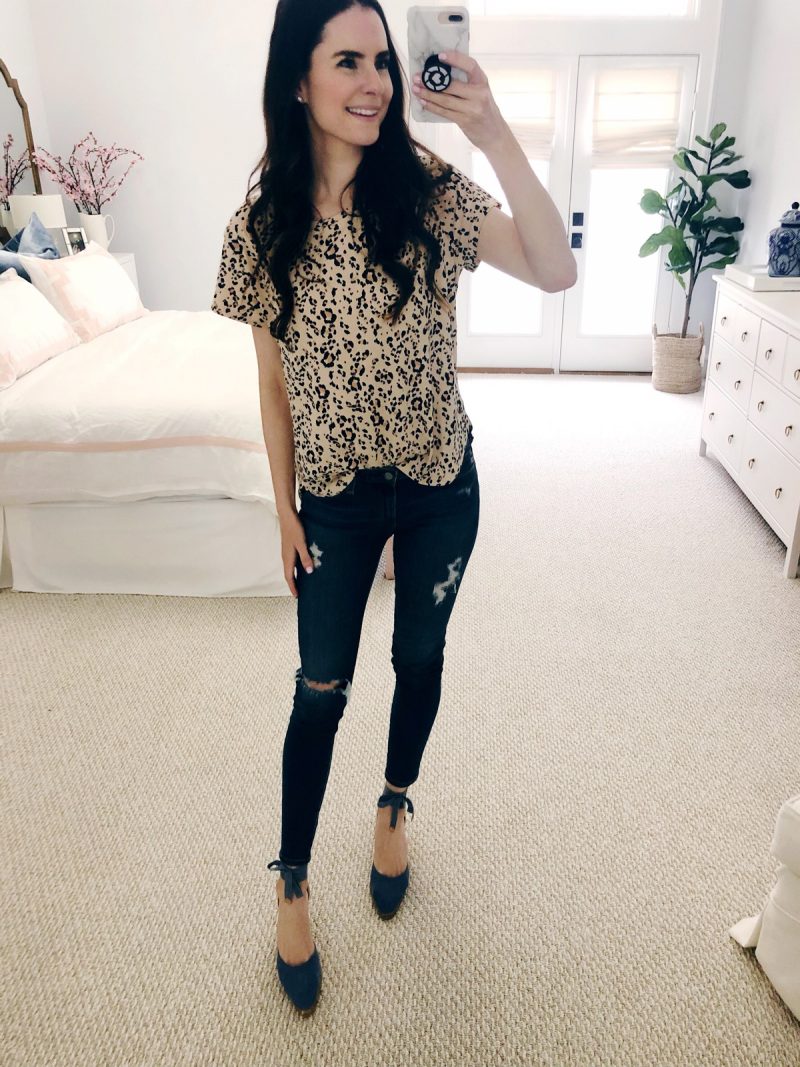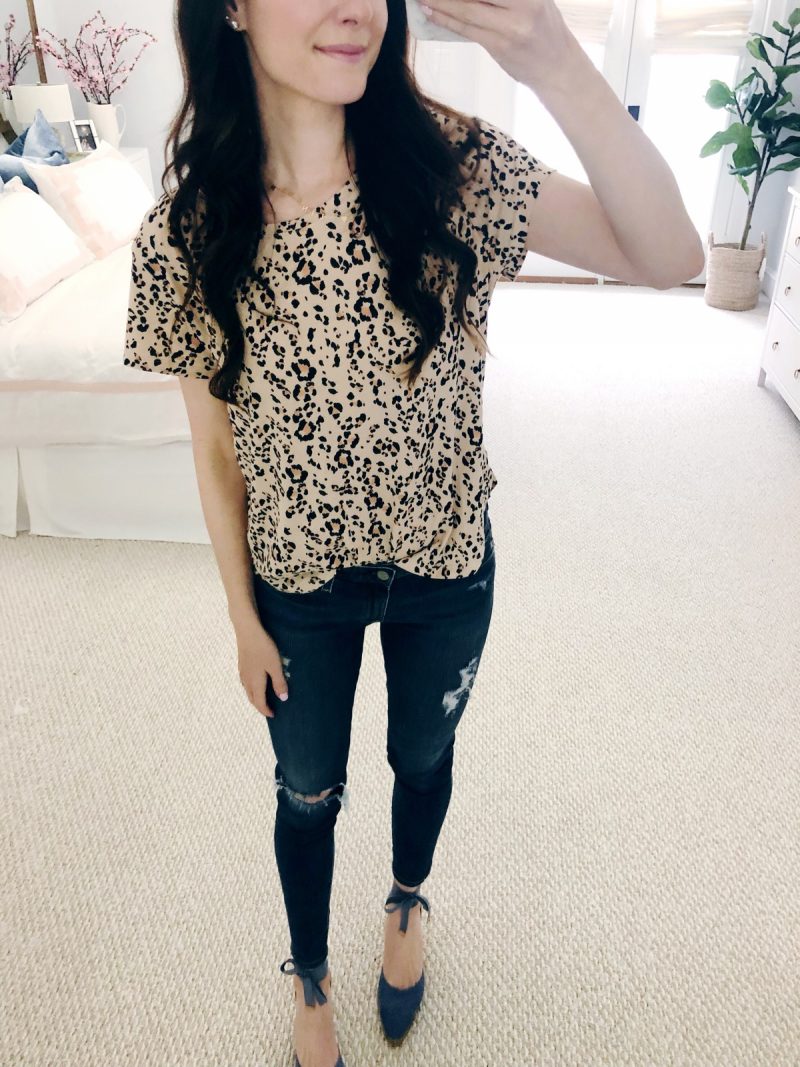 THE YELLOW STRIPE KNIT TEE
Another yellow tee added to my collection – perfect for work or with white jeans for the weekend. Wear it alone or under a blazer or cardigan. It's a lightweight knit. and so pretty! Mine is a size small, but if you're between, I'd size up on this one.
SHOP IT HERE: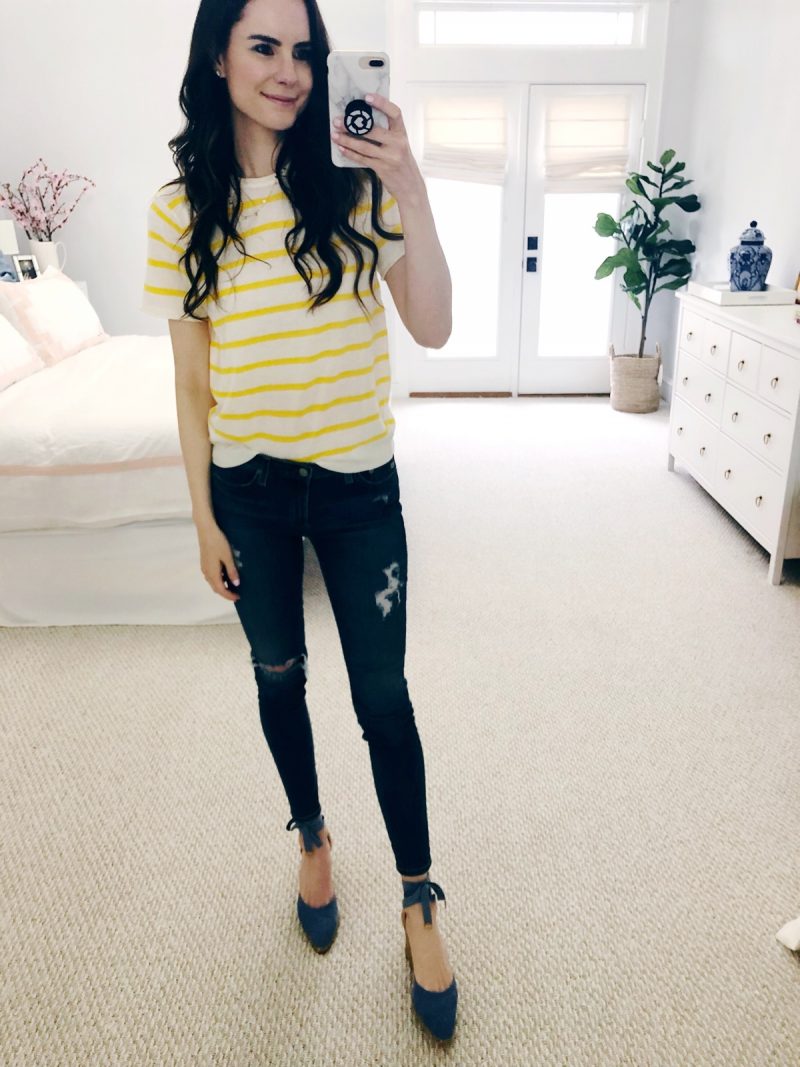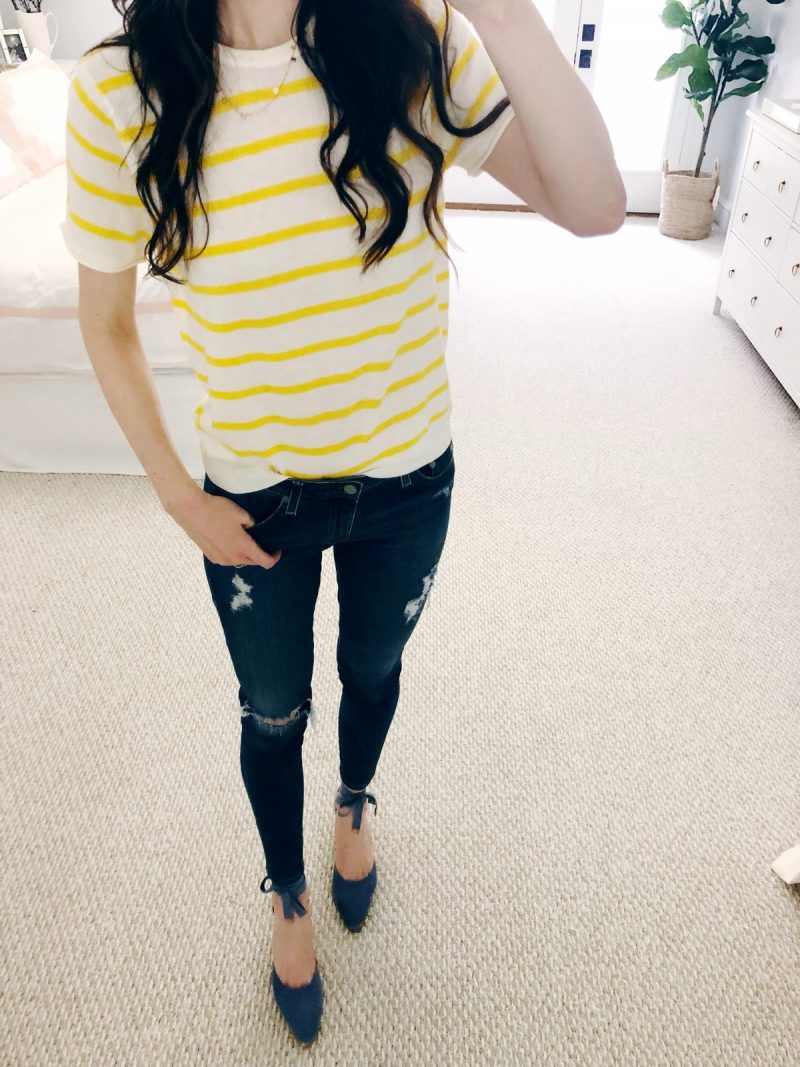 THE GREEN GODDESS TOP
This is so so so stunning. The embroidery, the scallops…it's made for me,…except, it's not. It's really, really short. If I lift my arms up, my entire stomach would be revealed. I want to recommend it anyway because it's absolutely beautiful and would work for anyone under 5'7.
SHOP IT HERE: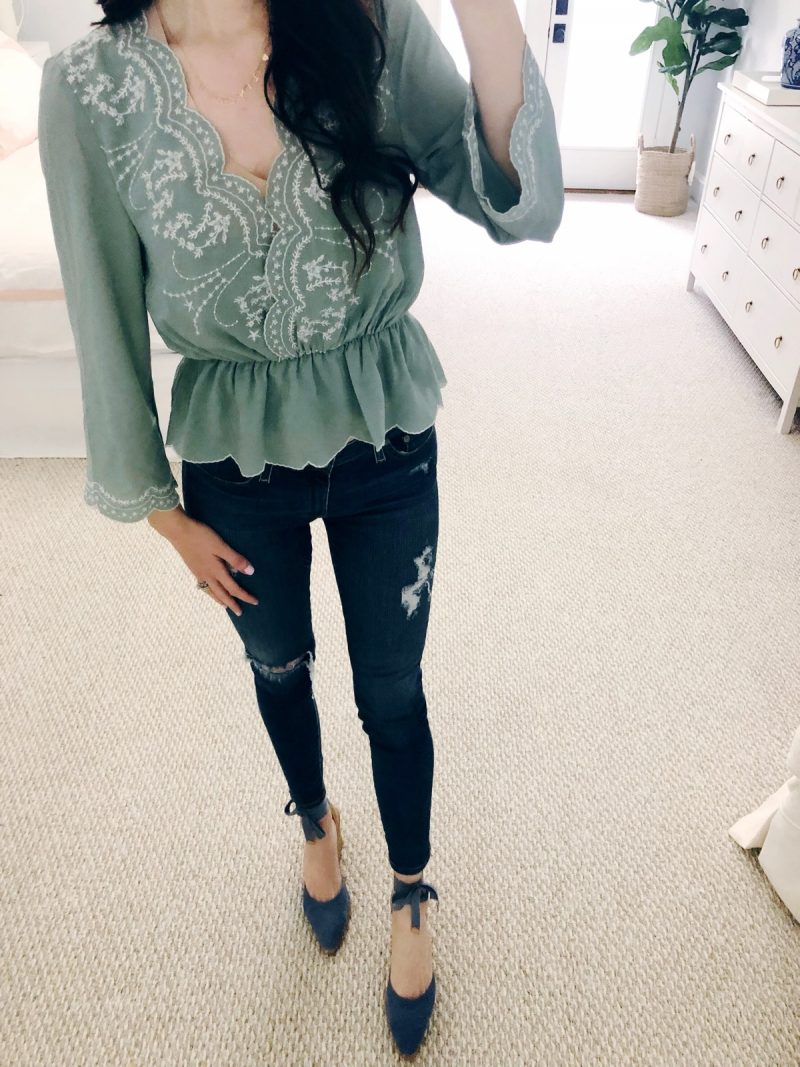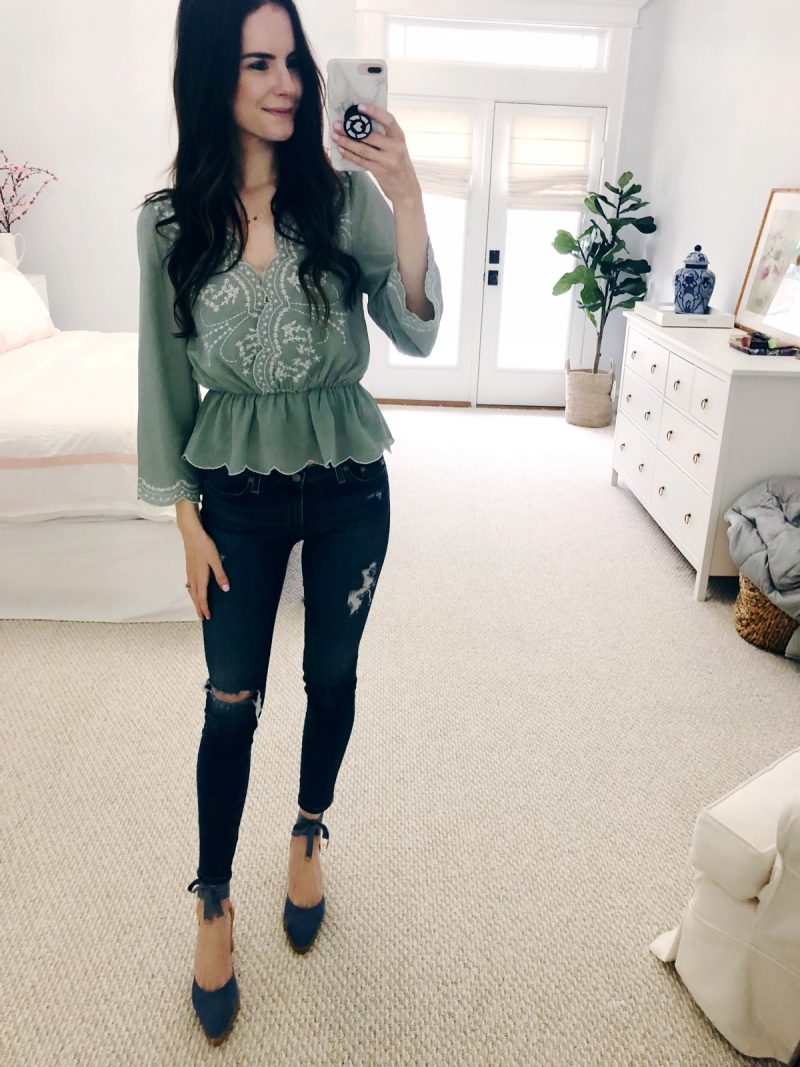 THE ON-TREND LEOPARD MIDI SKIRT
Well, this pleated, leopard print midi skirt is the most fun style! I love how it's feminine, yet edgy. My scalloped tank is
here
, by the way. The skirt is a size 2. I recommend sizing down as it's an elastic waist.
SHOP IT HERE: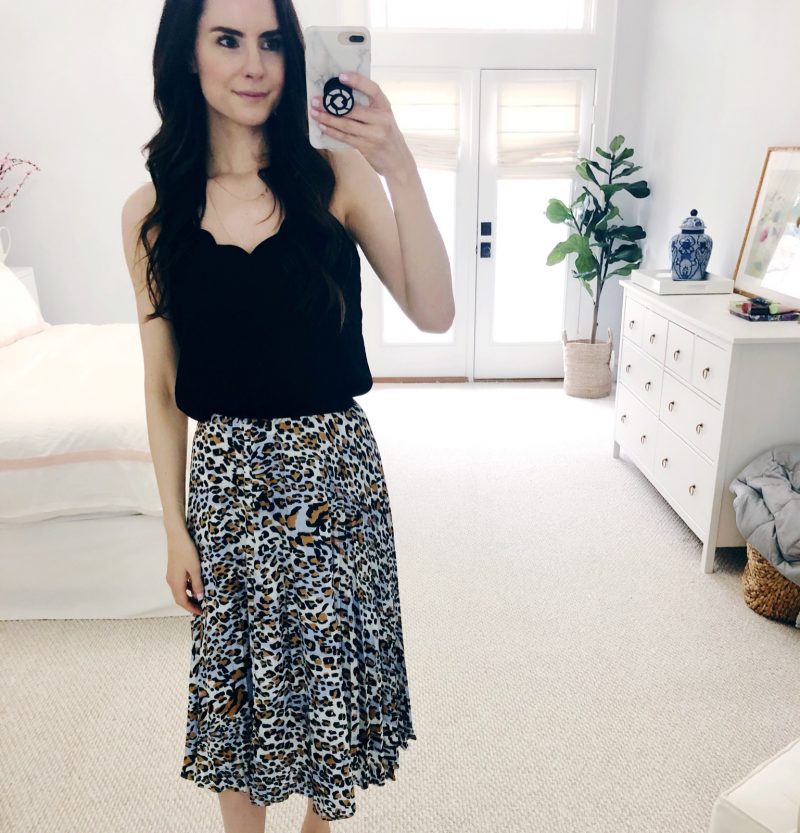 THE LEOPARD WRAP DRESS
This dress is so cute! It is pretty low cut on a larger chest, so I'd have to pin it. Mine is a size 2, so I do feel you can size down in this one. Would be cute for a cocktail party or date night, but not for the office since it has that front slit and shows a bit of cleavage.
SHOP IT HERE: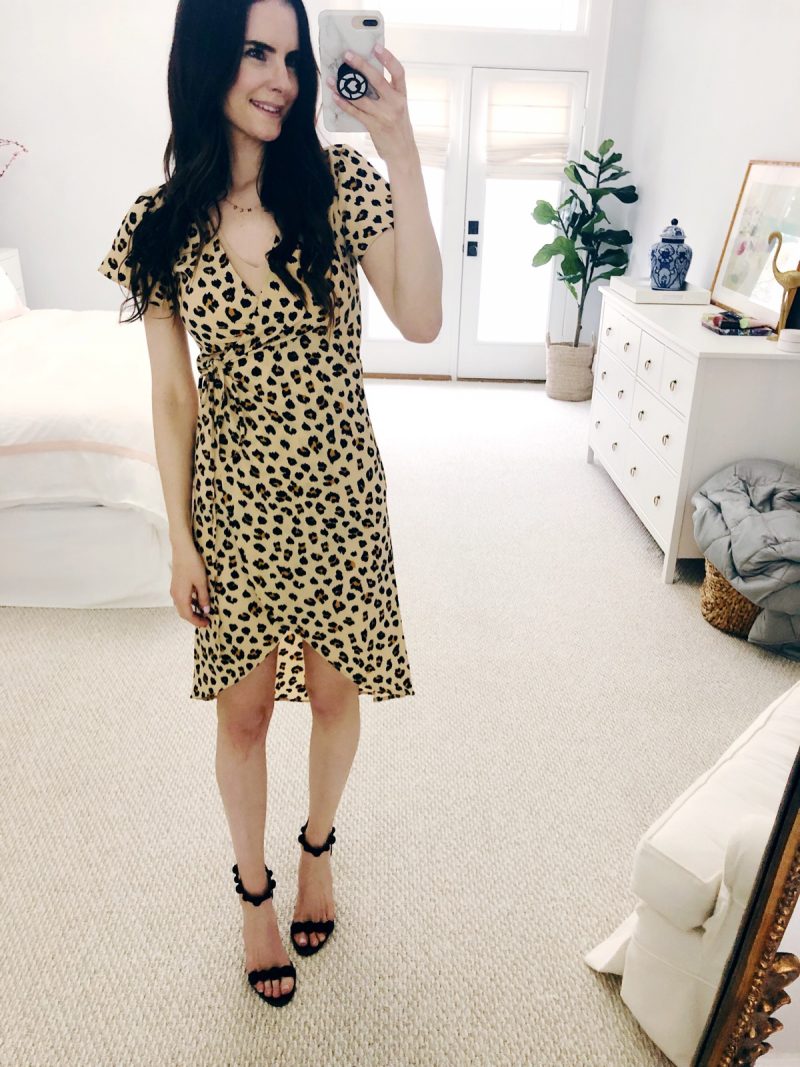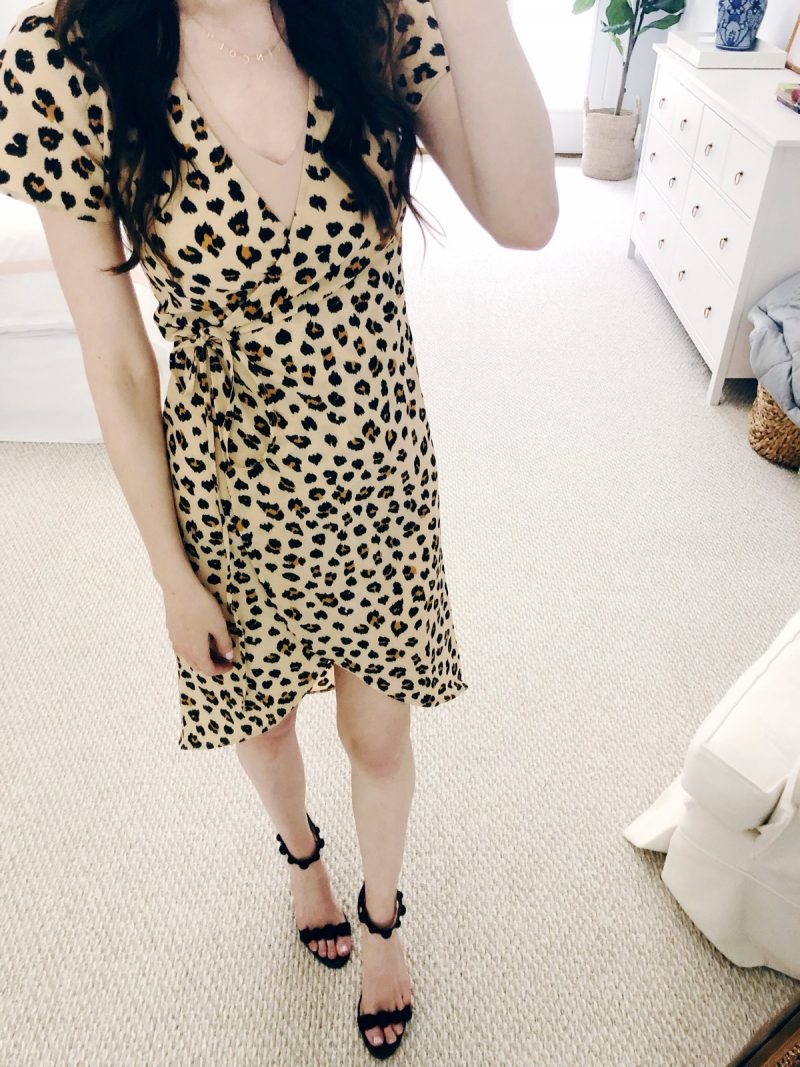 THE YELLOW SCALLOPED HEELS
These are a winner! Fit TTS, a great price and I love the color (they come in black and beige also!) Adore these and so glad I got them!
SHOP THEM HERE: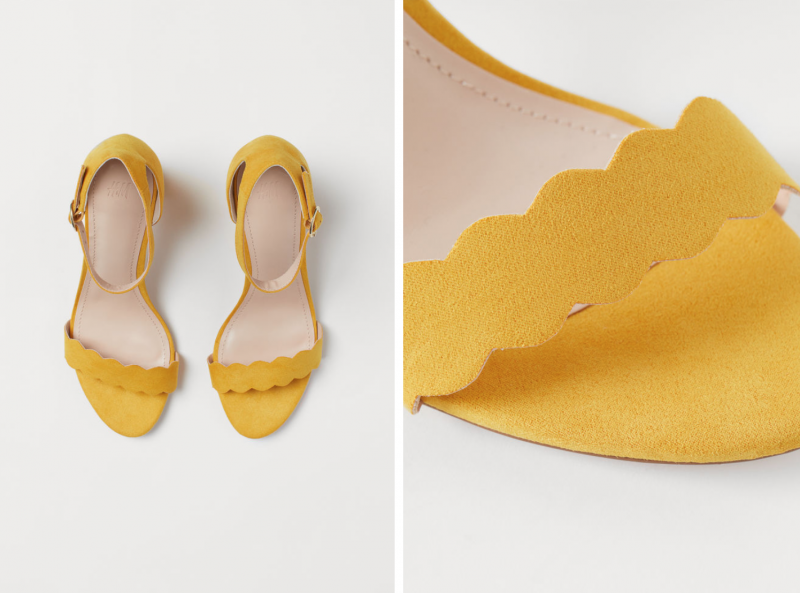 Happy shopping!


Shop the Post