Happy Friday! Another rStheCon is in the books and I can't wait to share more details about our 5-day trip to Dallas! I look forward to this trip every year – I love seeing my friends I talk to via text nearly daily in person and all of the events are so fun and a great way to network with other women who are content creators.
For those of you who don't know what the rewardStyle conference is – it's an invitation-only (based on performance in the platform) conference for publishers in the RS network – so bloggers, Instagrammers, YouTubers, etc. It's a chance for us to come together, learn from one another and industry experts and have brand meetings.
As a content creator, I'm always so motivated and reinvigorated after this conference – and I thank all of YOU incredible readers and followers for your encouragement and support – I wouldn't find the same joy in doing this if y'all weren't at the other end of it. Not to get sappy here, but when I get a message that someone really loved or could relate to a certain post or that you found your holy grail bronzer because of me – it seriously MAKES MY DAY and makes me feel so happy! Thank you to anyone who takes the time to DM, email me or comment on my content – y'all are the BEST!
Here's a breakdown of my week + what I wore to #rStheCon:
WEDNESDAY
Sara, Amanda and I drove down a day early this year so we could have time to settle in and unpack before the conference began on Thursday evening. In years past, we would drive into Dallas, arrive Thursday afternoon and head straight to our rooms to freshen up, change and head to the pool party, rSthecon's kickoff event. We all hated feeling so rushed so arriving a day early was perfect! Natasha flew in from Nashville as well, so we were able to have an amazing lunch, go out to dinner with our friends (at Mi Cocina) and we even wrapped up our first night in Dallas with dessert at Sablon – get the waffles, trust – so amazing.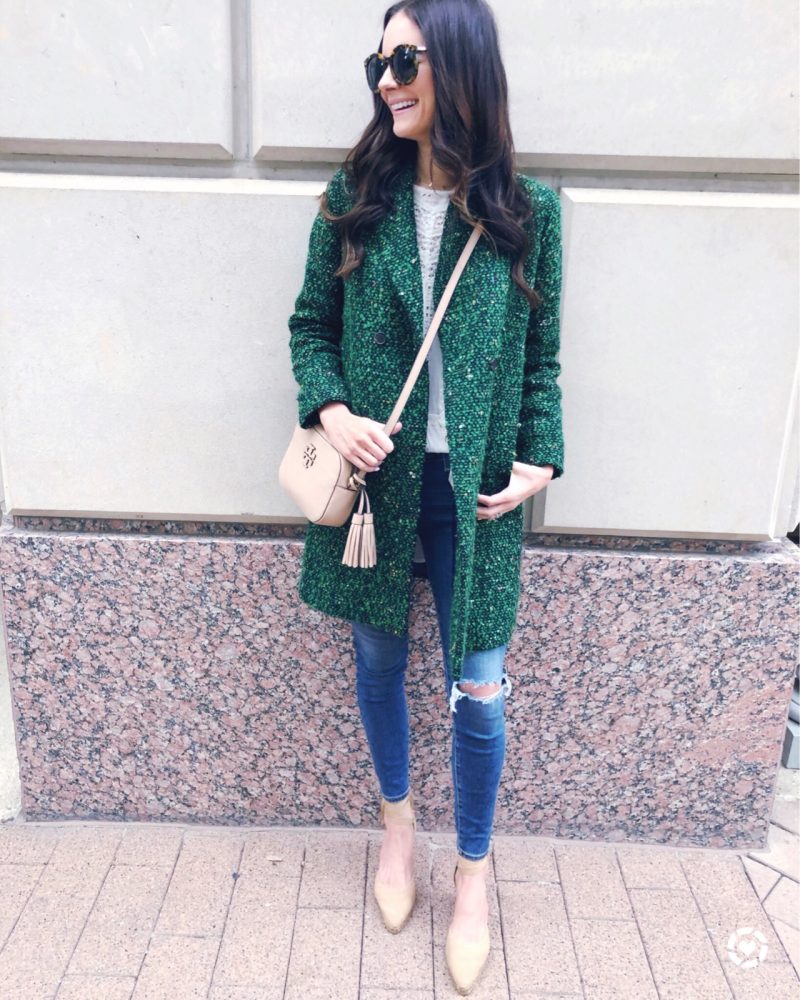 shop my outfit here
THURSDAY
Thursday morning, we were up bright and early for a workout session with John Benton. He is known in the fitness community as the "hip whisperer" and has a lot of model clients, since they have to fit into sample sizes. I talked to John about a year ago, but really wanted to try his class in person before doing his workouts, since form is so important. All of his workouts focus on creating long, lean lines and toning without bulk (so you won't find things like squats lunges and typical crunches in his workouts – similar to P.volve, actually). I really enjoyed the workout – it's much more intense than P.volve because all of his workouts do contain cardio elements throughout the circuits, whereas P.volve is intense in a more slow and controlled way. His workouts involve three circuits of three different moves – it starts with a cardio move and the other two moves are targeted to various body parts and can be either standing or mat work. The workout took a full hour and was NOT easy – in fact, my abs were still sore the entire week – especially my sides, which is what his workouts really focus on. I do have his workouts at home (he sells them on his website) so I may try to incorporate one of his workouts and sprinkle it into my routine here and there – but I'll still be doing mostly P.volve workouts.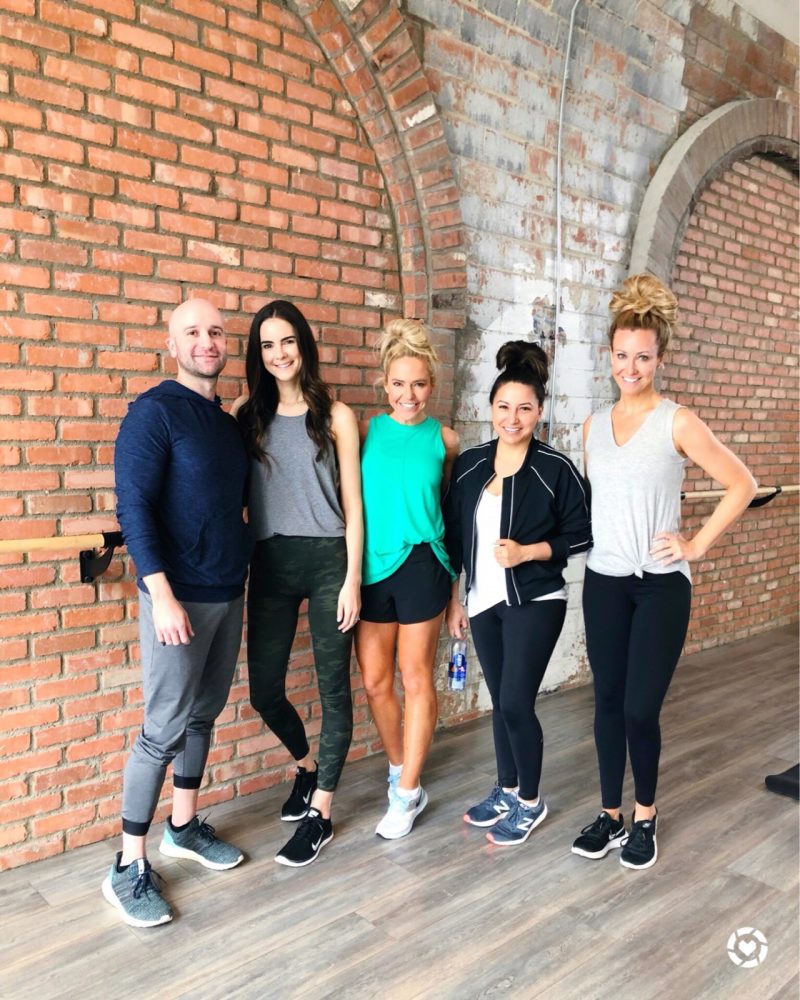 John, me, Natasha, Amanda and Sara
shop my outfit here
After our workout, the four of us headed to Breadwinners for lunch (we had been out late the night before, so we skipped breakfast) and it was amazing – I ordered the turkey + bacon sandwich and Chinese salad combo – five stars!
We had plenty of time to get ready, so we got back to our hotel, showered, did our hair and makeup and got dressed for brand hall + the rooftop pool party, hosted by Sole Society. After that event, we took an Uber to the incredible home of Alicia Wood (it was seriously like a DREAM seeing it in person) where she hosted a group of friends and bloggers for a dinner party in her unbelieveable backyard. It felt like a scene out of a movie – everything was decorated so beautifully. I met Randi of Randi Garrett Design and Zabrina from Z Design at Home – I'm obsessed with their accounts – and also Kate from Lonestar Southern and she's so sweet – I've loved her blog for a long time now.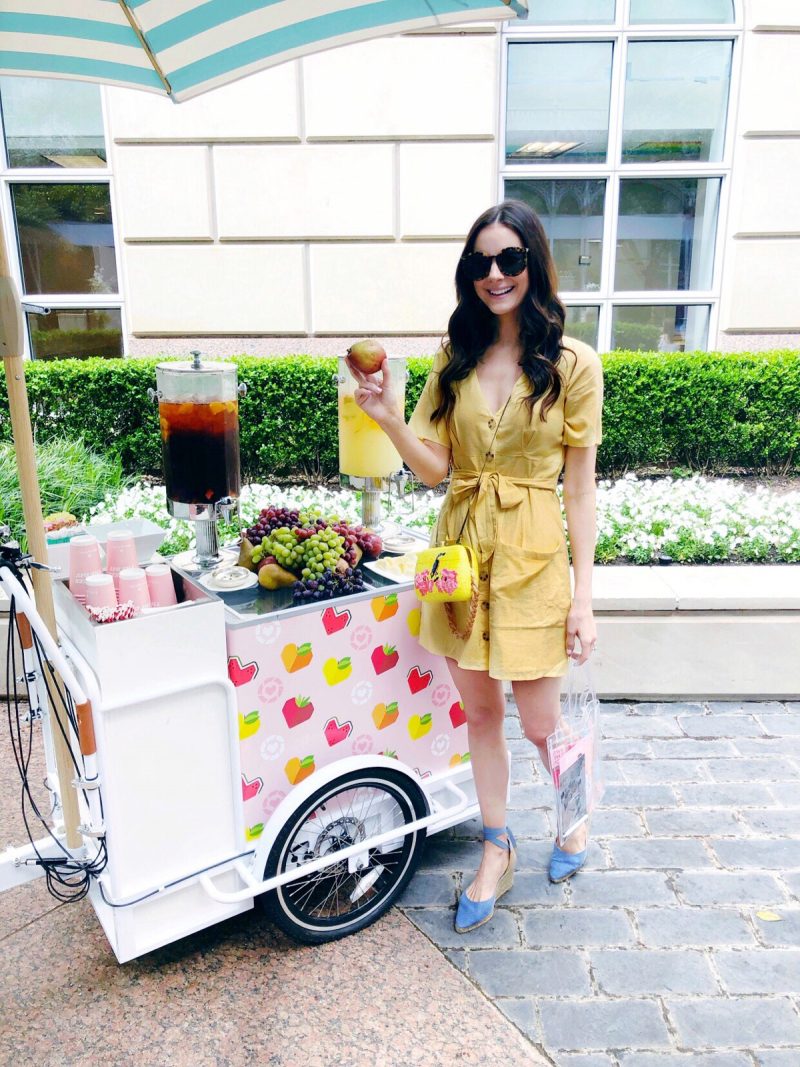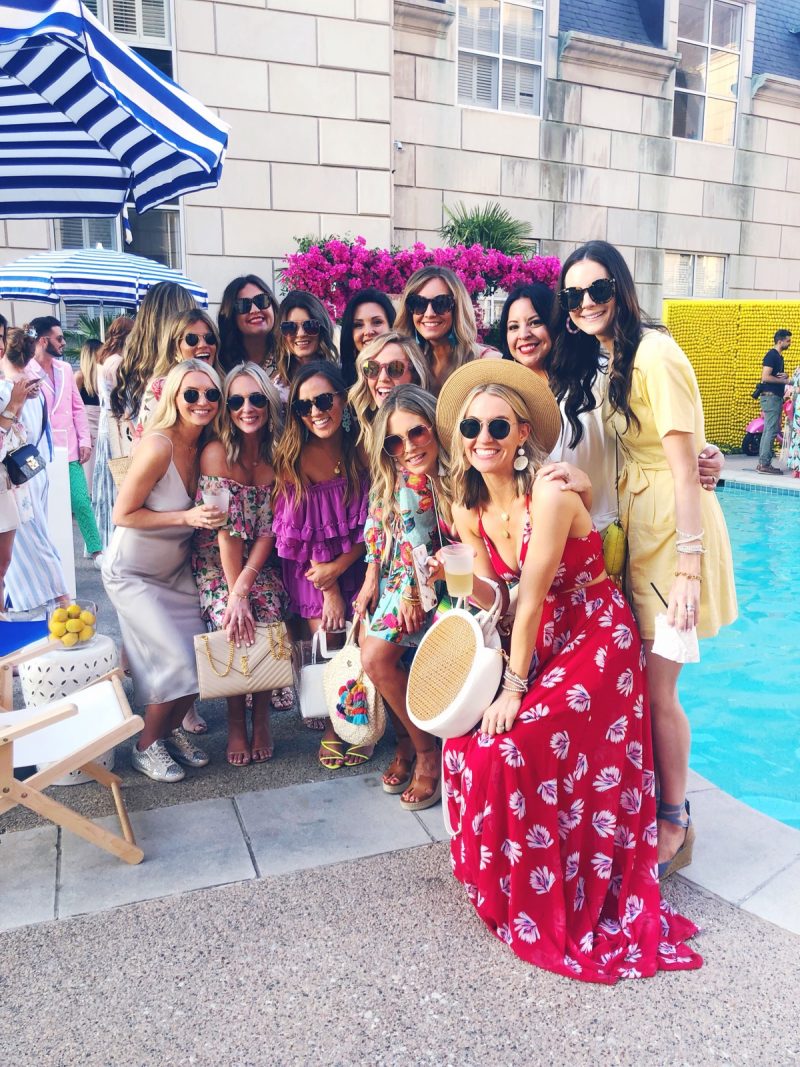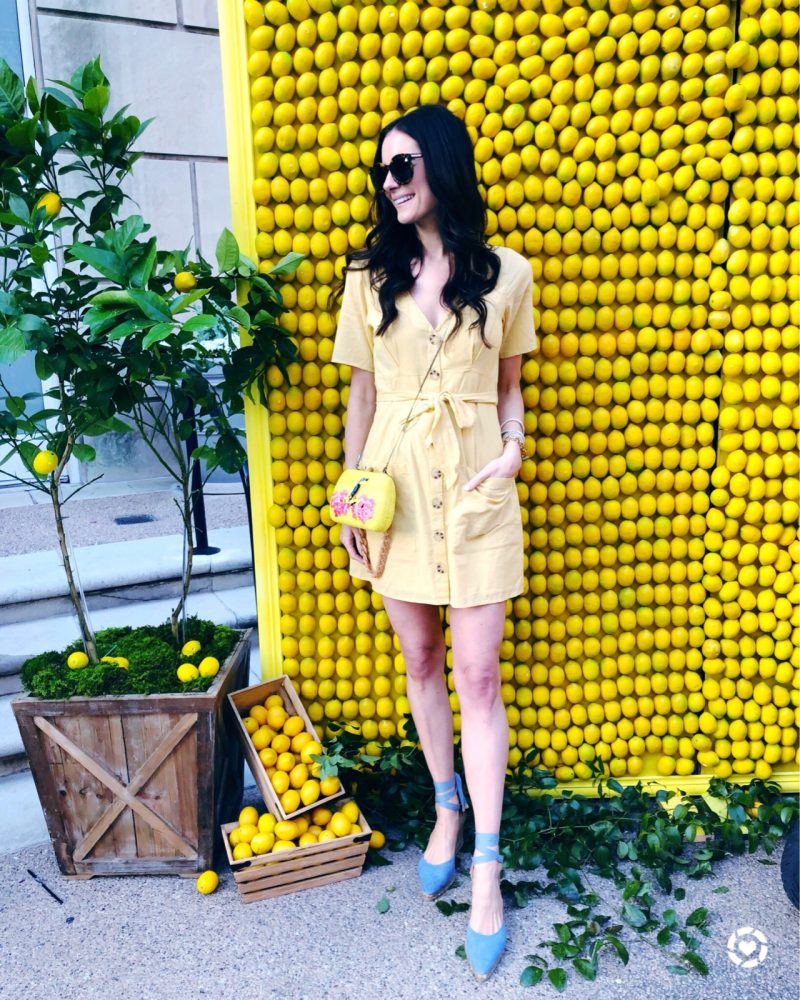 shop my outfit here
FRIDAY
Friday morning was the rewardStyle conference mainstage presentation which is from 9 – noon. After getting ready and grabbing a latte at Starbucks, we ate banana coconut overnight oats and headed to the mainstage (the conference provides us with breakfast and lunch every day and all of the cocktail parties have hors d'oeuvres – I'm just clarifying this because I've heard bloggers who have never even been to the conference saying there is no food – there is and it's amazing, and plentiful!) The mainstage presentations were fantastic and included an inspiring and motivating speech by the Dallas Cowboys' executive vice president and chief brand officer, Charlotte Jones.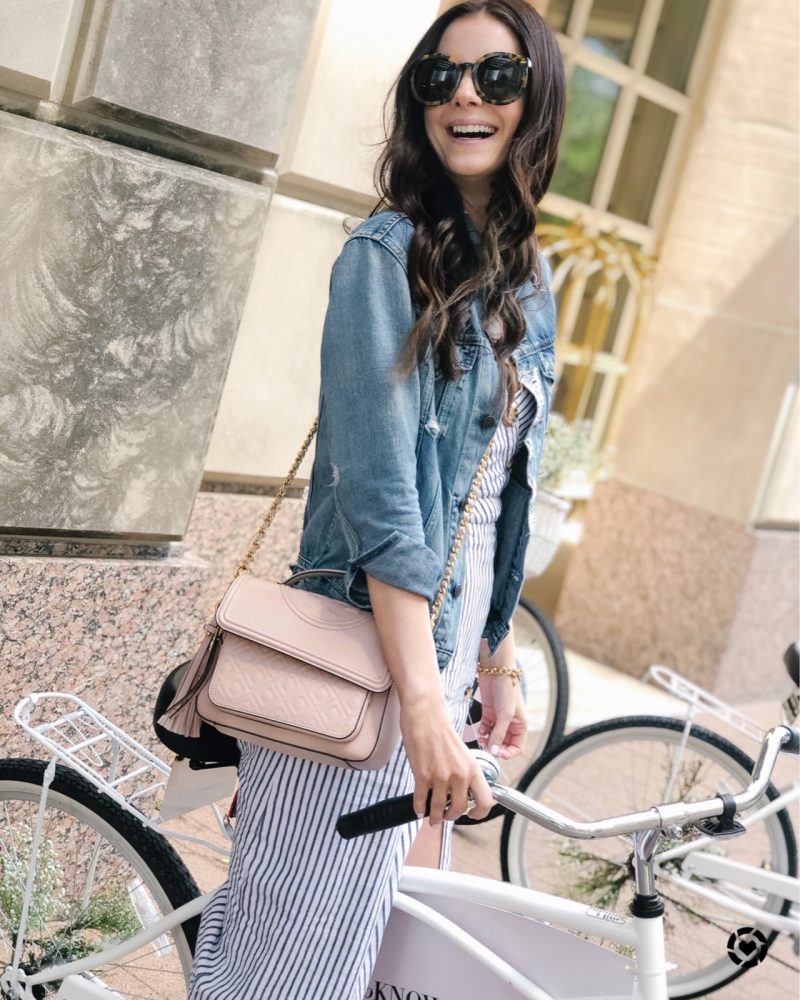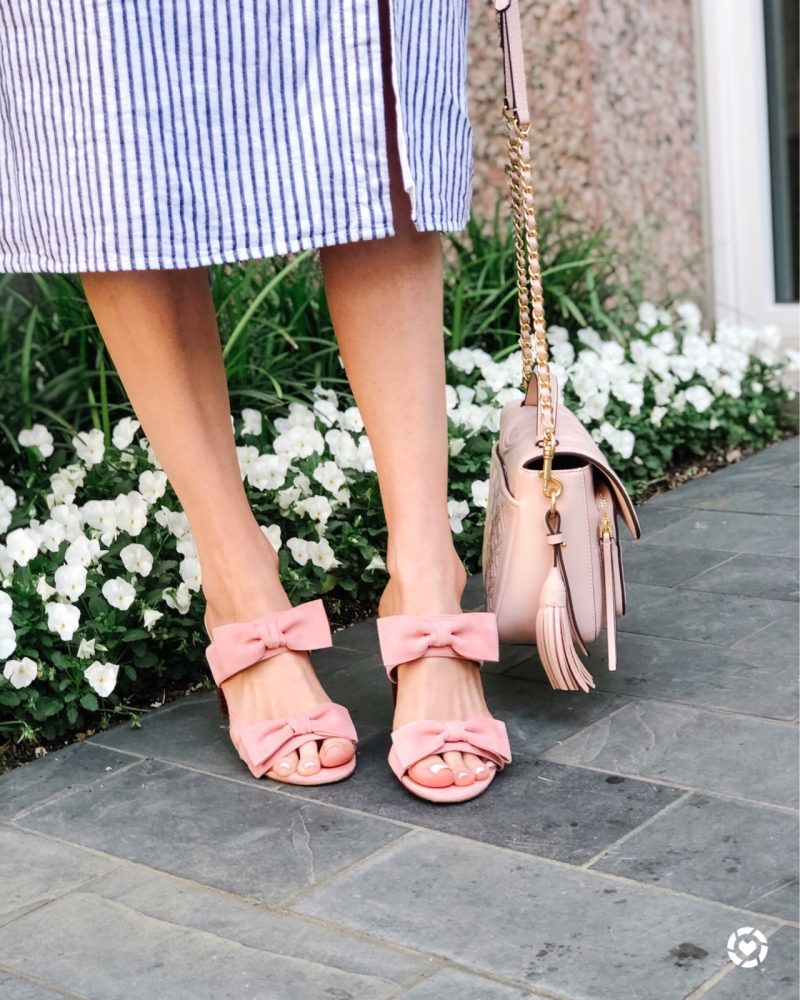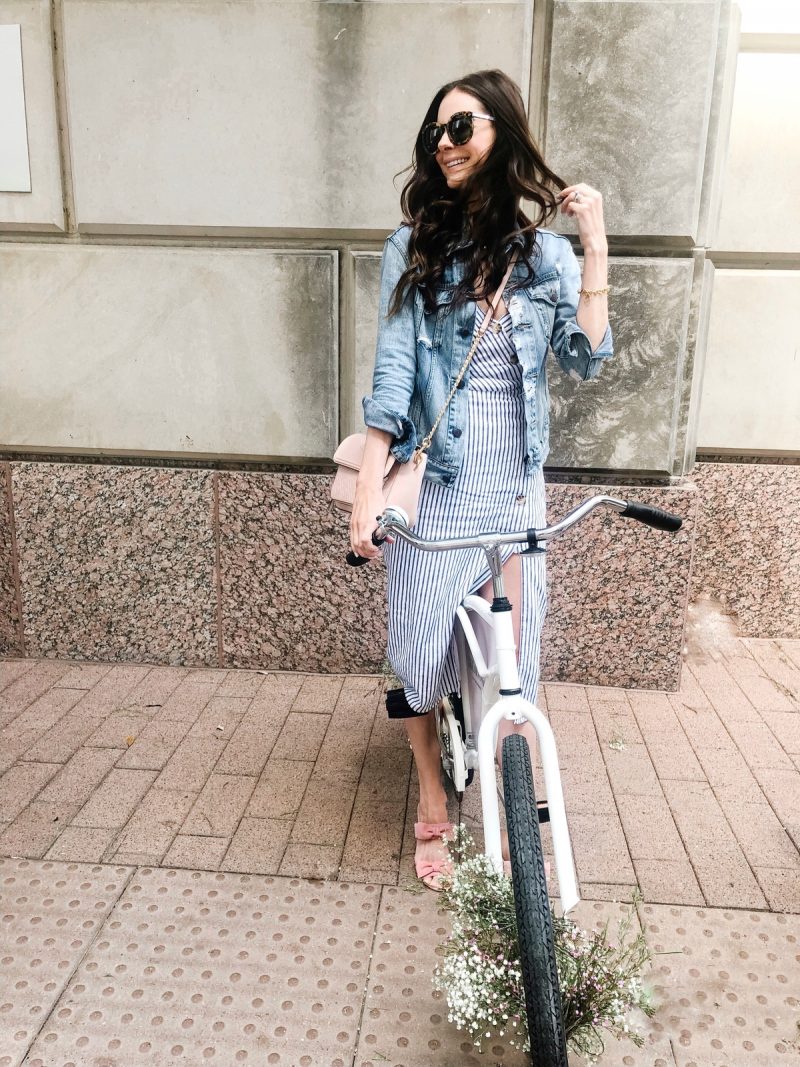 shop my outfit here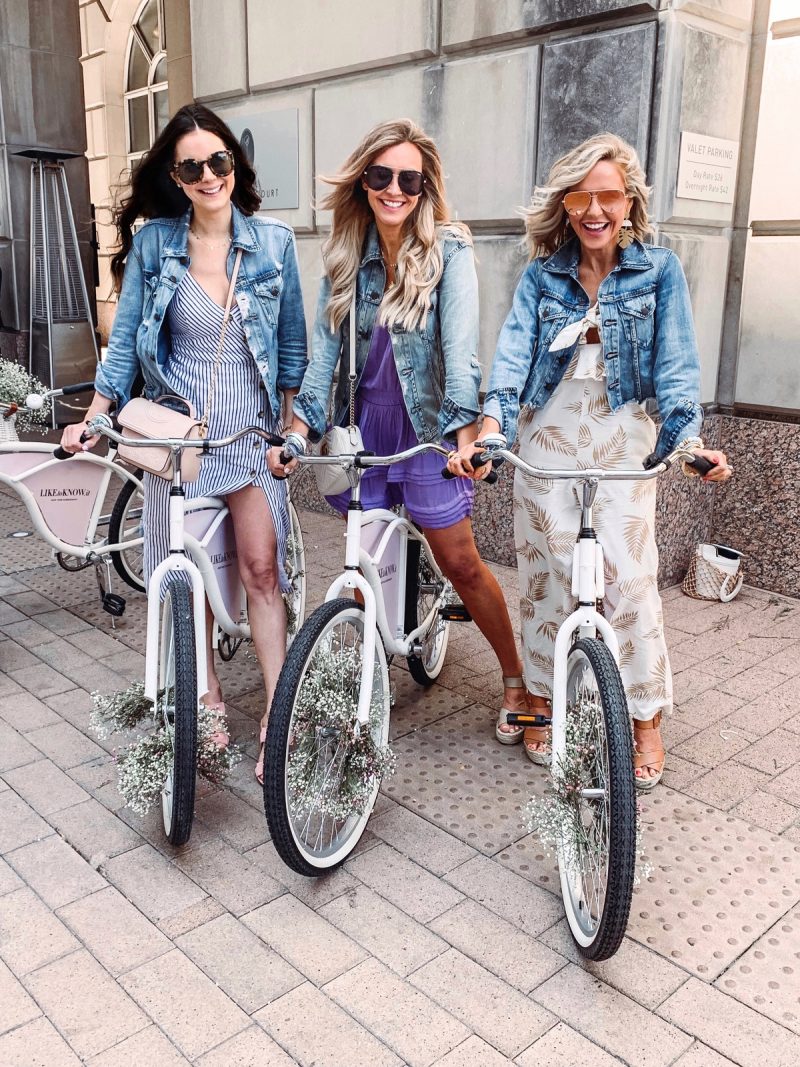 We headed to a garden lunch hosted by Mary Kay – it was a delicious meal with baked chicken, a watermelon and feta salad, a chickpea salad blend, roasted cauliflower (it was seriously incredible – I had a second serving!) and a sweet dessert. I had two classes later that day so after lunch I took a brief break in our hotel room to edit some photos and drink some water. For those wondering, the class topics range, but are all meant to help us learn about ways to make our blogs better – from SEO strategy to growing your brand to managing teams (a lot of bloggers who blog as their full time job have assistants and/or multiple employees).
We had a couple of hours after class to have some downtime and get ready for the night's cocktail party, hosted by eBay. I really wish I had tried on my dresses before coming, because this yellow one barely fit my chest area – but I made it work. I love Rent the Runway for cocktail parties like this since I don't want to spend a ton on a dress I'll likely only wear once. I'd rather spend more on a casual dress that can work for daytime, a beach vacation, etc. Rent the Runway let me try out their Unlimited program for this conference, so I was able to order 4 items at once, which was awesome. When I'm done with those items, I send them back and can pick four more (or you can send 1-2 back and keep the other items while you swap out the returned ones for new items). If you have a lot of weddings or special events coming up this summer, definitely look into it, because a one month unlimited package costs $159, which is less than the cost of one department store dress. Anyway – though the yellow dress fit perfectly everywhere else, the chest area was super small, so keep that in mind if you'd like to try it for an event.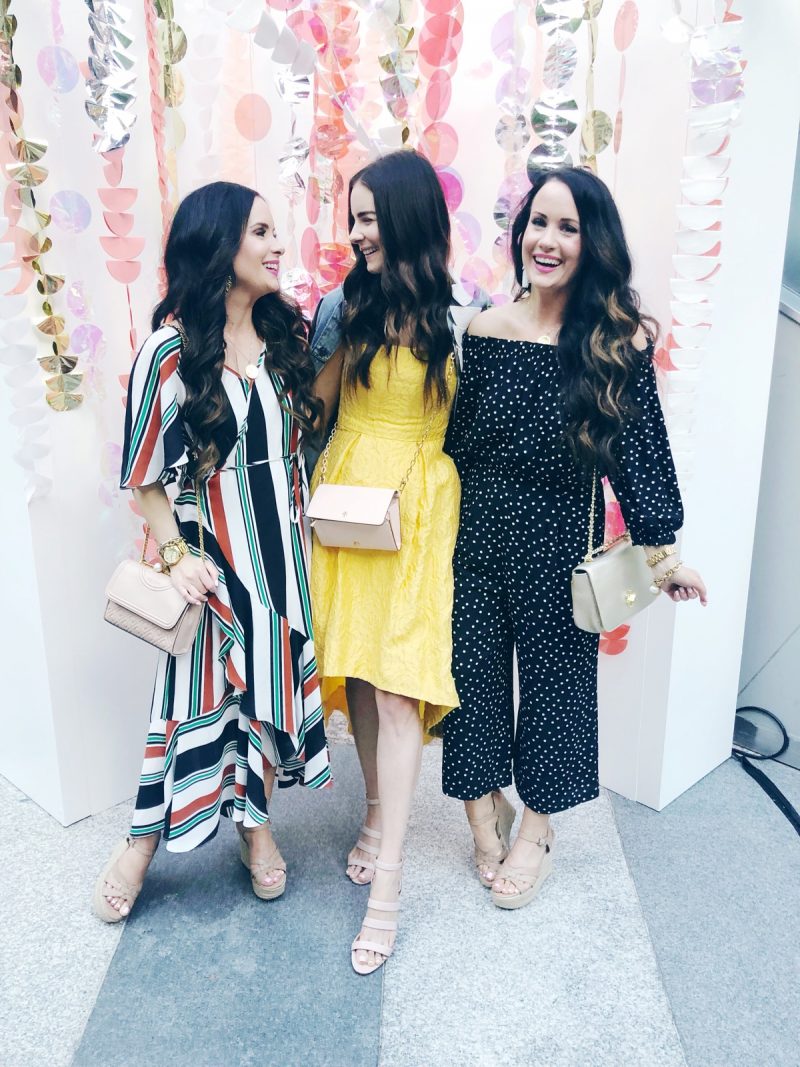 The double take girls (Lindsay and Whitney) and I!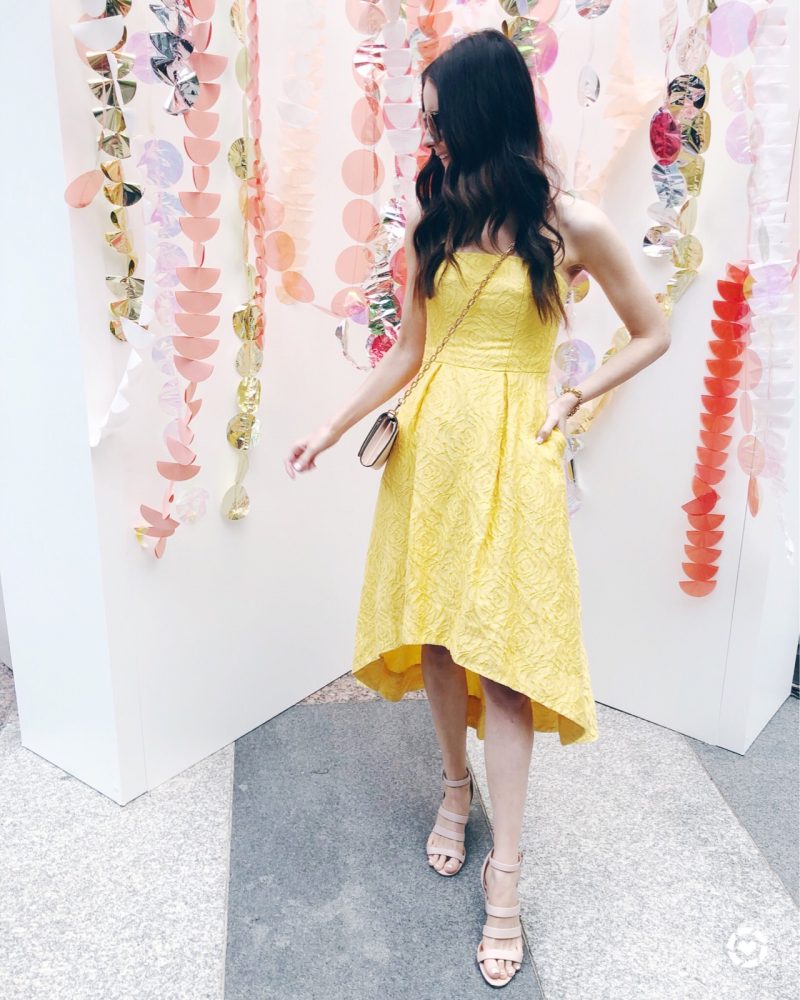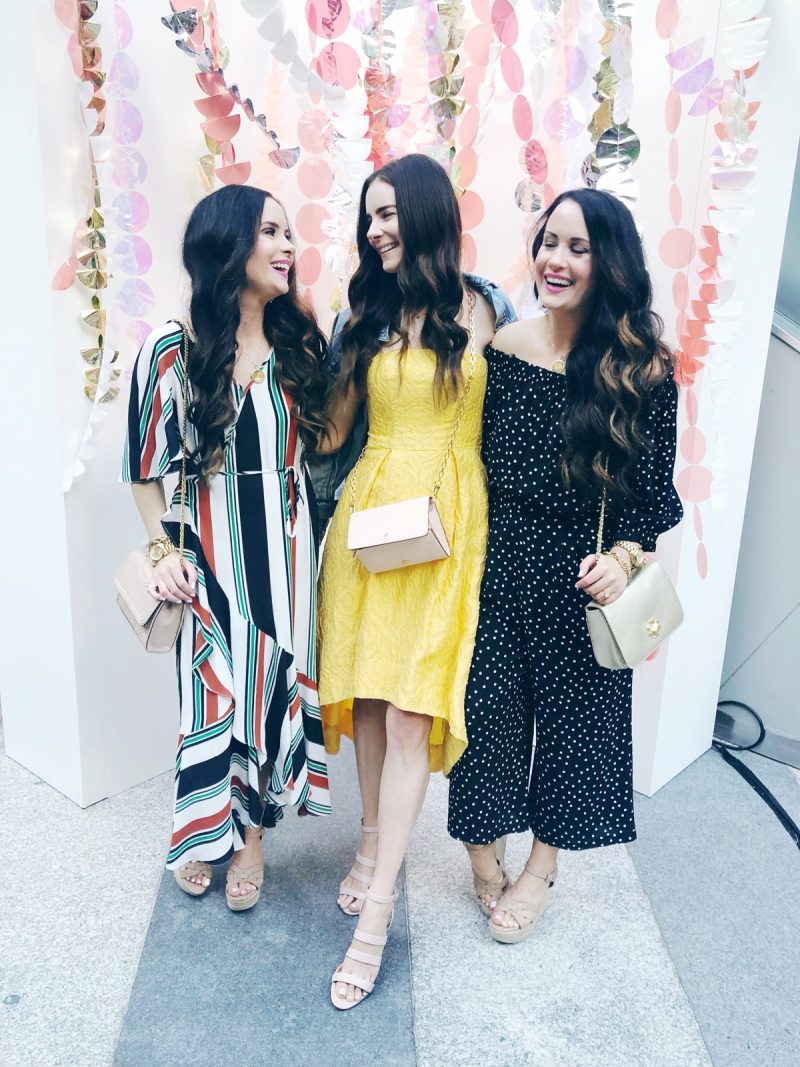 shop my outfit here
By the way, while at the cocktail party, I got a text and photo from Kevin that Harper had lost her first tooth! We knew it would happen soon and I was so sad that it happened while I was out of town! I got the text and turned around to go find a place to FaceTime with Harper and standing right behind me was Amber Venz Box (co-founder and president of rewardStyle) and we chatted for a bit about our kids – she's seriously such a kind person and incredibly smart and driven – I admire her so much as a businesswoman and fellow mom (she has three little ones!) She and her husband Baxter are literally the driving forces behind why we're able to do what we do as content creators, and I'm so thankful to them.
We headed out to dinner at Mesero and I was so tired when we got back, I ended up washing my hair and just vegging out in our hotel room while my roommates went to the hotel lobby bar to enjoy another drink. I regretted it a little (hello, FOMO), but I wasn't sleeping well in our hotel room and it had been a long day and I was sore from working out (still) and my throat was killing me. I knew I needed to get some rest if I was going to make it through the next day and at the LIKETOKNOW.it finale party. I ended up staying up late and hanging out with Natasha and Sara when they got back, but it was still nice to have a couple hours of downtime.
SATURDAY
Our final day – Saturday, started off with a Starbucks latte and avocado toast and a hardboiled egg for breakfast. I wore my Gal Meets Glam dress since I had a lot of brand meetings that day. It's so cute and flattering – I'm so proud of Julia for having the vision to create such a beautiful dress line that is so true to her brand and aesthetic. After a my first morning class I had a brand meeting and then lunch, hosted by JC Penney, a brand I've worked with numerous times, dating back to the OG days of my blog. Lunch was tomato soup, baked chicken and a series of side dishes – there were so many I hardly remember – it was delicious and came with dessert, too!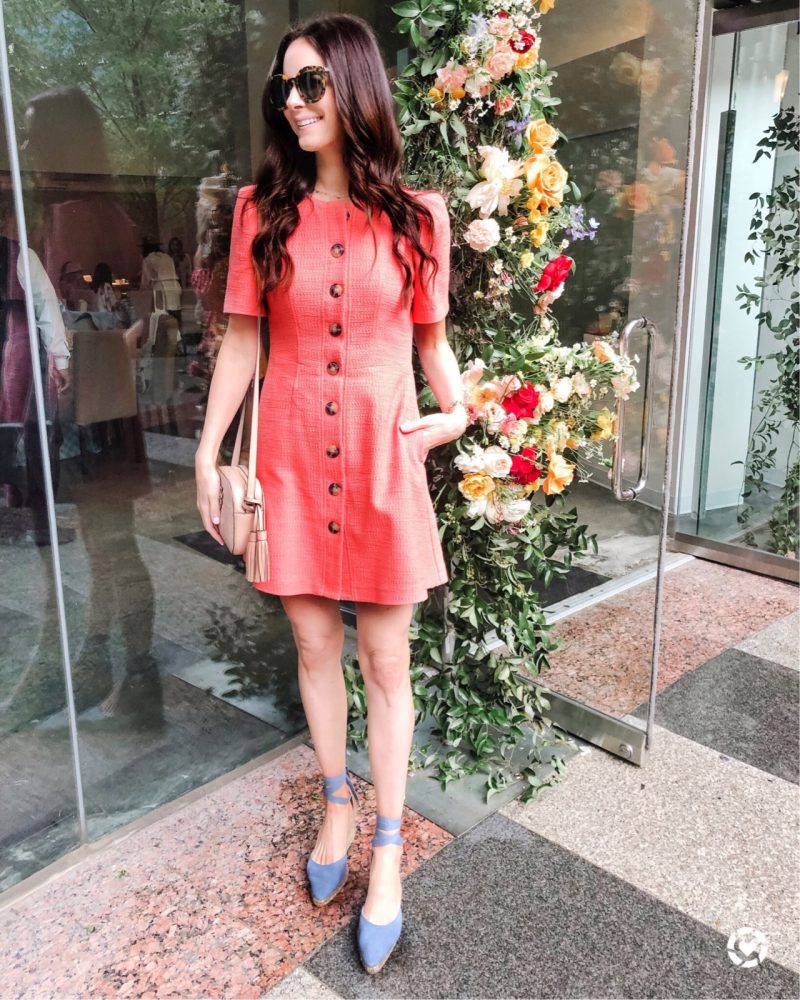 shop my outfit here
We shot some outfit photos after lunch and I had some downtime afterwards, so I went back to our room, edited some photos, wrote captions and posted on my social media channels. I had back-to-back brand meetings for the rest of the afternoon – they're seriously one of my favorite parts of the conference. It's so wonderful to have one-on-one face time with brands you love and to meet new brands as well. The meetings are about 10 minutes long and it's a time to connect with brands, tell them a little about yourself and your blog and discuss their goals and how you might be a fit (or perhaps not!) It's kind of like what I imagine speed dating would be like, ha!
The thing about being at the rewardStyle conference is that you're always "on" – so it's not like a normal work day where you can have some quiet time, work on your computer, etc. – I find myself more tired at the conference than a typical work day. Given that we did have a few hours of downtime before the LIKETOKNOW.it finale party at 8 that night, we ordered some pizzas to be delivered to our room – they were amazing and good Lord I'm thankful I packed my Spanx because I really indulged in that cheesy goodness!
We took a bus to the Tesla building where the finale party was being held (so cool!) and enjoyed some bubbly as the room filled up and we were taken to the main party space where there would be a ballet performance (the exact dance from the movie Center Stage to Jamiroquai's "just dance!" song, which was epic), followed by a performance by the band St. Lucia (side note, we actually ran into the lead singer in the elevator at our hotel when we had to Uber back to get our IDs to go out that night – he's super nice!)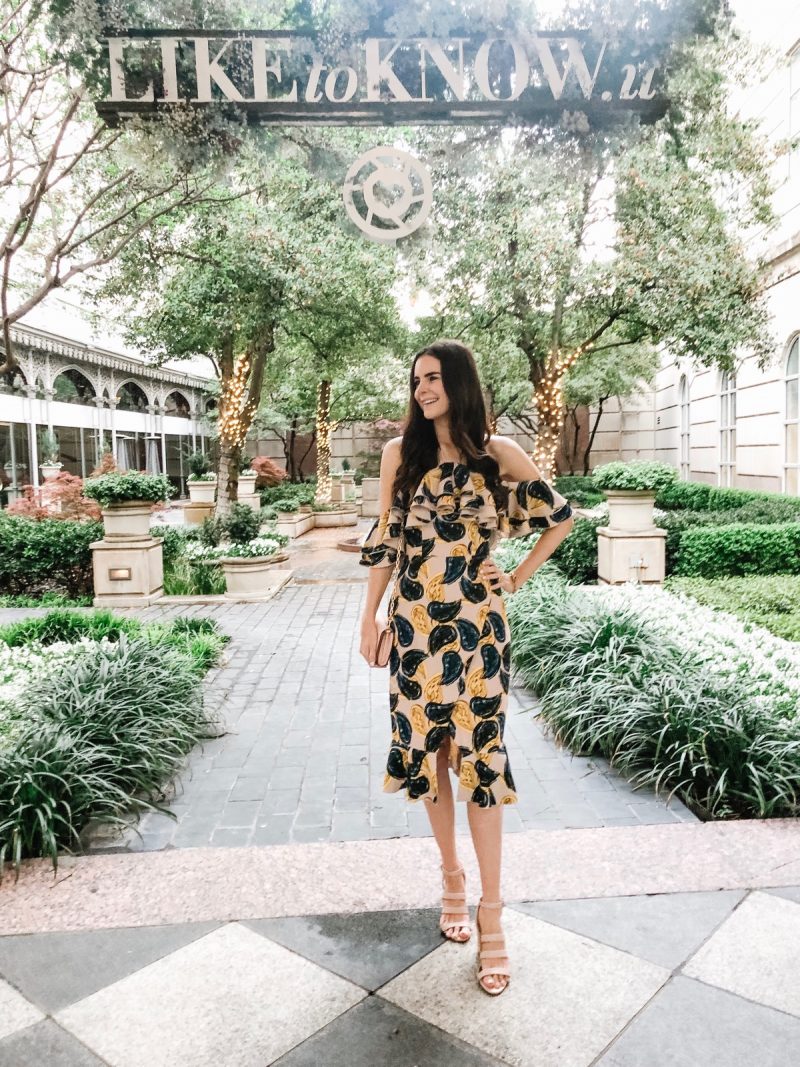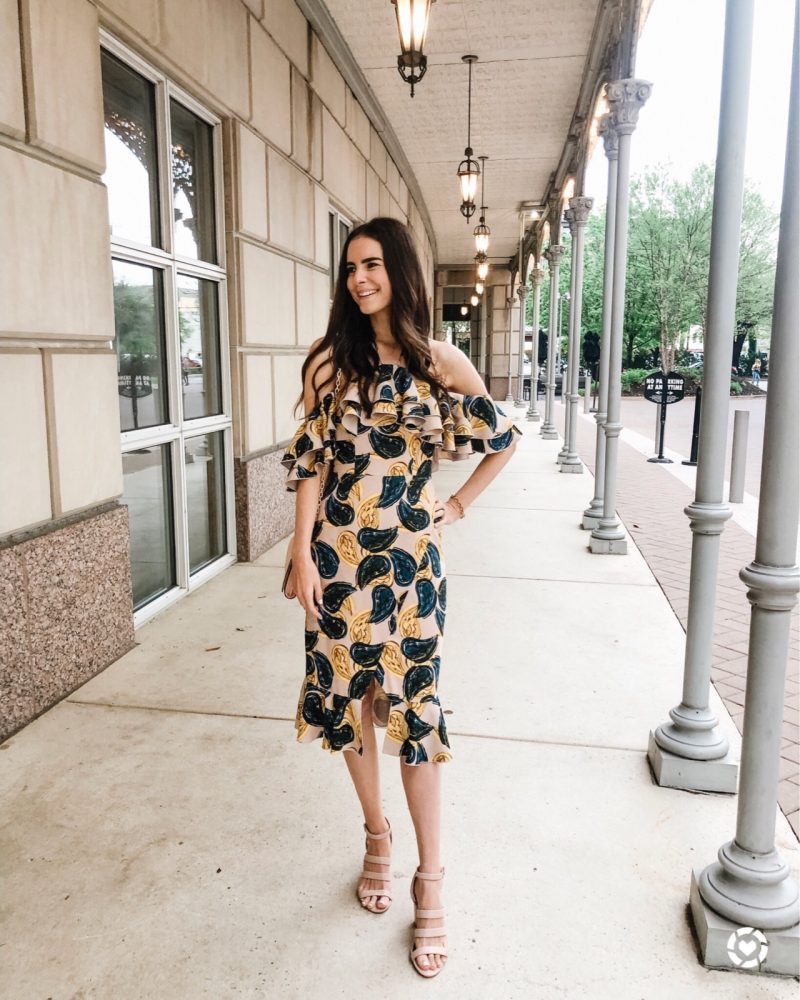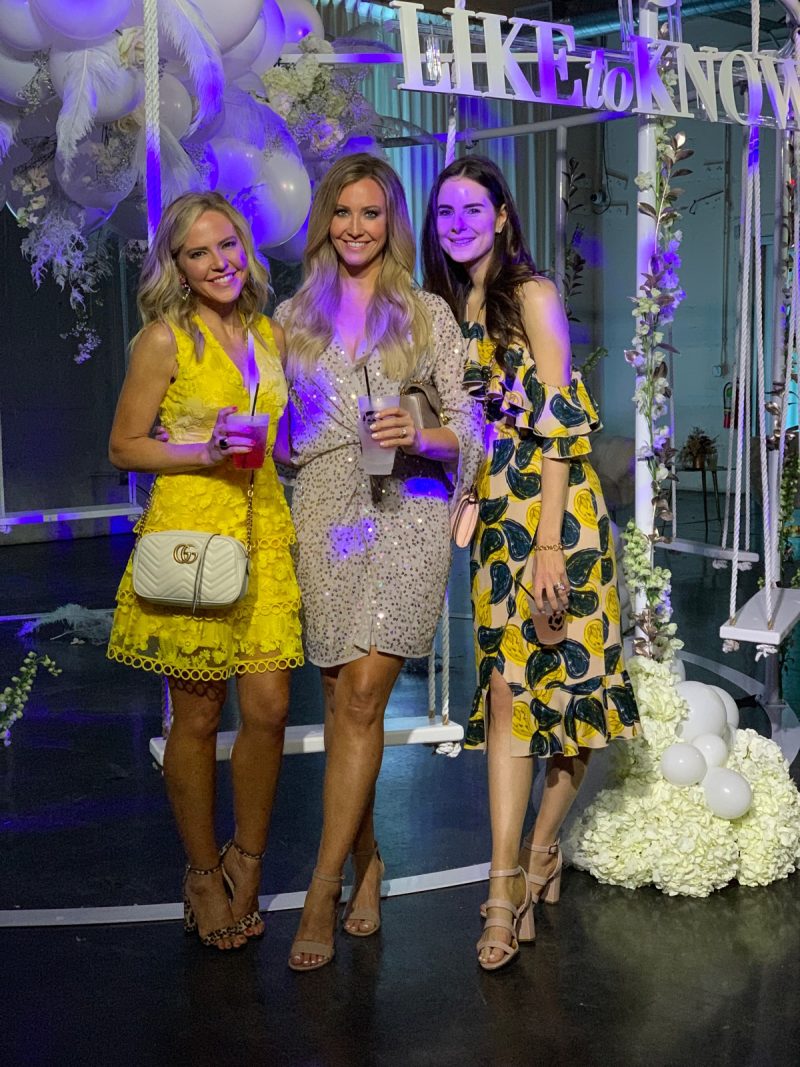 excuse the blue light on my face, haha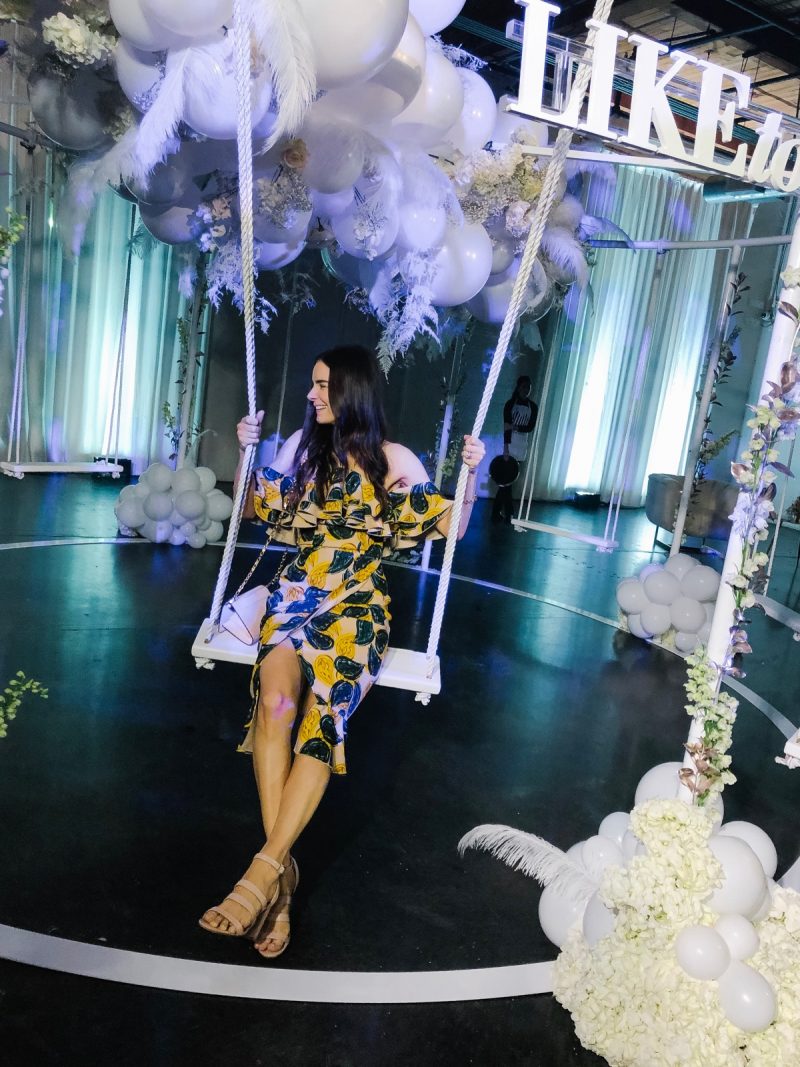 As the party was winding down at 11, we were invited out to the Round Up Saloon and headed over there, only for half of us to be turned away by the bouncer because we didn't have ID (totally understandable, and I'm also weirdly flattered when I'm asked for ID, simply because for a moment, it allows me to live in a delusion of someone believing I'm under 21, while simultaneously also recognizing that they do, in fact, believe I'm over 30, but need to see my ID anyway). We returned to the bar an Uber ride later with cinnamon buns (RoRo's Baking Company had delivered them to our room the night before and we had an extra box) – we ate a couple in the car and gave the rest to the bouncers – a welcome surprise!
It was the best night – I love dancing, but it's not something I get to do often, obviously, haha! We crashed in our room that night, slept in (I use this term loosely since I tossed and turned every single night I was in Dallas because my throat hurt so badly – spoiler alert, it's allergies combined with the strain/inflammation from talking so much over loud music several days in a row – I got on methylprednisone and nasal spray after I saw a doctor at home). By the way, I truly am addicted to our TempurPedic, because I swear another reason I tossed and turned so much is because I didn't have my beloved mattress.
We finished packing, cleaned up our room and headed to Breadwinners for breakfast again – I had the French ham Benedict and it was one of the best breakfasts I've ever had. Our drive home was riddled with quite an intense rain/wind storm – thank goodness for Sara who was calm as a cucumber on the road – she's my hero!
Once I got home and reconnected with my family, I immediately unpacked and started doing laundry. I get so anxious about clutter and messes and I had already stashed a ton of boxes and bags in the corner of our room of items I needed to return (things I bought for the conference that didn't fit/I didn't like). Basically, I wanted to get things back to normal quickly since I had to go back into work Monday and didn't want to come home that evening to a disaster.
Overall, the conference was amazing and I'm so glad I've gone these last few years – it's always an amazing celebration of our work and a time to connect, learn and feel reinvigorated. The online content creator and influencer world is still relatively new – so it's wonderful to be able to connect with women who work in the same industry and share our experiences, insights, advice, etc.
Thanks for reading and if you have any questions, please leave a comment and I'll be sure to get back to you!
Shop the Post