Thank you Nordstrom for sponsoring today's post! All product selections and opinions are my own.
Just like using essences on my skin, I'm about three years behind on the trend of facial rolling. I first started seeing jade and rose quartz facial rollers pop up on Instagram and YouTube and I was intrigued, but didn't want to add one more step to my routine.
SHOP SKIN GYM FACIAL ROLLERS:


I also didn't really know what facial rollers actually do – whether the juice was worth the squeeze, so to speak. My curiosity got the better of me and I decided to try this rose quartz facial roller by the brand Skin Gym at Nordstrom (brand name on point, by the way). I purchase most of my beauty products at Nordstrom because they offer free shipping and returns and carry a ton of the makeup, skin care and hair care brands I love, trust and purchase regularly.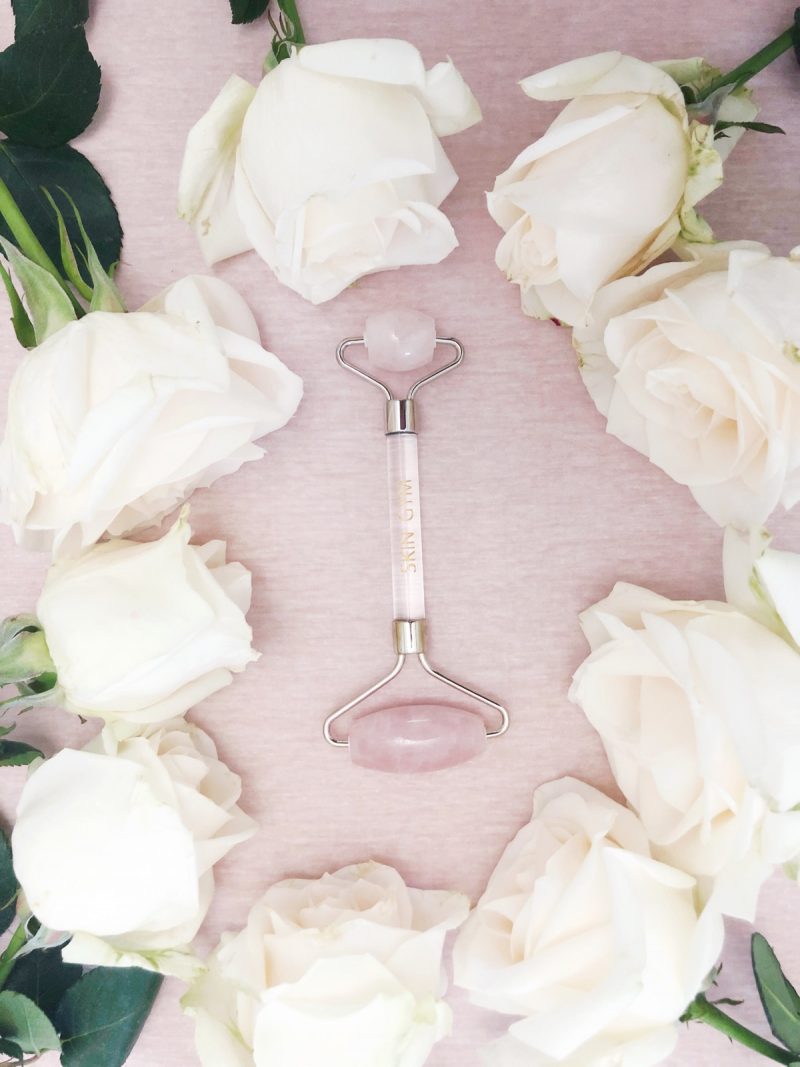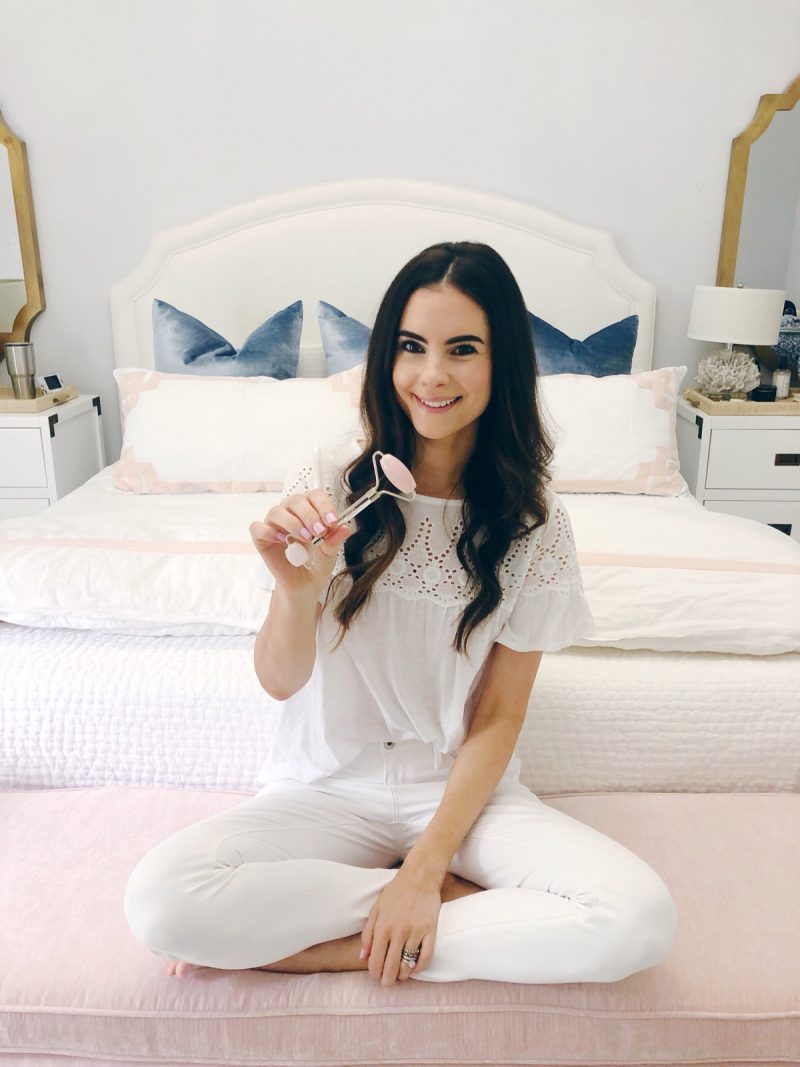 white eyelet top (size small) | white jeans | earrings
WHAT IS FACIAL ROLLING, ANYWAY?
I read reviews for the Skin Gym rose quartz crystal roller on Nordstrom's website and decided to go for it. The older I get, the more I'm willing to try new products because I recognize that my skin needs different things as it ages (sigh). I initially thought that facial rollers were only for de-puffing, but they have so many other benefits I wasn't aware of, including:
increasing circulation
boosting natural collagen
reducing puffiness
reducing wrinkles
improving the elasticity of your skin
promote lymphatic drainage
reduces under eye circles
tightens pores
I was mostly interested in using a roller for lymphatic drainage (reducing puffiness) and for under my eye area. The Skin Gym roller has a larger side to use on your entire face and a smaller stone intended for the delicate under eye area. I had no idea how to use a skin roller or for how long – thankfully, the Skin Gym roller came with detailed instructions on the packaging (thanks for saving me from googling!)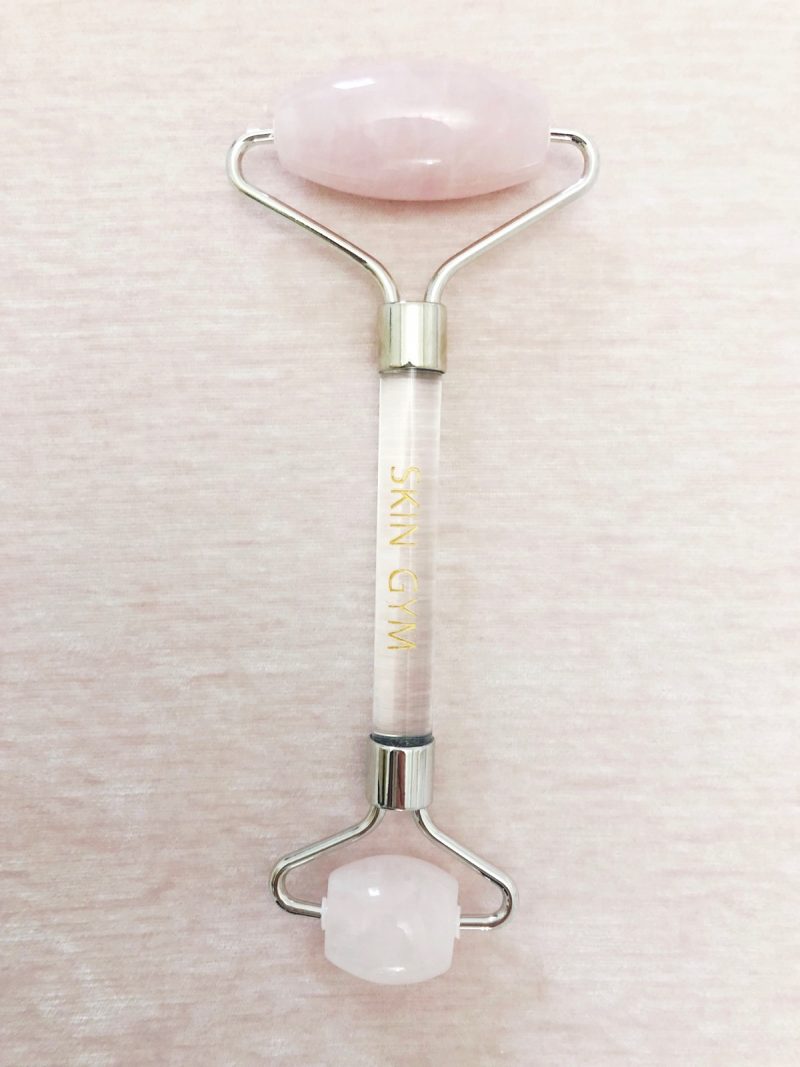 HOW TO USE
Skin Gym
recommends you use the roller for 3-5 minutes. Prior to rolling, you apply your favorite serum or moisturizer and then starting from your chin, work from the center of your face outward. to the sides of your neck. Always work outward and upward (to help promote that "lifting" effect). Use the large side of the roller and continue rolling all areas except for your eyes – the smaller roller should be used for the eyes and you should roll from the corner of your eye to your ear.
In terms of how often you should use the facial roller – you can use it morning and night, once a day or a few times per week. I usually roll in the morning if I notice my skin is looking puffy or my eyes look tired – in fact, sometimes I just roll my eyes! What I love most about this tool is its flexibility – it's there when you need it! Sometimes when I eat a lot of salt or at certain times of the month, I find myself using it more.
If you want to make your roller even more "extra" than it is in and of itself, you can keep it in the fridge. I was recently gifted a skin care mini fridge for my bathroom and it makes the roller feel so invigorating to use (
though, the stone is cold to the touch even without being refrigerated
).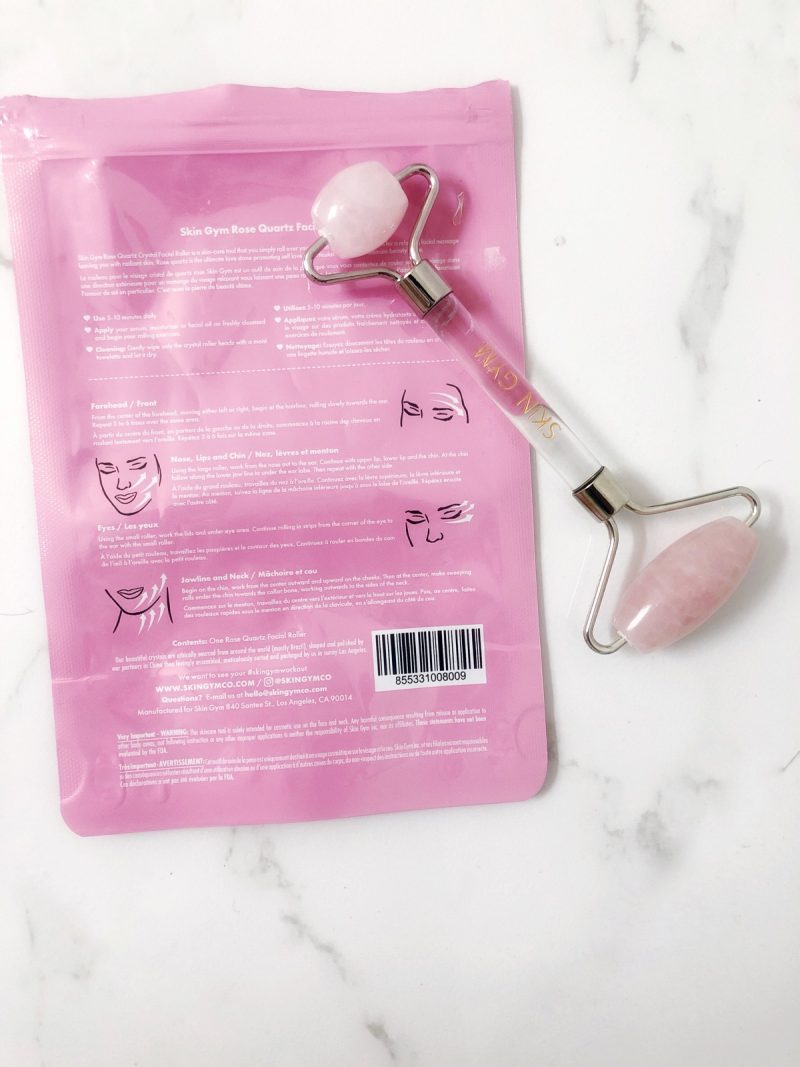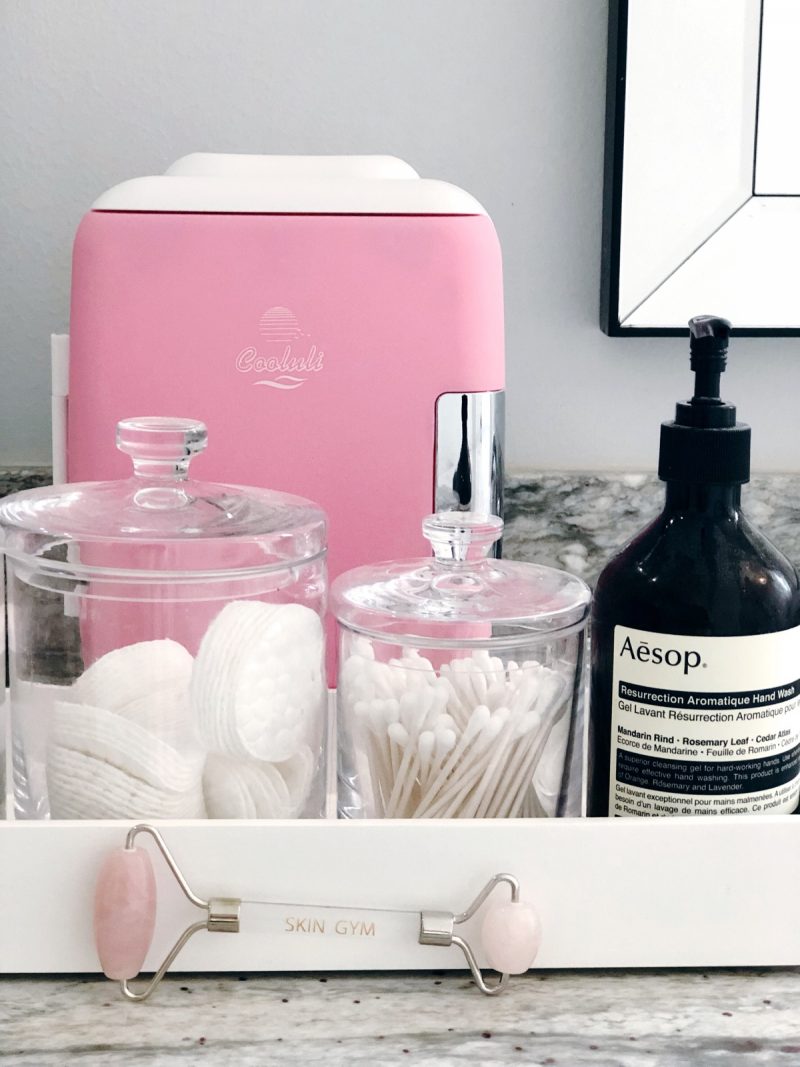 RESULTS

Facial rolling is newer to my routine, but so far, I'm enjoying it because it's very flexible and I can use it either frequently or on an as-needed basis. I sometimes have puffiness under my eyes in the morning and using the roller for a minute or two feels good (especially when I've cooled it!) and is a quick way to reduce the puffiness. I also like to use it with my serums at night sometimes because it really helps push them into the skin and absorb well.
HOW TO CLEAN
Facial rollers are only intended to be used on clean skin (but can be used with serums that have been applied to clean skin, of course). Wipe down the crystal part of the roller only with a damp cloth – do not wash with water.
COST
The Skin Gym roller retails for $28 which I think is affordable for a skin care tool. They also sell a $58 kit that includes the roller and their Gua Sha Sculpty Tool. If you're considering adding a facial roller to your routine, I would start with the rose quartz roller, I don't think both tools are necessary at first, but the duo is a good value. They also sell the sculpty tool separately if you'd prefer that over a roller.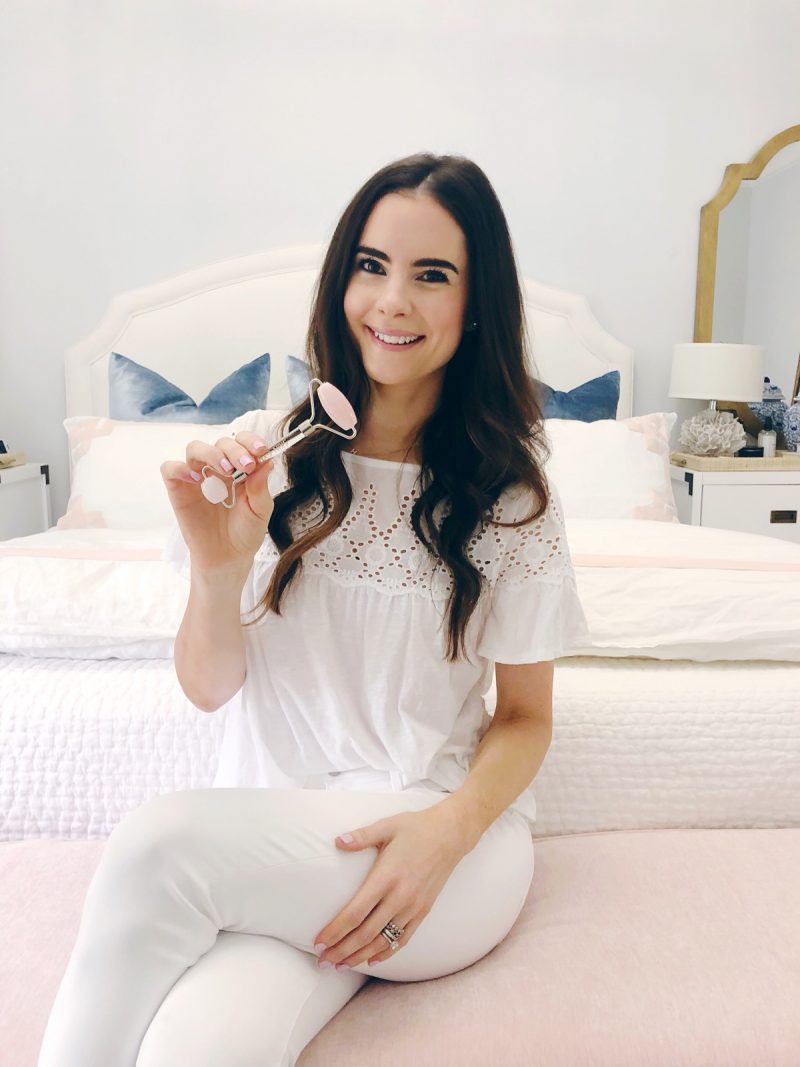 PS- Nordstrom is having a huge Gift With Purchase event with several of my favorite makeup and skin care brands – below are some of my favorite picks, including one of my favorite mascaras of all time, a great self tanner and more!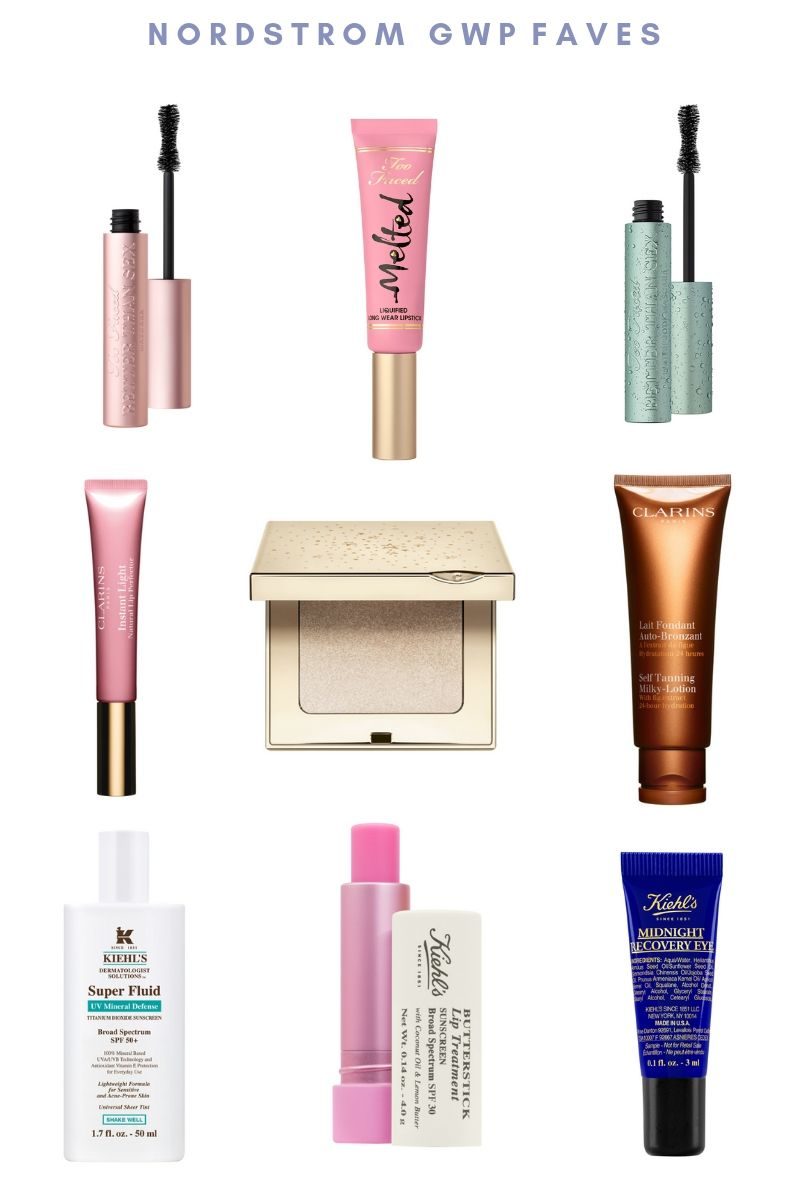 SHOP MY FAVORITES:




GIFT WITH PURCHASE PROMOS:
TOO FACED: Receive deluxe samples of Better Than Sex Waterproof Mascara (0.13 oz.), Better Than Sex Mascara (0.13 oz.) and Mascara Melt Off Cleansing Oil (0.01 oz.) with your $50 Too Faced purchase. An $18 value.
CLARINS: With your $65 Clarins purchase, choose from two six-piece gifts: Super Restorative or Extra Firming. Up to $98 value. Each gift includes a donation of 10 FEED school meals, compliments of Clarins. Promo code required. Online and in U.S. stores. Use promo code SUPER for: Super Restorative Day Cream (0.5 oz.), Super Restorative Total Eye Concentrate (0.23 oz.), Instant Eye Makeup Remover (1 oz.), Wonder Perfect Mascara (0.1 oz.), Double Serum Complete Age Control Concentrate (0.03 oz.), Exclusive FEED Cosmetics Bag. Use promo code EXTRA for: Extra-Firming Day Cream SPF 15 (0.5 oz.), Extra-Firming Eye (0.23 oz.), Instant Eye Makeup Remover (1 oz.), Wonder Perfect Mascara (0.1 oz.), Double Serum Complete Age Control Concentrate (0.03 oz.) and Exclusive FEED Cosmetics Bag.
KIEHL'S: Receive deluxe samples of Daily Reviving Concentrate (0.14 oz.), Ultra Facial Cleanser (1 oz.), Calendula Foaming Wash (1 oz.), Calendula Alcohol-Free Toner (1.4 oz.), Powerful-Strength Line Reducing Concentrate (0.17 oz.), Calendula & Aloe Hydration Masque (0.4 oz.), Calendula Serum-Infused Cream (0.25 oz.) and Ultra Facial Cream (0.25 oz.) with your $125 Kiehl's purchase. A $44 value.
Have you tried facial rolling? I'd love to hear your feedback!
Shop the Post