I met Kilee about five years ago – we were roommates on a trip in San Fransisco where we were hosted by the StitchFix team. I loved getting to spend time with Kilee and learning more about her blog (One Little Momma) and burgeoning business (Nickel & Suede). We kept in touch via Facebook over the years and her family even made a pit stop at our home last summer – they had a photo shoot for Nickel & Suede in Galveston and had a huge beach umbrella shipped to our home for safekeeping until they flew in for the shoot.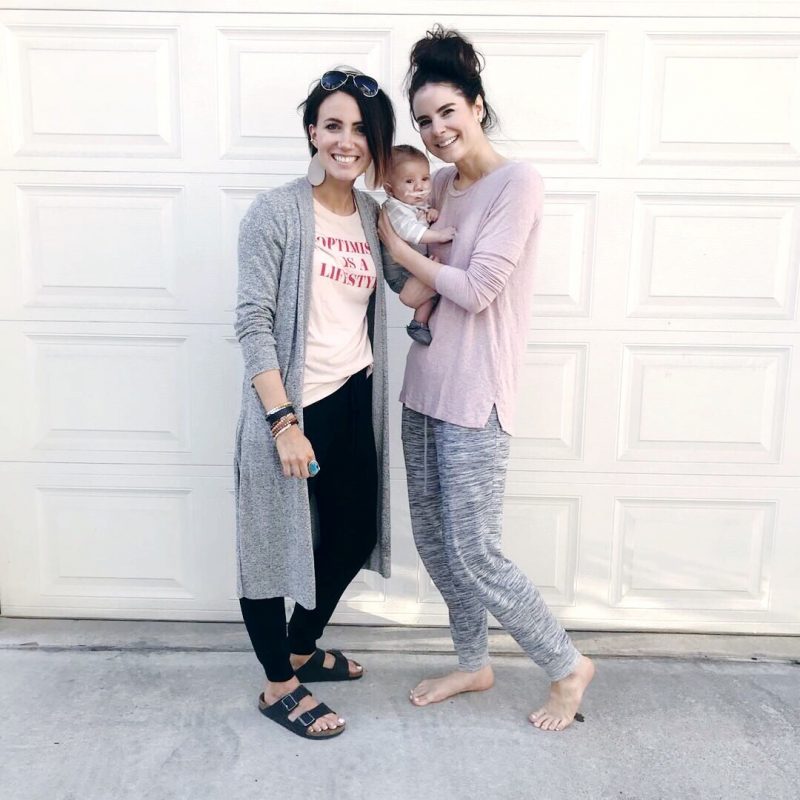 Kilee and I with her son Rush when she stopped by our house last summer!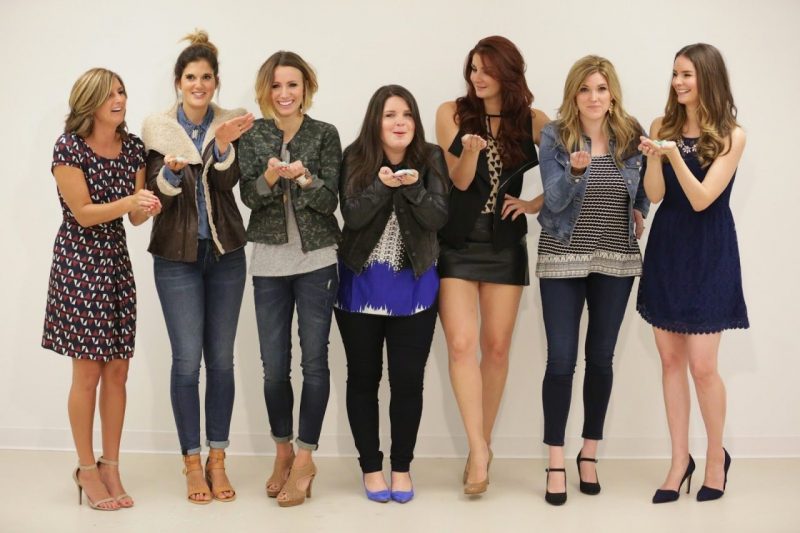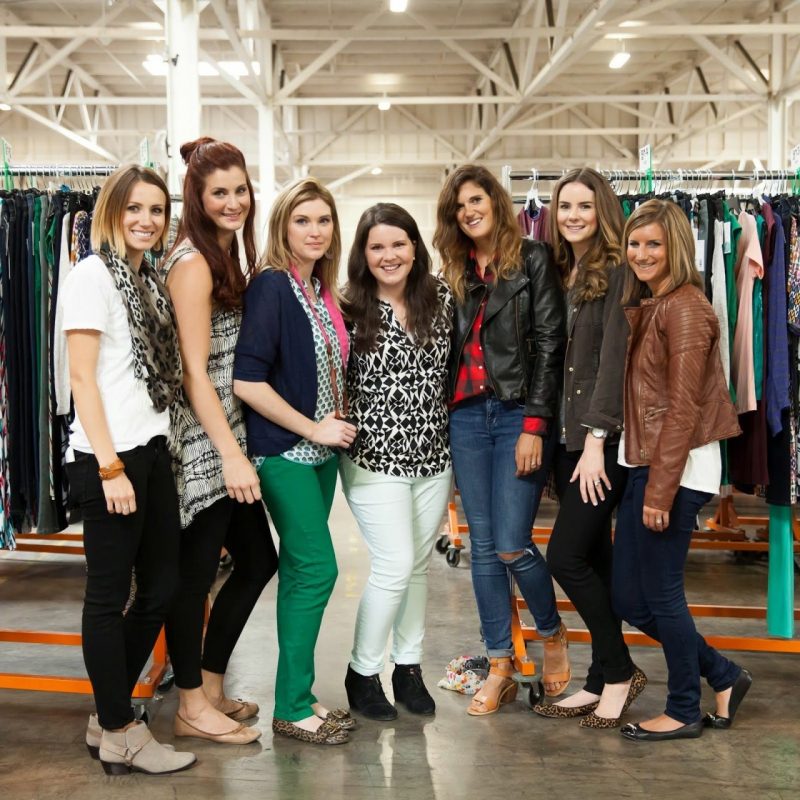 Our StitchFix trip over five years ago.
I've always been inspired by Kilee as a mom and business owner – I think she really took a chance and created something amazing with her products and brand. I also relate to her in so many ways in terms of motherhood as a working mom. Kilee and I are both the first to raise our hands and say "we need help and we're not afraid to say it!" and I think that transparency can be rare in the blogging community.
I asked Kilee to do this interview because I'm so proud of all she has accomplished as a woman business owner and mom – I know you will be inspired by her story too! Oh, and she's as beautiful as she is talented!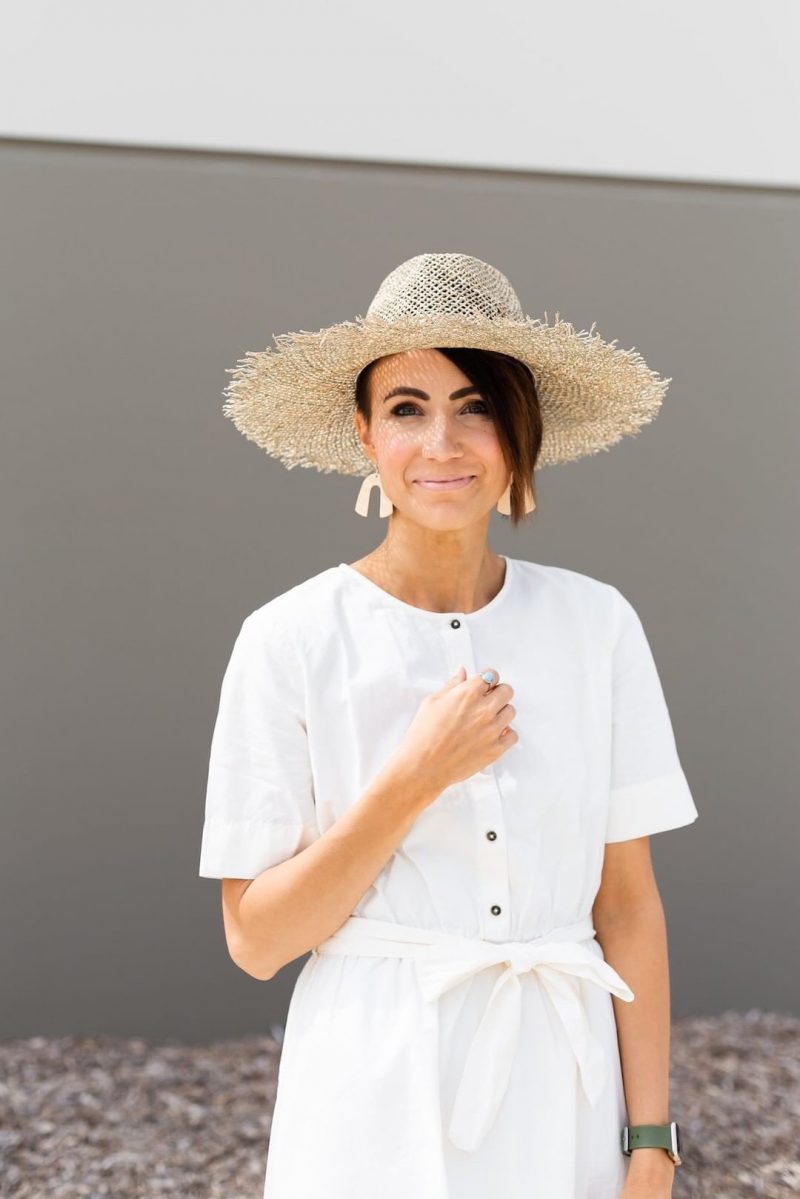 ---
Tell us about what inspired you to start Nickel & Suede?
I get asked this question often and the truth is that I actually had no initial intention of starting a company. I had three kids, a Bachelor's degree in Nutritional Science and had recently started a fashion blog. I really loved creating things, learning new skills and taking on challenges and as a mom at home, blogging and a small Etsy shop were filling that need for me. So, the first pair of leather teardrop earrings was something I enjoyed creating just to fill a gap in my own jewelry box. I always wore large silver metal earrings and I needed a gold pair. I couldn't find any that I loved and so when I remembered some gold leather that we had purchased as a supply for another Etsy shop, it seemed like just the thing to make my own pair. I cut out the first pair of leather earrings and they looked like metal, but they felt SO MUCH BETTER. I started wearing them, but I didn't even consider them to be a product to sell until I wore them and started talking about them to my blog readers. I was excited to have discovered something so different but surprisingly functional and intriguing.
My blog readers were a big reason for the start of Nickel & Suede because they really gave me the confidence to see the potential in our product. They were already customers for other things that I recommended, but when I told them about this new earring concept, their response was totally different than anything before. They tried them and were instantly hooked. It was amazing to see them recognize how different these earrings felt and made them feel. When they started telling me they never wanted to wear anything else and how good they felt wearing something so statement-making, it was definitely the push I needed to start branding and make Nickel & Suede "it's own thing". I had just found a way to make big statement earrings comfortable, approachable, and even more versatile than my previous metal earrings. Plus, the possibilities of creating with leather are endless!
The leather industry is so advanced, but somehow hadn't ever been geared toward earrings! The discovery of this new idea is what inspired my husband and I to go all in on N&S. I immediately began working on branding and he quit his CPA job a few months later. We set up shop in our basement and set our sights on replacing his income. It seemed like an impossible number, but after just a few years we were there and past. We never thought we'd be working together, or even be working outside of our basement, but it's an incredible thing that we are so grateful for.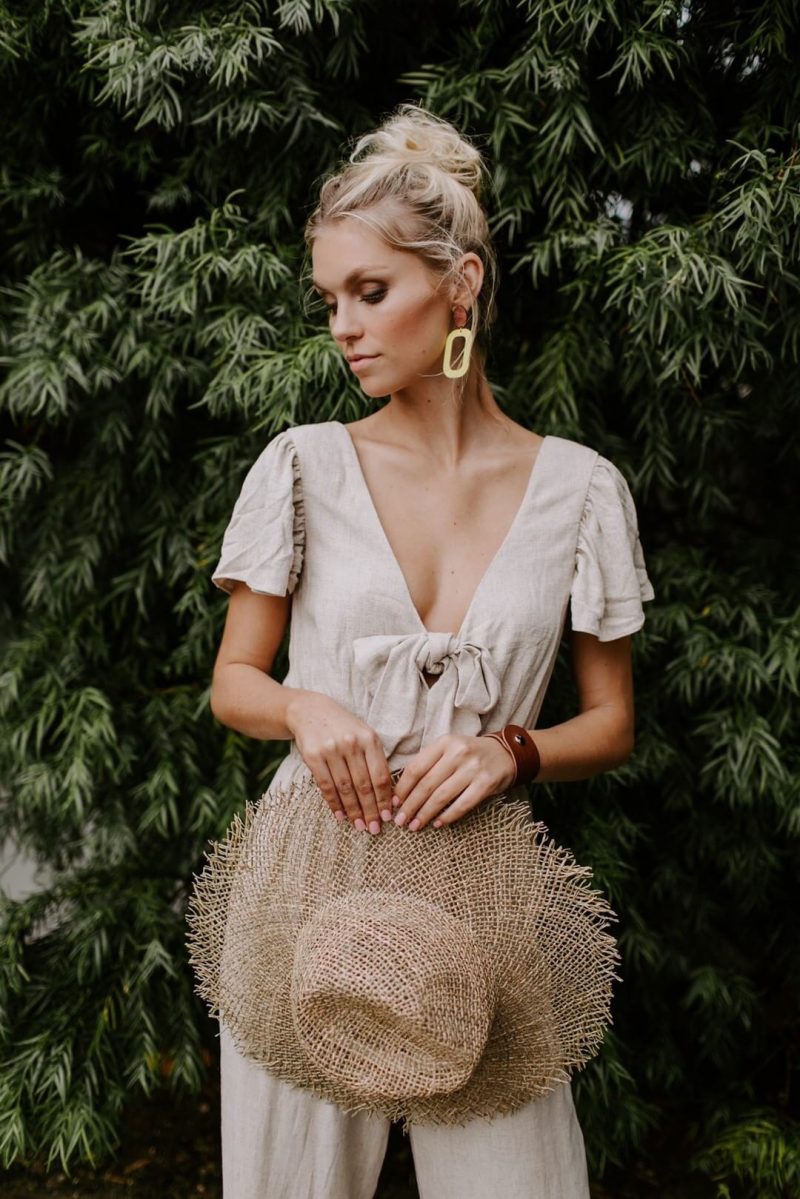 What are some challenges you faced early on or presently that you learned from?
At the beginning of Nickel & Suede our biggest problem was sourcing leather. Finding place to buy leather in the quantities we needed and in the quality we were looking for was tough. We could make so many earrings out of very little leather, but to be a player in the leather industry, you need to be able to order high volumes. It took us several years to be able to afford and to use the quantities that the tanneries demanded, so just finding leather in the early years took a lot of our energy.
After that we struggled with making and shipping high order volumes. Our order volume continued to go up and while that fueled our growth, it made it hard to work on anything else. We knew we needed to keep our books in order, we needed systems to keep track of orders, we needed to maintain and continue to improve product quality and we also needed to start hiring employees. All while being parents of 3, soon to be 4 (and now 5) kids.
We eventually moved our office and production out of our home and started on our way to becoming a real business. We hired more employees, opened a store and continued to try to just make enough earrings! There are so many things that I learned through all of that growth, been my greatest challenge as a business owner has been gaining the confidence and having the guts to do what it takes to be a CEO.
As I mentioned earlier, I never went to business school so everything I know about running a business has come from my gut combined with counsel from Soren and from a few business books. The first time I led a company-wide quarterly meeting I literally printed my agenda off of Pinterest. Even though I get good feedback and my husband tells me I'm doing great, I still feel like I definitely don't know what I'm doing. Managing people has always been difficult for me and it's also hard to be expected to know all of the answers when you literally don't know any of them. I am constantly making stuff up and hoping that it works out. A lot of it does and a lot of it doesn't, but I make changes as we continue to learn. Having the confidence and the humility to be a leader has definitely been a work-in-progress growth opportunity for me over the last five years.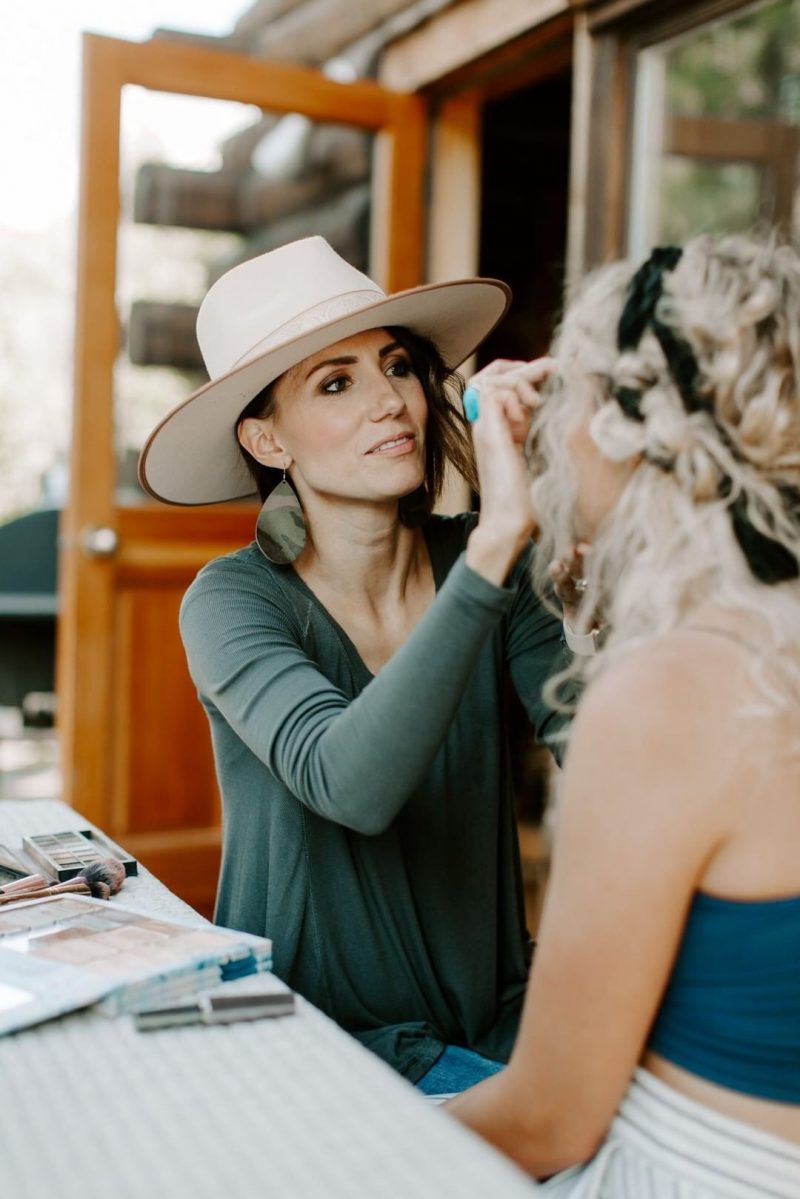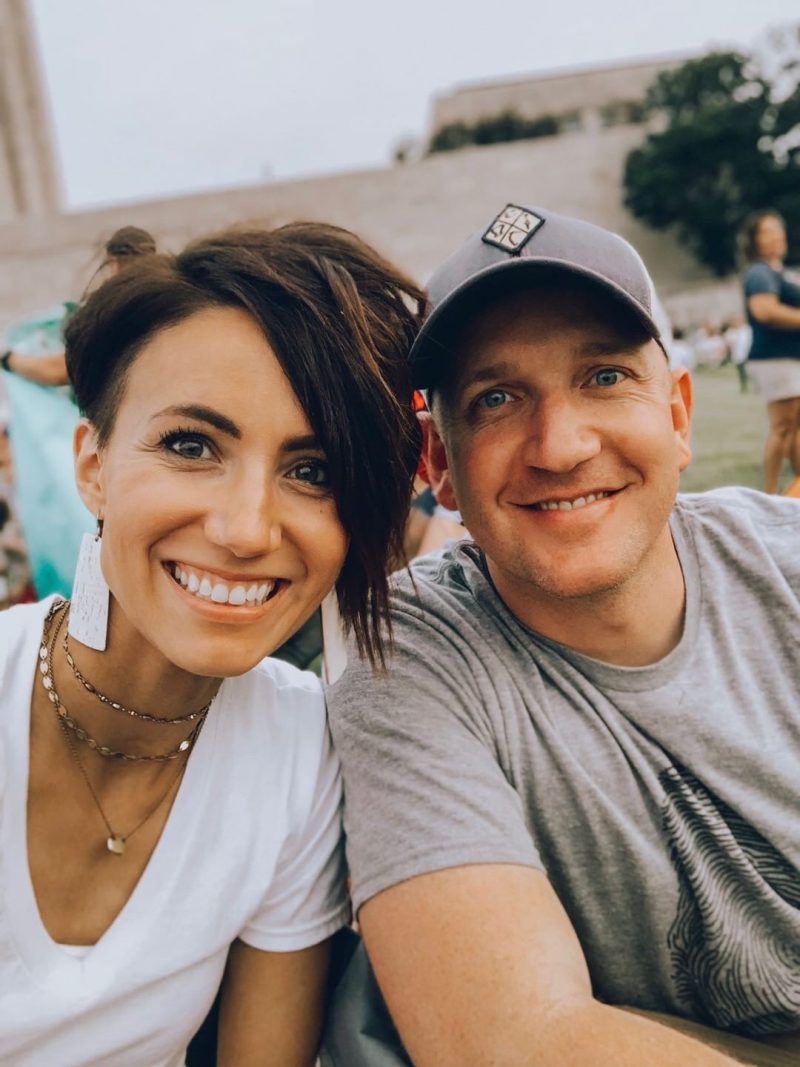 Your company has grown tremendously over the last five years – what have been some of the driving forces behind your growth?
I believe that our initial growth really came from the excitement and novelty of our revolutionary product. That "newness" generated a crazy amount of word-of-mouth free marketing that allowed our product to essentially sell itself: an entrepreneur's dream. Women were buying our earrings and telling us they didn't ever want to wear anything else. Customer's coined the term "life-changing" and started collecting Nickel & Suede earrings with pride. At first I was puzzled by why they called them "life-changing" but it quickly started to make sense.
These earrings were helping women have the confidence to change their lives! We designed our products to be approachable in both style, price and feel. However because they do make such a statement, many of our customers have to muster a little bit of courage to give them a try. That courage is immediately rewarded with compliments and confidence and that confidence gave them the boost to entertain taking more steps toward self-improvement in their lives. This is the real special sauce behind our customer enthusiasm and loyalty.
We now understand "life-changing" and we proudly include on our packaging. These earrings are more than just lightweight earrings, they are empowering, they make women feel beautiful and they even help women find their own unique style again. I love that our products inspire and help women to become their best selves and they can't help but want to share that with others. They gift our products, tell their friends and neighbors about our jewelry and even pass out our business cards at the grocery store. It's truly incredible.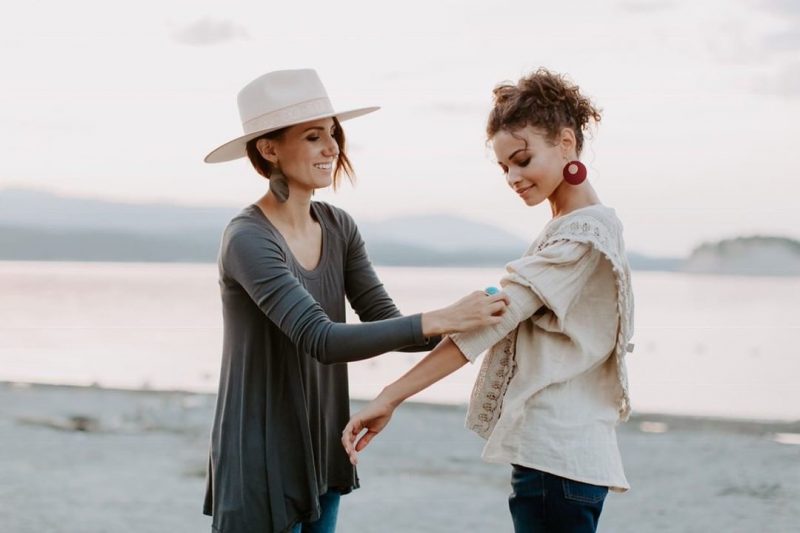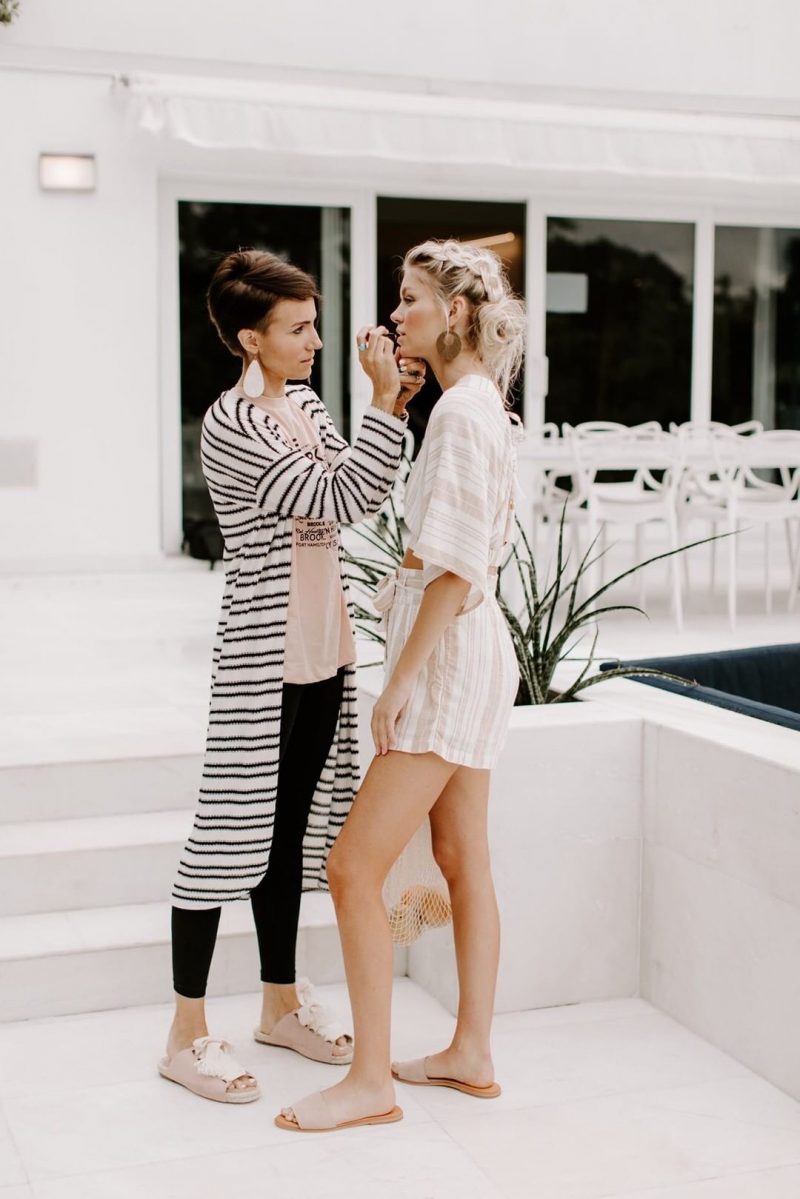 You're a very involved mom of five sweet boys- what is your best advice for working mothers? What are some ways you plan your days to be able to be energized at work and at home?
Transitioning from being a stay-at-home-mom to being a working mom has truly given me a new appreciation for both sides. Being a mom is tough, and working adds some new hard and awesome elements to our family life. My kids get less of some things from me now that I work, but more of other things, so it's impossible to say what I prefer. I am learning that it's possible to be happy and raise great kids whether you work outside the home or not.
I definitely don't have this topic figured out but, my first piece of advice is to find what works for your family. In a world where it's so easy to compare, don't believe what the world or the internet tells you a working mom needs to be. You were made for your unique situation and your solutions to it will be unique too. I've found it helps me to exercise in the mornings, but usually that is only ten minutes of movement before other tasks take over. I've given up on home cooked meals and I hire out a lot of my housework and cleaning.
Which leads me to my next piece of advice- get help! I'm really open about having a lot of help and I don't get down on myself for needing it or using it. I would always recommend hiring out whatever you can to make sure the priorities in your life stay where you need them to be. For me my priorities are my kids, my husband, myself, my work and my religion. Those priorities get shuffled around, but I'd rather they get my attention than my laundry or my emails- when I know I can get help with both of those and more! I have help with deep cleaning twice a month, help with laundry and dishes almost daily and a personal assistant for all things work related. I also have babysitting help. I haven't always had all of this help, but as the business grew and as my time continued to get stretched, I added more and more help.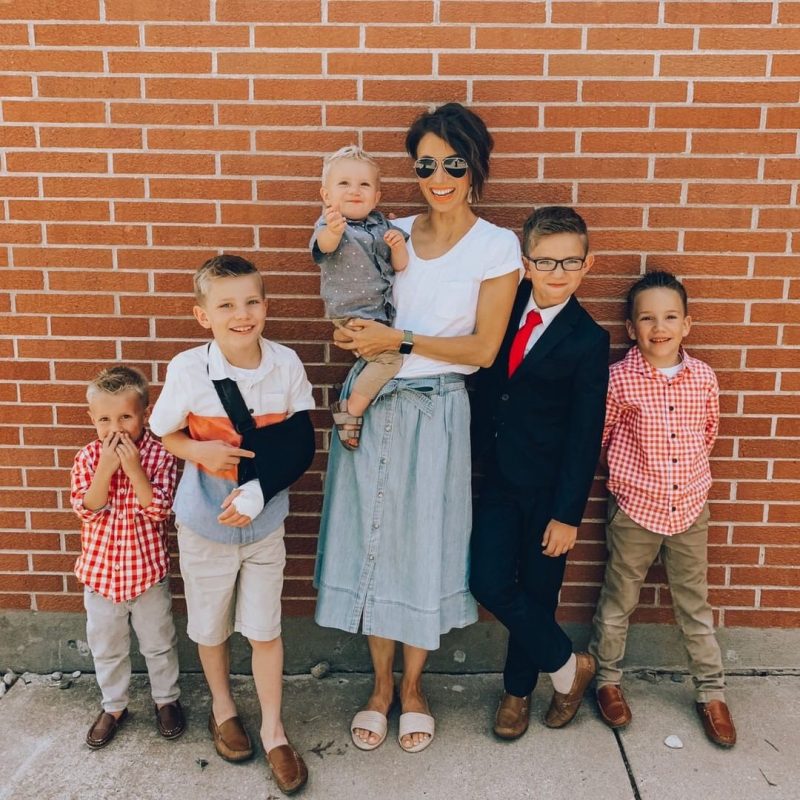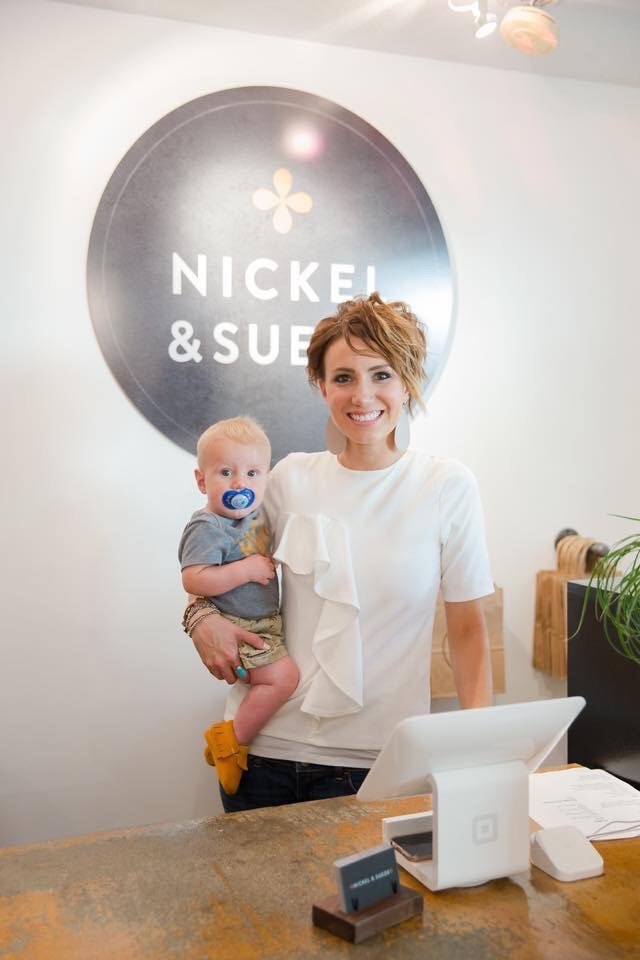 What do you love most about running your business as a mother? How has being a mom helped you in the business world?
First of all, I love this question. But yes, what do I love? I love a lot of things about it. The first thing that comes to mind is that it fills me up. It fills me up as a person and as an individual to get to use my talents and passions for good in the world. I get to use them to create and to continue to learn and see growth in myself. I also love that I have the freedom as a business owner to put my kids and my family first as I see fit.
It's hard on my family when work needs me and it's hard on work when my kids need me, but it's good for both of them to learn to do things on their own and to function well with or without me. I also love what my kids learn as our family works hard to grow our business. I am very invested in the mission of our business and doing good in the world with that. And I love that our kids get to be a part of that and get to learn from me as they watch me do my very best every day at what God has called me to do.
Being a mom really has helped me in the business world because the School of Motherhood is where I've spent the last ten years attending. I've learned to go with the flow, to try new things, to be selfless and to be supportive. My kids need those things and it turns out, being those things helps employees too. I think being a mom has helped me learn to trust my gut and also to use my time really well. I really don't let a minute go to waste!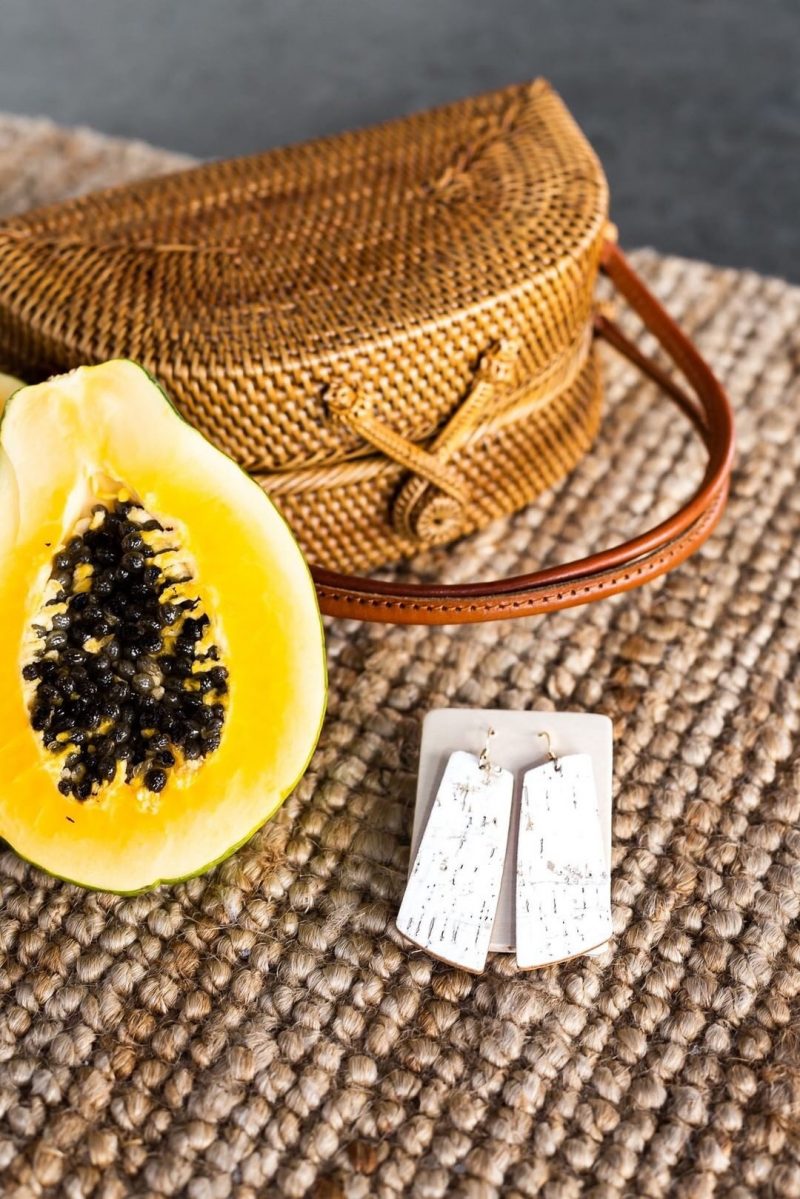 What advice do you have for women looking to start or grow a business?
I think my main piece of advice would be to start with why. Why do you want to start a business or why do you want to grow your business? What value are you hoping to add to the world? I don't think everyone needs to have a big mission to change lives or to change the world, but knowing why you do what you do makes a big difference in all of the decisions you make along the way. It helps keep your priorities focused and helps you keep going when things are hard.
The other piece of advice I would give is to just get going. Time goes on with or without you and the sooner you start, the sooner you learn what you didn't know and at least you are on your way. Small steps are still steps in the right direction and waiting for things to be perfect is tempting, but it's also never going to happen.
The time will never be perfect, you'll never feel ready and it will feel like a risk, but risks are where the rewards are and you'll start finding them as soon as you start.
Thank you Kilee for sharing your heart and wisdom with us today! You can shop some of my favorite Nickel & Suede earrings below!

You can also read an incredible article about her and Nickel & Suede, here.
Shop the Post