Thank you Walmart for sponsoring this post!
I've got the beach on my mind this week (hello, Seaside!) and wanted to share products I pack to keep my skin and hair looking its best on a beach vacation. I'm a creature of habit and don't change up my beauty products much, even when traveling, but I wanted to share a few items I'm taking with me including a bronzer + highlighter combo that's perfect for enhancing your vacation glow.
These products are all from Walmart and ship for free in two days with a $35 order. Walmart carries a ton of my favorite beauty brands and I love sharing incredible finds with y'all at varying price points and they have a Here for Every Beauty campaign, that celebrates the 327 million faces that make-up America.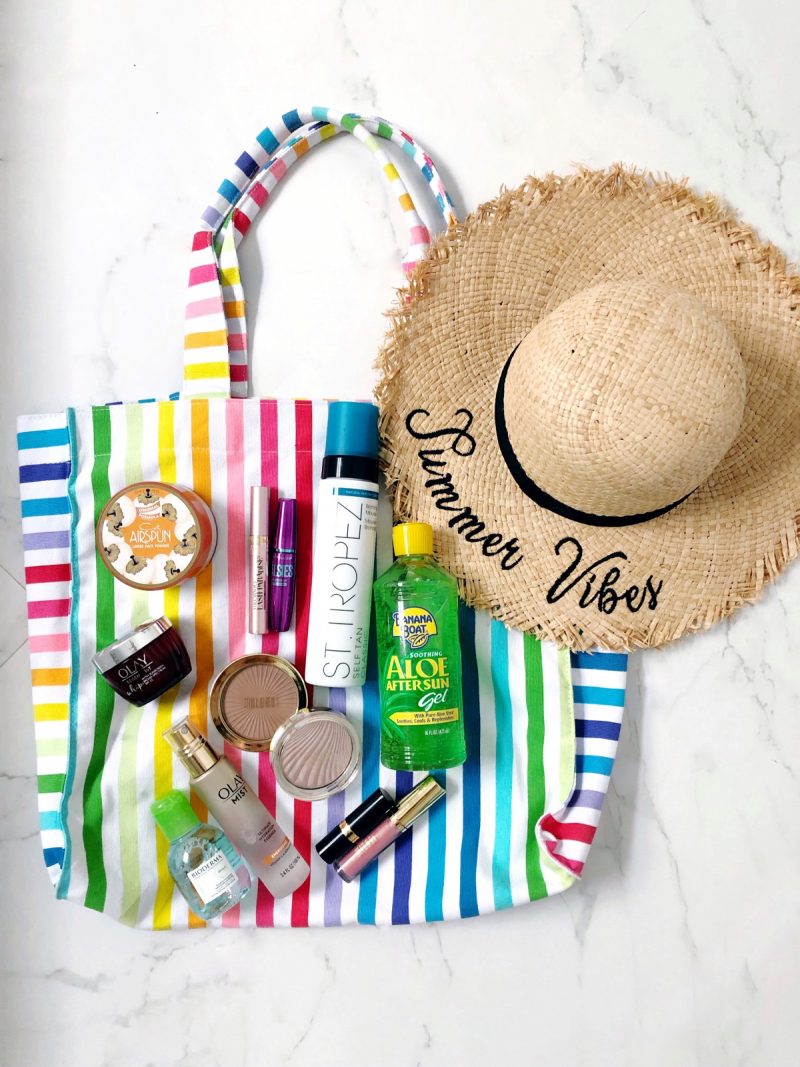 (shop my rainbow tote bag here and my straw hat here!)
PRE-VACATION PREP (AKA: SELF TANNER)
Let's get started with pre-vacation prep! I stopped getting airbrush spray tans because they're pricey ($65 with tip) and I don't find them to look or wear better than my at-home self-tanner, at least not enough to justify the cost. I use the classic St. Tropez self-tanning mousse, applied with the mitt– this is key to avoid stains and get an even application. I apply it at night, after showering and before bed time, the night before our trip (PS- please make sure you shave the day before you self-tan, not day of). Then, I do a quick shower rinse in the morning and have perfect, even, bronzed color. I have been using the St. Tropez mousse for years and I can't recommend it enough! One bottle lasts me well over a year (if not two!) since I don't use it every week and mostly use it in Spring and summer.
BEACH HAIR, DON'T CARE
I'm all about beach waves in my everyday life, but on vacation, I tend to wear my hair up in a topknot or pony tail and always wear a hat while at the beach or pool. I'm bringing my trusty dry shampoo on our trip (this is a great inexpensive option) as well as my Kerastase ciment thermique blow dry lotion – it helps protect and build up the hair prior to heat styling and I've been using it for years. I will also be bringing my new Revlon one-step volumizing hair dryer because it's so lightweight and easy to use – so especially great for travel. Plus, it smooths out my hair really well, which I need when it's in the sun/humidity.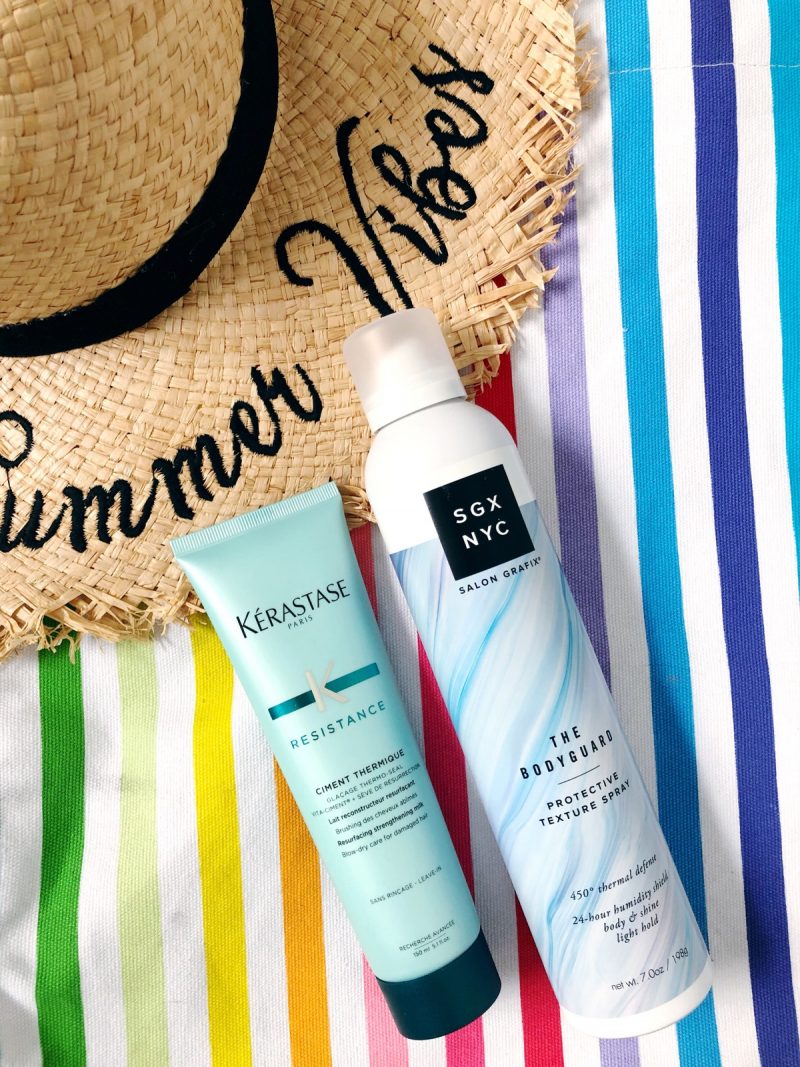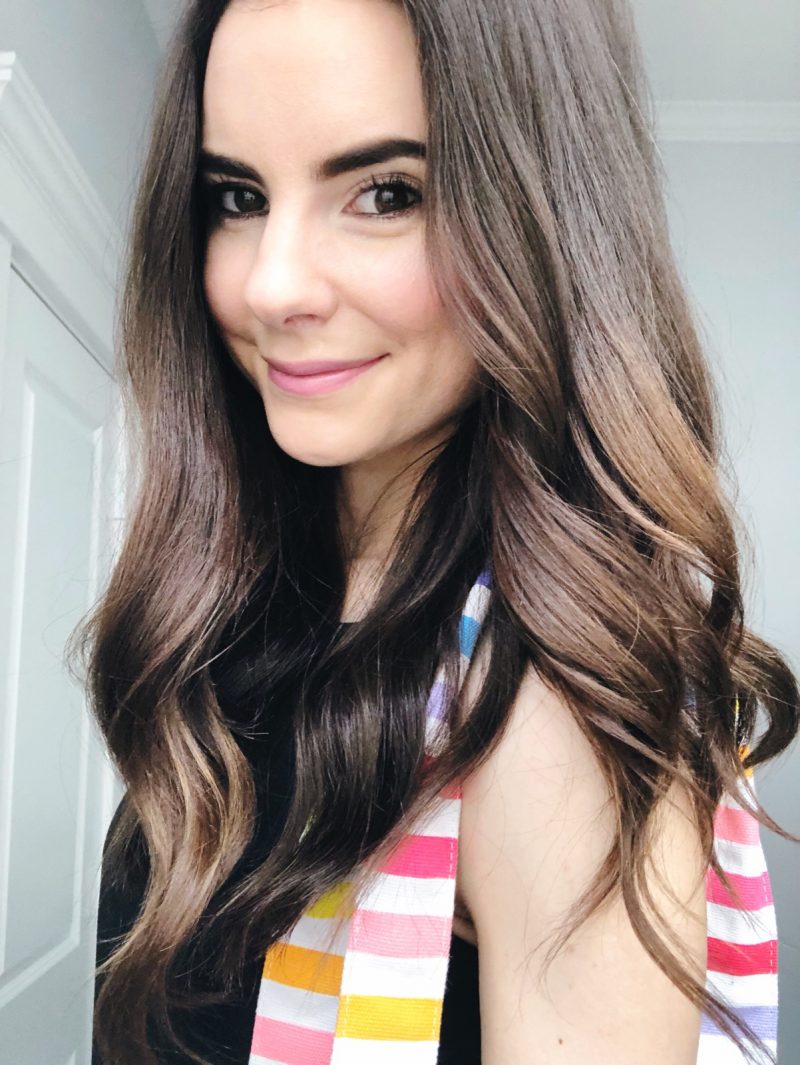 ENHANCE YOUR GLOW
In addition to self-tanner, I get my skin extra glowy- for vacation by adding a subtle highlighter to my cheekbones. I purchased Milani's highlighter recently and love the sheen it adds to my skin (not too intense – just the right amount of sheer shimmer). I especially love using it when I have a (faux) tan because it really brings your skin to life, especially when applied after bronzer and blush. By the way, Milani's bronzer is a fantastic inexpensive option – not too brown or orange and it applies really evenly.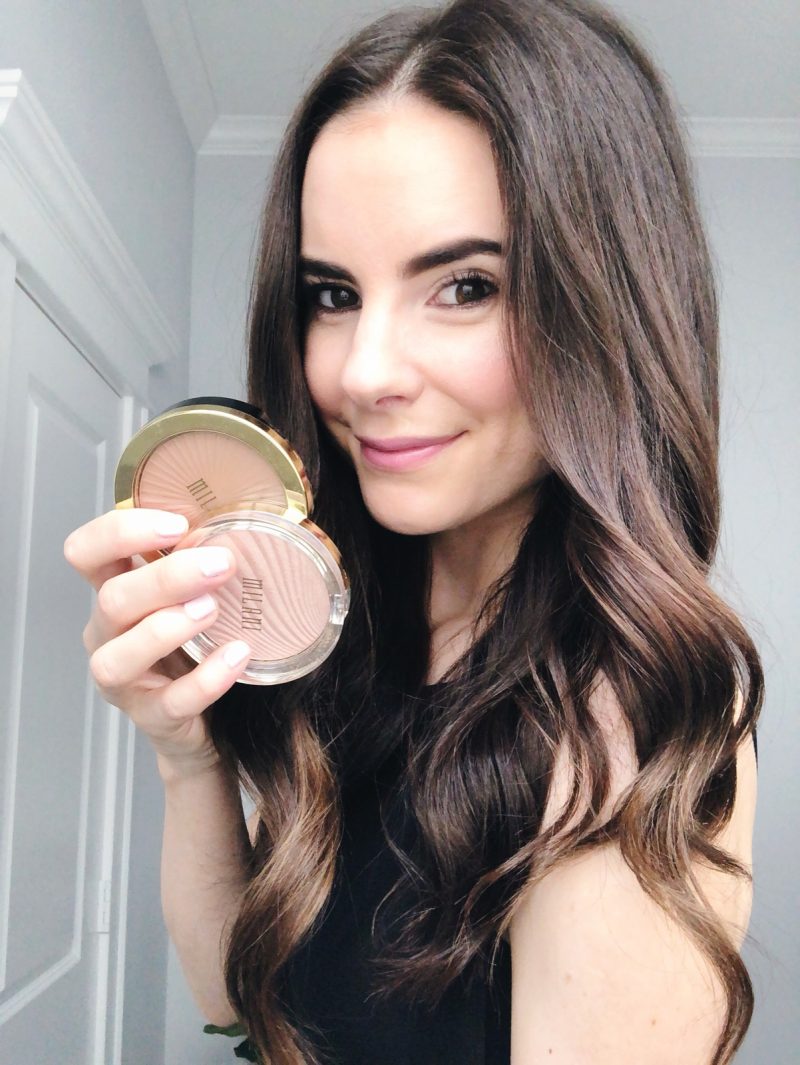 I still use the Coty airspun transluscent powder daily to set my foundation, so applying bronzer and highlight after that step really sculpts out your face and makes your skin look its glowiest. This powder has seriously been incredible – I have given up all other powders since I started using this one last month.
PROTECT YOUR SKIN
Protecting your skin from the sun is important every day, but on a vacation where I'm spending most of my days outdoors, it's especially critical. I like using the Olay Regenerist Whip because it acts like a primer on the skin (I DO wear makeup to the beach) and protects simultaneously with an SPF pf 25. You can also use the Olay mist to refresh and add moisture to your skin after a day in the sun!
CLEANSE FOR CLEAR SKIN
Spending time in the sun and heat can wreak havoc on your skin and pores, causing breakouts. I shared this in a post last month, but I love the Bioderma micellar water (the version for oily skin) in the summer. It helps ensure all of my makeup is totally removed at night and helps prevent breakouts. The small size bottle is perfect for travel! I apply it with a cotton round after fully cleansing my skin, prior to any other skincare products. I especially like to run it over the sides of my face and along my hairline and sides of nose to make sure every single trace of makeup is removed.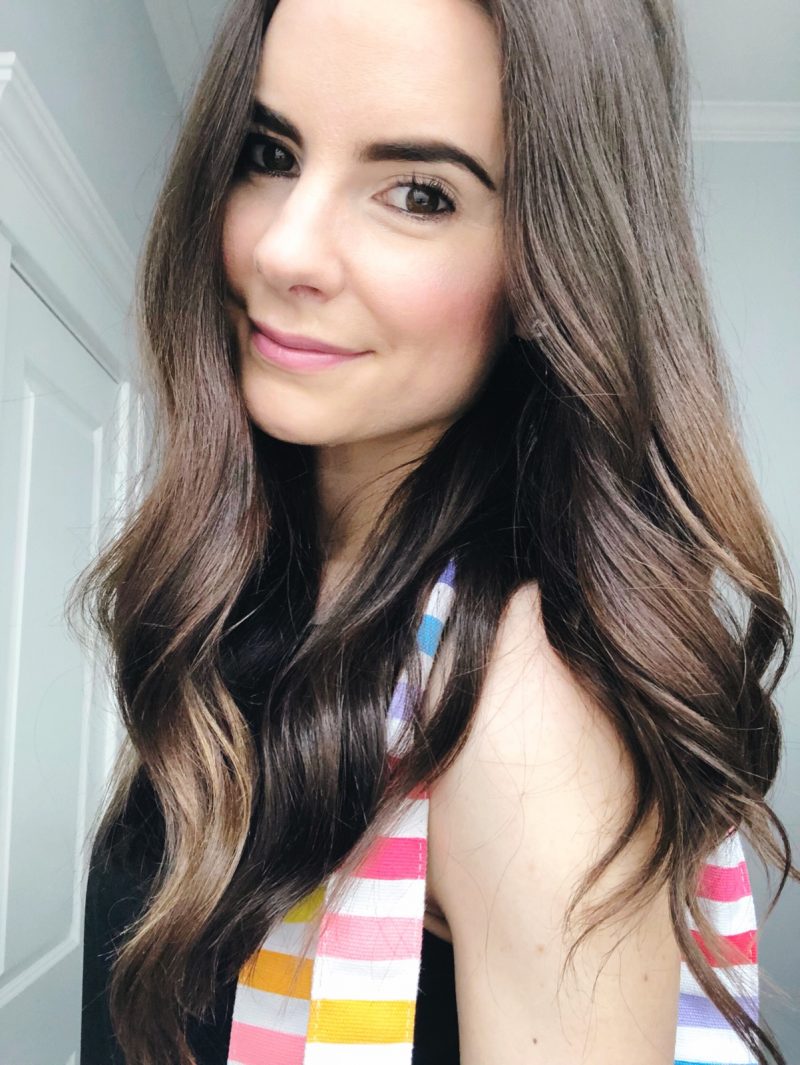 AFTER- SUN CARE
When traveling in the summer, I always bring along aloe vera after sun gel for us and the kids – this one by Banana Boat is the same one we used last year and we love it for after baths/showers.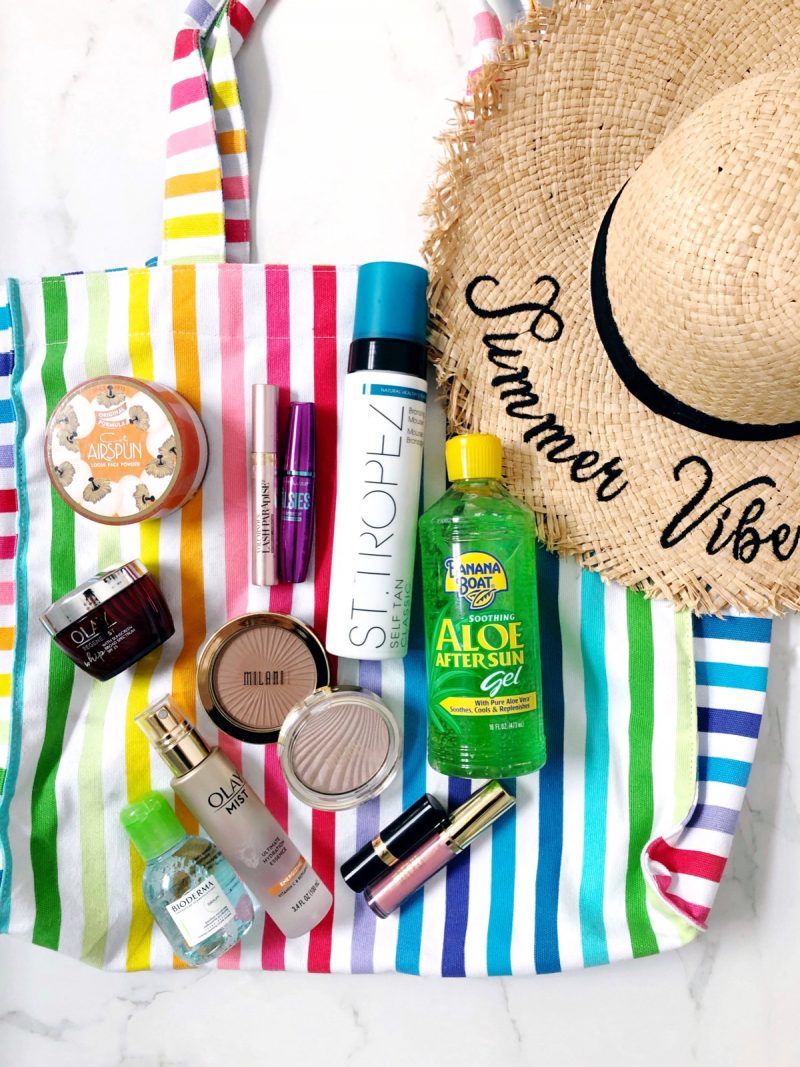 LUSH LASHES
I'm not one to forgo mascara (ever!) I wear waterproof formulas – two of my favorites are L'Oreal Lash Paradise and Maybelline Falsies. They both make lashes longer, thicker and more voluminous, plus, they withstand water + heat.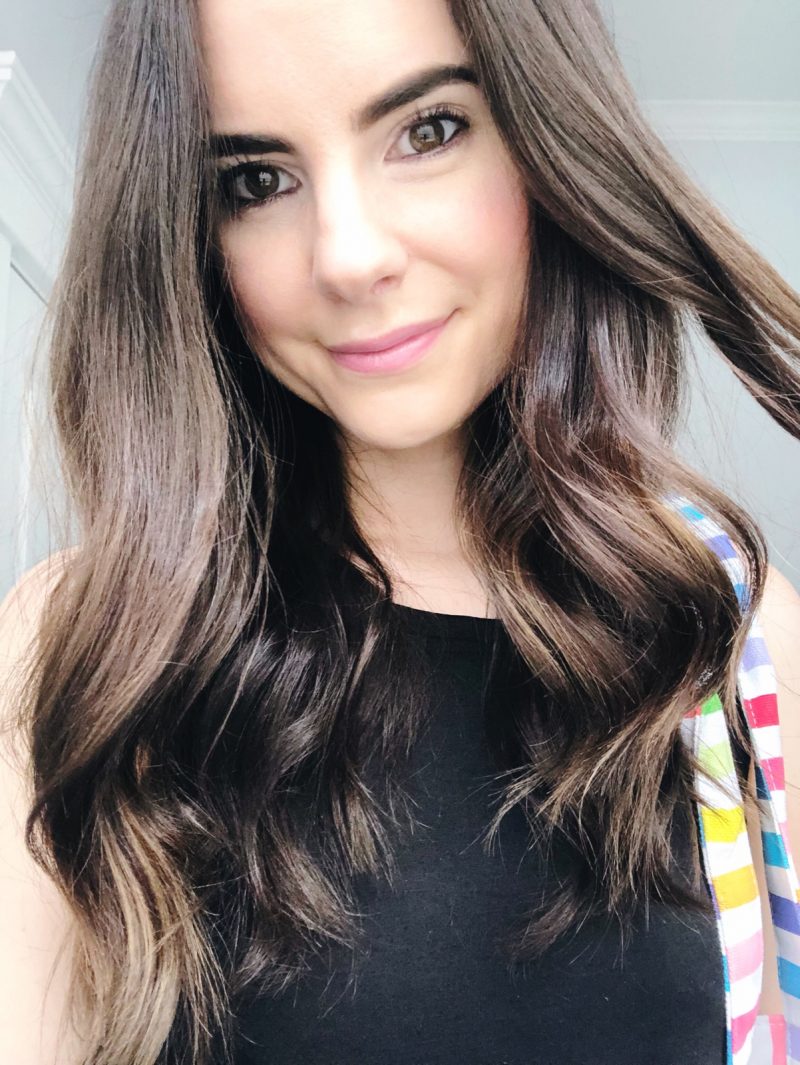 A HINT OF PINK
With tanned and glowy skin, I love adding a subtle pink shimmer. My go-to is Milani's keep it full nourishing lip plumper! It comes in a ton of different shades and makes lips look more voluminous.
KEEP IT FRESH
I wear Native deodorant every.single.day and travel is no exception. I've been exclusively using Native for two years and though it's not an antiperspirant (doesn't stop you from sweating) it does prevent you from getting stinky (I hate that word, but alas, can't think of a better one).
Check out my favorites from Walmart below and I hope you enjoy these finds!
SHOP THE POST:



Shop the Post