Well hello! I hate to start this post off on a low, but a lot of stuff from this year's Nordstrom Anniversary Sale is already sold out. Having said that, one of the sales associates told me when I was shopping in store on Friday (7/12) that Nordstrom planned better this year and will have some re-stocks shipped to stores for public access (happening this Friday!)
Another thing is that there will 100% be returns – lots of them. The reason for this is because so many items have high sell out rates, that many people, myself included, over-order and order multiple sizes to ensure they can get the items they want at the sale price.
So…there may be some hope that items get re-stocked and I'll be updating my blog and IG stories with items as they become available. As soon as a restock is shared, make sure you add to cart and check out, because even re-stocked items (that are being shared by a ton of bloggers at once) go so fast.
Ok, here we go!
PAIGE JEANS (size 27/TTS)
I ordered these online right when the sale went live Friday. I'm so glad I did because they're already sold out in several sizes. I love the high waist, the subtle destruction details and the raw hem. I also love the color and don't own jeans in this shade. I'm keeping these because they are very flattering on and are comfortable.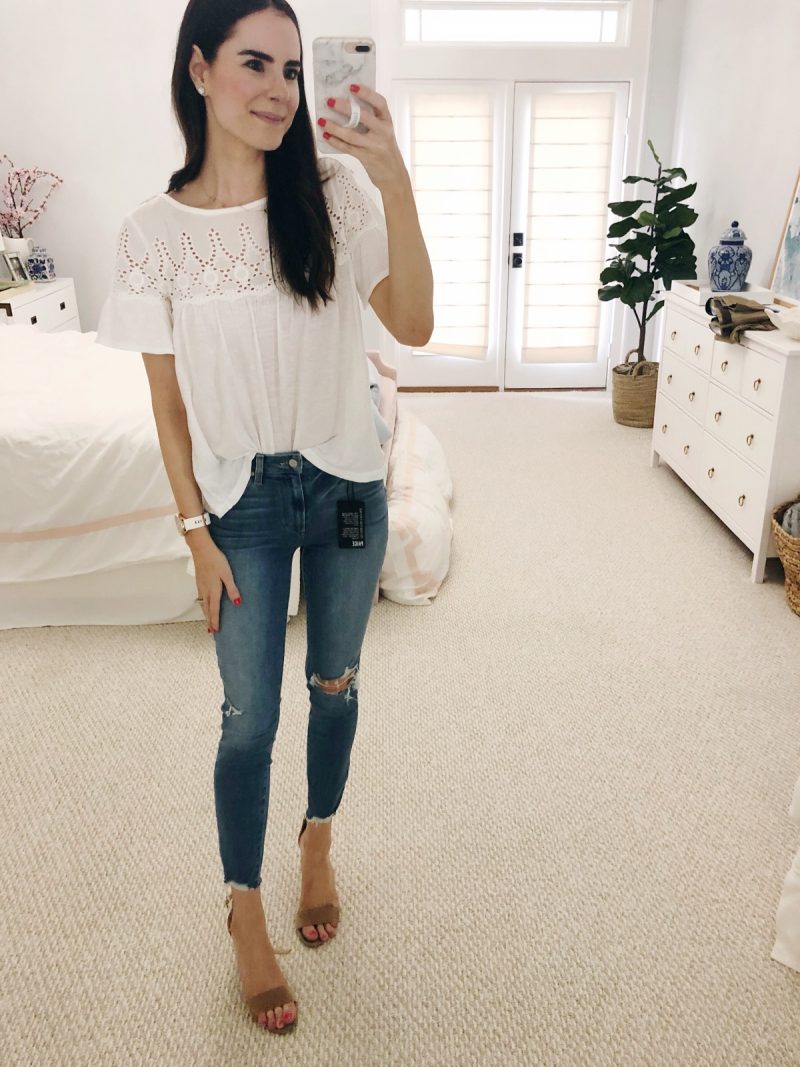 SQUARE NECK TOP (size small/TTS)
This top is also sold out in all but two sizes – I can see why! It comes in two neutral and versatile colors, is made from a stretchy/lightweight sweater material and has a very flattering neckline. They're so soft and comfy. One caveat is that they're cropped, so they must be worn with a high-waisted skirt or jeans/shorts/pants. I'm debating whether I should keep both colors – or just this nude one. Thoughts?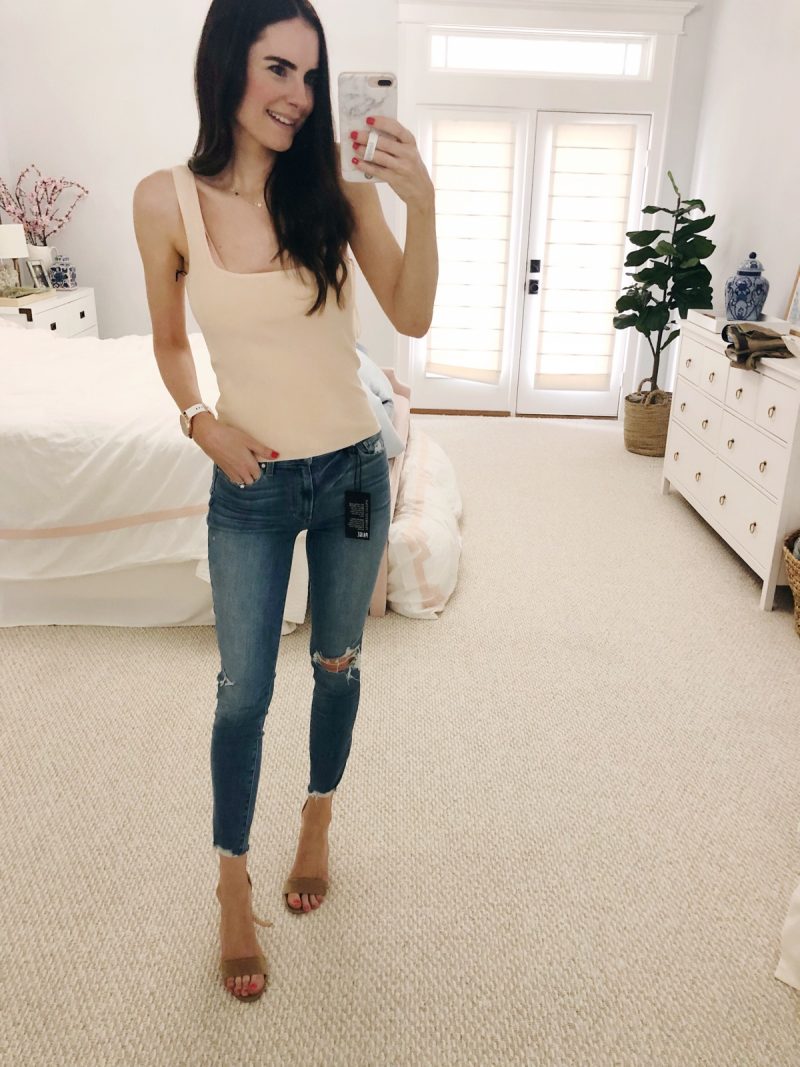 LONG RIBBED CARDIGAN (size XS/size down a full size)
I love this cardigan – the length is perfect, it's flattering on and feels really great in terms of quality. My color is sold out in every size, but the oatmeal is still available and I may actually exchange it for that color. I do love this heathered green color, but for some reason I feel I'd wear the oatmeal more often. This green is a fantastic neutral color, but I still feel I would wear the oatmeal with more outfits, so that's the color I recommend ordering if you're on the fence.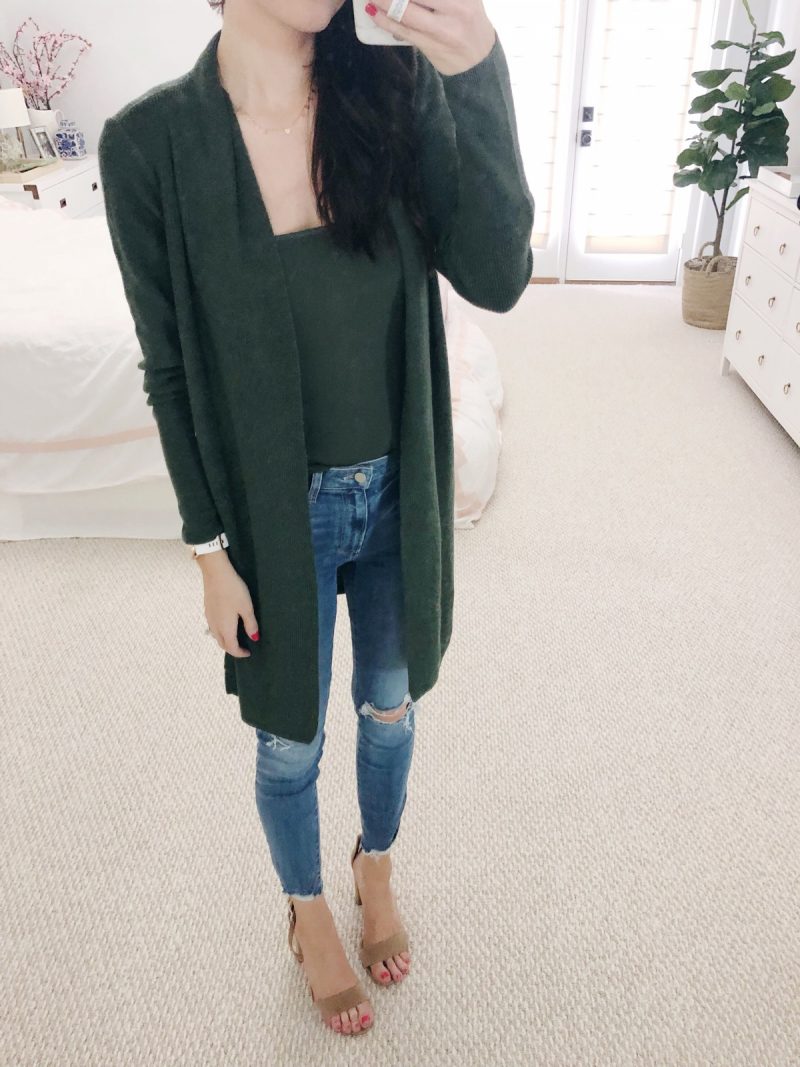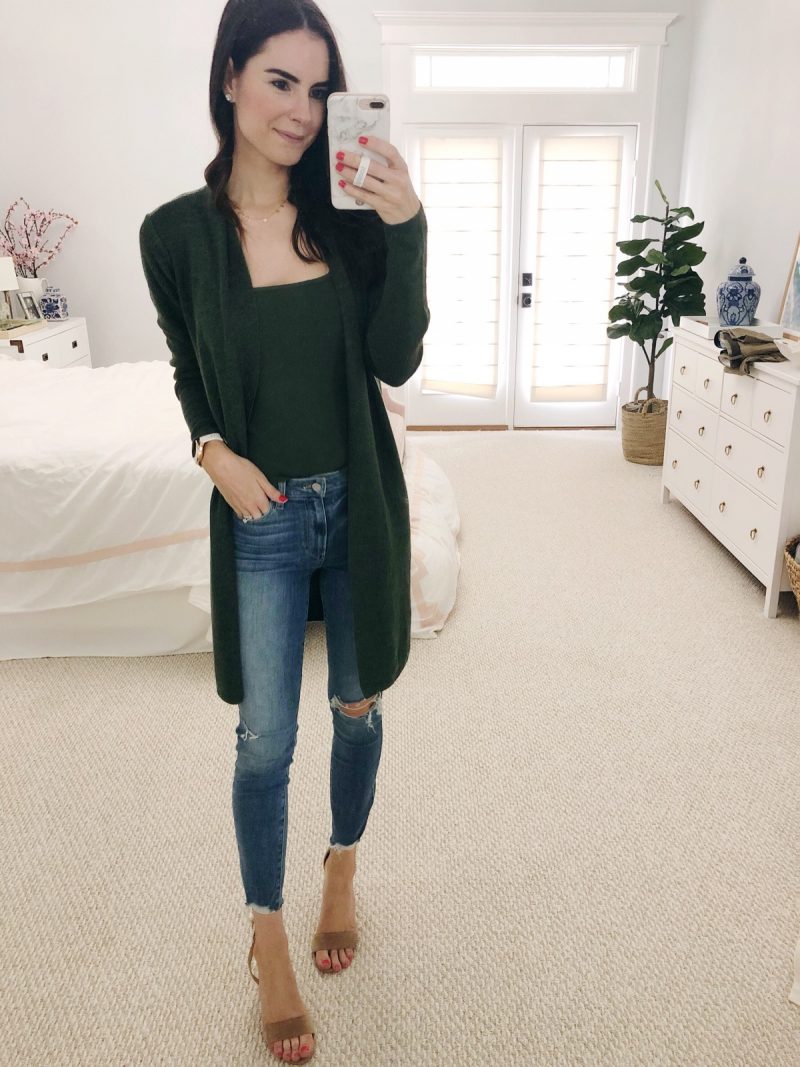 CASLON STRIPED CREW NECK TEE (size small/TTS)
I adore the color way of this top. It's on sale for $18.90 and comes in many colors (including solids). It's lightweight (but not sheer) and feels great on. I think it works for both work and weekend, depending on how you style it.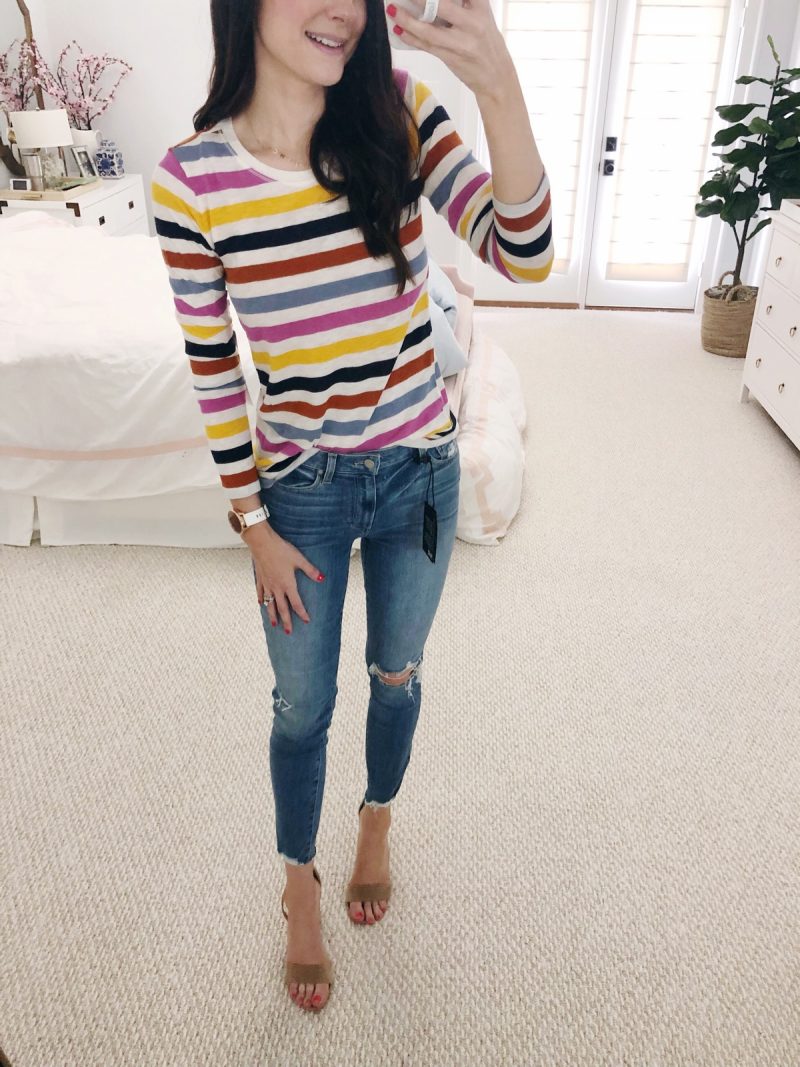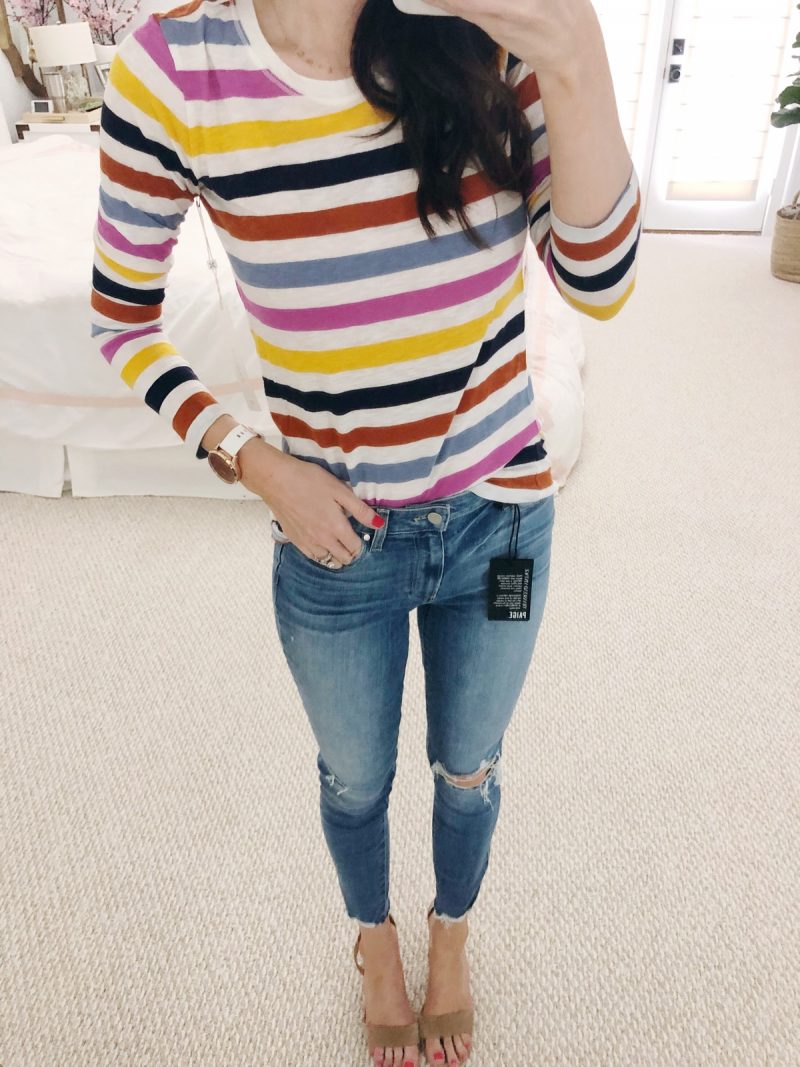 ALO LEGGINGS (size small/TTS)
I want to cry real tears over the fact that I didn't get these in time to share them with y'all before this color sold out (they didn't have them at my store). They are buttery soft and they smooth out your legs and body amazingly. Sometimes lighter colors like this are not flattering – but these magically lift and smooth the body out and are the perfect high-waisted style. I truly wish I didn't love these because they are just under $80 (down from $114) and that is a lot for leggings (especially since I love the $25 amazon ones so much) but I cannot send these back. They're amazing and I'm officially welcoming them to my leggings collection. They do have them in another color and the brand has two other styles part of the sale here and here.
HALOGEN BRA (size medium/TTS)
I cannot even adequately sing the praises of this bra. It's SO comfy, has the cutest scoop back and comes with removable pads, all for under $16. My favorite color is pink misty, followed by black.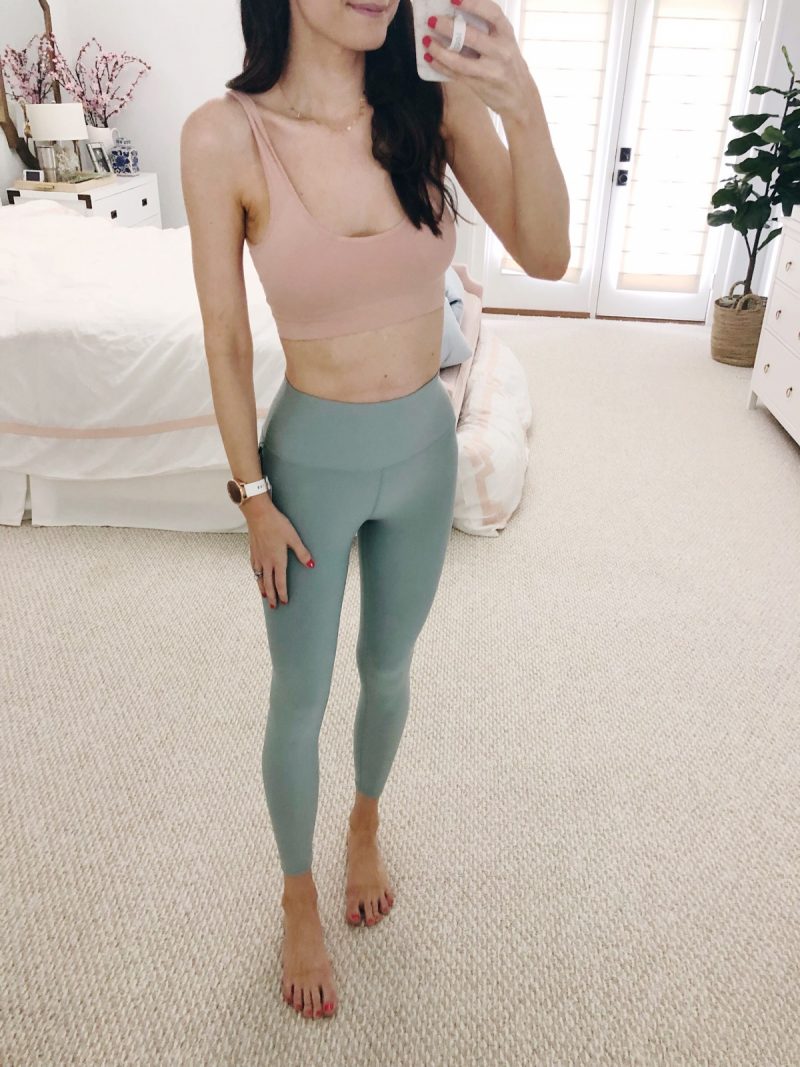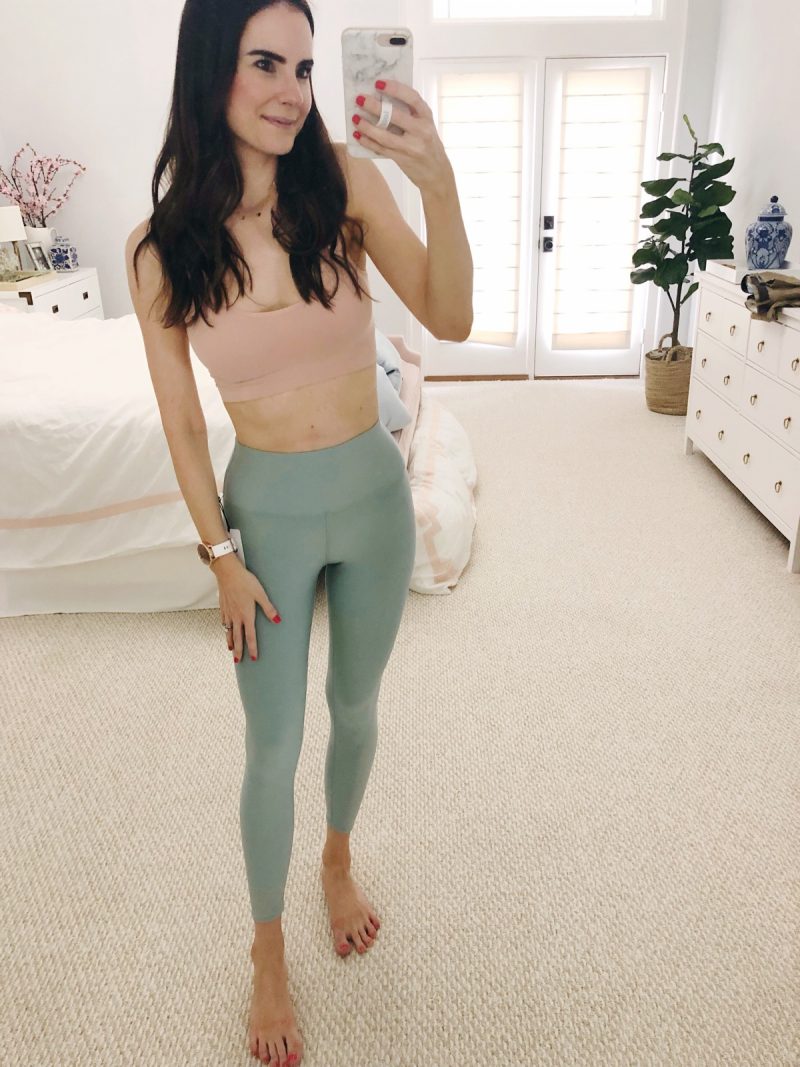 PLEATED LEOPARD DRESS (size 4/size down a size)
This dress is gorgeous. The leopard is beautiful, it's a great length and the pleating is stunning. I wish I had ordered a 2 but it was sold out as soon as I logged into my account. I am going to have to return this because it's a little big on me, but I am going to try to re-order in a 2 if there are restocks. This is GREAT for the office, looks amazing belted and would be so cute with a black blazer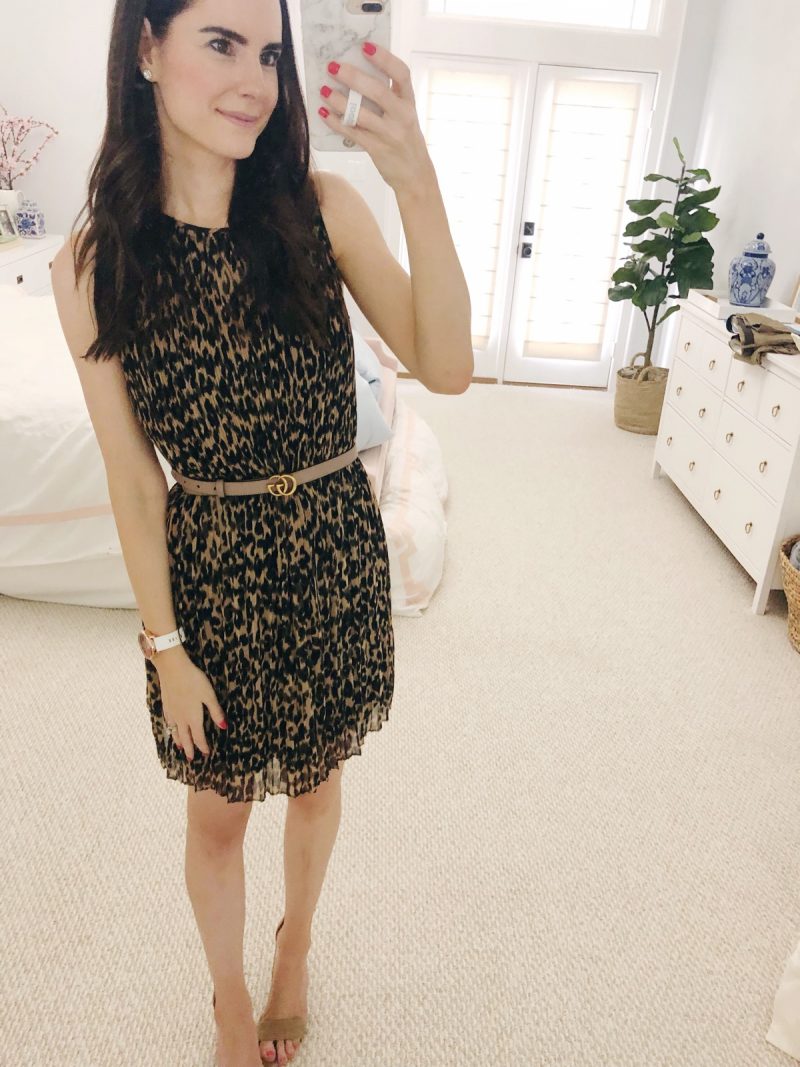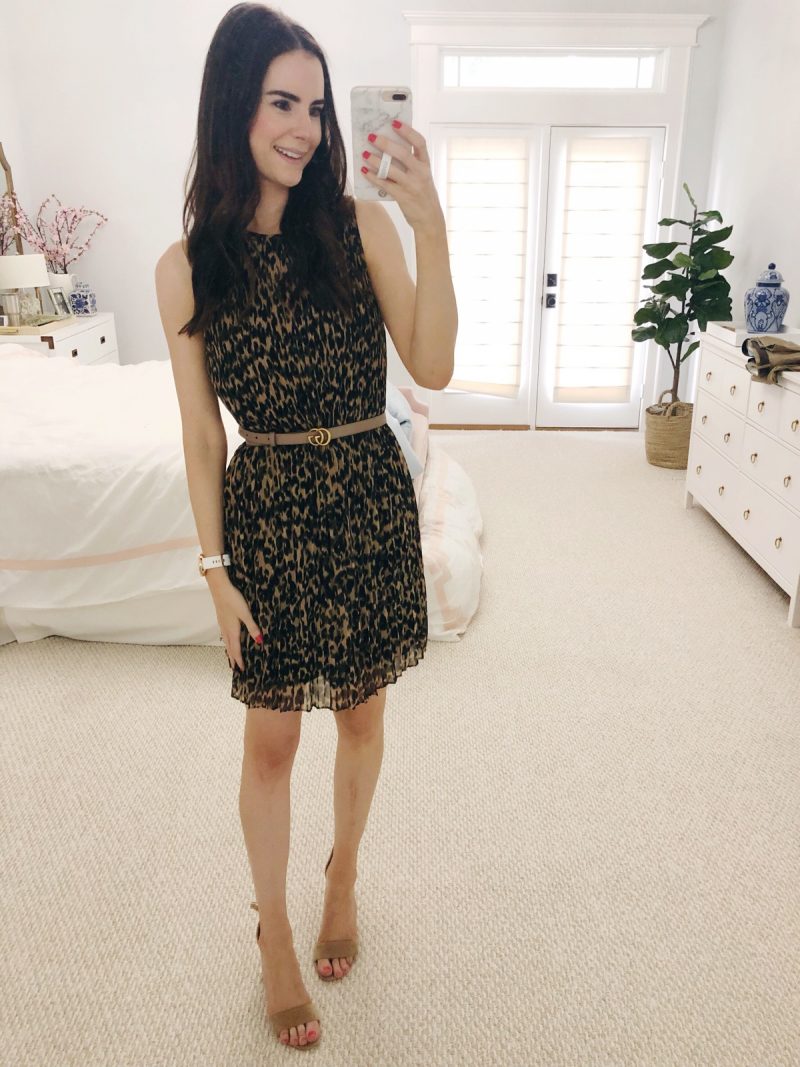 TOPSHOP LOUNGEWEAR SET (size small/TTS)
I cannot stop talking about or wearing this lounge wear set (top linked here). Sorry if it's annoying, but when something is this soft, comfy and overall amazing, you want everyone to experience it. I was not even planning to buy pajamas this year since J.Crew didn't have any in the sale (major bummer), but these made up for them because I wear these around the house all weekend. Sorry, family, it's just these from here on out. Hope you like blue.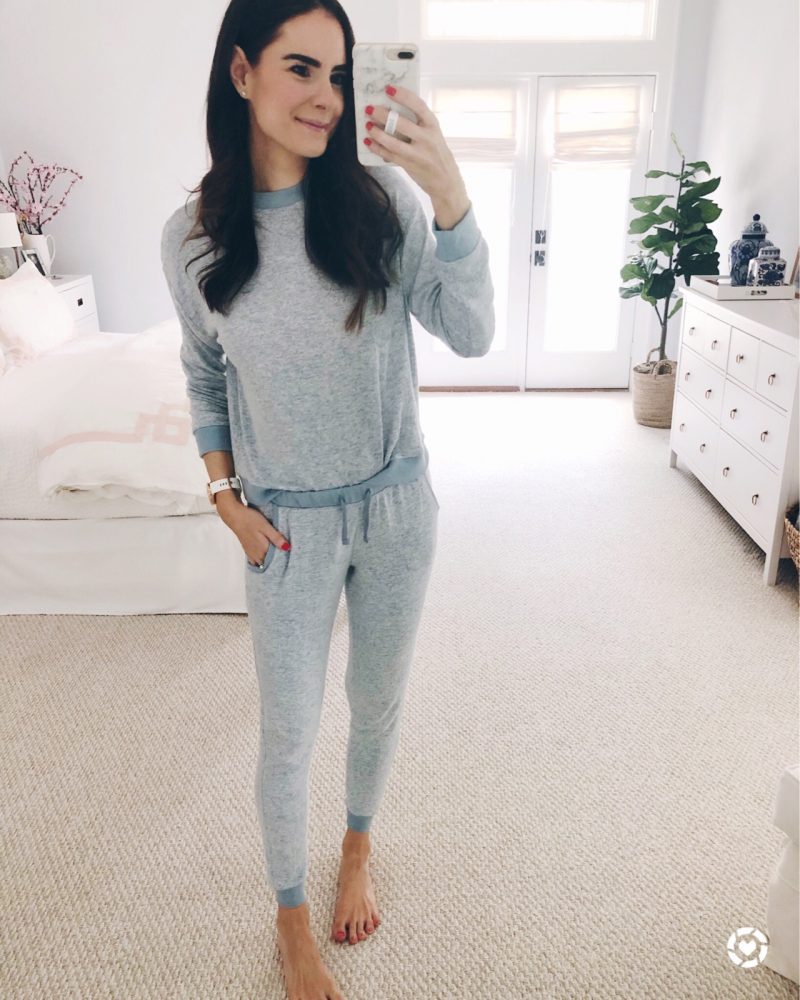 RAG. & BONE BLACK JEANS (size 27/TTS)
I love that these have a raw hem and are very flattering on! I took them home with me, but I plan to try them on again before making a final decision. I don't wear black jeans that often, so I'm not sure it 100% makes sense to get another pair right now (I do have a pair of black AGs with some destruction details – but I loved that these are "clean").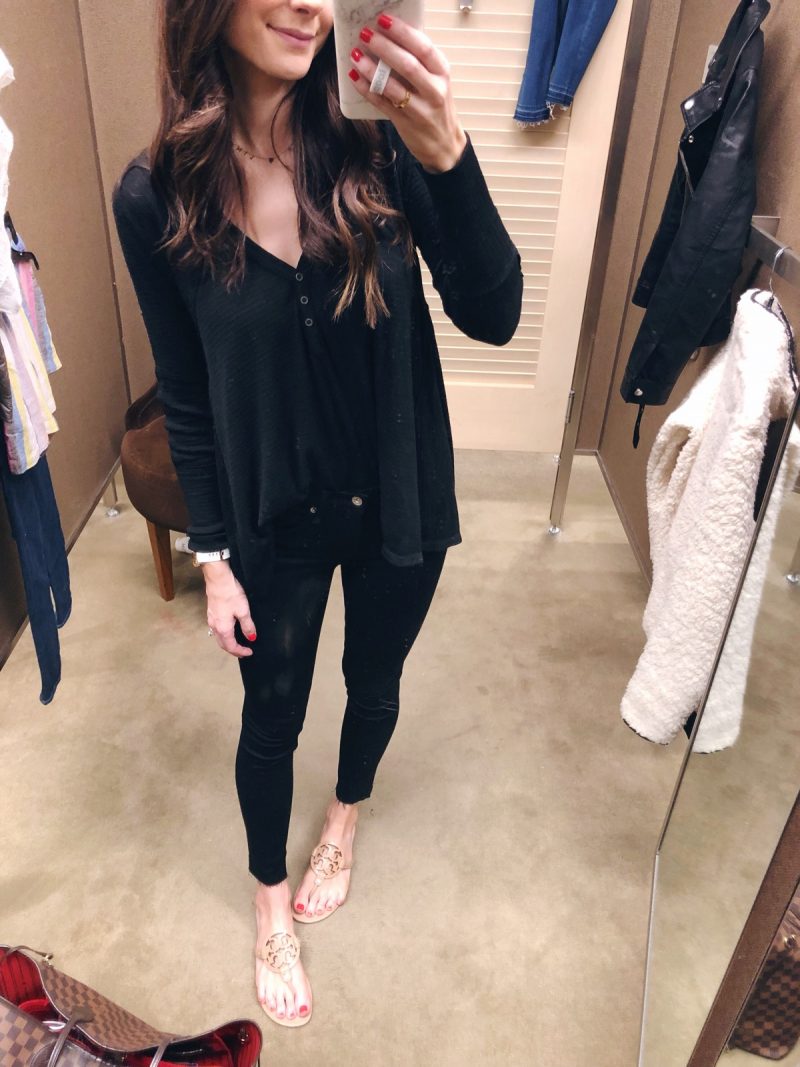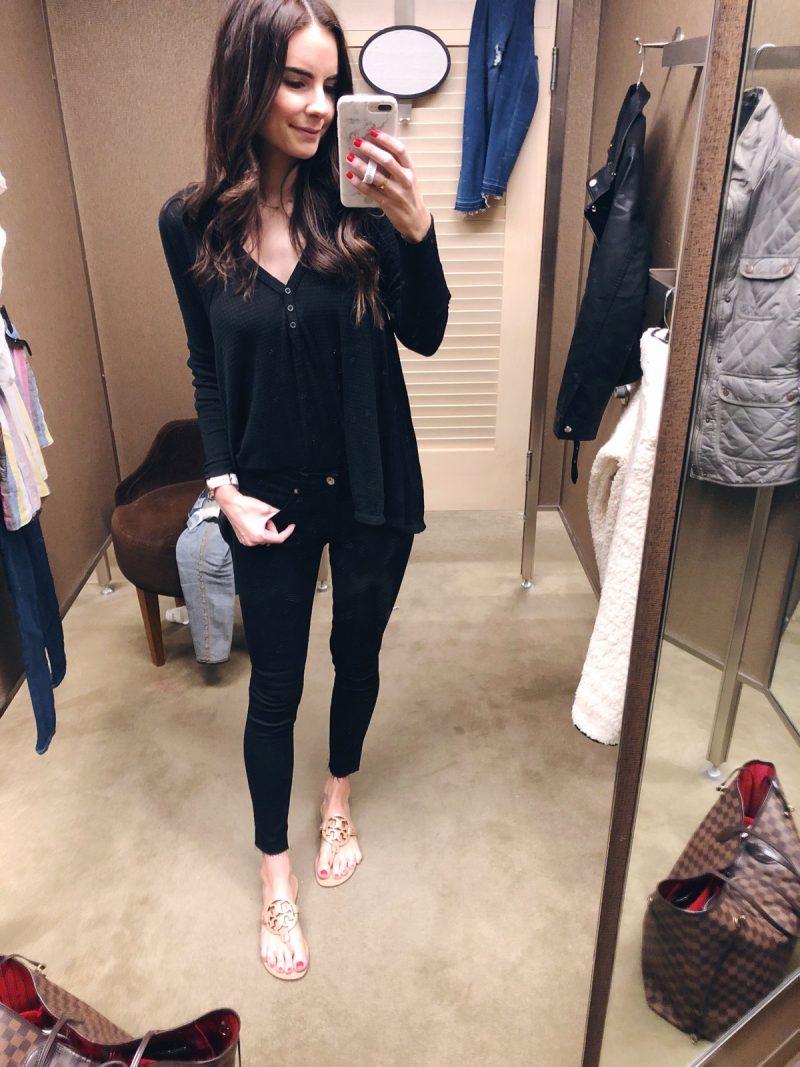 FREE PEOPLE TOP (size XS/size down a size)
So…this top is so sold out, that the Nordstrom website isn't even showing it anymore. I don't know what say, other than that I love it and it has the coolest back. Overall a comfy, oversized long sleeve tee with a sweet button front detail.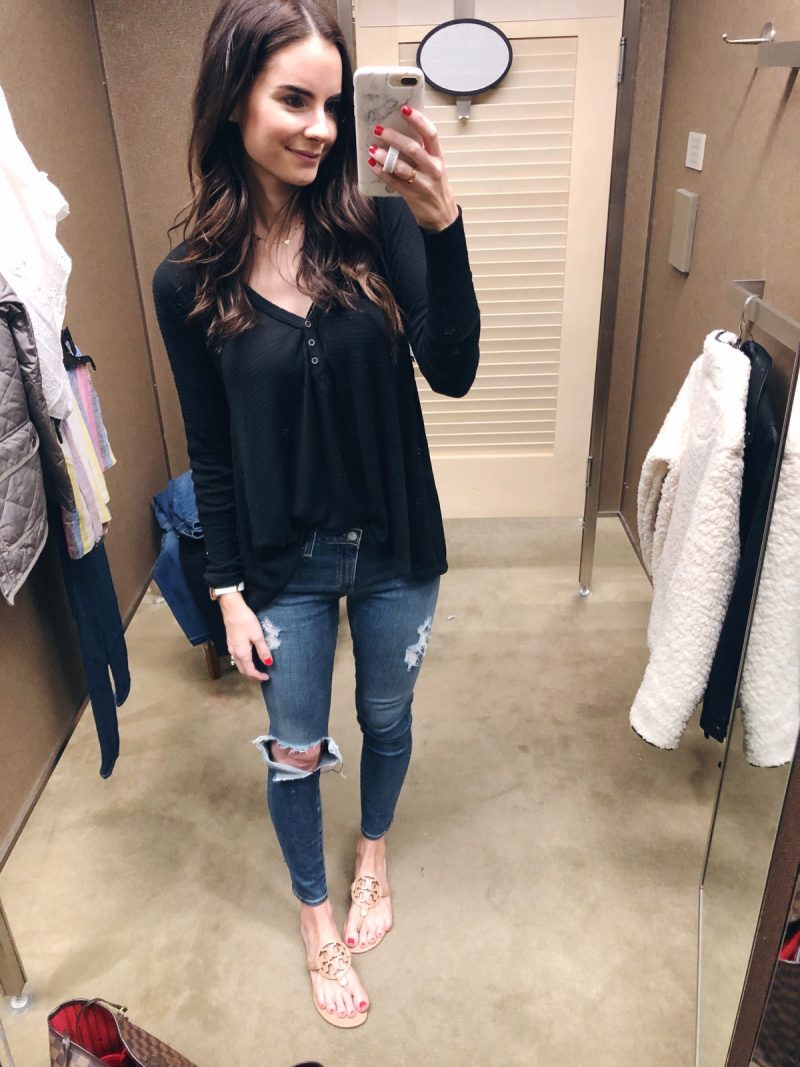 FAUX LEATHER MOTO JACKET (size 6 – needed a 2/4)
I don't need another moto jacket (I have the Blank NYC one) however, I wanted to try this one on for y'all because the price point was so good ($62.90 down from $95). I think this is a great budget option and looks similar to the Blank NYC one.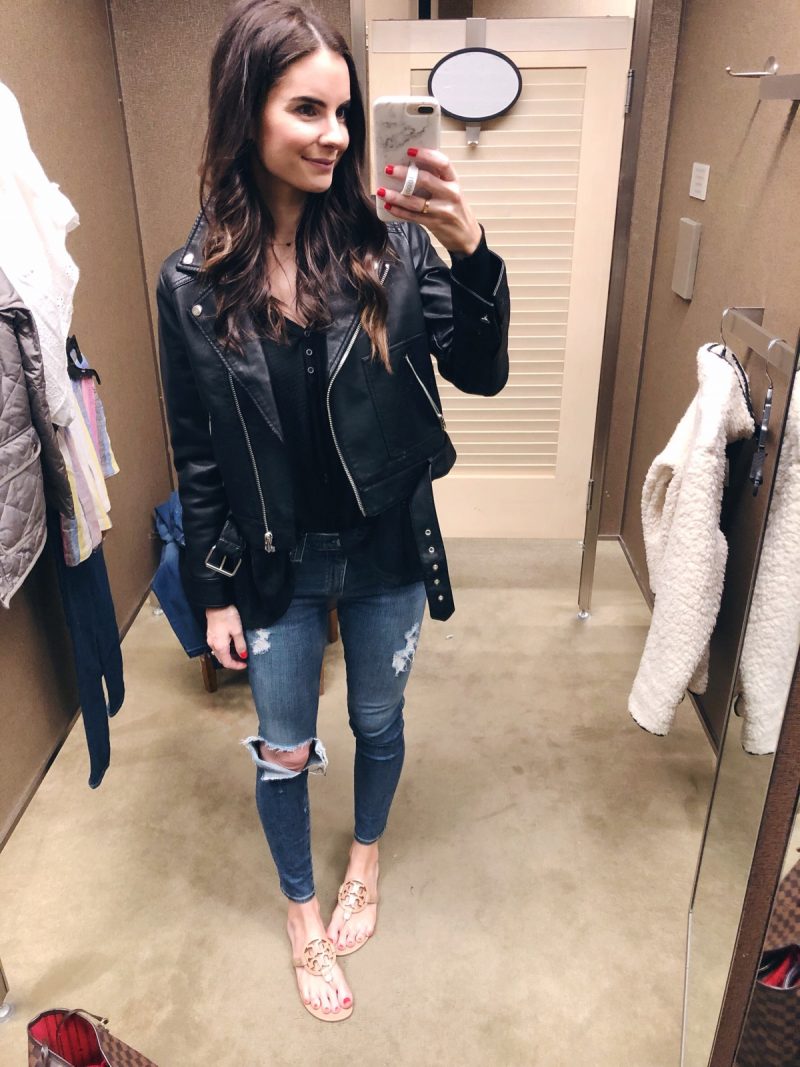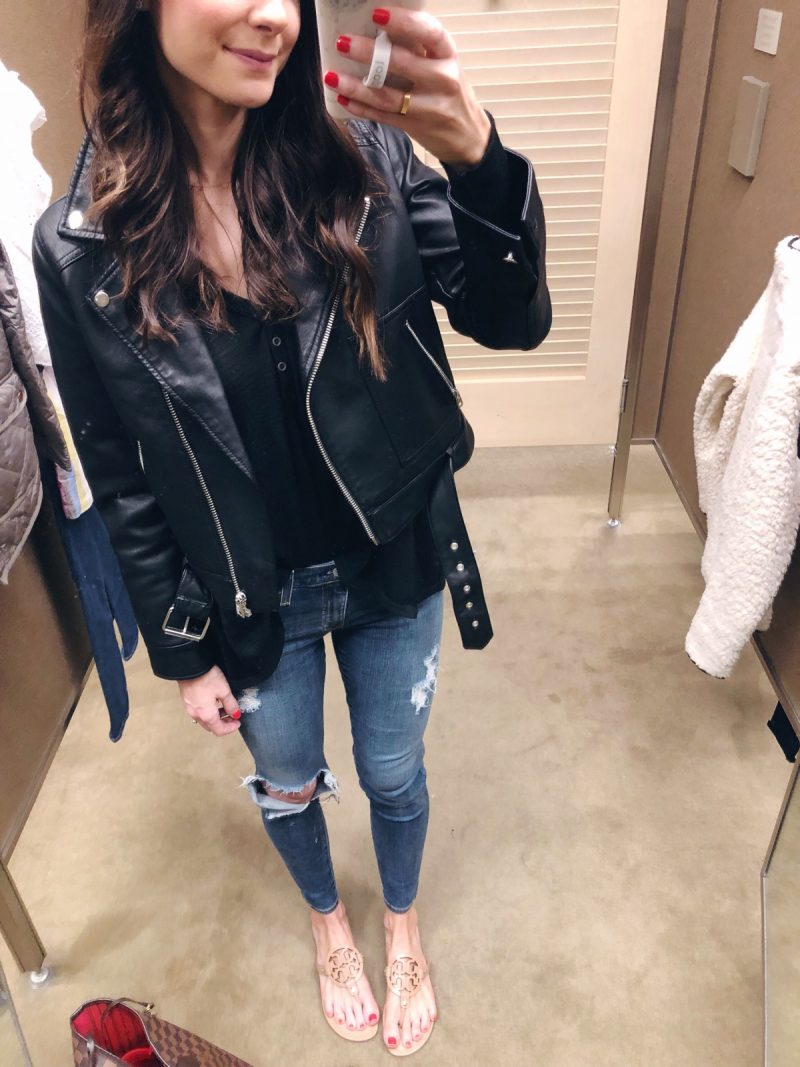 QUILTED JACKET (size XS, size down)
Of everything I tried on, this jacket surprised me the most (in a good way!) I LOVE how it looks on, it's lined with the coziest material and I love the quilting/pockets. I did not purchase it because it will be a LONG time before I could enjoy it, but if you live in a climate where it gets cooler, sooner, I 100% recommend it.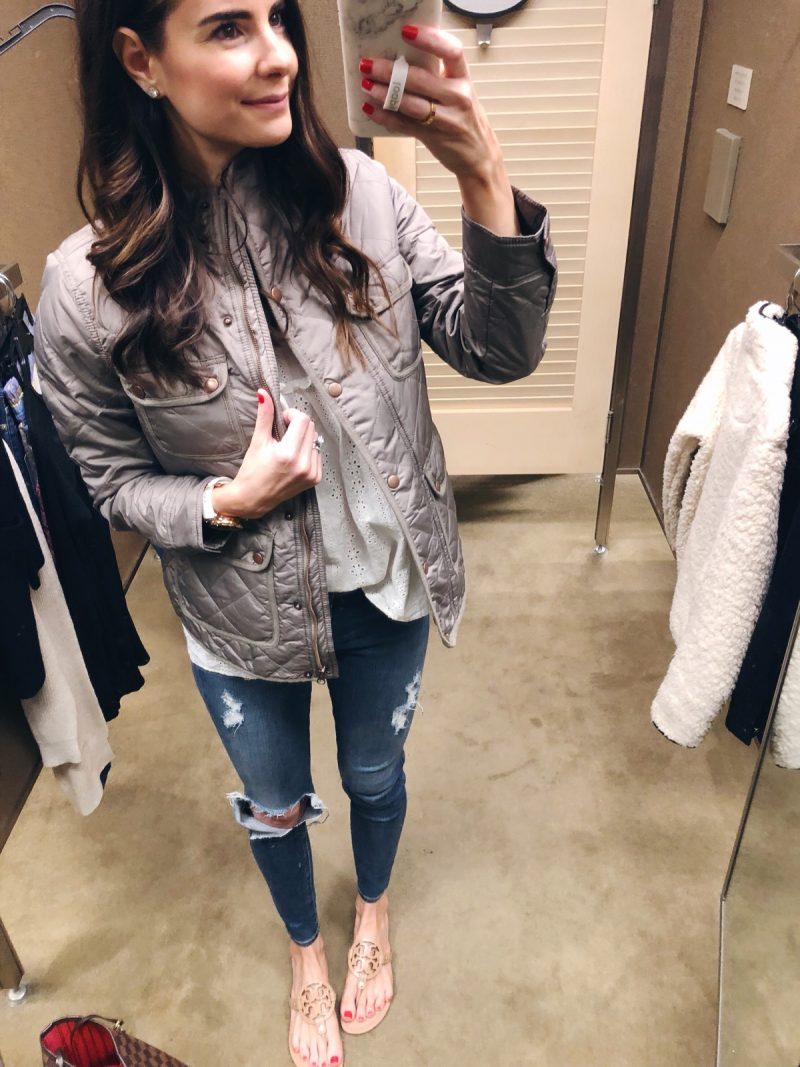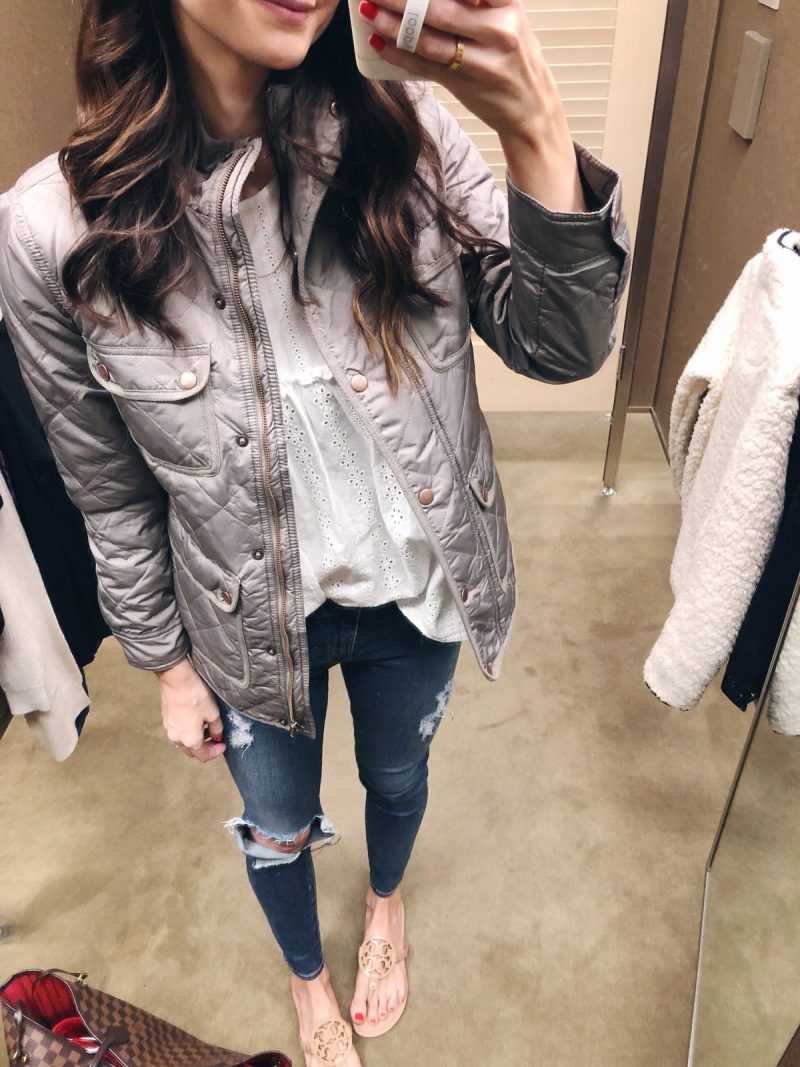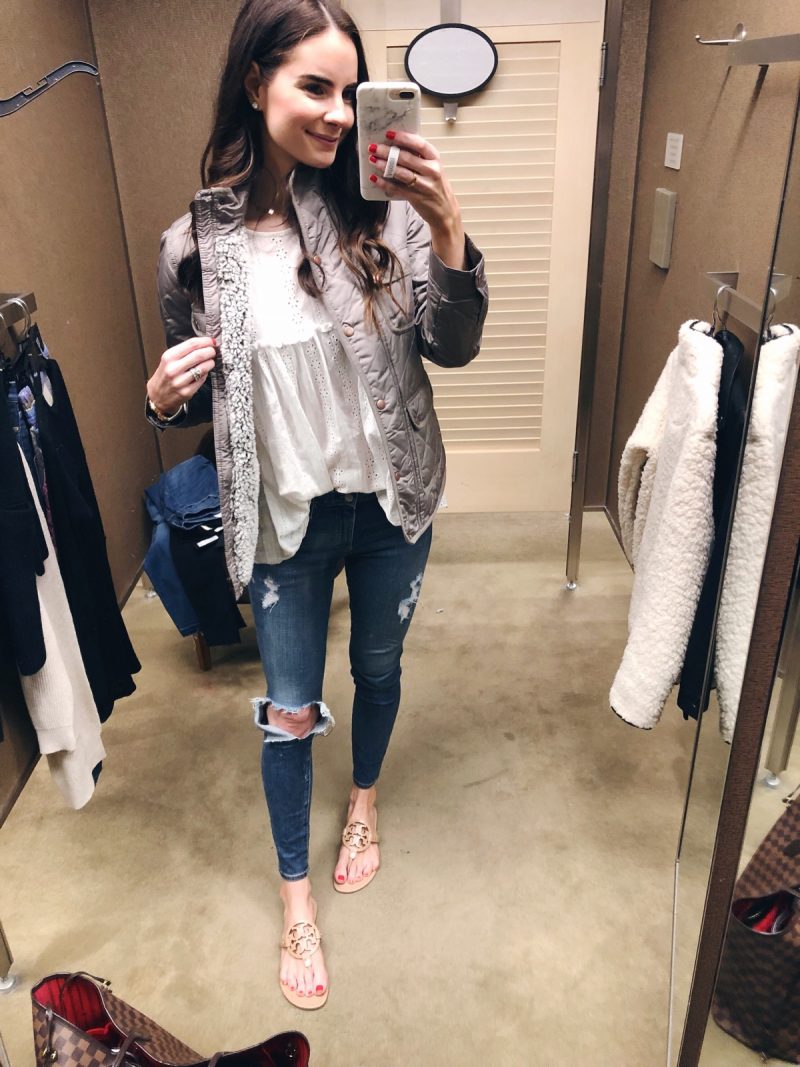 WUBBY FLEECE PULLOVER (size XS/size down)
This pullover is $48.90 during the sale, down from $78. I did not purchase it because though it's so cozy and comfy, I didn't feel I'd get the wear out of it to justify it (I can't wear it to work and don't find myself wearing pullovers much on weekends). This is a very popular Nsale item, so I did try it on for those of you considering it. It's very soft and feels like being wrapped in a cozy, fuzzy blanket. I don't think its worth the full $78 price tag, so this sale is the only time I would consider purchasing it.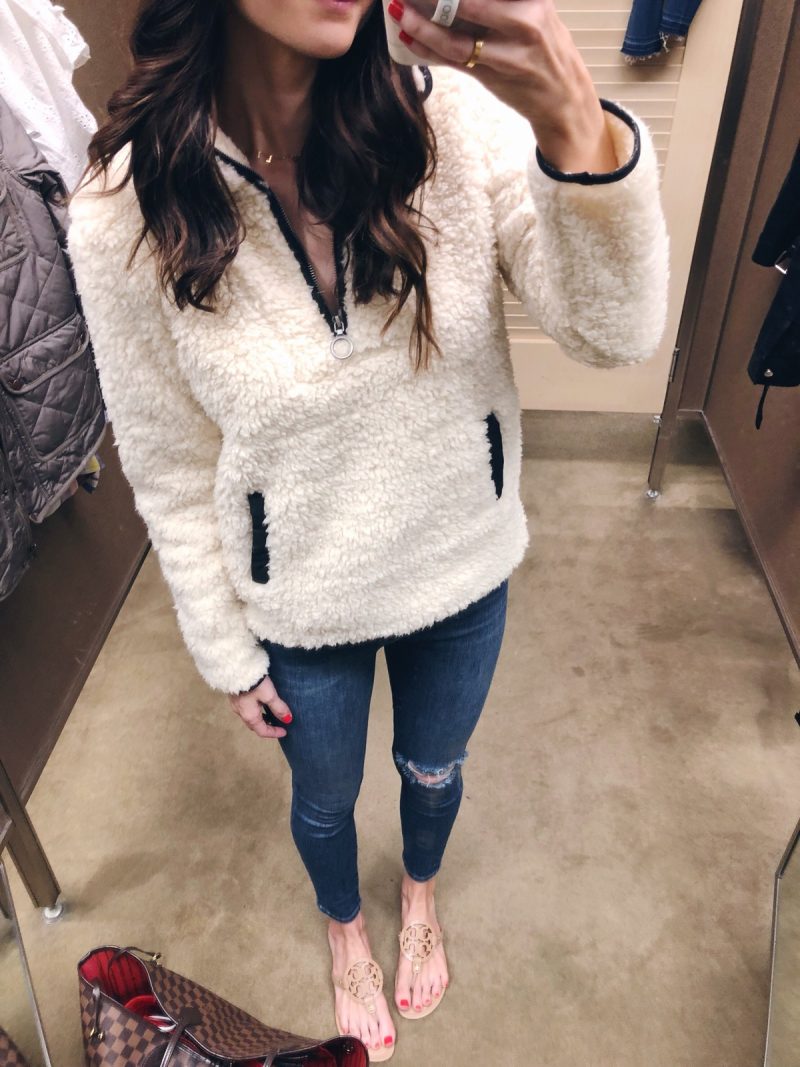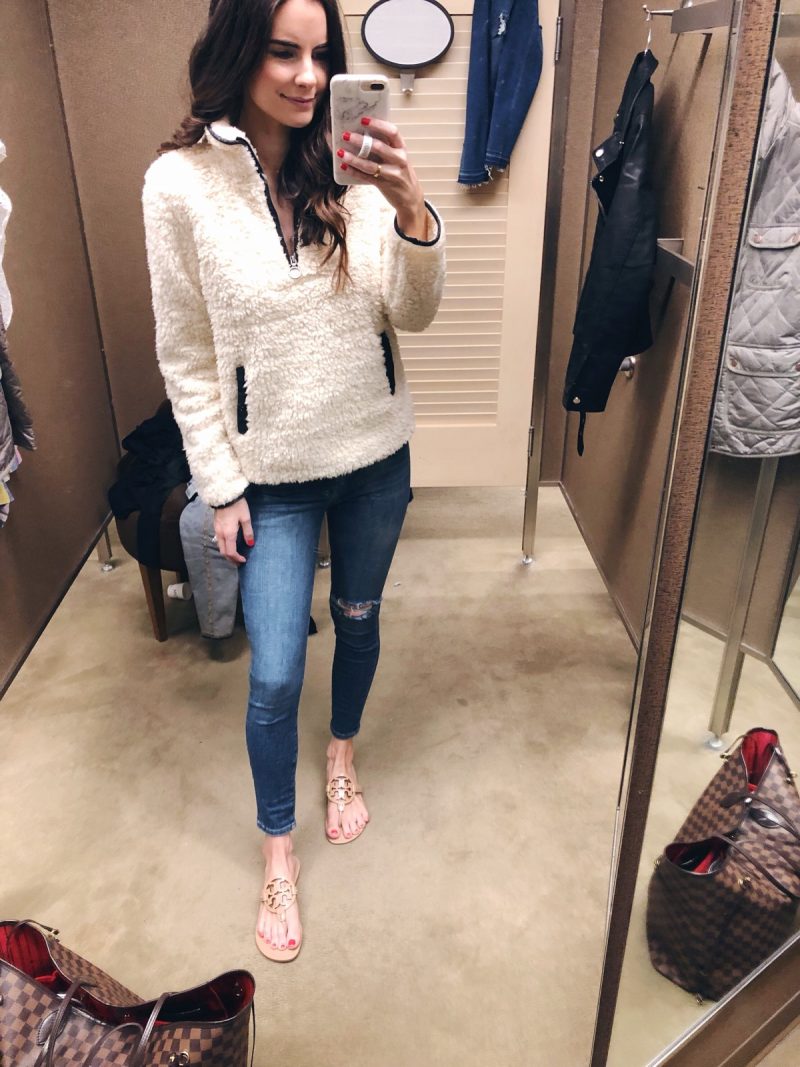 FLUFFY CARDIGAN (size small/TTS)
The standout feature of this cardigan is its fuzzy texture – I adore how soft and cozy it feels. I tried on the green (love it!) but opted to order the black online instead, as I thought I'd get more wear out of it and I don't own a good black cardigan (I was also shocked to learn this, btw). I will report back when the black one arrives!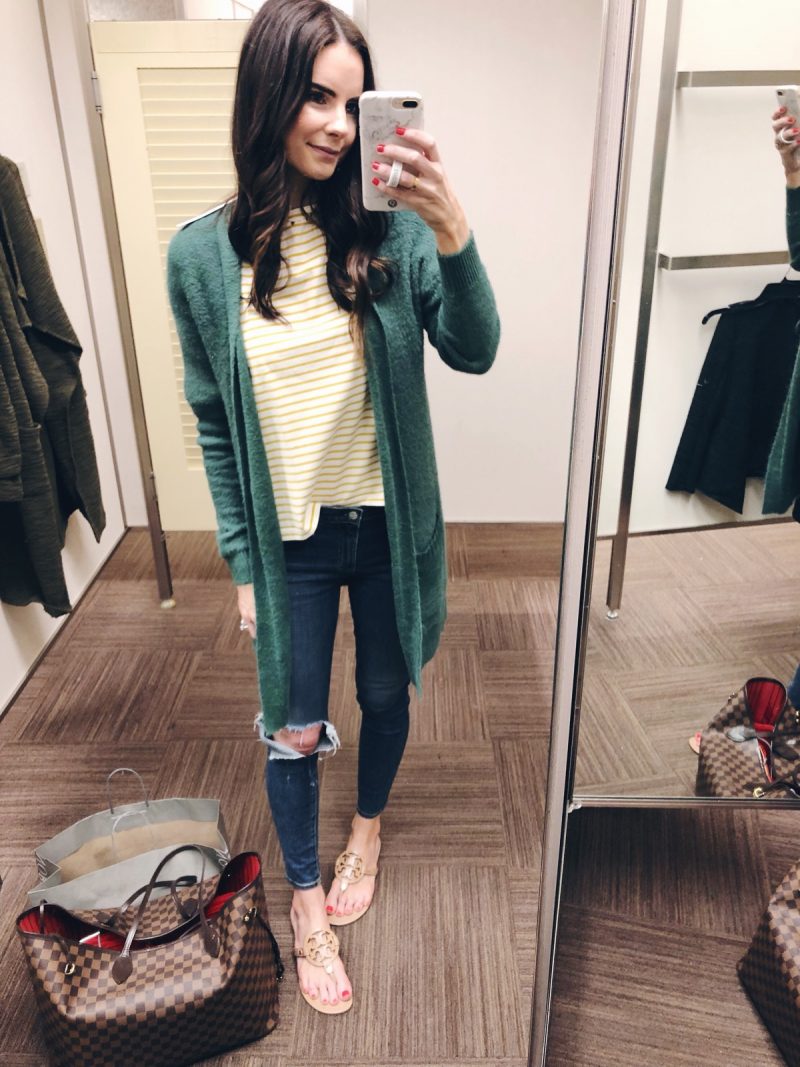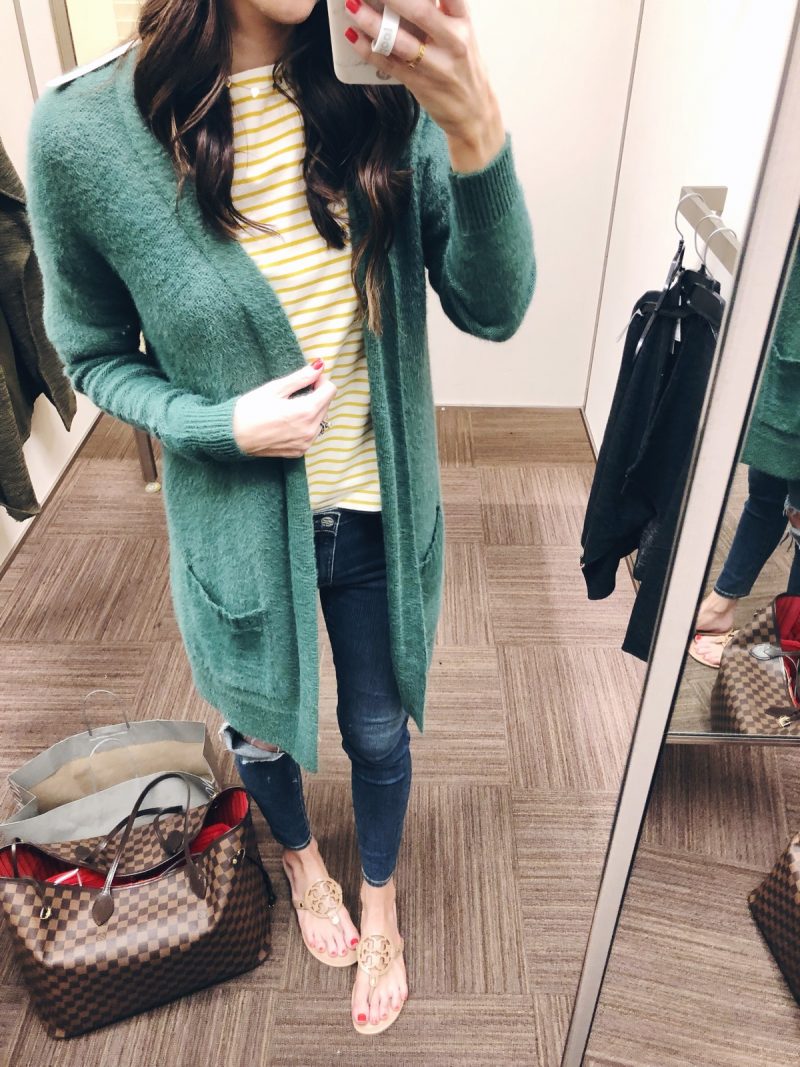 THE DUDS
I hate to be negative, but these items were a disappointment. Oddly enough, I've actually shopped a TON at J.Crew this year…but the J.Crew Nsale items left much to be desired. I didn't love the selection and the items I did try on fit…oddly. This yellow stripe top had really odd sleeves and was just…blah.
I also didn't care for the Madewell jeans. They're too short on me and just cut oddly. I know many people who love them though! They're a cropped style and didn't work with my height – I did like the high waist though. They also fit very large – size down two sizes.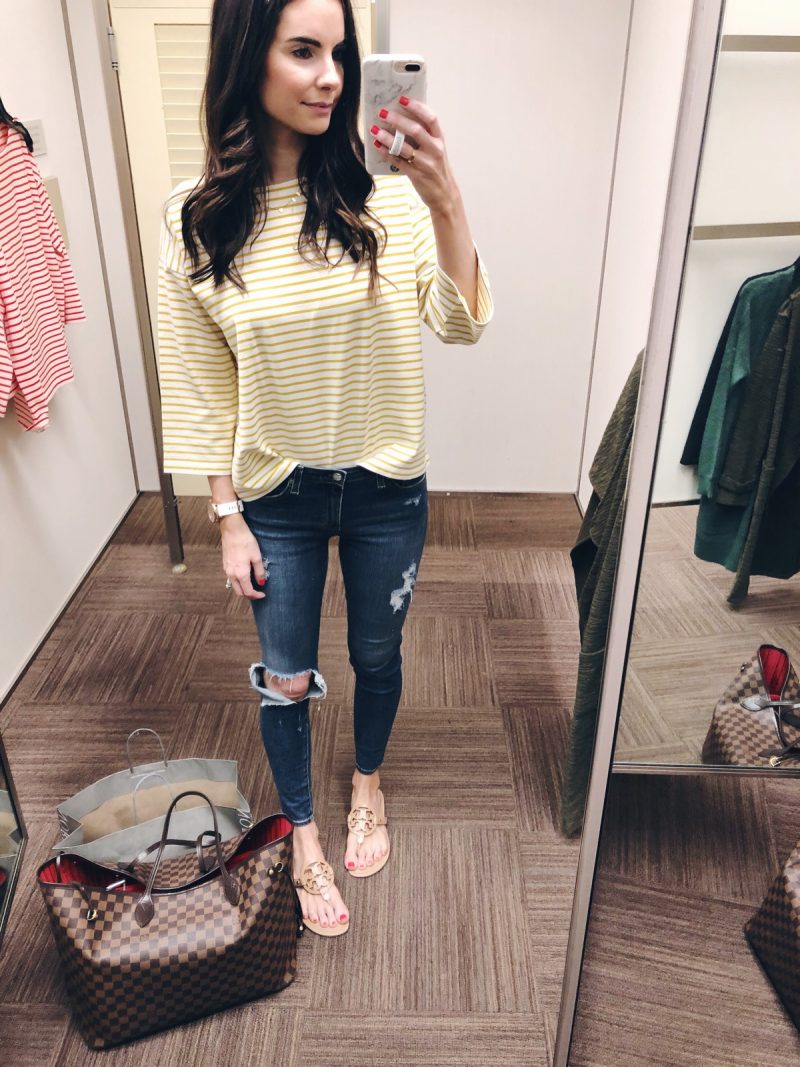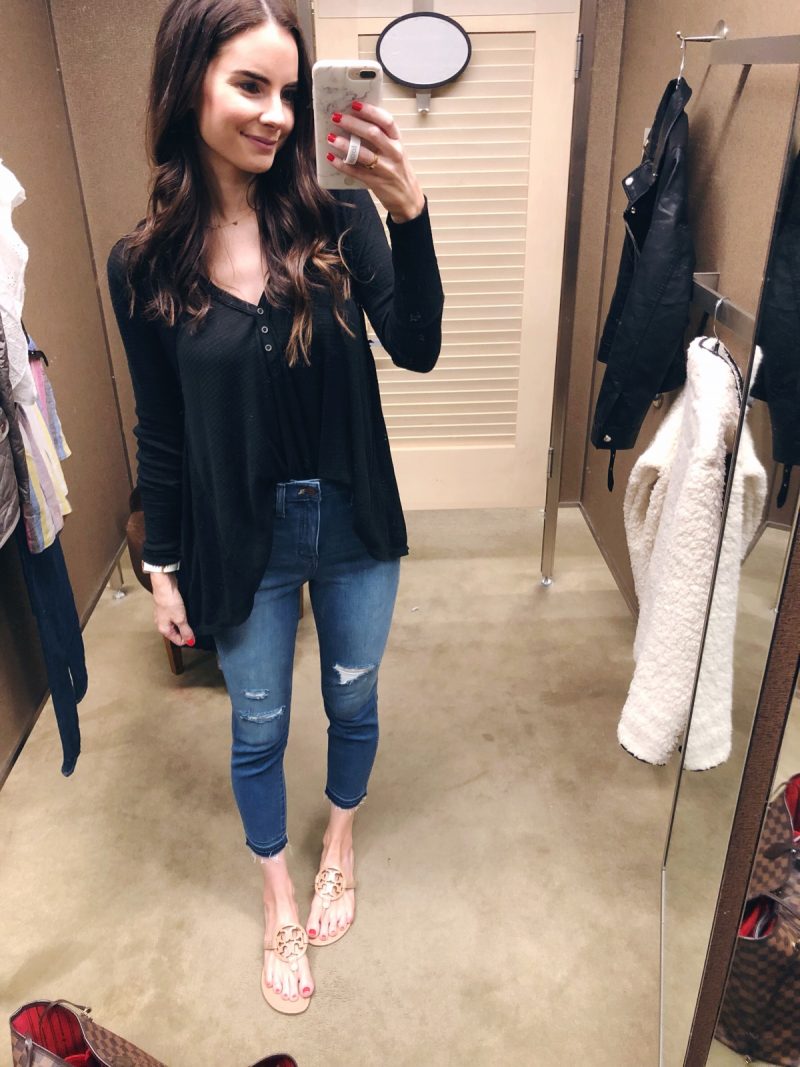 SHOP THE POST:








Shop the Post