Brittany and I went to high school together when I switched schools for my second half of 12th grade and I used to chat with her all the time when I worked at a tanning salon through HS and college (I know tanning salons are horrible and truly regret all the tanning I did, which is why I'm so careful now!)
We kept in touch via Facebook over the years and I saw Brittany launch her Toronto-based makeup artistry business, Fancy Face Inc. I started to follow her business page on Instagram and was always blown away by her makeup and hair skills – the brides she worked on looked totally stunning (I would like this makeup, please!) She also has some celebrity clients – like Jessica Mulroney!
I continued to watch her grow her business, become a mom and launch her own makeup products – and I asked Brittany to share how she grew her business and pursued her dreams in today's Five Questions With…I think you'll find Brittany's background and career unique and inspiring!
Tell us about your background and early career- how did you get into makeup artistry and decide to start Fancy Face Inc.?
I've always been deeply passionate about the makeup industry. I grew up with a mother who had the same keen interest as myself and I recall raiding her bathroom vanity swatching, playing with and testing all the colours & textures. From 3 years old onwards, I was a serious dancer and each year had my mom apply my makeup for recitals and dance competitions. I loved how makeup could transform you into a confident goddess, ready to take on the world.
As I grew older, I found myself fortunate enough to land jobs in movies like the Oscar Award Winning movie 'Chicago,' multiple Disney films with the likes of Julie Andrews and Megan Fox, and well-known TV series all as a triple threat – acting, singing and dancing in-front of the camera. One day in particular stands out when I closely watched, at fifteen years old, Catherine Zeta transform into her character Velma after a good 2-3 hours in the makeup chair prepping for our Cellblock Tango scene. Seeing how powerful and confident she looked after leaving the makeup chair really stuck with me. I wanted to give women that confidence somehow. I wanted to empower girls everywhere and make them see the best version of themselves. With an intense passion for makeup already in my veins, I decided to enlist in makeup school and at 20 years old, on the floor of my childhood bedroom, came up with my company name… Fancy Face. From that day forward, I never looked back.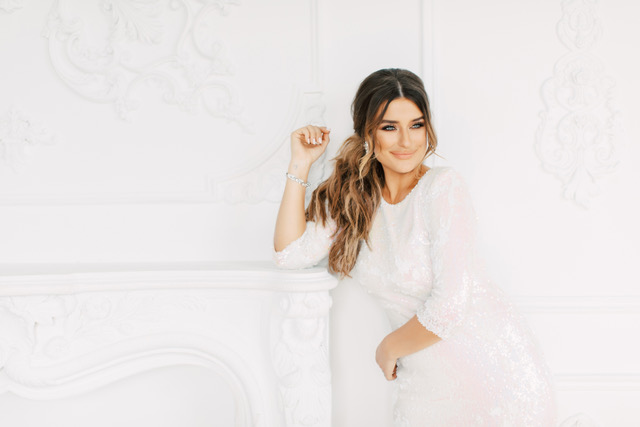 What has been your biggest challenge as a business owner and what are you most proud of as a business owner?
To be honest, there have been many challenges. To have the spirit of an entrepreneur, you really have to thrive off of challenges to be able to stay in the game. For me, my biggest challenge has been ensuring my business doesn't completely take over my whole life. Truthfully, I have been known to be a bit of a workaholic. That, I really have had to work on, especially since having children. Thankfully, my two babies really put the importance of creating moments with friends and family to the forefront of what I care about.
Beyond that, I've struggled with trusting people. As my business has grown, I've let people close to me who perhaps didn't deserve to be there. I'm the type that usually sees the good in people, so I feel like it took me a while to realize that different people have different intentions and sometimes they don't align with your overall vision. Now, 15 years into my business, I hold my cards close and really trust people once I feel like they've earned it.
Moving to what I'm most proud of? I'd say the fact that we at Fancy Face have really brought confidence to thousands of women through sharing our skill-sets and being open-books in the world of beauty. I'm also proud personally that I really built this business from scratch on my own. No bank loans… no family finances passed my way. Just hard work. From 15 years old onwards, I always worked and made my own money. I'm a hustler at heart and because of that, I, along with my husband, get to provide for two wonderful children that trust us with their life. I also love that I get to provide jobs for such wonderful and talented women in this industry. Not a day goes by that I don't feel grateful for that.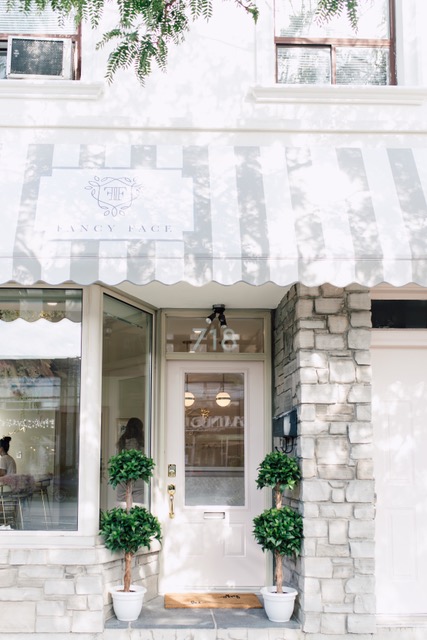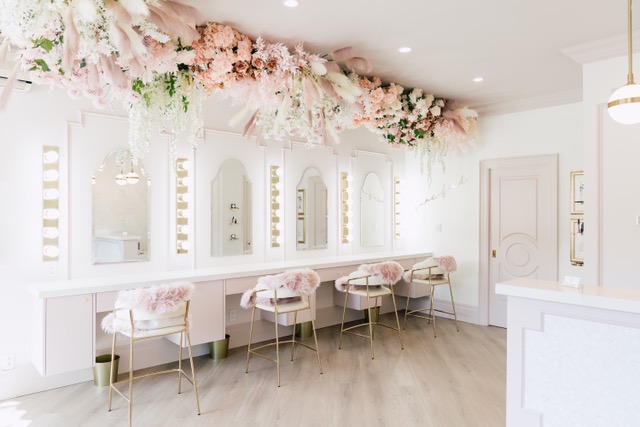 How does being a mother play a role in your business and what is the best advice you've given or received as a working mother?
Becoming a mother has really changed the entire game for me. Prior to having kids, I worked around the clock and rarely took "me" time. Now, I stop and smell the roses a lot more, to enjoy these precious moments that I know will quickly slip away as they grow older. The best advice I've ever received is that if you're passionate about what you do, your kids will learn from that. To never be ashamed of being a hard-worker. I think there can be a lot of mom-shaming when someone is really work-focused, but at the end of the day, if you balance your life properly, you can have the best of both worlds.
When/why did you decide to create your own cosmetics line? What inspired it?
Creating my own cosmetic line has been a dream of mine since as far back as I can remember. I used to have conversations with my high-school girlfriends about how, one day, I was going to have my own makeup line.
Everything about the process… testing the formulations, ensuring they are second to none, preparations to bring them to market, the creative aspect of advertising them properly… I love every single step that is involved. Launching our cosmetic line was all about timing for me. We got to a place where I felt like I could financially swing it, and I knew we had the following and demand to be able to sell it – as long as it was a fantastic product. So I went for it! I'm so glad I did. When you have an impulse from your gut to go for something, never deny that. Always trust your wonderful, intuitive instincts.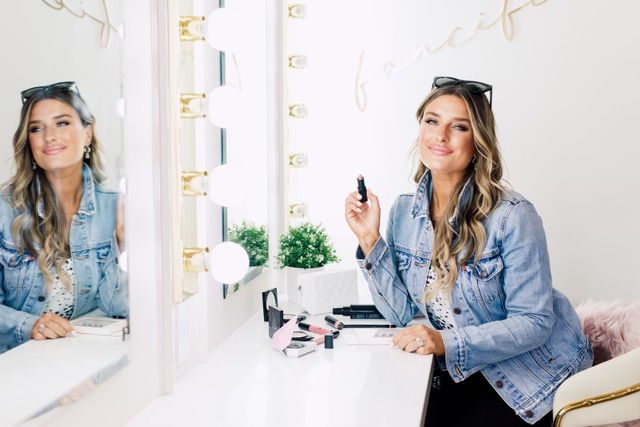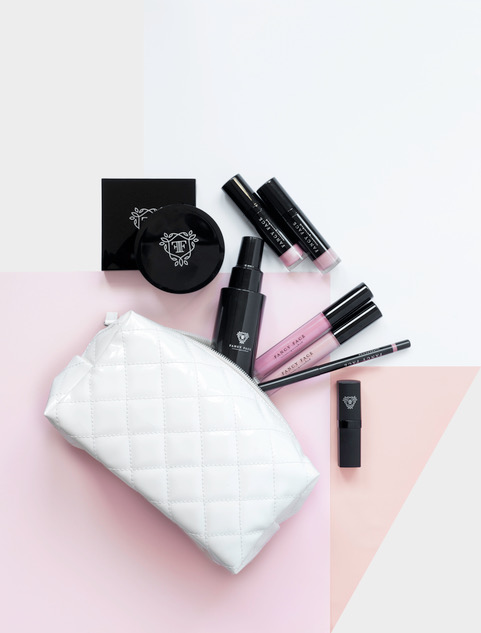 What are your top five products or tips/techniques for a fresh-faced look for busy women?
Take amazing care of your skin. Enlist in seasonal hydra facials with an esthetician. If you can, try to purchase the best quality products you can afford. Cleanse your skin twice, use serums in combination and keep the skin ultra hydrated! I love applying a moisturizer and then an oil as well once I've cleansed and added a serum to the skin. Sunday Riley, Nannette Degaspe, Dr. Barbara Sturm, Skin Ceuticals & Dr. Sebagh , are some of the best skincare brands I can recommend.
Choose a foundation that is one shade darker than your skin-tone for a healthy, sunkissed glow. I love Nars Radiant Finish Foundation in the shade Punjab.
Add some bronzer to the crease of your eye to wake up the overall look of your face. Once you've applied your bronzer to your cheekbones, forehead and jawline, use a domed eyeshadow brush and rock some bronzer through your crease and dust a little under your lash line. Voila! You're done. Throw on some mascara and that's really all a busy girl needs on her eyes.
Add a pop of peach or pink on the apples of your cheeks to look alive.
Slightly over line your lips with a nude lip pencil to give you a seriously sexy pout. I personally love a soft pink lip colour like our Love Note shade. In my opinion it really is the perfect pink for every girl to wake up the face and look ready for the day. I promise you'll get stopped by other women to ask what you're wearing on your lips!
Brittany was kind enough to send me some of her products to test out – and they're beautiful! The perfect pink shades and a beautiful glowy bronzer, blush and highlight. I'm also wearing the brow gel that has a slight metallic shimmer to it and I loved the look! One of my favorite products is the lip glaze in the color ballet slipper – it's the perfect pink on its own or layered over lipstick.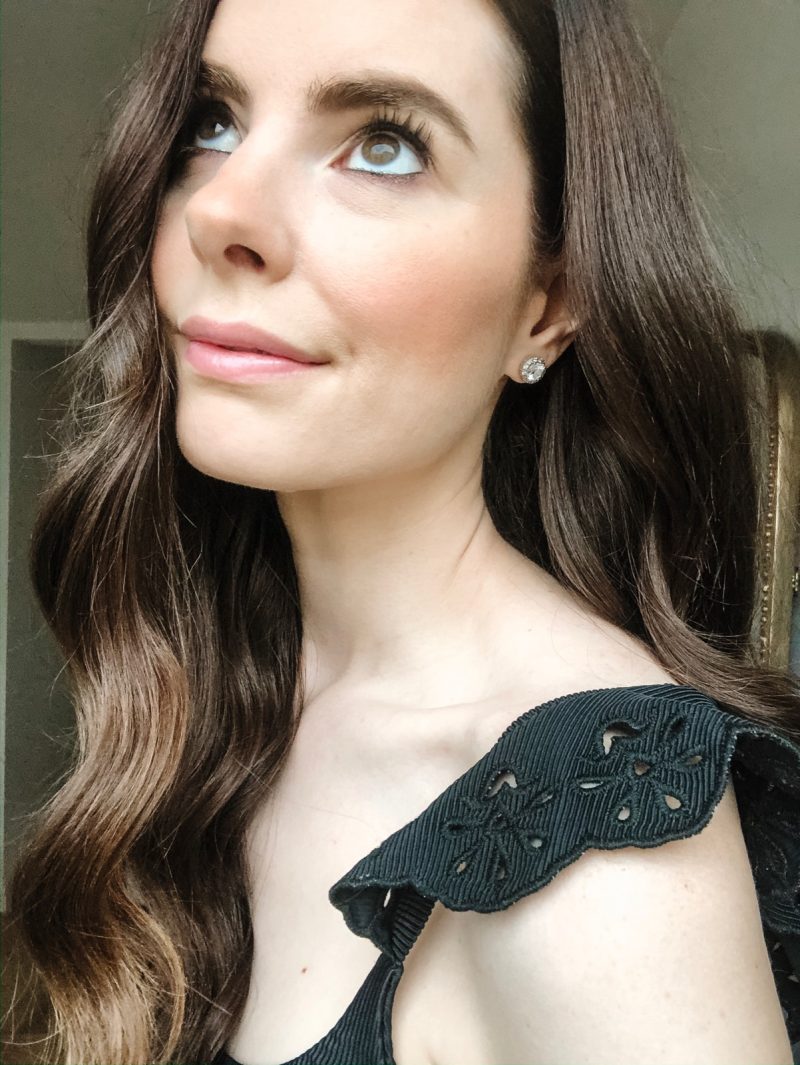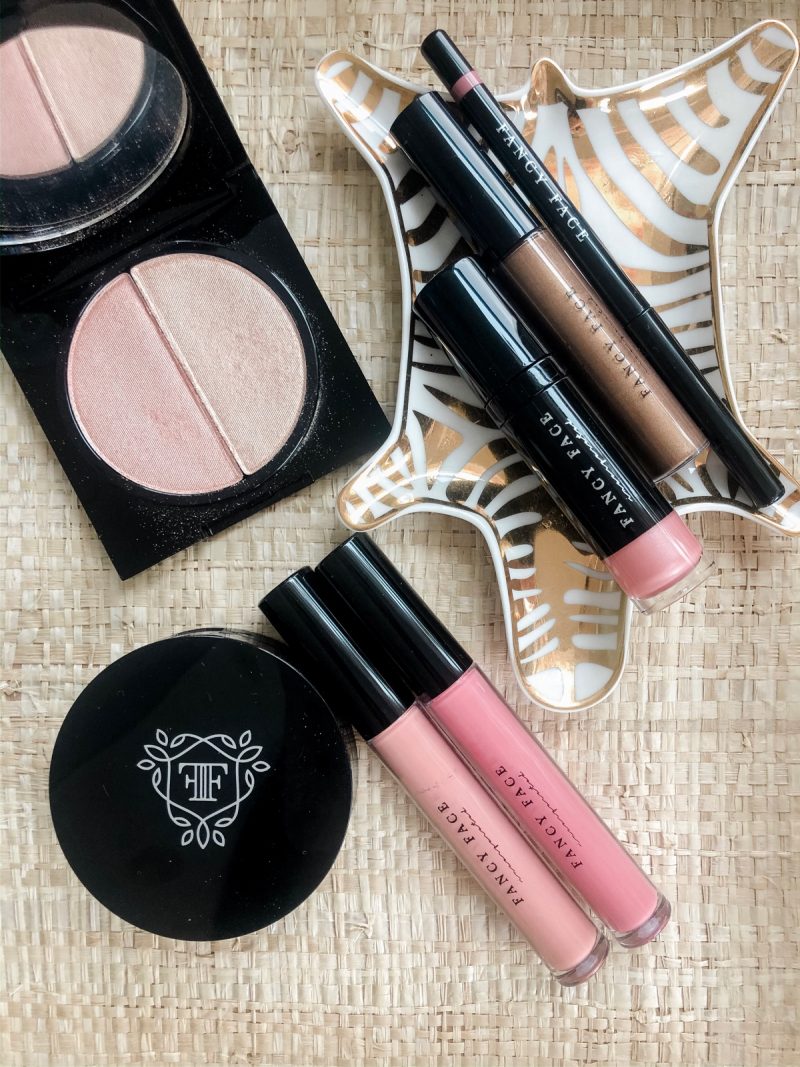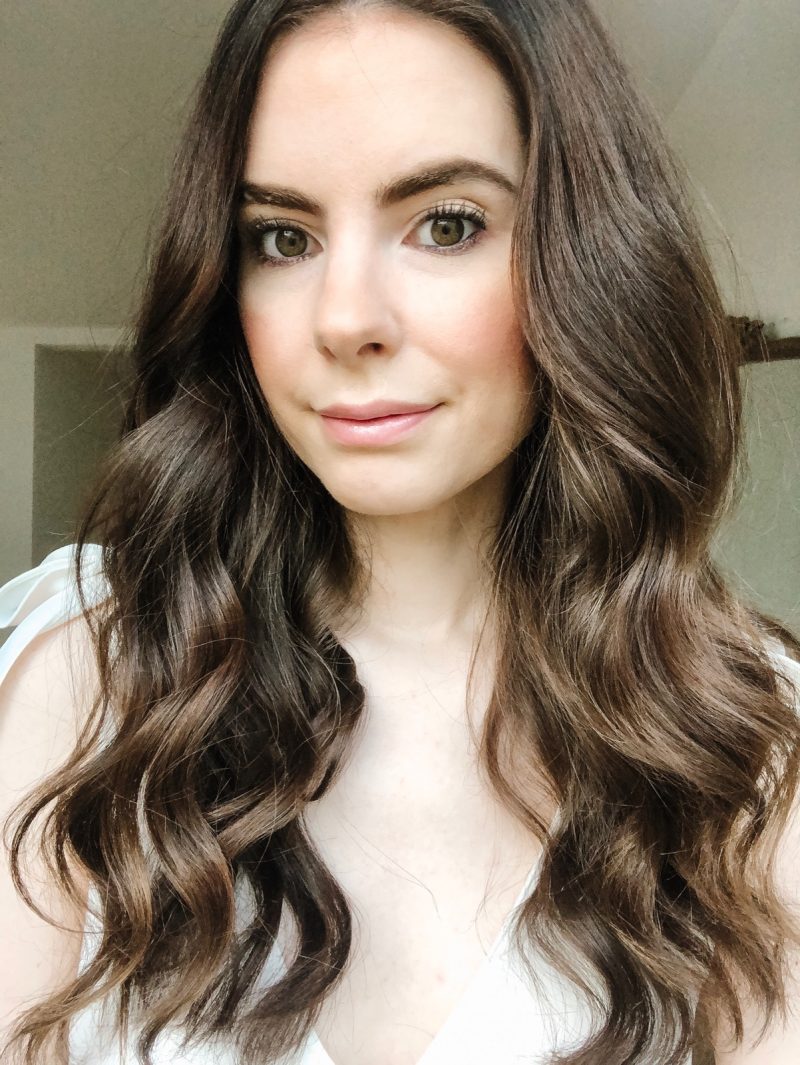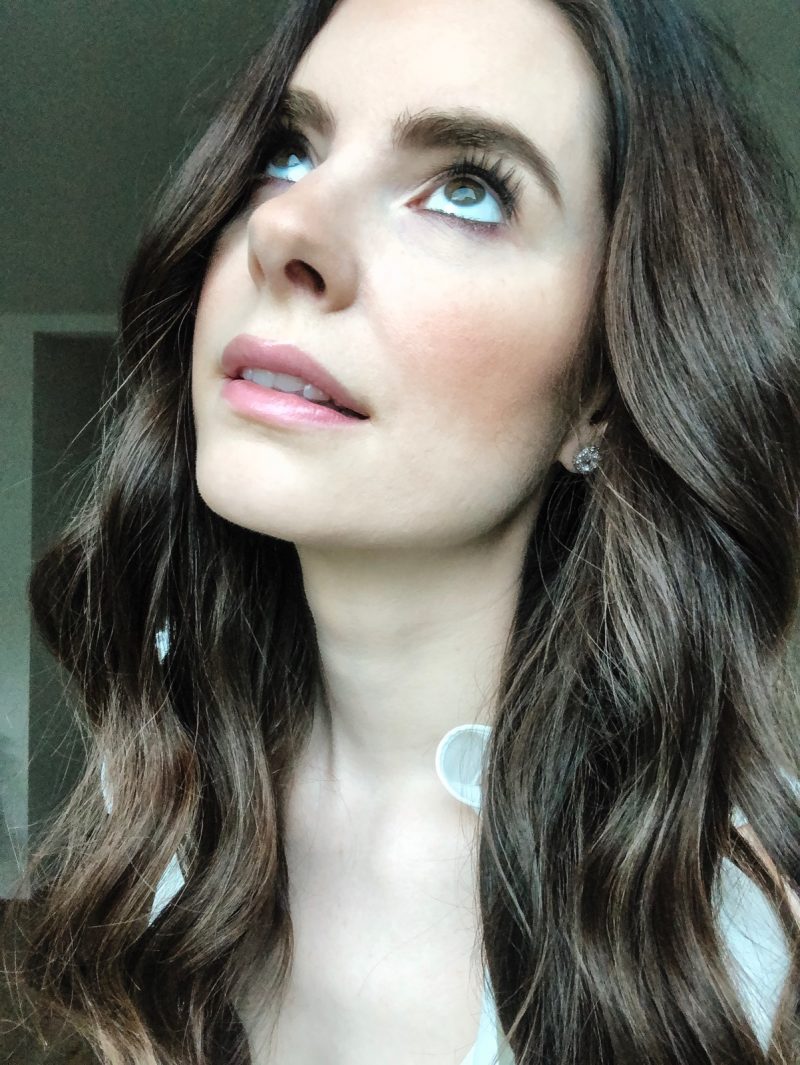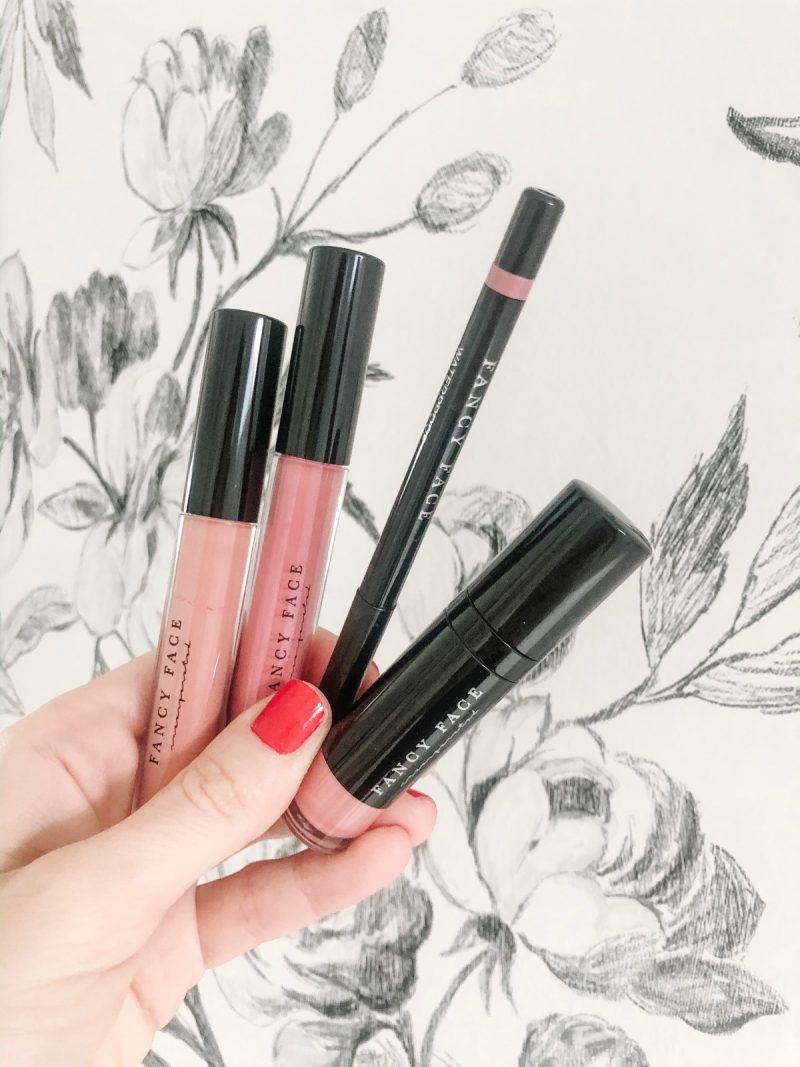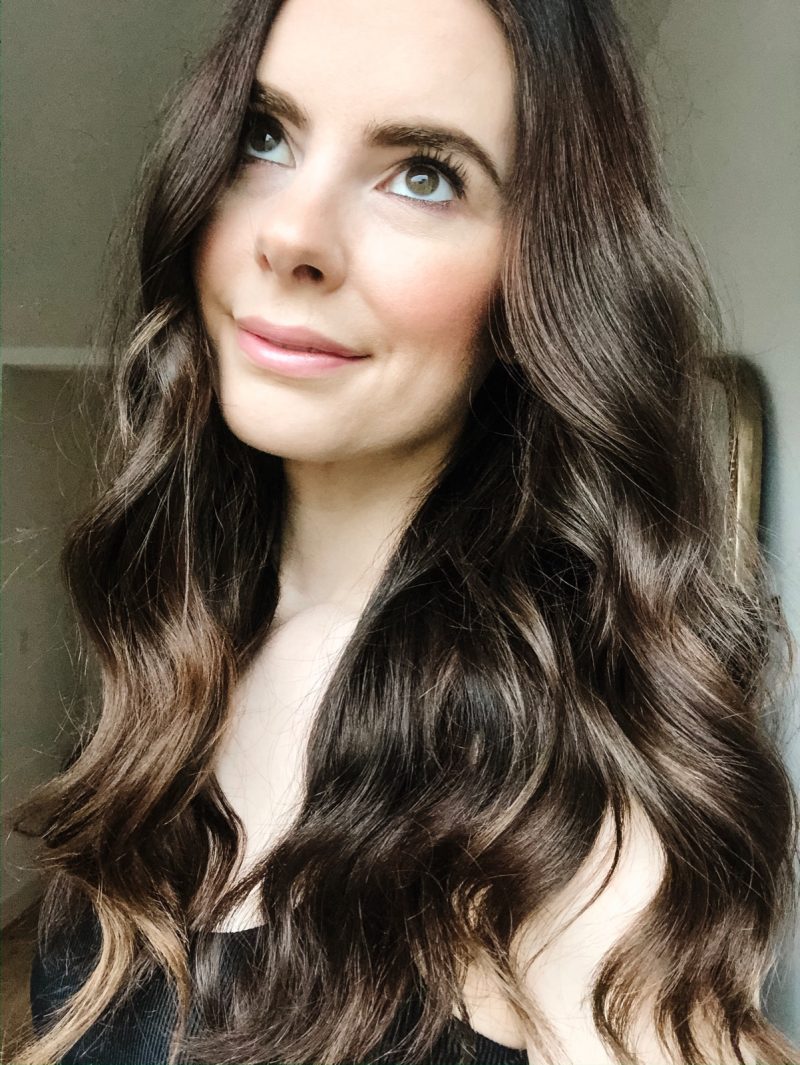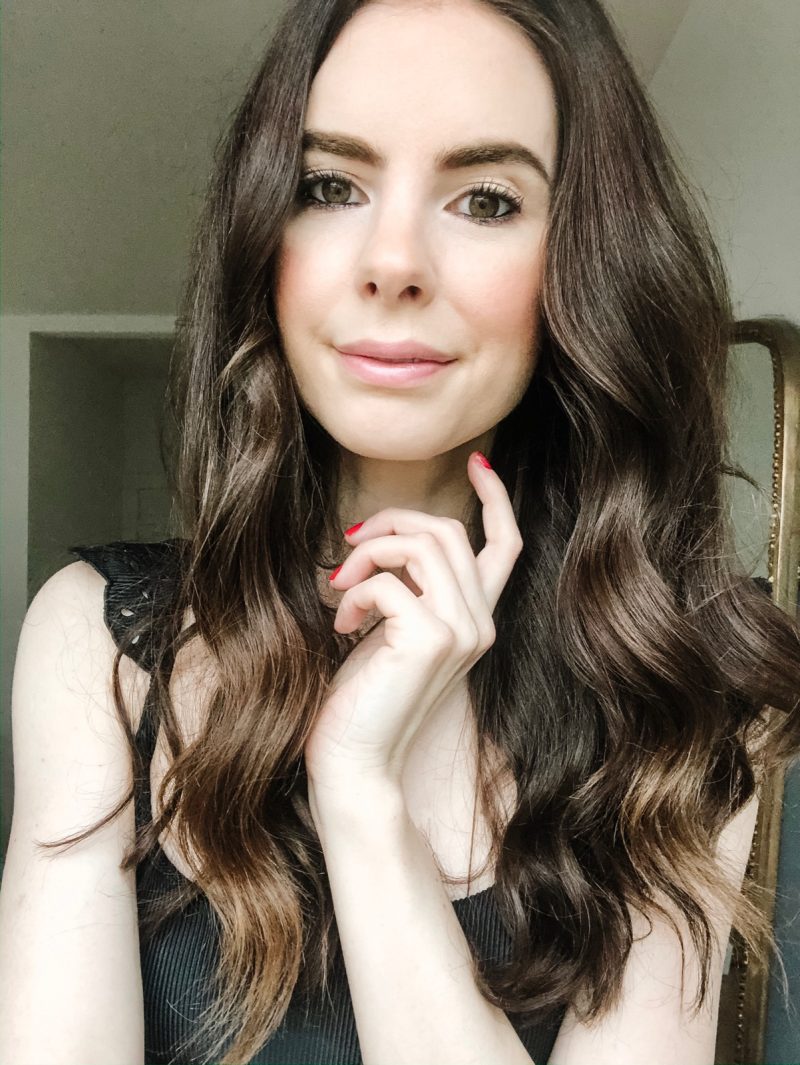 Thank you Brittany for sharing your story! You can check out the Five Questions With series, here.