I haven't shared an updated skin care routine in a long time – so I put together an IGTV video breaking down the products I use regularly. I truly believe that investing in good skincare is so worth it in the long term, so there are a few products I splurge on.
I also want to add the disclaimer that I do get Botox injections 2-3 times a year in my forehead only and that does make a huge difference in the formation of fine lines and wrinkles. You can read more about my Botox injections here – just wanted to be transparent about that before sharing my skin care favorites.
The Sephora sale is now open to VIBs with 15% off of your entire purchase. Most of the items I share can be purchased at Sephora but a few aren't carried there, so I've linked to other retailers. I'm also re-sharing all of the items I plan to buy/already use and love in this post in case you missed my Sephora sale post last week.
MORNING SKINCARE ROUTINE (in order of use/application)
EVENING SKINCARE ROUTINE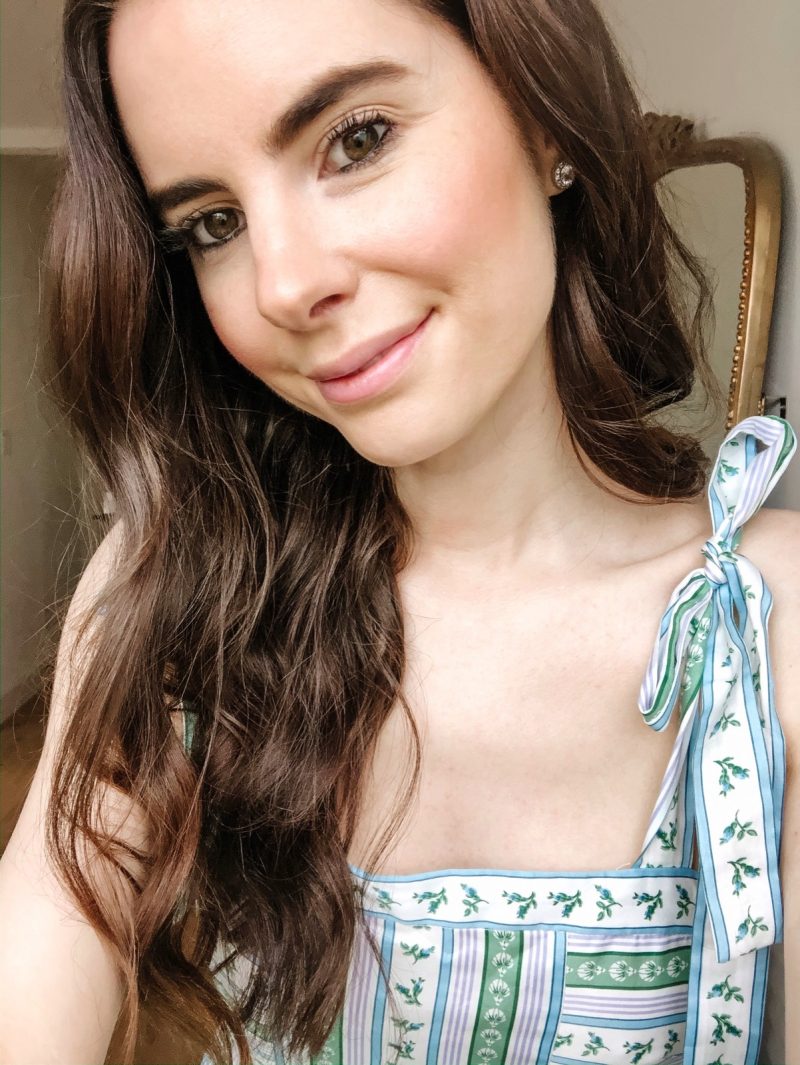 WHAT I'M BUYING DURING THE SEPHORA SALE
SKII Essence: I know it just looks like water, but I swear this makes my skin smoother, brighter and pore smaller. I also love the Tatcha Essence, but I think the SKII is better, so I'm willing to splurge on it. I use this in addition to my Biologiqe Rescherche PIGM 400 toner every morning.
Biossance Squlane + 10% Lactic Acid Resurfacing Night Serum: I use Drunk Elephant Framboos every night and adore it, but recently heard a ton of great reviews about this Biossance serum. My skin does very well with acids, so I'm going to give this a try. Some of the reviews include seeing immediate results in skin texture (in 1-2 days) which is really exciting. I'll report back how I like it.
Dr. Dennis Gross Hyaluronic Marine Hydration Booster: I haven't 100% decided on this one, but I'm intrigued by the reviews and want to add HA to my routine.
Peter Thomas Roth Acne Clearing Gel: I like to use an acne product preventatively on my jaw and chin area. Though I no longer (knock on wood) struggle with hormonal cystic acne, I do find myself getting an occasional under-the-skin breakout and like to use something on that area in addition to my acids to keep things clear. Kathleen Jennings recommended this one.
Anastasia DipBrow Gel Mini: I'm going to order the mini size of this to try it since I don't like their actual dipbrow pomade. I LOVE Anastasia's brow powder and use it everyday, but I like to use a product like this one on the inner part of my brows – I think it helps make the hair strokes in that area look more natural versus doing a full powder fill. I also use and really like the Too Faced brow gel.
Becca Anti-Fatigue Under Eye Primer: I've been using this for about a year now – I get the hype. I swear this makes your under eye concealer look better on and prevents creasing. It is magical. I truly notice the difference if I skip this in my makeup routine. I'm about halfway through my current product, so I'm going to purchase another during the sale.
GrandeLASH™ – MD Lash Enhancing Serum: I'd love to find a lash growth serum as good as NeuLash, RevitaLash and LashBoost for half the price. This one is $65 and I'm eager to see if it works as well as the ones I've used before. I'm running low on RevitaLash and want to keep my lashes long.
PRODUCTS I'VE TRIED MORE RECENTLY & RECOMMEND
Tatcha Kissu Lip Mask: A must-have. I use it nightly. Best lip product I've tried. It has a jelly like texture and makes lips look like glass. It changed my lips in a wee and I haven't had dry, chapped lips since! I keep it on my nightstand.
Dr. Jart Acne Patches: These patches are LOVELY! I had an under-the-skin pimple forming last month and caught it in the early stages – I wore one patch for two nights in a row and the pimple never came to fruition. These patches have a "micro dart" technology that targets the pimple and helps destroy it. I'm here for it!
NARS Creamy Concealer: I tried this concealer instead of my Tarte Shape Tape and really like it! The applicator is smaller so you don't get as much product as the Shape Tape out – which is a good thing because one of Shape Tape's biggest faults is how messy the packaging gets with daily use.
Too Faced Hangover 3-in-1 primer and setting spray: I didn't expect to love this as much as I do. It's another KJB recommendation – I use it after all of my skincare but before my foundation. I mist it on and then brush my teeth so it can dry. This spray makes your makeup look so good and just preps skin. It's hard to explain – I normally don't like primers under makeup but this is a liquid spray so it doesn't feel like anything on your skin. You can also use it midday to add a little glow. It contains coconut water and is very hydrating. This is definitely a "nice to have" product – but I reach for it more and more.
IGK Good Behavior Spirulina Protein Smoothing Spray: My hair stylist Brigitte recommended this to me to help with some areas of my hair that have a coarser/wiry texture. It helps make hair smoother and works well when applied to dry hair prior to using hot tools.
Kerastase Resistance blow dry primer for damaged hair: I use this in wet hair either before I go to sleep (air dry) or before blow drying. It's protects hair and gives it a smooth finish. I basically have never not loved a Kerastase product and this one is no exception.
Drunk Elephant F-Balm Electrolyte water facial mask: When my skin feels dry or dull, I add this into my night time skincare routine. It's lightweight, doesn't clog pores and plumps skin.
WHAT I USE, LOVE AND REPURCHASE CONSISTENTLY:
NARS Laguna bronzer:
I've been using this for over a decade and it's a staple – it's a large size, so one bronzer usually lasts me up to six months.
Charlotte Tilbury color chameleon eye pencils:
Hands down, the best product I've ever used to line my lower lash line. My favorite color is Dark Peal. The best part about these is that they're designed to enhance your natural eye color – they define eyes while also making them pop.
Living Proof Dry Shampoo:
Holy grail status – the dry shampoo that actually cleans your hair. I've got two bottles of this at home ready to go when my current bottle is finished – I've always got one or two backups of this.
Urban Decay Stay Naked foundation
: this foundation is very very lightweight but has great coverage (medium. buildable). I wear this a lot. day to day because it's so lightweight and easy to apply. Melts into skin.
BEST PRICIER MASCARAS
: I'm a big fan of drugstore mascaras, but the two I do splurge on are the
Moiseur Big
by Lancome and
DiorShow
. Both waterproof formulas.
SHOP THIS POST:
EYES:

SKIN:

MAKEUP:

HAIR:

Shop the Post