Thank you Walmart for sponsoring this post!
We have been at home since March 14, with both Kevin and I working remotely and the kids being out of school. Needless to say, this has changed our day-to-day routines quite significantly and I've been wanting to share what our new normal looks like now that we've settled into this new reality.
I've actually found a lot of positives in being home – I usually sleep a little longer, no longer have a commute and we get to see our children more. Having said that, I do miss listening to audiobooks while I drive and I'm pretty extroverted, so I've always enjoyed the interactive aspect of working in an office setting.
Here's what our day-to-day routine looks like now that we're working from home for the foreseeable future.
6:30-7:15 AM – Depending on the day, I wake up between these times. I have no set an alarm since we've been home, which has been amazing because my body wakes up naturally. Our kids usually wake up a little bit before we do, so they go to the game room and play with toys or watch a show if we're still sleeping or getting ready for the day.
7:15 AM – Kevin and the kids head downstairs for breakfast and I do a quick makeup routine, clean my Invisalign trays and brush my teeth. I still get ready everyday because it makes me feel prepared to work and keeps me feeling like myself. My routine is a little simpler when I'm not going into the office (I wear less makeup and just brush my hair and/or add dry shampoo versus heat styling it).
7:30 AM – I put on a sports bra, leggings and a long sleeve top or loungewear. I like to dress in athleisure so that I don't have to change into workout clothes later in the day. It's easier be motivated to do a workout when my work day is over if I'm already dressed and ready to go.
8 AM – As soon as I get downstairs, I turn on my laptop and login via remote access to my desktop computer. I check/respond to emails, read some of the latest news and plan out my day. Around 8:30 or 8:45, I make my first latte of the day and eat breakfast.
OUTFIT NOTES: This jogger set from Walmart is the real deal. Seriously – look no further for your at-home essentials. It's SO soft, has stretch and is lightweight enough for summer (will keep you comfortable at home). I LOVE the cuff detail on the sleeve and it's such a fantastic color. I'm wearing a small, but if you want a more fitted look, I'd recommend sizing down. I love that this set is a little loose since I'm sitting at my dining table all day working on a laptop. The stretch it has makes it easy to cross my legs too, which I often do while sitting and working at my dining table. It's such high quality, for an affordable price – I likened this set to my favorite Sofia Vergara jeans and deemed it a must-have because it's that good. Trust me on this one!
This set is so fantastic, I also ordered the long-sleeved top that matches it. I'm often cold, especially with AC on, so it's nice to have the option to mix it up. The long sleeve version is the same fabric and has a pretty stitch detail down the front. I'm wearing the size small! I am so glad I ordered this jogger set – it's truly the best!
SHOP THIS OUTFIT: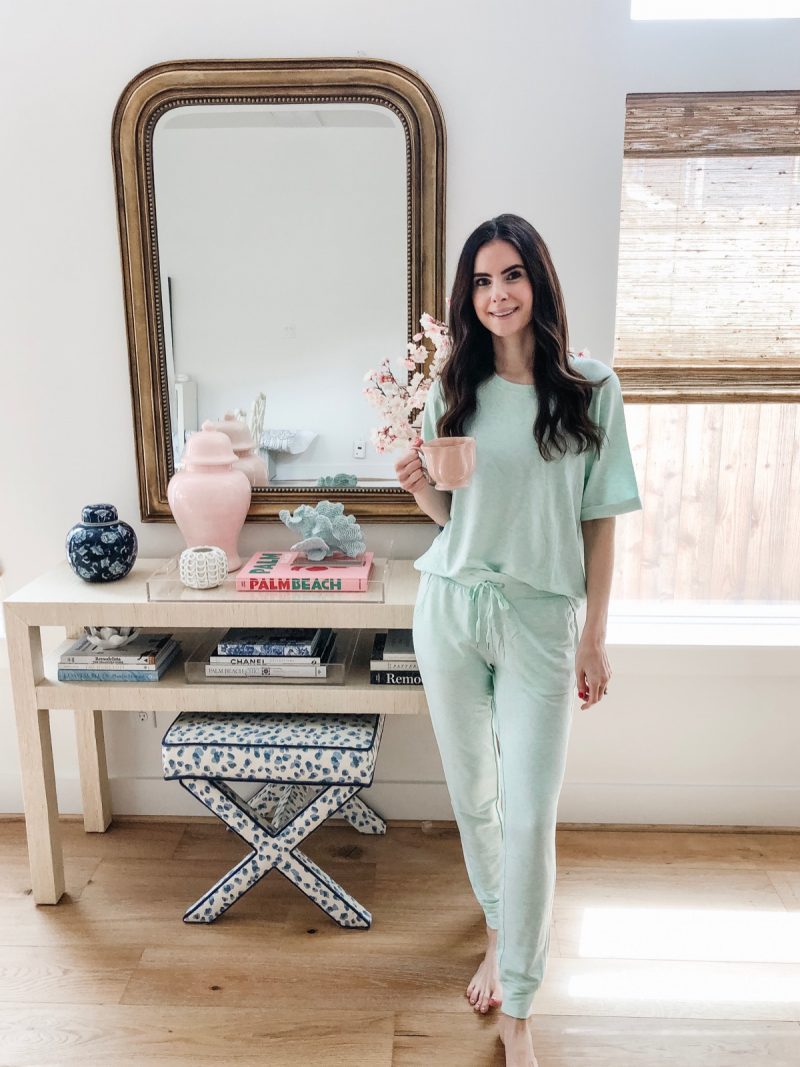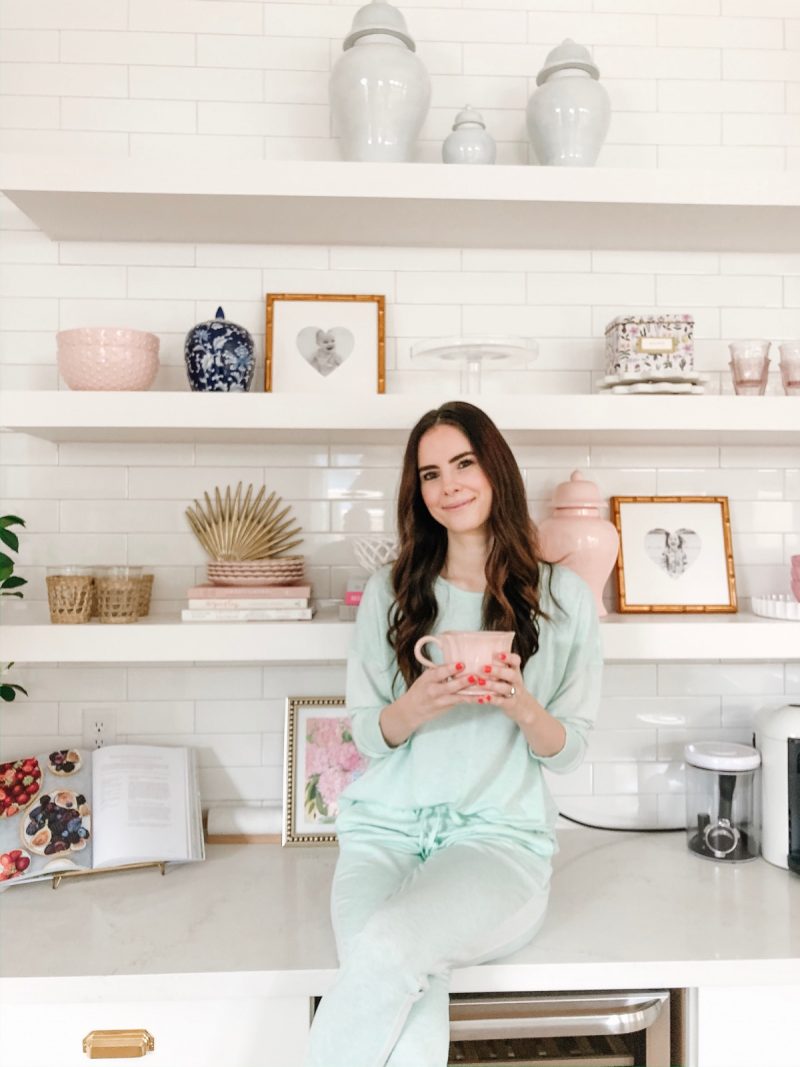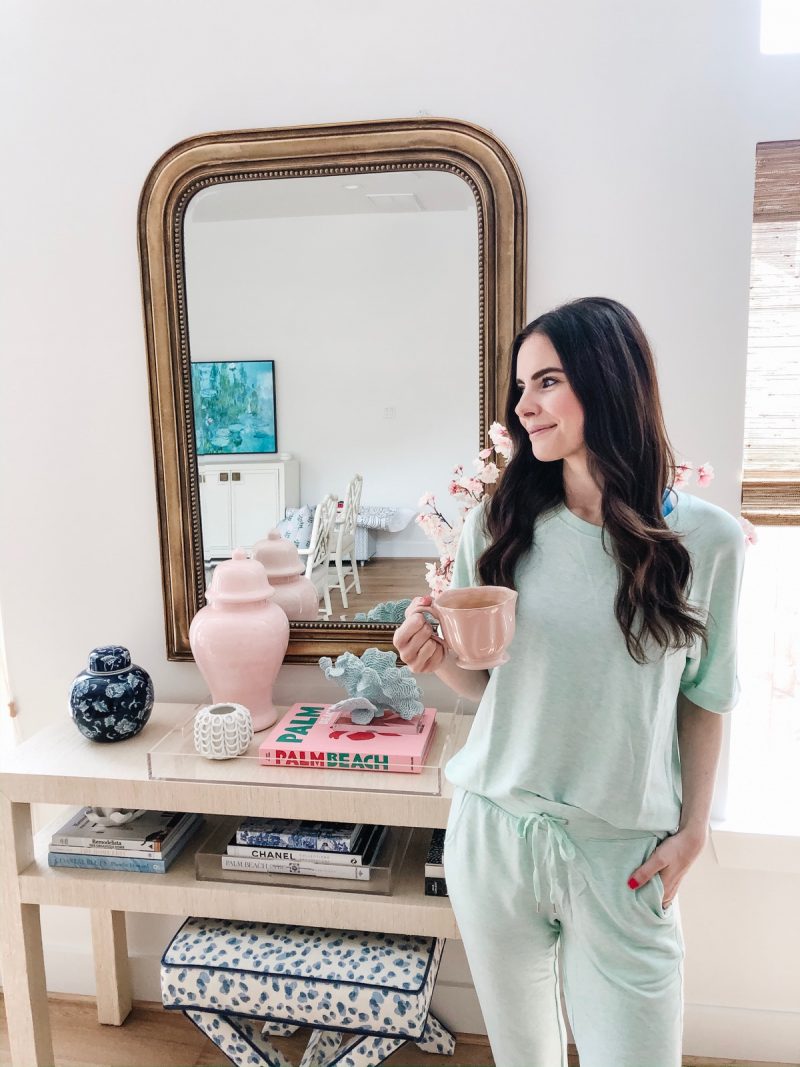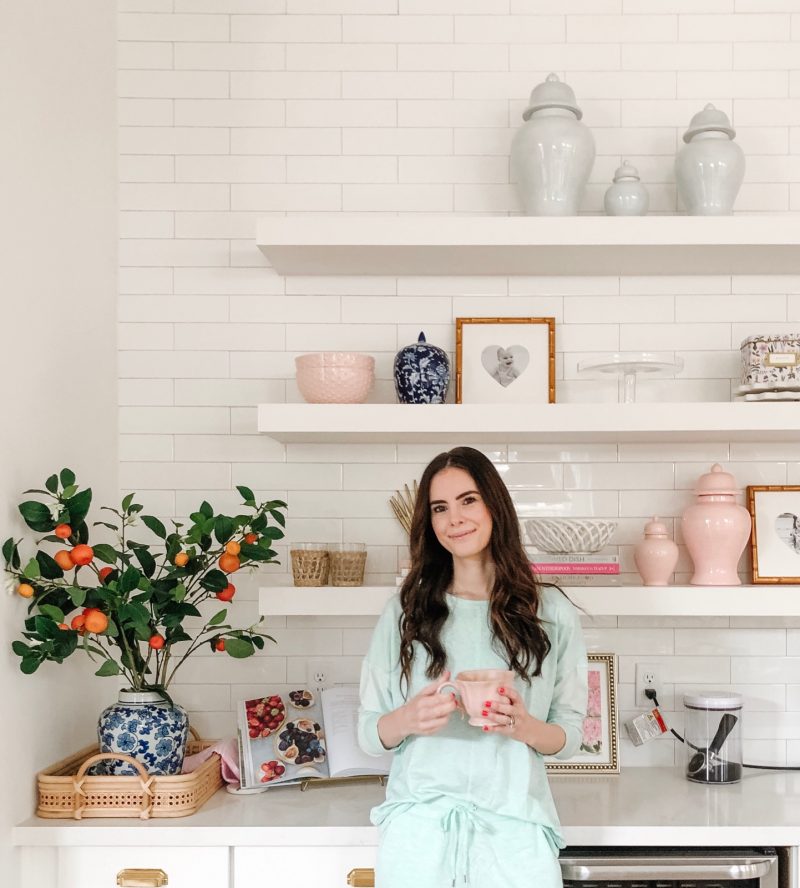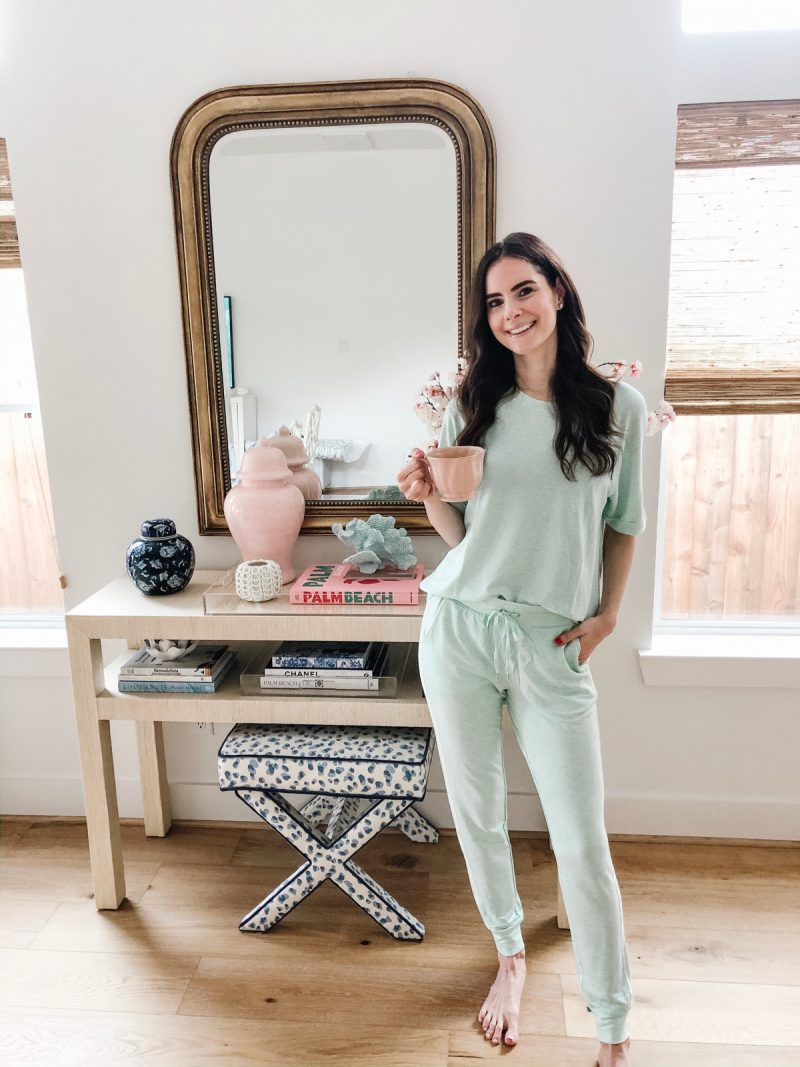 9 AM – Harper has her daily ZOOM call with her class every morning so I help her set that up on my other laptop and she sits at the dining table next to where I work. Lincoln usually does an activity book, plays with Legos or does ABC Mouse while she's on her call. She does some schoolwork after this as we continue to work.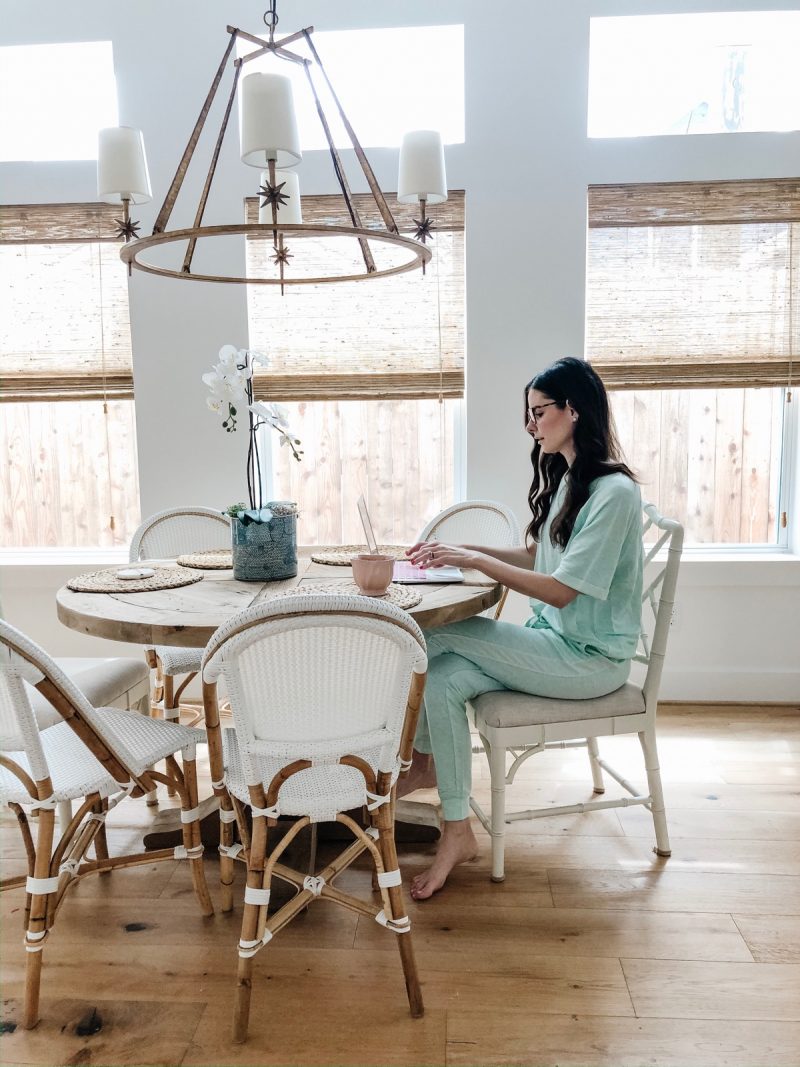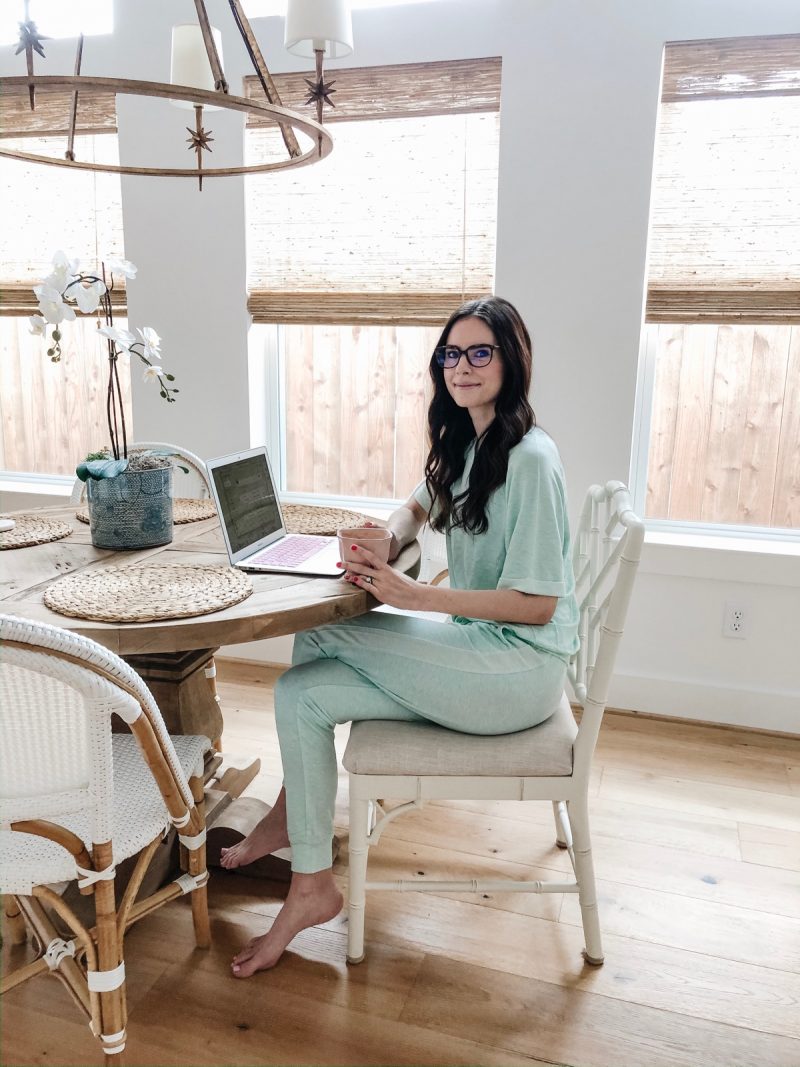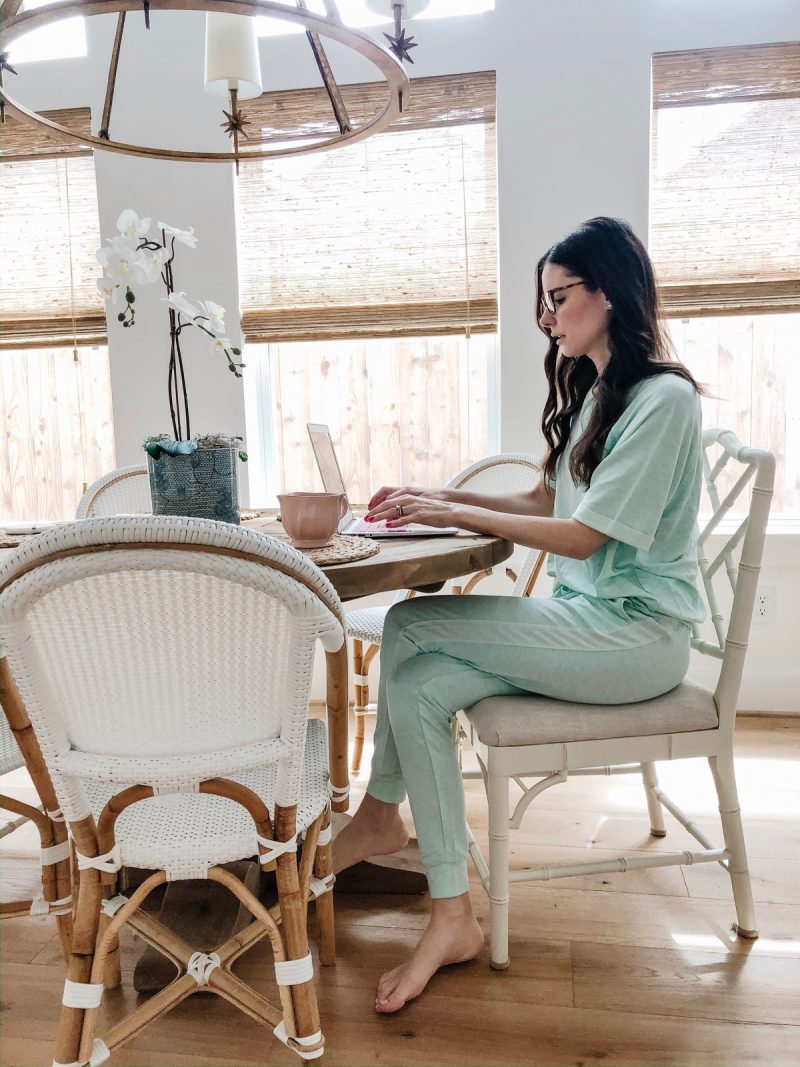 After her mooring call and schoolwork, the kids will go to the playroom and usually build something with Legos or Magnatiles or they'll play in the backyard for a bit. Being home and working all day has definitely improved their ability to have independent playtime together.
They usually have a snack at around 10 or 10:30 as we continue to work.
NOON – We usually eat lunch at noon or 12:30. Sometimes Harper has other ZOOM classes at 1 or 2 PM and does those. Usually we have them play outside again after lunch for a little while. One of us will sit on the patio on our laptop so we can continue to work while supervising them. If the weather isn't great they play upstairs or we let them watch a show.
1-4:30 PM – We continue to work while the kids play with their toys, do art, etc. They have gotten quite creative – turning cardboard boxes into pets and making a "zoo" in our game room. Of course we have good days and bad days – our kids fight just like any other siblings and there are time outs and too much screen time some days. We've learned to be flexible through all of this.
4:30 – 5 PM – We either use this time to make dinner or squeeze in a quick workout. Usually we wait until after dinner to workout. In that case, the kids will watch a show in the game room while Kevin and I do a workout together in our bedroom where we keep our yoga mats. The best thing about having no commute is the ability to allocate that time for exercise.
We eat dinner around 5:30 every night and after that we workout, go outside to our yard and have family time or watch a show if there hasn't been a ton of screen time that day. Sometimes we do game nights too!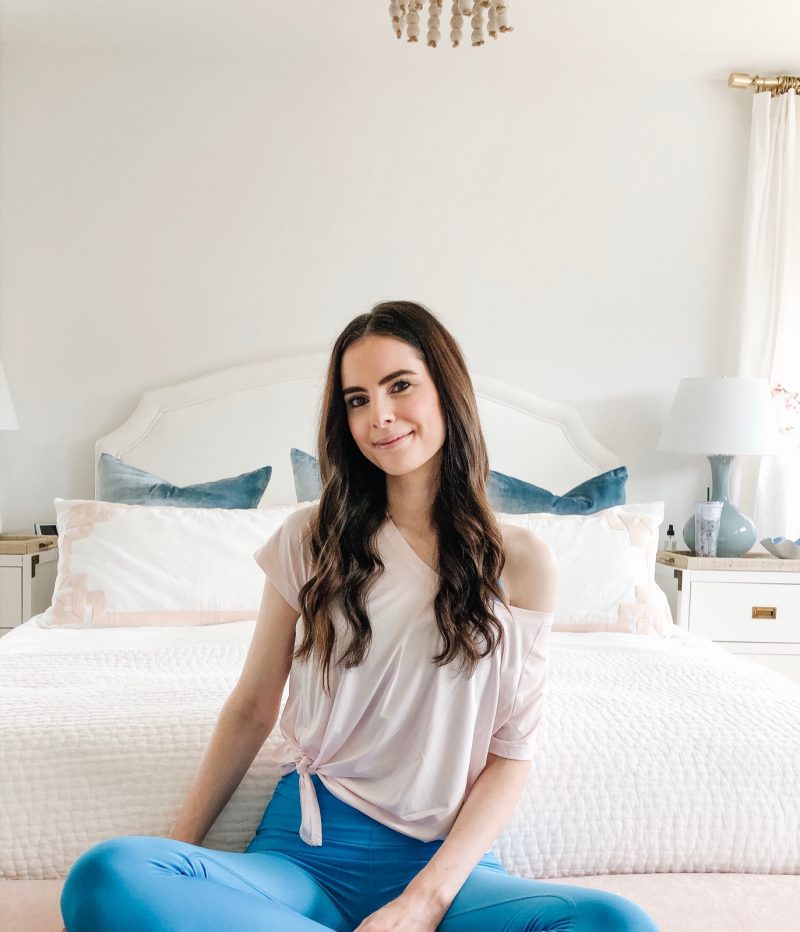 OUTFIT NOTES: This pink top is SO good. It can be worn off the shoulder (which is my preference) and is the perfect shade of milky pink! It also ties at the front which is a fun detail and makes it pair perfectly with high-waisted leggings. It's made from a sport material that wicks away sweat and is breathable. I'm wearing a small. I've worn it outside on walks when it's hot out and it's lovely!
The high-waisted leggings and matching sports bra are super comfortable and the leggings offer a medium level of compression. I'm wearing the leggings in a small and the bra in a medium. I recommend sizing up in the bra if you have a larger cup size. The leggings are the perfect high rise (above my belly button) and are a full length + very flattering. The bra has really pretty criss-cross straps at the back – looks super cute popping out of a workout tank.
Both the bra and leggings are under $15 a piece which is such a score for how they look, feel and fit. The bra is comfy for all-day wear and doesn't squeeze on the rib cage which I have had issues with in the past. I would say it is a medium support level -perfect for my P.volve and Melissa Wood workouts.
SHOP THIS OUTFIT:


SHOP AT-HOME WORKOUT ESSENTIALS: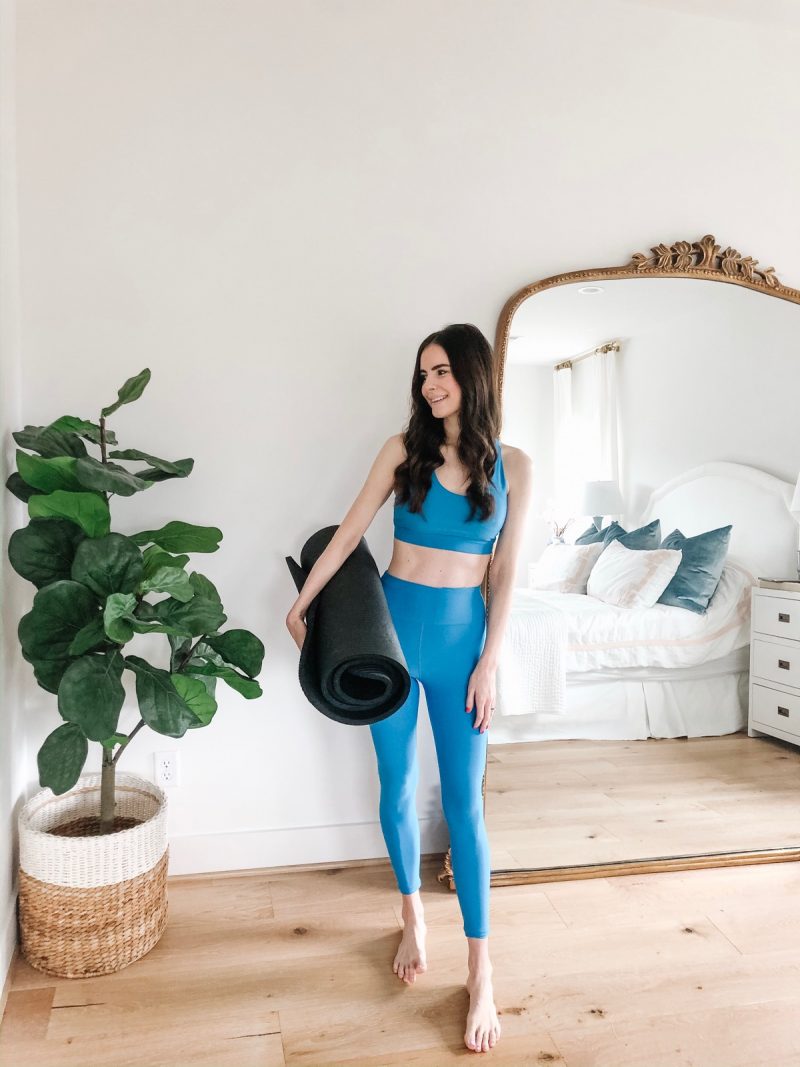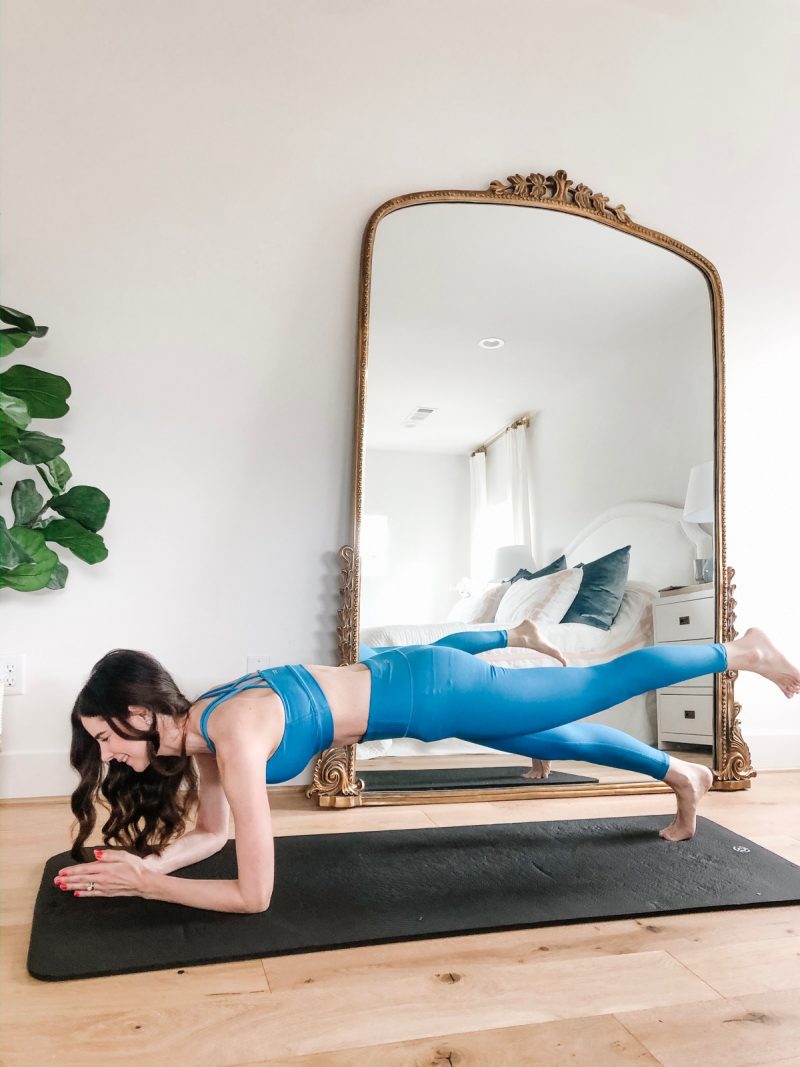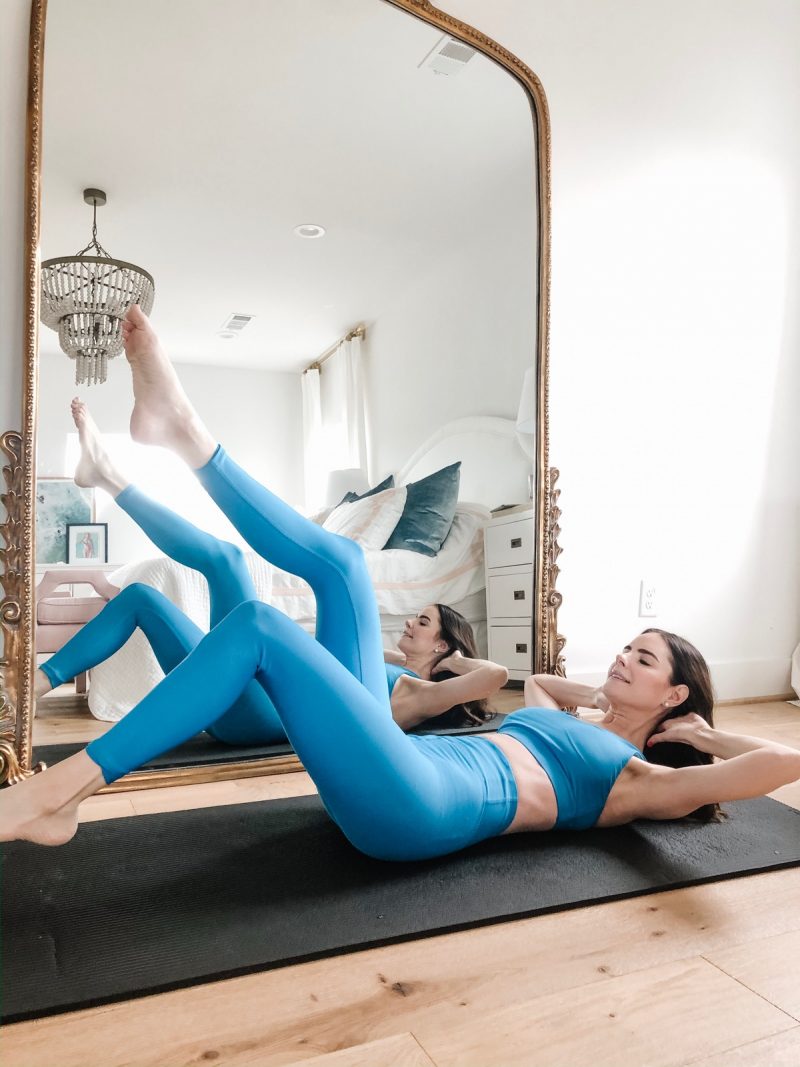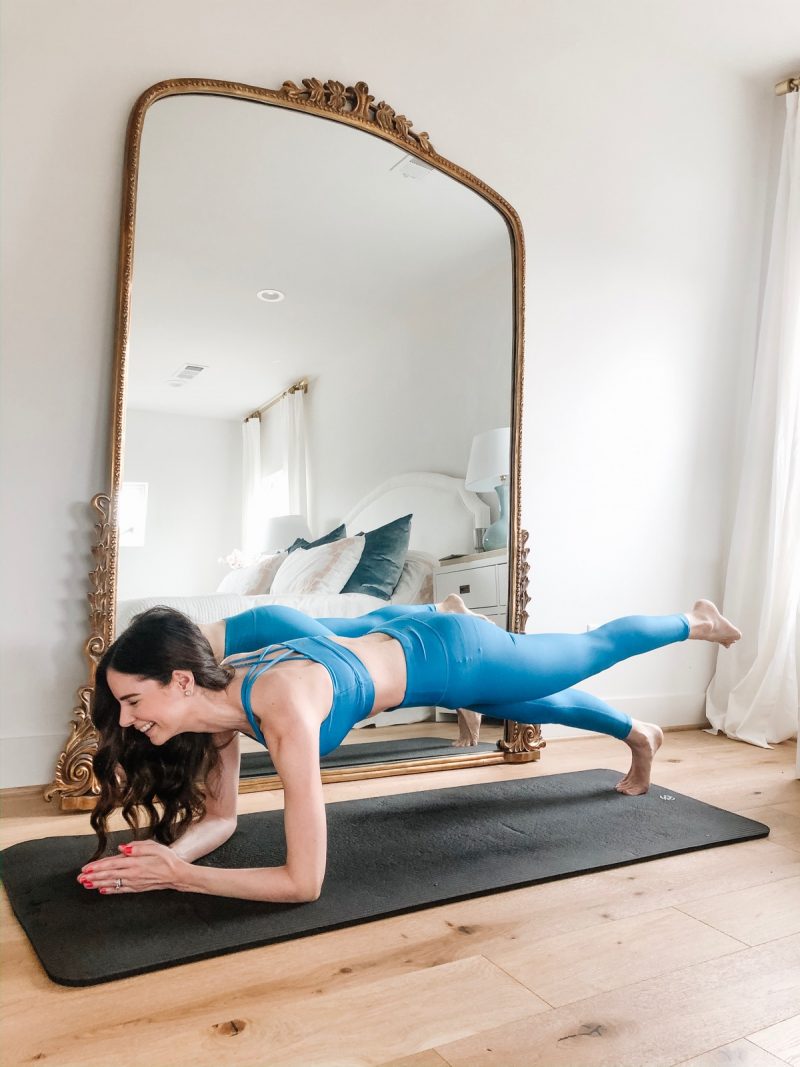 Fun fact: while Kevin was shooting these photos, Lincoln found the mint top, put it on and wanted to take a picture with me. Harper begged me to order it "in her size." Then they argued over who got to wear it, haha!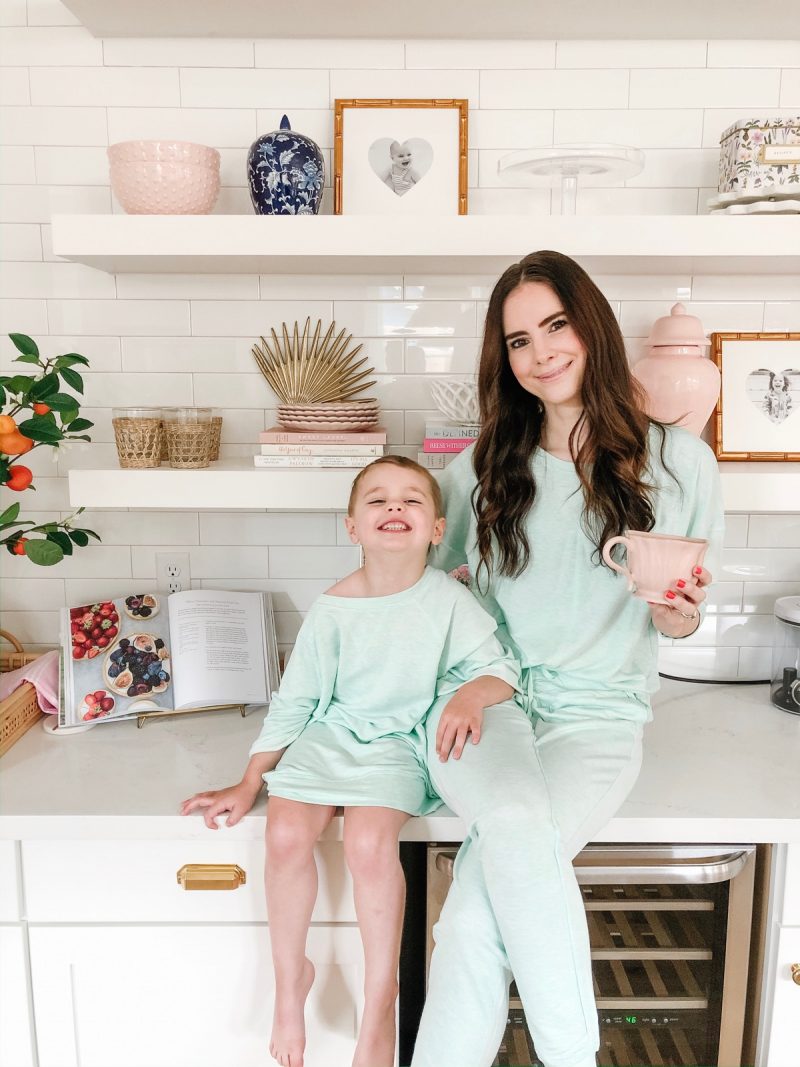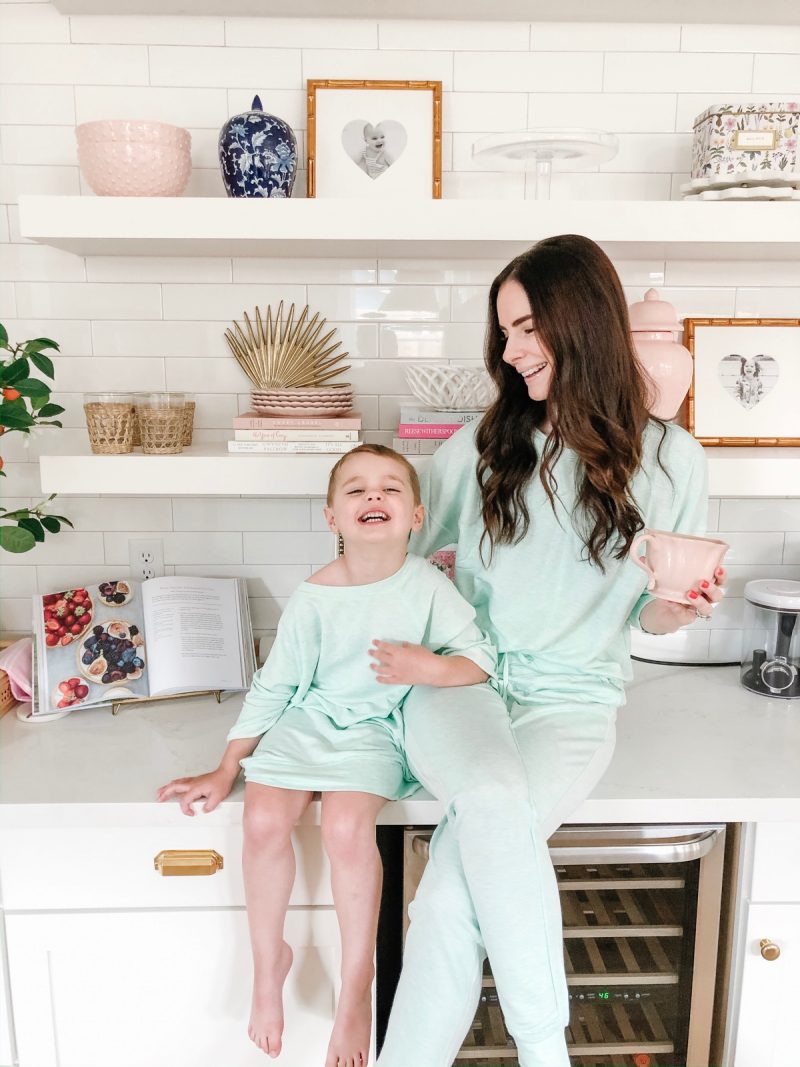 I hope this post gave you a peek into our weekdays in this unprecedented time. I know so many of you can relate to being at home with kids while trying to juggle working, conference calls, making meals, making sure the kids have activities to do – it's A LOT and though we are looking forward to things getting back to normal, I can't help but be thankful for this time.
The days are hard and can feel long – but the time we spend together and getting to see our kids become closer as siblings is priceless. At the same time, this is not an easy time for anyone and being home all the time presents its own challenges. Know that no matter how this time feels for you, your feelings are valid.
Have a wonderful week and thank you for reading!
SHOP THE POST:


Shop the Post