I'm a worrier by nature and have been since I can remember. A global pandemic felt like something I was always prepared for as a "worst case scenario" thinker. Despite my perceived level of mental preparedness, I truthfully never imagined that we'd be home for so long, with no end in sight. The uncertainty of it really triggers me sometimes and I know a lot of us are struggling. Whatever your circumstances are, we all face challenges whether they're emotional (fear, worry, isolation, sadness, etc.), physical, financial or otherwise.
Something I struggle with a lot is needing time to myself and not being able to have it. I'm a very social and outgoing person so I do miss the day-to-day socializing I used to get at work. But, as an only child, I also very much miss and crave time alone. I used to get quite a bit of it between commuting, running errands (which are now only for essentials like groceries) and so on. I've started to take occasional walks on my own – even 20 -30 minutes really helps my mental health. Sometimes on weekends I'll use my air pods and listen to an audiobook while the kids play and I do laundry and other household tasks. It's a way for me to block out everything around me and feel like I'm getting some time to myself. Even leaving the house to get groceries feels like an amazing treat.
On the other hand, I have had periods of time during this quarantine where I have felt very alone and isolated. We typically have plans and play dates with friends every weekend, so not having that face-to-face social time has at times made me feel like I have no friends. I know that sounds dramatic because I do talk to my friends everyday – but texts and FaceTime just aren't quite the same. I know this is necessary to minimize risk, but it has definitely taken a toll.
Something that has helped me a lot during this period of quarantine and being home 99% of the time is reflecting on the silver linings. In a way, this is time I've always prayed for…less commuting, more time with family, more time at home, doing less (activities/obligations/etc.) It has been a time of slowing down (and I don't mean doing less – we still work and the housework has actually increased tenfold since we are home all day and night). There are just less commitments now – no drop-offs and pickups, no after school or weekend activities, no weekend obligations. We feel less rushed. We feel more motivated and energized after our work days to take a walk and play with the kids. Though this time has had unique challenges like remote learning, no childcare, adapting to working from home and many other changes, it has also been full of so much goodness, opportunity and togetherness. I remember when I was on maternity leave, I wished I had more time to be at home. I never imagined seven years later that a version of that scenario would happen.
THE SIBLING BOND + INDEPENDENT PLAY
Other than family vacations, this is the most time our children have ever spent together in their lives. In the beginning, I was worried about them being home all the time. It was more challenging when school was still in session because Harper was on several Zoom calls every day and Lincoln thrives on social interaction so though we tried to give him activities to do, it was hard on everyone. Since school ended and we have a more open schedule, I have really seen them thrive. We have bad days and they fight everyday like all siblings do, but their relationship and the way they interact when they play has been amazing to watch. They are so creative and come up with so many cool projects and build and make the most incredible things. The day I wrote this post was probably one of the best days we've ever had at home. Minimal arguments and they played in the upstairs game room all day long together (LEGOS and MagnaTiles for the win) with one movie break during the day.
I cherish this time they have together, knowing they will likely never have this opportunity again once things go "back to normal." I am thankful their age difference allows them to play together and enjoy a lot of the same things. I am thankful they can grow in their relationship and friendship. It's beautiful to watch and I need to remind myself of this on the hard days.
They've also gotten SO good at long stretches of independent play. I used to feel guilty for not giving them attention all day long, but we fell into a groove in our routine where the kids play upstairs while we work, coming down for snack breaks, lunch, to show us something cool they made, etc. Of course we still check on and interact with them, but they've found so many ways to keep busy and work on their projects that we often find ourselves in awe at how nicely they're playing. It took a couple of months to fall into this groove, but we are so thankful for it. Of course the days ebb and flow, but generally we've found they're playing well and finding ways to have fun. As an only child, I spent hours playing by myself as a child and loved it. My imagination could run wild and I was never bored.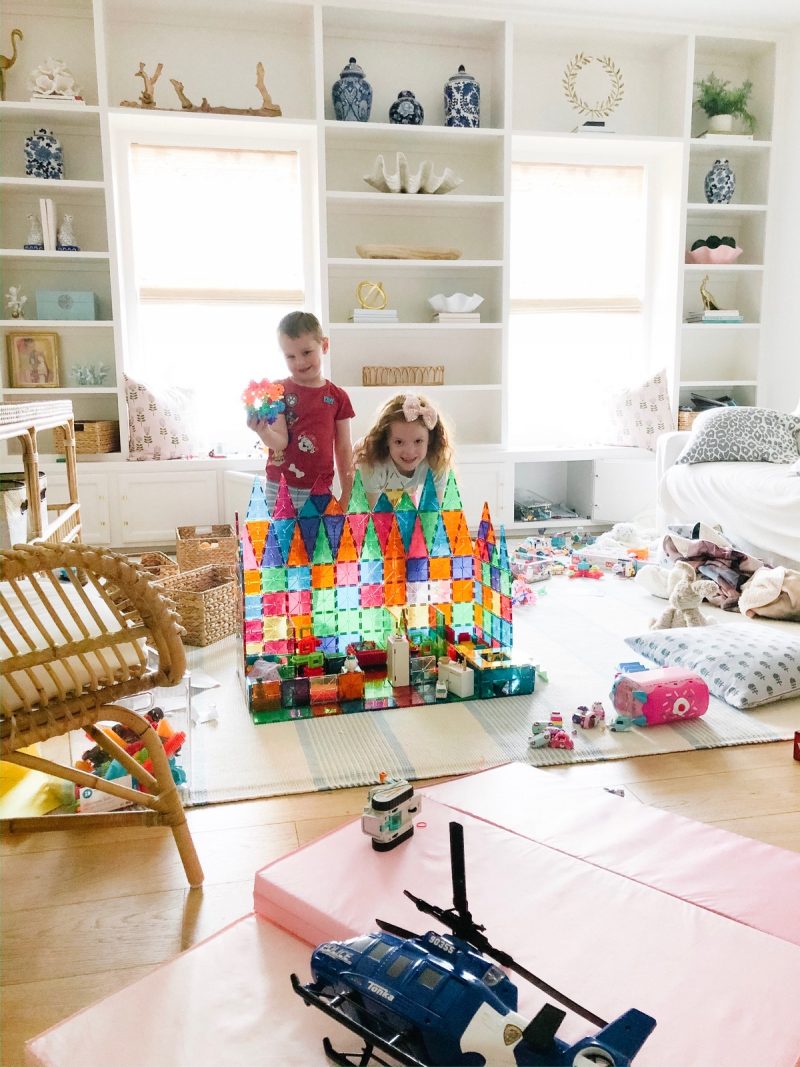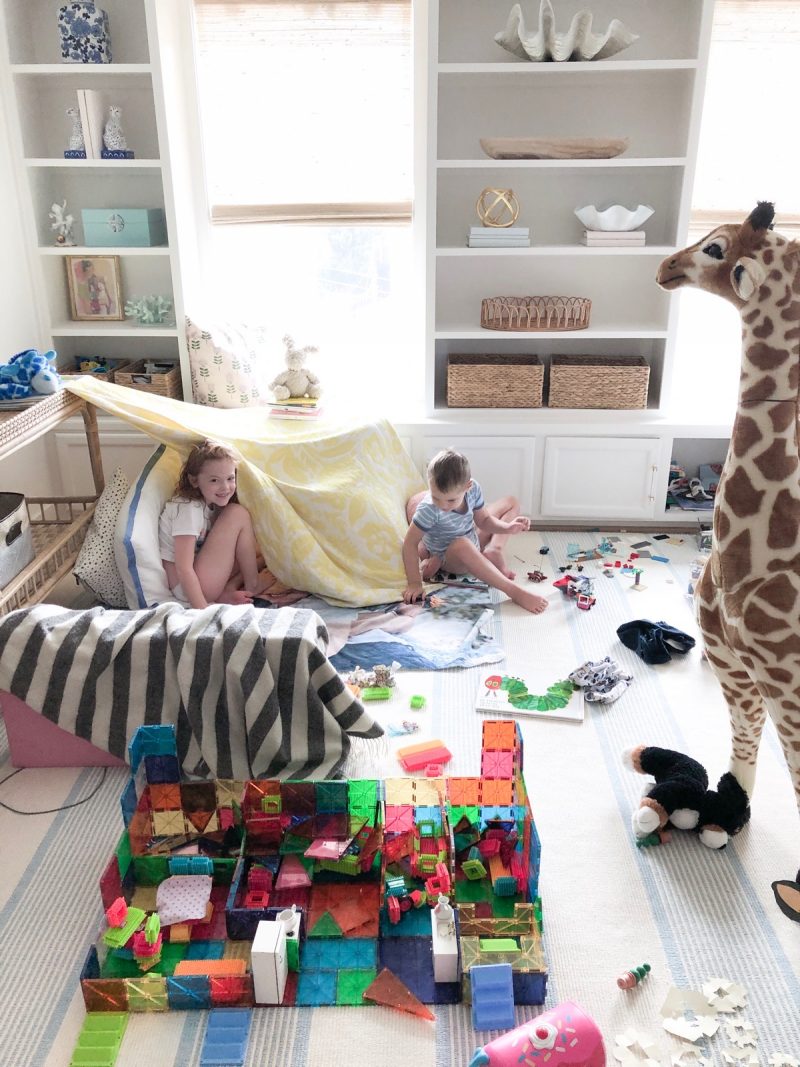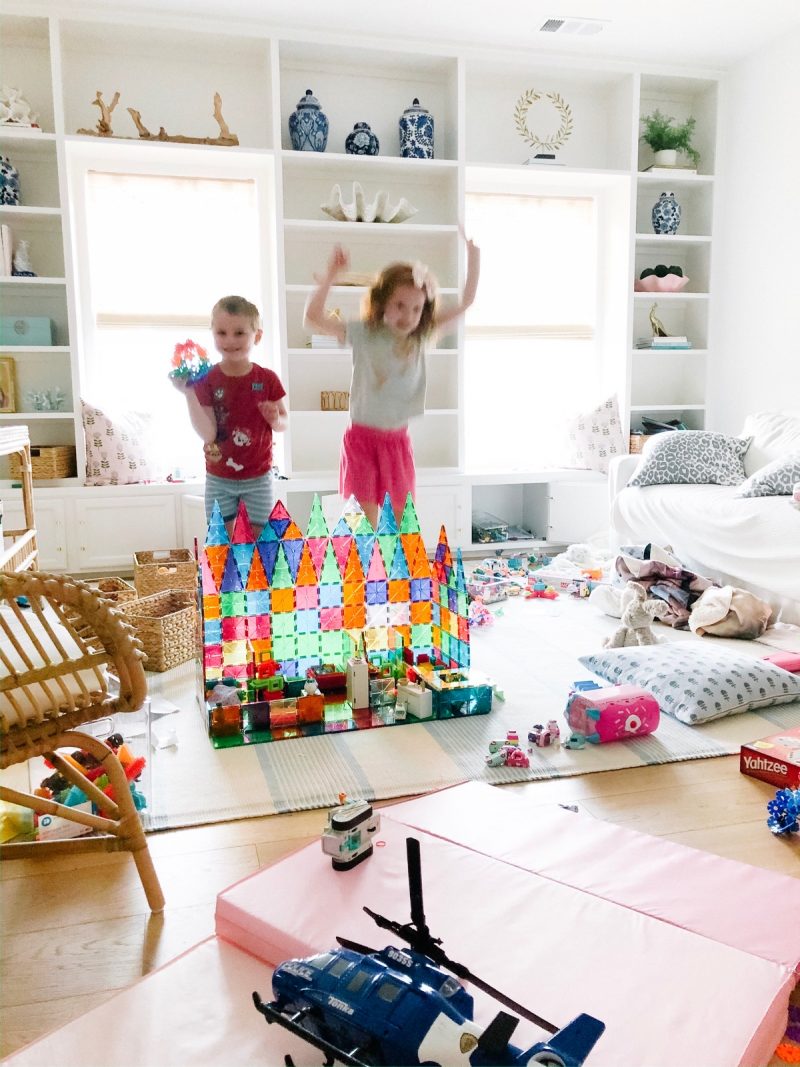 THE SPOUSAL BOND
I noted to Kevin a few weeks ago that over the past few months, we've spent more time together than in the last 13 years we've been together. It's wild to think about, really. Even if you count vacations we've taken, we've truly never had this much uninterrupted time together. Granted, much of that time is spent buried in our laptops and on conference calls, but it has been nice to share the same space all day. We've fallen into a good routine and the extra time together has been good for us and our family.
HOME PROJECTS
When I was working in my office, I always had to have any work done on the house on Fridays when Kevin worked from home or on a day I had off. Since being home all the time, we have knocked so many projects off of our list much more quickly. All of the DIY ones are still done on weekends (installing our woven bamboo shades, painting interior doors, setting up our Intex pool, etc.) but we can have contractors come to the house any day now to do various projects while we work (like painting, having wallpaper installed, drapery hung, etc). In just six months of living in our current home, we have done more projects more quickly than in any of our previous homes. It was my goal to have this home "finished" in our first year of living in it and we are right on track! I've come to realize that it costs more on the front end to do all of the projects in quick succession, but you also enjoy/benefit from them for a longer time than waiting years to do them. I also know what I like/want more now, so it's easier to make decisions more quickly, when I used to be quite indecisive. Being more secure in my choices has helped speed things along!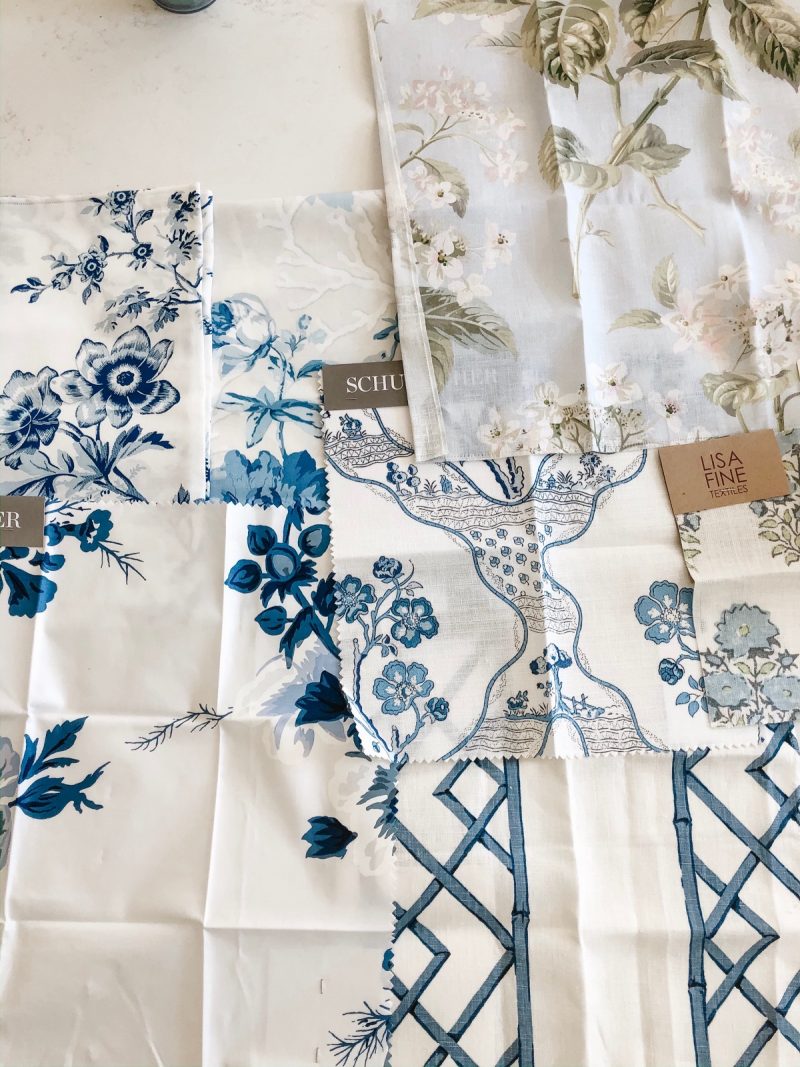 BETTER SLEEP
We don't set alarms anymore and it's glorious. The kids usually wake up around 30 minutes before we do and they quietly watch a show in the game room while we snooze. I naturally wake up between 6:30 and 7:30 depending on the day. My body has been programmed to wake up at the same time every day for years, so it took some time to adjust, but it has been wonderful to give my body the ability to wake up on its own. Adequate sleep is very important to my overall health and wellness, so this has been such an added benefit. Even an extra 30 minutes is so incredible.
PHYSICAL HEALTH
We go for more walks now as most days, it's the only time we leave our home. I exercise more often. I use the time I would have spent commuting at the end of my workday to fit in a quick workout. Even if it's just 20 minutes, it feels so good to get that movement in my day after sitting at my dining table on a laptop all day. I'm a big believer that consistency is more important than intensity and this time at home has allowed me to be more consistent in my movement.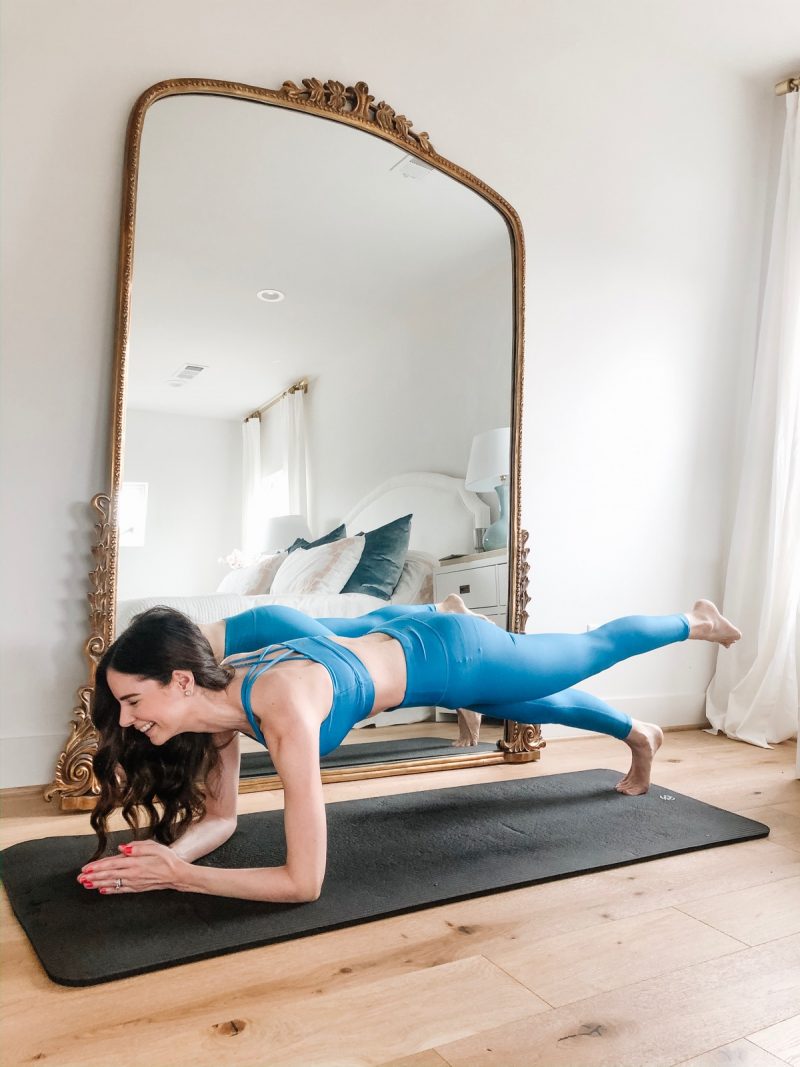 MORE FAMILY TIME
When we were commuting to and from the office and had all kinds of activities planned, we were so tired most days. After dinner we would all hang out, but sometimes we'd just watch a show to unwind from the day and relax together. Now, we find ourselves going for walks and playing board games. We find ourselves having more energy for family time without other things competing for our time.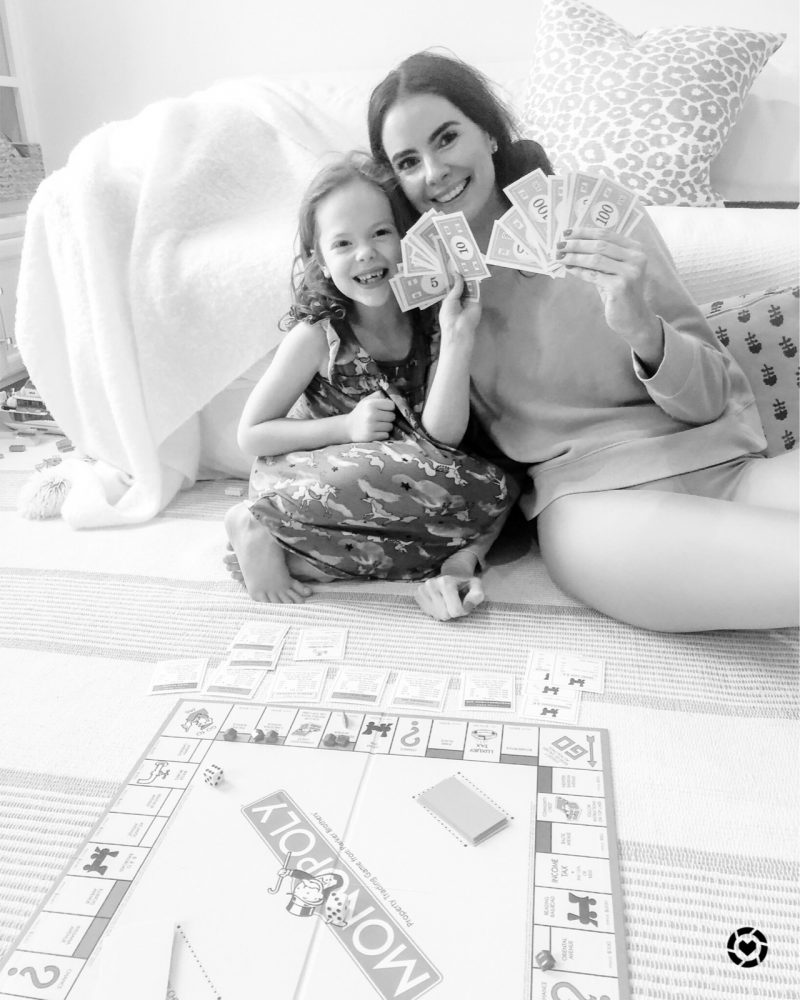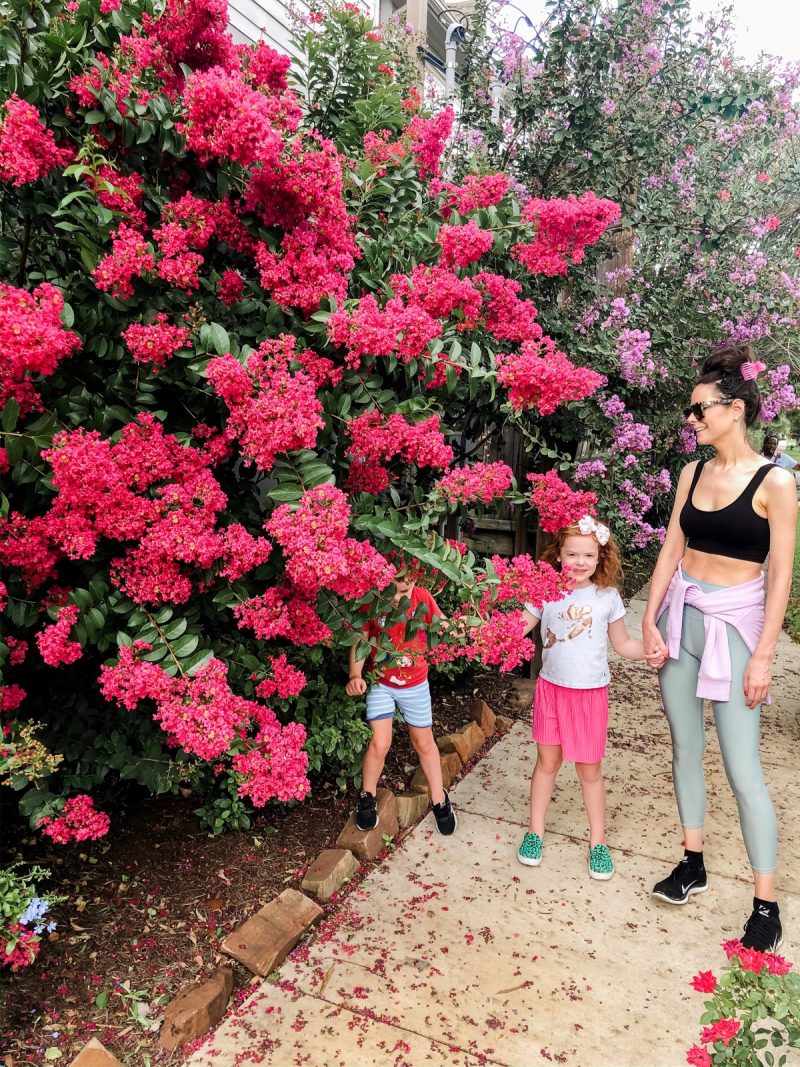 THE PRIVILEDGE TO WORK FROM HOME
Both Kevin and I have jobs that allow us the privilege to work from home and we are so thankful for that every single day. It's something we never take for granted and we are so appreciative of all of the essential workers who are working tirelessly during this pandemic outside of the home.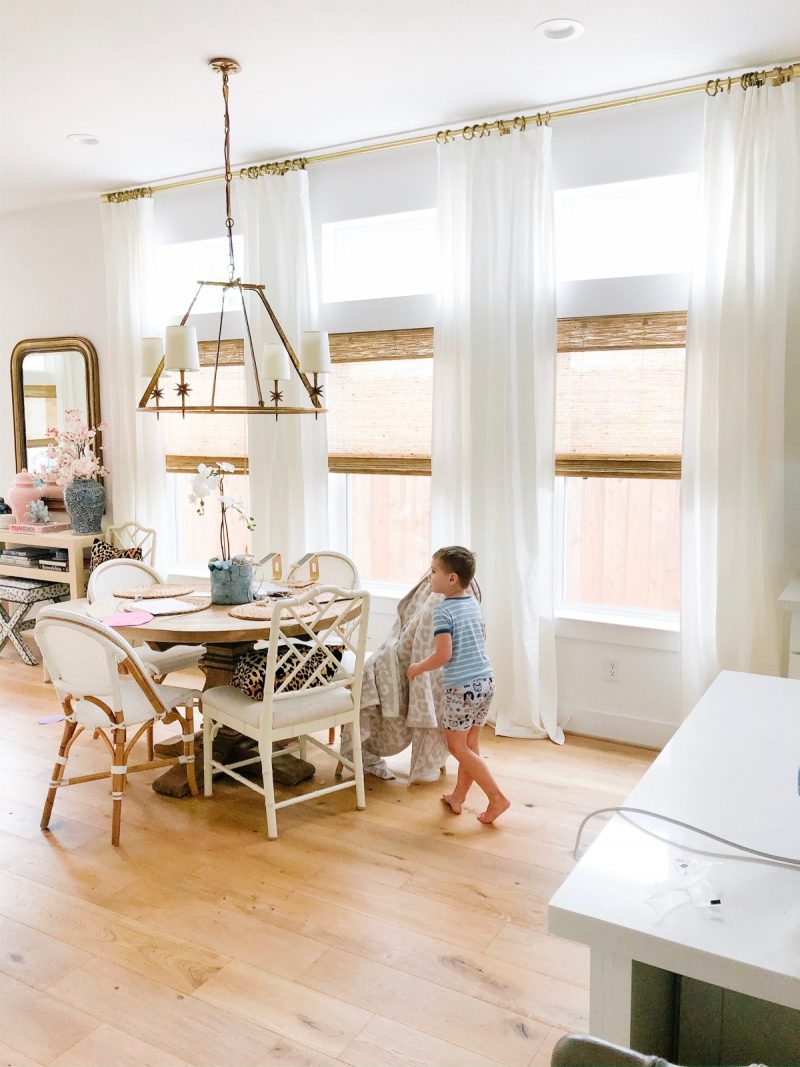 ENJOYING OUR HOME
I think I have said this exact sentence about 100 times since the pandemic started "I am SO thankful we moved right before this happened." I feel immeasurably grateful to have moved last November. Our new home is larger, laid out better and has a backyard, something we never had before. Our game room is on our second floor, so we can hear the kids playing while we work (our last home had a playroom on the third floor and would have made it more difficult to work from home with the kids up there). Our main living space allows us to have a full view of the kids playing in the yard and we have a covered patio with a fan where one of us can work if we want to watch the kids in the yard. Kevin often takes conference calls from our covered patio. I cannot express just how much this home has been a blessing to us during this time. We get so much natural light (which is good for the spirit) and there is a space for everyone to work and play effectively. We also get to enjoy our home more – with the hustle and bustle of everyday life going on, we weren't home a lot before, so I'm treasuring this time.
WEARING LEGGINGS EVERYDAY
Okay this one is kind of a joke…but I love throwing on leggings, a sports bra and sweatshirt to work from home. I love it because it means I'm ready to go and don't have to change to do my workout when I'm finished with my workday. It's also super comfortable to wear stretchy pants and a super soft shirt while sitting at my dining table working all day. Having said that, I do miss "real clothes" sometimes and dress up on weekends occasionally to feel fabulous.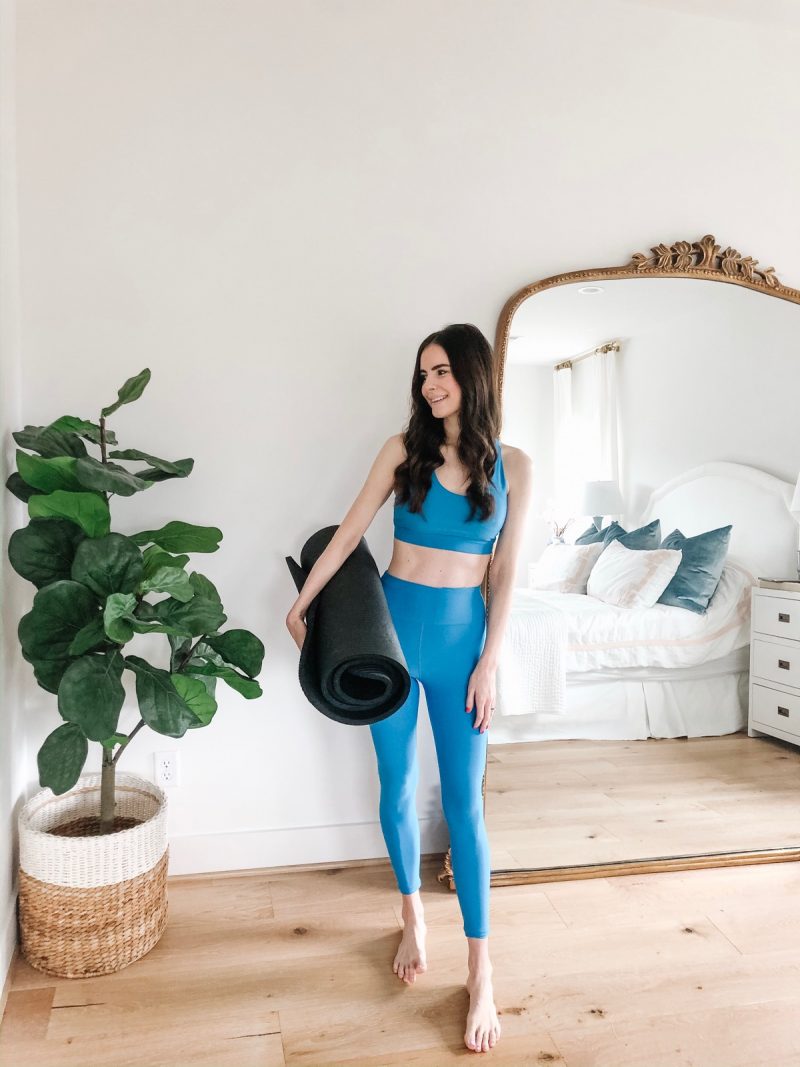 Thank you for reading this post. I find myself wavering sometimes when it comes to practicing gratitude, so this was an opportunity to reflect on all of the positives of the current circumstances. Of course there are still hard days, but sometimes I need to focus on the good.