I remember learning about Weezie towel's robes when Megan first shared hers. The printed robe was a collaboration between Weezie and textile designer India Amory. I immediately went to order one and soon realized the robes had sold out in 24 hours! I considered purchasing one of the white robes, but having seen the success of their first printed robe collaboration, I wanted to wait, anticipating they'd release another round of printed ones.
It was worth the wait – they released several new blue and white prints in April and I immediately purchased the long Tullie print robe. I love them all, but this pattern was so reminiscent of a block print (LOVE!) and felt so pretty and feminine.
This robe is an investment – a total splurge! I got it for myself as an early birthday/Mother's Day gift. Many of y'all have asked me to review it and I completely understand – you want to know if it's worth it!
Before I begin my review – I want to be fully transparent. I purchased my long Tullie Weezie robe on my own, in April. Subsequently, I communicated with Weezie via Instagram and they sent me the short robe and a set of makeup towels as a gift. This does not affect my review, but it's important to me to share that one of the robes was gifted to me after I had already been a customer. It's not unusual for me to form brand relationships this way – I am often a customer of a company months or years before I am ever gifted products or paid for a collaboration. This review is not part of any paid collaboration – I'm writing it because it's been high requested and I want to share my honest feedback after owning the robe for several months!
WEEZIE TOWELS ROBE REVIEW
THE LONG ROBE
What I love most about Weezie's robes are that they are made of luxuriously soft/fluffy towel material. There are so many robes on the market – but the reason I prefer a towel material robe is that it's more versatile – you can pop it on after showering to dry off or wear it for lounging. Robes made of sweater or cozy materials aren't absorbent, so I prefer a towel material.
I wash my hair after the kids go to sleep so it can air dry for a few hours before I blow it out, and I prefer wearing my Weezie robe while it dries so I don't get my PJs wet.
A note on quality: Weezie's robes are made in Portugal with 100% organic long-staple cotton. They're hypoallergenic, low linting and OEKO-TEX® certified (a third party certification meaning the cotton has not been unnecessarily treated with harmful chemicals like pesticides and lead). They get softer with every wash.
I wear my long Weezie robe every weekend as I sip my morning coffee and relax a bit in the mornings and I often use it to dry off after showering every night. I love that it has deep pockets and you can also have it embroidered (I have my short one embroidered which I'll get to in a minute!) I chose not to have my long Tullie robe embroidered because I didn't want to interfere with the pattern (and I wanted to get it sooner, TBH!) One other detail I love is that Weezie's robes have little clear buttons at the sleeves, so they stay rolled up. The long robe has a slim shawl collar and a tie at the neck do so it can be hung to dry, which is so critical because you want your robe to be able to air out and dry.
I know most people are looking for functionality and comfort in a robe – and this one hits all of those key areas – but it's truly aesthetically my favorite robe too. It's just SO pretty. I love seeing it hanging in my bathroom.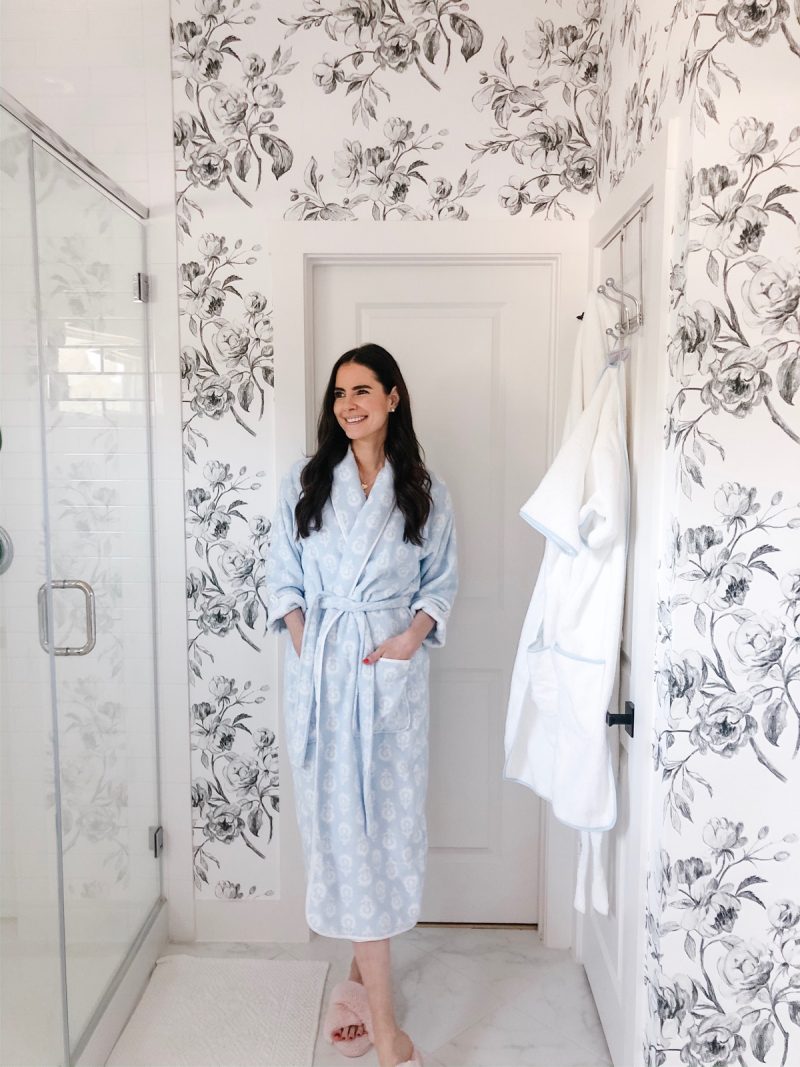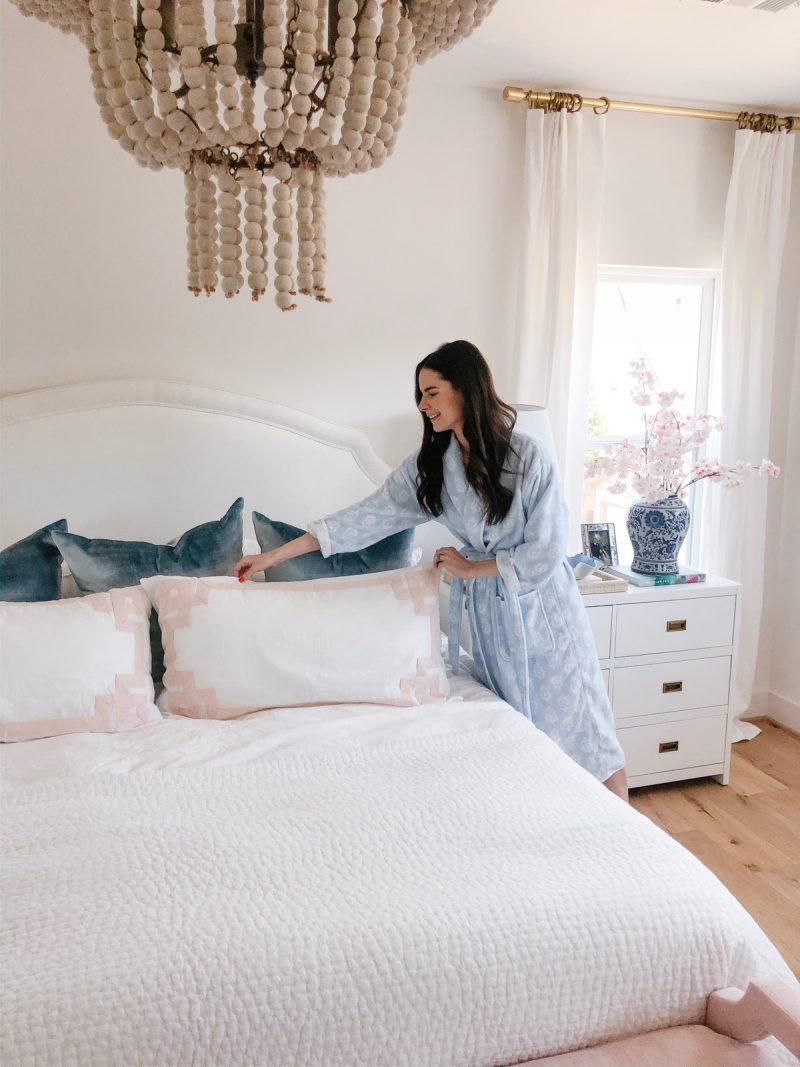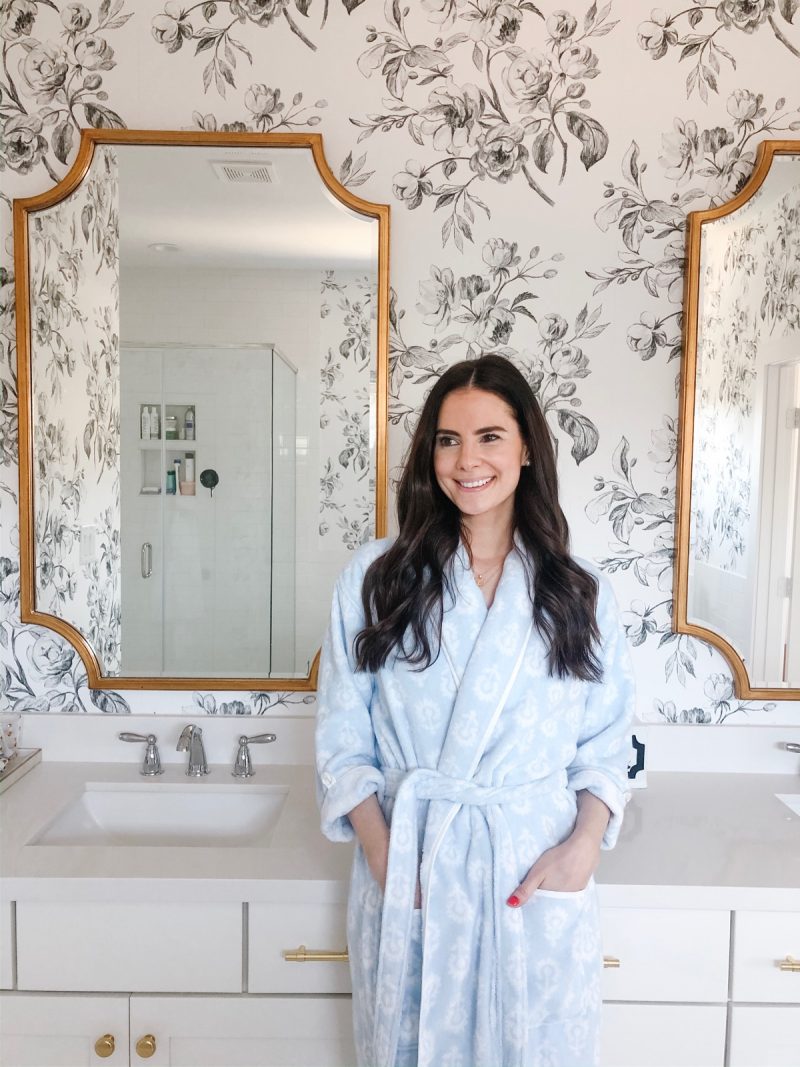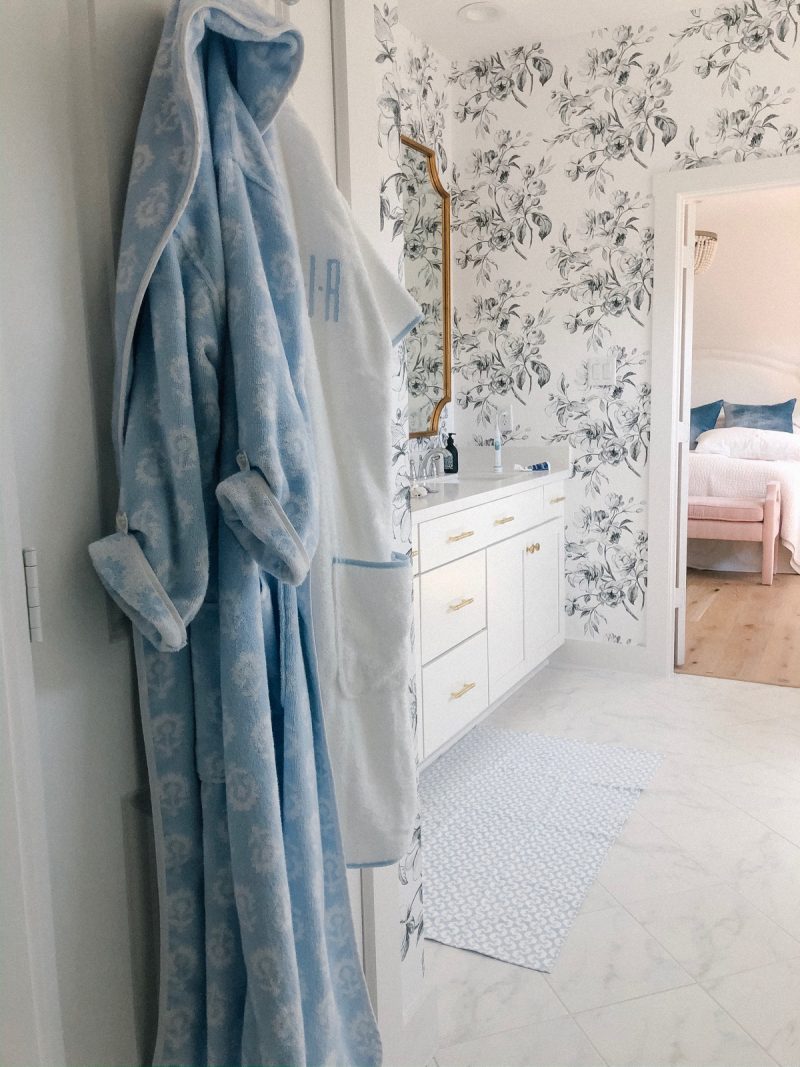 THE SHORT ROBE
When I had the opportunity to try out Weezie's short robe, I decided to go with their Prince monogram in light blue to pop against the clean white background. I also love that the white robes, like Weezie's towels, have contrast piping, available in several colors. All Weezie robes can also be customized for an additional $15 in 9 embroidery styles and 14 thread colors.
I love the short robe for summer because it's a little lighter/less thick than the long one, has short sleeves, no collar, a shorter hem and overall just feels more airy. For those who shower in the morning and continue to wear their robe while getting ready (doing hair and makeup), the short robe is the perfect spring/summer option.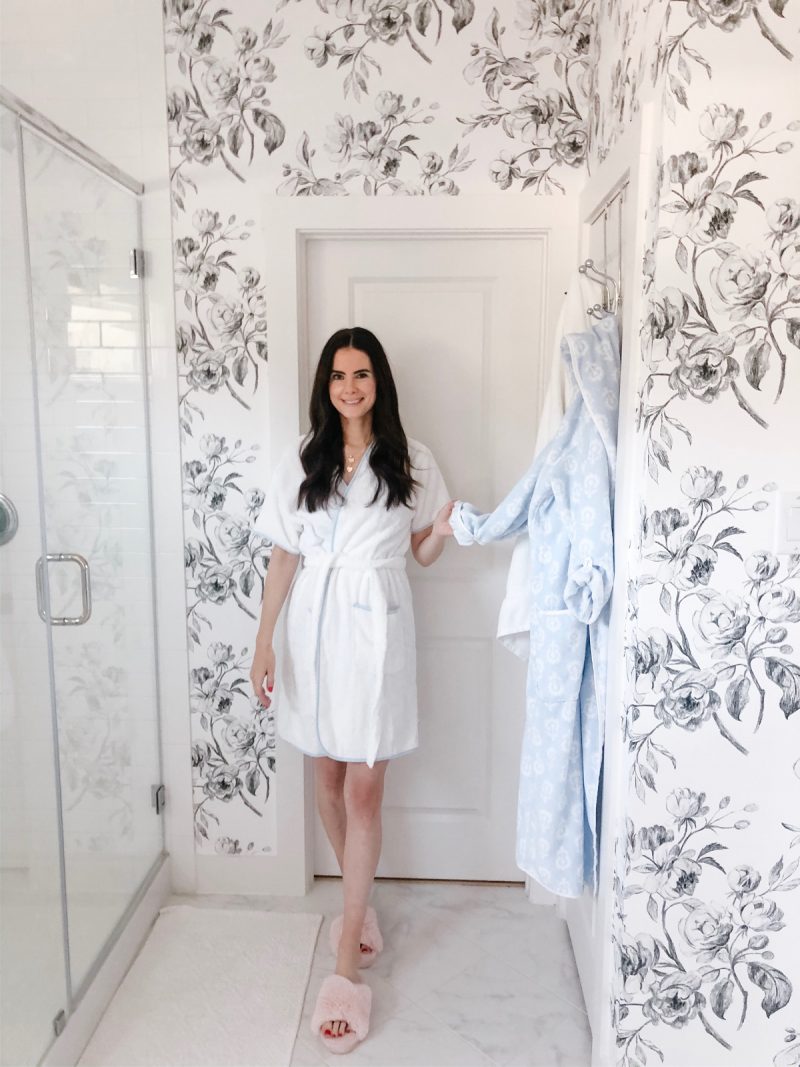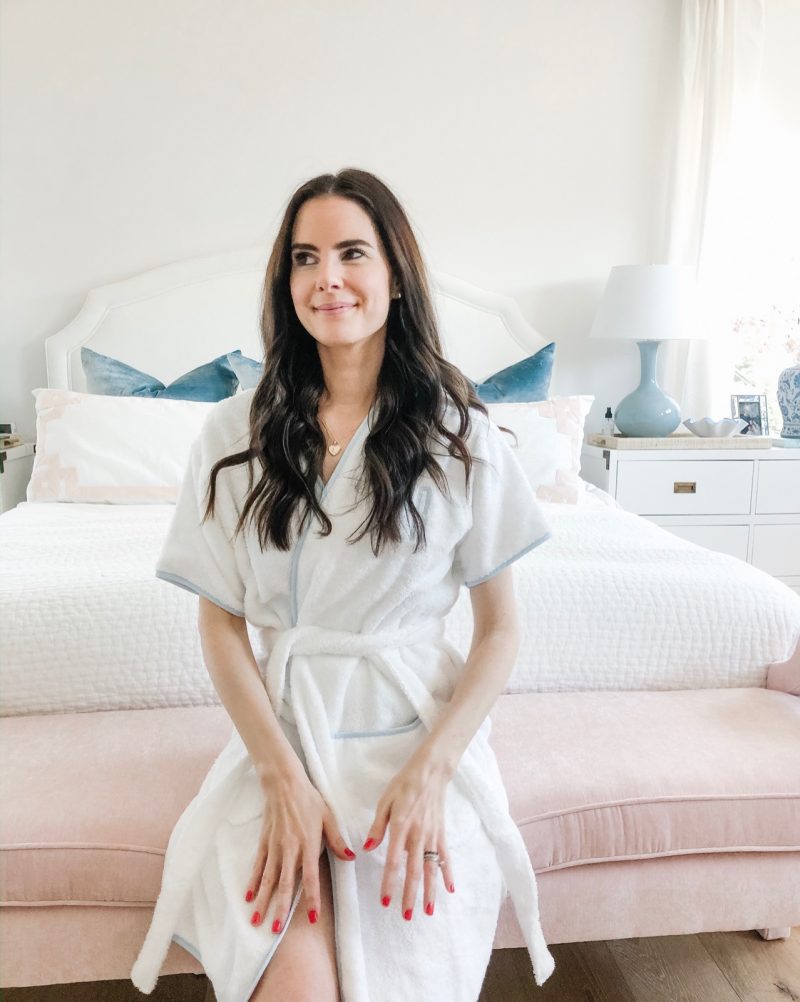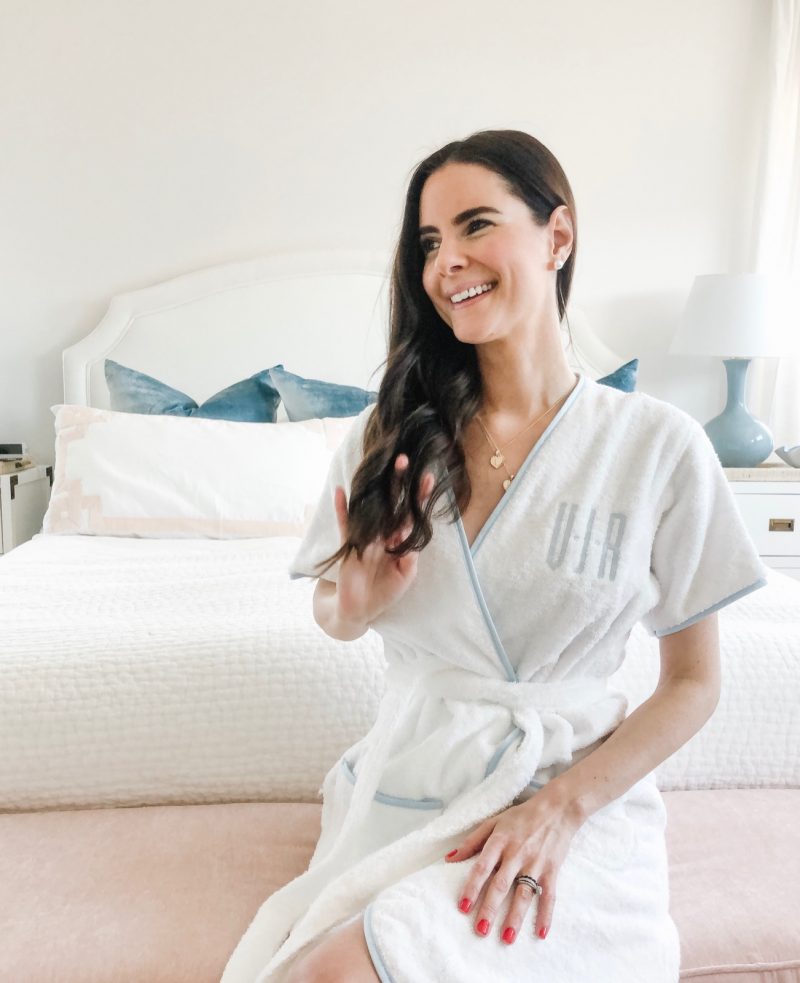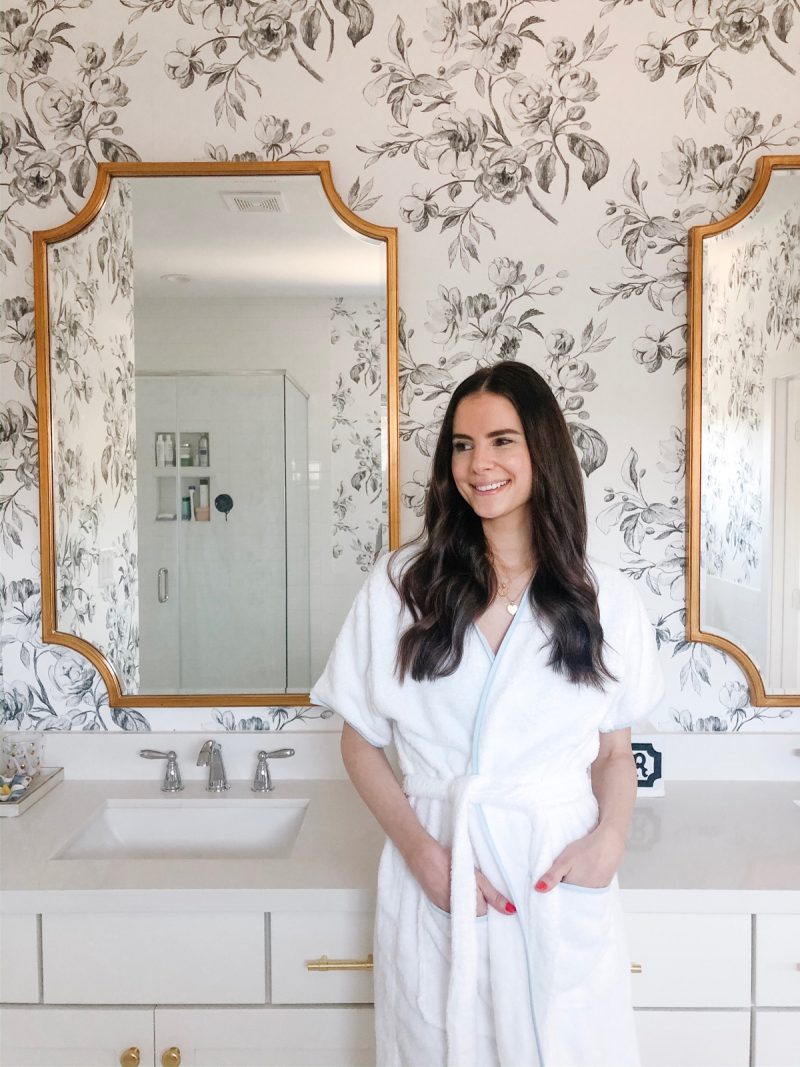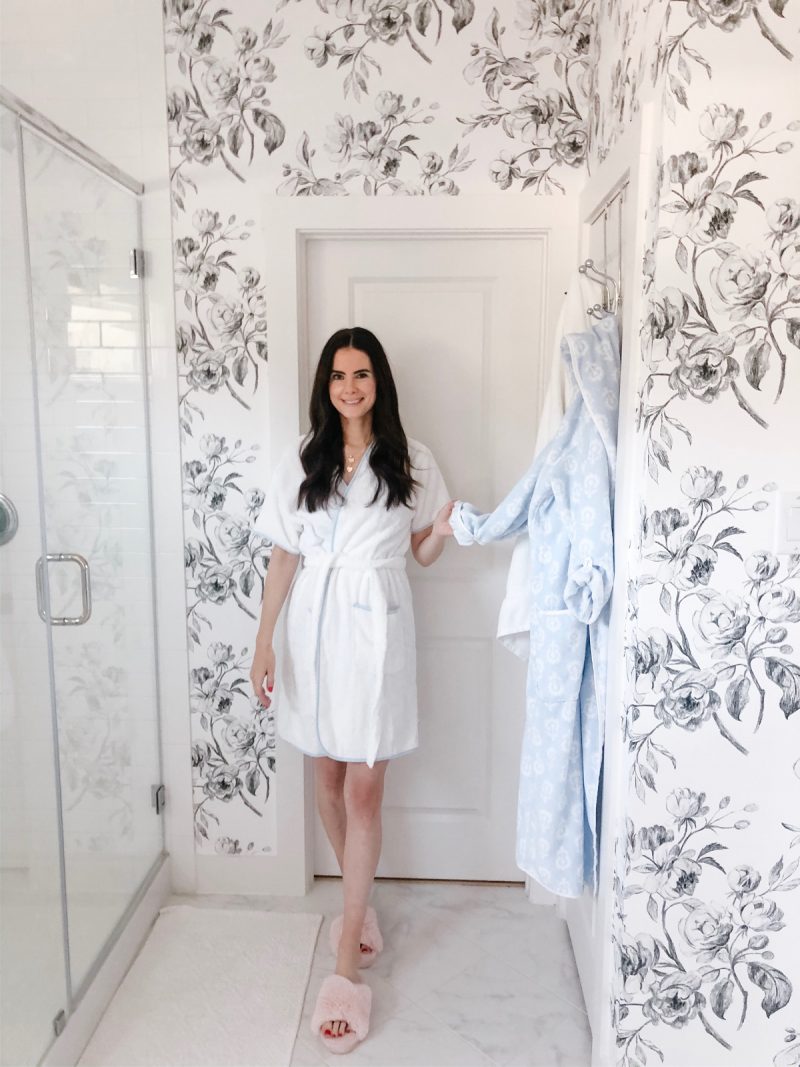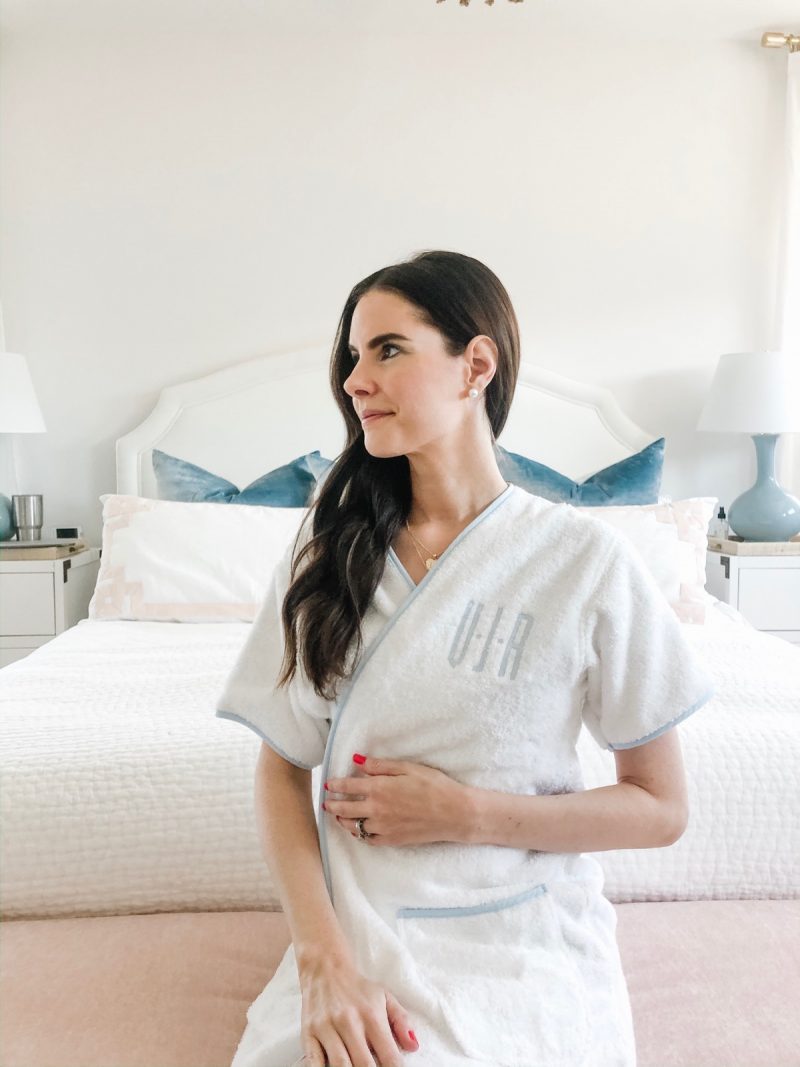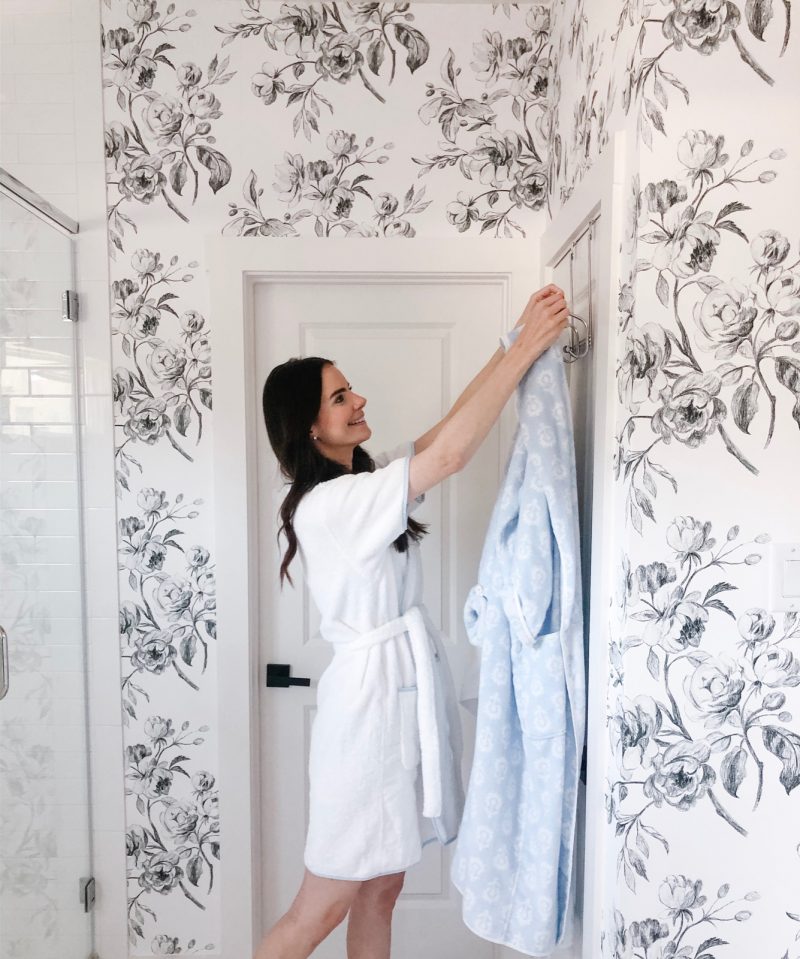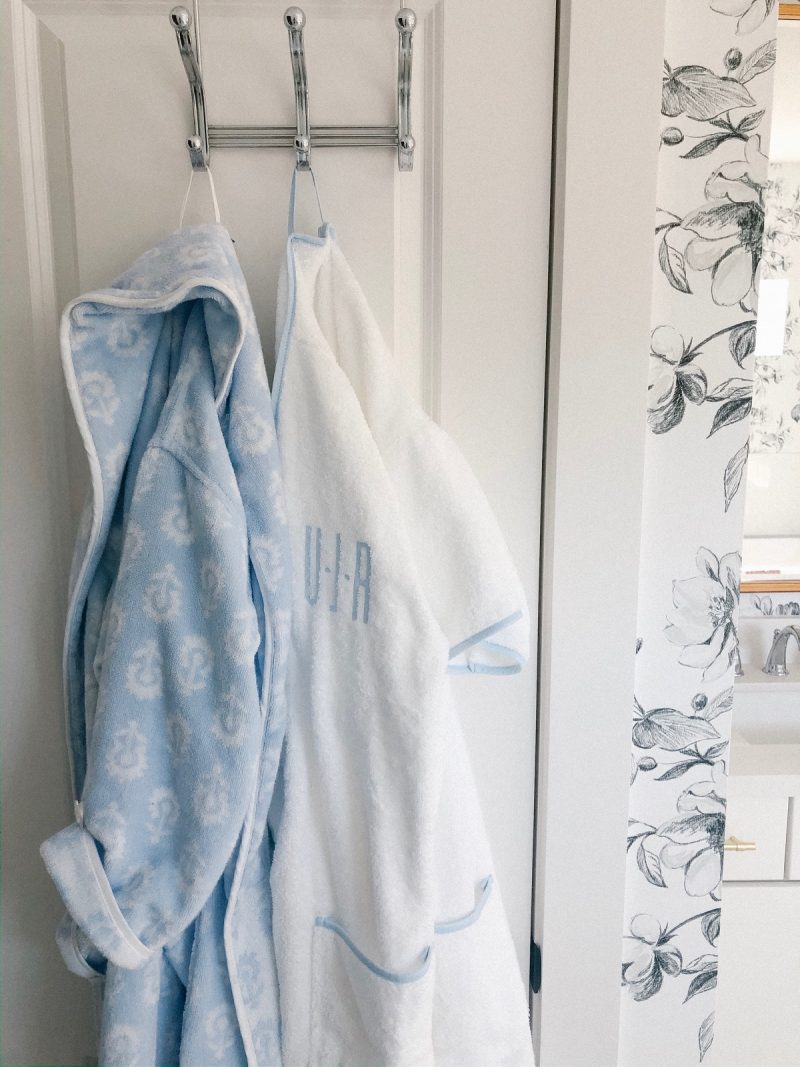 WEEZIE MAKEUP TOWELS
One other product I want to mention are Weezie's makeup towels. They sell them in navy so that they don't stain (I am very rough on my makeup towels – I use them to pat my skin dry after cleansing, but also rub/tap my makeup brushes into them, etc when I'm getting ready). They're super soft and though white towels can be bleached I have alsways found certain makeup stains tough to launder out – so I love the deep navy. In fact, I recently ordered some new face washcloths and they're all navy too. They have multiple embroidery design options on these, but I love the little lashes. Very cute!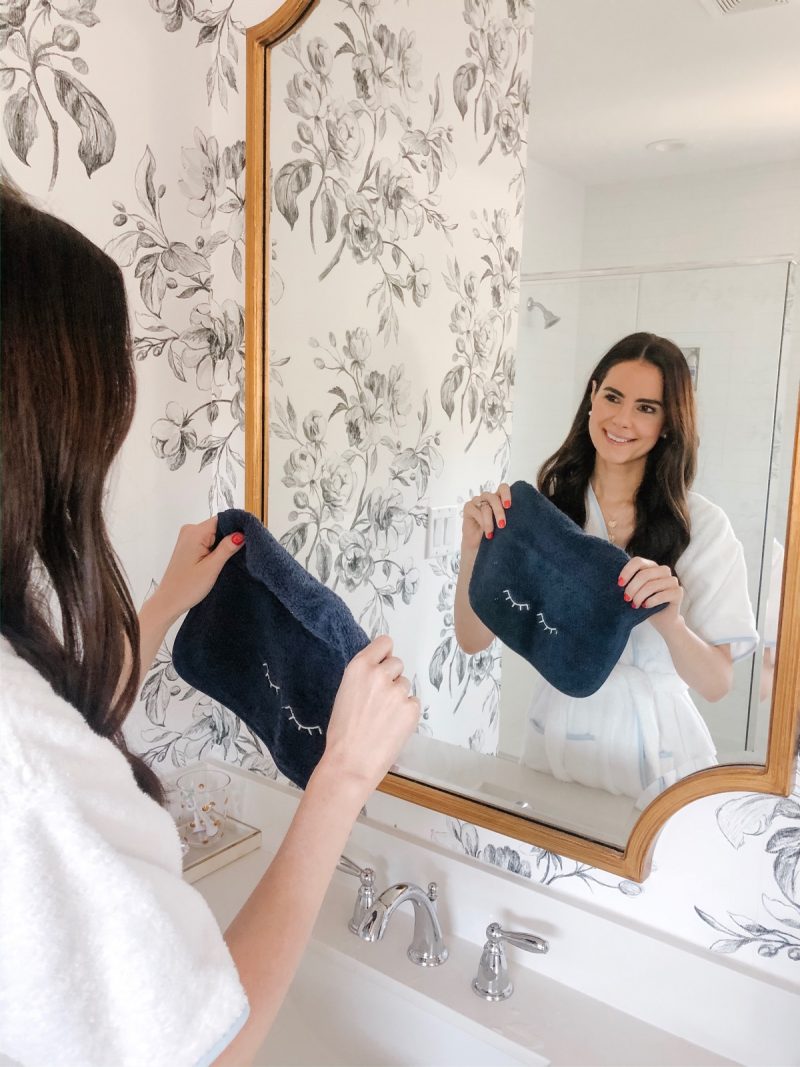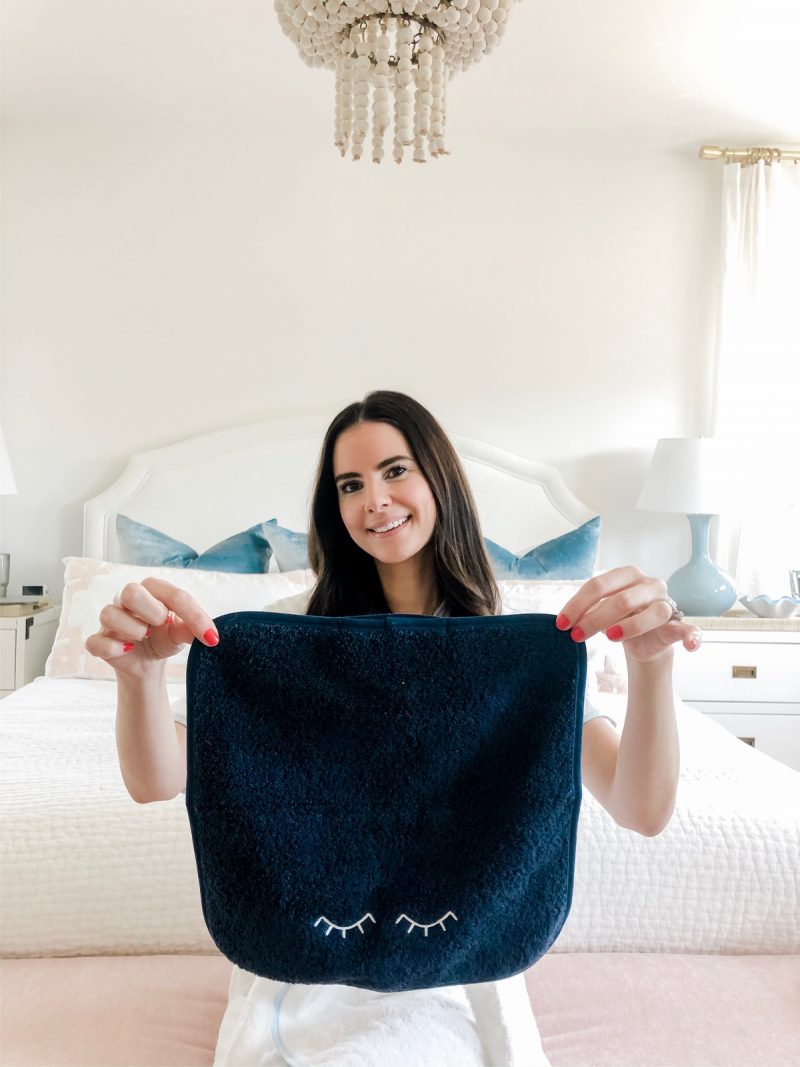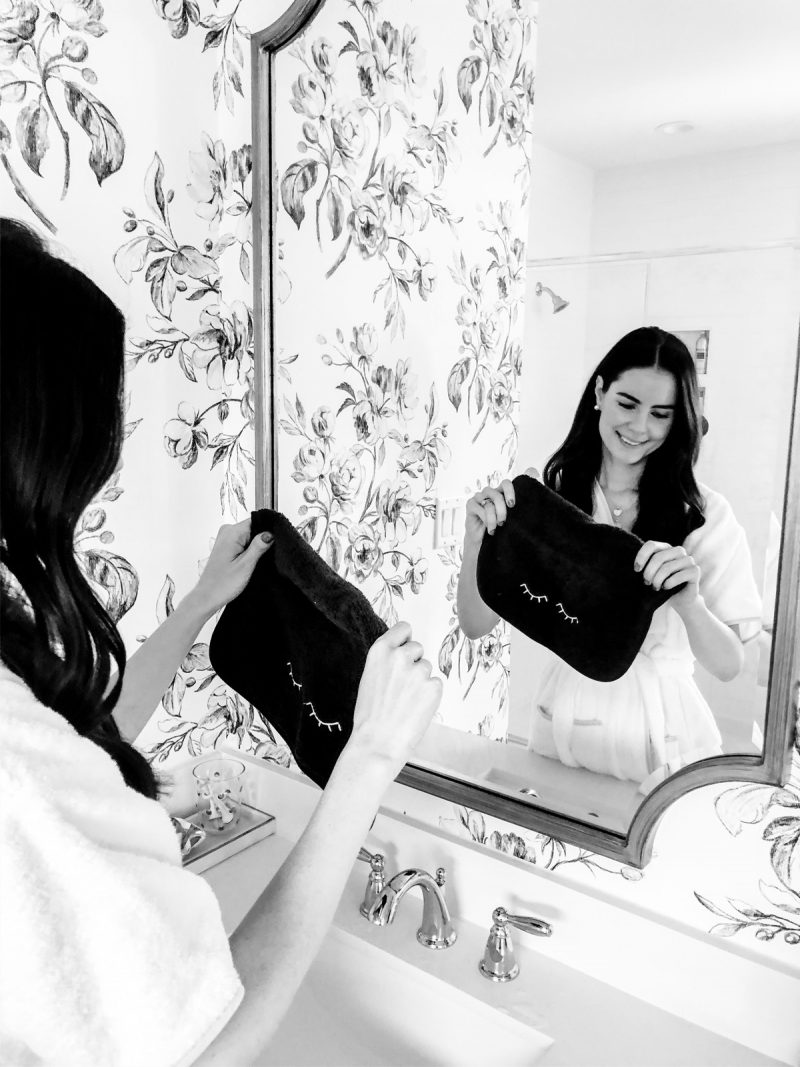 The TLDR version of this post: The Weezie robe was 100% worth the splurge.