During the COVID-19 global pandemic, many of us have found ourselves having to adapt to working from home. Our house doesn't have an extra room that could serve as an office, so we had to get creative, working within the spaces we do have.
For the first few months, I worked at our dining table while Kevin opted for the couch (by choice – that's where he always works when he works remotely, which he did once per week before all of this). Once we realized our work-from-home situations could go on for a longer time than we ever anticipated, we knew we had to get more serious about creating spaces in our home that were more ergonomically friendly for work and privacy for calls.
We briefly considered creating a home office nook in our game room area – the kids have a craft table there and we could have moved that or the dresser there to have the space since it's such a large landing. Ultimately, we decided against that – the kids play SO well in our game room and can play independently for hours. I didn't want either one of us to occupy an area that would distract from their play or force them to be quieter – it just didn't make sense and I kind of laugh at myself for ever even considering it, in retrospect.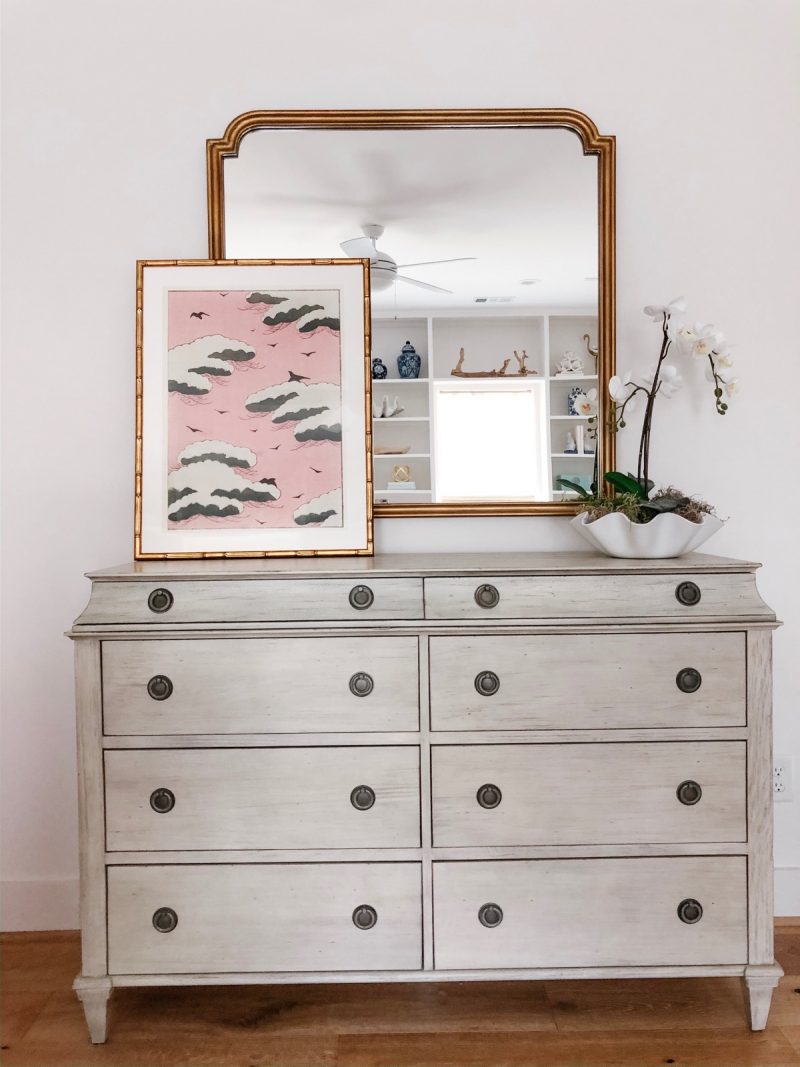 Our bedroom is large, so we decided to use a desk from Harper's room (she rarely used it) and added it to a nook in our room. I used a Chinese chippendale style chair we already had to pair with the desk and a pretty pink box as a monitor riser (because why buy one when we have something that works!) Kevin primarily works from our bedroom now since he has a ton of calls for work and needs more privacy while I still work from the dining table, albeit with some adjustments.
Here is the bedroom workspace…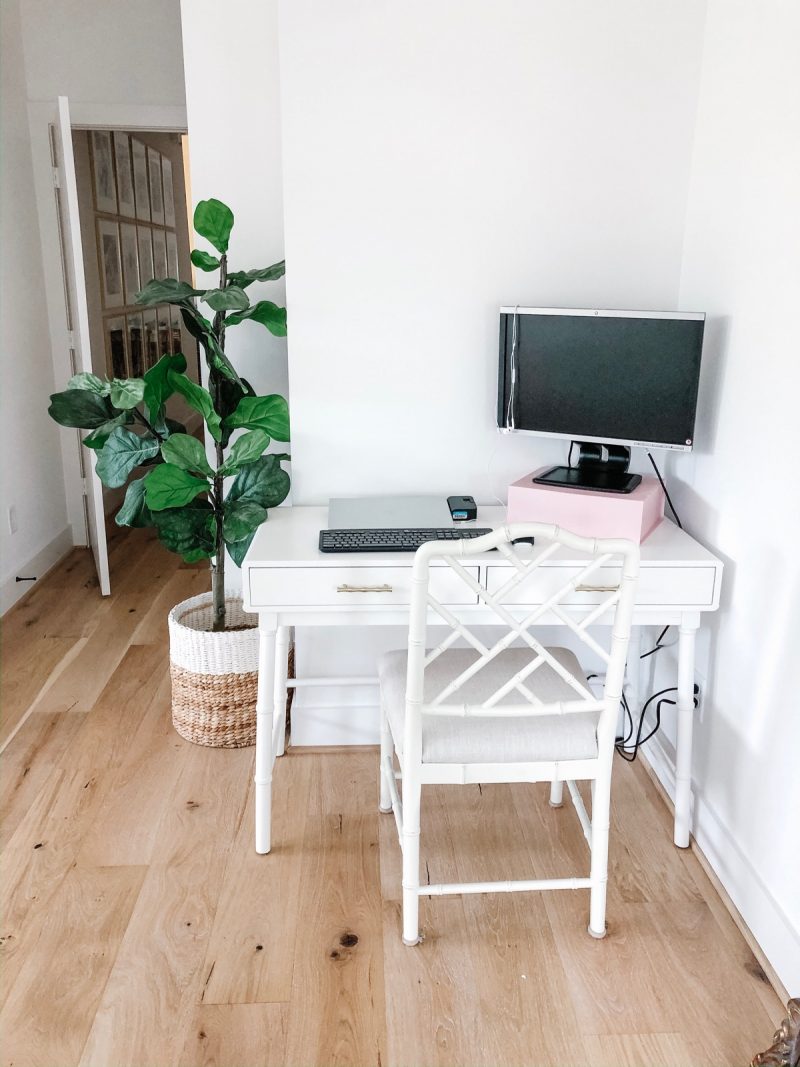 …and here is a view when you enter our room – you hardly even see the desk behind that wall when you first walk in. I added the faux fiddle leaf tree for a little greenery and to disguise that the desk has a little bit of an overhang.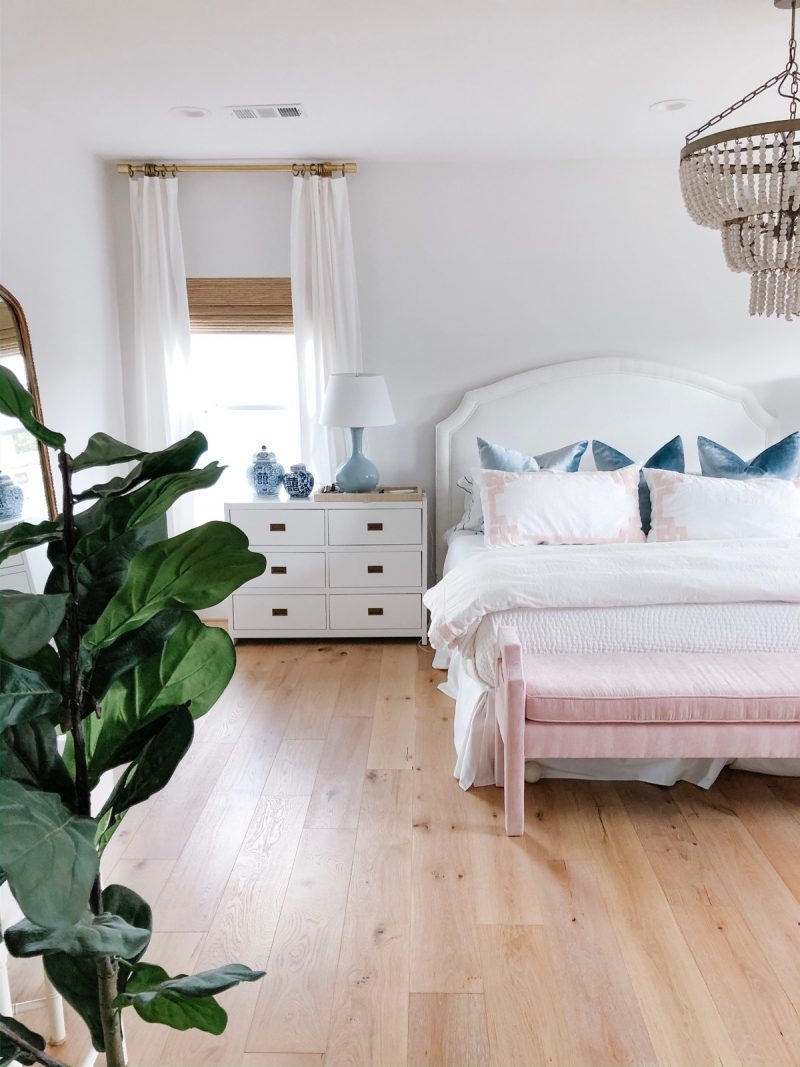 At my real office, I use a riser to elevate my computer monitor since I get neck and back pain if I don't. I was working for months on my MacBook at home and finally accepted that I need a mouse and keyboard with a laptop riser so that my screen can be more at eye level. It has made such a difference for me. By the way, I initially got this budget-friendly keyboard, but switched to the Apple one because I don't love the keys of the $30 one they felt thick and bulky. If you're used to typing on a regular desktop computer keyboard I think it's fine, but I've been typing on a thin MacBook laptop keyboard for months and don't love the feeling of the thicker/bulkier keys now and found it slowed down my typing.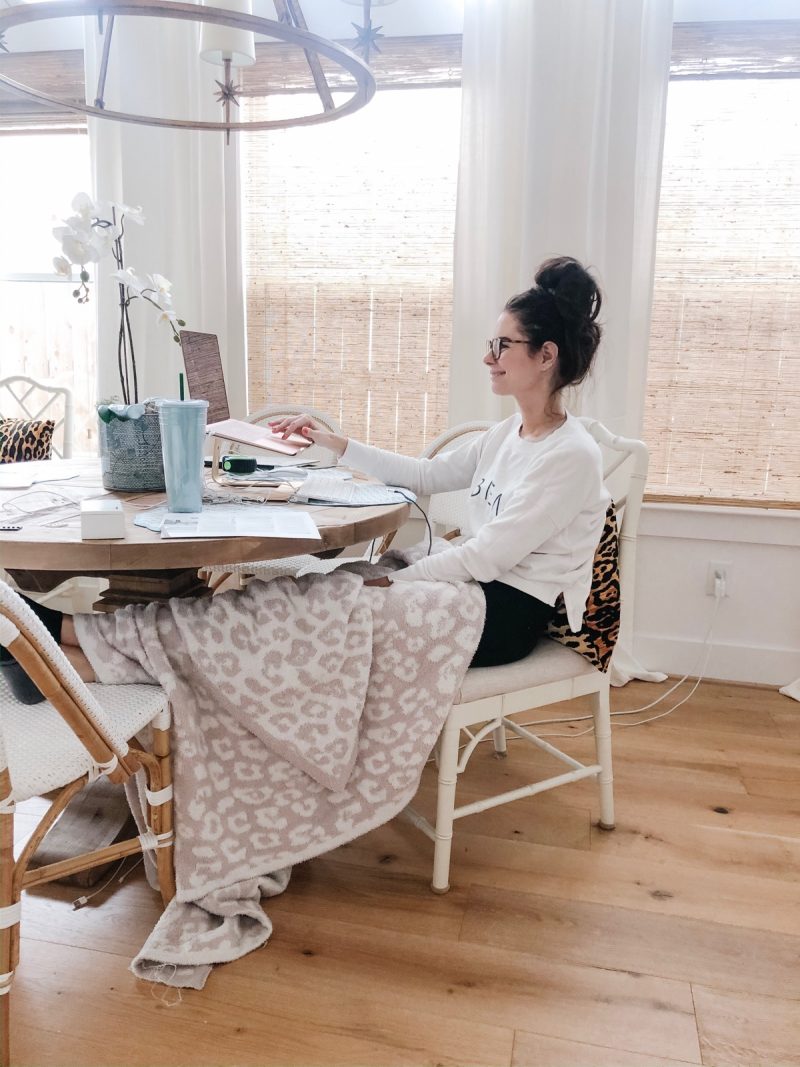 I sit in my Ballard Dayna dining chair, with a pillow on the back, since I like to lean back a bit for comfort. The seat is upholstered, so it's more comfortable for everyday use than the riviera chairs (though sometimes I use those too for a change!) I'm also never without my Barefoot Dreams blanket – that may be one of the biggest work-from-home perks! I use a space heater at my desk when I'm in the office because the A/C is out of control, but at home I like my blanket.
I really love working at my dining table because it's right in the middle of the kitchen and living room and this area gets so much beautiful natural light all day (I have to lower the shades on super sunny days!) This area also stays really clean (unlike our upstairs), so I don't get anxious or distracted by the messes around me (the kids keep all of their toys and expansive Lego setups in our game room upstairs). It stays pretty quiet down here too, other than when the kids come down to have lunch or a snack or to show me something cool they built.
When life hands you lemons…in this case, working from home with no end in sight, make lemonade by finding spaces in your home that can work for your unique circumstances! If you're lucky enough to have a separate/dedicated home office – that's amazing! But for those of you who don't – don't feel discouraged – there are so many ways to transform your spaces and use what you already have to make your work environment more comfortable and efficient!