Thank you Walmart for sponsoring this post.
I recently shared that I'm using a lot of medical-grade skincare products in addition to some tried-and-true drugstore favorites and I wanted create an entire post full of affordable skin care product options for an anti-aging skincare routine, recognizing that we all have different budgets, but with the same goal: great looking skin!
Walmart carries so many wonderful, dermatologist-recommended skin care products at great prices – but a few are worth splurging on, which I'll get to later in this post.
I recently had my first ever facial, and when I gave her the breakdown of my AM/PM skincare routine, my aesthetician mentioned I use a lot of actives and that what I'm really missing from my routine is more moisture. She said infusing the skin with moisture will plump it up and make it look its best, while also preventing other skin problems like breakouts (it sounds counter-intuitive, right?!) I'm going to share some new ways I'm hydrating my skin while using so many actives (actives are products like AHA/BHA/acids, vitamin C and retinol).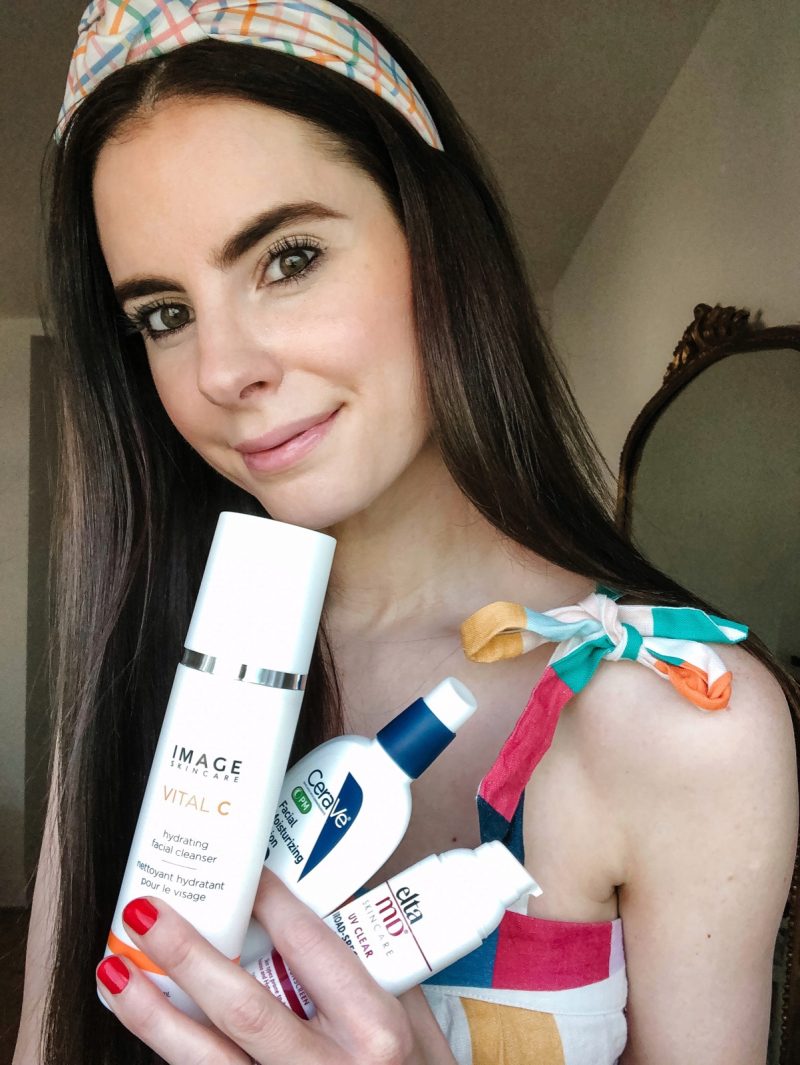 CLEANSE
Let's start with cleansing. Undoubtedly a critical part of any skincare routine and I like to double-cleanse. This can mean using Micellar Water first (like this Bioderma one – it has a cult following and works incredibly well for makeup removal on a cotton pad) or this Makeup Melt cleanser by Bliss which has the coolest jelly texture. I follow-up by using a gel cleanser like this one. I've had the Bioderma Micellar Water for years and continue to repurchase it because it's such an easy way to remove makeup and impurities.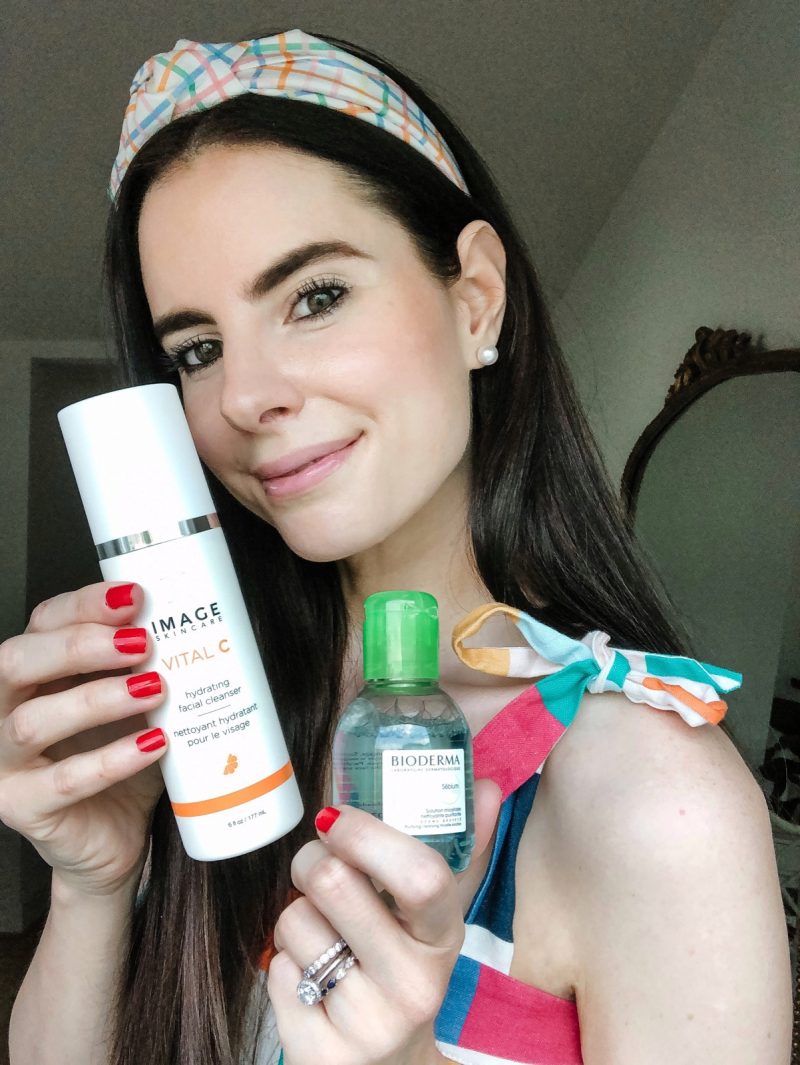 I recently purchased this Vital C cleanser by Image Skincare, which a brand with a very strong reputation in the skincare-obsessed community, but at a very fair price point. I use this in the shower and really love it. It's a cream cleanser which is different than the gels and oils I'm used to, but at $21, it's a fantastic pharmaceutical-grade, high potency vitamin C hydrating facial cleanser that gently removes makeup and impurities. It's a great fit for dry skin and for those with rosacea and it's paraben-free too.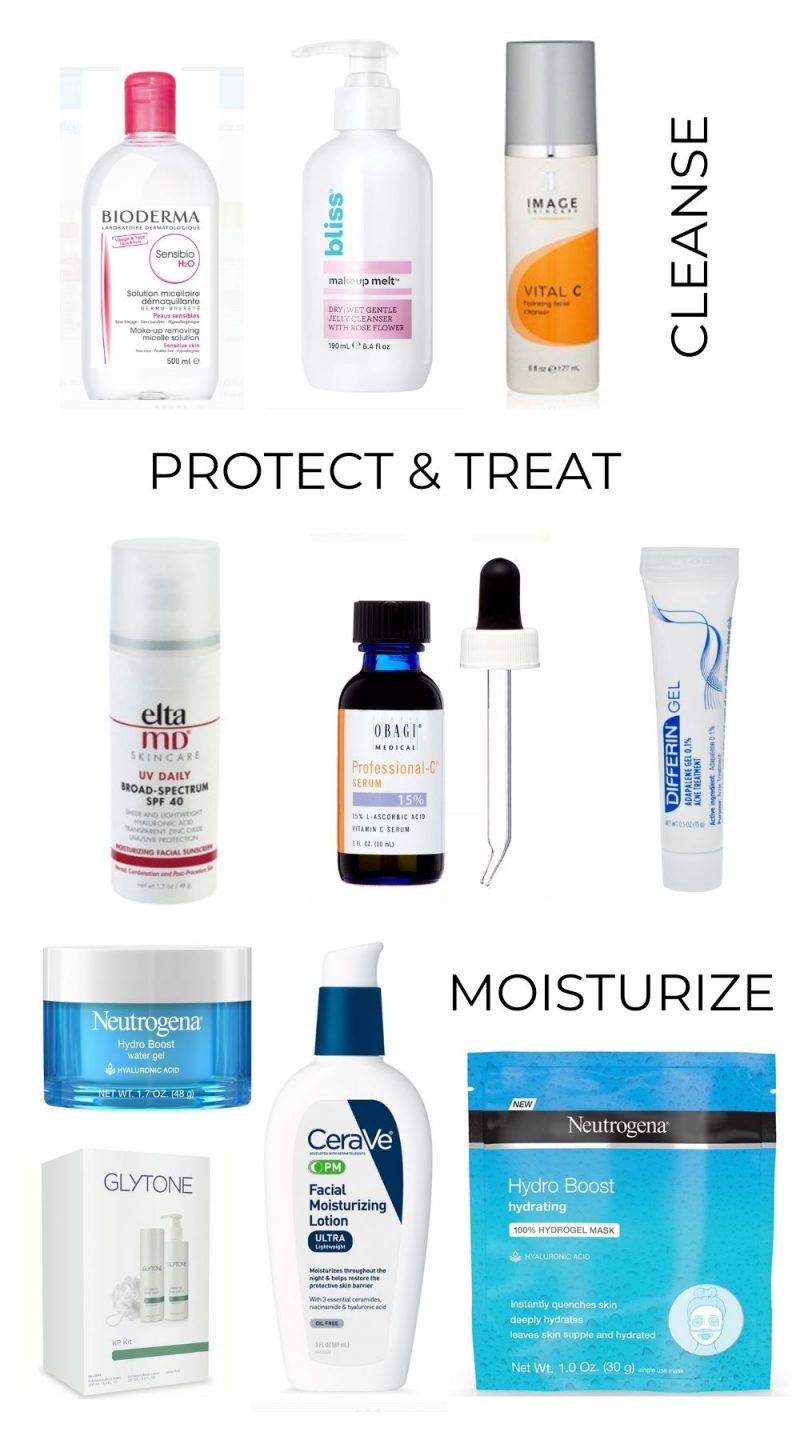 PROTECT & TREAT
Protecting and treating your skin is where I invest most – these are the skincare products that deliver results like fading sun damage, protecting skin from the sun (SPF) and helping to reduce fine lines and wrinkles.
I started to use Elta MD sunscreen about a month ago and now, I don't go a day without it. It's a mineral sunscreen that wears well under makeup and I truly don't skip any days anymore because I realize now that preventing sun damage in the first place is critical. I used to rely on my foundation's SPF, but the truth is most of us don't apply enough to give the SPF coverage on the packaging. I urge you to try a mineral sunscreen – I think many are moving to mineral over chemical nowadays and it makes me feel good about everyday wear.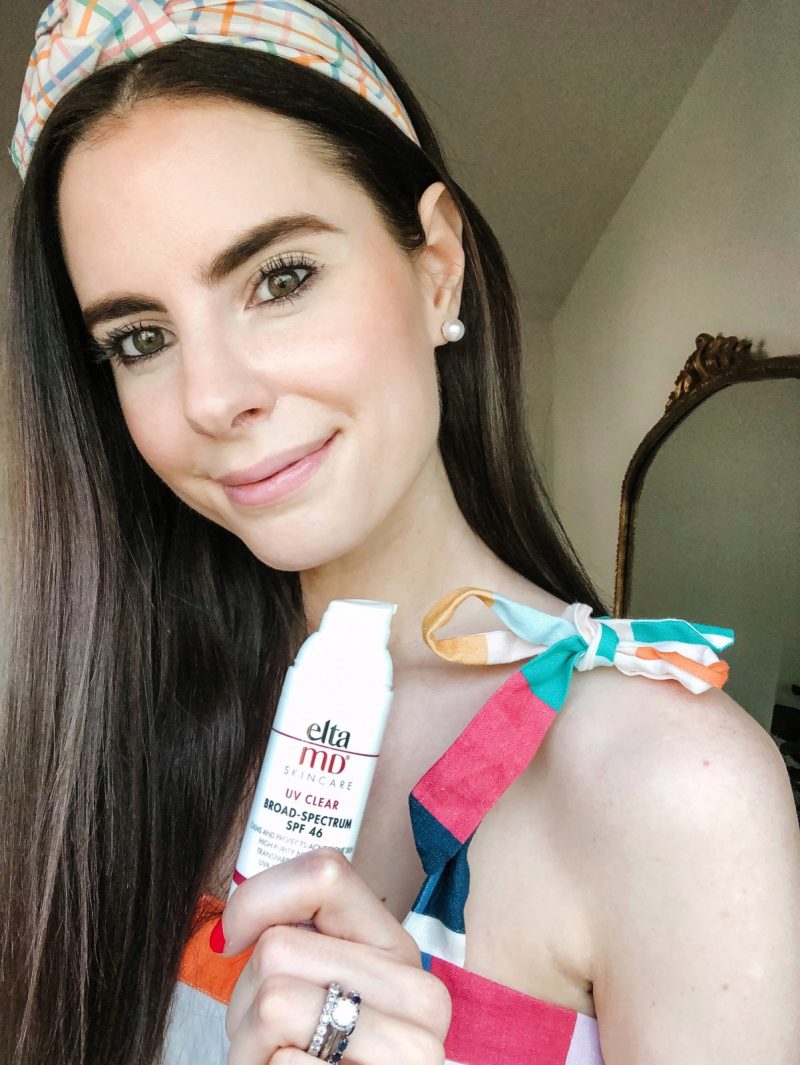 The next serum I think no anti-aging skincare routine can be without is a quality vitamin C serum. This one by Obaji is the biggest splurge item in this post, but this is a professional quality serum that is going to transform your skin. Many skincare experts I follow on Instagram even recommend this brand's serum over other well-known brands and I plan to order the 20% version myself when I run out of my current serum. Not only does vitamin C serum protect skin against UV and free radical damage, it also helps treat sun spots and fine lines and wrinkles, for smoother, brighter skin. Most women who add a quality vitamin C serum to their daily routine notice a significant improvement in skin texture and brightness.
Retinol is the third item I think is crucial in an anti-aging routine. My number one pick for women who are new to retinol is Olay's Retinol24 line which is infused with moisturizers and is less likely to irritate skin when introducing this important anti-aging ingredient. In fact, I use it a couple of nights a week on the days I don't use prescription retinol to further build my skin's tolerance. If you want to try a retinol that's affordable and almost RX strength, try Differin. It has a different form or retinol called adapalene and is marketed as an acne treatment, but it works incredibly well for fine lines and wrinkles too. It contains 0.1% adapalene, a multi-benefit, dermatologist-recommended retinoid which increases cell turnover. It also reduces redness and inflammation caused by acne and restores skin's tone and texture.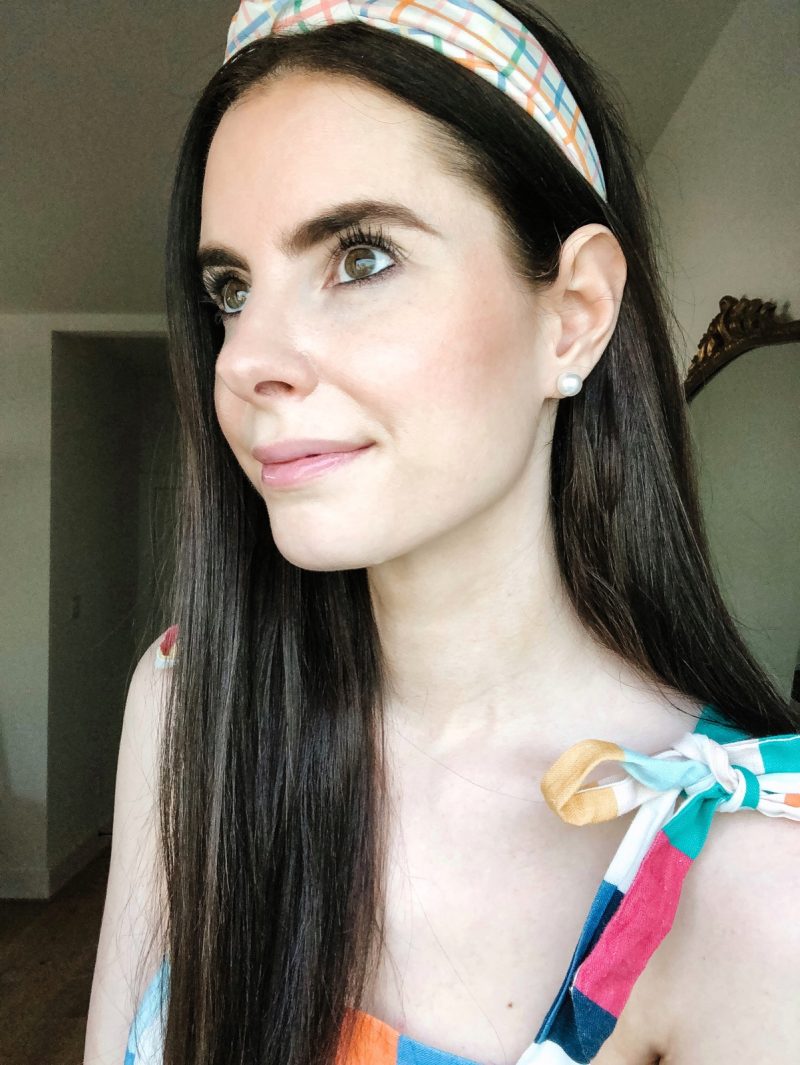 MOISTURIZE & HYDRATE
Over the last few years, I've missed the mark on ensuring my skin was moisturized enough. I was using way too many actives without adding that moisture back in. However, for the last few months, I've been using Olay's Regenerist Micro Sculpting Cream which is an amazing moisturizer and wears well under makeup and I recently purchased CeraVe's PM Facial Moisturizing Lotion. This is a dermataoligist-recommended brand and has a really nice consistency. It's almost like a fusion of a moisturizer and hydrating serum – very unique! Throughout the night, it helps restore the protective skin barrier with three essential ceramides (1,3,6-II) and also contains hyaluronic acid to help retain skin's natural moisture and niacinamide to help calm skin. I even started using it over my RX retinol and wake up with glowing skin and less peeling.
I still use and love my medical grade skincare products, but if I'm being honest, for the price, I think the CeraVe's PM Facial Moisturizing Lotion is just as good as the Revision hydrating serum which cost significantly more. For that reason, I will probably not repurchase that serum and stick to splurging on my actives. Another very popular hydrator with amazing reviews is Neutrogena's Hydro Boost gel – I have not used it myself but I do use the Neutrogena Hydro Boost sheet masks and they're amazing! I keep them one on for at least an hour, sometimes longer! My skin feels so plump after using one and I will oftentimes add the Peter Thomas Roth Rose Stem Cell mask over top of it before I go to sleep for extra hydration.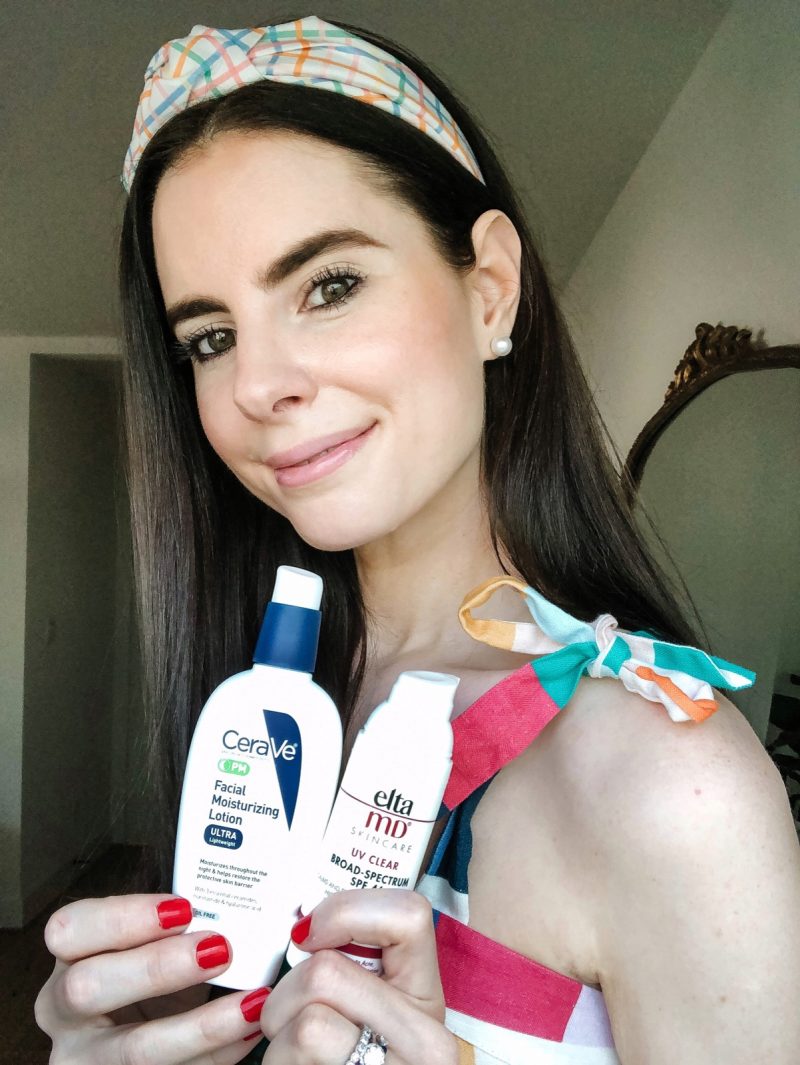 Another product I have to rave about is Glytone's KP (keratosis pilaris) kit. I have dealt with KP on the tops of my arms and thigh area basically since I was an adult and never did much to treat it, but noticed it becoming worse recently (or maybe I just became more focused on it!) I read great reviews about this Glytone set and I do think it's making a difference. It comes with a product you use in the shower with the provided pouff on affected areas and then you follow-up with the moisturizer that contains acids to help skin look more even and help exfoliate for less KP overall.
I hope this post is helpful to anyone wanting to start or continue their anti-aging skincare routine! There are so many products available nowadays that it can be tough to know which products work best (and of course every individual's skin type can yield various results) but I'm always committed to trying out as many products as I can to help you decide which ones to try!