Thank you Olay, for sponsoring this post.
2020 is the year I can't stop, won't stop talking about retinol. I've been taking my skincare to the next level this year, even though very few people actually see my face in person. I keep joking we'll all re-emerge in 2021 with the best skin of our lives.
I think those of us currently working from home have started trying new products (to deal with #maskne), masking more often (no Zoom calls today!) and overall just trying different things with less fear, since it's easy to cover up a little skin flaking, peeling or redness with a mask when we do emerge from our homes.
Retinol is one of those products many women say they'll "try one of these days," because they don't want to deal with any peeling, flaking or redness. I get it -but I'm here to tell you that retinol is truly the "does it all" skincare ingredient that you need if you're wanting a scientifically-proven ingredient in your anti-aging skincare routine. And there's an option that is much less likely to cause redness, irritation or peeling: Olay's new Retinol24 Max Moisturizer has 40% more hydrators than the original Retinol24 giving you even better hydration!
First off, let's start with: WHAT IS RETINOL AND WHAT DOES IT DO?
Retinol is a form of vitamin A that increases cell turnover (which naturally decreases in our skin over time). Regular use will reveal smoother, brighter skin and improve the texture of your skin.
Prevents wrinkles and treats existing fine lines (smoothing effect)
Builds collagen in skin
Regulates oily skin/can help with acne prone skin
Fades dark spots, sun damage and hyperpigmentation (more evenly toned skin)
Retinol is also one of the only skincare products that has clinical research backing its efficacy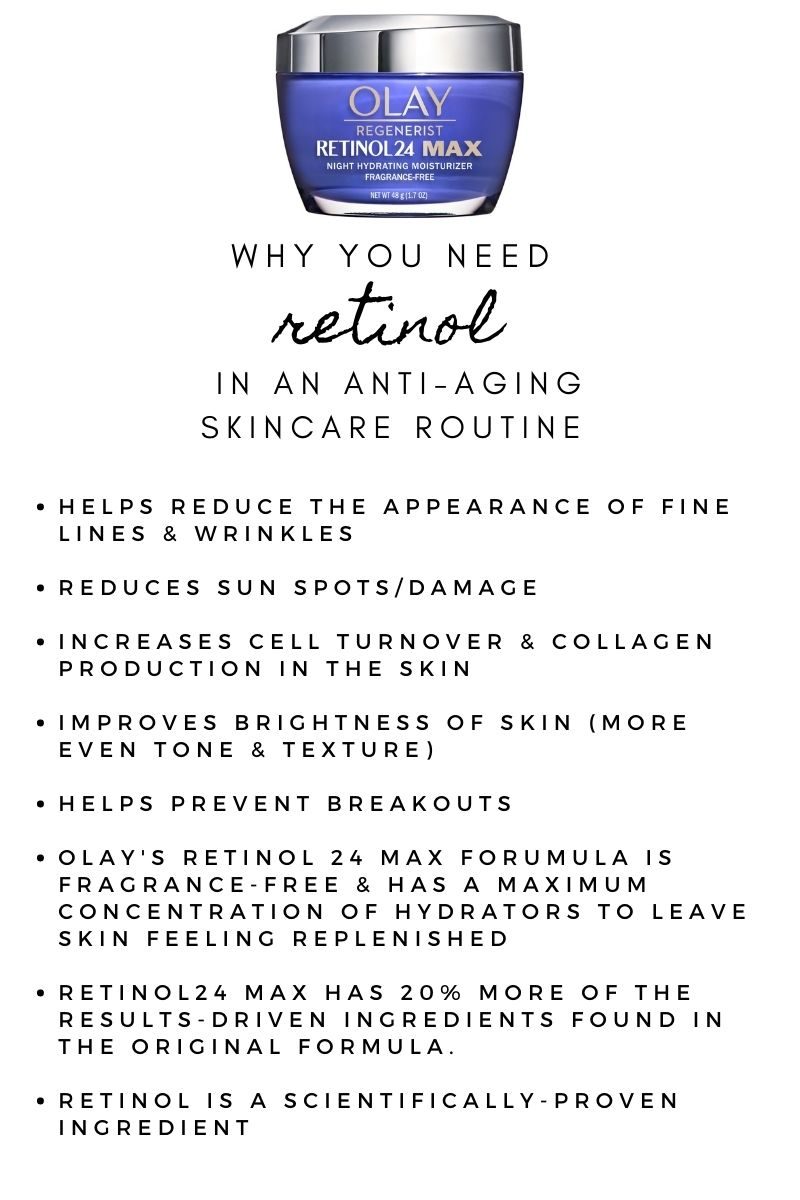 Last year, I started using Olay's Retinol24 formula and I now use their newly released Retinol24 MAX, which has a higher concentration of key ingredients (20% more of Olay's unique Retinoid Complex* – including retinol and retinyl propionate – a proprietary combination of Vitamin B3), so you'll see results even sooner.
Olay's formula is unique in that it delivers results without irritation because it's packed with hydrators and as a bonus, it's fragrance-free! I always recommend starting your retinol journey with Olay's formula, because your skin is less likely to become irritated or peel, so you'll stay consistent with your usage, which means you'll see results!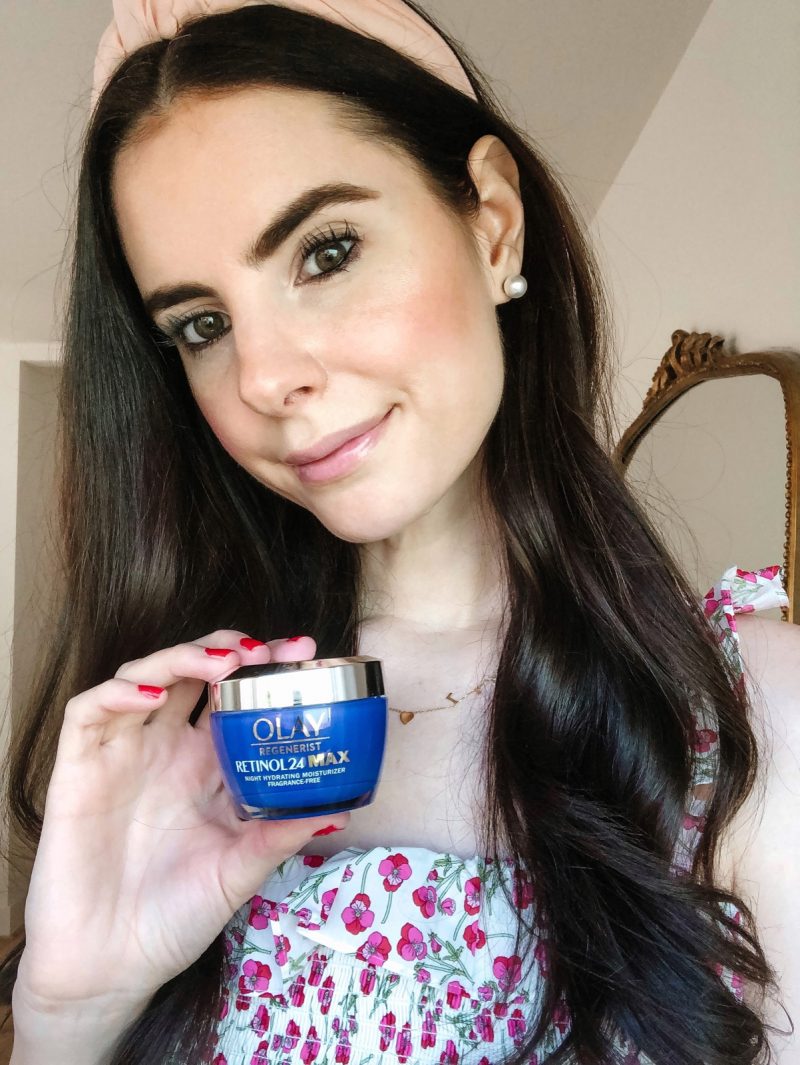 As part of my night time skincare routine, I use Olay Retinol24 MAX every single night on my neck and chest since the formula's built-in hydrators work so well on that sensitive area and 2-3 days a week on my face. One important thing to remember whether or not you use retinol (but especially if you're using retinol!) is to wear SFP during the day.
If you've never tried retinol – don't delay! The sooner you start, the better your skin will look over time. I wish I had started sooner and kept up with it. Now that I've seen the results myself, I'm committed for the long term. You can shop Olay's new Retinol24 MAX formula, here.