This year was more challenging than others to shop for Christmas because I feel like we got so many things for the kids over spring and summer during quarantine.
Lincoln only ever asks for LEGO sets and Harper asked for more books. Seems simple enough – but it's almost harder when they don't have specific things they're really yearning for or mentioning all the time.
H & L are very creative and project-driven. Harper has a dollhouse, but she and Lincoln will spend the weekend using our amazon boxes to make new dollhouses, outfitting the cardboard creations with a combination of furniture they make with various materials and dollhouse furniture we already have. I love their creative spirits and it definitely gives me some gift ideas for them!
Since our backyard is now turfed and we use it a ton, we got the kids a lot of outdoor games to enjoy. We also got them a Nintendo Switch – TBD on whether or not we will regret that, haha. We watch quite a bit of TV at home, but we don't do a lot of iPad based games, so we shall see how it goes. A lot of our gifts this year are shared gifts that we know both of the kids will enjoy!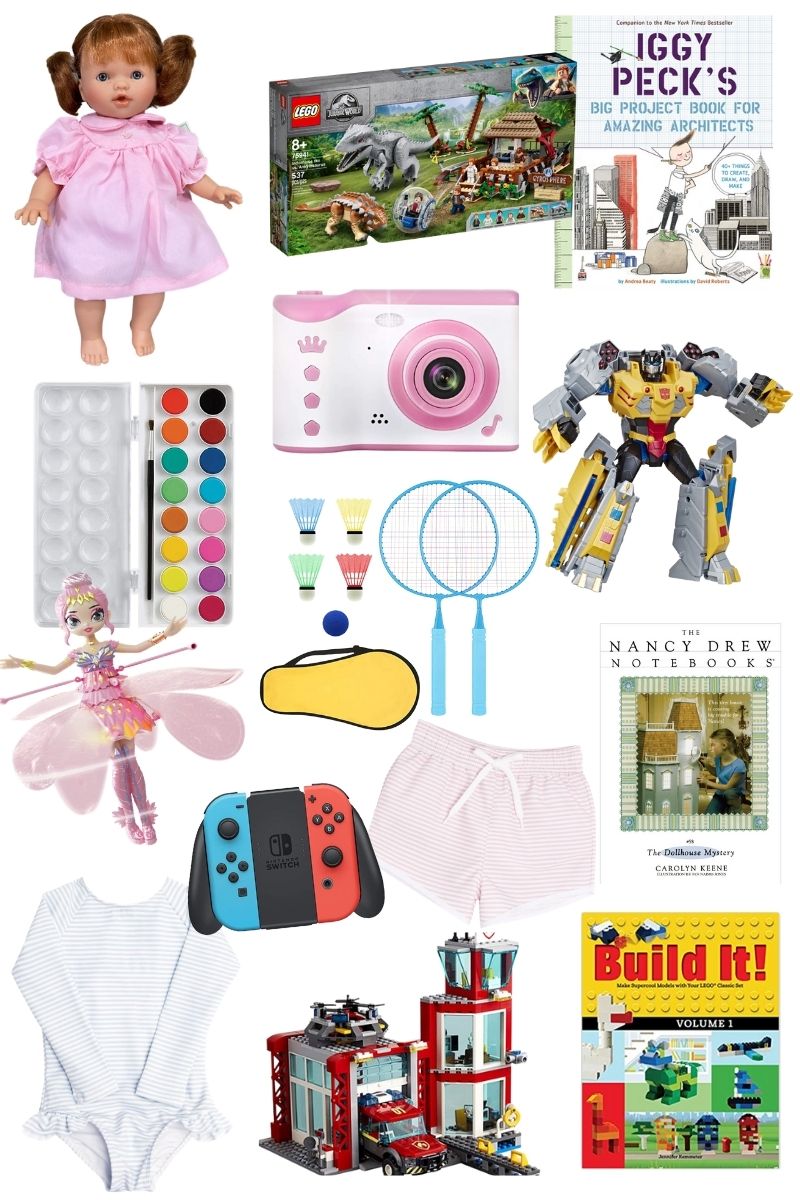 LEGO builder book |  pink dollhouse kitchen | scooter | dollhouse magic book | nancy drew dollhouse mystery | foam airplanes | digital camera | velcro ball catch game | bean bag toss game | kids badminton set | brain quest for third grade and kinder | anne of green gables graphic novel | ramona collection book set | ivy +bean book set  | wish chapter book | watercolor brushes and paint kit | LCD writing tablet | metallic markers | LEGO jurassic world book | hatchimals flying fairy | Nintendo switch| Iggy Peck big book of projects | never let a dinosaur scribble | my encyclopedia of very important things | LEGO space city | Teen Titans coloring book | Bakugan starter pack | transformers toy | Jurassic World LEGO set | never let a dinosaur scribble | would you rather book for kids | kids knife set | swimsuit for harper & board shorts for lincoln | red haired doll | Festive Fox box | LEGO fire station 
What are your top gifts for kids this season?! I'm sure I'm forgetting a few things I've randomly picked up in-store, but this is most of it!