One of the reasons we purchased our current home in addition to its other features was because it has a covered patio and an 1100 sq. ft. backyard. Though our plans to put a pool in didn't come to fruition, we still wanted to create a space our family could enjoy.
We have a lot of friends and acquaintances with artificial turf installed in their yards and we really wanted something clean and low maintenance. Especially now that we have a puppy, turf was extra appealing for many reasons.
In addition to it looking great year round and having no mud, you also don't have to water or cut it. Houston summers are so hot that its difficult to keep real grass alive without watering a lot and truthfully, we wanted something low maintenance. We did opt to add landscaping at the back of our yard for visual interest and to make the space feel more green and complete, so we of course still water those trees and plants.
We spend so much time outdoors now – it's a total 180! We love being outside because the turf has made it so easy to enjoy our space. Harper even learned to ride her bike sans training wheels on our turf!  Kevin and I played badminton last weekend and we regularly play games from bean bag toss, catch, mini putt, soccer and more. We even keep some of Lincoln's larger trucks outside and he loves to play with those in the grass.
Here are some FAQs about artificial turf (and our experience)
Why did you decide to have artificial turf installed in your yard?
For ease of maintenance, to have a green yard year round, no mud and less water waste. We also love the aesthetics of it – it's a joy to look outside and see a perfectly green yard in every season (we don't get snow in Houston, so no worries about that!)
How did you find the company you used?
We read reviews online and asked friends for referrals. We had three companies come out for quotes and ultimately decided on Wakasa. We felt they were more focused on important factors like drainage and they were also full service – we had them to do the turf, build a custom AC cover and gate and do the landscaping.
How long did it take?
It took about 3.5 days to complete the job. The prep work took longer even with a double crew as they had to excavate the yard and re-route all of our drainage. They also graded our yard so that we don't get water build-up like we used to when it rained.
(this is taken from our bedroom, so half of the yard is covered by the roof line)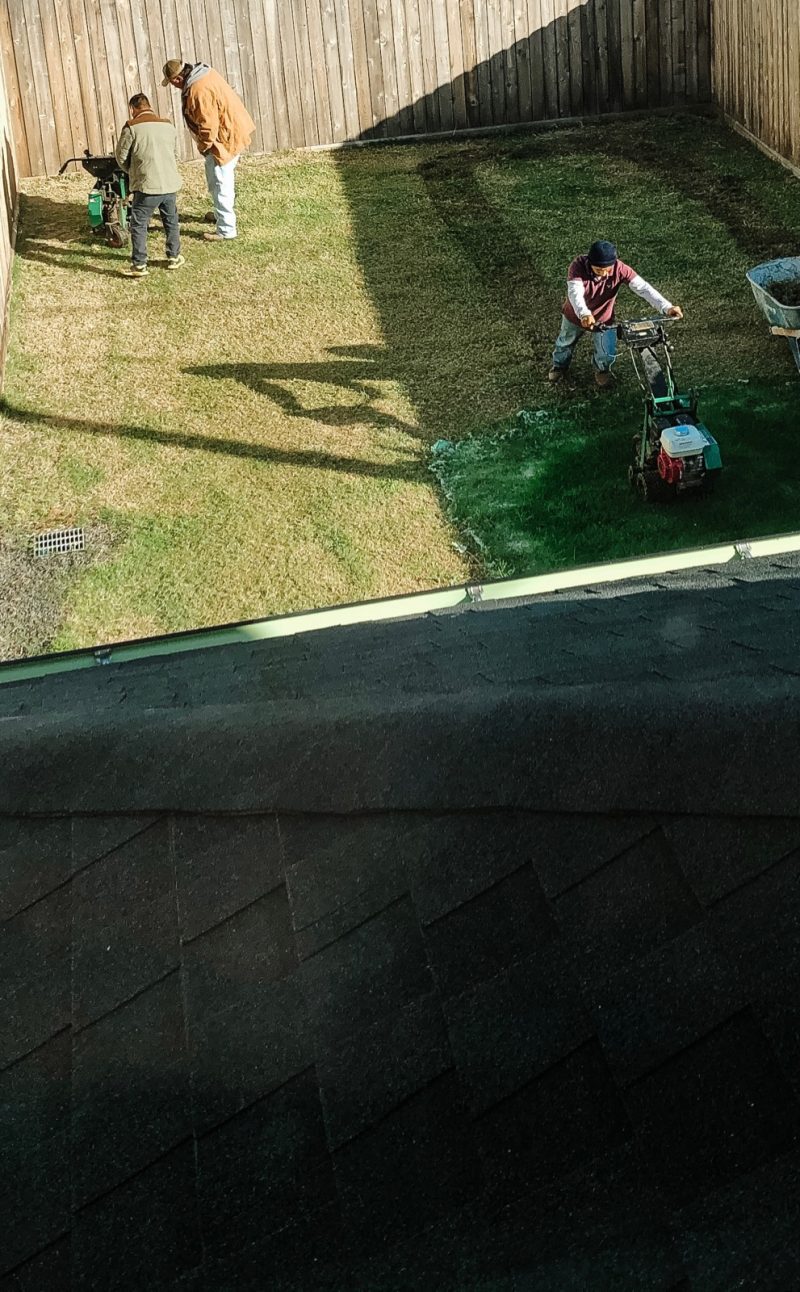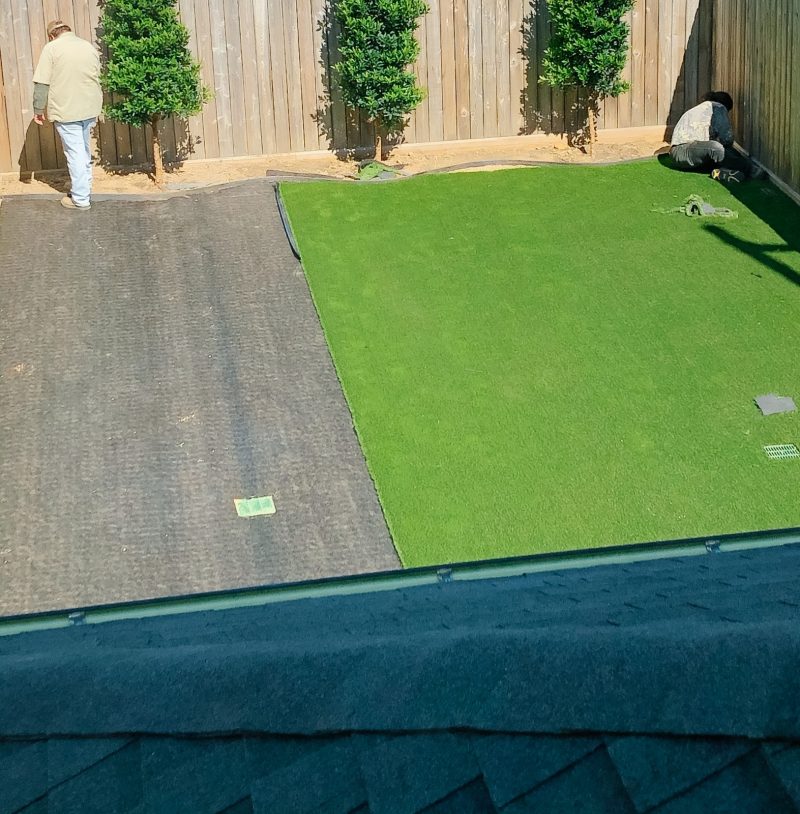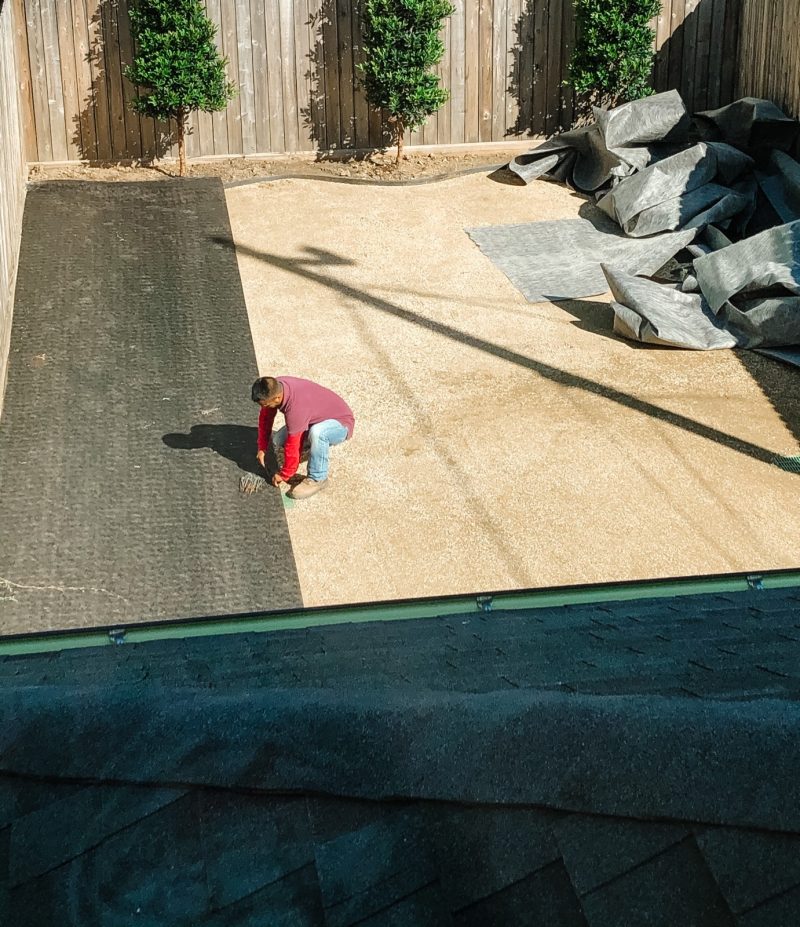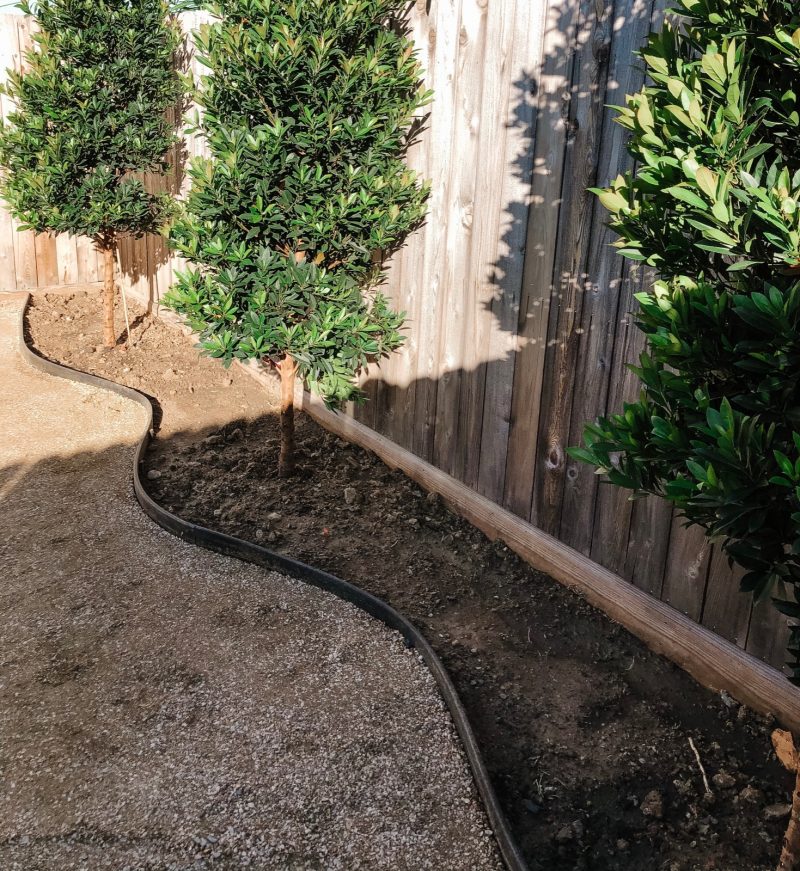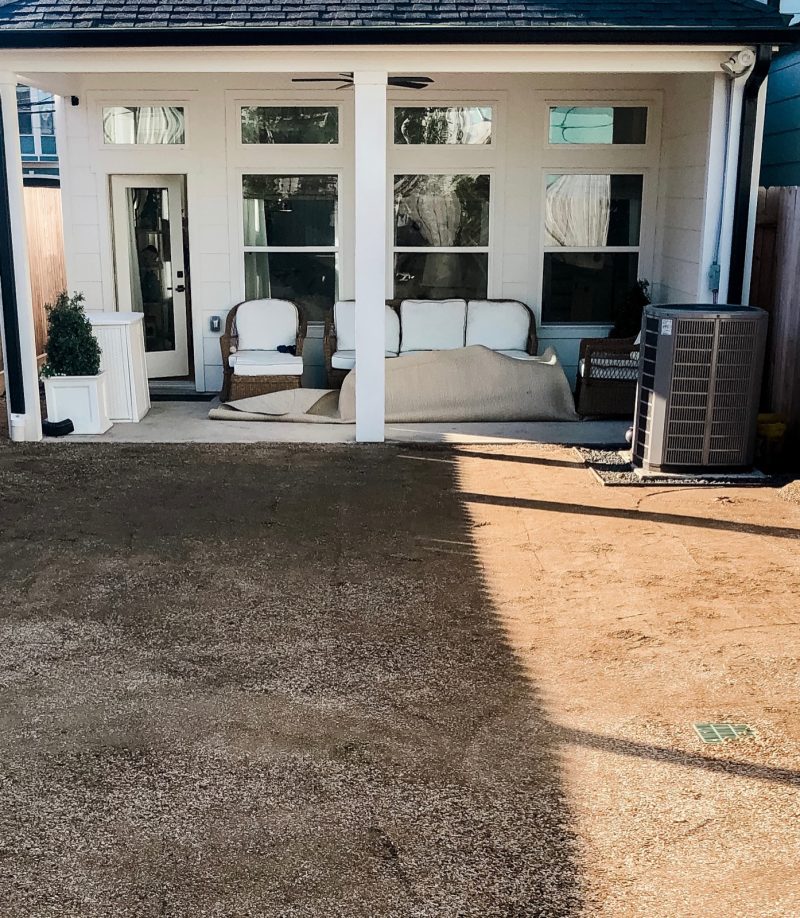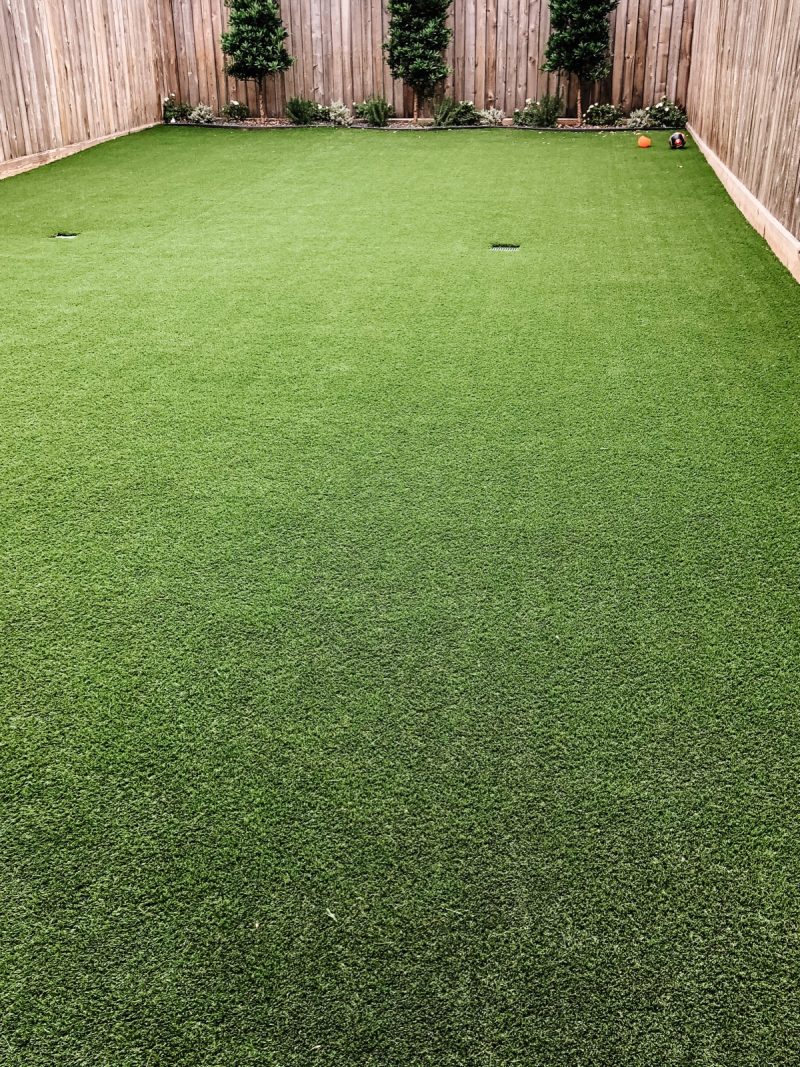 Is turf safe for pets?
Yes! Dogs can go potty on turf. Turf has drainage and you can also use an enzyme-based cleaner on it to eliminate pet urine. Our infill (the product they use to make the grass stand up and weigh down the turf) is called Envirofill and it has antimicrobial properties. I have heard that some homeowners do notice a smell when their pet uses the turf (in the summer) and others say they don't notice it at all. The enzyme cleaner helps break down urine so you should clean turf regularly in spots your pet uses. We try to encourage Teddy to go potty in the back near the landscaping, but he's still so young, we'll take what we can get!
The best thing about turf is NO muddy dog paws. They'll still get wet from the morning dew, but overall, we don't have to worry about mud getting tracked into the house.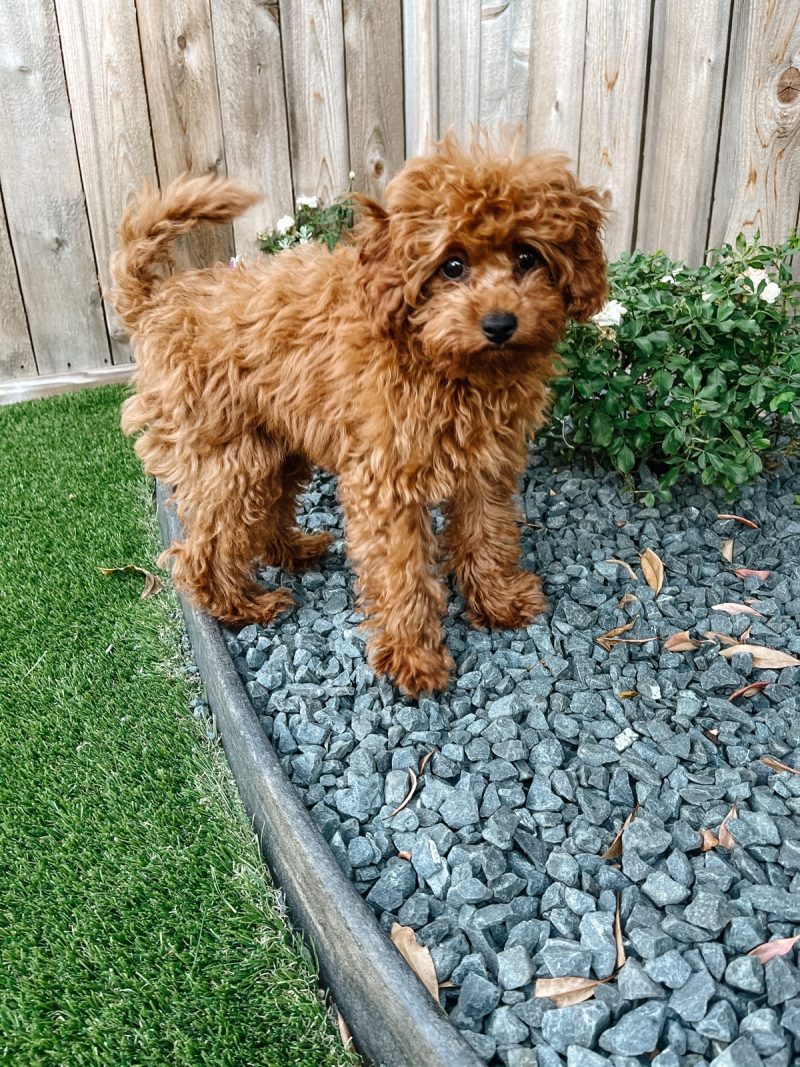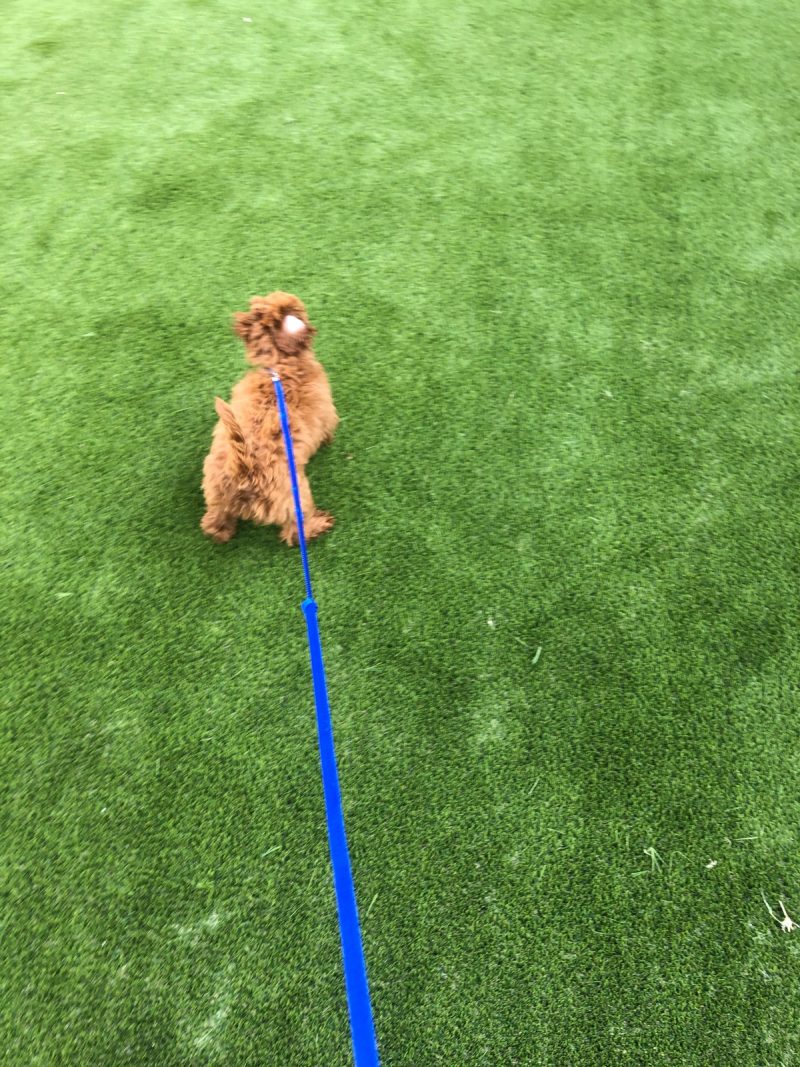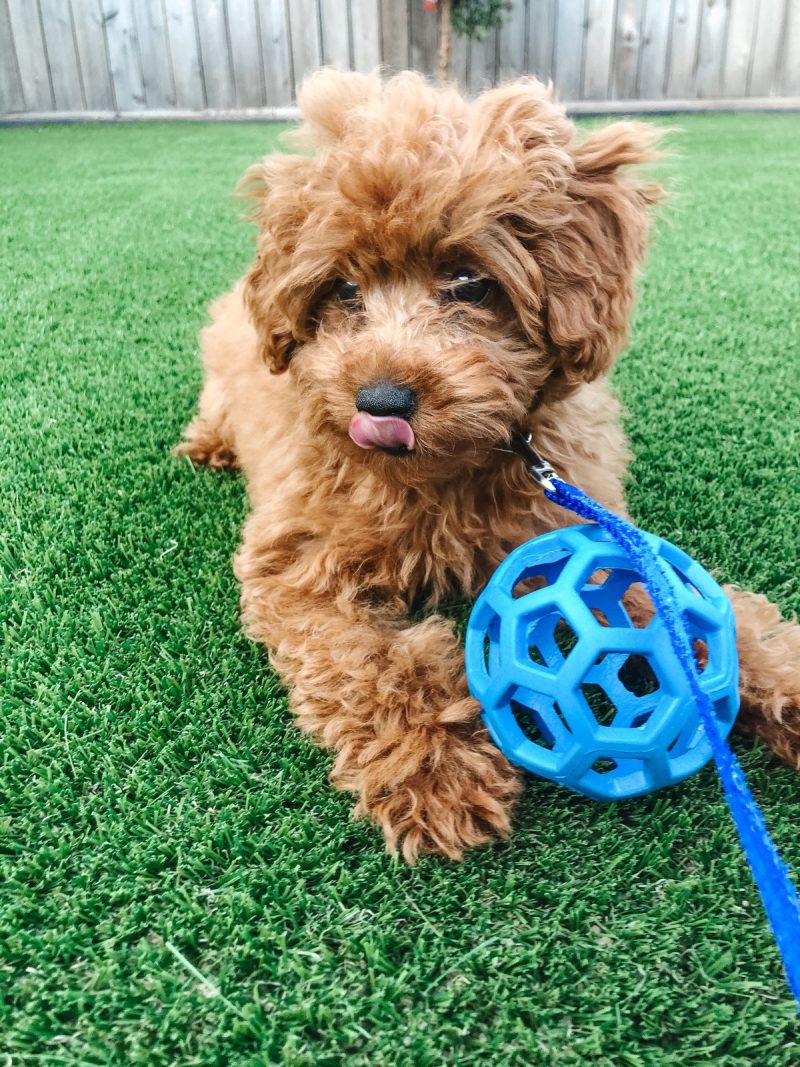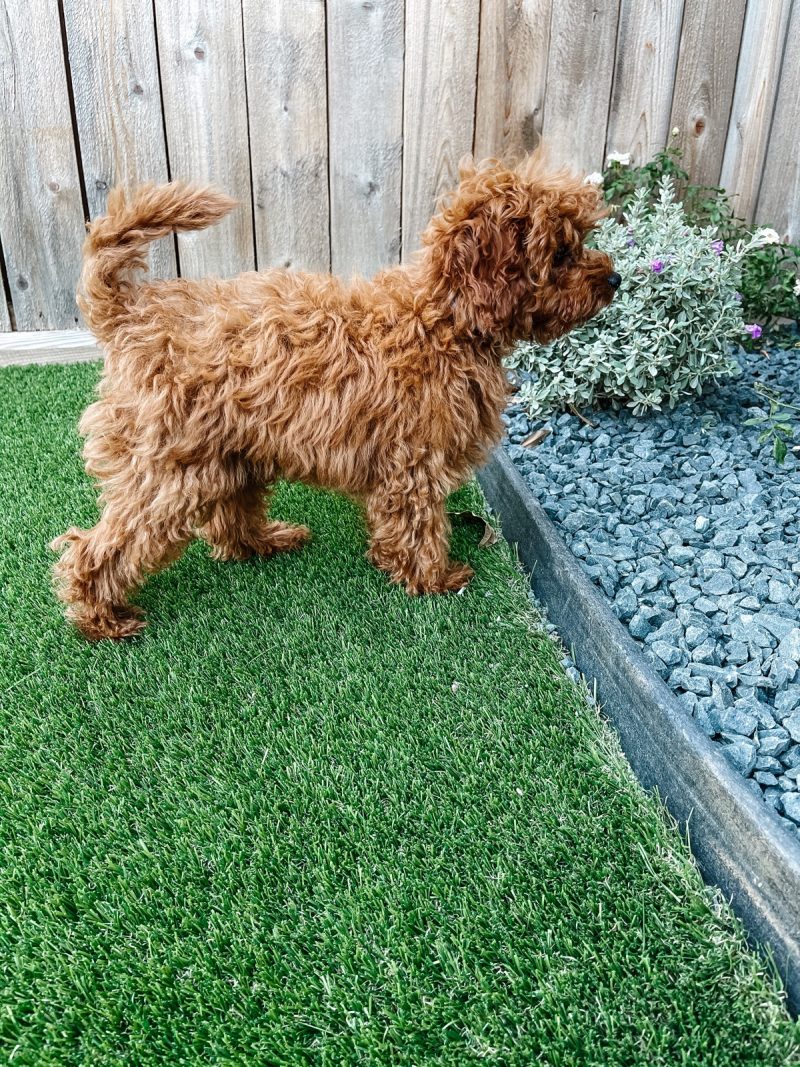 How much does it cost?
It depends on the company you use and the area you live in. For us, the labor itself was a larger cost since we had drainage work, custom woodwork and landscaping installed. You can get free quotes from companies in your area as the type of turf impacts the cost as well (there are "levels").
How do you like it?
Installing turf was a game-changer for our family. Many of our friends have said it's like "an extension of your living room" and I couldn't agree more. We still wear shoes and sandals on it for the most part, but it's so clean to run around on and our time spent outside went up significantly since installing the turf. I love how installing turf made us want to be outside more.
We had our Thanksgiving dinner outside this year and I had zero qualms about bringing some of our furniture outside, knowing there was no chance it could get dirty or muddy like with real grass.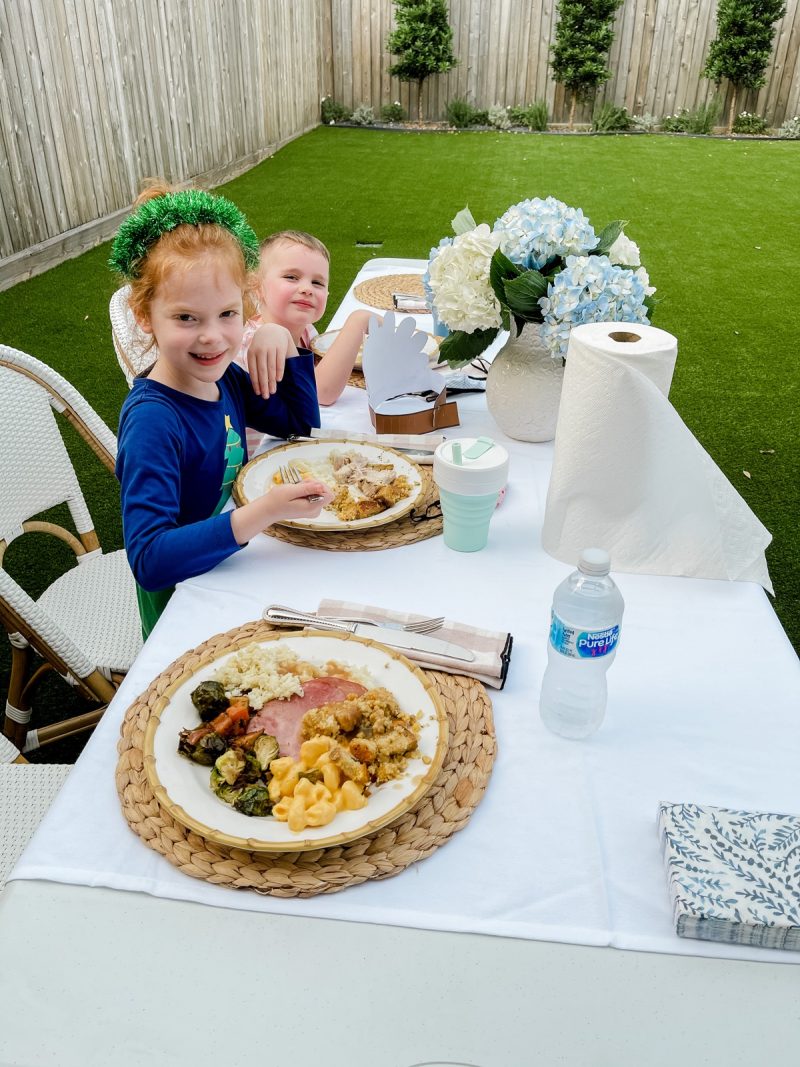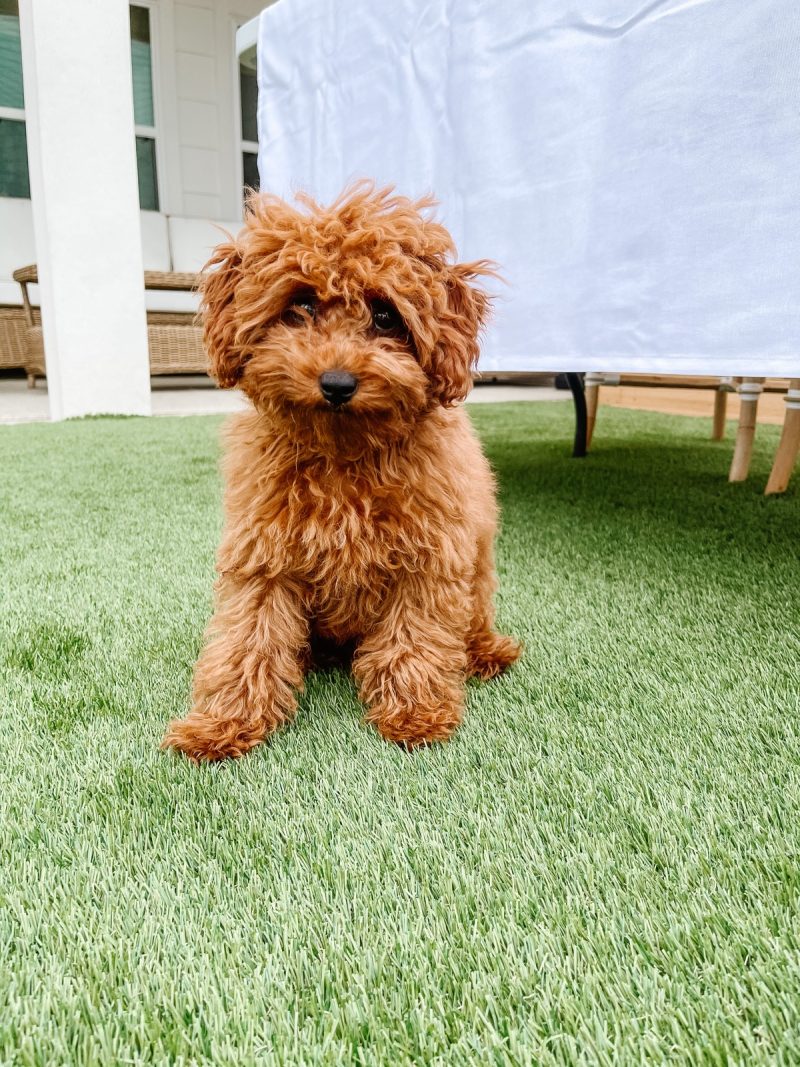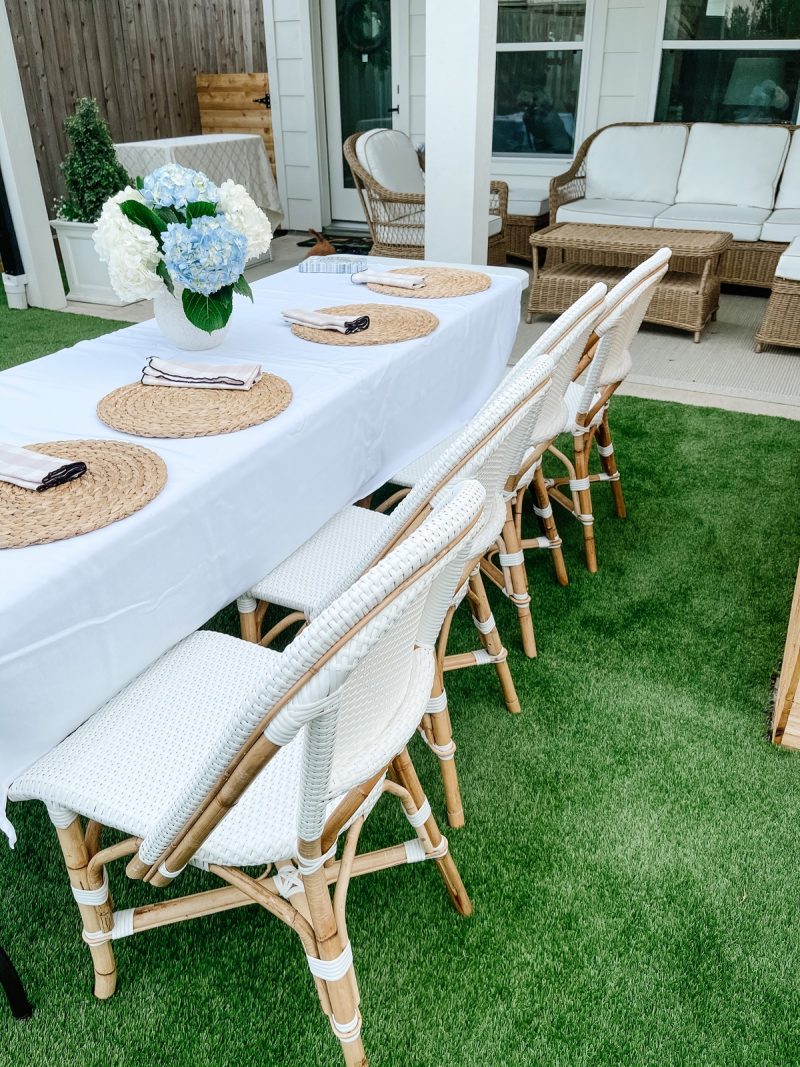 Are there downsides to artificial turf?
Turf gets hot in the summer. The kind we have is a "cooler touch" one, but any sun on it means it gets hot. In the summer, you can hose it off a bit and it's fine – but since we wear shoes or sandals on it anyway, I don't anticipate it will be a huge deal. Once the pandemic is over, we won't home 24/7 like we are now, so I'm not too worried about it.
How did you choose which turf was installed?
We chose shorter turf because it's better for pets and we chose the blend recommended by Wakasa because it's supposed to stay a little cooler. I also felt each sample and looked at the color mixes to determine which one would look the best. There was one other turf I liked that was a tad darker, but it was longer and not as highly recommended for pets. There are three levels and the turf we chose was a level 2.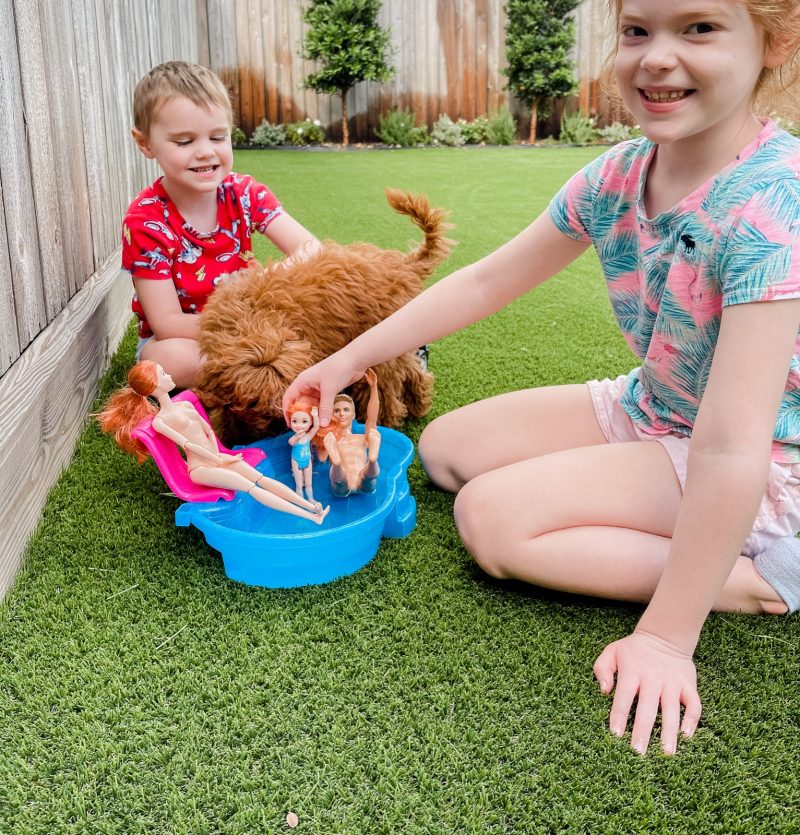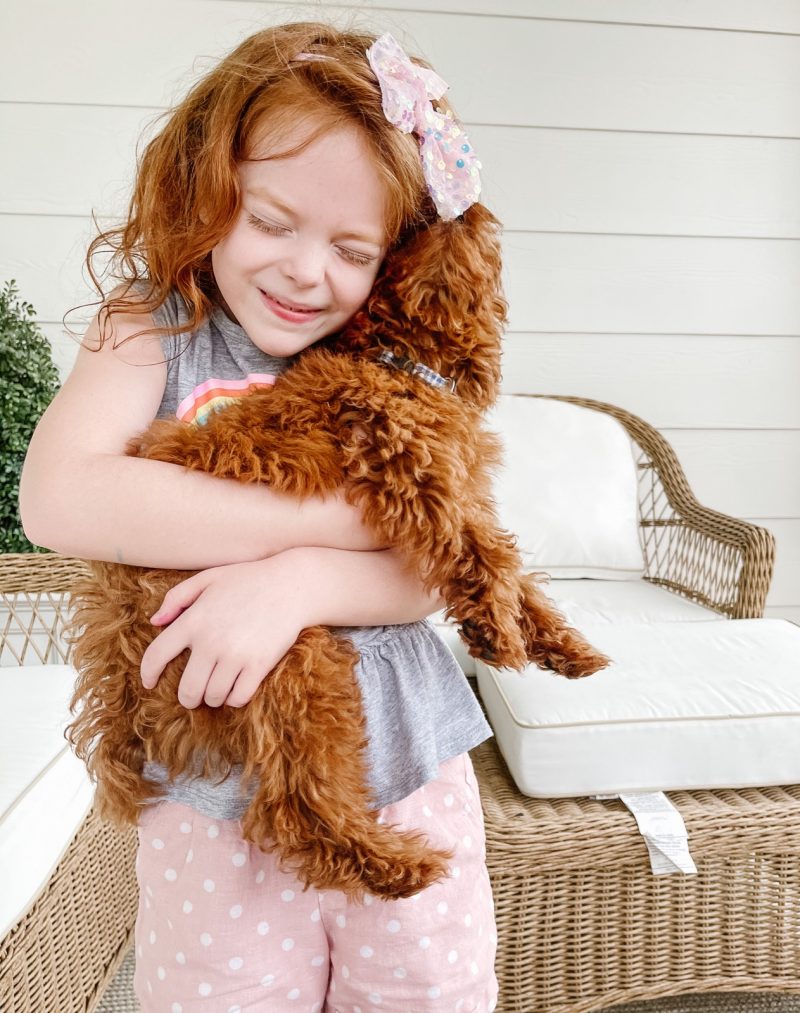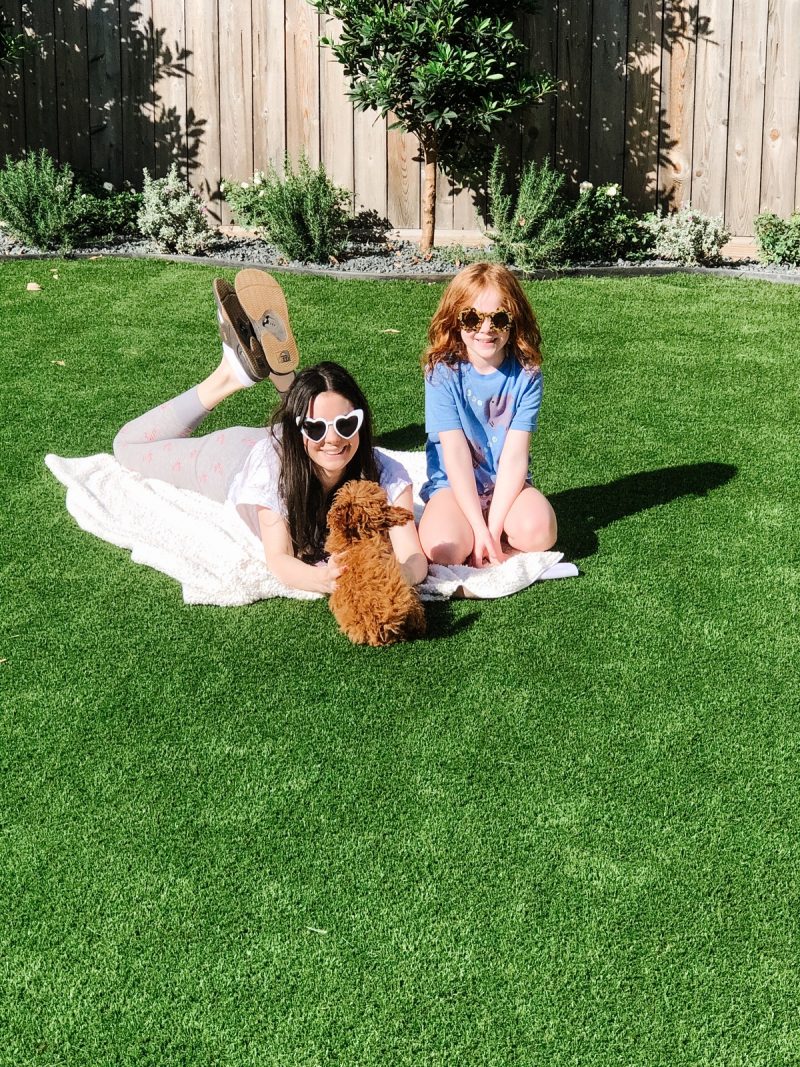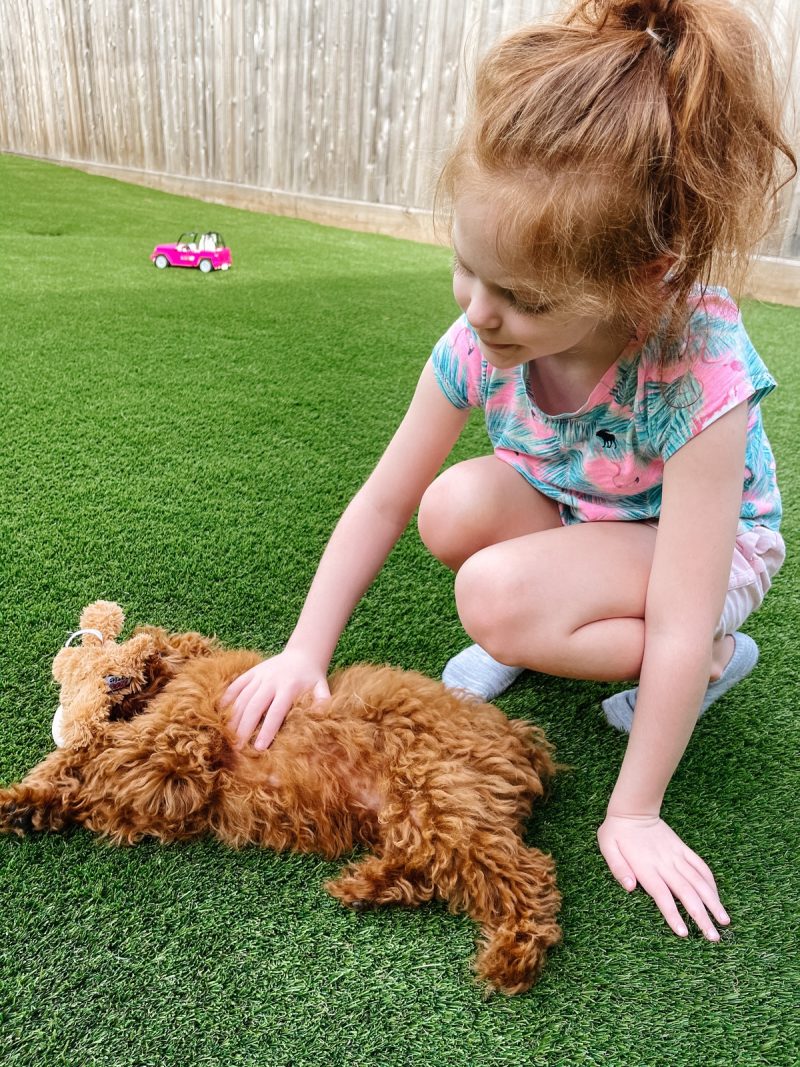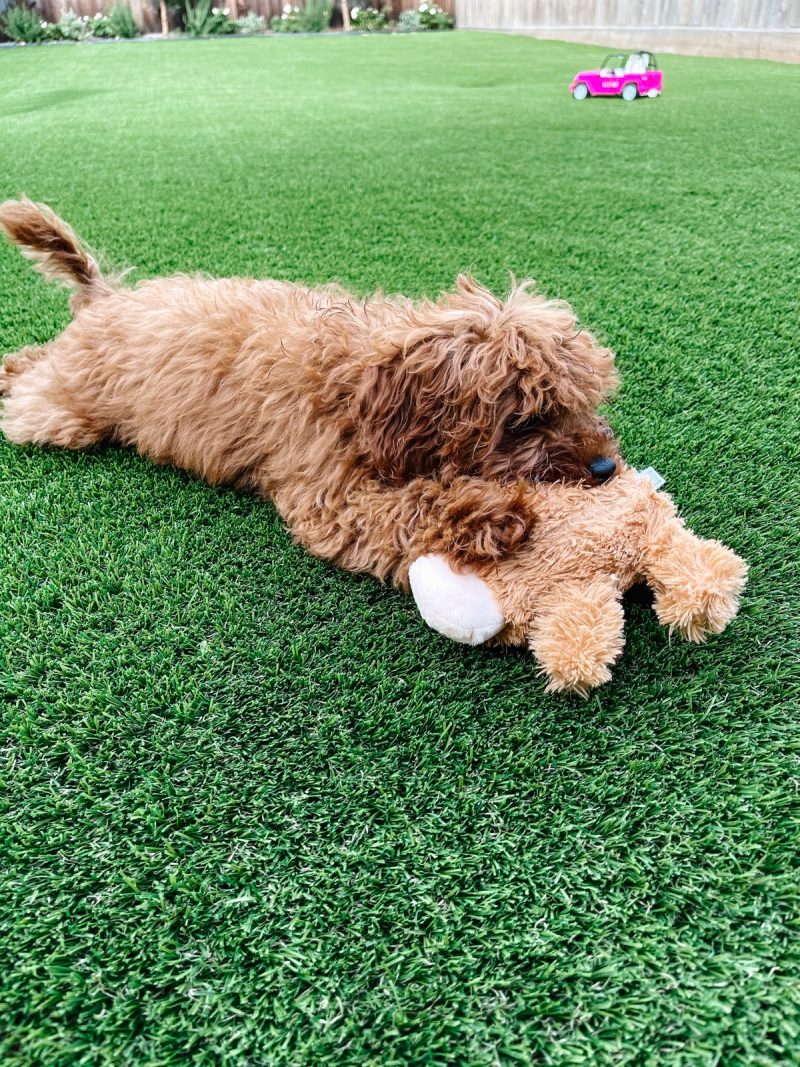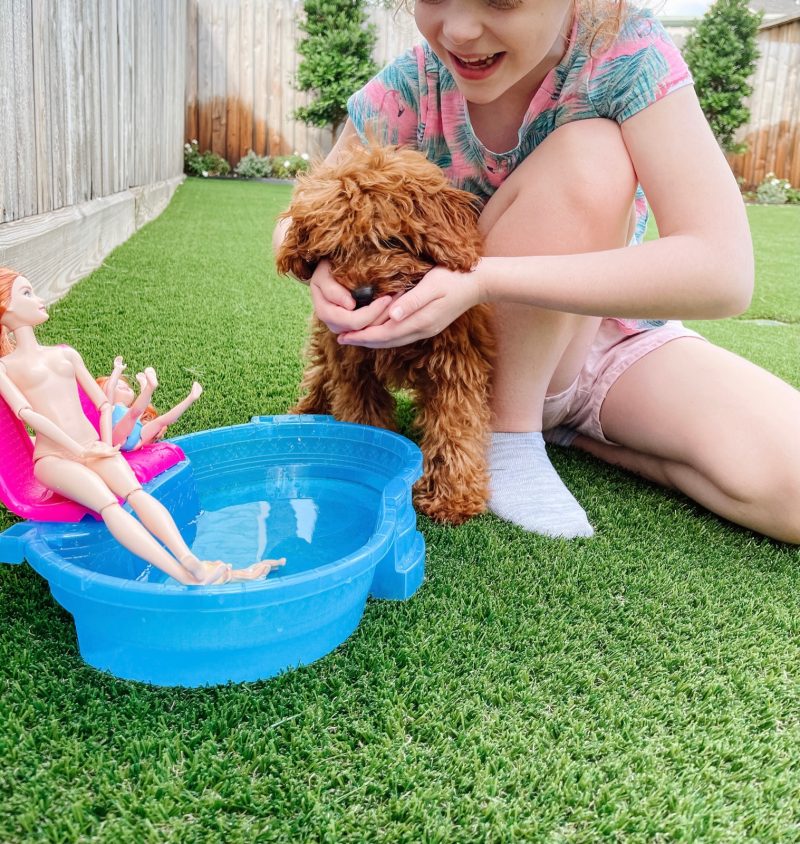 What landscaping did you choose?
We had three Japanese blueberry trees planted as well as rosemary, sage and white popcorn roses. The rosemary and sage were recommended to us as natural mosquito repellents and I chose the trees because they tend to grow wide more quickly and it will help offer a little shade and privacy (not a huge priority for us – the area we live in offers very little which we are OK with!)
I hope this post was helpful if you're considering installing artificial turf in your yard!