I'm a creature of habit, so I rarely change my beauty routines and tend to be loyal to products I love. Over the last 18 months or so, I did change my hair care routine pretty significantly and it has changed my hair for the better in so many ways so I thought I'd share it here!
AT THE SALON
I now get my hair colored darker than my natural color and don't have lighter pieces added to my ends. I have natural dimension in my hair from previous pieces that were lightened. I color my hair ever 7 weeks, and just get the roots/grays colored and then a micro-trim each time (we trim a little more if my hair needs it!)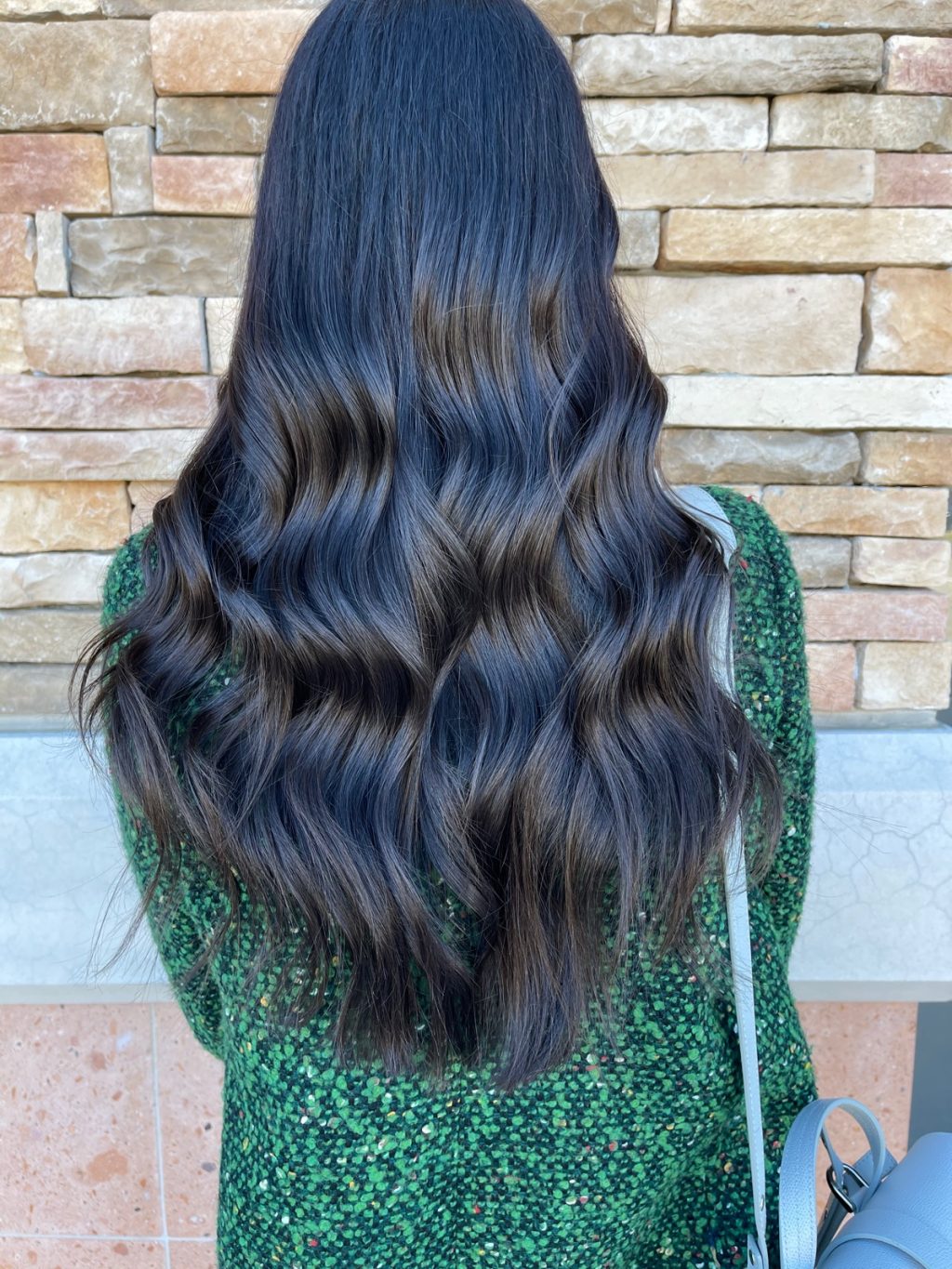 IN THE SHOWER
I've been using Navy Hair Care Search & Rescue shampoo and conditioner for two years now (use code BRIT at checkout for 30% off of your entire order). Many women use this shampoo to combat postpartum hair loss because Navy's formulas contain enriching ingredients including panthenol for elasticity, rosemary leaf extract and biotin for growth promotion and Vitamins A, C & E. They're also SLS and paraben-free and vegan friendly. They cleanse your hair without weighing it down – I wash my hair twice per week and use Navy 90% of the time.
About once or twice a month, I use Navy's Black Coal and Charcoal Revitalizing Hair Mask to remove build-up from my hair and scalp – it makes your hair super smooth too!
The only other shampoos and masks I use occasionally are by Kerastase.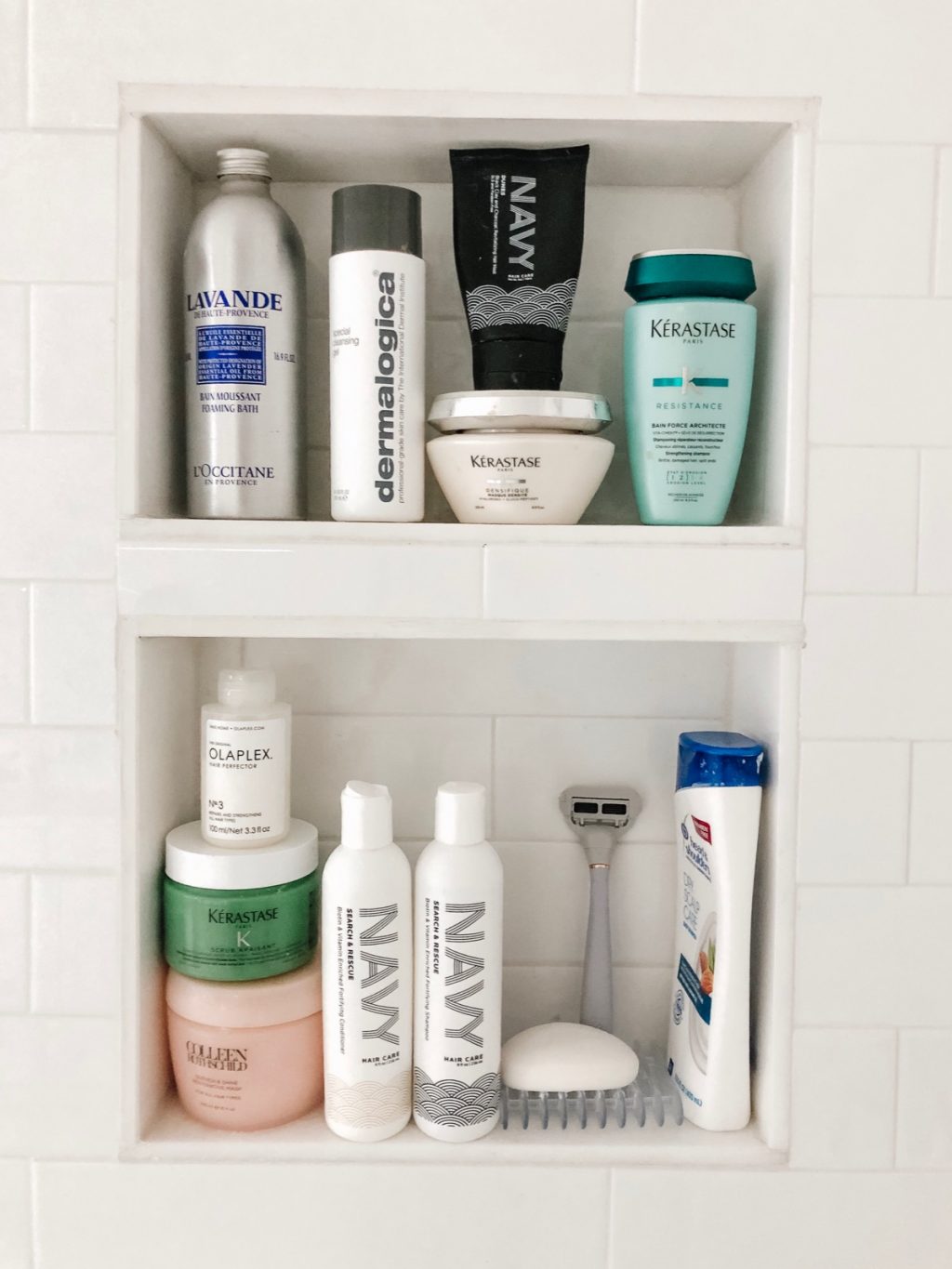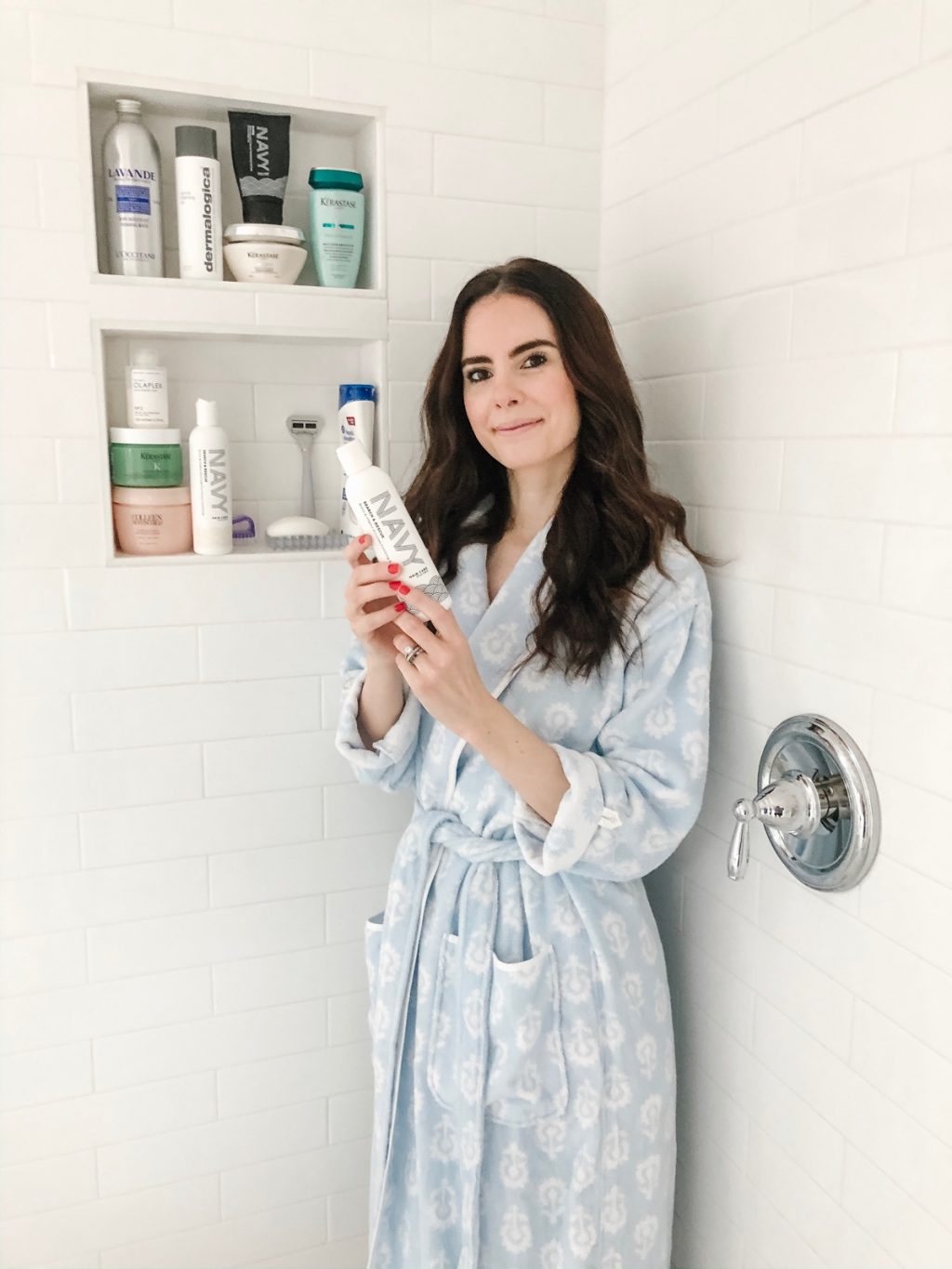 POST-SHOWER/BLOW DRY PREP
After showering, I use a towel to gently remove excess water from my hair. Then, I use a Wet Brush to brush/untangle it before applying styling products.
First, I use Redken Guts 10 (have been using this over a decade) on my roots only – it's a volumizing spray mousse. I have to use this product because I find the boost in volume it gives helps my hair stay cleaner, longer and look more volumized even after sleeping on it.
Next, I apply Navy Hair Care styling and thickening cream from the nape of my neck down to my ends. It smells amazing and is designed to both smooth and thicken the hair. It contains pro vitamin B5 for shine and sunflower seed extract that protects your hair from UV rays. It's also alcohol, SLS and paraben free.
Then, I add a Kerastase product – I rotate between Keratine Thermique, L'incroyable Blow-dry and Ciment Thermique. I love all three of these and use them for additional heat protection and smoothness. I'm a big believer in layering products.
AIR DRY TIME
I always wash my hair at around 7 p.m. and let it air dry through 9:30 ish. I do this with the styling products in my hair – some of them are heat activated so they'll start to work their magic when I blow-dry.
BLOW DRY
For a long time, I was going to bed with my hair wet and letting it air dry overnight and then blow-drying it in the morning, when it was 70-80% dry. Hair is most fragile in its wet state and to be honest, I didn't love sleeping with wet hair and I didn't find it improved the condition of my hair. I also didn't love the extra time I needed to add to my morning routine to blow dry it, even if it was just 7-10 minutes.
The Dyson Air Wrap was a game-changer for me and made me change my entire drying routine. It really makes your hair look so smooth and incredible with LESS heat (you can also just get the regular Dyson hair dryer without the attachments – its the same technology). Prior to the Dyson, I was using the T3 Cura hairdryer. While T3 makes quality products (that I use all the time!), the results of the hairdryer are not comparable to the Dyson. Dyson's technology is unique and the difference I've seen in my hair is noticeable. It's healthier, shinier, smoother. I have never gotten more compliments on my hair than when I started using the Dyson.
I first use the hair dryer attachment of the Air Wrap and then when my hair is 80% dry I use the gray smoothing brush and dry my hair in sections. Then, I sleep on my dry hair, wearing it down. I used to wear it up but read this can cause strain on the hair follicles. The best thing is to sleep on a silk pillowcase. I have this one, but here are some more affordable options.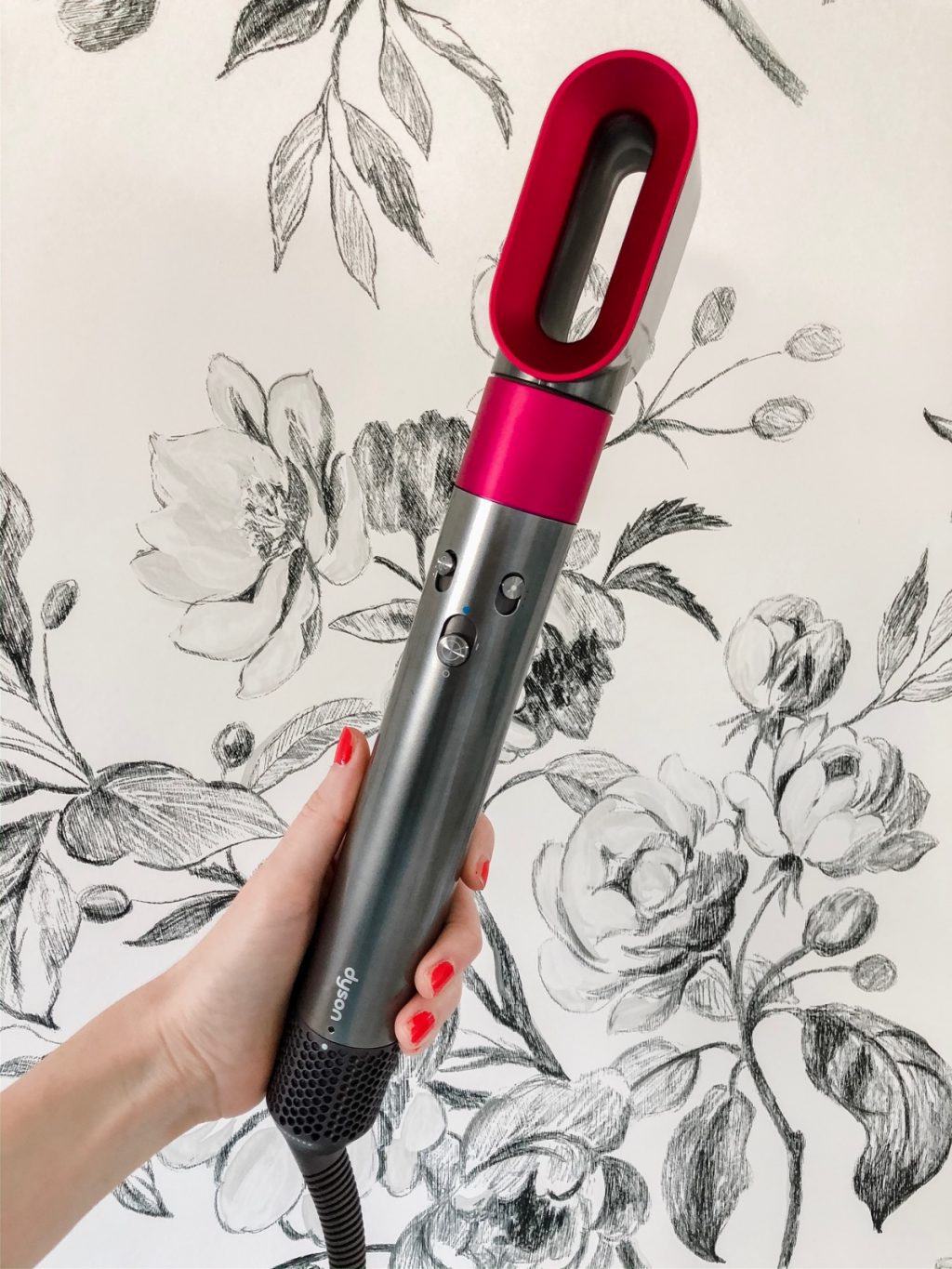 MORNING STYLING
On first day hair, I use this T3 flat iron to quickly smooth out my hair after sleeping on it.
On second day hair, I use my T3 curling wand in the 1 inch barrel size to curl my entire head (takes 5-7 minutes).
On third/fourth day hair, I just brush my hair after sleeping on it and then apply Living Proof Dry Shampoo to my roots. My hair will still have a light wave/bend to it. I also add Navy's Pebble Beach texture spray on these days to revive texture in my hair. The only time I re-curl my hair on third and fourth day hair is if I am shooting photos for my blog.
I'm really loving my new hair routine. I'm focused on using less intense heat, less often and using high-quality products to both nourish and protect my hair and it has made all the difference!
Please let me know if you have any questions about the products I use. If you're interested in Navy Hair Care products, you can use code BRIT at checkout for 30% off of your entire order.