I have an ongoing partnership with Olay. This post is not part of my paid partnership, but it's a topic I'm passionate about and want to share with you.
I started using mineral SPF on my face exclusively last fall. I made a commitment to wear it every.single.day, no excuses. Even on days I didn't wear makeup, I wore my mineral SPF and I'm really proud to have stuck to my commitment.
Why the commitment to daily SPF wear?
It's simple: sun exposure not only increases your risk of skin cancer, but it also contributes to premature aging (sun spots, wrinkles and more). I'm admittedly obsessed with my skincare routine and was spending each morning applying multiple products under my makeup, but not SPF (which, ironically, is truly is the one product you should absolutely not go without).
It was totally nonsensical and at 37, it was time to do the right thing. After all, the more damage you prevent, the less you'll have to treat and the lower your risk will be for skin cancer (in fact, The Skin Cancer Foundation states that regular daily use of SPF 15 sunscreen can reduce your risk of developing squamous cell carcinoma by about 40% and lower your melanoma risk by 50% – that's huge!)
The second reason is that though my foundation does contain SPF, the amount I'd have to use to achieve the SPF protection listed on the packaging would make my face look like it was melting off, it'd be so thick on my skin. So using an actual sunscreen under my makeup was a must.
I spend most of my day indoors, but all of the sun exposure I get dropping the kids off at school, driving to work and spending time outdoors when I get home and on weekends adds up. I know it's one extra step, but I've recognized it's also the most important one and should never be skipped.
Why mineral SPF?
Sunscreen comes in two formats: mineral (physical UV protection) and chemical (chemical ingredients that protect from UV light). After learning more about physical UV protection from my friend Angie who swears by it, I decided to make the switch permanently.
Here's a breakdown of the differences:
Chemical sunscreens absorb into your skin and convert UV light into heat (then release it). Chemical formulas tend to be thinner/easier to blend (so you'll use less product). However, they do come with an increased risk of skin and eye irritation and take about 20 minutes to become effective after application. They can also clog pores, though most modern formulas are designed not to.
A physical sunscreen sits on top of your skin, reflects UVA and UVB light and works immediately after application. It's safe for use on babies and in pregnancy and it less likely to irritate the skin. It also has a longer shelf life. One downside is that formulas tend to be thicker, thus requiring more effort to rub into the skin.
Olay's new mineral SPF
If you want to start wearing SPF daily (you should!) or you're considering switching to a mineral SPF, let me tell you what I love about Olay's new mineral SPF formula (also on amazon here and ulta here), which I've exclusively been using for over two weeks as part of my morning skincare routine (it's the last product I apply before my foundation).
Olay uses zinc in their mineral sunscreen, which is an anti-irritant and well tolerated by the skin – a huge bonus for me as my skin tends to be a little reactive at times.
Unlike some mineral sunscreens, Olay's formula is not thick at all – it's very lightweight and easy to apply – it's actually the lightest weight mineral SPF I've ever used, probably because it's packed with the moisturizing ingredients Olay is known for. It leaves zero white cast on the skin and wears perfectly under makeup (doesn't distort my makeup all day).
I love the pump on the sleek bottle – it's easy to get the perfect amount of product out (make sure you do your neck too!) Olay's mineral formula has a sun protection factor of 30, which is perfect for everyday wear.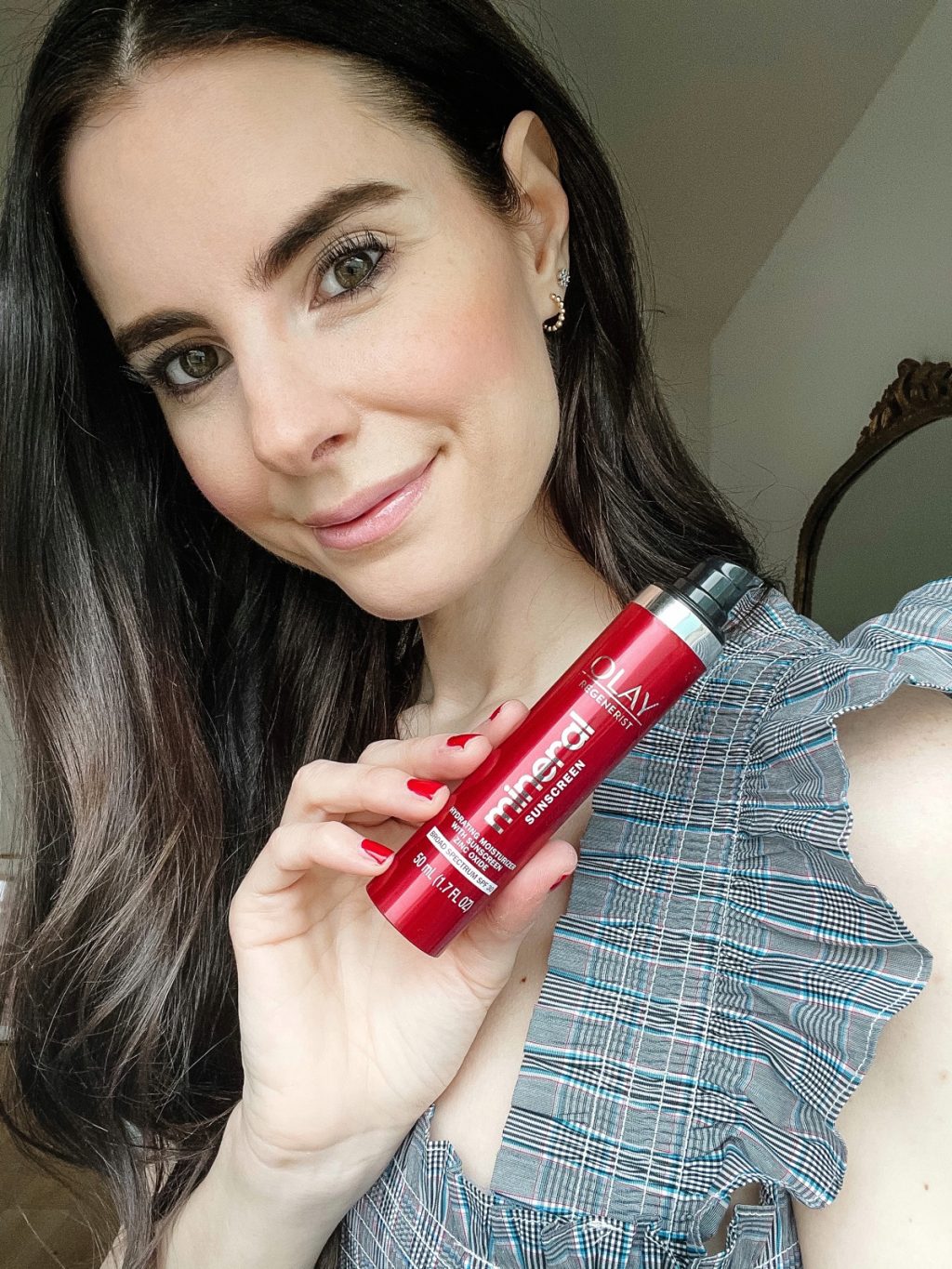 Will you make the commitment?
Will you join me in committing to wearing SPF daily? Regardless of the formula you choose, I'd love for you to consider making SPF use a part of your daily skincare routine no matter what. It takes less than a minute to add SPF to your morning skincare routine and I promise it's the best proactive thing you can do for your skin from a health perspective.
SHOP THE POST


Shop the Post