My latest round of Audible listens is full of books I really enjoyed (and one of my favorite reads of the year so far!) All book synopses are directly from Amazon.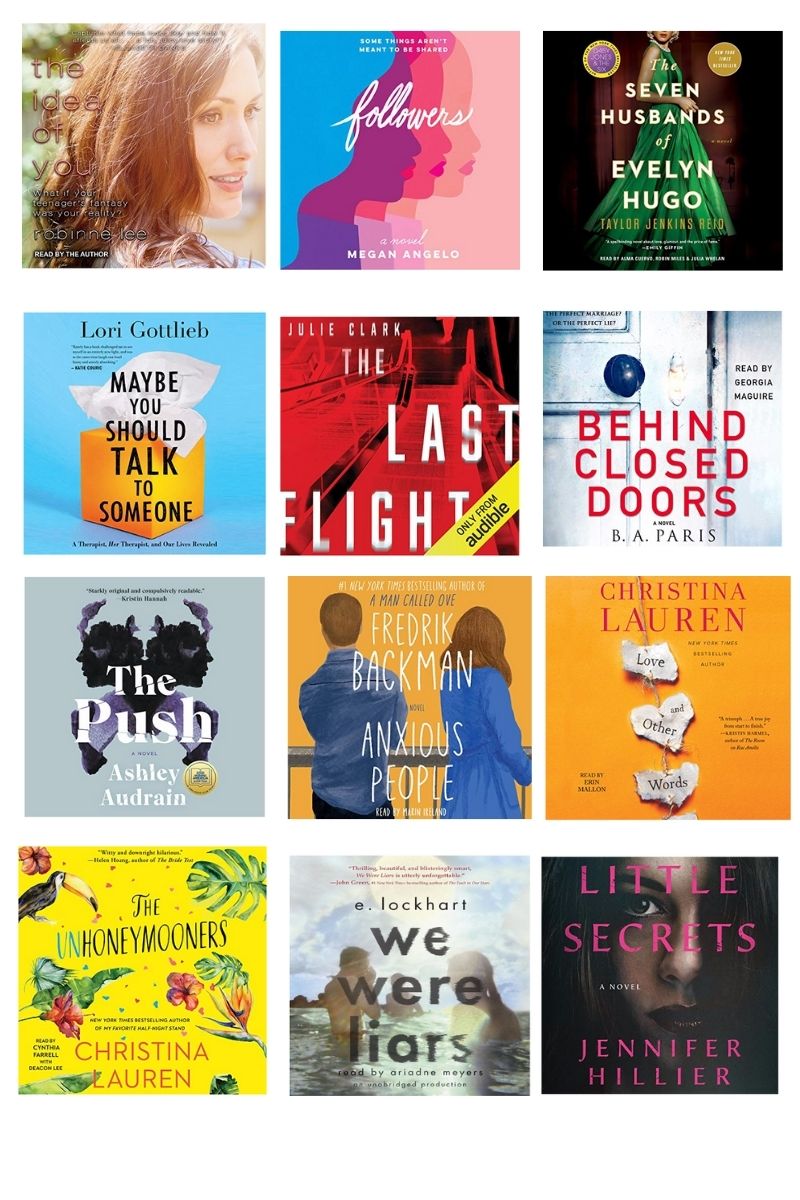 Synopsis: Solene Marchand, the 39-year-old owner of an art gallery in Los Angeles, is reluctant to take her daughter, Isabelle, to meet her favorite boy band. But since her divorce, she's more eager than ever to be close to Isabelle. The last thing Solene expects is to make a connection with one of the members of the world-famous August Moon.
But Hayes Campbell is clever, winning, confident, and posh, and the attraction is immediate. That he is all of 20 years old further complicates things. What begins as a series of clandestine trysts quickly evolves into a passionate and genuine relationship. It is a journey that spans continents as Solene and Hayes navigate each other's worlds: from stadium tours to international art fairs to secluded hideaways in Paris and Miami.
For Solene, it is a reclaiming of self, as well as a rediscovery of happiness and love. When Solene and Hayes's romance becomes a viral sensation, and both she and her daughter become the target of rabid fans and an insatiable media, Solene must face how her romantic life has impacted the lives of those she cares about most.
My review 5/5: If I could give this a 7/5, I would. My goodness y'all…this book still affects me, long after I listened to its last words. I just listened to it for a second time recently and it was just as good. So many of y'all have been impacted by this book – there's even a Facebook group dedicated to the book, where you can join other women in trying to move past it. The premise sounds kind of "eh" – a 40 year-old woman starts to date a young boy band member…but it is so much more than that. Ultimately, this book is a love story. I did not expect how invested I would become in the characters and it was incredibly difficult to move past. Nothing I've read since compares in terms of how affected I was. I don't want to share more details because I don't want to spoil anything…but prepare yourself for…a journey. I loved the dialogue in this book and highly recommend the audible version, which is read by the author, actress Robinne Lee. The way she brings these characters to life is amazing…I still think about Solene and Hayes a lot. This book is extremely sexually descriptive, FYI.
Followers

Synopsis: Orla Cadden is a budding novelist stuck in a dead-end job, writing clickbait about movie-star hookups and influencer yoga moves. Then Orla meets Floss – a striving, wannabe A-lister – who comes up with a plan for launching them both into the high-profile lives they dream about. So what if Orla and Floss' methods are a little shady – and sometimes people get hurt? Their legions of followers can't be wrong.
Thirty-five years later, in a closed California village where government-appointed celebrities live every moment of the day on camera, a woman named Marlow discovers a shattering secret about her past. Despite her massive popularity – 12 million loyal followers – Marlow dreams of fleeing the corporate sponsors who would do anything to keep her on-screen. When she learns that her whole family history is based on a lie, Marlow finally summons the courage to run in search of the truth, no matter the risks.
Followers traces the paths of Orla, Floss, and Marlow as they wind through time toward each other and toward a cataclysmic event that sends America into lasting upheaval. At turns wry and tender, bleak and hopeful, this darkly funny story reminds us that even if we obsess over famous people we'll never meet, what we really crave is genuine human connection.
My review 4/5: This was my post-TIOY read and I have to admit I was still so caught up in it, that I almost feel like this book has an unfair rating because I was still thinking about the intensity of TIOY when I read it. Having said that, I really enjoyed this book. The plot and concepts were unique and the relationships that unraveled in the book were intense and interesting. I also enjoyed the ending.
The Seven Husbands of Evelyn Hugo
Synopsis: Aging and reclusive Hollywood movie icon Evelyn Hugo is finally ready to tell the truth about her glamorous and scandalous life. But when she chooses unknown magazine reporter Monique Grant for the job, no one in the journalism community is more astounded than Monique herself. Why her? Why now?
Monique is not exactly on top of the world. Her husband, David, has left her, and her career has stagnated. Regardless of why Evelyn has chosen her to write her biography, Monique is determined to use this opportunity to jump-start her career.
Summoned to Evelyn's Upper East Side apartment, Monique listens as Evelyn unfurls her story: from making her way to Los Angeles in the 1950s to her decision to leave show business in the late '80s and, of course, the seven husbands along the way. As Evelyn's life unfolds – revealing a ruthless ambition, an unexpected friendship, and a great forbidden love – Monique begins to feel a very a real connection to the actress. But as Evelyn's story catches up with the present, it becomes clear that her life intersects with Monique's own in tragic and irreversible ways.
Written with Reid's signature talent for "creating complex, likable characters" (Real Simple), this is a fascinating journey through the splendor of Old Hollywood into the harsh realities of the present day as two women struggle with what it means – and what it takes – to face the truth.
My review 4.5/5: This was such a wonderful book. The writing was lovely and I loved the way the story was told. I did figure out the big plot twist before it happened, but it didn't change my opinion of the book. I would definitely say it's a must-read!
Maybe You Should Talk to Someone
Synopsis: From a New York Times best-selling author, psychotherapist, and national advice columnist, a hilarious, thought-provoking, and surprising new book that takes us behind the scenes of a therapist's world – where her patients are looking for answers (and so is she).
One day, Lori Gottlieb is a therapist who helps patients in her Los Angeles practice. The next, a crisis causes her world to come crashing down. Enter Wendell, the quirky but seasoned therapist in whose of­fice she suddenly lands. With his balding head, cardigan, and khakis, he seems to have come straight from Therapist Central Casting. Yet he will turn out to be anything but.
As Gottlieb explores the inner chambers of her patients' lives – a self-absorbed Hollywood producer, a young newlywed diagnosed with a terminal illness, a senior citizen threatening to end her life on her birthday if nothing gets better, and a 20-something who can't stop hooking up with the wrong guys – she finds that the questions they are struggling with are the very ones she is now bringing to Wendell.
With startling wisdom and humor, Gottlieb invites us into her world as both clinician and patient, examining the truths and fictions we tell ourselves and others as we teeter on the tightrope between love and desire, meaning and mortality, guilt and redemption, terror and courage, hope and change.
Maybe You Should Talk to Someone is revolutionary in its candor, offering a deeply personal yet universal tour of our hearts and minds and providing the rarest of gifts: a boldly revealing portrait of what it means to be human and a disarmingly funny and illuminating account of our own mysterious lives and our power to transform them.
My review 3/5: I enjoyed this book! It was a memoir style and kept me engaged. It's different from the usual books I read, but I liked it. I wouldn't say it's a must-read, but I liked it.
Synopsis: Everyone knows a couple like Jack and Grace. He has looks and wealth; she has charm and elegance. He's a dedicated attorney who has never lost a case; she is a flawless homemaker, a masterful gardener and cook, and dotes on her disabled younger sister. Though they are still newlyweds, they seem to have it all. You might not want to like them, but you do. You're hopelessly charmed by the ease and comfort of their home, by the graciousness of the dinner parties they throw. You'd like to get to know Grace better.
But it's difficult, because you realize Jack and Grace are inseparable.
Some might call this true love. Others might wonder why Grace never answers the phone. Or why she can never meet for coffee, even though she doesn't work. How she can cook such elaborate meals but remain so slim. Or why she never seems to take anything with her when she leaves the house, not even a pen. Or why there are such high-security metal shutters on all the downstairs windows.
Some might wonder what's really going on once the dinner party is over and the front door has closed.
My review 5/5: OMG…there are just no words. This is probably one of the most disturbing books I've read. I love thrillers and this one did not disappoint in that regard. It's one of those books where things just get worse and worse (and worse) and your jaw remains dropped open as you listen. The last sentence of this book was just…wow. It was the perfect conclusion for the entire book. I've already warned you that it's disturbing, but if you love a psychological thriller, this is a good one.
Synopsis: Two women. Two flights. One last chance to disappear. Claire Cook has a perfect life. Married to the scion of a political dynasty, with a Manhattan townhouse and a staff of 10, her surroundings are elegant, her days flawlessly choreographed, and her future auspicious. But behind closed doors, nothing is quite as it seems. That perfect husband has a temper that burns as bright as his promising political career, and he's not above using his staff to track Claire's every move, making sure she's living up to his impossible standards. But what he doesn't know is that Claire has worked for months on a plan to vanish.
A chance meeting in an airport bar brings her together with a woman whose circumstances seem equally dire. Together they make a last-minute decision to switch tickets – Claire taking Eva's flight to Oakland, and Eva traveling to Puerto Rico as Claire. They believe the swap will give each of them the head start they need to begin again somewhere far away. But when the flight to Puerto Rico goes down, Claire realizes it's no longer a head start but a new life. Cut off, out of options, with the news of her death about to explode in the media, Claire will assume Eva's identity, and along with it, the secrets Eva fought so hard to keep hidden.
For fans of Lisa Jewell and Liv Constantine, The Last Flight is the story of two women – both alone, both scared – and one agonizing decision that will change the trajectory of both of their lives.
My review 3.5/5: This book was a good listen – I liked the overall plot. I'd read so many rave reviews about this book that I think I expected more? I enjoyed it and it definitely kept my attention, but I wouldn't say it's a must-read. It did keep me engaged and I felt really bad for the main character/her marriage situation.
Synopsis: Looking at real estate isn't usually a life-or-death situation, but an apartment open house becomes just that when a failed bank robber bursts in and takes a group of strangers hostage. The captives include a recently retired couple who relentlessly hunt down fixer-uppers to avoid the painful truth that they can't fix their own marriage. There's a wealthy bank director who has been too busy to care about anyone else and a young couple who are about to have their first child but can't seem to agree on anything, from where they want to live to how they met in the first place. Add to the mix an eighty-seven-year-old woman who has lived long enough not to be afraid of someone waving a gun in her face, a flustered but still-ready-to-make-a-deal real estate agent, and a mystery man who has locked himself in the apartment's only bathroom, and you've got the worst group of hostages in the world.
Each of them carries a lifetime of grievances, hurts, secrets, and passions that are ready to boil over. None of them is entirely who they appear to be. And all of them — the bank robber included — desperately crave some sort of rescue.
As the authorities and the media surround the premises these reluctant allies will reveal surprising truths about themselves and set in motion a chain of events so unexpected that even they can hardly explain what happens next. Rich with Fredrik Backman's "pitch-perfect dialogue and an unparalleled understanding of human nature" (Shelf Awareness), Anxious People is an ingeniously constructed story about the enduring power of friendship, forgiveness, and hope — the things that save us, even in the most anxious times.
My review 4/5: I think this is one of the first books I've listened to by a male author in a very long time. I thought the story was pretty unique and I liked how you learned more about each character and their connections to one another as the story went on. It was one of those books that had a lot of layers to unfold and the way it was written is a bit different than I'm used to which was a fun change.
Synopsis: Blythe Connor is determined that she will be the warm, comforting mother to her new baby, Violet, that she herself never had. But in the thick of motherhood's exhausting early days, Blythe becomes convinced that something is wrong with her daughter – she doesn't behave like most children do.
Or is it all in Blythe's head? Her husband, Fox, says she's imagining things. The more Fox dismisses her fears, the more Blythe begins to question her own sanity, and the more we begin to question what Blythe is telling us about her life as well.
Then their son, Sam, is born – and with him, Blythe has the blissful connection she'd always imagined with her child. Even Violet seems to love her little brother. But when life as they know it is changed in an instant, the devastating fallout forces Blythe to face the truth.
The Push is a tour de force you will listen to in a sitting, an utterly immersive novel that will challenge everything you think you know about motherhood, about what we owe our children, and what it feels like when women are not believed.
My review 4.5/5: Oh wow. Someone recommended this to me on IG and it was a really good read. If you liked Verity, you will like this (this book was FAR less sexually explicit, too). The last chapter of this book left me shook.
Synopsis: Olive is always unlucky: in her career, in love, in…well, everything. Her identical twin sister, Amy, on the other hand, is probably the luckiest person in the world. Her meet-cute with her fiancé is something out of a romantic comedy (gag), and she's managed to finance her entire wedding by winning a series of internet contests (double gag). Worst of all, she's forcing Olive to spend the day with her sworn enemy, Ethan, who just happens to be the best man.
Olive braces herself to get through 24 hours of wedding hell before she can return to her comfortable, unlucky life. But when the entire wedding party gets food poisoning from eating bad shellfish, the only people who aren't affected are Olive and Ethan. And now, there's an all-expenses-paid honeymoon in Hawaii up for grabs.
Putting their mutual hatred aside for the sake of a free vacation, Olive and Ethan head for paradise, determined to avoid each other at all costs. But when Olive runs into her future boss, the little white lie she tells him is suddenly at risk to become a whole lot bigger. She and Ethan now have to pretend to be loving newlyweds, and her luck seems worse than ever. But the weird thing is that she doesn't mind playing pretend. In fact, she feels kind of…lucky.
My review 4/5: This was fun! I needed a light/romantic read after reading The Push/Behind Closed Doors and this was cute, fun and an easy listen. Nothing groundbreaking and like many romantic comedies, it was predictable, but a great "beach read."
Synopsis: Macy Sorensen is settling into an ambitious if emotionally tepid routine: work hard as a new pediatrics resident, plan her wedding to an older, financially secure man, keep her head down and heart tucked away.
But when she runs into Elliot Petropoulos – the first and only love of her life – the careful bubble she's constructed begins to dissolve. Once upon a time, Elliot was Macy's entire world – growing from her gangly teen friend into the man who coaxed her heart open again after the loss of her mother…only to break it on the very night he declared his love for her.
Told in alternating timelines between then and now, teenage Elliot and Macy grow from friends to much more – spending weekends and lazy summers together in a house outside of San Francisco reading books, sharing favorite words, and talking through their growing pains and triumphs. As adults, they have become strangers to one another until their chance reunion. Although their memories are obscured by the agony of what happened that night so many years ago, Elliot will come to understand the truth behind Macy's decade-long silence and will have to overcome the past and himself to revive her faith in the possibility of an all-consuming love.
My review 4.5/5: This is my most recent and listen and wow. This story was one I couldn't stop listening to! I was very invested in the characters – their relationship was very intense. It was one of those coming of age love stories with lots of twists and turns. The book alternated each chapter from "then" and "now."
Synopsis: A beautiful and distinguished family. A private island. A brilliant, damaged girl; a passionate, political boy. A group of four friends—the Liars—whose friendship turns destructive. A revolution. An accident. A secret.
Lies upon lies. True love. The truth. Read it. And if anyone asks you how it ends, just LIE.
My review 2.5/5: This book was just "meh" for me. I was just going through the motions waiting for it to end, TBH. I went into it thinking it would have all kinds of twists and it just…wasn't great. It wasn't horrible, but it's not a book I'd put on a "must read" list. It's interesting because some reviewers absolutely loved it and some are confused, like I was, at how anyone can give it five stars. I guess this one just wasn't for me.
Synopsis: Marin had the perfect life. Married to her college sweetheart, she owns a chain of upscale hair salons, and Derek runs his own company. They're admired in their community and are a loving family – until their world falls apart the day their son, Sebastian, is taken.
A year later, Marin is a shadow of herself. The FBI search has gone cold. The publicity has faded. She and her husband rarely speak. She hires a PI to pick up where the police left off, but instead of finding Sebastian, she learns that Derek is having an affair with a younger woman. This discovery sparks Marin back to life. She's lost her son; she's not about to lose her husband, too. Kenzie is an enemy with a face, which means this is a problem Marin can fix. Permanently.
My review 4/5: This was a good thriller with lots of twists and turns. Definitely a rough topic (child abduction) but it kept me interested and though I did figure out some of the twists, the ending was crazy.
I hope y'all enjoyed this post and would love your book recommendations for my next reads!