I haven't done a Nordstrom post in such a long time, so I ordered a trunk from Trunk Club and it was a big hit and included lots of workwear staples that I can't wait to delve into – so here we go!
EYELET LACE TOP: size small & MOTHER THE LOOKER HIGH WAISTED JEANS (these are a 28, but need a 27).
This top is a standout one – the embroidery details are lovely, the puff sleeves are on-trend and the layered peplum hem is so pretty. It's at a great price point too, for the level of detail the top has.
These jeans surprised me in the best way. They're so soft and stretchy. One of the softest and most comfortable pairs I've ever tried on. I found them to be mid-rise, even though it says they're high-waisted. If they had arrived in my size, I couldn't have resisted keeping them.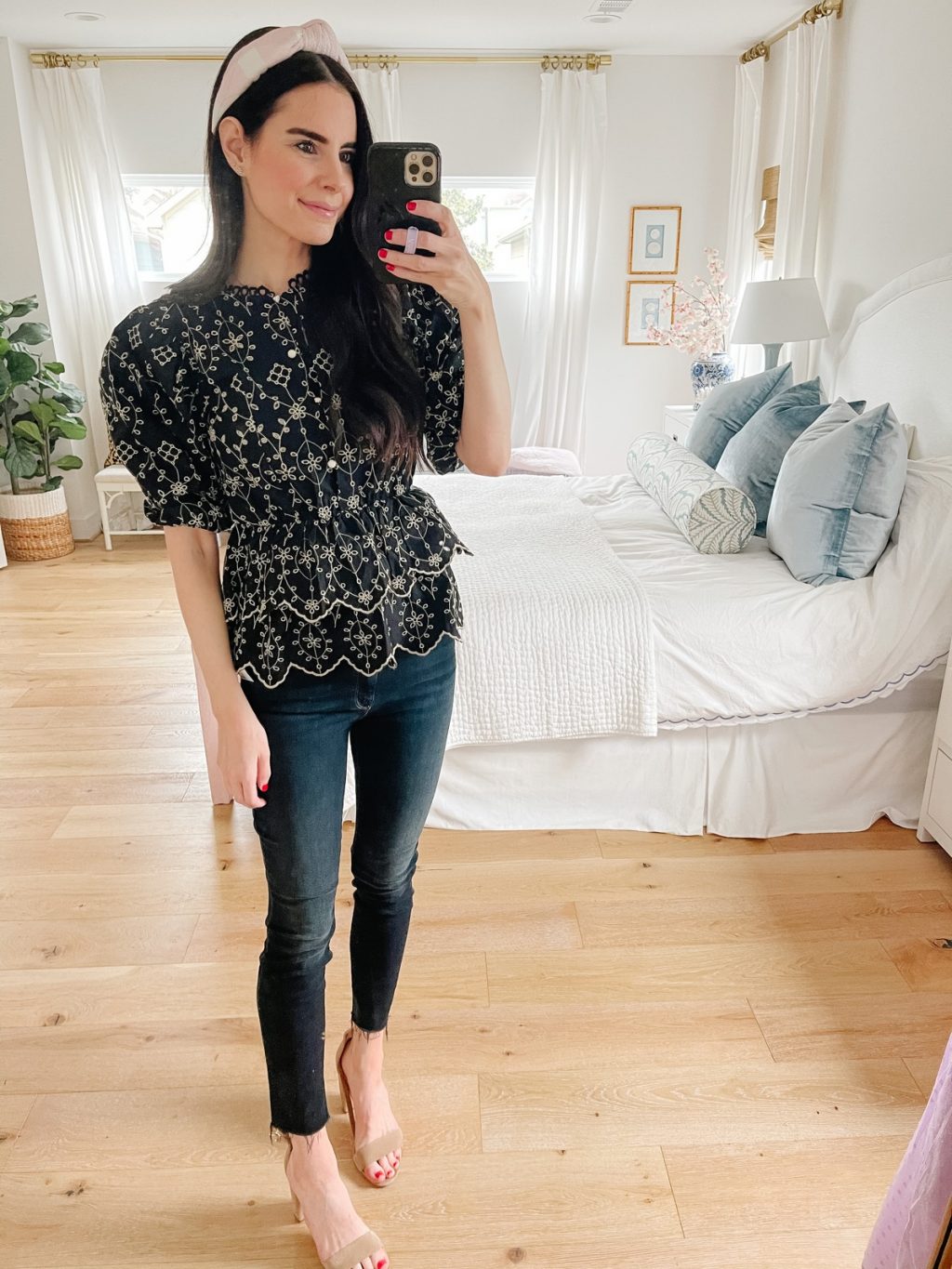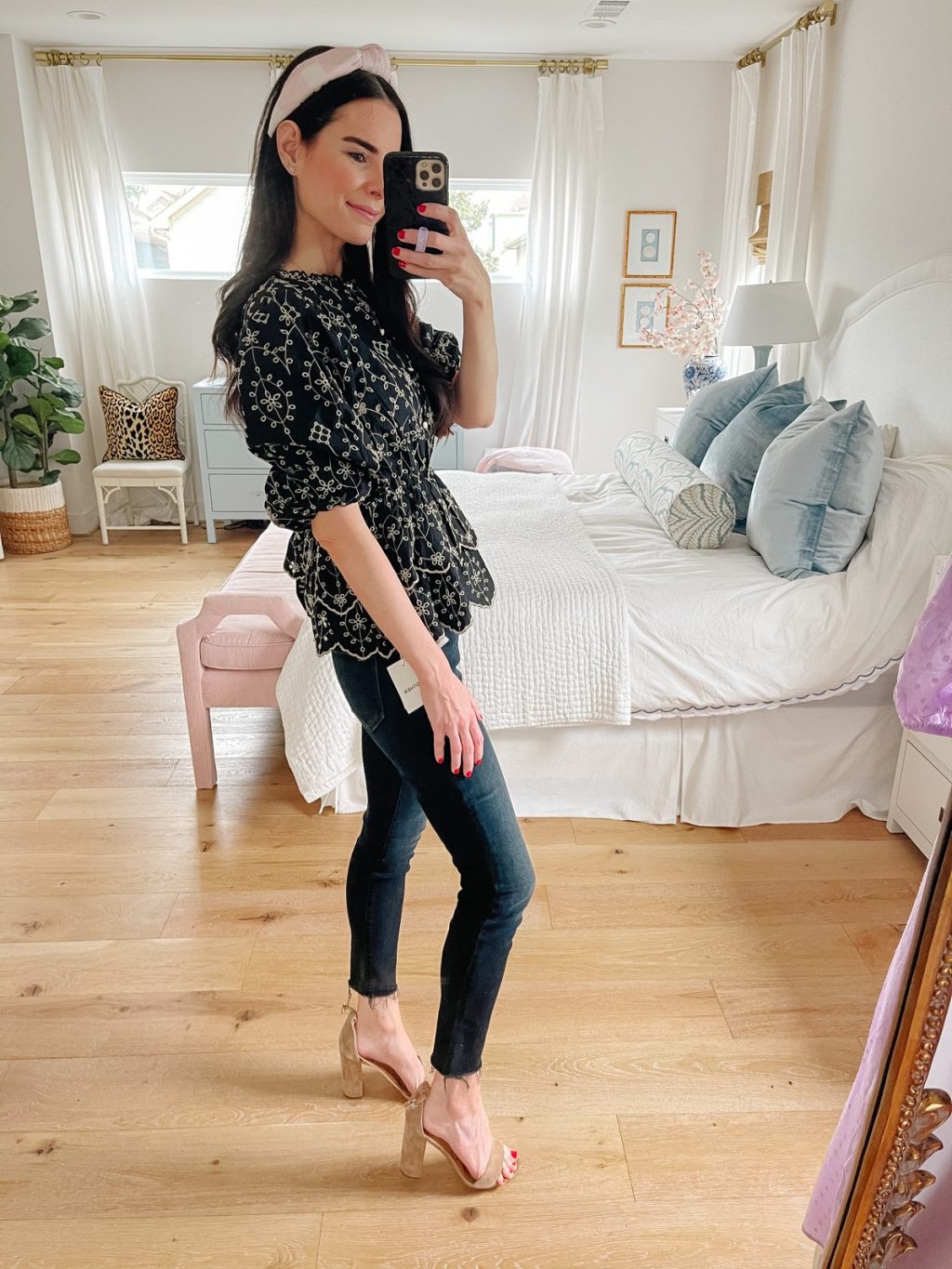 FLORAL DOUBLE PUFF BLOUSE (size small):
What a perfect blouse for the office or for a night out with denim. I love the volume in the sleeves and the subtle black and white print. I'd say it's safe to size down in this one and would go with an XS versus this small as it's a more generous fit.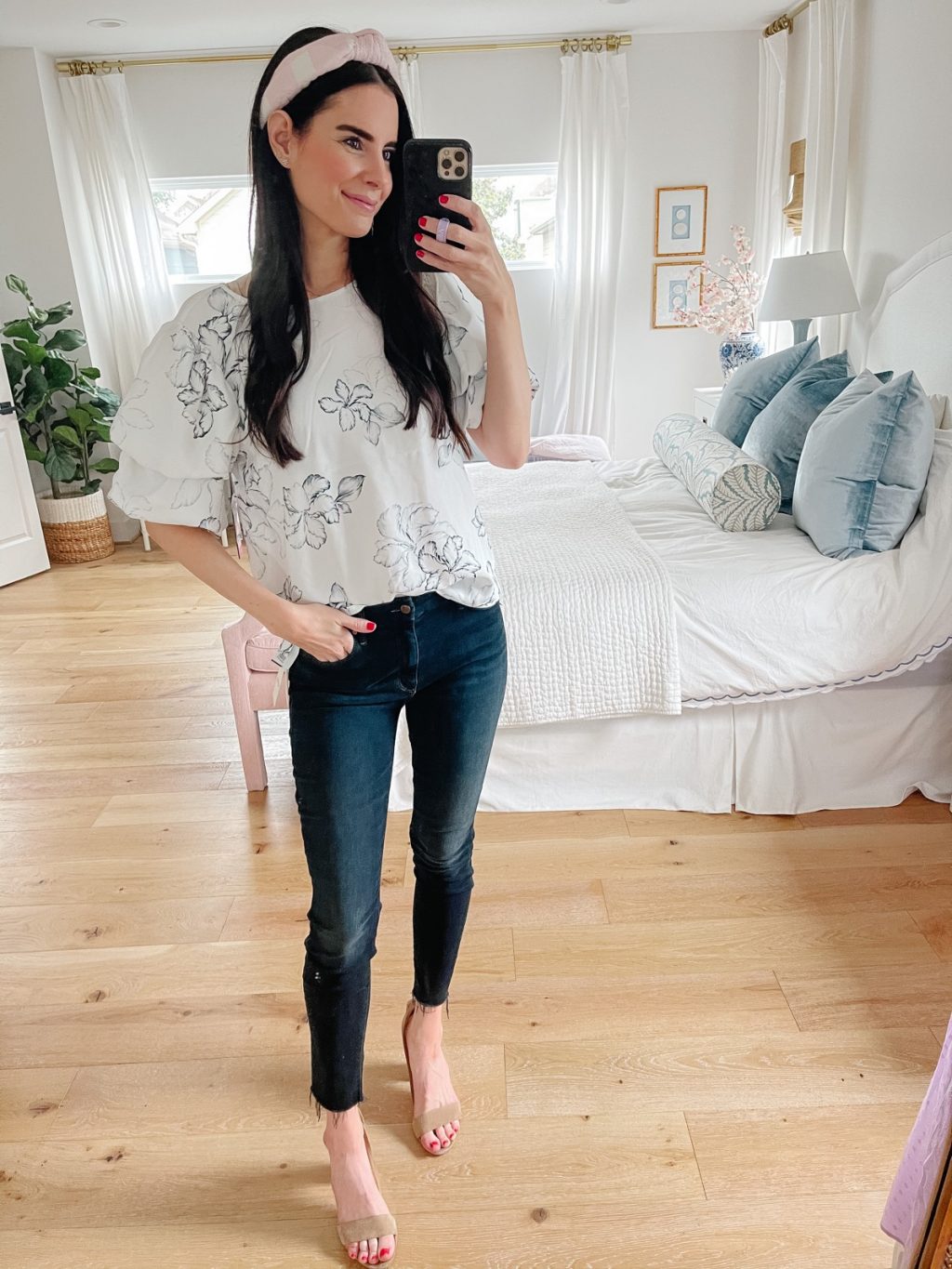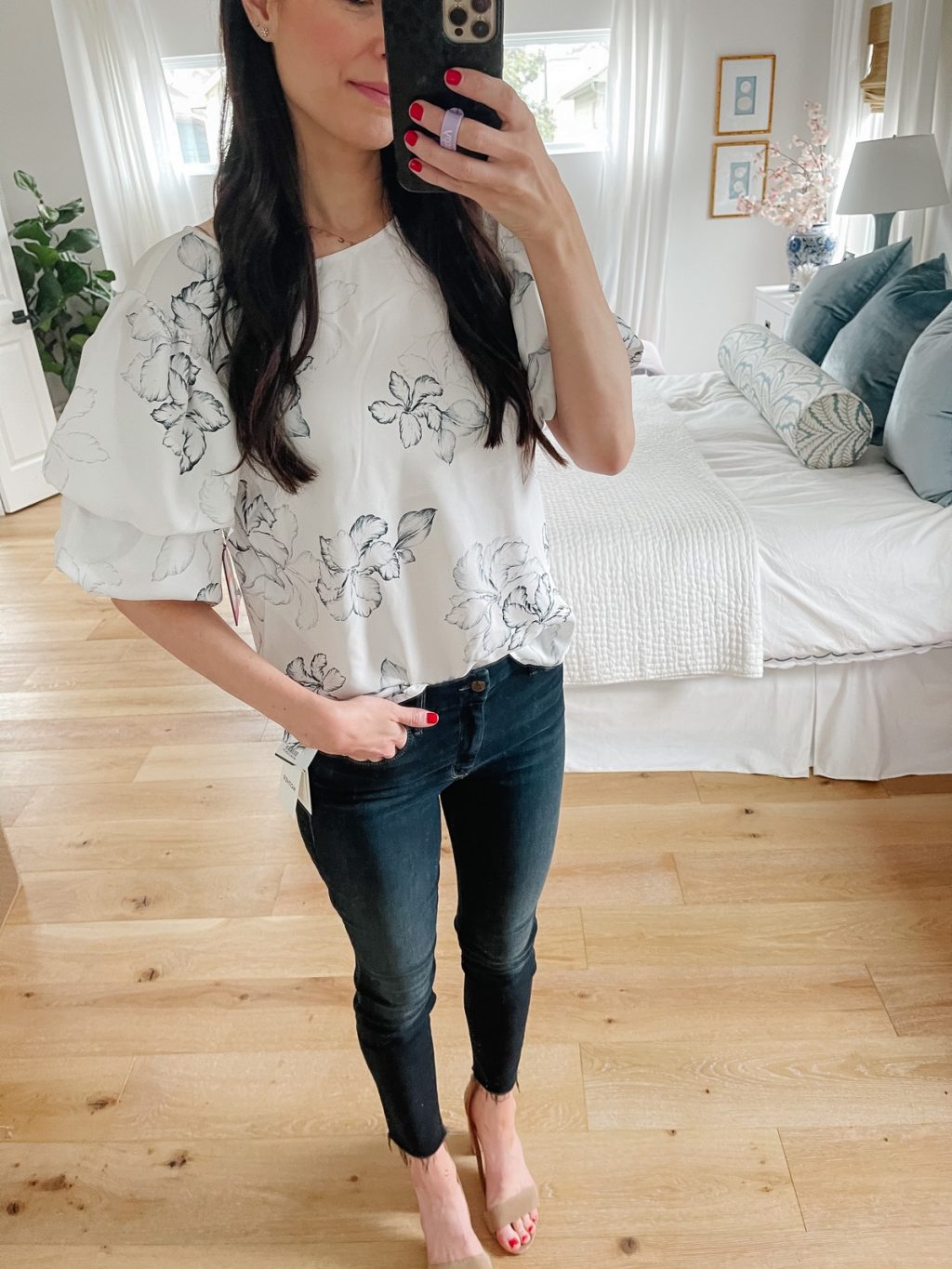 RAILS PUFF SLEEVE TOP (size small):
I adore this top – it's versatile and can be worn with jeans, shorts or to the office, but it's a t-shirt material, so it's nice for the hot summer days to come. The soft material is breathable and the sleeves have the cutest eyelet detail at the bottom. It's what I see an an elevated basic.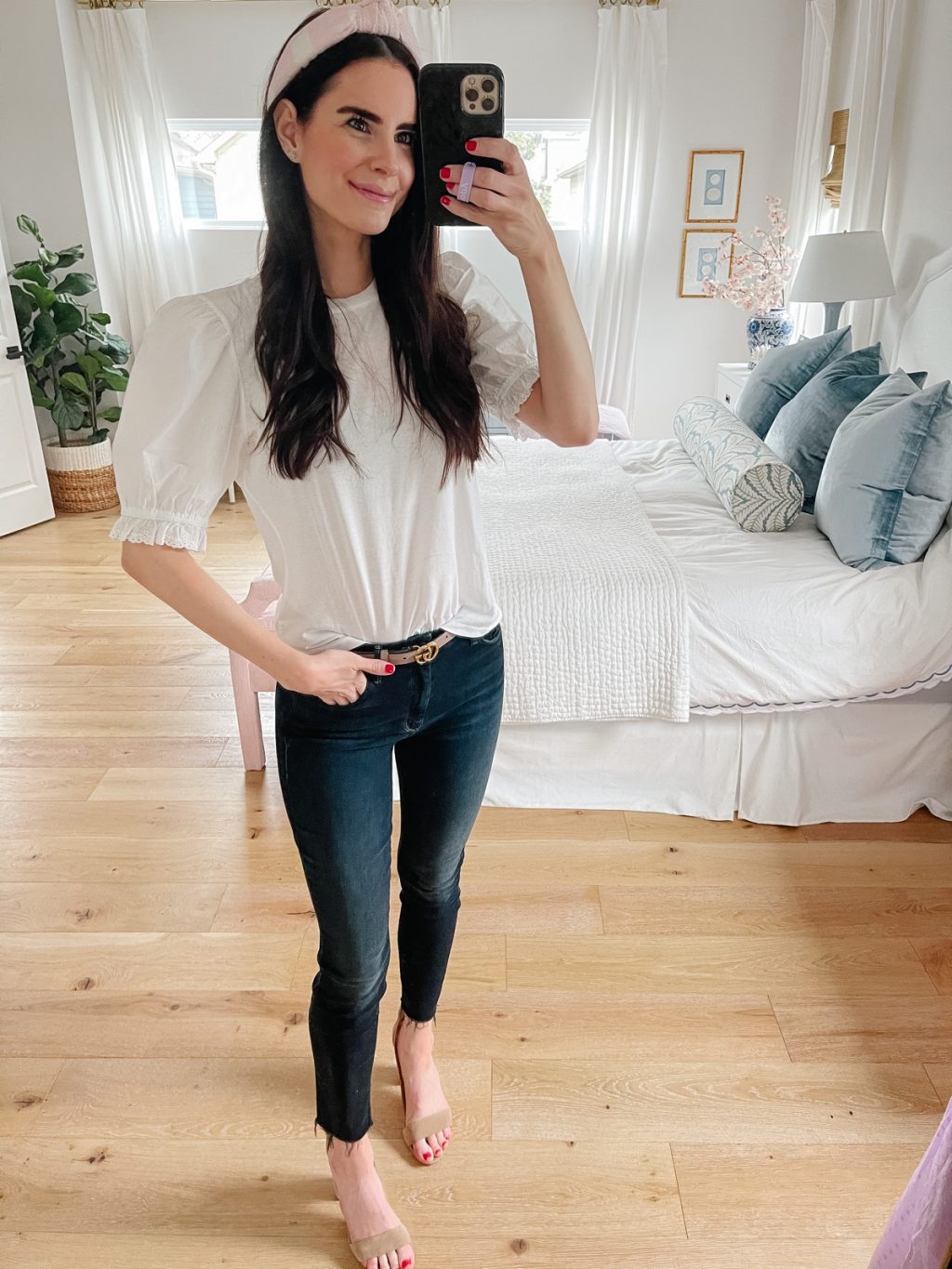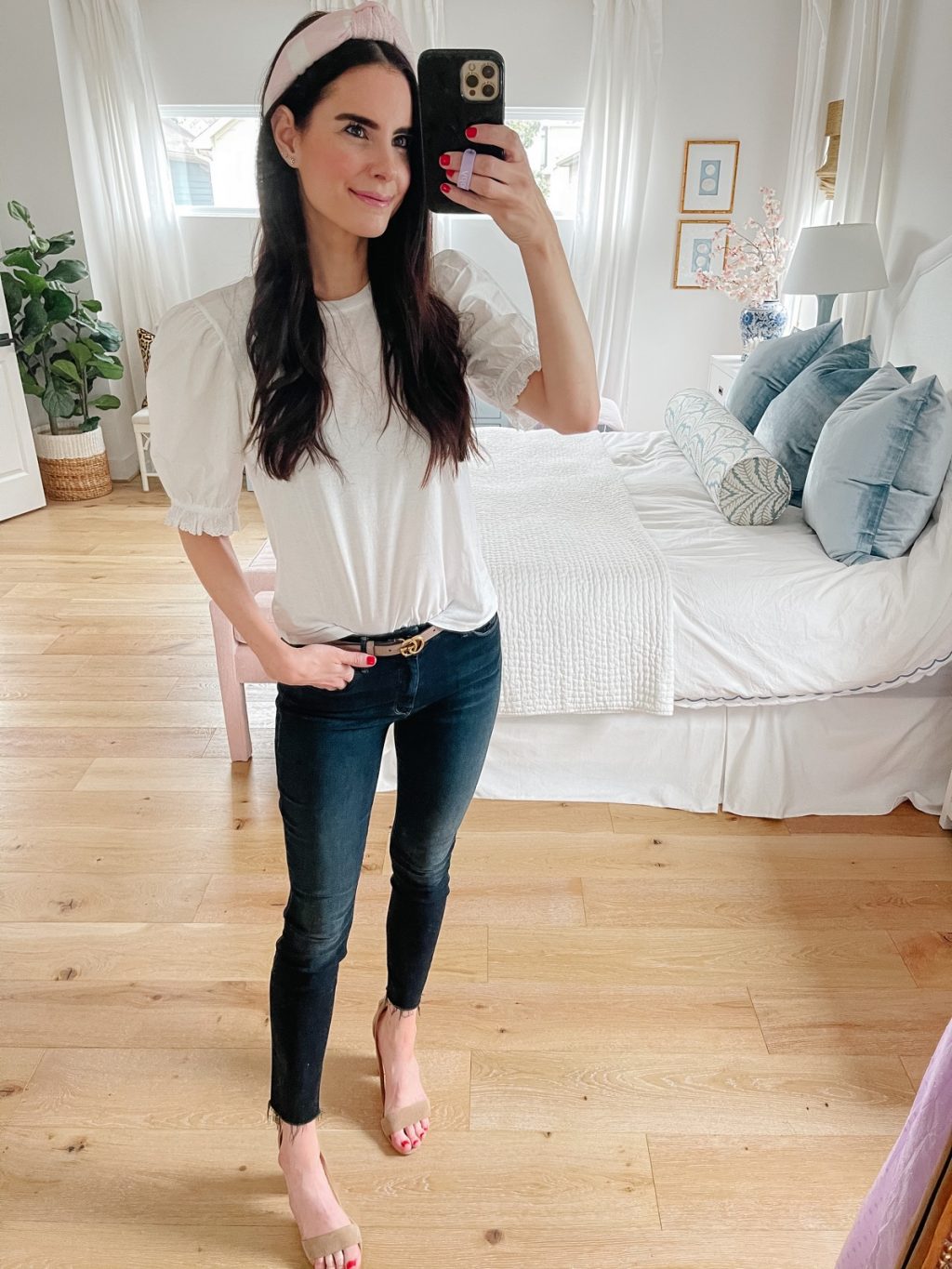 SCALLOPED TANK (size small):
I already own this black scalloped tank but wanted to share this one anyway since it was in my trunk and I really like it! Perfect worn on its own or layered under a blazer or cardigan for the office, which I how I always wore mine!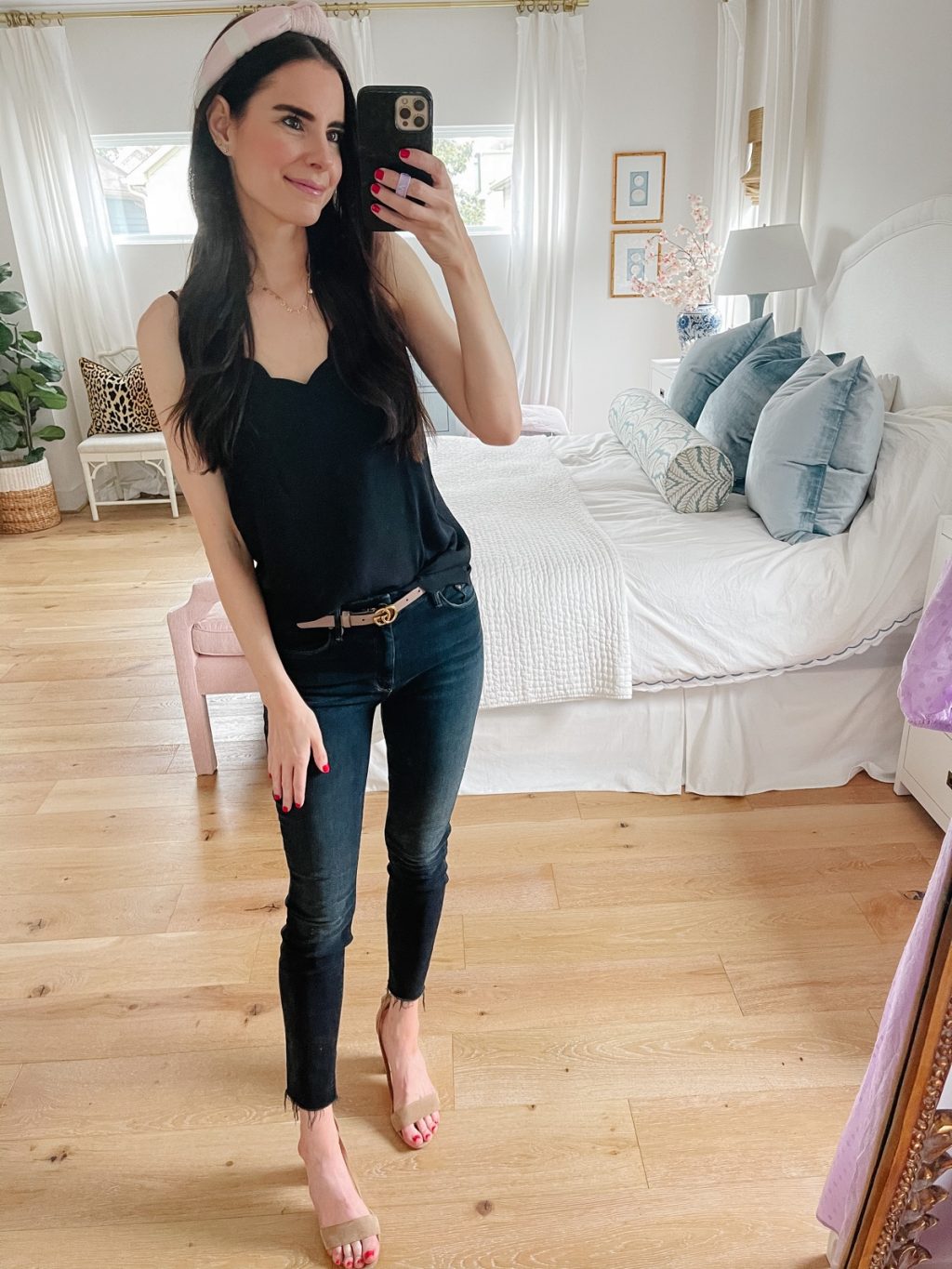 HIDDEN BUTTON LONG SLEEVED BLOUSE (size small):
What a fantastic blouse! It's so flattering, feels great on and is perfect for a corporate environment. It's lightweight but not see-through and it's a great basic that can be styled many ways.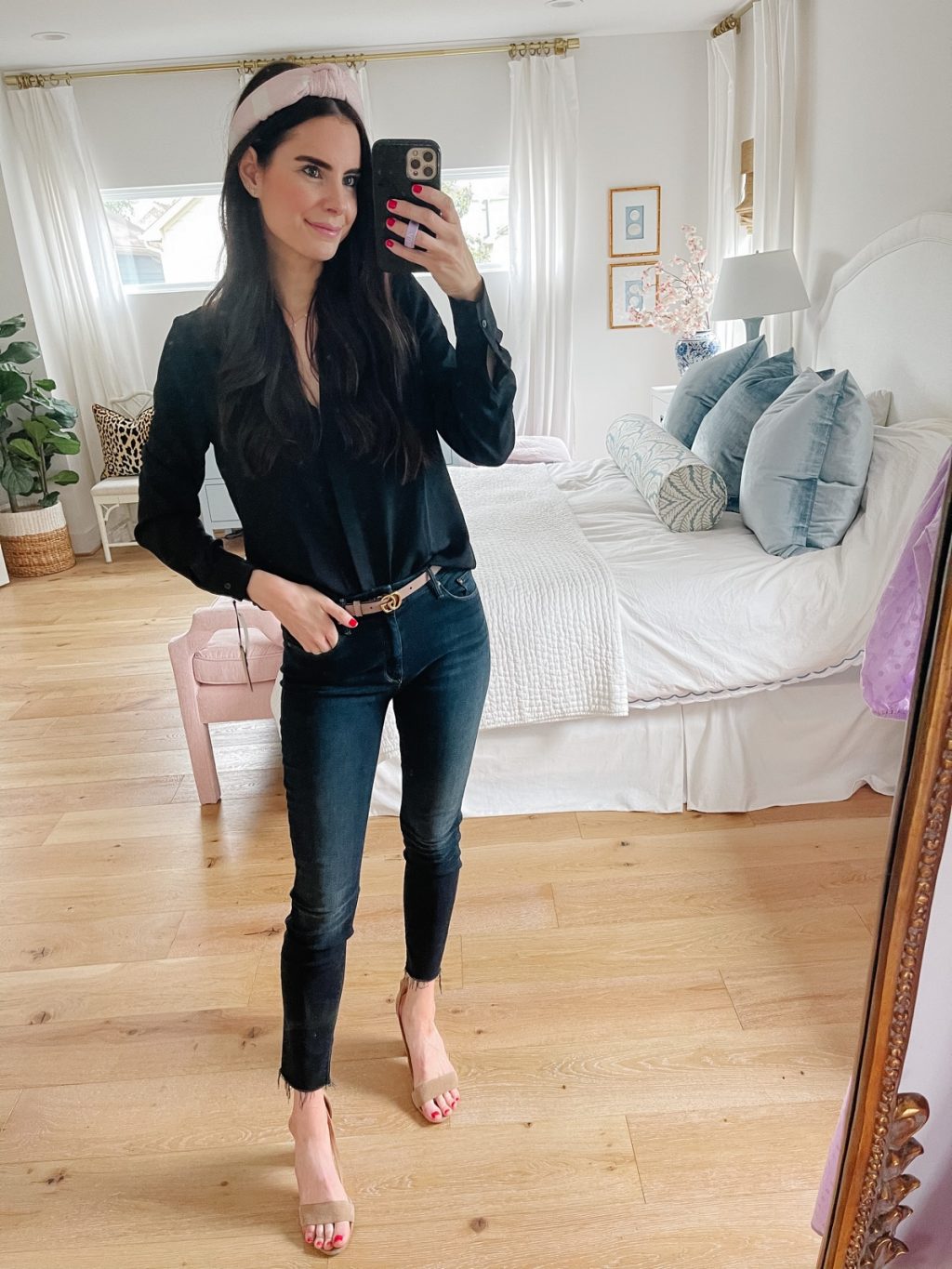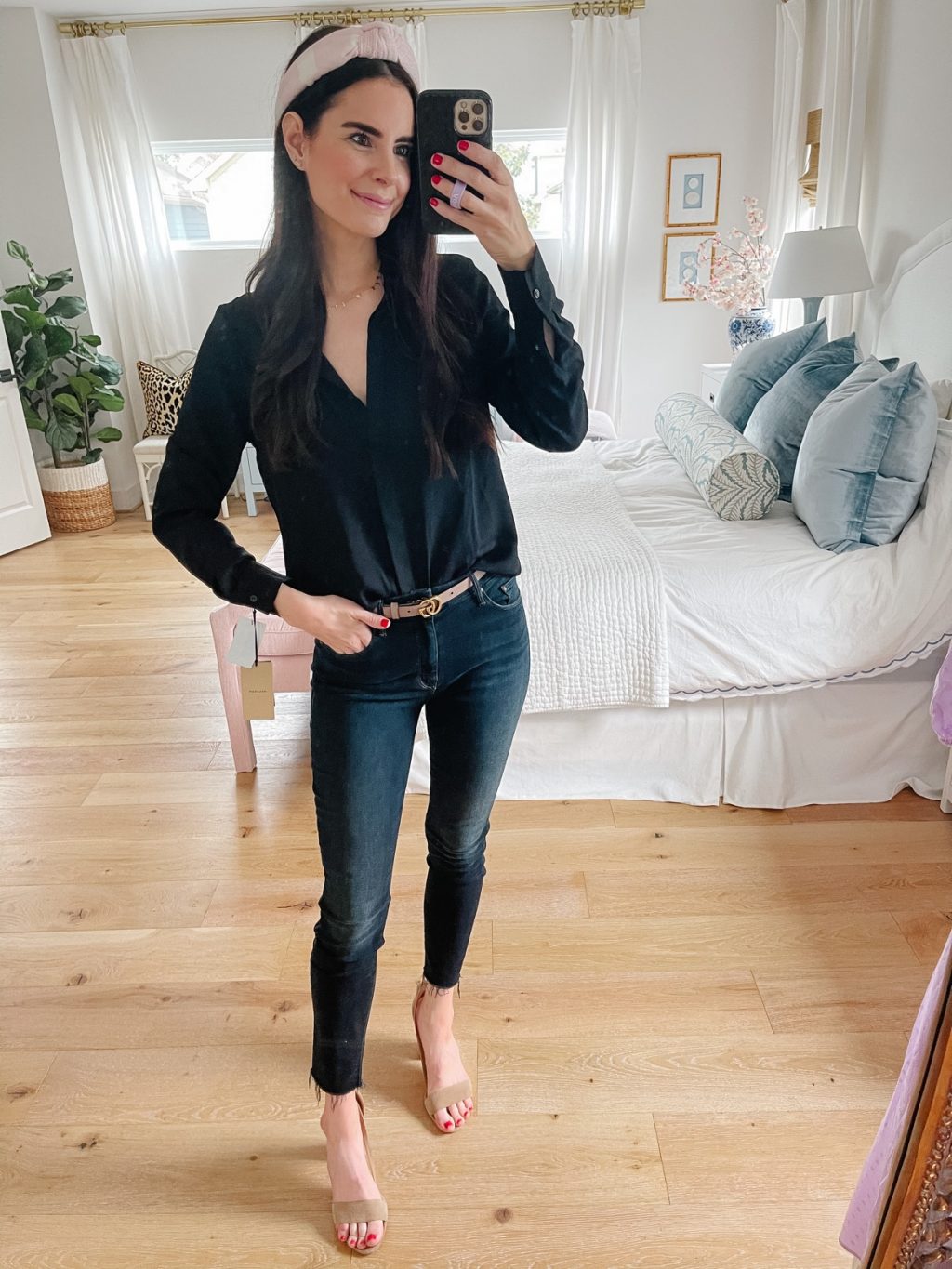 CAP SLEEVE BLOUSE (size small):
Another lovely office basic – especially with warmer temperatures coming. I love the sleeves and overall fit of this top – I'd wear it tucked into dress pants or a skirt. I think you could size down in this one unless you have a large bust as it's a flowy fit.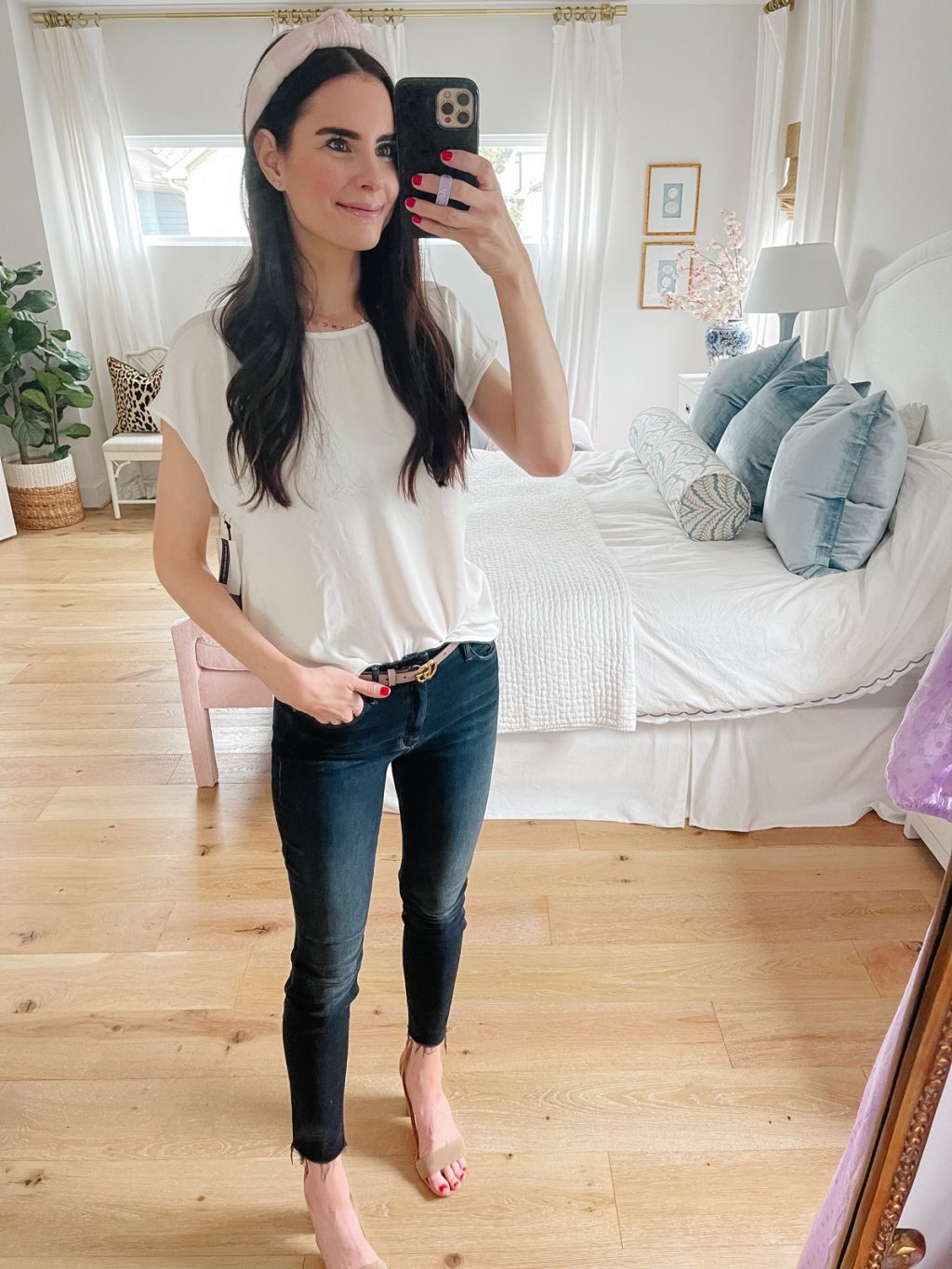 EYLET TOP (size small):
This is one of the softest/smoothest fabrics I've ever felt – it has a slight slink to it too. The eyelet detail is super pretty too. I own a lot of tops like this already, but if I didn't, it's something I'd add to my closet.
SABINE HIGH WAISTED JEANS (size 28, need 27):
I really like these jeans – the waist is really high, the leg is a straight fit and they hit my ankle at the perfect spot. I'd like to try them in the next size down before committing because jeans tend to stretch so I want to test them out in my true size first!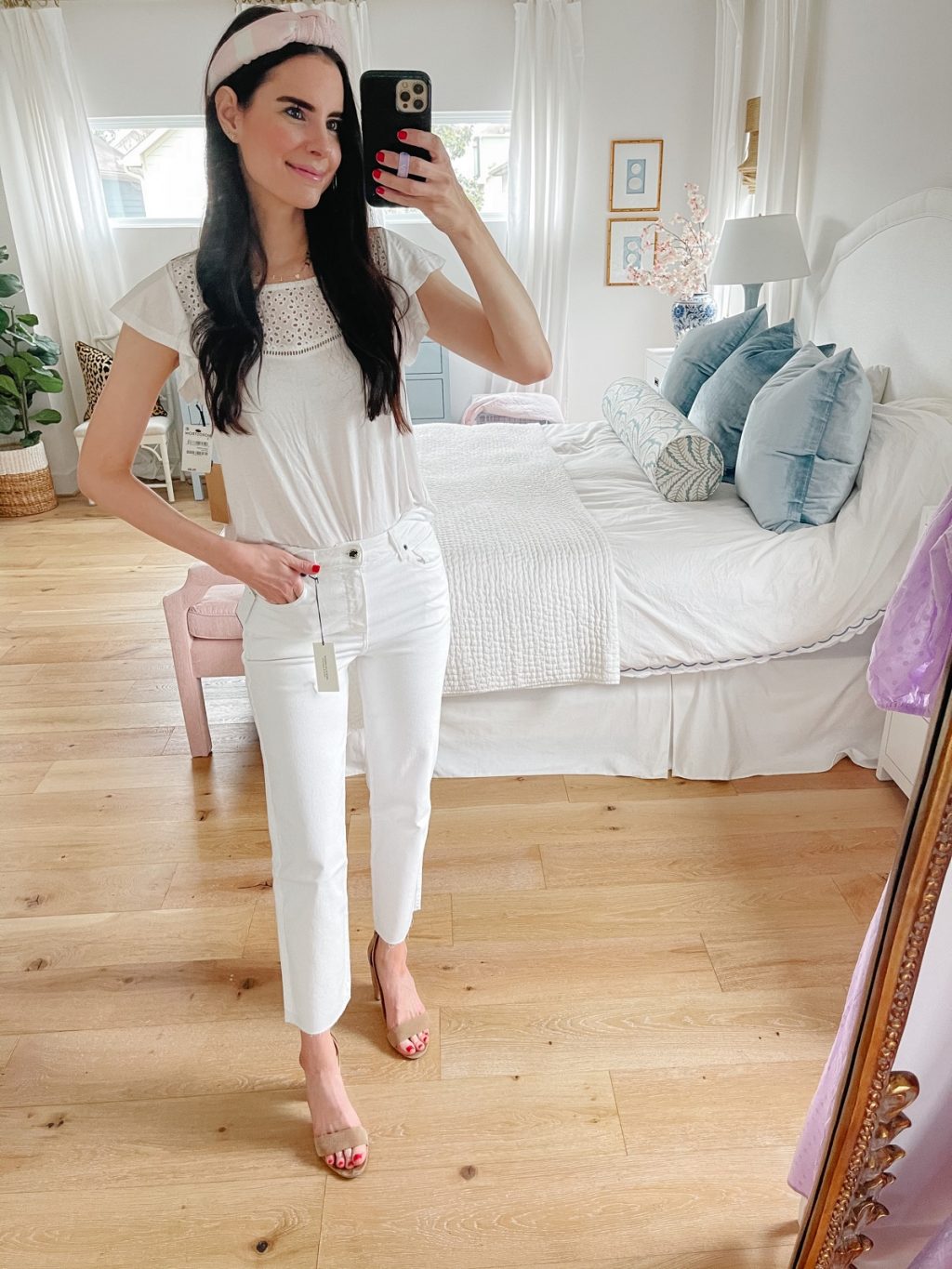 YELLOW DRESS (size 4):
This dress is pretty, but for over $300, it's not worth the splurge. The color doesn't flatter me as well as I'd hope, so this one is a pass for me!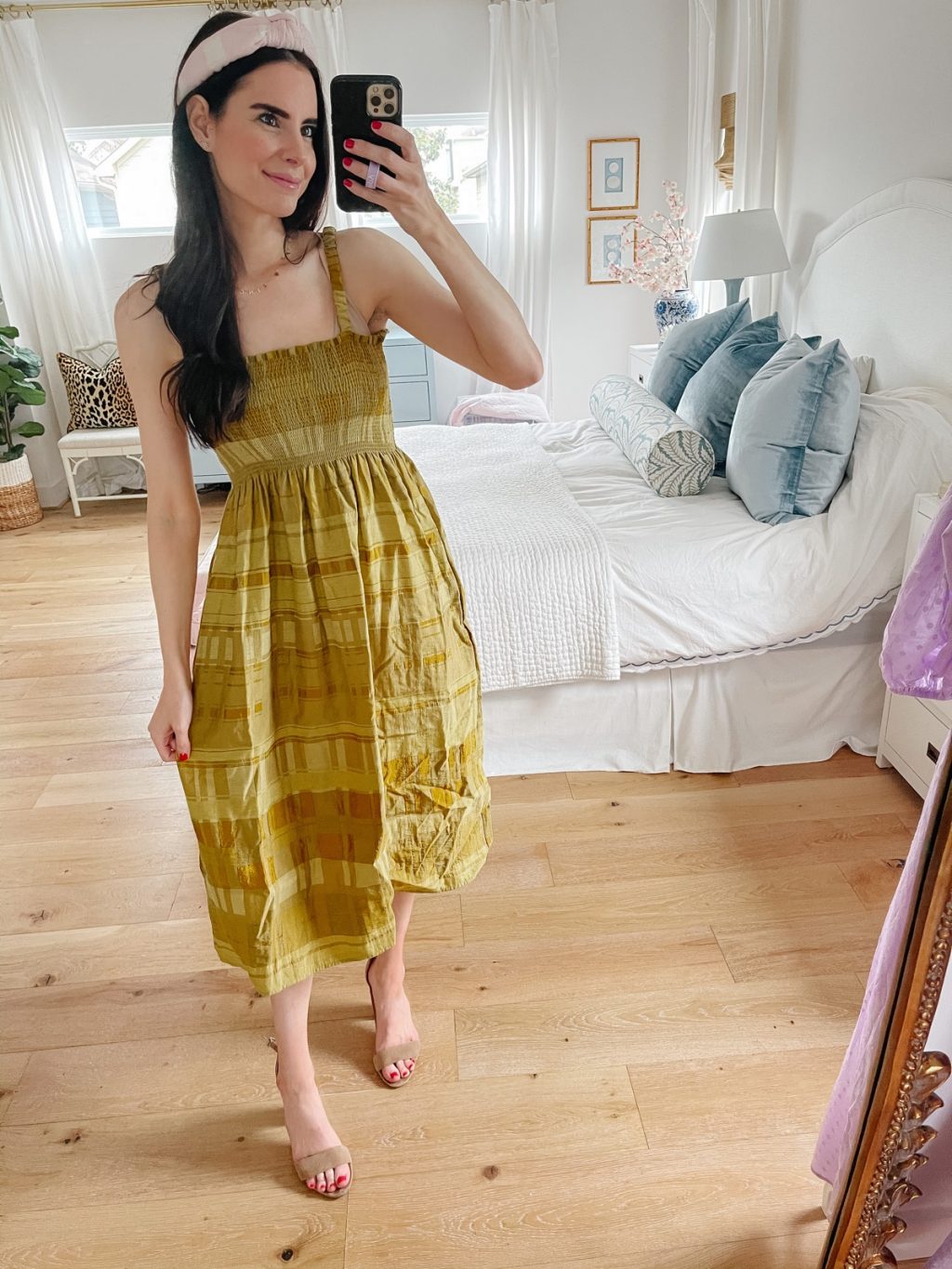 I also tried on this hat and this visor, but both were a miss for me. I think they just don't fit my head right – I have this visor from amazon that is way more affordable and cuter on me!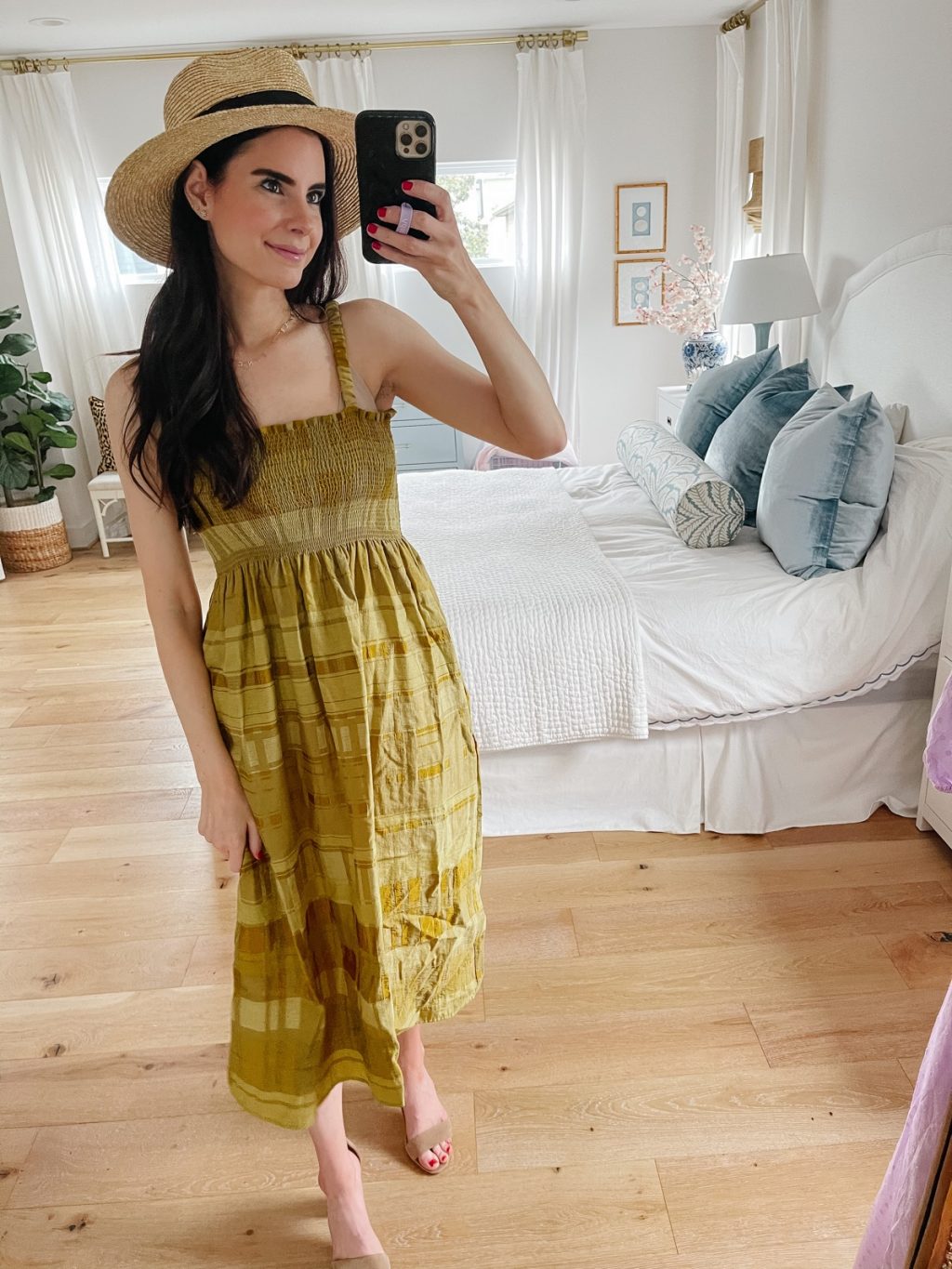 While we're here, I wanted to share some more Nordstrom favorites below I found while pursuing the website – as y'all can tell, I love white, pink and black, haha!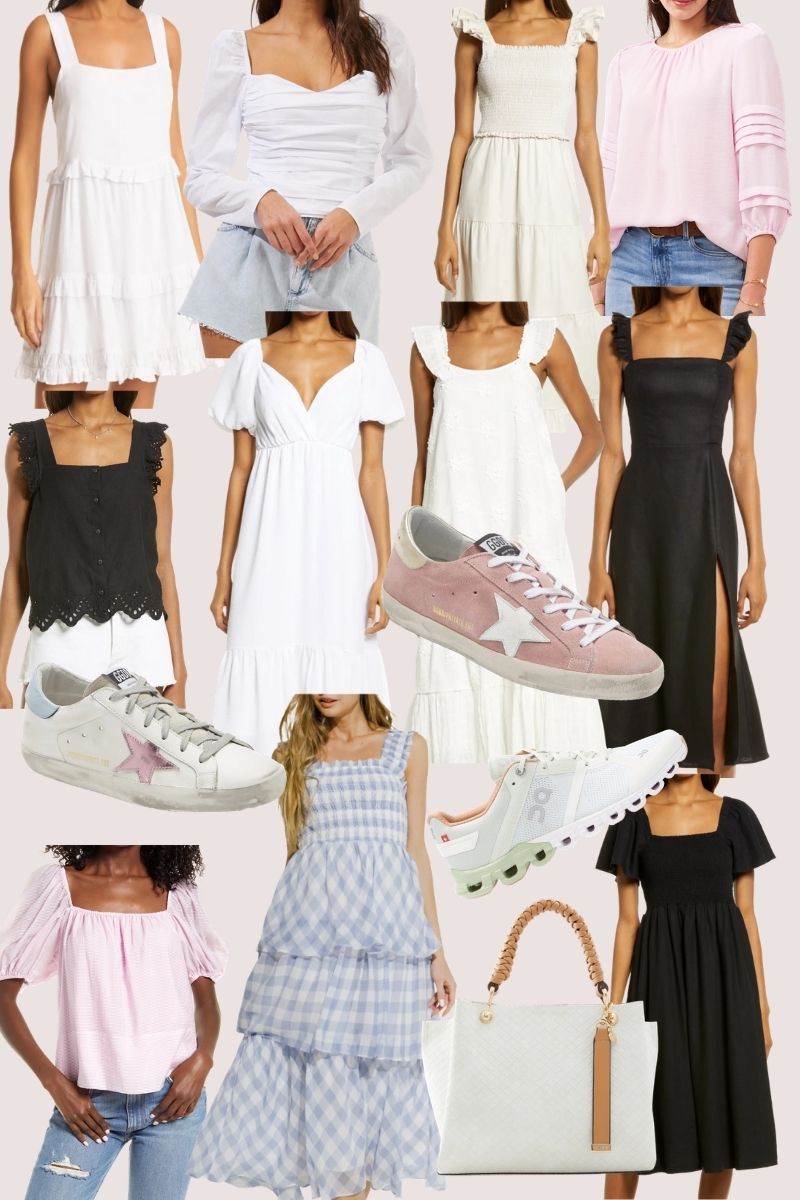 short white ruffle dress | ASTR ruched top | cloud sneakers | smocked linen blend sundress | pink gauze blouse | eyelet button up top | faux leather tote | ballon sleeve midi dress | black ruffle shoulder dress | ruffle strap white dress | striped balloon sleeve top | gingham check sundress | black smocked midi dress | golden goose sneakers | pink golden goose sneakers |
Happy shopping!

SHOP THE POST:



Shop the Post