Since I've started working from home, I'm able to listen to Audible books way more often than before. I listen while doing work that doesn't involve writing (like curating items for posts, editing photos, making graphics, etc.) I also listen while getting ready in the morning, any time I'm driving and sometimes even in my AirPods when I'm grocery shopping or at Target. Basically, I try to listen as often as I can – I guess you could say I'm kind of addicted to audiobooks. I get three credits per month from my membership and usually buy another 3 every month, for about $11 each, so not bad at all.
One thing I want to mention when it comes to my reviews – I base my rating on the category/genre. So some books get a 5/5 not because they're life- changing or inspired me in some way, but because the read was super enjoyable for the genre, if that makes sense! A cute beach read may not be incredible literature, but it may have really entertained me, made me feel happy or overall was an addictive read.
Read my previous Audible reviews, here.
*All synopses in this post are directly from Amazon.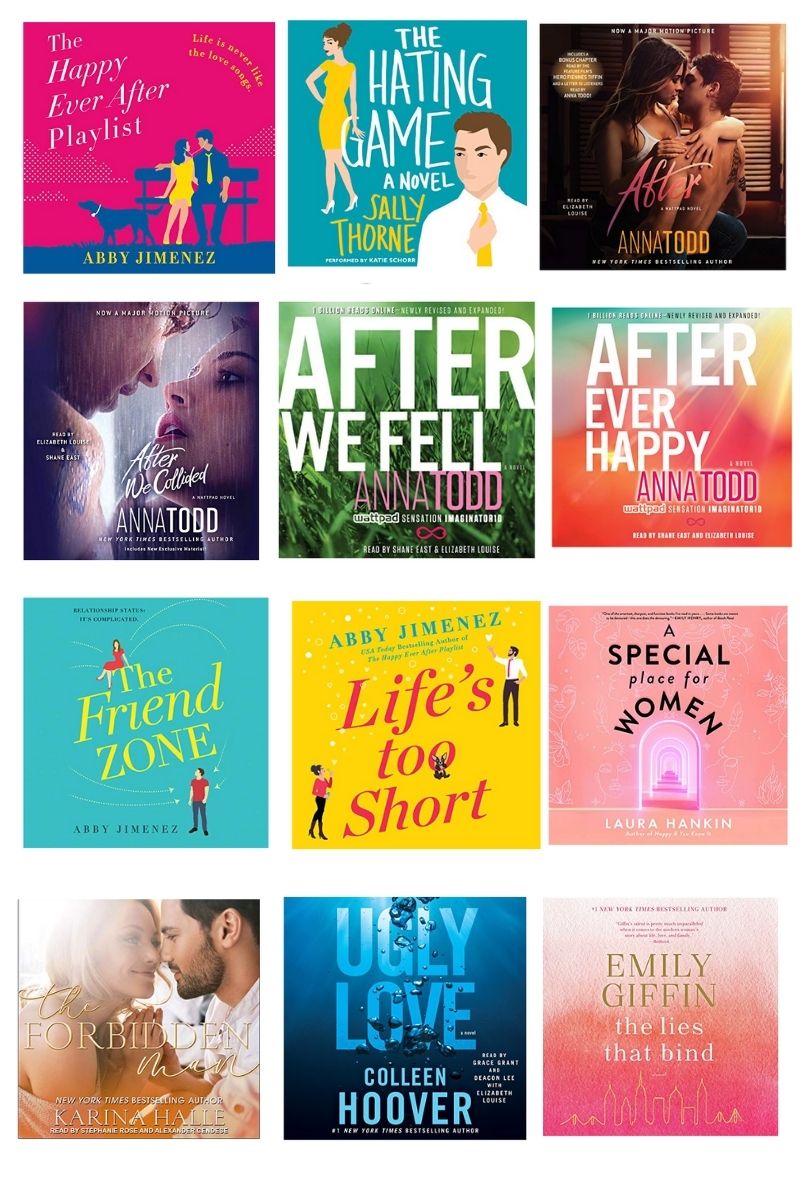 The Happy Ever After Playlist
Synopsis: Two years after losing her fiancé, Sloan Monroe still can't seem to get her life back on track. But one trouble-making pup with a "take me home" look in his eyes is about to change everything. With her new pet by her side, Sloan finally starts to feel more like herself. Then, after weeks of unanswered texts, Tucker's owner reaches out. He's a musician on tour in Australia. And bottom line: He wants Tucker back.
Well, Sloan's not about to give up her dog without a fight. But what if this Jason guy really loves Tucker? As their flirty texts turn into long calls, Sloan can't deny a connection. Jason is hot and nice and funny. There's no telling what could happen when they meet in person. The question is: With his music career on the rise, how long will Jason really stick around? And is it possible for Sloan to survive another heartbreak?
My review: 5/5. My gosh this was an addicting listen! I loved the characters, the storyline, their relationship – just everything! I loved it so much that I ended up reading the two other books in the series. FYI, the characters in each book are all interconnected, so you should technically read them in order and this was book #2 – but I didn't feel it ruined the first one!
The Hating Game
Synopsis: Lucy Hutton has always been certain that the nice girl can get the corner office. She's charming and accommodating and prides herself on being loved by everyone at Bexley & Gamin. Everyone except for coldly efficient, impeccably attired, physically intimidating Joshua Templeman. And the feeling is mutual.
Trapped in a shared office together 40 (ok, 50 or 60) hours a week, they've become entrenched in an addictive, ridiculous never-ending game of one-upmanship. There's the Staring Game. The Mirror Game. The HR Game. Lucy can't let Joshua beat her at anything – especially when a huge new promotion goes up for the taking. If Lucy wins this game, she'll be Joshua's boss. If she loses, she'll resign. So why is she suddenly having steamy dreams about Joshua and dressing for work like she's got a hot date?
After a perfectly innocent elevator ride ends with an earth-shattering kiss, Lucy starts to wonder whether she's got Joshua Templeman all wrong. Maybe Lucy Hutton doesn't hate Joshua Templeman. And maybe he doesn't hate her either. Or maybe this is just another game. 
My review: 3.5/5. This book was cute, but just OK. I didn't get into it as much as Abby Jimenez's books, but it was still a good read. Not at the top of my list in this genre, but I did get through it pretty quickly.
The After Series (After, After We Collided, After We Fell, After Ever Happy)
Synopsis (Book 1):
There was the time before Tessa met Hardin, and then there's everything after.… Life will never be the same. #Hessa 
Tessa is a good girl with a sweet, reliable boyfriend back home. She's got direction, ambition, and a mother who's intent on keeping her that way. But she's barely moved into her freshman dorm when she runs into Hardin. With his tousled brown hair, cocky British accent, and tattoos, Hardin is cute and different from what she's used to. But he's also rude — to the point of cruelty, even. For all his attitude, Tessa should hate Hardin. And she does — until she finds herself alone with him in his room. Something about his dark mood grabs her, and when they kiss, it ignites within her a passion she's never known before. He'll call her beautiful, then insist he isn't the one for her and disappear again and again.
Despite the reckless way he treats her, Tessa is compelled to dig deeper and find the real Hardin beneath all his lies. He pushes her away again and again, yet every time she pushes back, he only pulls her in deeper. Tessa already has the perfect boyfriend. So why is she trying so hard to overcome her own hurt pride and Hardin's prejudice about nice girls like her? Unless…could this be love?
My rating: 5/5. Ok there is A LOT to unpack here. This series was recommended by women in The Idea of You Facebook group as a good series if you loved that book. First of all, I had no idea it was based on Harry Styles fanfic originally or that it was a Netflix series (I ended up watching the movies after I read the entire series and compared to the books, they're eh and don't really capture the relationship).
Let's start with some of the negative. Although the intensity of the relationship is evident throughout the book, the writing is just ok. The author never uses abbreviations (for example, she writes "do not" instead of "don't" and that's consistent throughout the entire book which can feel a bit odd because that's not how people speak). There is also criticism about the relationship of the main characters and how it's toxic, etc. I mean…a lot of real life relationships are toxic, you can't always read about puppies and rainbows, so that didn't bother me.
I don't want to give too much away, but reading the entire series and watching their relationship evolve from book 1 to 4 was quite the ride. I was addicted to the series and listened constantly because I wanted to get through the books and find out what happened. This is definitely a YA series (I like drama, what can I say?) and does have some sexually explicit content, FYI. The series has really strong reviews and ratings, but go into it understanding it's about college kids with a lot of relationship issues (manage your expectations and prepare for a long, wild, entertaining ride).
The Friend Zone
Synopsis: Kristen Petersen doesn't do drama, will fight to the death for her friends, and has no room in her life for guys who just don't get her. She's also keeping a big secret: facing a medically necessary procedure that will make it impossible for her to have children.
Planning her best friend's wedding is bittersweet for Kristen – especially when she meets the best man, Josh Copeland. He's funny, sexy, never offended by her mile-wide streak of sarcasm, and always one chicken enchilada ahead of her hangry. Even her dog, Stuntman Mike, adores him. The only catch: Josh wants a big family someday. Kristen knows he'd be better off with someone else, but as their attraction grows, it's harder and harder to keep him at arm's length.
The Friend Zone will have you laughing one moment and grabbing for tissues the next as it tackles the realities of infertility and loss with wit, heart, and a lot of sass.
My rating: 5/5. I just loved this book! It was such a good read and I cried hard at the end! This is book 1 of 3 of this series and though I read it after the second book, it was awesome. I loved the main character's banter and relationship and the book explores the heartbreak of infertility struggles – just FYI, in case that is triggering.
Life's Too Short
Synopsis: When Vanessa Price quit her job to pursue her dream of traveling the globe, she wasn't expecting to gain millions of YouTube followers who shared her joy of seizing every moment. For her, living each day to its fullest isn't just a motto. Her mother and sister never saw the age of 30, and Vanessa doesn't want to take anything for granted. 
But after her half sister suddenly leaves Vanessa in custody of her baby daughter, life goes from "daily adventure" to "next-level bad" (now with bonus baby vomit in hair). The last person Vanessa expects to show up offering help is the hot lawyer next door, Adrian Copeland. After all, she barely knows him. No one warned her that he was the Secret Baby Tamer or that she'd be spending a whole lot of time with him and his geriatric Chihuahua.
Now she's feeling things she's vowed not to feel. Because the only thing worse than falling for Adrian is finding a little hope for a future she may never see.
My rating: 4/5. This was book 3 of 3 of Abby Jimenez's series. Of the three it was my least favorite, but I still really enjoyed it and gave it a high rating. I love this author's ability to really get you invested in the character's relationships. I also love how she weaves in the characters from the other books into each book. This entire series is worth the read!
A Special Place for Women
Synopsis: For years, rumors have swirled about an exclusive, women-only social club where the elite tastemakers of NYC meet. People in the know whisper all sorts of claims: Membership dues cost $1,000 a month. Last time Rihanna was in town, she stopped by and got her aura read. The women even handpicked the city's first female mayor. But no one knows for sure. 
That is, until journalist Jillian Beckley decides she's going to break into the club. With her career in freefall, Jillian needs a juicy scoop, and she has a personal interest in bringing these women down. But the deeper she gets into this new world – where billionaire "girlbosses" mingle with occult-obsessed Bohemians – the more Jillian learns that bad things happen to those who dare to question the club's motives or giggle at its outlandish rituals. The select group of women who populate the club may be far more powerful than she ever imagined. And far more dangerous, too.
My rating: 3.5/5. Hmmm…I think I had really high expectations for this book but it ended up just being kind of OK. Not bad, but not something I'd say was a must-read. The premise was interesting and I did finish it pretty quickly, but overall I was a little bit disappointed after the hype.
The Forbidden Man
Synopsis: Forty-years old and still reeling from a public and painful divorce, Thalia Blackwood is looking for a fresh start, somewhere far away from her upside down life. When she's offered a new job as the sports therapist for a football (soccer) team, she jumps at the chance. This is just what she needs to leave the heartbreak and shame of Manchester behind, trading it in for the warmth and hopeful vibrancy of Madrid.
Alejo Albarado is rising up the ranks in his career. As the charming forward for the Real Madrid team, Alejo's life revolves around women, parties, and being a tabloid darling, that is until the new sports therapist joins the team.
Their passion could not be ignored. What starts out as a strictly professional relationship between Thalia and the young Spanish player, slowly evolves into something more. Much more. But their combustible chemistry and simmering sexual tension can only go so far-should Thalia give into Alejo's advances, she's at risk of not only losing her job, but succumbing to a younger man will drag her through the spotlight again. Alejo might be worth that risk. Unless he breaks her heart in the process.
My rating: 4.5. This book was another recommendation from The Idea of You Facebook group. I enjoyed it though I must admit it took me a few chapters to get used to the voice actor who plays Alejo. It's crazy because I have no issues adjusting to an English accent in any book I've listened to but it took me a little longer for this one (I guess that's the thing with audiobooks, you have to adjust to new voice actors with every book you read). Having said this, I enjoyed this book and I like that it was another take on the older woman/younger man relationship because it challenges norms more than the typical older man/younger woman narrative. I love a book with a good ending and this one was great. FYI, this one is also sexually explicit, so keep that in mind!
Ugly Love
Synopsis: When Tate Collins meets airline pilot Miles Archer, she doesn't think it's love at first sight. They wouldn't even go so far as to consider themselves friends. The only thing Tate and Miles have in common is an undeniable mutual attraction. Once their desires are out in the open, they realize they have the perfect set-up. He doesn't want love, she doesn't have time for love, so that just leaves the sex. Their arrangement could be surprisingly seamless, as long as Tate can stick to the only two rules Miles has for her: Never ask about the past. Don't expect a future. They think they can handle it, but realize almost immediately they can't handle it at all. Hearts get infiltrated. Promises get broken. Rules get shattered. Love gets ugly.
My rating: 4.5/5. Gosh this book was another great one by Colleen Hoover! I loved several of her previous books and this one was no exception. The book goes back and forth between the character's current relationship and Mile's relationship six years ago with another woman and wow…I cried during this one! Definitely worth the read and keeps you engaged – the ending is also…so good!
The Lies That Bind
Synopsis: It's 2 a.m. on a Saturday night in the spring of 2001, and 28-year-old Cecily Gardner sits alone in a dive bar in New York's East Village, questioning her life. Feeling lonesome and homesick for the Midwest, she wonders if she'll ever make it as a reporter in the big city – and whether she made a terrible mistake in breaking up with her longtime boyfriend, Matthew.
As Cecily reaches for the phone to call him, she hears a guy on the barstool next to her say, "Don't do it – you'll regret it." Something tells her to listen, and over the next several hours – and shots of tequila – the two forge an unlikely connection. That should be it, they both decide the next morning, as Cecily reminds herself of the perils of a rebound relationship. Moreover, their timing couldn't be worse – Grant is preparing to quit his job and move overseas. Yet despite all their obstacles, they can't seem to say goodbye, and for the first time in her carefully constructed life, Cecily follows her heart instead of her head.
Then, Grant disappears in the chaos of 9/11. Fearing the worst, Cecily spots his face on a missing-person poster, and realizes she is not the only one searching for him. Her investigative reporting instincts kick into action as she vows to discover the truth. But the questions pile up fast: How well did she really know Grant? Did he ever really love her? And is it possible to love a man who wasn't who he seemed to be?
My rating: 3/5. This book was just OK. Emily Giffin's other books are a lot better including All We Ever Wanted, which was a favorite of mine. Though I knew the book's plot line involved 9/11, I was not prepared for the vivid and heartbreaking descriptions in that part of the novel and that portion was a tough listen. The storyline was OK, the characters were OK, but it just didn't really suck me in and make me want to text a friend saying "you must read this!"
I hope you found some new reads in this post! Enjoy!