I've had so many great Amazon scores lately and wanted to share a few on my blog so they're always here for y'all to reference. This post contains affiliate links, which means I earn a small commission if you make a purchase.
Other items in this post: my sunglasses chain | my jeans | my sunglasses
THE EYELET SLEEVE BUTTON FRONT BLOUSE (size small)
What a pretty top for warm weather! I love that it's a typical v-front button down blouse but with the eyelet sleeves, to give it a summery vibe. It has a generous fit and I like to wear it front-tucked.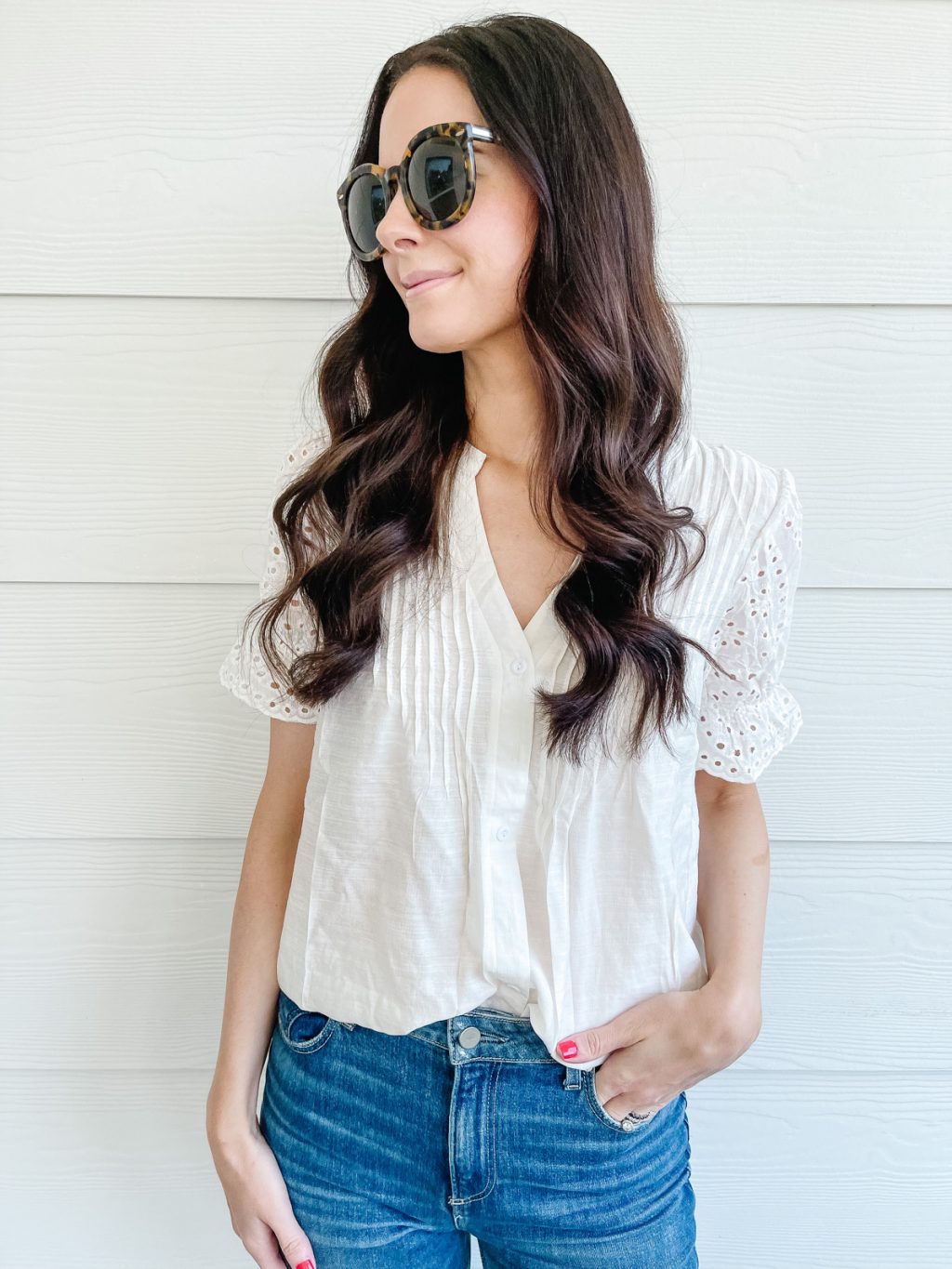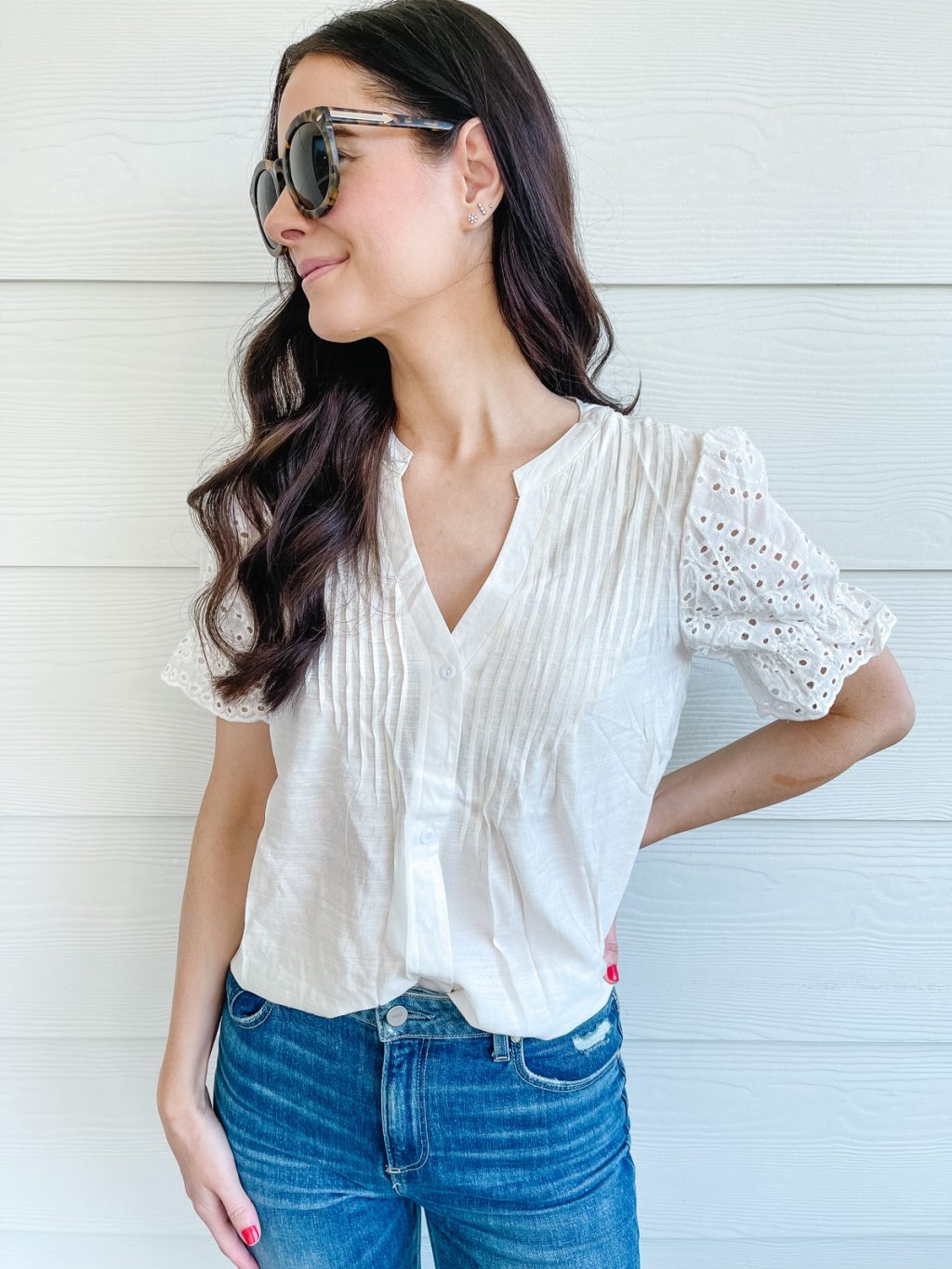 THE SMOCKED PEPLUM TOP (size small)
This reminds me of the Hill House nap dress, but as a top. It has comfortable smocking at the bust with a peplum hem and stretchy shoulders with smocking detail. Very cute to pair with jeans and tops and with the right accessories, fun for date night too!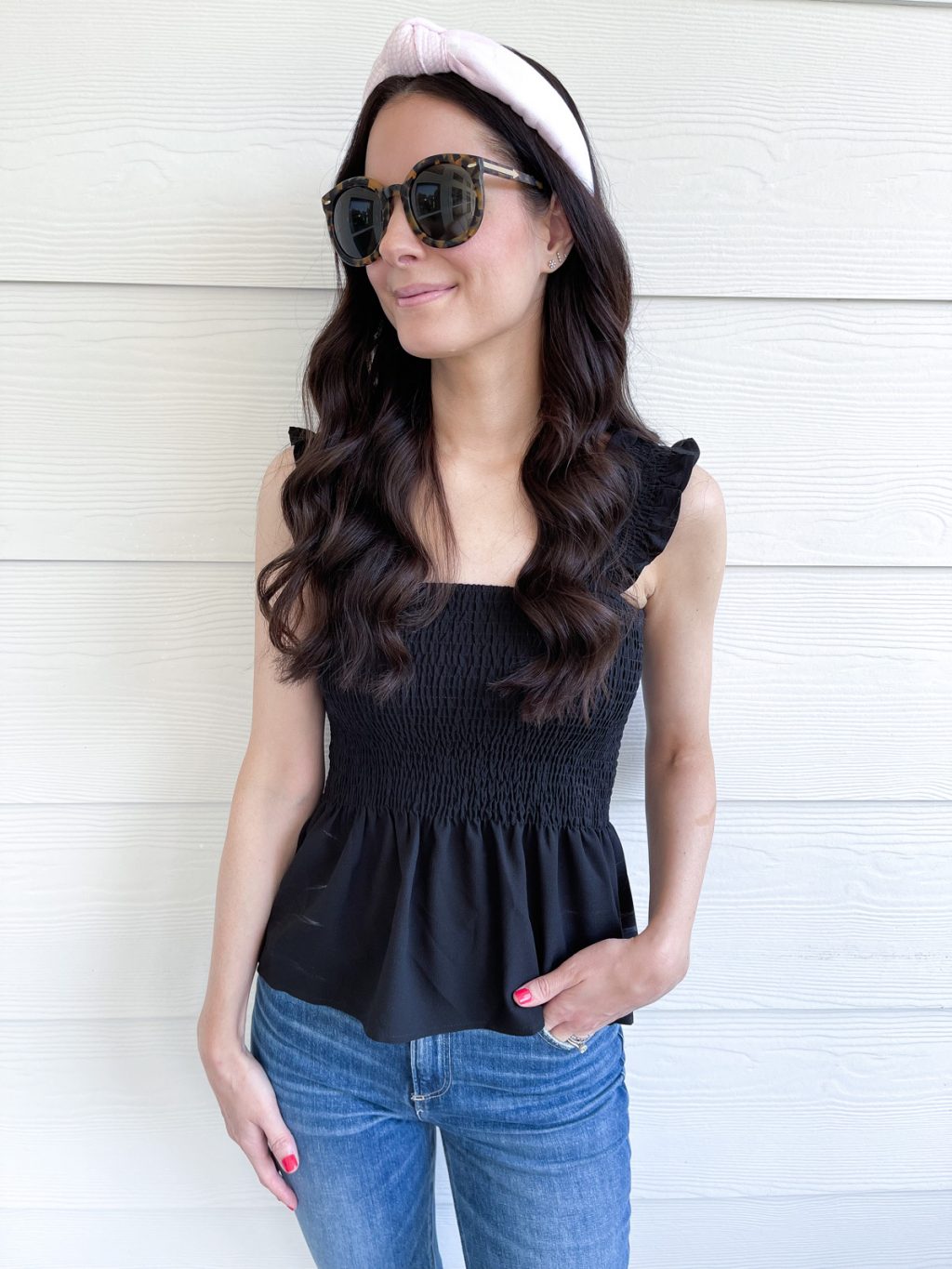 THE EYELET FLUTTER SLEEVE TOP (size medium)
Every eyelet pattern is different and I absolutely adore this one – it's kind of larger and has different shapes than what I'm used to. The ruffly collar and sleeves make this a perfect option for a business casual office for summer. It's super lightweight – I did size up in this one per the reviews!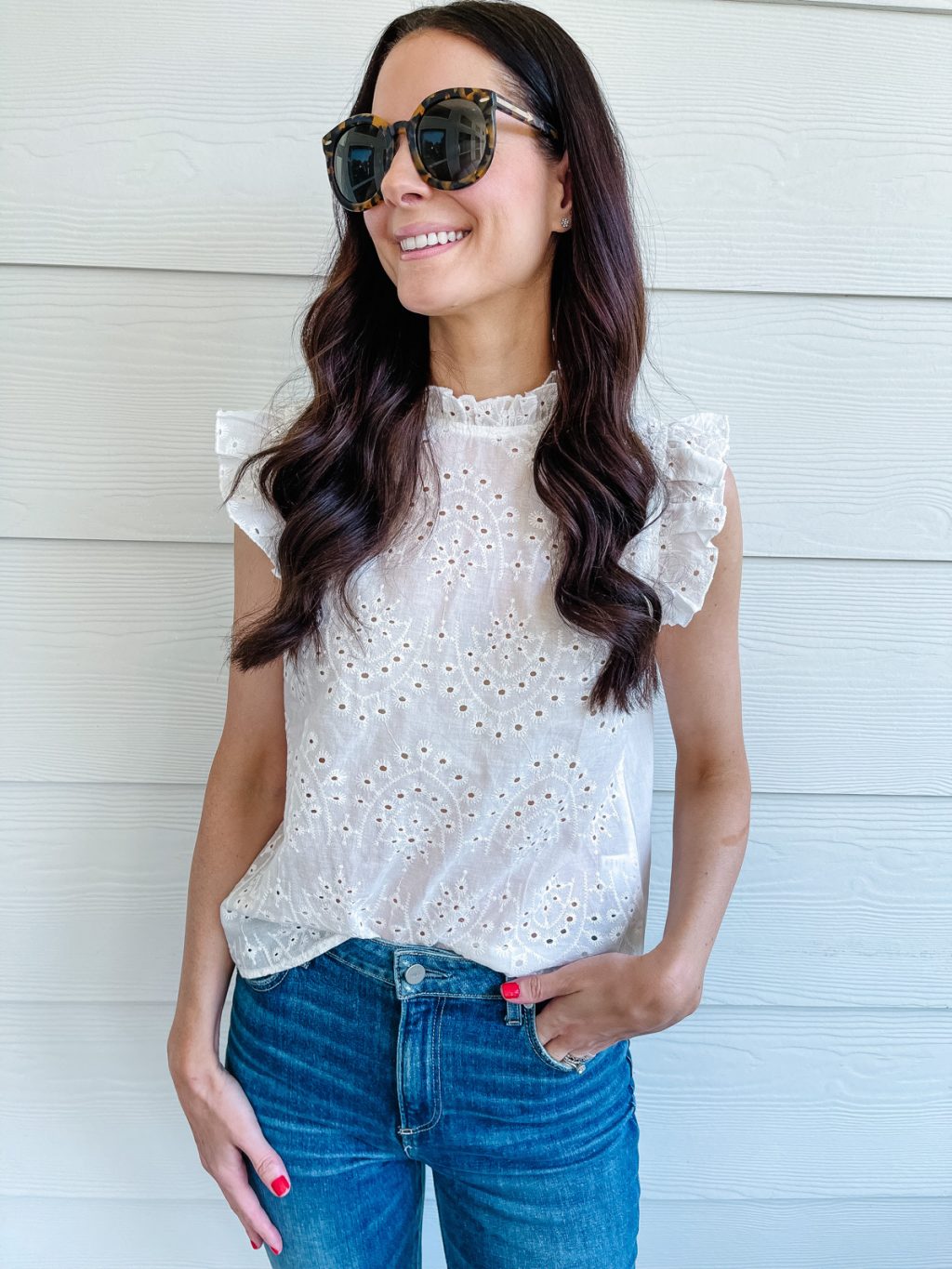 THE EYELET TEE (size small)
Oh my gosh – this top is so "me." Like the perfect white t-shirt, but with all of the feminine details I love (including of course, eyelet).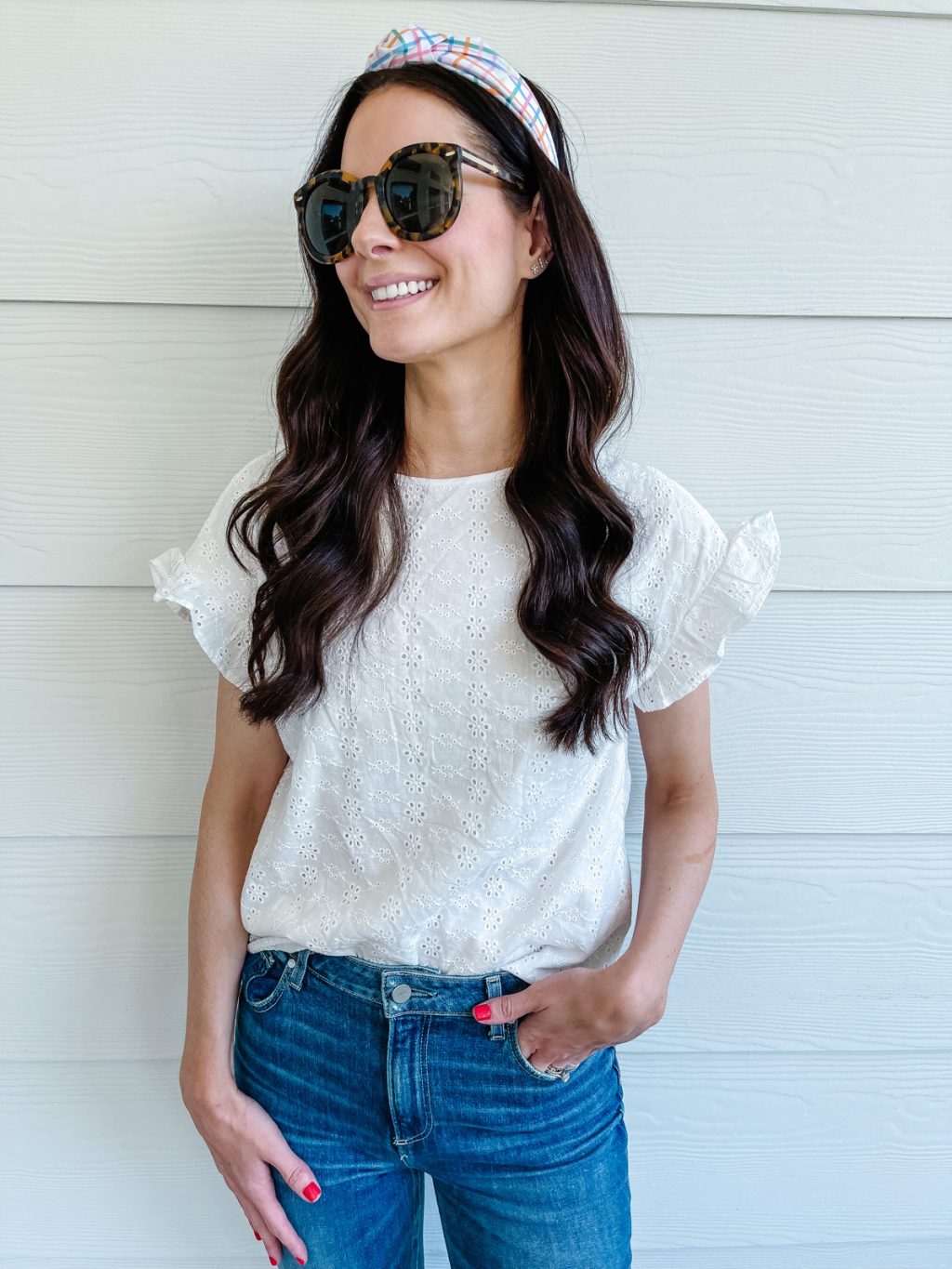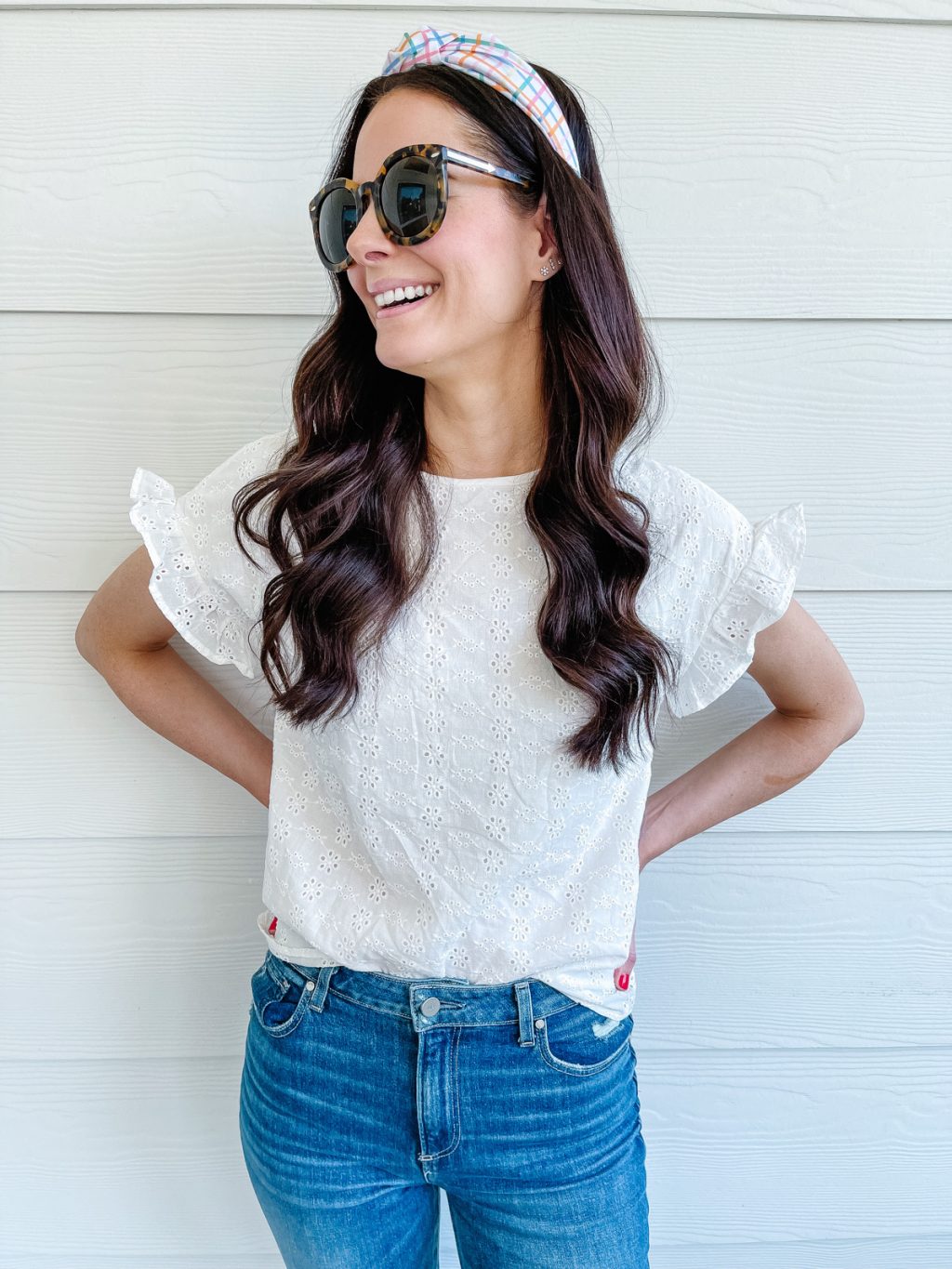 THE WHITE EYELET MINI DRESS (size small)
Not only is this dress lined (yay!) it also comes with a belt/tie that's optional, so you can have two different looks. I wore it belted here, which I think looks a little more "formal" whereas unbelted, the dress is billowy and beachy – fun as a coverup on vacation too!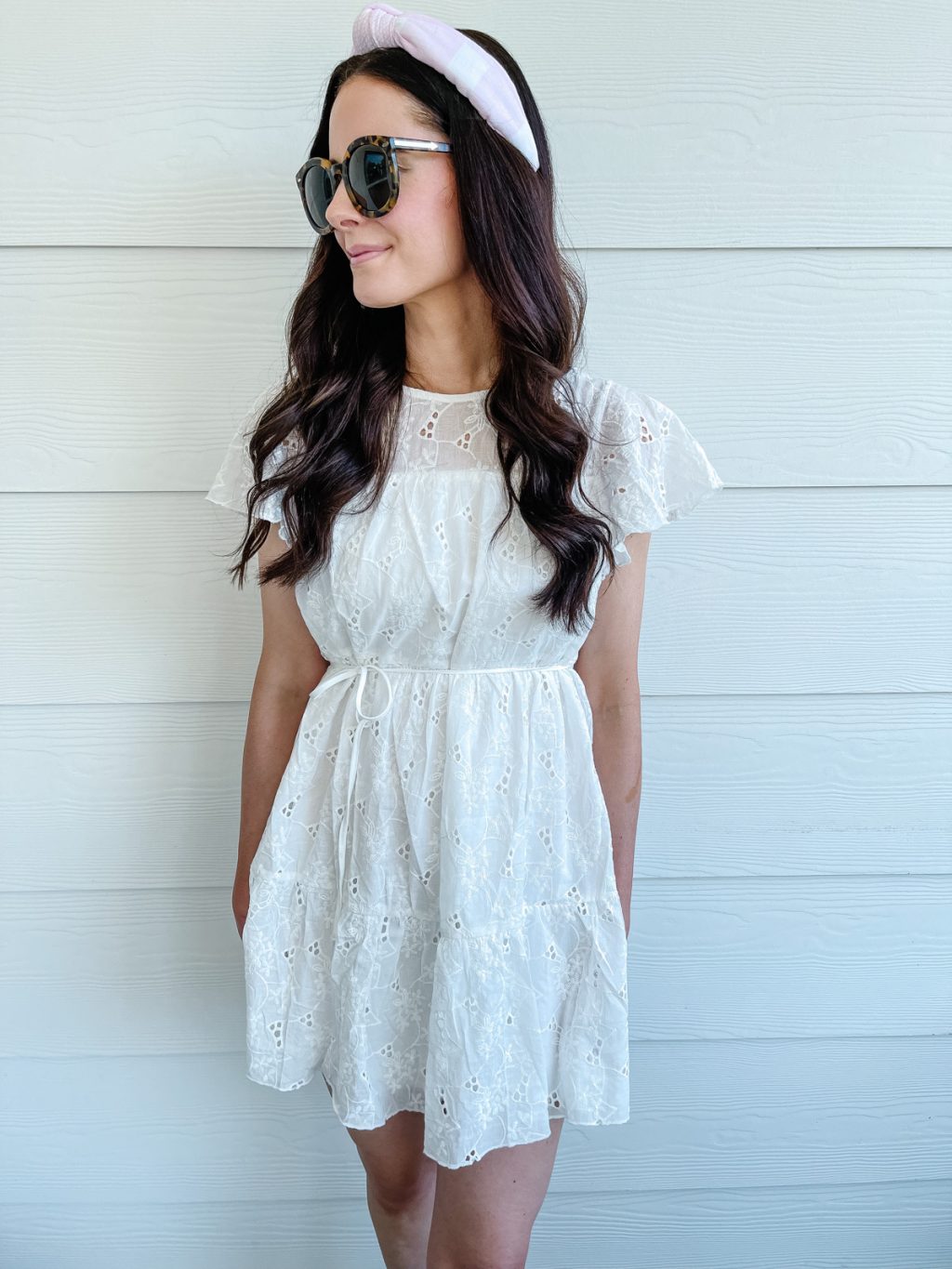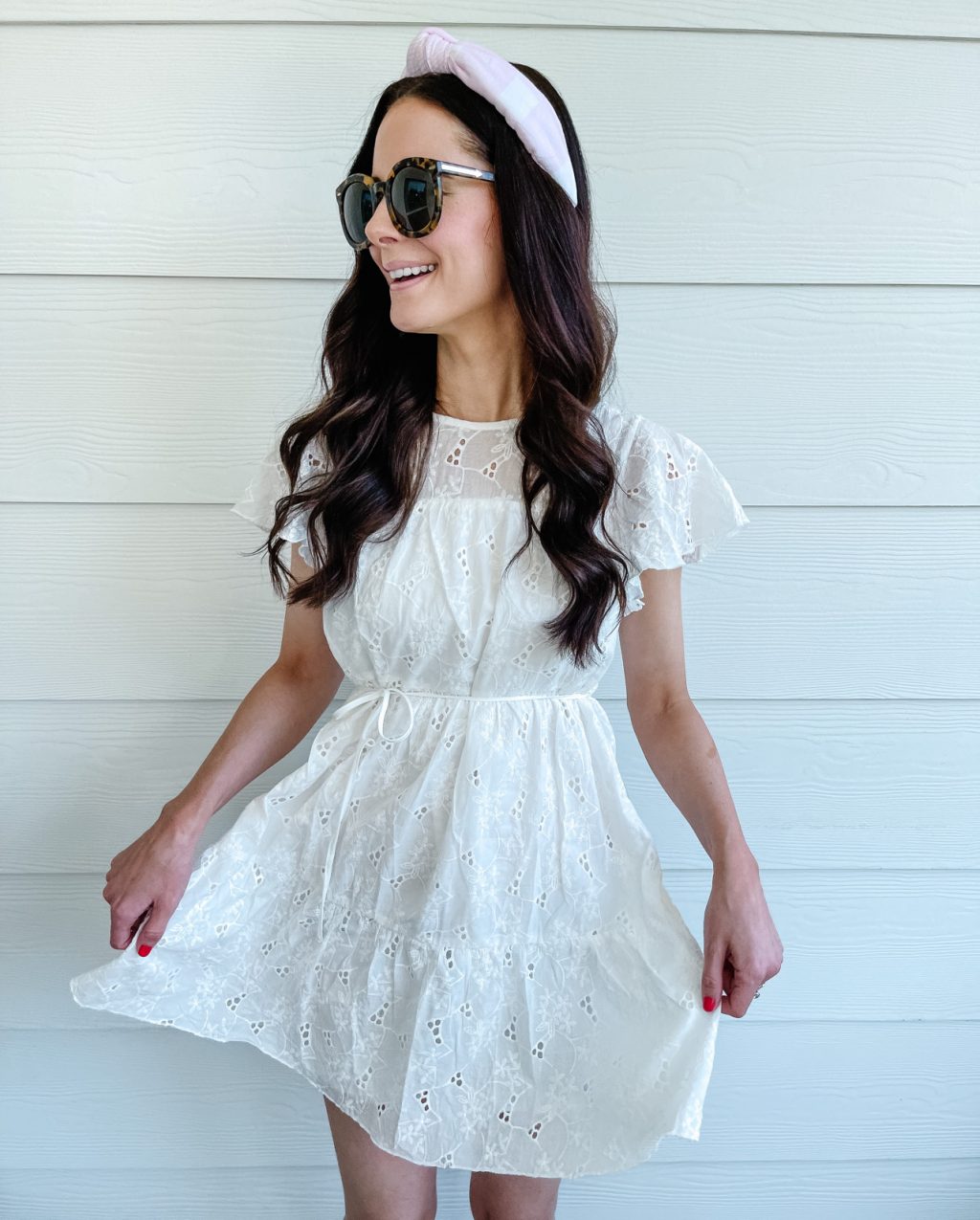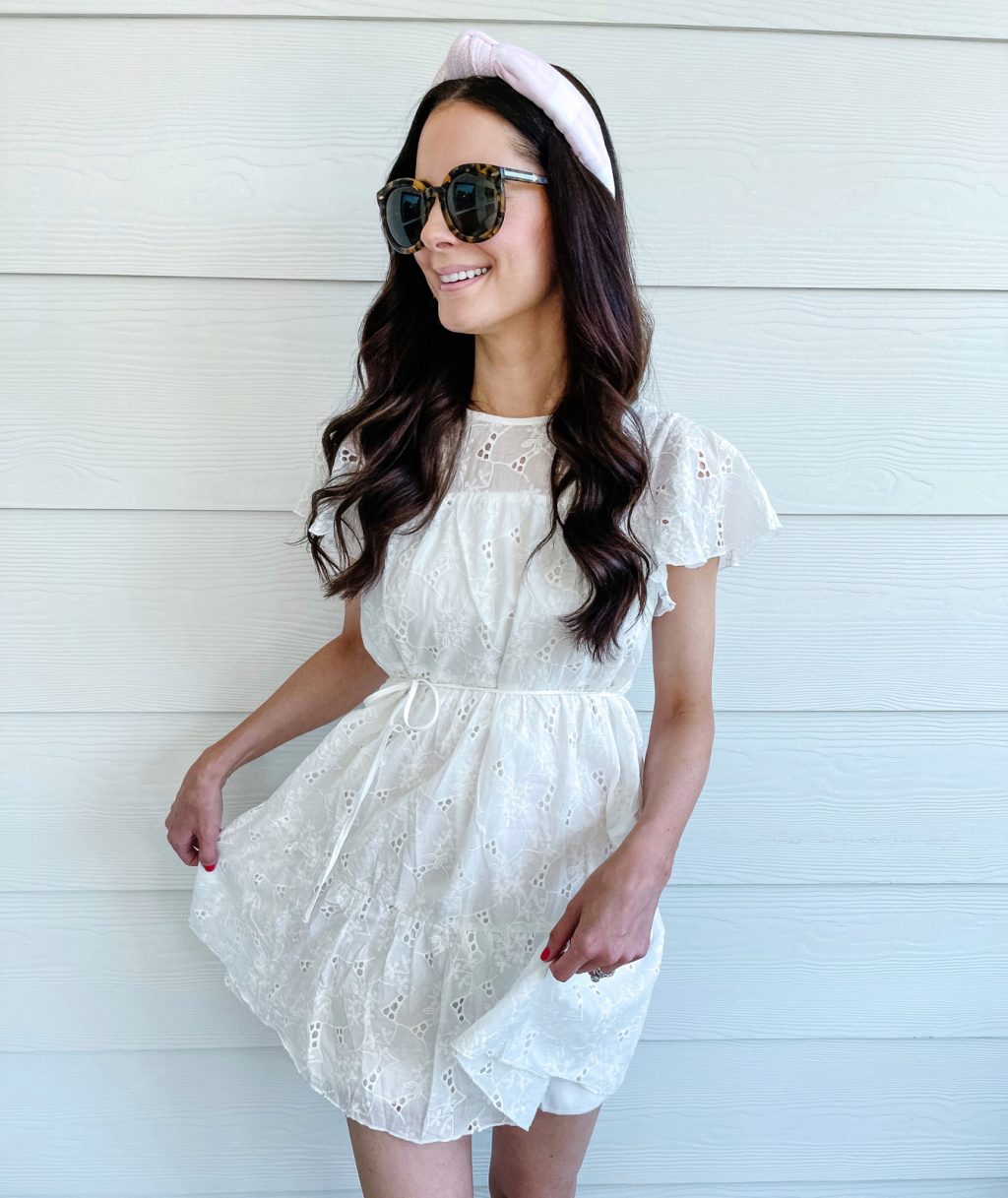 THE RED RUFFLE SLEEVE DRESS (size medium)
I have this dress in white as well (my favorite!) and recommend taking your true size in this. I ordered a medium for length in the red, but the length of the small is totally fine. I love how easy this dress is for everyday wear, but that it can also be dressed up with heels, a cute bag and jewelry for a date night.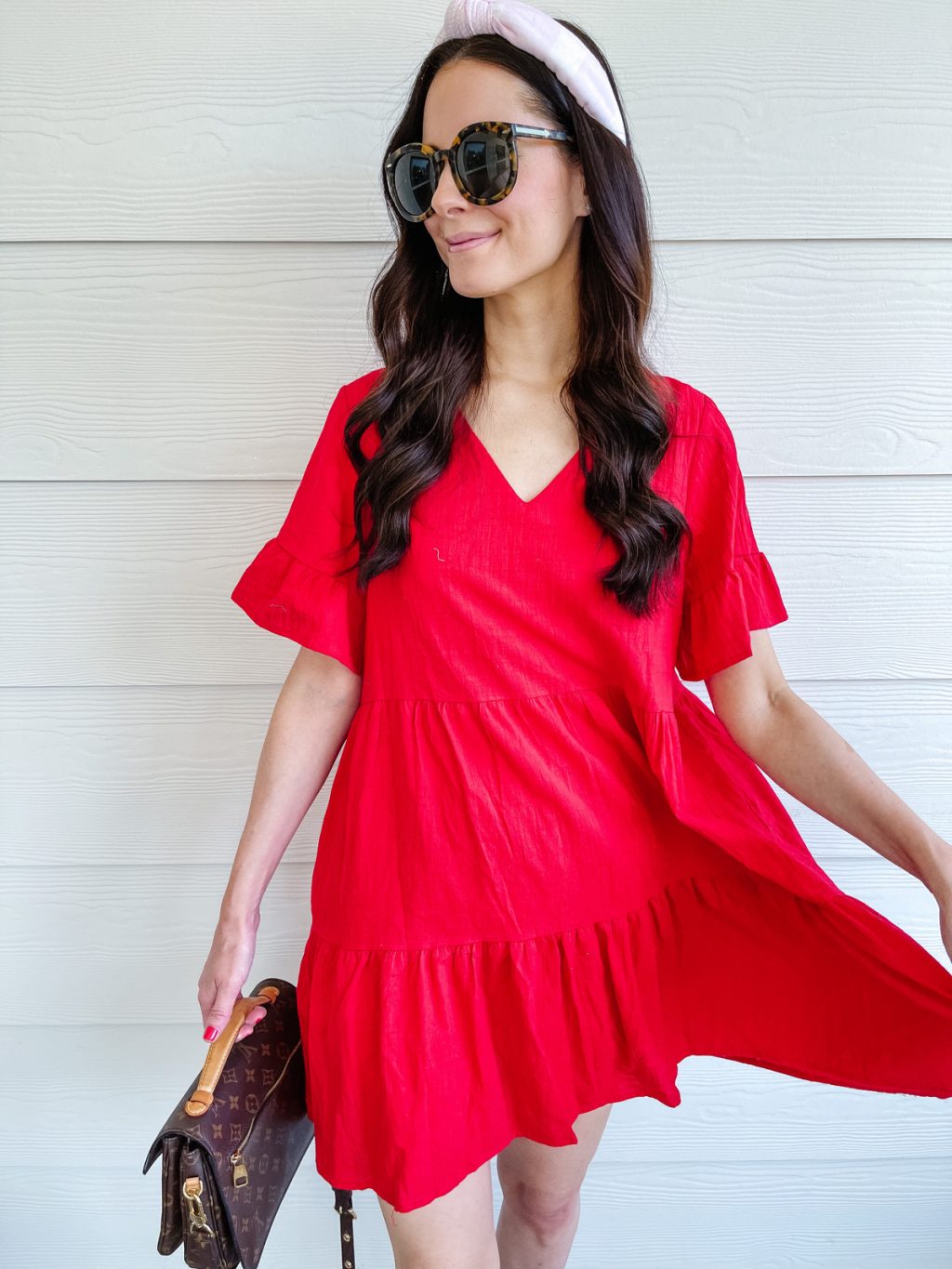 THE SWISS DOT BLACK MIDI DRESS (size small)
This is one of my all-time favorite amazon dresses EVER. I reach for it all the time when running a quick errand, meeting a friend for lunch etc. It's so comfortable and breezy (I don't wear a bra with it). The sleeves can be worn like in this photo or off-the-shoulder. Swiss dot is one of my favorite patterns, so the added texture on this dress makes me love it even more.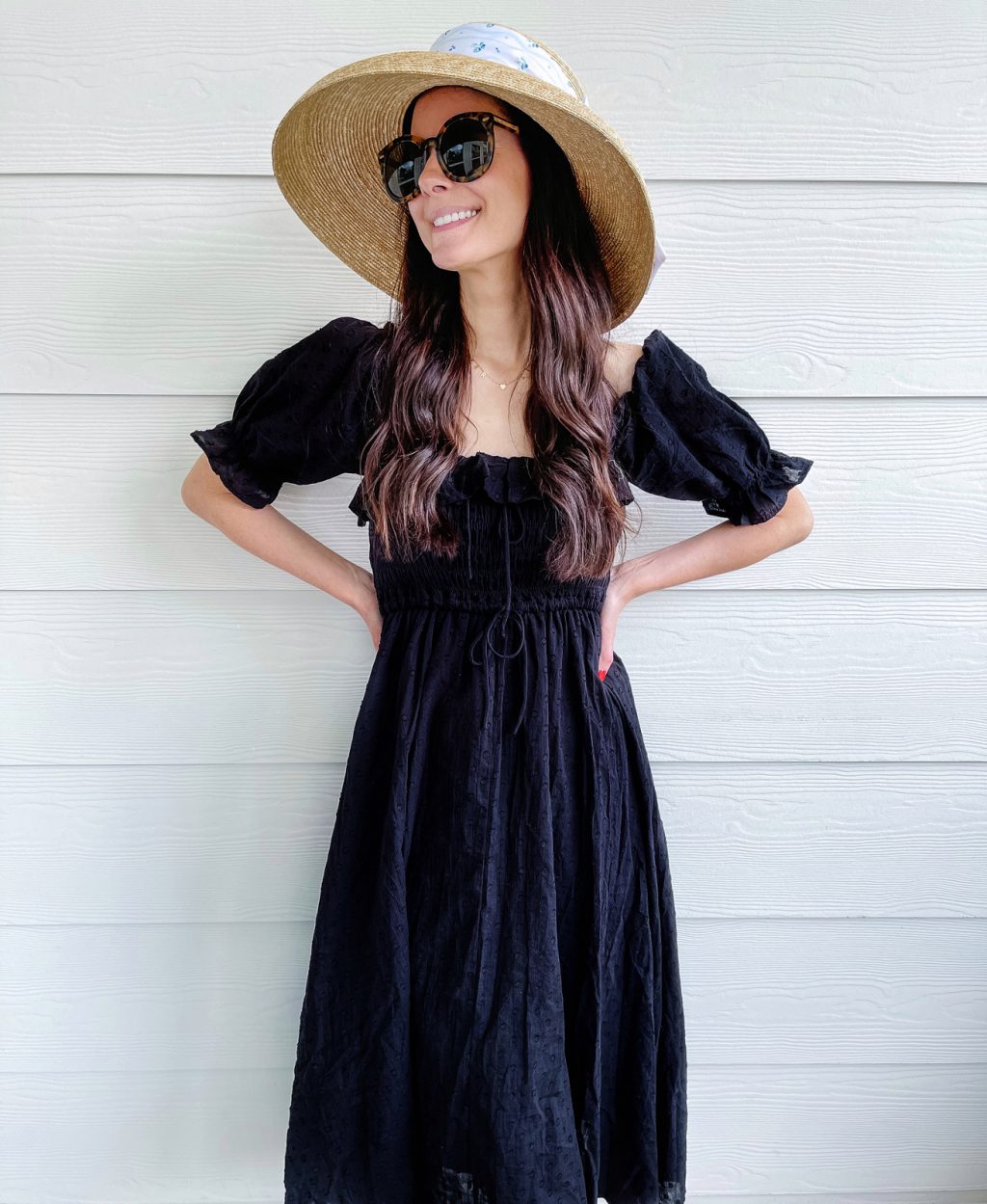 THE WHITE EYELET MIDI OTS DRESS (size small)
This dress was worth the few week wait for it to arrive! It is lined to the mid-thigh and has the prettiest shape to the off-the-shoulder ruffle. It buttons down and comes with an optional waist tie. I can't say enough good things about it.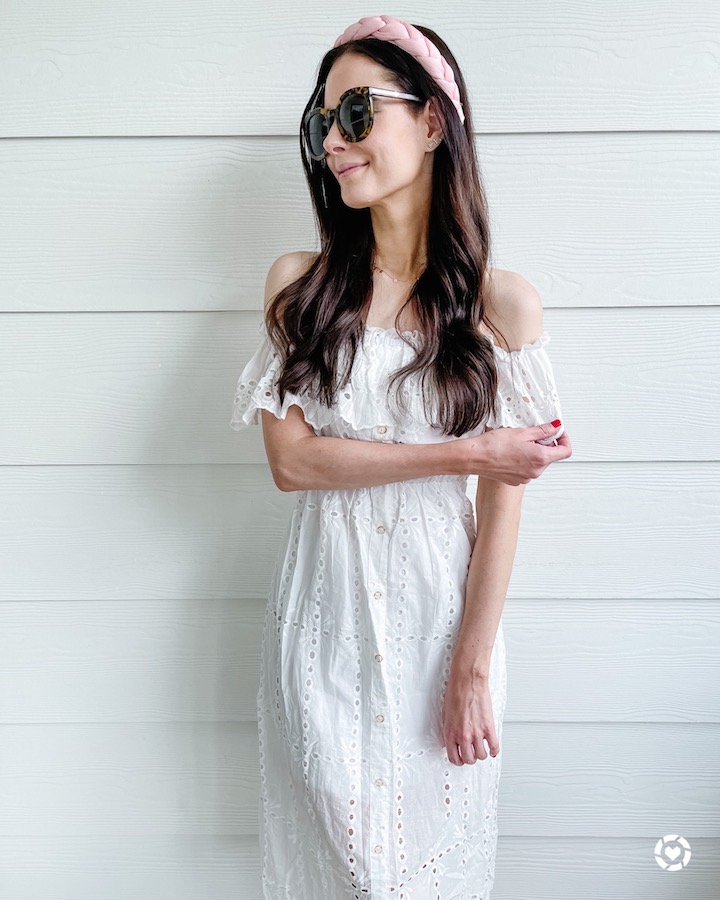 THE PRINTED MIDI SKIRT (size small)
I'm not necessarily a midi skirt kind of gal, usually opting for dresses, but this one may have changed my mind. It's so comfortable (elastic waist), I adore the pleats and the color is gorgeous. I paired it with a simple white cropped tee and my golden goose sneakers for a causal lunch look.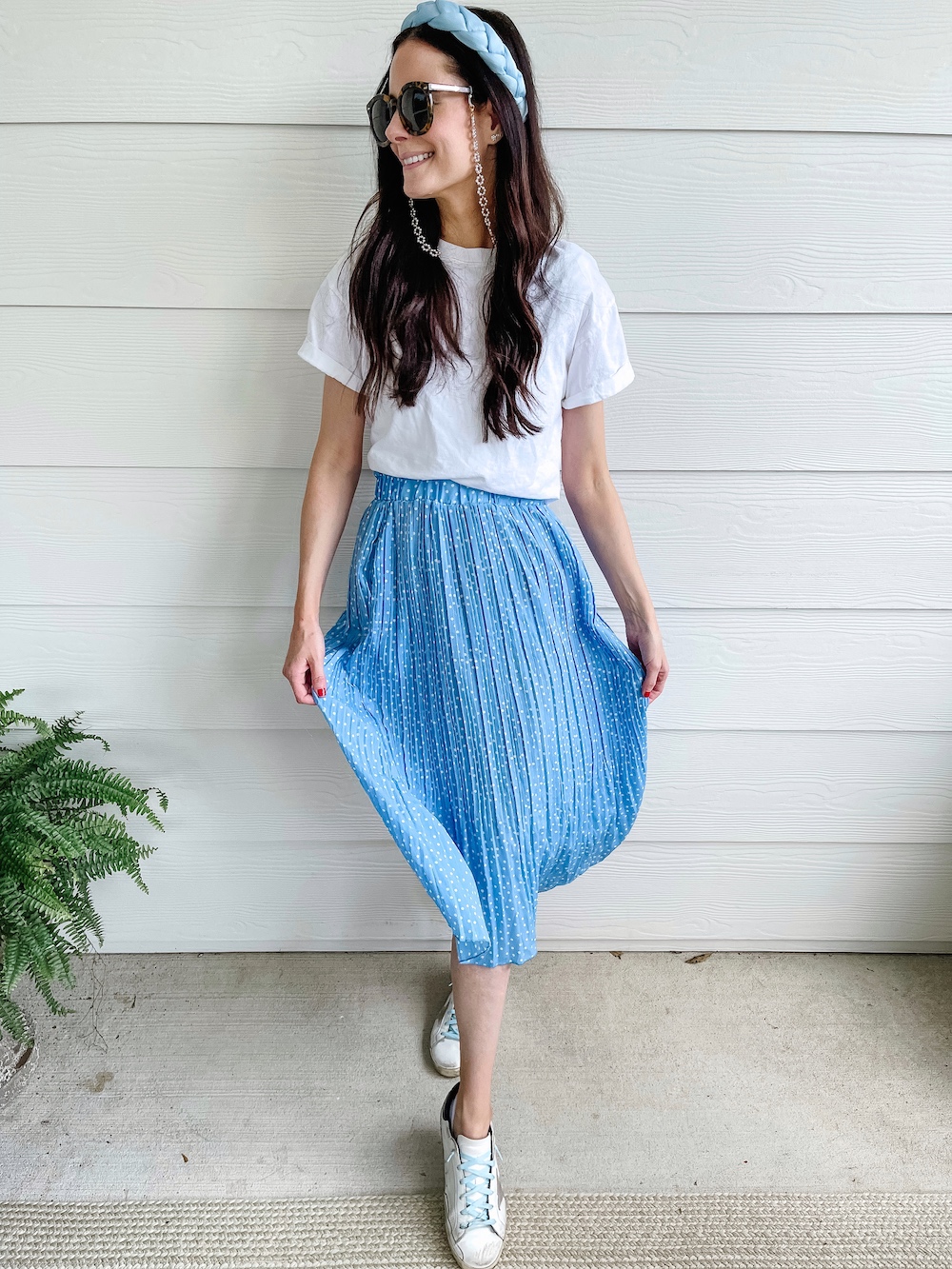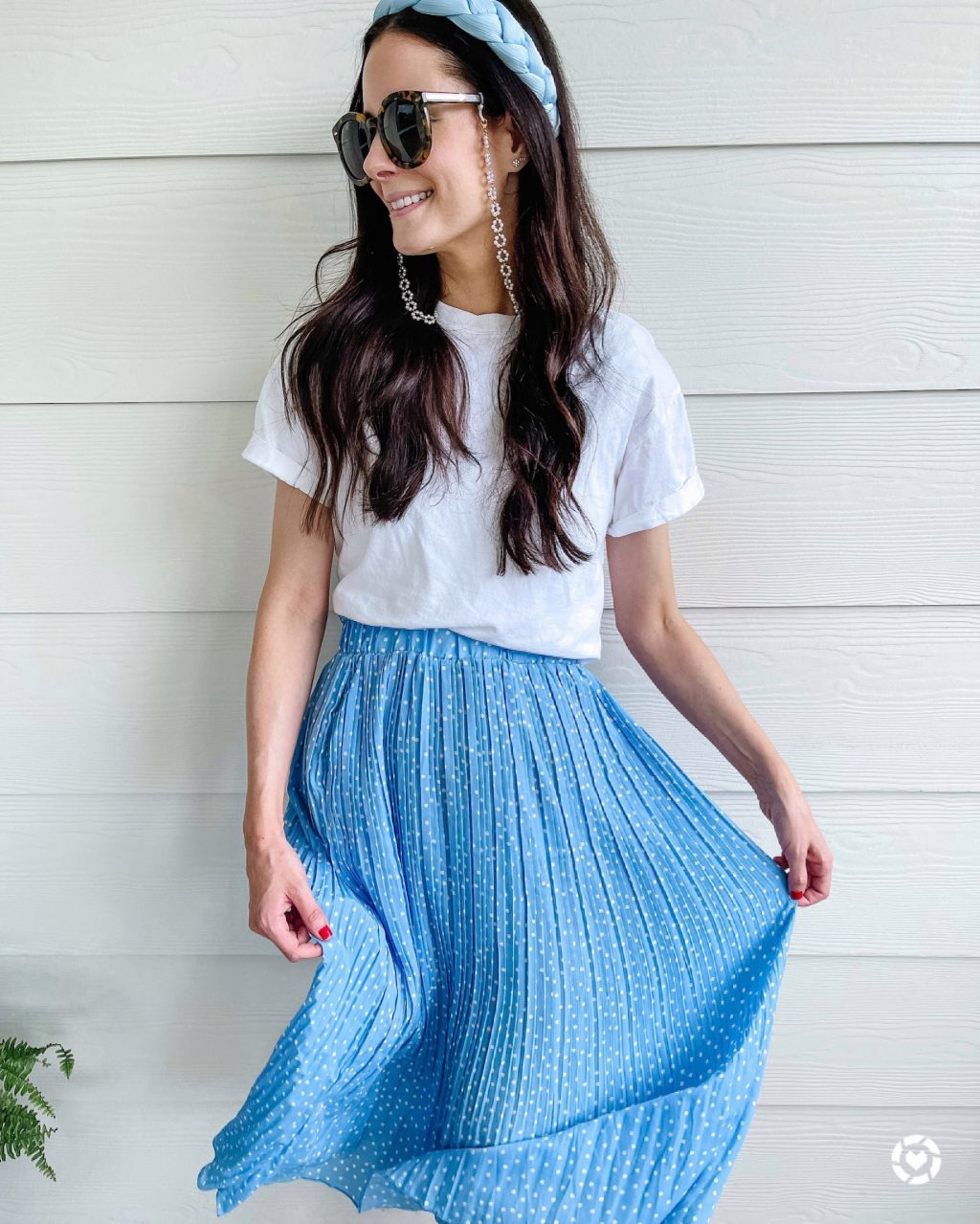 THE LILAC GINGHAM POM POM DRESS (size small)
This is one of my best-selling amazon items – it's so fun, has a full skirt and the smocking makes it able to accommodate larger busts. The tie sleeves with pom poms are just the icing on the cake. I live for gingham in summer, so that's just one more bonus when it comes to this dress – yes please!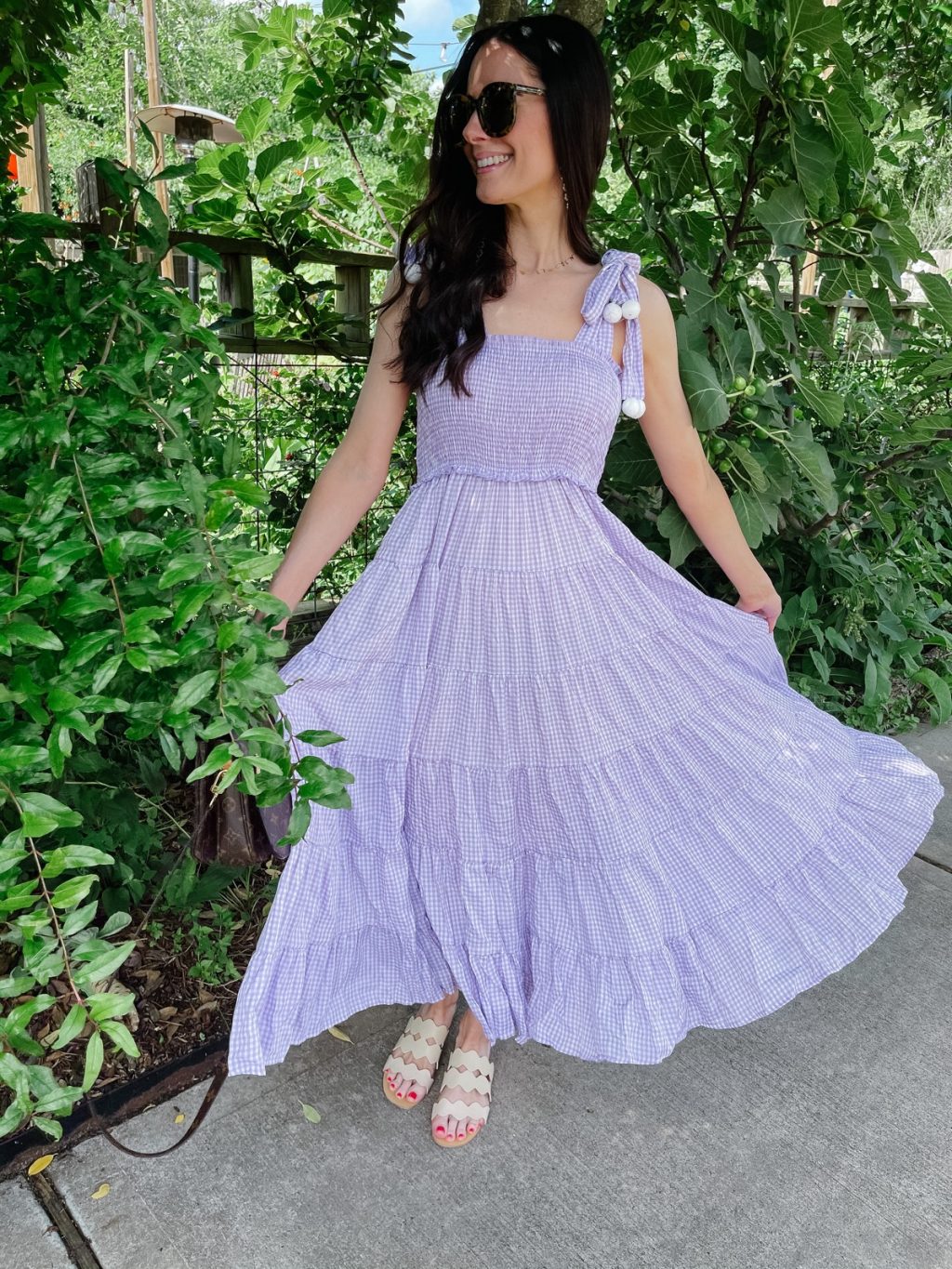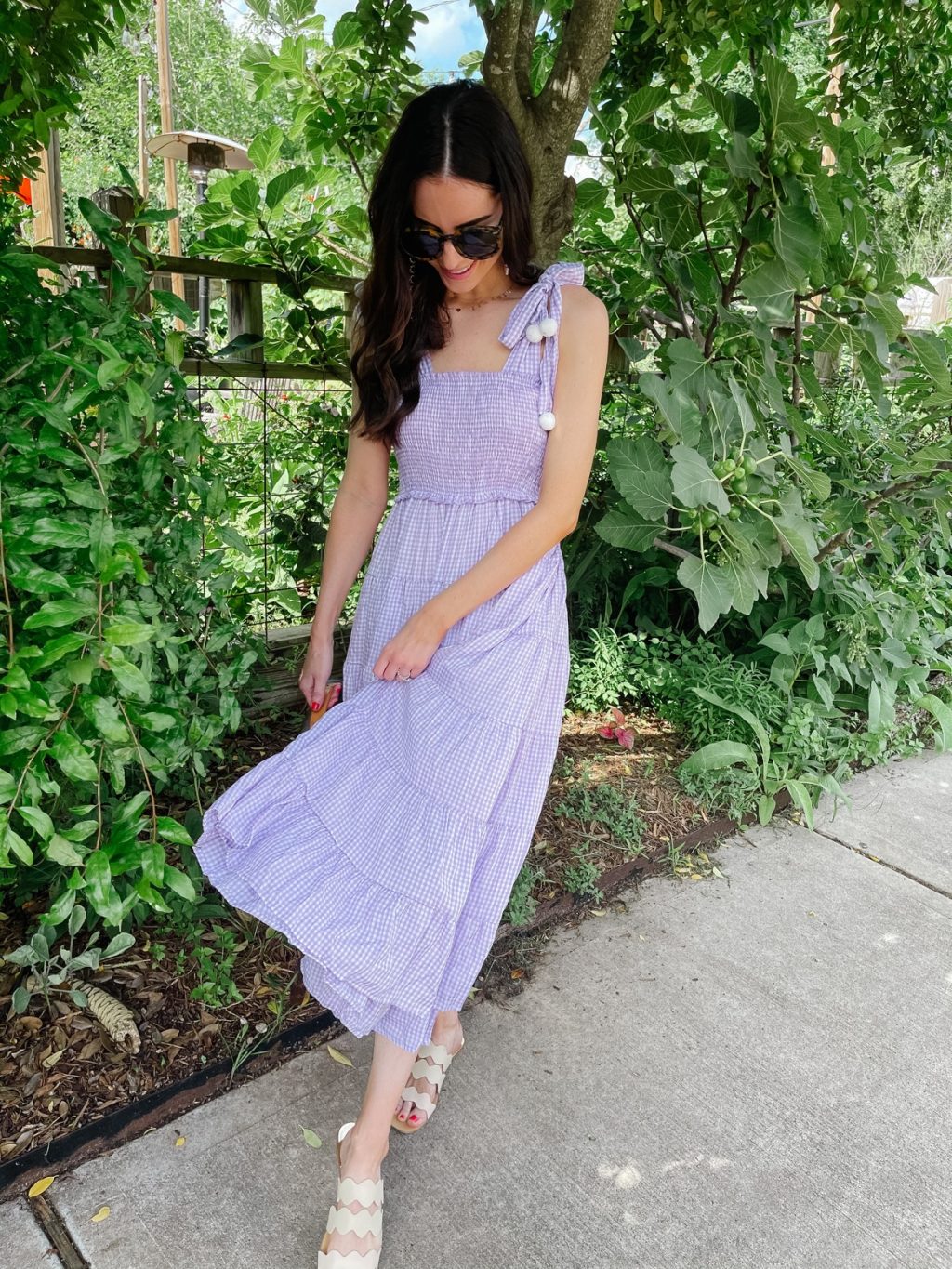 THE CROCHET LACE FRONT BLOUSE (size small)
I have this top in black and gray as well – but the white is my favorite. It's so breezy that you can pair it with shorts on a hot summer day and be perfectly comfortable. I love that the detail on the front of the blouse is carried through to the sleeves – so so pretty!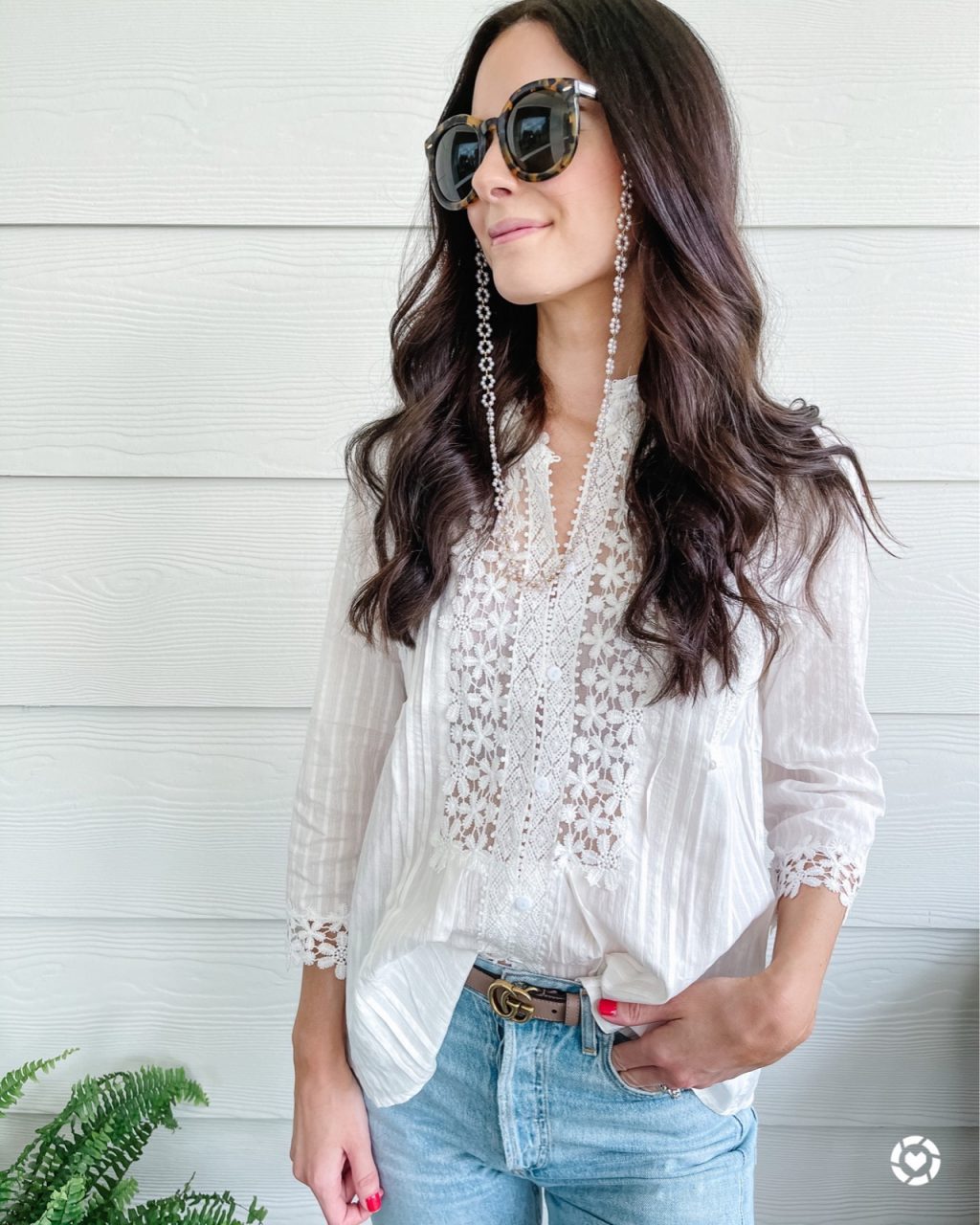 THE SHOULDER PAD MUSCLE TEE (size small)
Muscle tees are everywhere this season from Target to H&M and every retailer you can think of. I love this amazon version because it comes with built-in shoulder pads which gives it great structure. The material has a little stretch and feels expensive.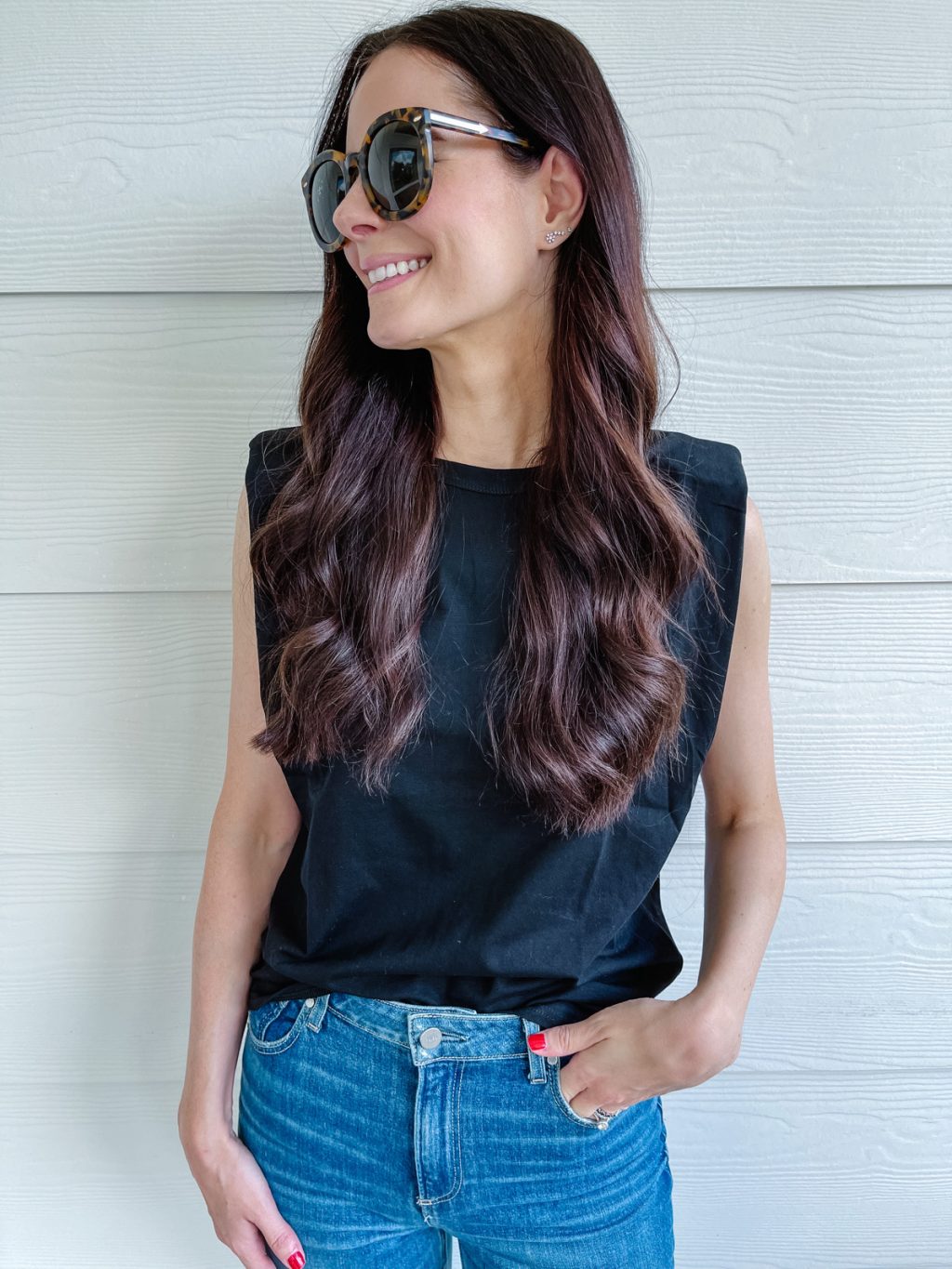 THE BLUE GINGHAM PUFF SLEEVED DRESS (size small)
This dress is so fun! It has a micro-gingham print, smocking at the bust and elastics on the sleeves so you can adjust the to the length and puffiness factor you like. It comes in three colors!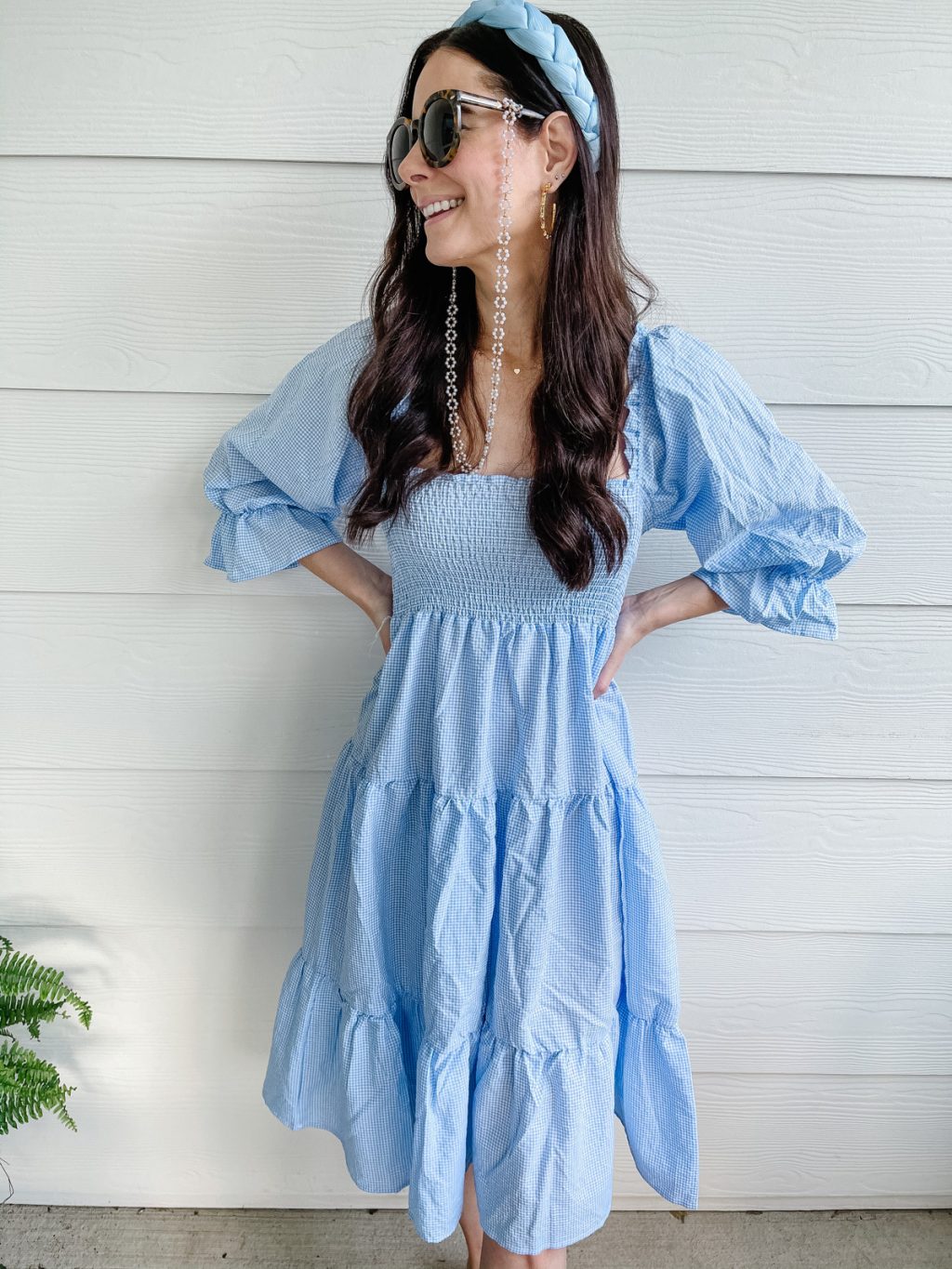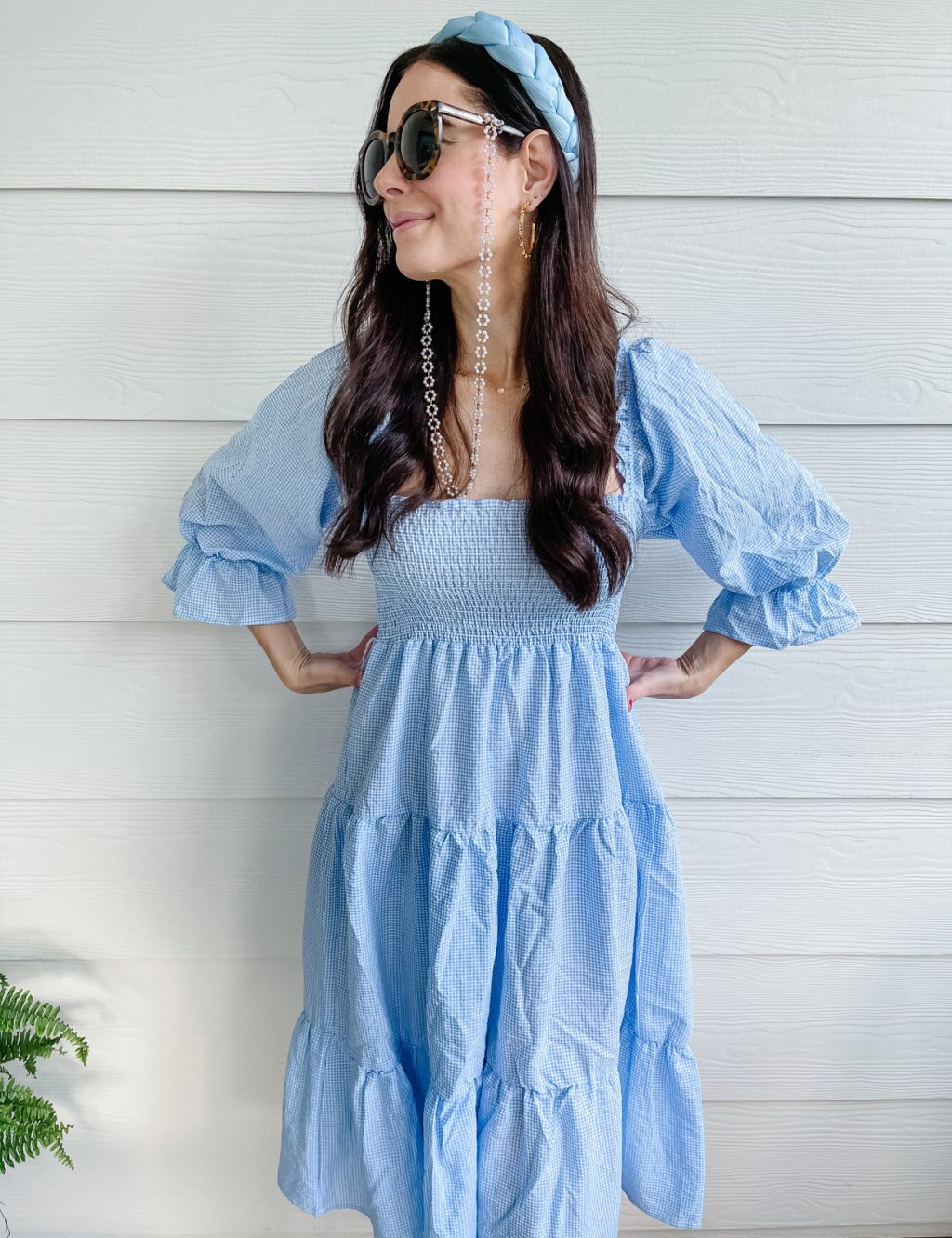 I hope you enjoyed these amazon finds! Happy shopping!