This year, I purchased these black jeans (size 2), this Barefoot dreams cardigan (color bisque, XS) and these undies. I already have a lot of items from past sales and tried to focus on filling gaps in my closet. I highly recommend all three items I purchased and have some other recommendations in this post!
I'm still planning to make a few beauty purchases like my lash serum, but here are my picks from the sale including kids, mens, accessories and all of my original content I shared!
Nordstrom Anniversary Sale PICKS FOR KIDS:
I thought the kids selection this year was meh. However, there are a few items like shoes, jackets and PJs I think are worthy investments (I usually get the kids North Face jackets if their previous one has been outgrown). It's great time to save on running shoes too. Below are my picks for boys & girls.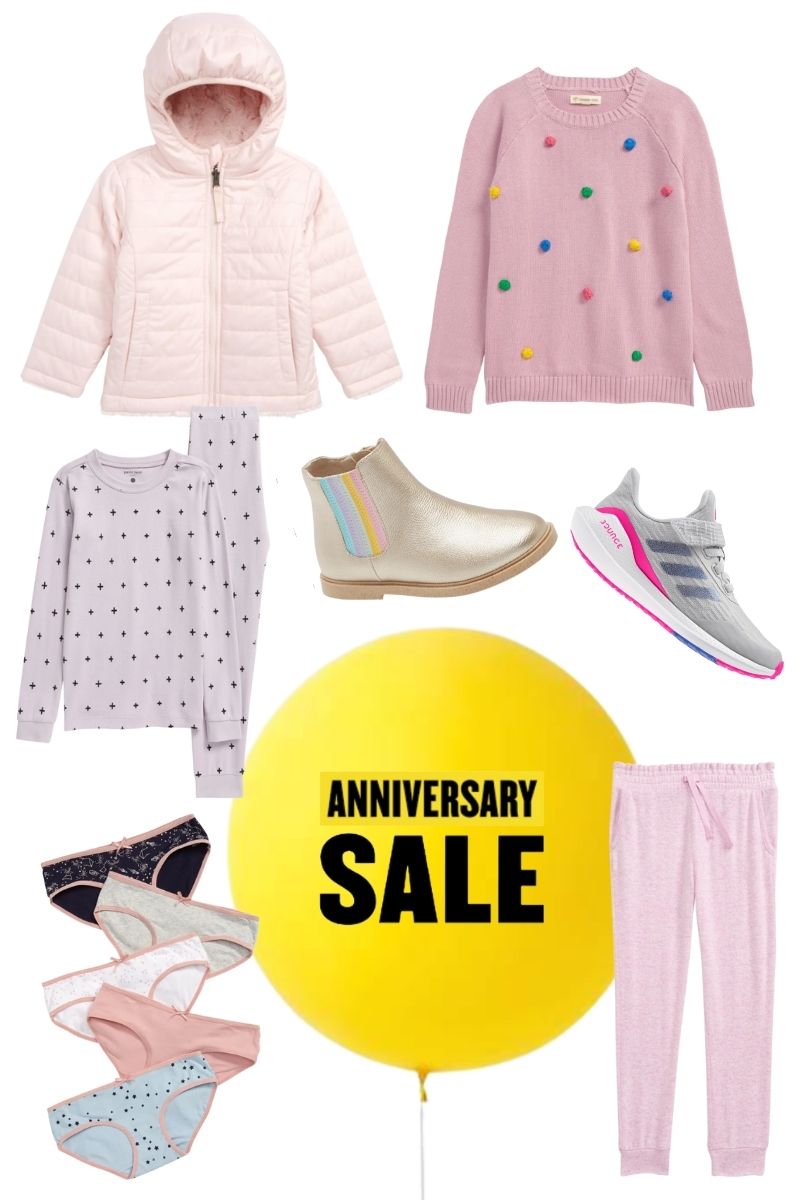 girls hipster undies | pink north face jacket | pom pom sweater | EQ21 running shoes | cozy ruffle joggers | gold rainbow stripe booties | lilac pajamas |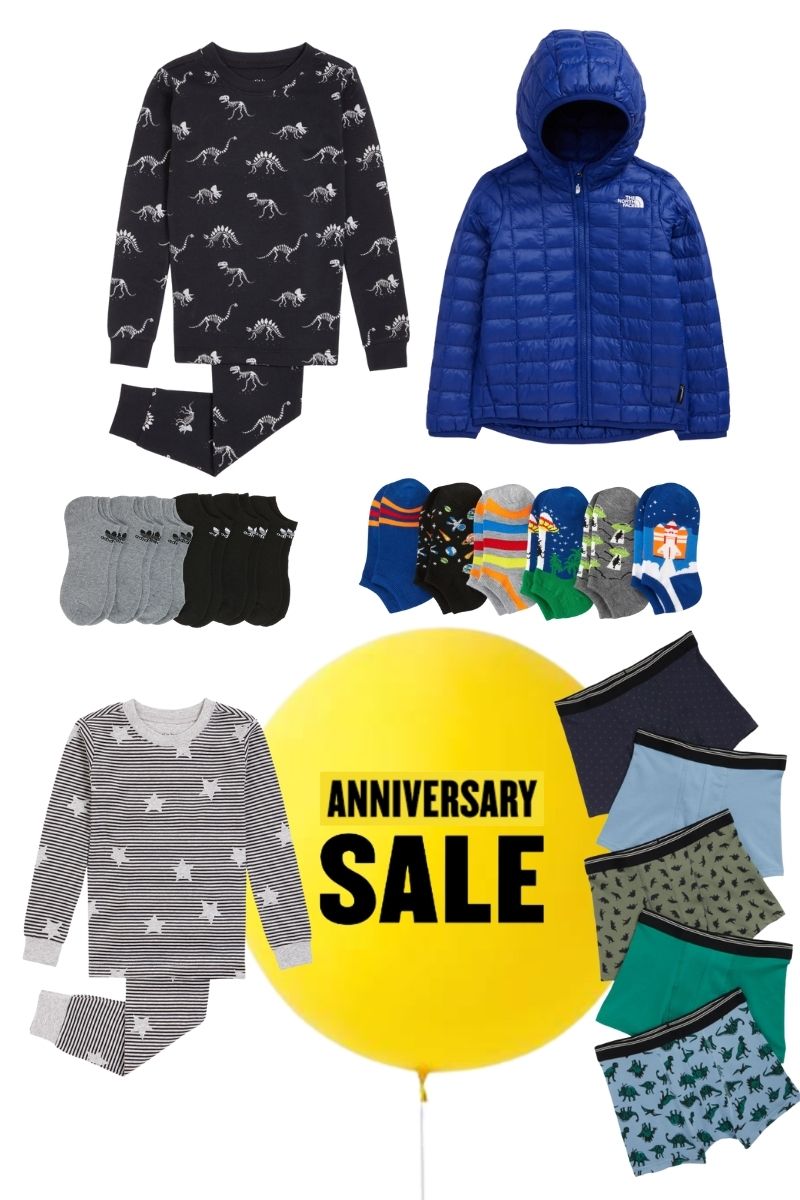 no show socks | boxer briefs | star pajamas | the north face jacket | dinosaur pajamas | printed socks
Nordstrom Anniversary Sale PICKS FOR MEN:


Nordstrom Anniversary Sale PICKS:
BAREFOOT DREAMS BLANKET:
The Barefoot Dreams in the wild throw blanket tends to sell out each year especially in certain colorways, so I encourage you to get one as soon as you can shop the sale if you don't already have it. I have it in the camel and black colorway as well as the tan and cream color way. I have one downstairs on our couch and I sleep with one every single night. It's so soft, cozy and chic – a blanket you actually want to show off!
FOR THE OFFICE
For those of you working in an office setting, here are some tops, dresses and pants I think are really pretty, versatile and timeless to add to your closet.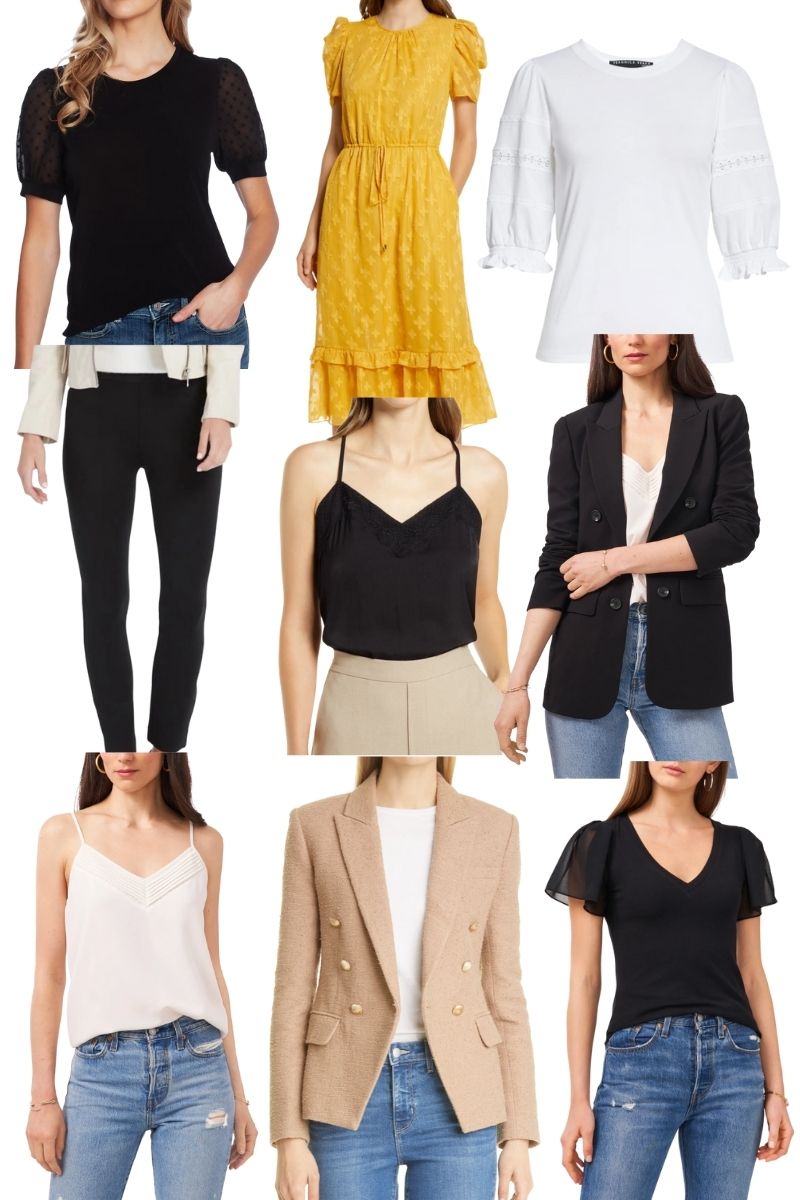 tee with Swiss dot sleeves | Spanx black skinny pants | mustard midi dress | black double breasted blazer | Veronica Beard white puff sleeve top | camel blazer w/ gold buttons| pintuck v-neck camisole | black racerback camisole | black flutter sleeve tee |
BRAS & UNDERWEAR
I got my first pair of natori briefs during last year's sale and they're my favorite sleep undies (yes, I wear a new pair every night after showering) and the most comfortable cotton ones I own. They have a great level of stretch but are a perfectly soft, breathable cotton.
True and Co. bras have been my favorite for years and I own one in every style- you can't go wrong. I also love the Nordstrom brand comfort layer bra (black) and it's under $11.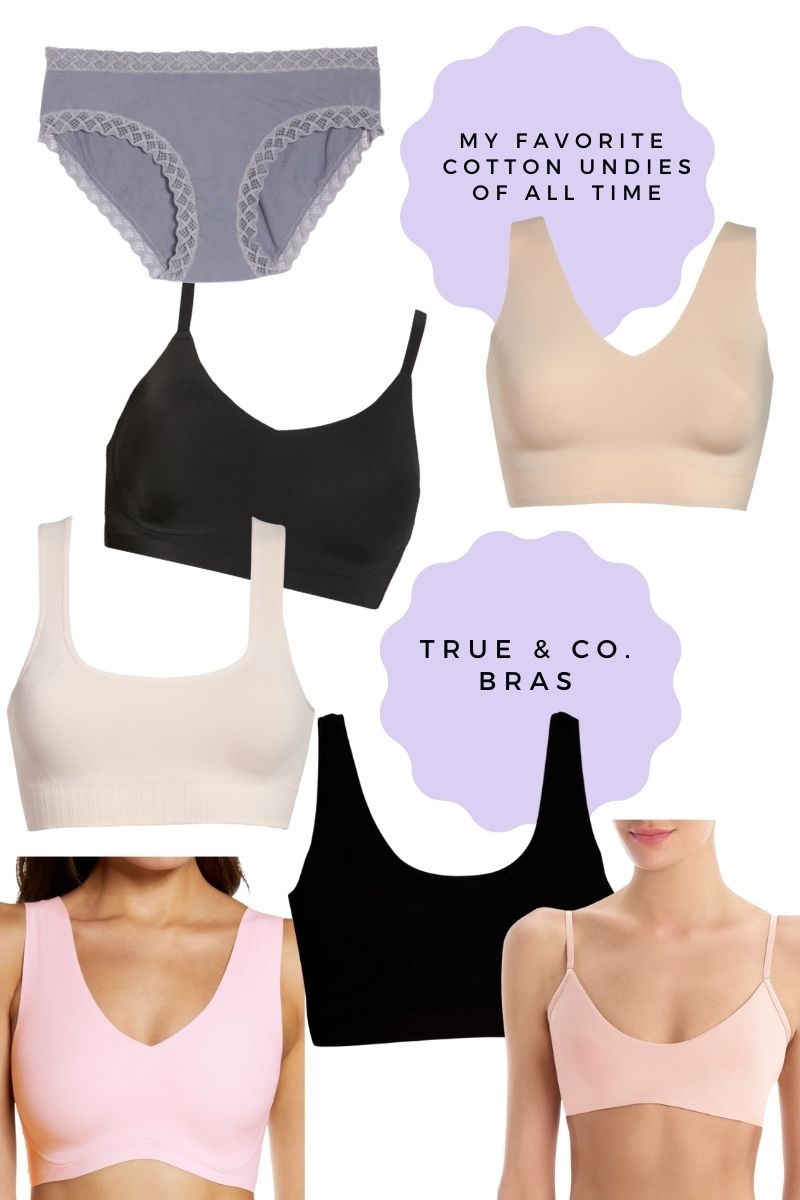 natori briefs | true and co. mesh back bra | true & co. v neck bralette |comfort layer bra (black) | true & co. true lift v neck bra | commando butter bralette (light pink)
WORKOUT & ATHLEISURE
This is one of my favorite categories this year because everything is by brands I love and already own.
The alo airlift 7/8 leggings are my tried and true favorites – the ones I splurge on. I have them in two colors already and this blue is so fun! I have not tried their sports bra but love the longline style that matches the leggings. I wear a size small in these leggings.
ZELLA live-in high waisted leggings are a staple in any legging collection – they're great for lounging, yoga and to wear with tunics!
I was thrilled to see the IVL pink scalloped sports bra and IVL scalloped leggings as I own and adore both in black and white. I wear a 6 in the leggings (but would prefer a 4) and an 8 in the bra (size up).
alo airlift 7/8 leggings | Spanx black leggings | alo sports bra (blue) | ZELLA live-in high waisted leggings | Spanx white tennis skirt | Zella breezy sport bra | black cropped tee | IVL pink scalloped sports bra | zella low cut socks | IVL scalloped leggings (pink) |
DENIM
So much good denim this year – I can't wait to try all of these on. I always get at least one pair of jeans during the anniversary sale.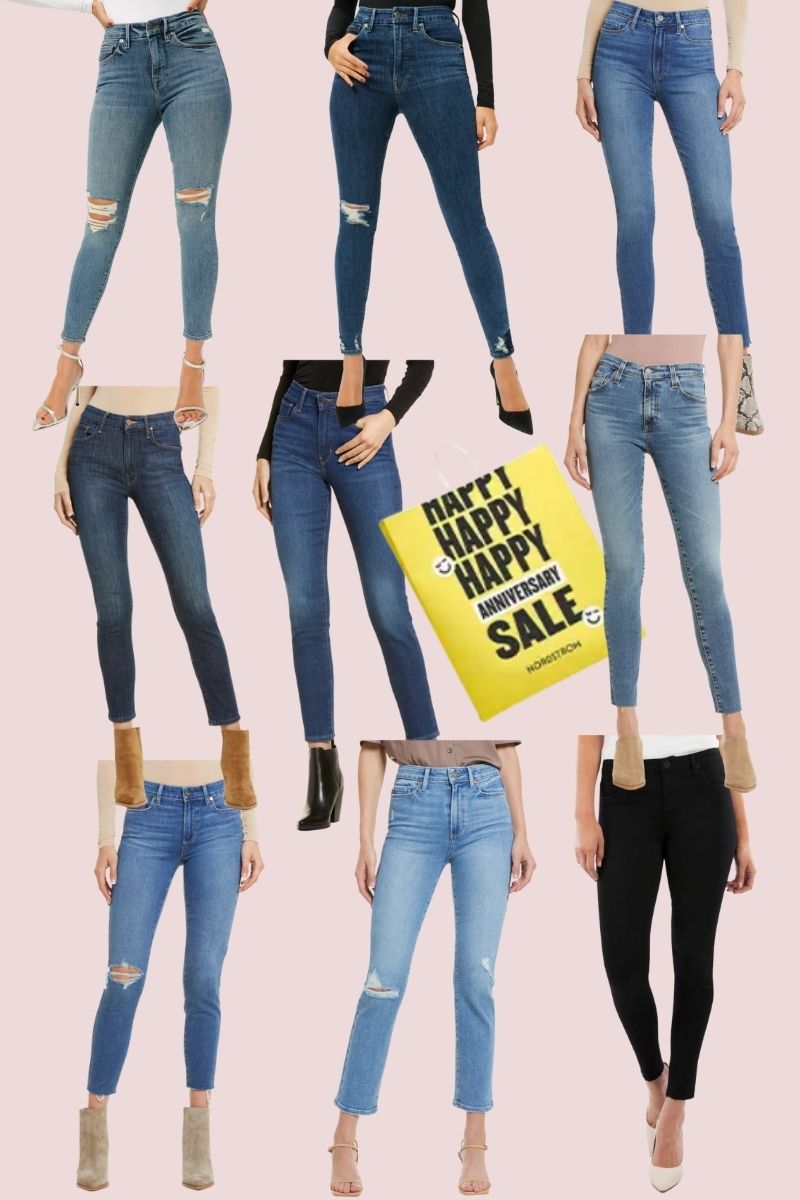 good American good legs jeans | good American good waist jeans | LEVIS 721 high waisted skinny jeans | AG Farrah high Waites skinny jeans | MOTHER the looker high waisted cropped jeans | Paige Hoxton skinny jeans with raw hem | Paige verdugo ripped jeans | Paige Cindy ripped straight jeans | black high waisted ankle skinny jeans |
JACKETS
I don't need any jackets this year (Lord knows I have quite the collection), but these are my picks this year. It has rained so much in Houston this summer that I swear I could justify another raincoat.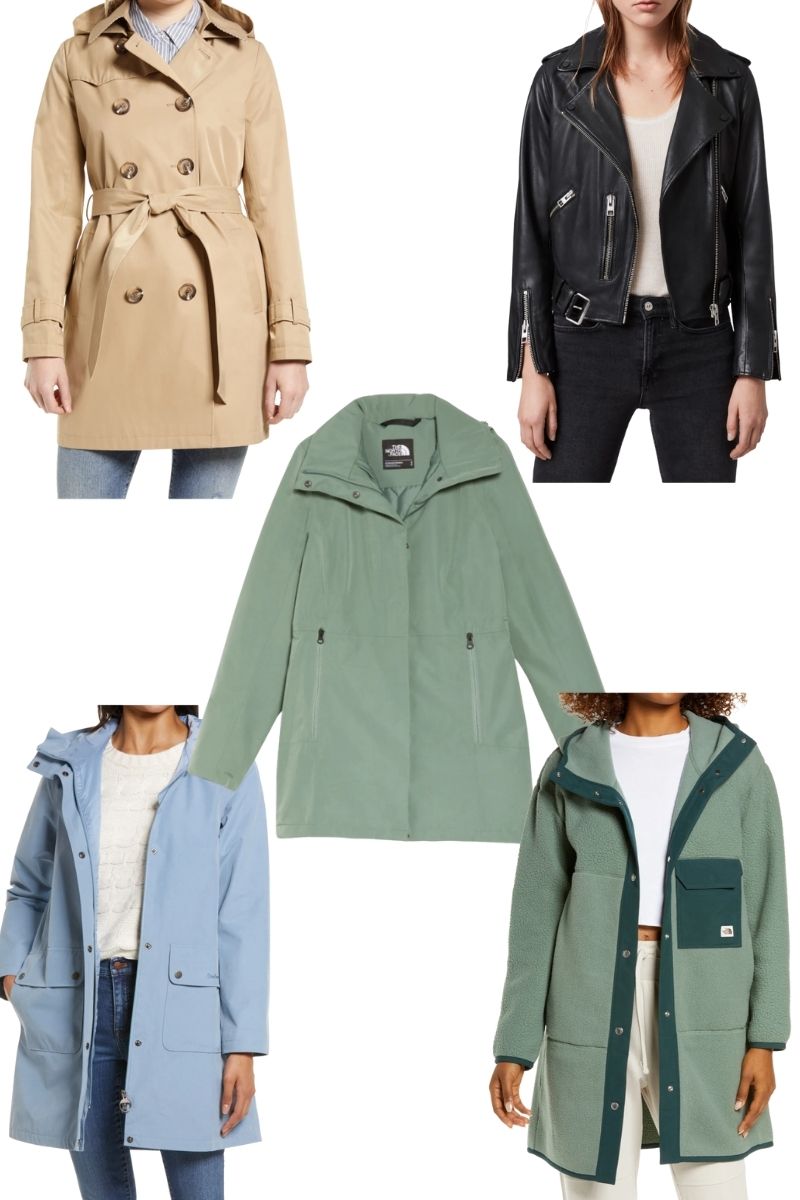 All Saints leather moto jacket | the north face waterproof jacket (green) | Barbour waterproof rain coat (light blue) | the north face hooded fleece coat | water repellant trench coat |
SWEATERS & TOPS
I hate the thought of buying sweaters when it's 95 degrees outside, but zi really liked several this year and plan to try them on if they're not sold out by the time I order. I also included a few tees that can be worn now and the fun take on the nap dresswe've all come to love.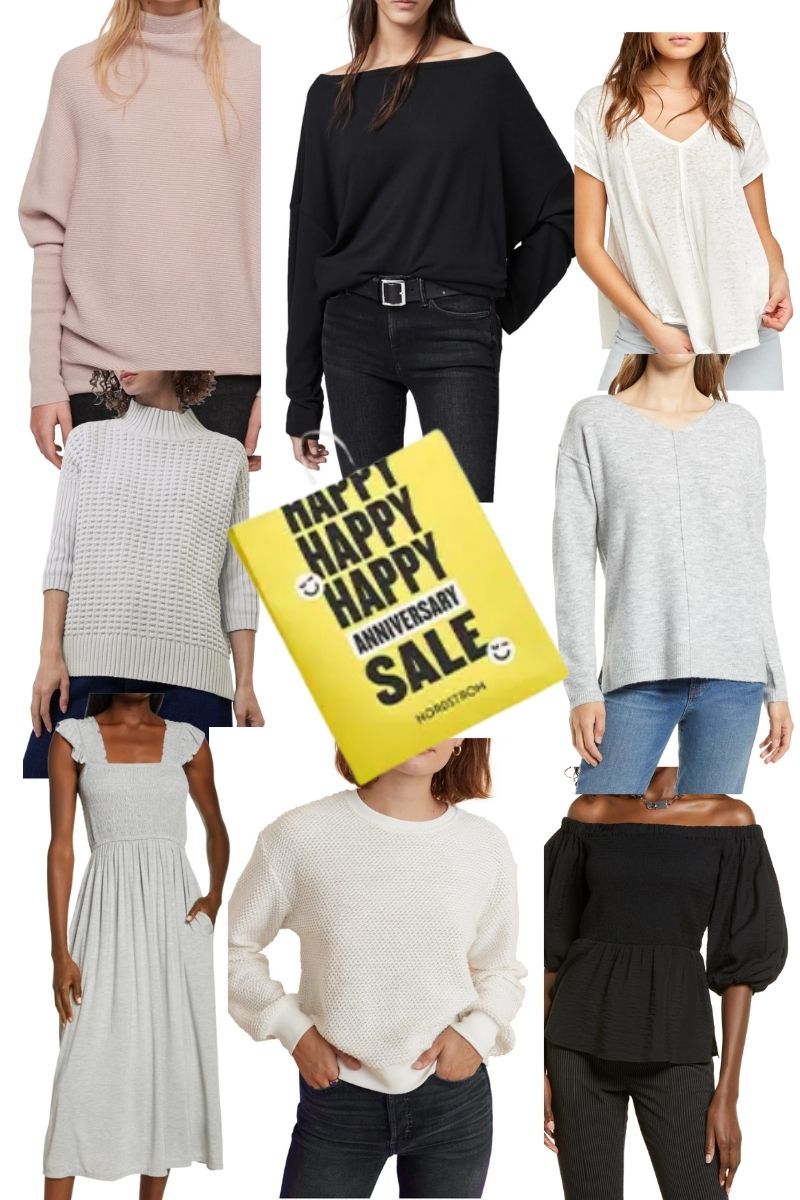 oversized one shoulder sweater (black) |light gray popcorn sweater | funnel neck ribbed sweater (khaki) | marine layer cream textured sweater | black smocked puff sleeved off the shoulder top | light gray sweater | nap dress (light gray) | free people white tee
SHOES
I'm not big on shoes. I don't own a ton of pairs and of the pairs I have, I wear the same few over and over (and over). My shoe selections are always small because how many pairs of booties or running shoes do we really need each year? Having said that, here are some thoughts:
I have a pair of on cloud running shoes and they're all I wear when we go to the park, on walks with Teddy, etc. I love the way they feel – super supportive.
I have heard that the adidas ultra boost are the ultimate running & cross training shoe. I'm not a runner but I've heard enough positive feedback that I feel confident recommending them.
I have not purchased booties since like 2018. I did order a pair in 2019 but the fit didn't work for me so I retuned them. However, I really love these classic Steven madden tan booties and will likely order a pair hoping they'll work for me.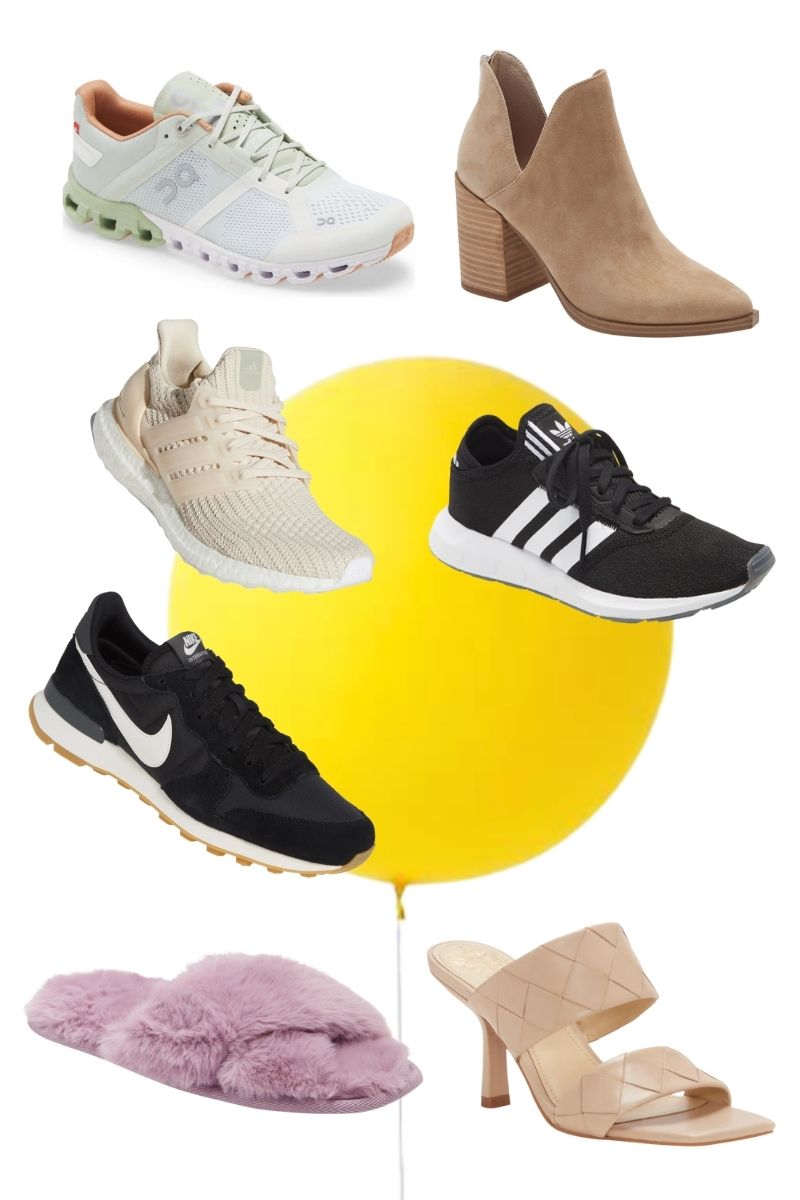 on cloud running shoes | lilac fuzzy slippers | Adidas swift run sneakers | adidas ultra boost running shoe | Steven madden tan bootie | Nike sneakers | nude heeled sandals
Nordstrom Anniversary Sale BEST OF BEAUTY: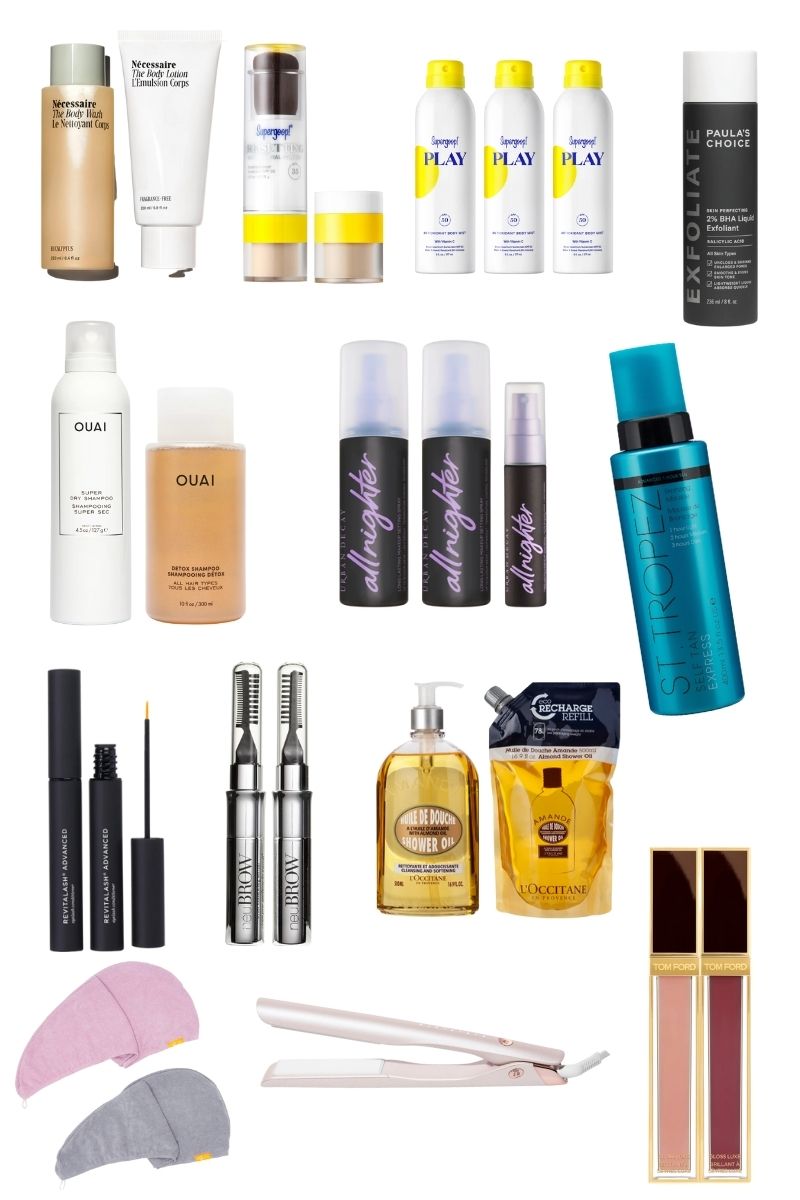 Necessaire body wash and lotion
I've been using this since late last year and absolutely love both the body wash and lotion – so nourishing and packed with vitamins to make skin soft.
Supergoop mineral powder + Supergoop Play SPF
Y'all know my passion for SPF and this deal can't be beat. We go through spray sunscreen so quickly in the summer.
Paula's Choice liquid BHA exfoliant
I have not tried this, but have read it's great for controlling blackheads and clogged pores. Highly rated!
OUAI clarifying shampoo & detox dry shampoo
I just got this shampoo at full price and have heard amazing things about it. It has ACV, so it helps clear out all the "gunk" in your hair like leftover product residue, when you use too much dry shampoo, etc.
Urban Decay all nighter makeup setting spray
The only setting spray in my arsenal. Great for summer when your makeup feels like it's melting off just walking to your car.
St. Tropez express self-tanner
My #1 formula – I apply after dinner, leave on for 3 hours and wash off before going to bed. You'll have perfectly bronzed skin in 2-3 hours.
NeuLash NeuBrow serum
I use this serum nightly to keep my brows thick.
L'Occitane almond shower oil
I adore the smell of this and love how luxurious it feels in the shower. It's also GREAT for shaving.
RevitaLash serum
My favorite of all time lash growth serum. My lashes touch my brows when I look up – it works!
Tom Ford lipgloss
The glosses in this set aren't the color I wear, BUT this gloss is so high quality, feels amazing on the lips and is incredibly nourishing.
T3 1 inch straightening iron
I use this every week – I use it to smooth out sections of my hair after blowdrying (I sleep on blow dried hair and flatiron in the morning for smoothness).
Aquis hair towel duo
A microfiber towel that helps get more moisture out of your hair – which means less to blow-dry out which means less heat damage. Win!
JEWELRY & ACCESSORIES:
Of everything in the Nordstrom Anniversary Sale this year, I was pretty impressed with the jewelry selection – lots of real diamond jewelry too, including Dana Rebecca and Bon Levy.
Below are my picks & favorites. I've owned the pave CZ studs for about five years now and though I no longer wear them (I wear all real diamonds now because my ears are sensitive and I like to keep my studs in 24/7), they were a staple for me for many years and I wore them 350 days/year. They are extremely high quality and the perfect size to be noticed, but not overwhelming.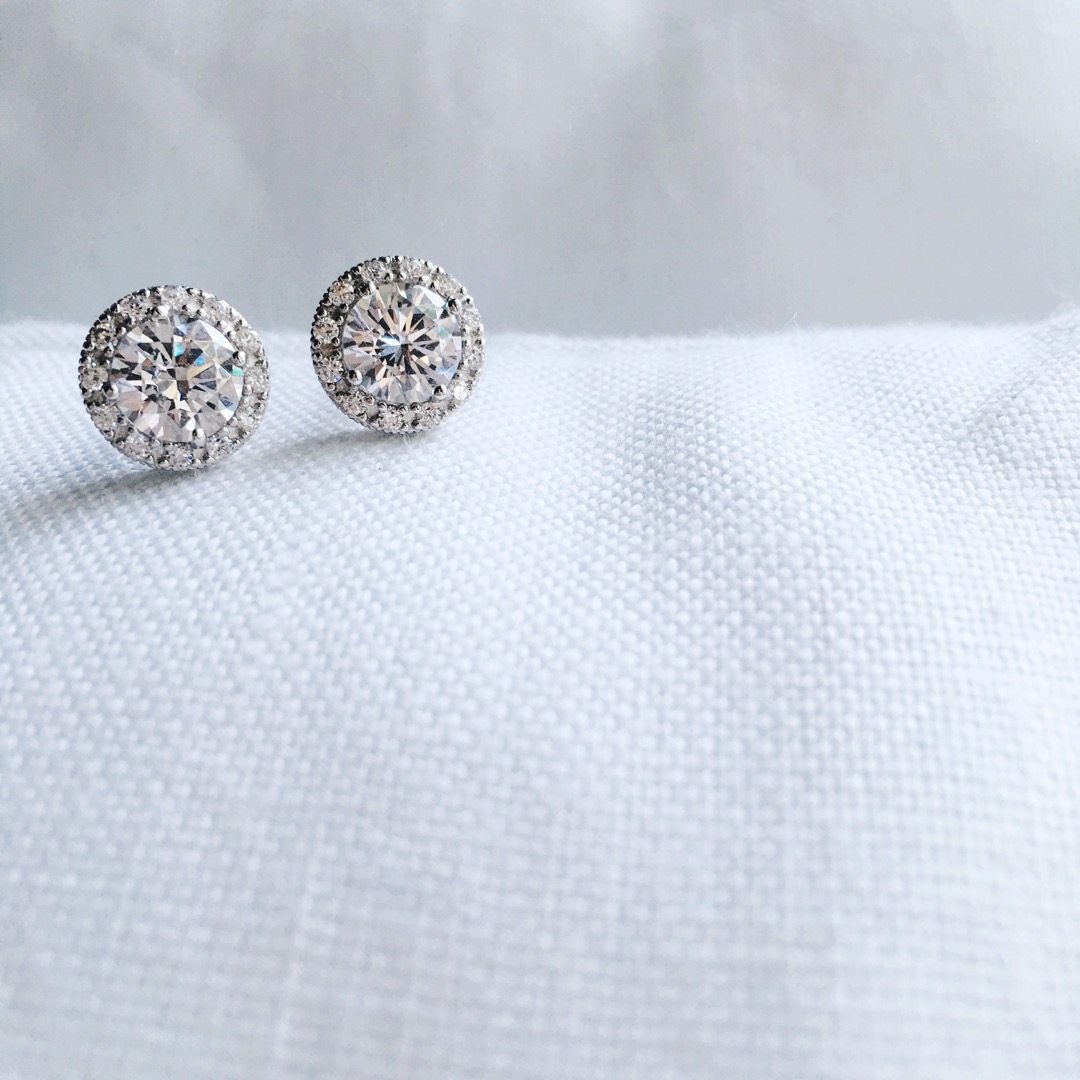 I don't own any of the bags I shared, but prior to getting my LV Pochette Metis, I only carried Tory Burch shoulder and crossbody bags and they were my favorite. Y'all know I'm a handbag devotee and so I don't like to change mine out a lot, but I do think this green one is very cute if you're in need of a smaller bag to fit just the essentials. I also like the Dagne Dover bagI linked because although I haven't experienced the brand, I've heard great things and it seems like a fantastic diaper bag option too (it also comes in black).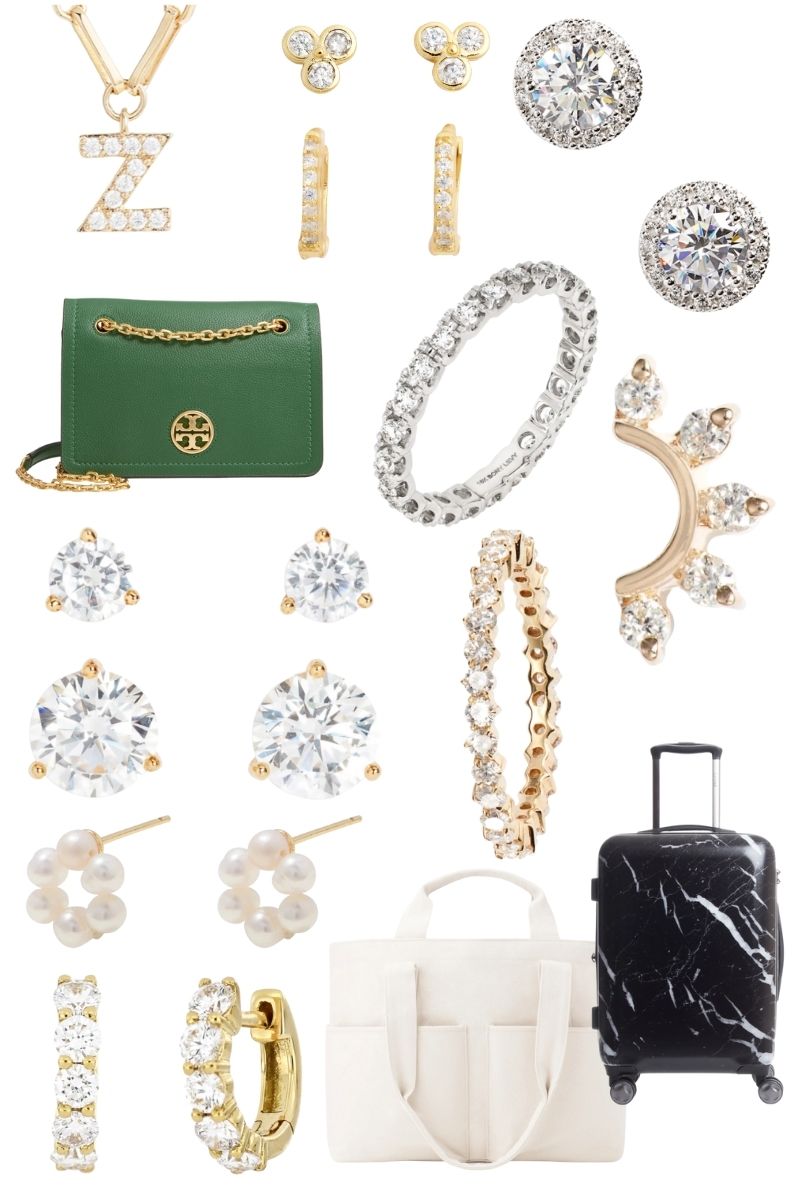 letter pendant necklace | huggie + stud earring set | pave CZ studs | tory burch bag | Dagne Dover bag | set of 2 CZ studs | freshwater pearl studs | dana Rebecca diamond curve studs | marble look carry-on luggage | diamond eternity band | bon levy diamond huggies | diamond eternity stacking ring
HOME & DECOR:
Lots of lovely picks in the home & decor category this year including the Barefoot dreams in the wild blanket – the best of the best!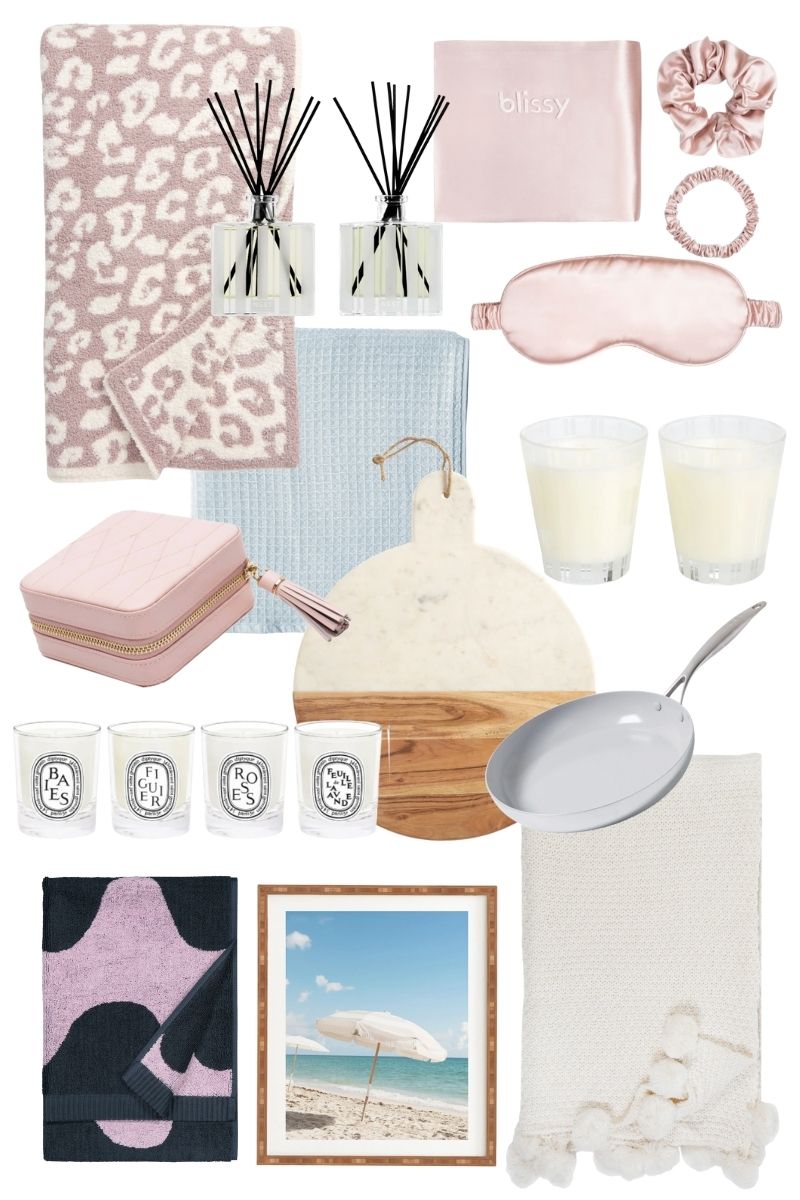 4-piece silk sleep set | Barefoot dreams in the wild blanket | waffle bath towel | pink travel jewelry case with tassel | nest grapefruit candle duo | DIPTYQUE travel candle set | nest reed diffusers | textured pom pom blanket | printed bath towel | marble and wood cutting board | Dyson v11 cordless vacuum | Greenpan nonstick pan | beach umbrella art
Happy shopping and thank you again for your support. You can also see my picks on my LIKETOKNOW.IT page or in the app!