I'm trying to do these posts monthly to give you more immediate feedback on my latest reads – here we go!
YOU CAN READ MY PREVIOUS AUDIBLE BOOK REVIEWS HERE.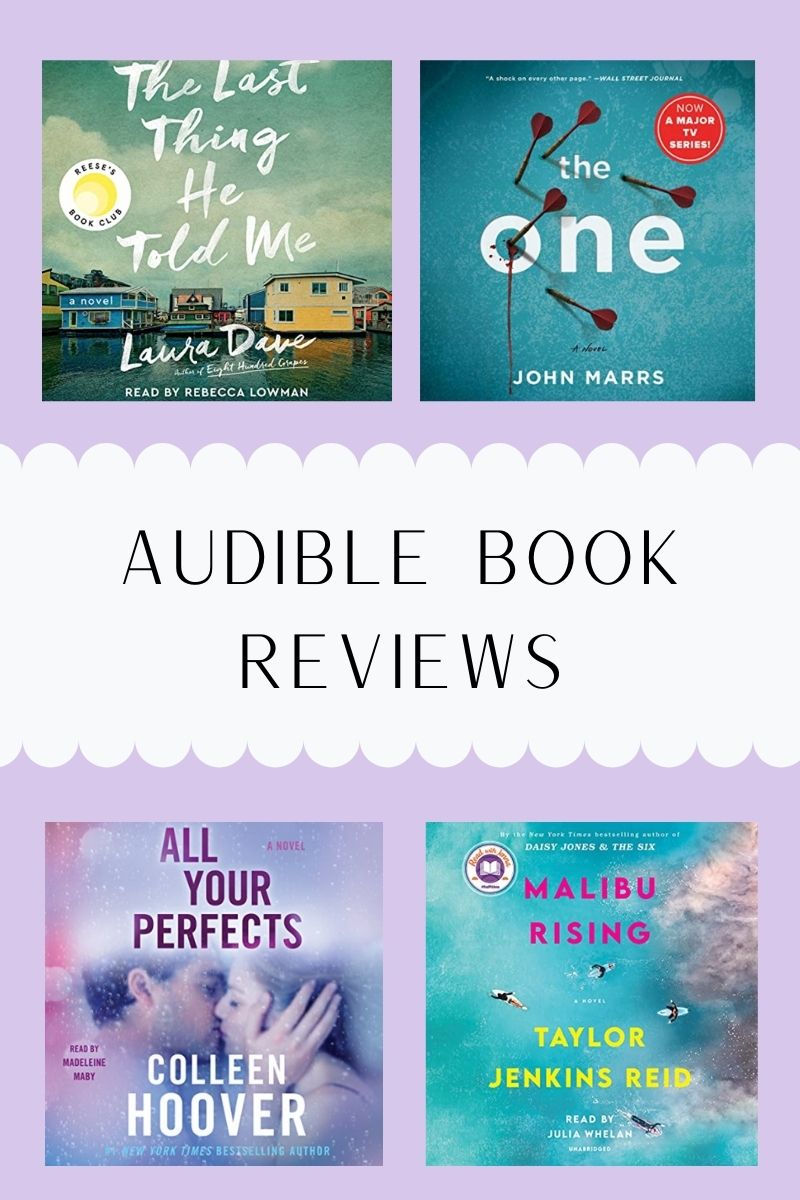 The Last Thing He Told Me
Synopsis: Before Owen Michaels disappears, he smuggles a note to his beloved wife of one year: Protect her. Despite her confusion and fear, Hannah Hall knows exactly to whom the note refers – Owen's 16-year-old daughter, Bailey. Bailey, who lost her mother tragically as a child. Bailey, who wants absolutely nothing to do with her new stepmother.
As Hannah's increasingly desperate calls to Owen go unanswered, as the FBI arrests Owen's boss, as a US marshal and federal agents arrive at her Sausalito home unannounced, Hannah quickly realizes her husband isn't who he said he was. And that Bailey just may hold the key to figuring out Owen's true identity – and why he really disappeared.
Hannah and Bailey set out to discover the truth. But as they start putting together the pieces of Owen's past, they soon realize they're also building a new future – one neither of them could have anticipated.
With its breakneck pacing, dizzying plot twists, and evocative family drama, The Last Thing He Told Me is a riveting mystery, certain to shock you with its final, heartbreaking turn.
My rating: 3.5/5. I liked this book, but didn't love it. I think it just wasn't fast-paced or thrilling or intense enough for me (which is what I expected based on the book synopsis). It was well written and had some depth, but I wasn't as pulled into it as I expected to be. Overall it was a good story and I don't regret listening to it, I just didn't find it to be as intense as I expected.
The One
Synopsis: A simple DNA test is all it takes. Just a quick mouth swab, and soon, you'll be matched with your perfect partner – the one you're genetically made for.
That's the promise made by Match Your DNA. A decade ago, the company announced that they had found the gene that pairs each of us with our soul mate. Since then, millions of people around the world have been matched. But the discovery has its downsides: Test results have led to the breakup of countless relationships and upended the traditional ideas of dating, romance, and love.
Now, five very different people have received the notification that they've been "Matched". They're each about to meet their one true love. But "happily ever after" isn't guaranteed for everyone. Because even soul mates have secrets. And some are more shocking than others….
A word-of-mouth hit in the United Kingdom, The One is a fascinating novel that shows how even the simplest discoveries can have complicated consequences.
My rating: 4/5. I really loved the concept of this book, the plot and the themes it made you reflect on. It keeps you on your toes as you learn more about each character in the book and their journeys and it unfolds with lots of twists and turns. It kind of reminded me of the Netflix series Black Mirror (which I loved!)
All Your Perfects
TRIGGER WARNING: this book heavily focuses on the topic of infertility.

Synopsis: Quinn and Graham's perfect love is threatened by their imperfect marriage. The memories, mistakes, and secrets that they have built up over the years are now tearing them apart. The one thing that could save them might also be the very thing that pushes their marriage beyond the point of repair.
All Your Perfects is a profound novel about a damaged couple whose potential future hinges on promises made in the past. This is a heartbreaking pause resister that asks: Can a resounding love with a perfect beginning survive a lifetime between two imperfect people?
My rating: 3.5/5. I enjoyed this book, but it wasn't one of my favorites from Colleen Hoover. The storyline focused heavily on infertility and was heartbreaking. I loved their relationship and the ending though and I don't regret having listened to it, even if I loved other books by Colleen more.
Malibu Rising
Synopsis: Malibu: August 1983. It's the day of Nina Riva's annual end-of-summer party, and anticipation is at a fever pitch. Everyone wants to be around the famous Rivas: Nina, the talented surfer and supermodel; brothers Jay and Hud, one a championship surfer, the other a renowned photographer; and their adored baby sister, Kit. Together the siblings are a source of fascination in Malibu and the world over – especially as the offspring of the legendary singer Mick Riva.
The only person not looking forward to the party of the year is Nina herself, who never wanted to be the center of attention, and who has also just been very publicly abandoned by her pro tennis player husband. Oh, and maybe Hud – because it is long past time for him to confess something to the brother from whom he's been inseparable since birth.
Jay, on the other hand, is counting the minutes until nightfall, when the girl he can't stop thinking about promised she'll be there.
And Kit has a couple secrets of her own – including a guest she invited without consulting anyone.
By midnight the party will be completely out of control. By morning, the Riva mansion will have gone up in flames. But before that first spark in the early hours before dawn, the alcohol will flow, the music will play, and the loves and secrets that shaped this family's generations will all come rising to the surface.
Malibu Rising is a story about one unforgettable night in the life of a family: the night they each have to choose what they will keep from the people who made them…and what they will leave behind.    

My rating: 4.5/5. I loved this book and would definitely add it to your summer reading list. It's by the same author as The Seven Husbands of Evelyn Hugo, which I also loved. She's such a gifted storyteller and I really enjoyed the character development. I was definitely moved by the story and how it all came together at the end.
What have you read lately?! Would love your recommendations!