I purchase a lot of beauty items on amazon now since I'm not shopping in store very often anymore. I thought I'd share some of my long-standing favorite products plus a few new ones if you're looking to add to or switch up your hair or skincare products.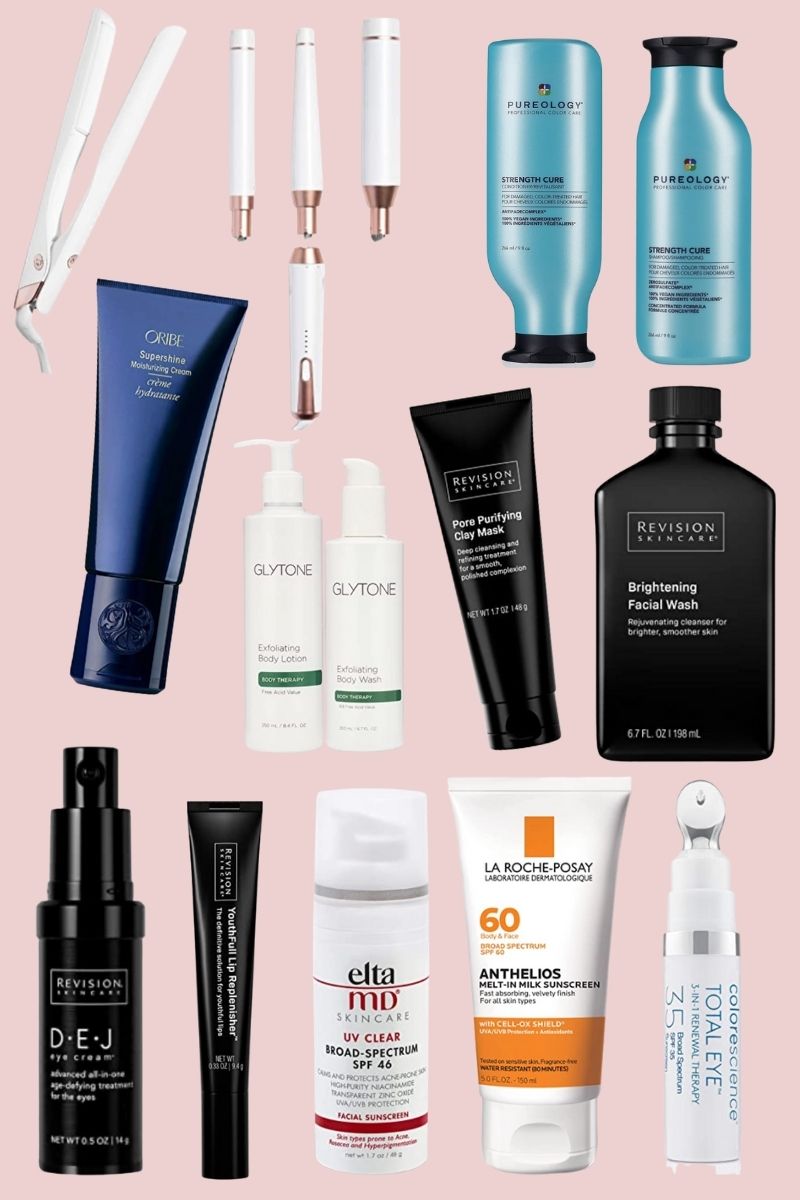 H A I R
T3 flatiron | I always use this flatiron on first day clean hair to smooth it out from my roots to ends. Even if I curl my hair on day one, I always use this flatiron on my roots to mid-shaft to smooth out some of my more wiry hairs and keep everything looking smooth (especially in this humidity!)
T3 whirl trio wand | This has been my go-to curling wand for over five years now and I use it every time I curl my hair. I prefer the 1-inch wand that comes with the set and use it 99% of the time. This curling wand gives you curls that LAST. I can sleep on my curls and still have a pretty bend the next day – they're so much easier to style and revive.
Oribe supershine creme | This is a great styling cream on damn hair or to revive waves on second, third or fourth day hair. It's not heavy and it's super moisturizing, giving a smoothed over look to the hair without destroying your volume.
Pureology strength cure shampoo & conditioner | This combo has the ideal PH for hair, so it's going to improve its condition over time. It makes your hair feel so soft – I'm addicted!
S K I N C A R E
Glytone KP kit | I have KP on my upper things and upper arms and use this combo in the shower and post-shower to keep my skin looking smoother. I definitely feel it makes a difference when I use it consistently.
Revision black mask | This clay mask is a savior if you struggle with acne or have to wear a mask all day – it really helps soothe the skin and get the gunk out of your pores. I've already gone through an entire container and am re-ordering.
revision nectifirm | I use this nightly on my neck (though I do forget some nights) and it's a great preventative cream – we all get tech neck with how much we're on. our devices and computers and this is just one way to combat that and keep your delicate neck area looking smoother.
Revision brightening facial wash | My all-time favorite face wash – I truly do see a difference in how bright my skin is when I use this. I use it morning and night and it really helps skin stay clear, bright and even-toned. I truly recommend it and like it even better than the LRP effaclar cleaners (although that one is wonderful too, it doesn't have a brightening effect!)
Revision DEJ eye cream | This is one of two eye creams I use and it's wonderful – if you look at their clinical data, it is shown to reduce the appearance of fine lines in the eye area.
Revision youthful lip replenisher | This is the lip product we never knew we needed. It's a little bit sticky, but I don't mind it at all – it stays on well! It truly nourishes the lips and restores moisture and thus makes them look fuller (it is not a plumping product, but it makes lips look more supple). I can't recommend it enough!
La Roche Posay anthelios SPF 60 | This water resistant SPF is my pool-day go-to under my makeup. It melts into the skin, offers incredible protection and looks great under makeup, which I consider to be a huge bonus.
Elta MD UV clear | My everyday SPF that I wear under my makeup. This is a MUST, even if you aren't in the sun much. I love the way this formula feels, how it looks under makeup and how it blends into the skin. It's truly the reason I've been able to swear SPF daily, because I love the way it feels and it also contains niacinamide which has its own skincare benefits.
Colorescience total eye 3-in-1 | I love that this formula is both brightening for the under-eye and protective like an eye cream with SPF. I wear the lightest shade and it has a pinky/peach tone which combats under eye darkness. You don't need concealer when you wear this, but of course you can add concealer over it if you like!
Hope you love these beauty picks as much as I do!