This post contains affiliate links.
It's time for another amazon fashion favorites post! I know shopping on amazon for fashion can feel overwhelming – there are so many options and brands/sellers and it can be difficult to know what size to order or the quality of an item.
That's why I love sharing these finds with you – I want to do all of the work so you can purchase with confidence.
Let's get started with this month's wins!
Beige bodysuit (size medium) & utility jacket (size XS, washed olive color)
I never saw myself wearing bodysuits, but I totally see their appeal now that high-waisted jeans have been trending for a few years. They create a seamless, perfectly "tucked in" look and layer beautifully under your favorite jacket or cardigan. I sized up to a medium since I have a long torso.
This jacket is everything – something you'll wear as it cools down and that will live in your closet for many years. There's a reason these utility jackets are sold every year by nearly every retailer – they're classic and so versatile. I opted for the washed olive color but also adore the deeper dark olive option (I already own a deeper color in this jacket, so wanted to switch it up!) I would size down in this jacket if you want a closer fit. It is so flattering and has a really high neck which looks so chic. It has really beautiful structuring which makes it uber flattering.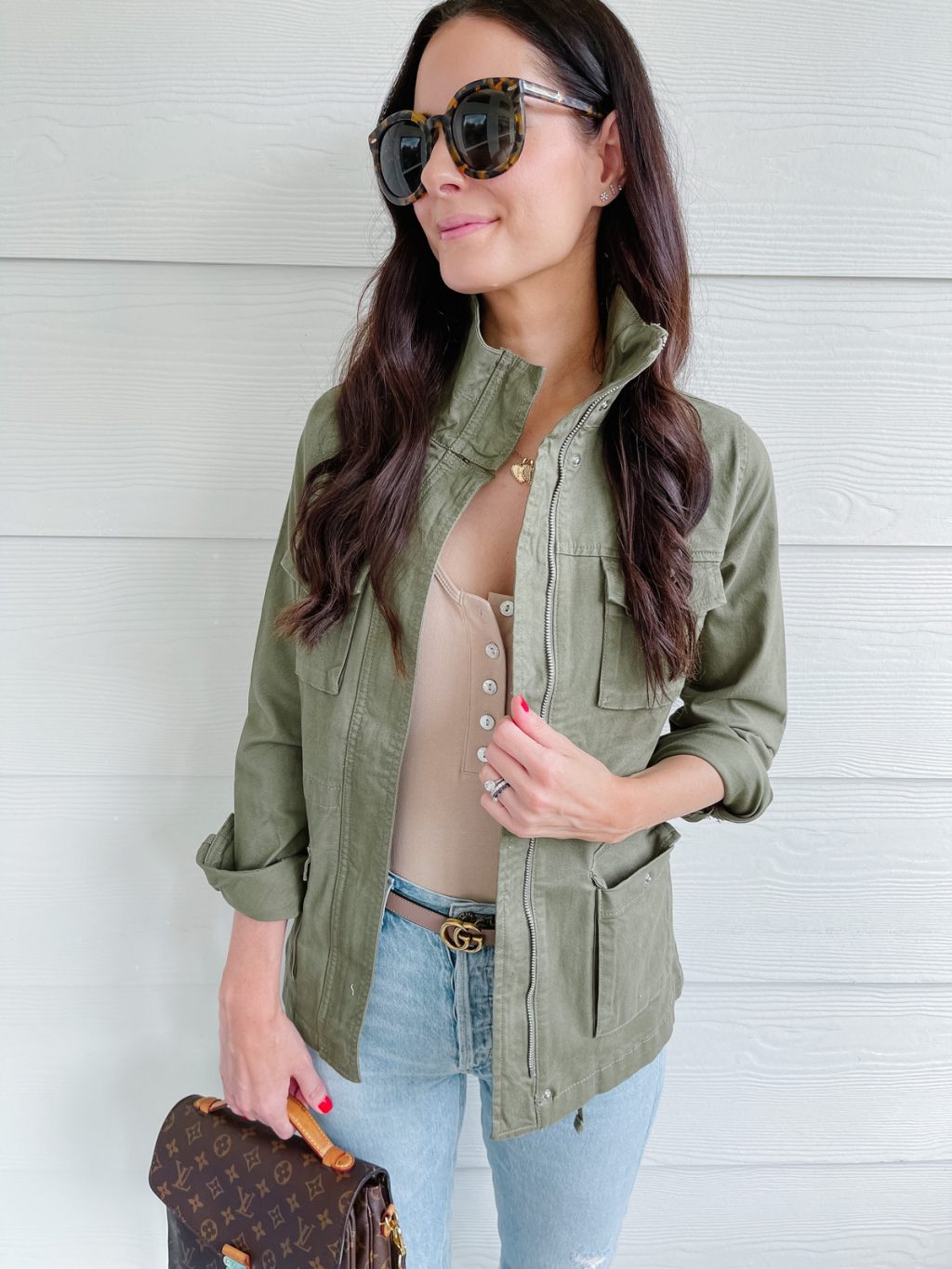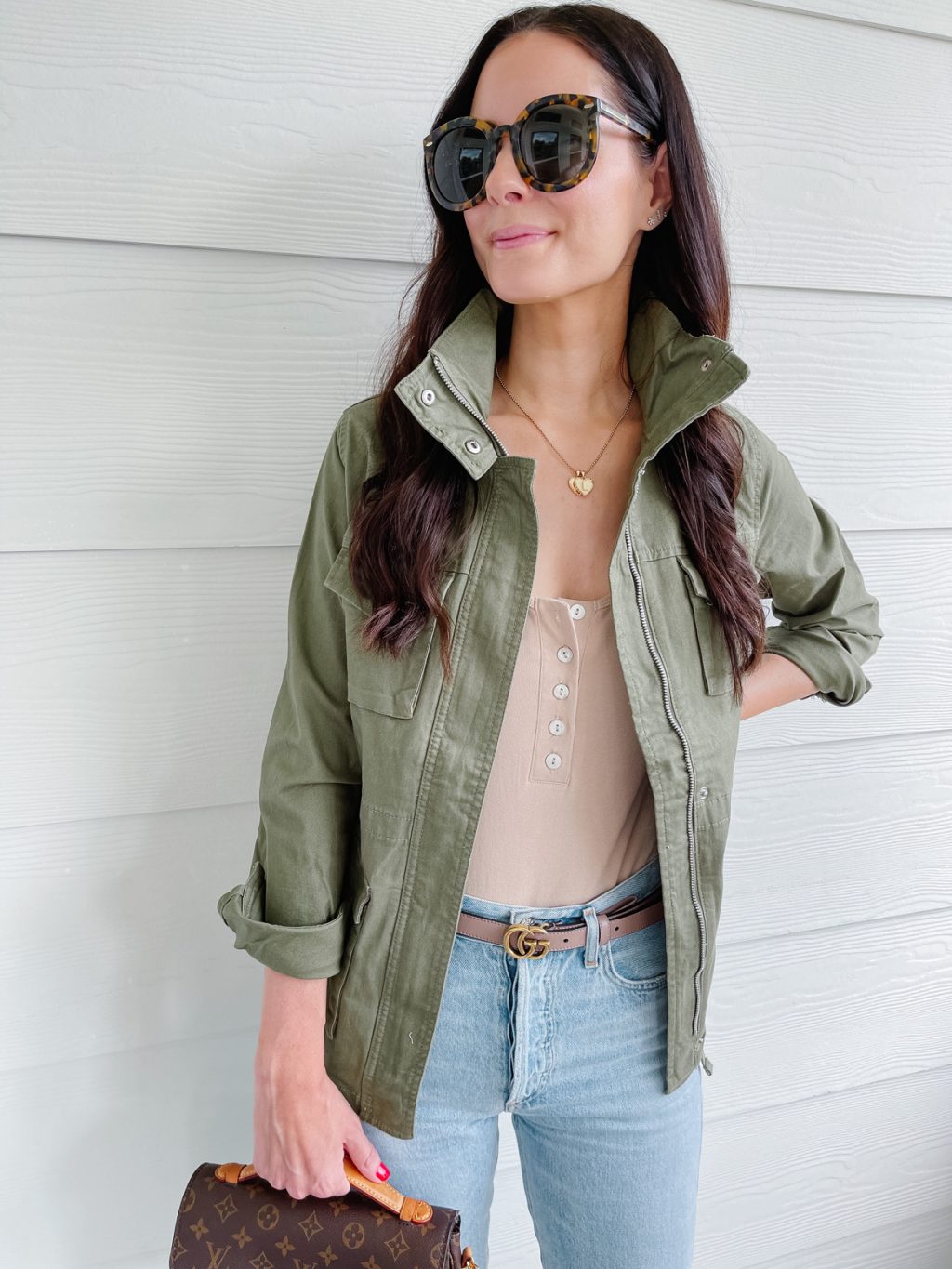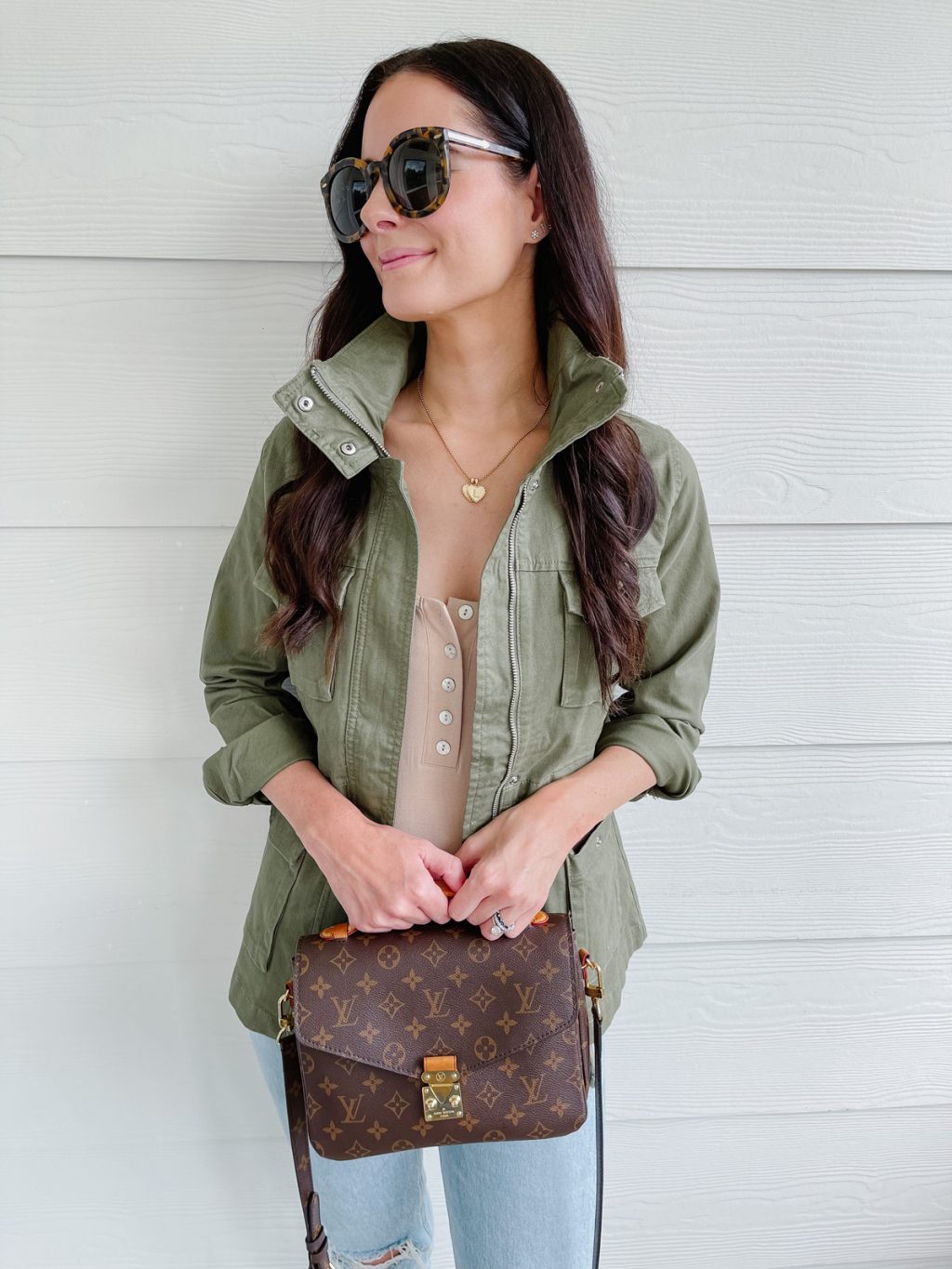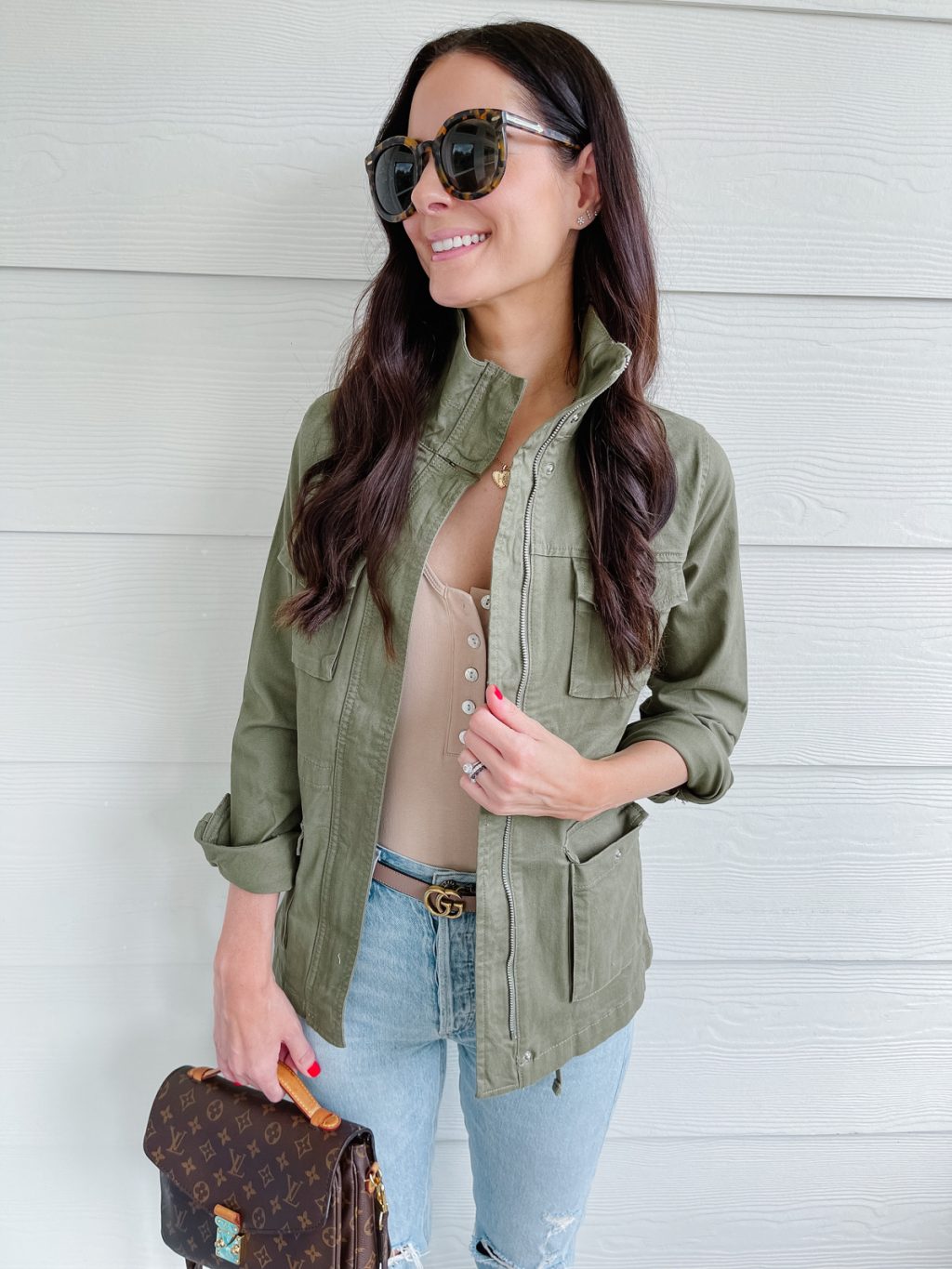 Smocked slim fit puff sleeved top (size XS)
I was a little worried this would be too small when it arrived, but the smocking stretches and it fits great! Y'all know I don't purchase a ton of tops that are tighter/closer fitting on the body, but it's something I'm exploring more since I think it's a really chic look with high-waisted jeans or pants. The puff sleeves on this top were the cherry on top – the perfect on-trend accent. I would order your regular size in this. Of note is that it can be worn fully tucked in, but it also has a really subtle ruffle at the hem, and can be born untucked. Love that this black top has a feminine edge to it!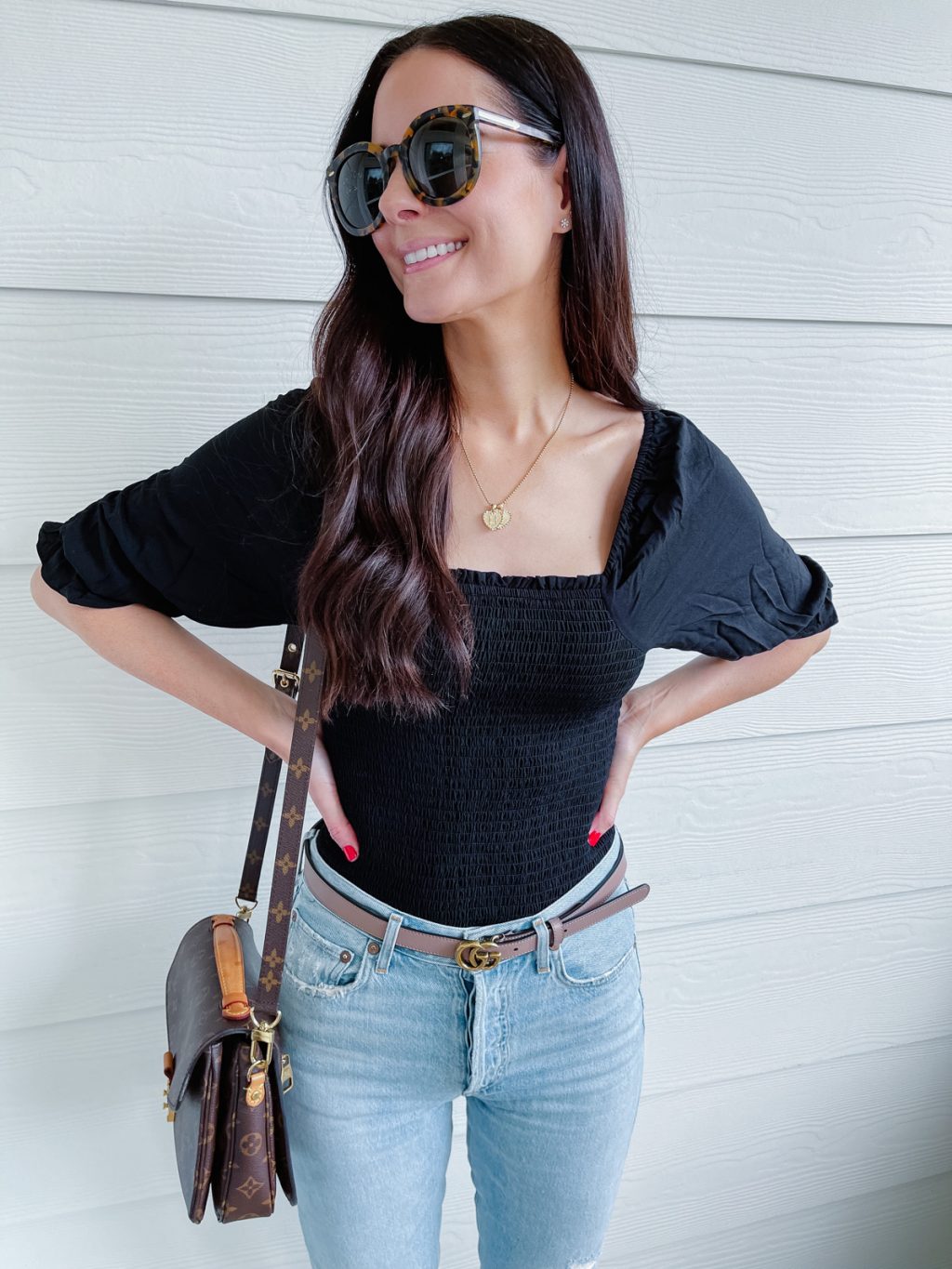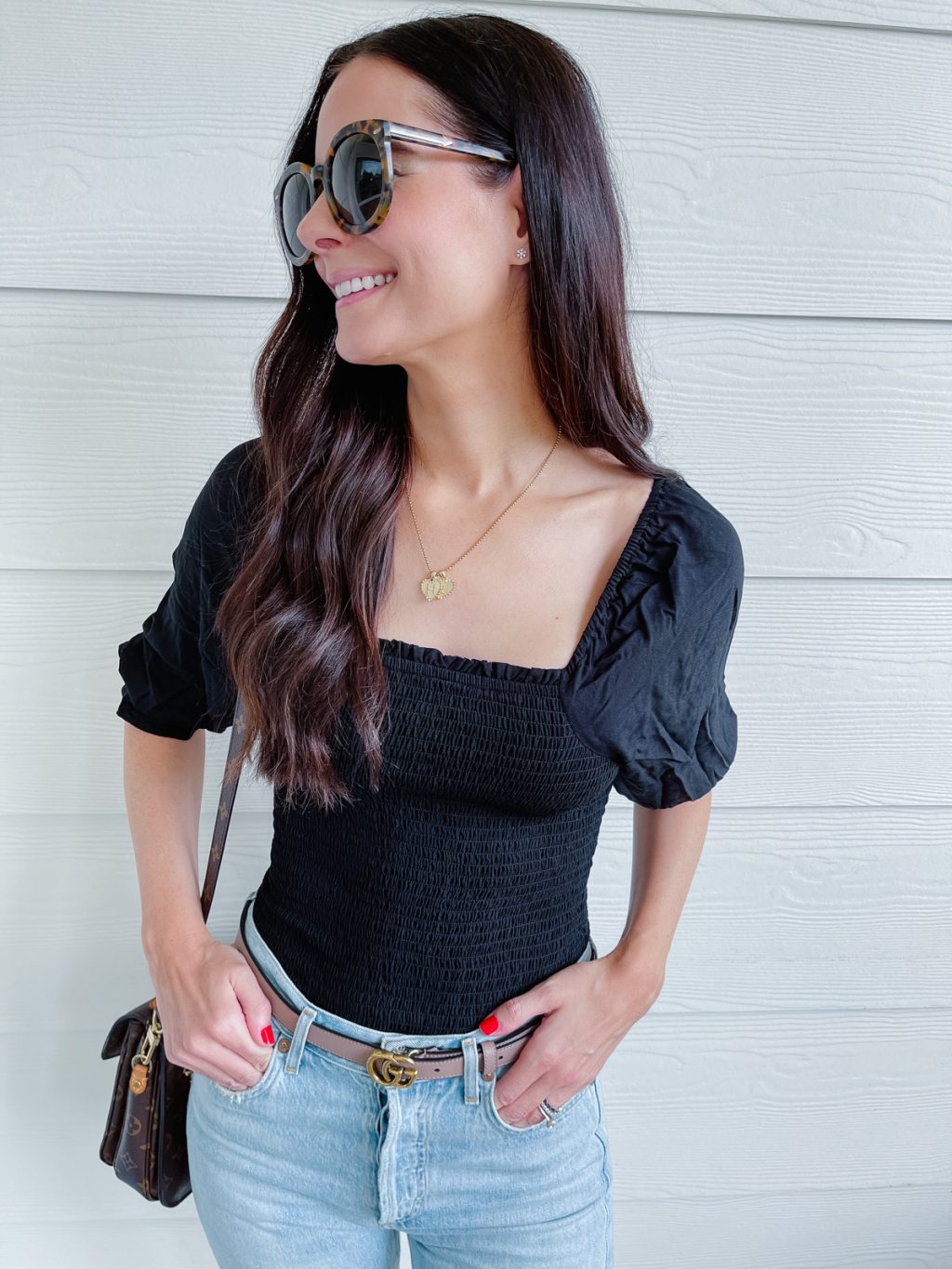 Navy cami dress (size XS)
I ordered this dress as a workwear option and it's perfecter under a blazer or cardigan – but it's also incredibly flattering on its own for the weekend (with sandals or sneakers), an event you want to dress up for a bit, etc. What I love most about this dress is how the top fits – it really highlights your waist and creates a cinched-in look. I think this dress would be really beautiful as more of a mini dress also. The chiffon skirt is very airy and flowy and I like the contrast it brings to the structured bodice.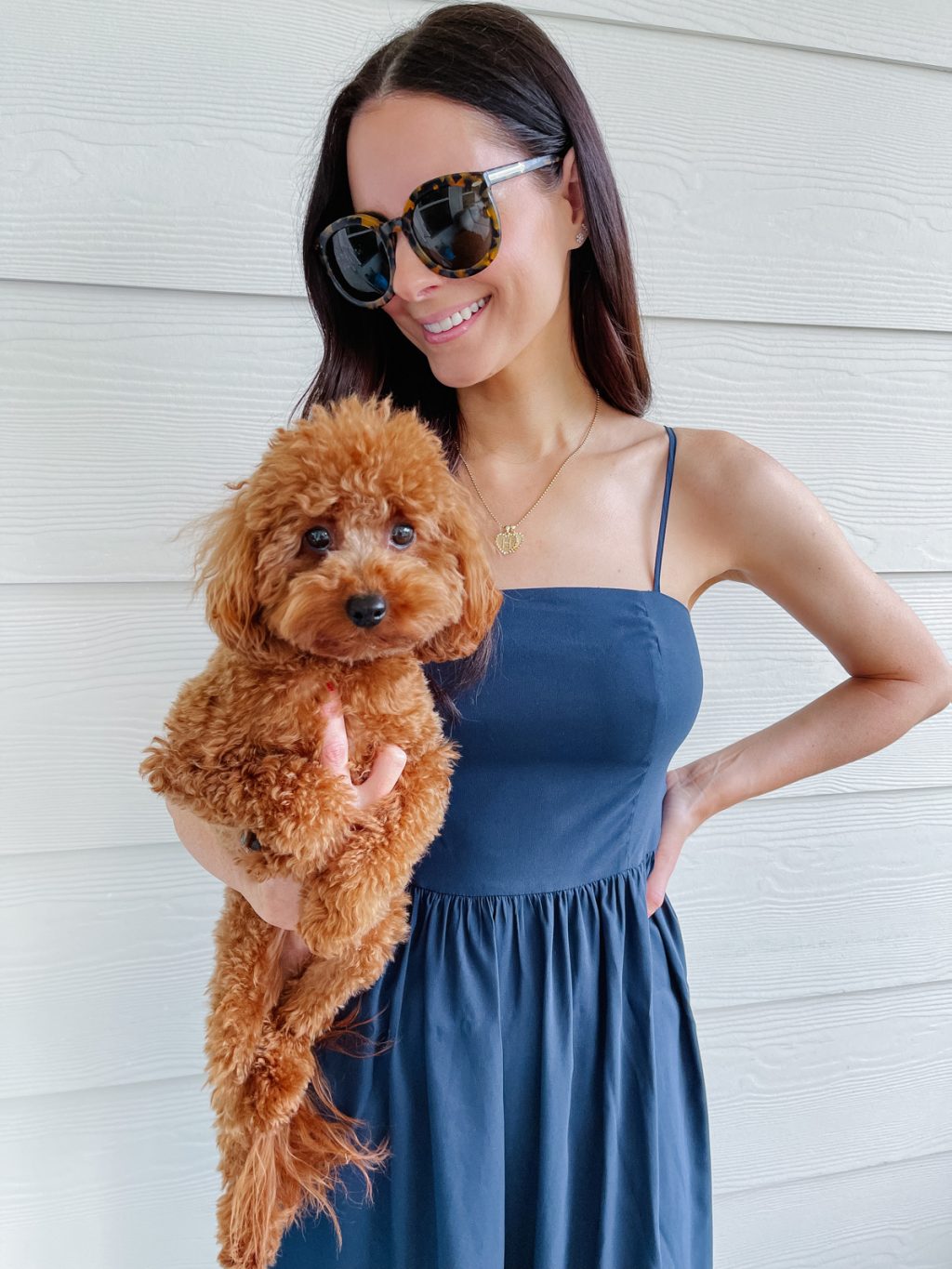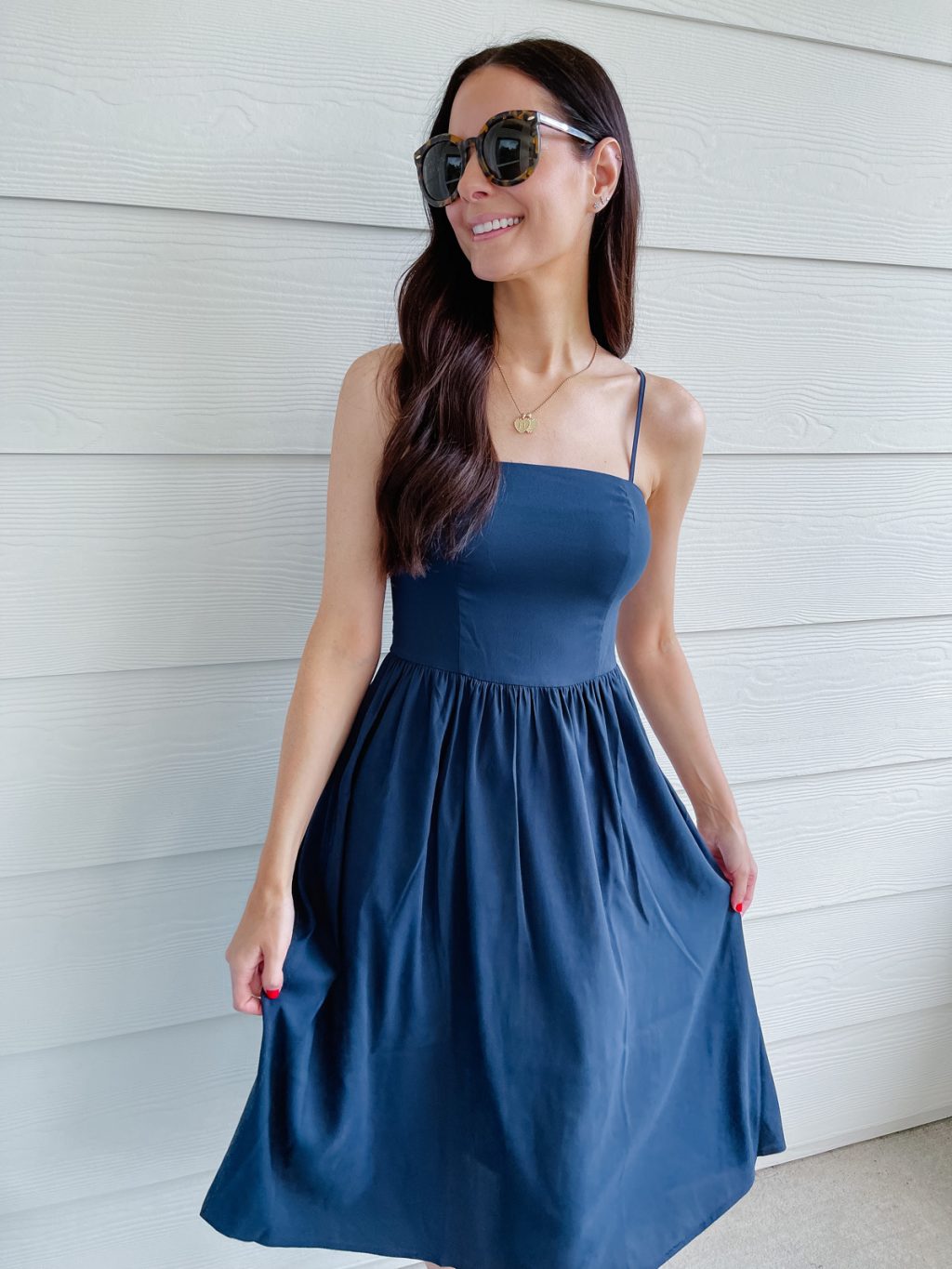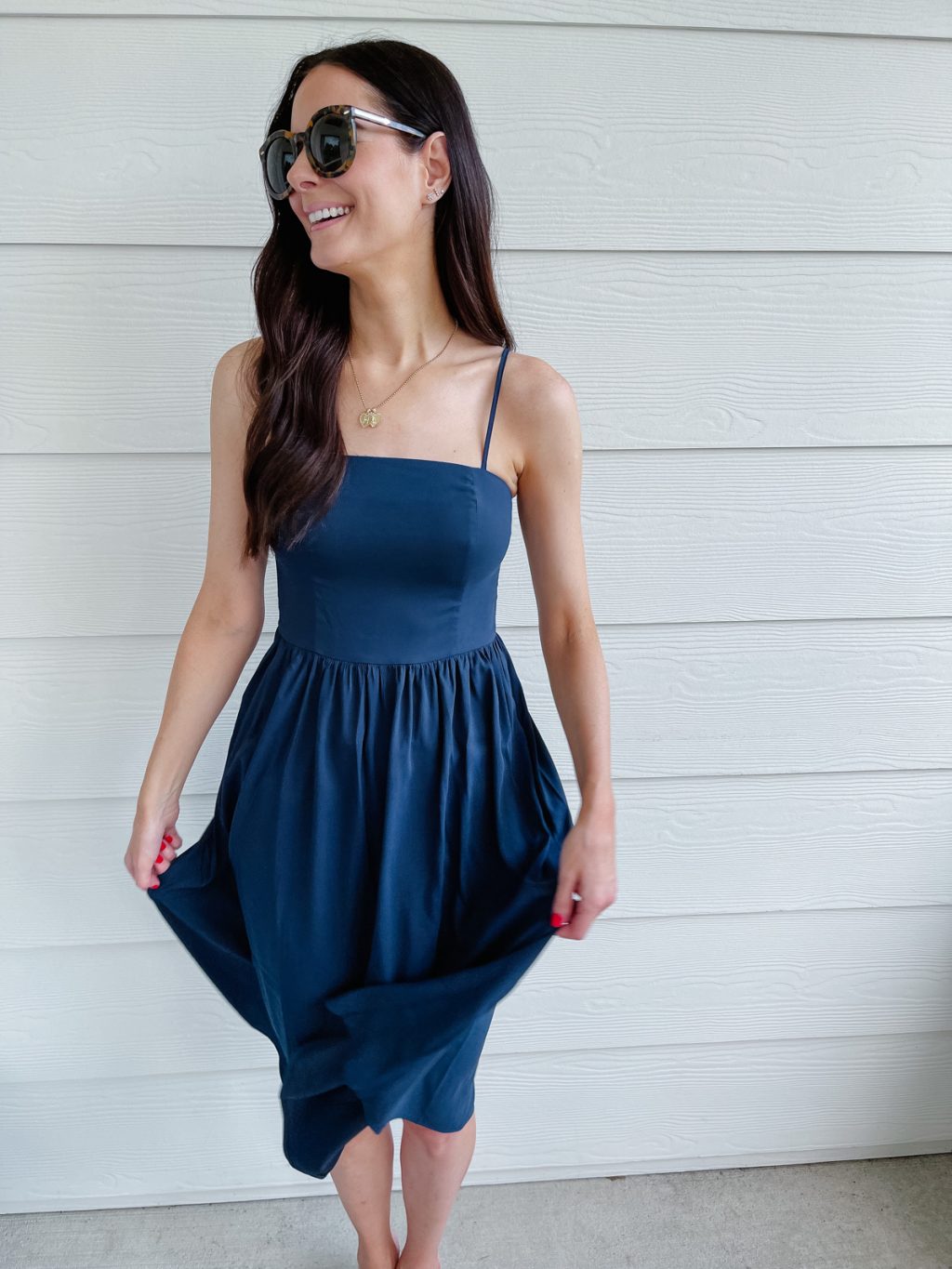 Black tee with floral sleeve appliqué (size small)
I was pleasantly surprised at the material of this tee – it's opaque, has stretch to it and feels great. I purchased this for fun and wasn't sure how it would look in person but my goodness it's SO cute. The extra flair the floral appliqués add makes it a date-night worthy top, with all of the comfort of your favorite black tee. My jeans are here.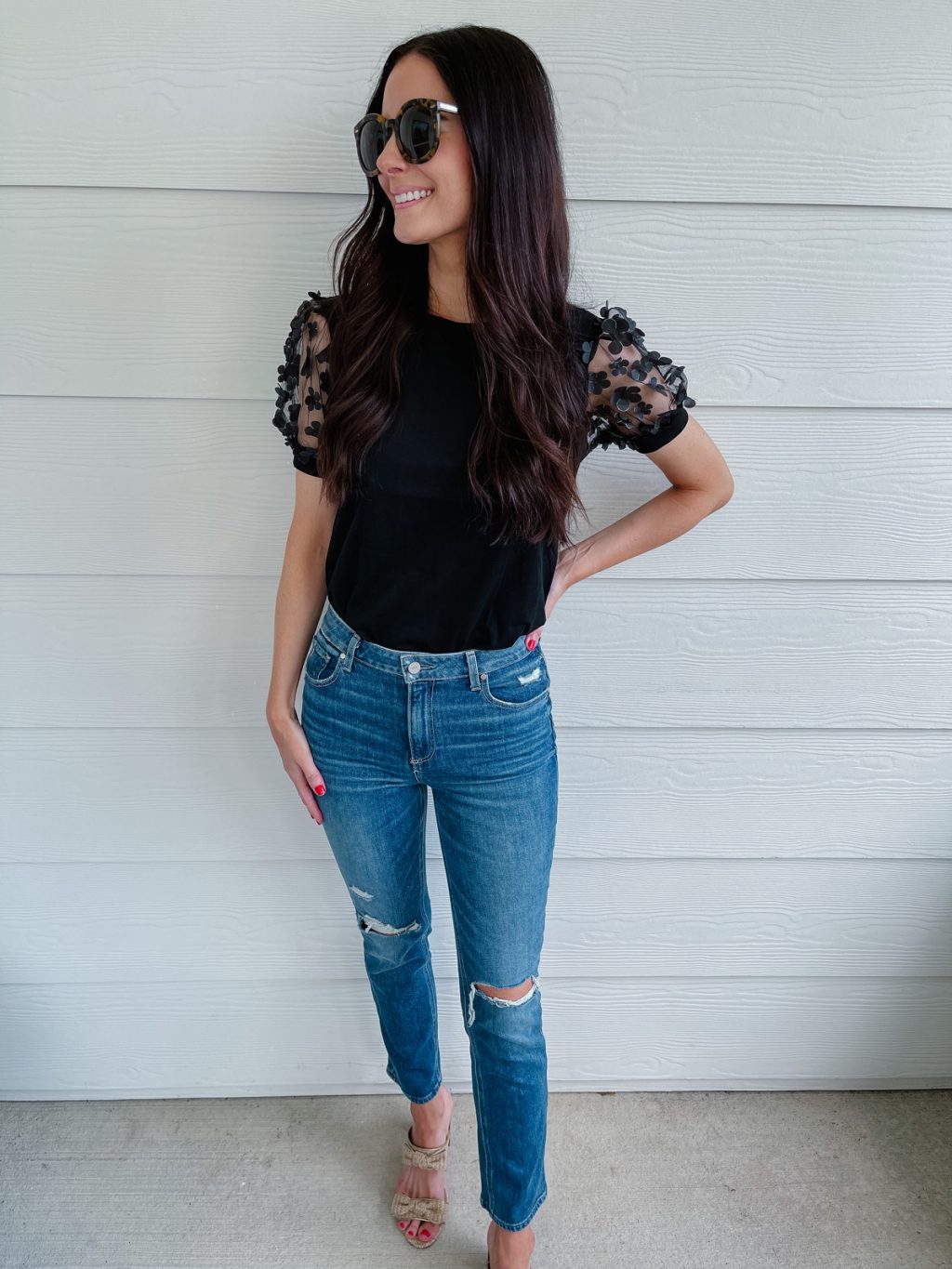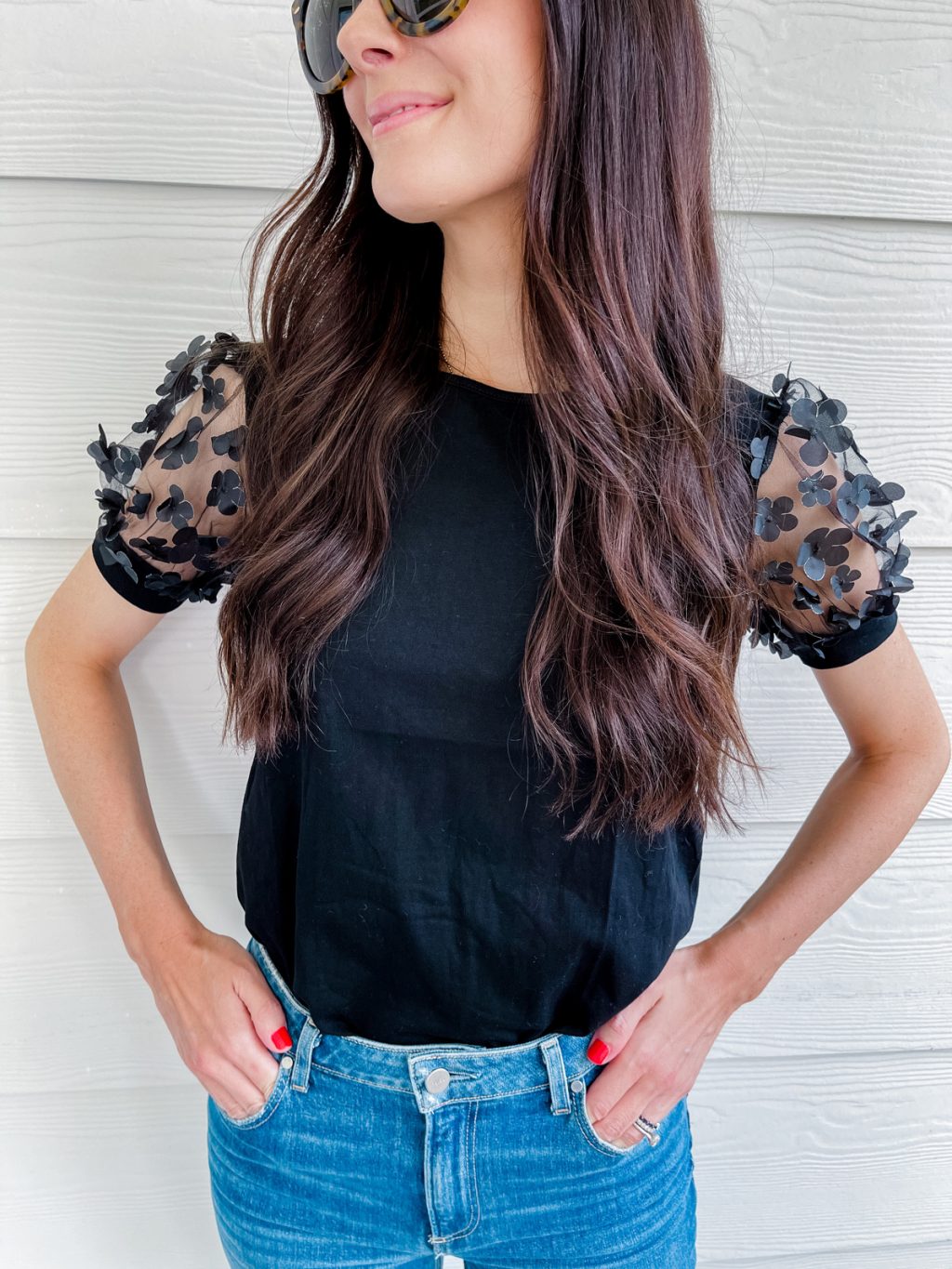 Lilac tie shoulder dress (size small)
Whether you wear it as a cover-up at the beach or as a day dress, I think you'll love this lightweight dress with adjustable tie strings at the shoulder. It also has elastic at the bust, so it has stretch to it if you have a larger bust. I love this for throwing on over your bathing suit at the beach or pool!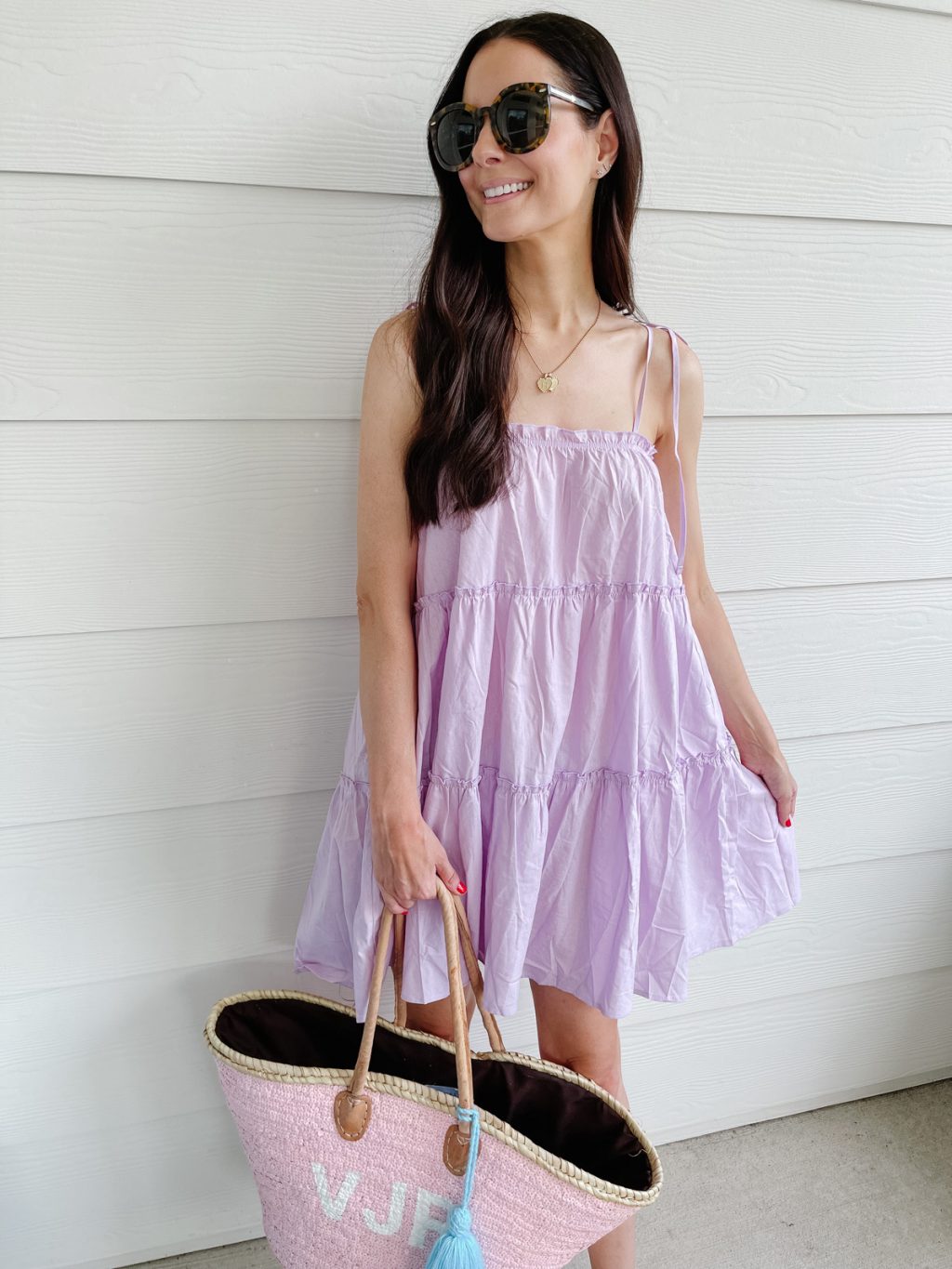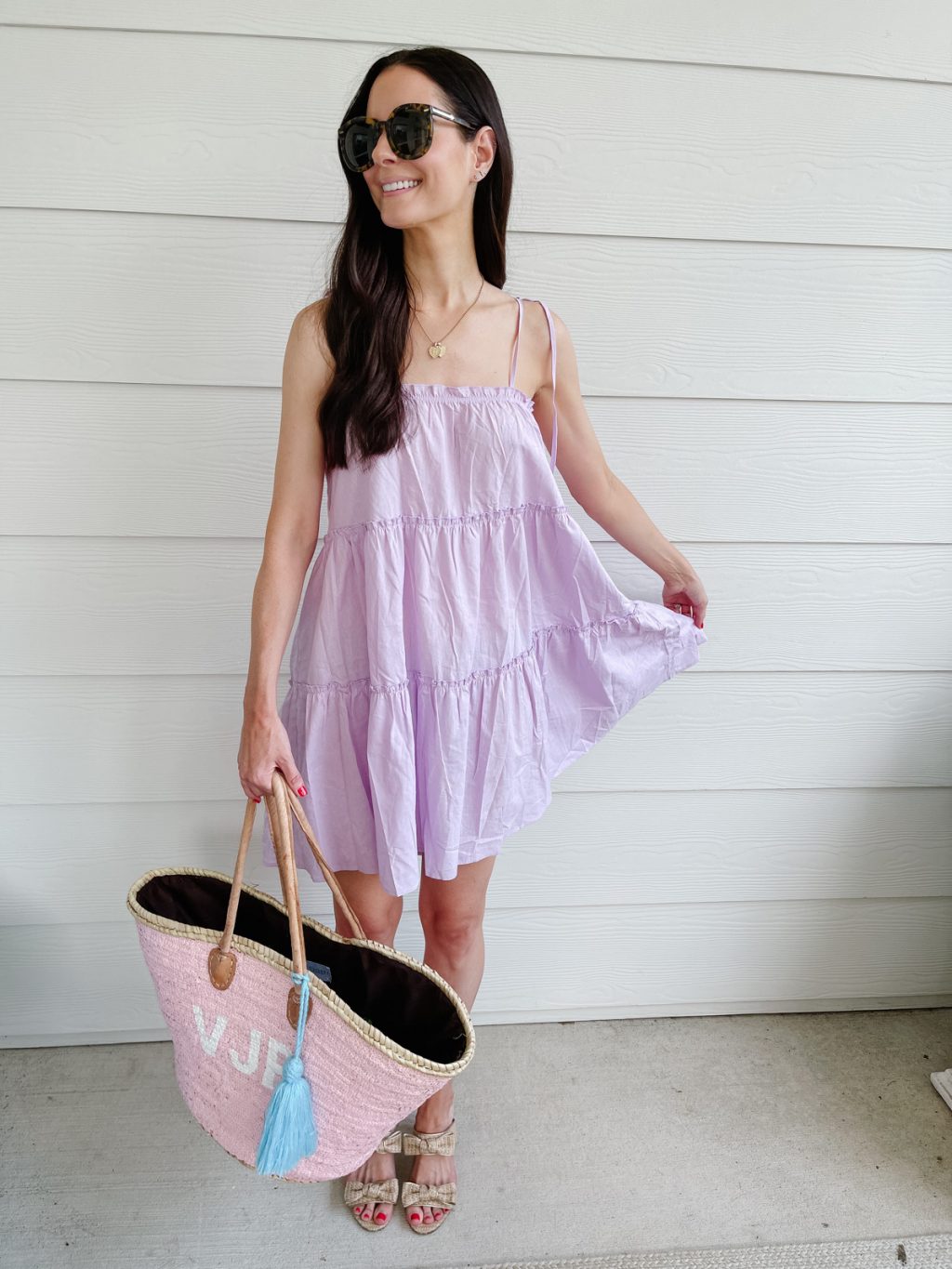 The blue floral dress (size small)
This dress has its own blog post because it's that good, but I'm re-sharing it here in case you missed it! It's one of my all time favorite amazon finds…I cannot even express just how stunning it is!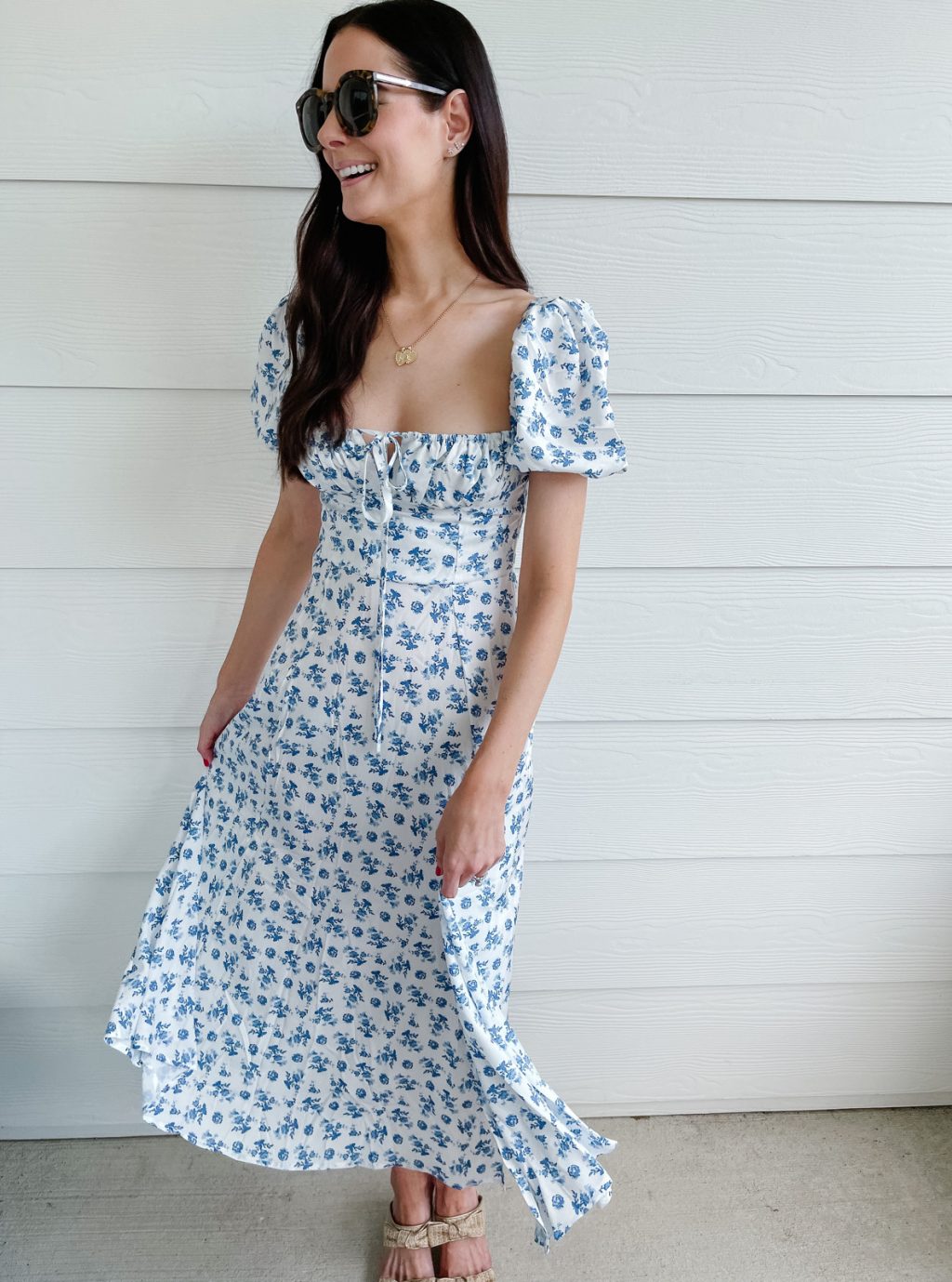 Happy shopping!