ONE
I had a great week this week. I don't know if it was the long weekend or if my anxiety has calmed down a bit from the initial back-to-school nervousness, but I'm in a better headspace. I met a friend for lunch at an outdoor patio this week, ran a few errands, got my hair done, etc. Life isn't back to normal or even close to it, but I'm trying to do small things to bring some semblance of normalcy.
TWO
On a whim over labor day weekend, I ordered this stunning colorful oushak runner from Lindsey Meyer Art. She was having a 30% off sale, so I justified it because it's truly the exact style & color combo I had been searching for. I LOVE my other runner I got on Etsy, however, I was longing for something with soft blues, greens and soft pink tones to tie in our entryway wallpaper and all of my favorite pieces in the floating shelves in our kitchen. This rug just felt like a very organic fit and met all of the requirements I was looking for.
This rug is called the Olivia, and it's available in pretty much any size you need. Mine is the 3 x 10. It's always tough to order such a pricey item online, but I felt that the photos on Instagram were a very accurate representation of the colors. In fact, I loved it even more in person when it came! Teddy loves it too!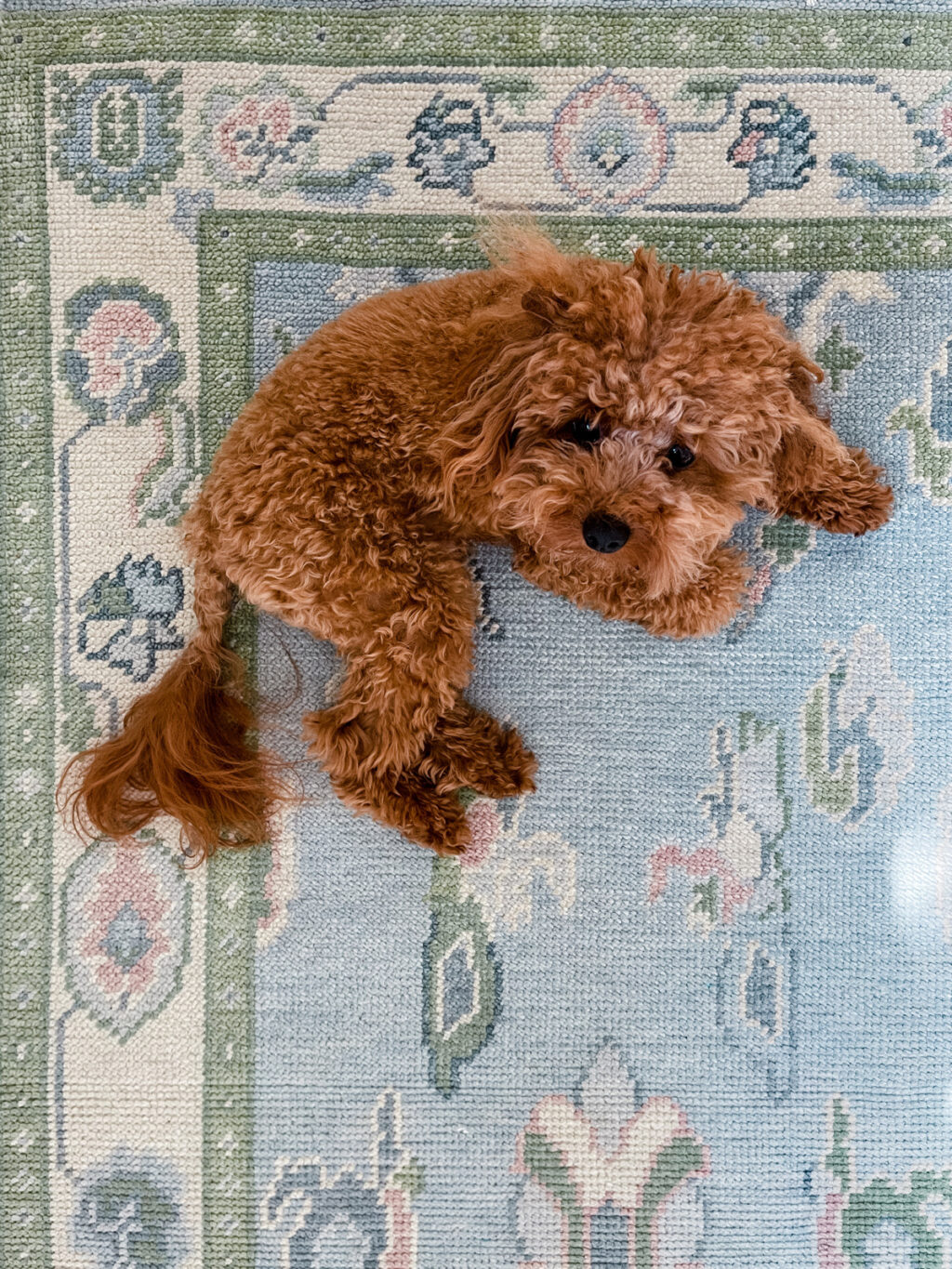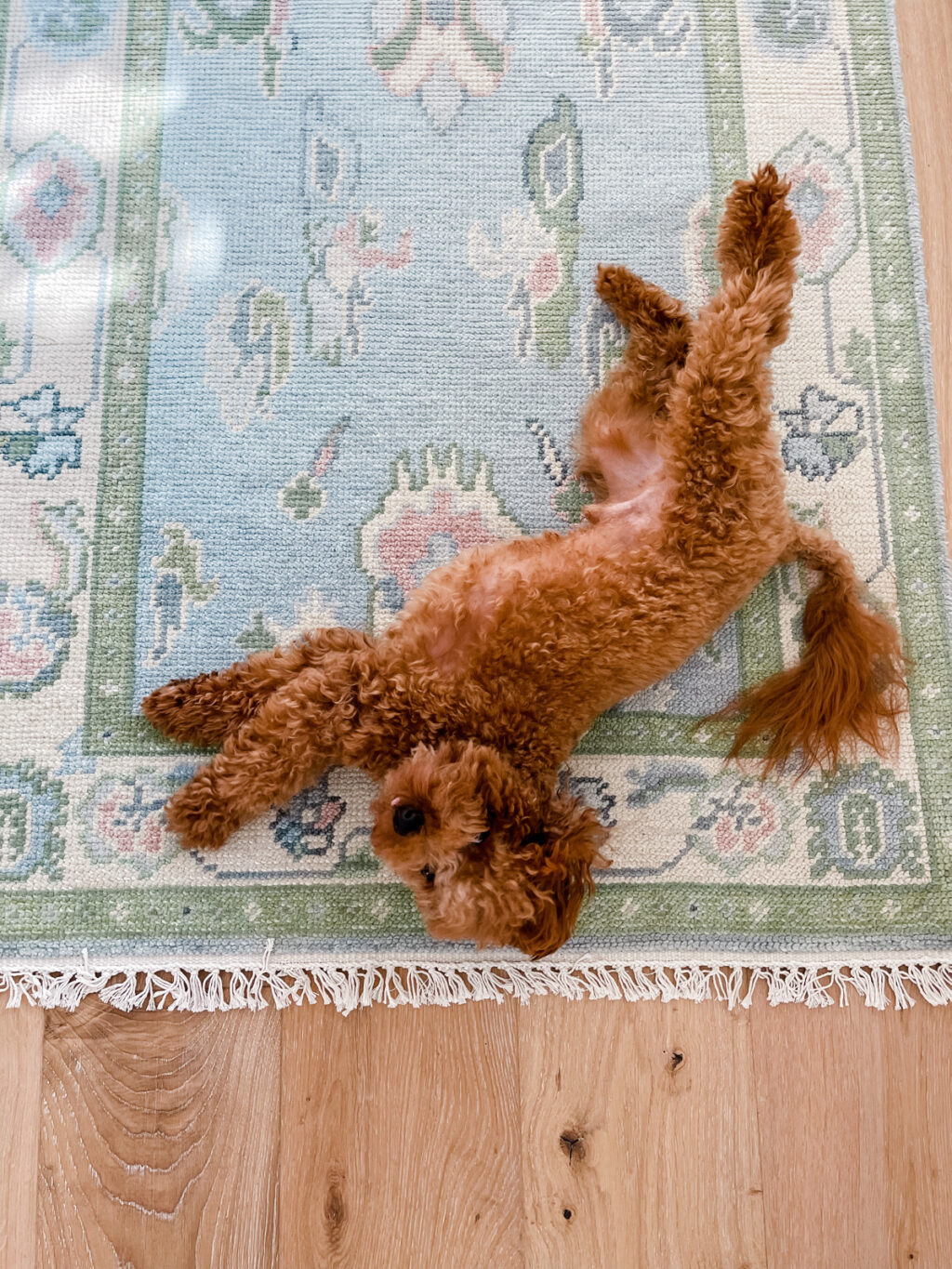 THREE
Sharing recent & random amazon purchases – I love seeing all of the everyday items people buy. See the list below!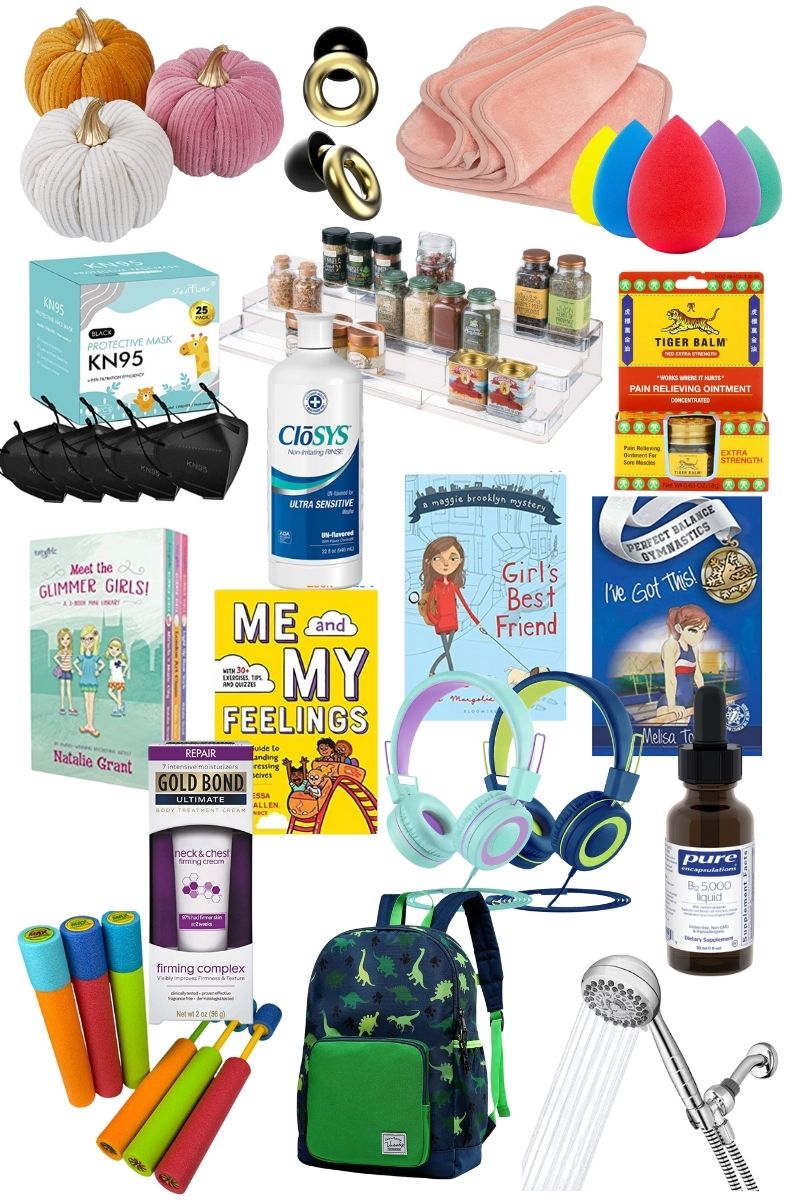 pumpkin trio | got these for the kids rooms – they're soft and fun!
noise reduction ear plugs | I am very sensitive to loud, sudden noises and sometimes other noise as well. I got these to wear on days I'm feeling overwhelmed since sound can be such a trigger to me. I can still hear with them in, but the decibel level is lower. My sound sensitivity can cause physical anxiety symptoms for me, so this is to reduce that reaction on days where I'm finding myself stressed.
makeup removal microfiber cloths | TIBAL said to buy these so I did. Apparently they remove all makeup with just water, TBD!
makeup sponge | Meg O. says these are just as good as beauty blenders, so I got a pack since my BB was getting old. I wash it, of course, but there's nothing like a new beauty blender.
adjustable pantry/spice rack shelf | The spice rack shelf I currently have is a little too small, so I purchased a longer/adjustable one so I can fit everything in one area.
kids KN95 masks | H wears these masks to school everyday. L doesn't like these as much as the 4-ply surgical masks, but H does. They are kind of pointed at the front which keeps them off of your face more.
CloSYS mouth wash for sensitive mouths | within the last week, I've seen my dentist and orthodontist for gum pain, bleeding and inflammation I've been having. I don't have any answers – it's starting to feel better with one spot still being a problem, but I got this mouth wash to see if it helps – one of my IG followers recommend it to me. My dental hygiene can best be described as "intense" since doing Invisalign, so we just aren't sure what triggered this.
tiger balm | I have neck and shoulder soreness from my TMJ, so I got this balm and love it so far. I really do feel it helps.
glimmer girls | me and my feelings book | perfect balance gymnastics series | girls best friend book | Harper reads so quickly, I got her these books recently to add to her library. I really like the feelings one – it has quizzes for them and helps kids learn about their (very normal) emotions. H is a sensitive soul so I really think this book is wonderful for all kids, but perhaps especially for those who are on the more sensitive side.
water squirters | The kids love playing with these at the pool – they're so fun and a nice alternative to water guns.
detachable shower head | I don't know how it took us so long to finally switch ours out. I prefer a detachable showered because it's easier for washing and rinsing hair.
kids headphones | Our kid's headphones were nowhere to be found in the house so we had to order new ones for the school year. These come in a pack of two and they're great!
Gold Bond neck repair | KJB recommended this firming neck cream and so far I love it. It's inexpensive, feels great on the skin and really does make the skin there look nice. I imagine with longterm use, you'd see a reduction in the creping of the skin.
dinosaur backpack | L is obsessed with dinosaurs. Knows every single name of every dinosaur, plays with them constantly, etc. He requested a dinosaur backpack and of course we got him one to celebrate the start of kindergarten!
liquid b12 | I take a few supplements with B12 being one of them. I really like this brand – their products are high quality. Liquid B12 is supposed to be better which I why I went that route. I do wish it was clear and not red though.
FOUR
I got new navy glitter Golden Goose sneakers last week and I couldn't love them more. They may be my favorite pair – ever! I justified these by using like five gift cards we had from years ago that we never used. I've said it before – I think GGs are priced too high – BUT if I break it down by cost per wear, they are my most-worn shoes. They're basically all I wear when I leave the house. I wear them with everything from jeans, to shorts, to dresses. I am usually a size 10-10.5, and I order the 41 which is an 11. They fit a little big on me, but I prefer this in GG because a lot of people complain they are "hard to break in." They're my most comfortable shoes and I think it's because I went up in size, I've never had any issues with discomfort, blisters, etc. In fact, when we go back to Disney World one of these days, I plan too wear GGs the entire time.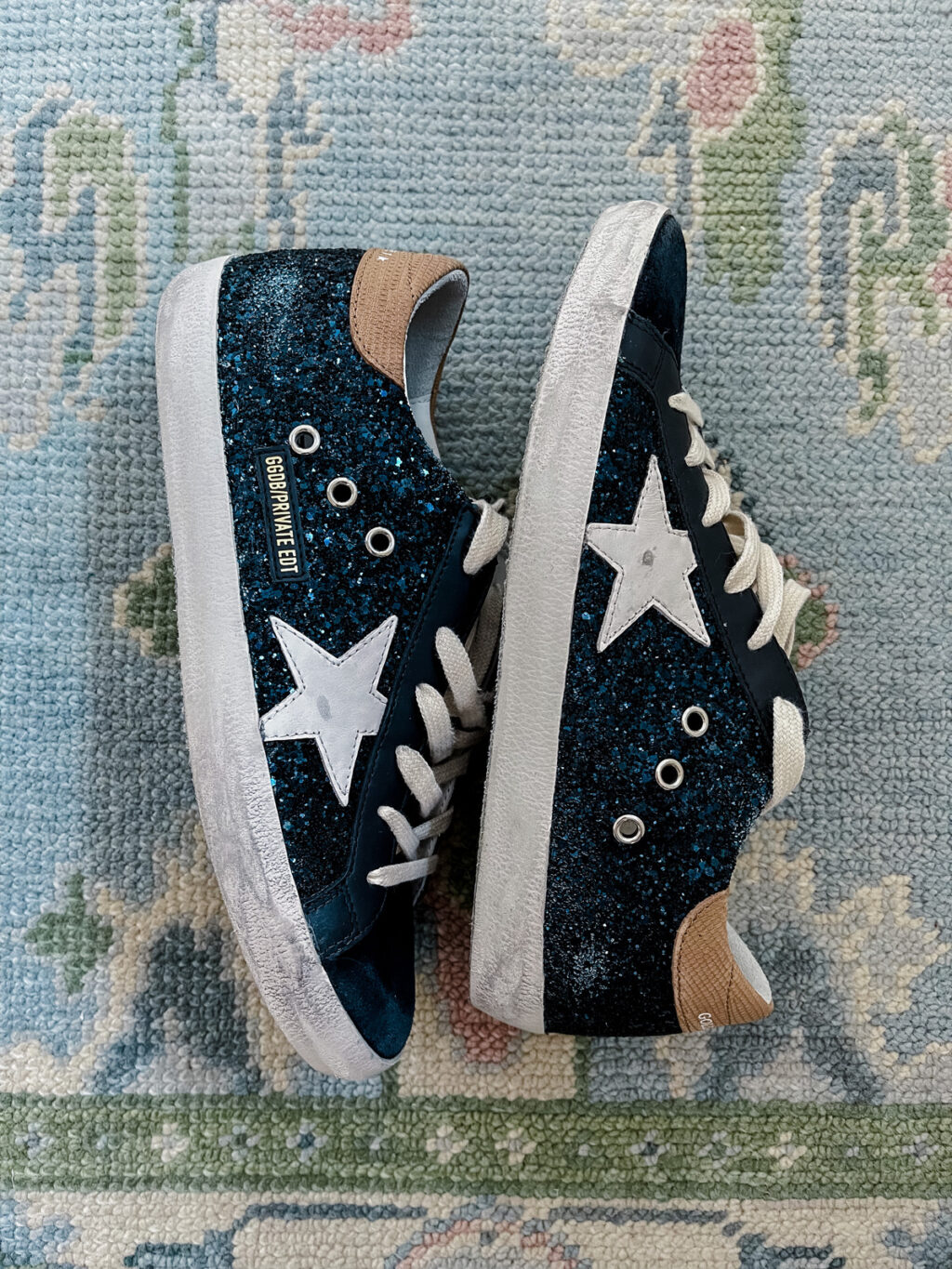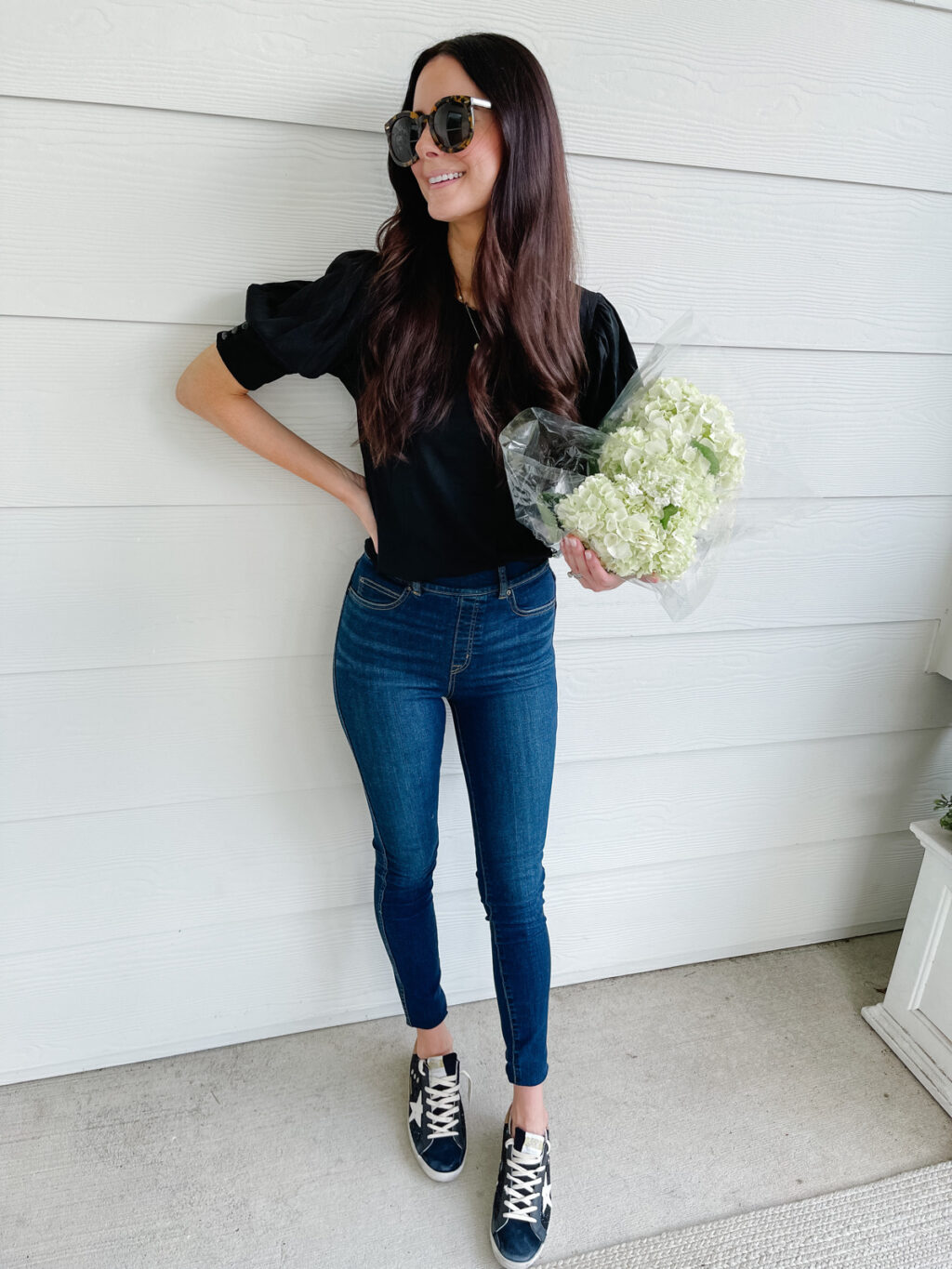 FIVE
ICYMI: I had an awesome style post recently with this beautiful dress – and styling it to transition to fall. I'm thinking about fall a lot now and my most versatile transition pieces are this utility jacket and this denim jacket (see it below).
What are your favorite fall transition pieces? It's still hot well into October here in Houston so lightweight jackets are the perfect layering pieces for me!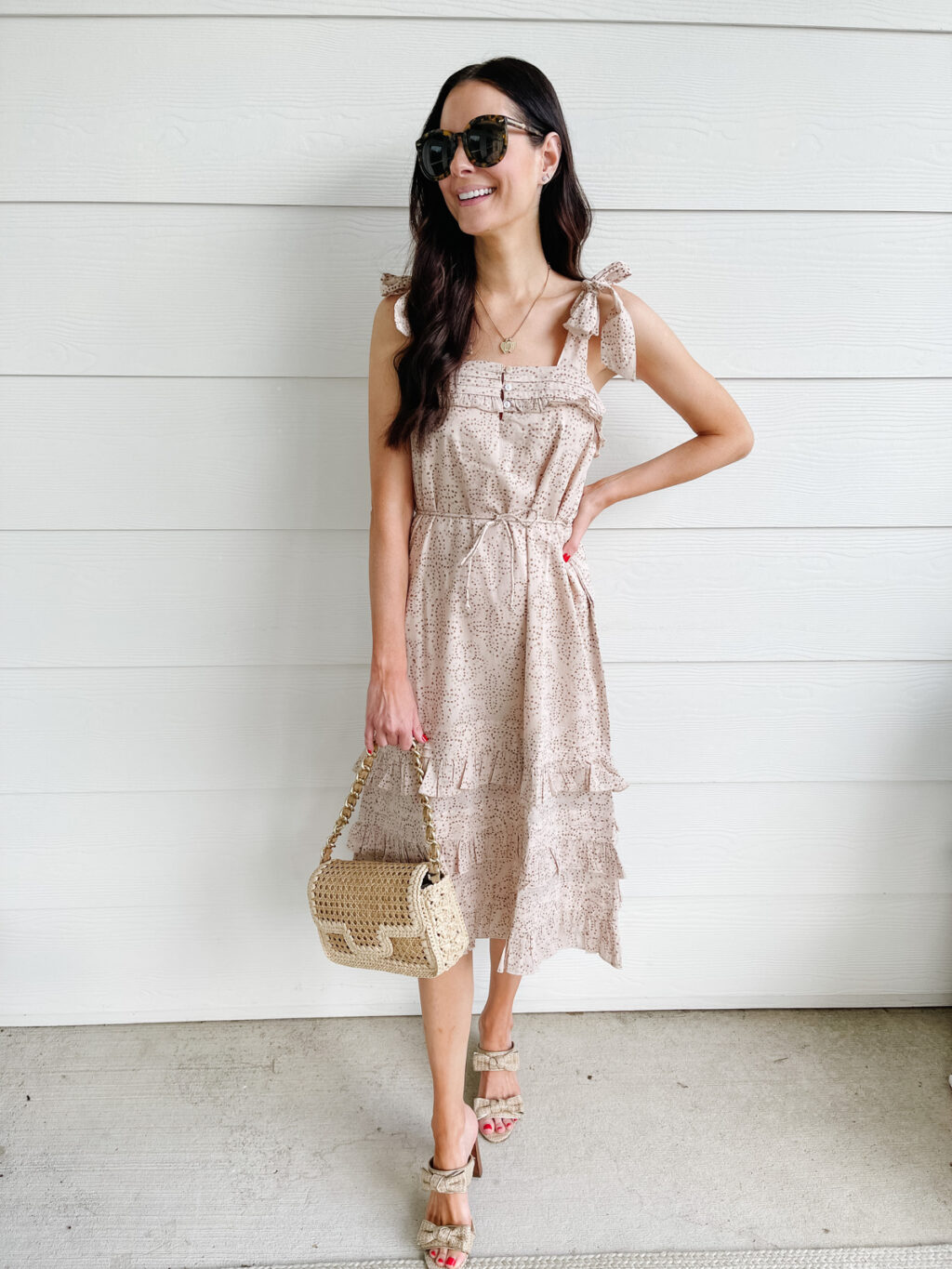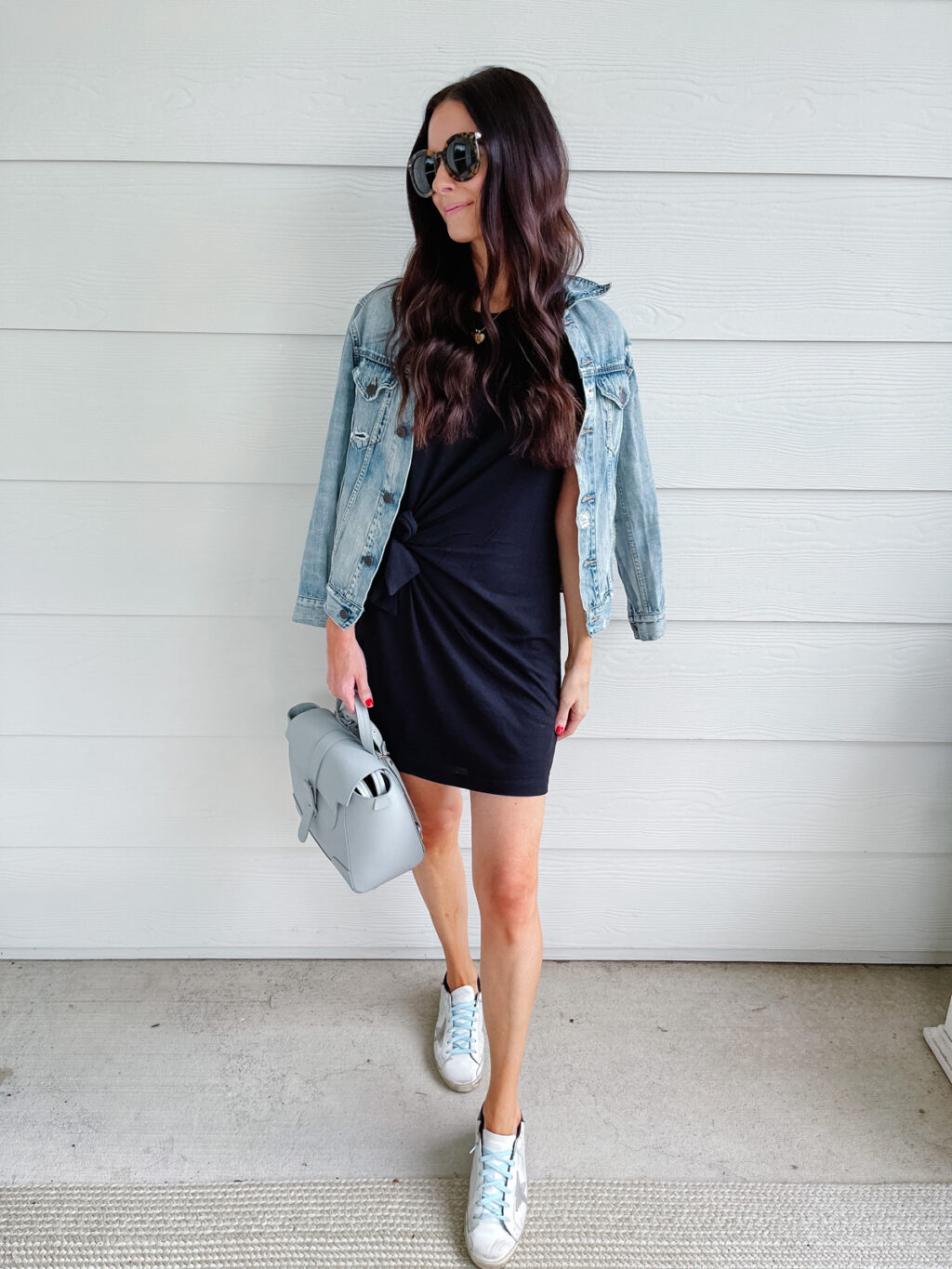 Have a great weekend!