Thank you so much to Walmart for partnering on this post!
This may be the best ever Walmart style haul ever – and that's saying a lot because I have loved so many of my Walmart pieces over the last two years.
I purchased items from Walmart's Free Assembly, Sofia Vergara , Time and Tru and Scoop collections and I'm always so impressed by the styles, how on-trend all of the pieces are and the quality. I usually over-order items anytime I'm working with a brand so I can show you only the best-of-the-best, but every single item in my order was truly a gem and worth sharing, so here we go!
You can shop more fall styles at Walmart, here and shop other categories like fall dresses, tops, knits, relaxed denim and jackets and layering pieces.
Free Assembly Women's Square Neck Smocked Mini Dress (size small) | similar booties

This smocked dress is SO cute and I love the print. It has smocking through the bodice and billowy 3/4 sleeves. It's super lightweight and looks great paired with booties for fall – layer a jacket overtop and add tights when it gets chilly!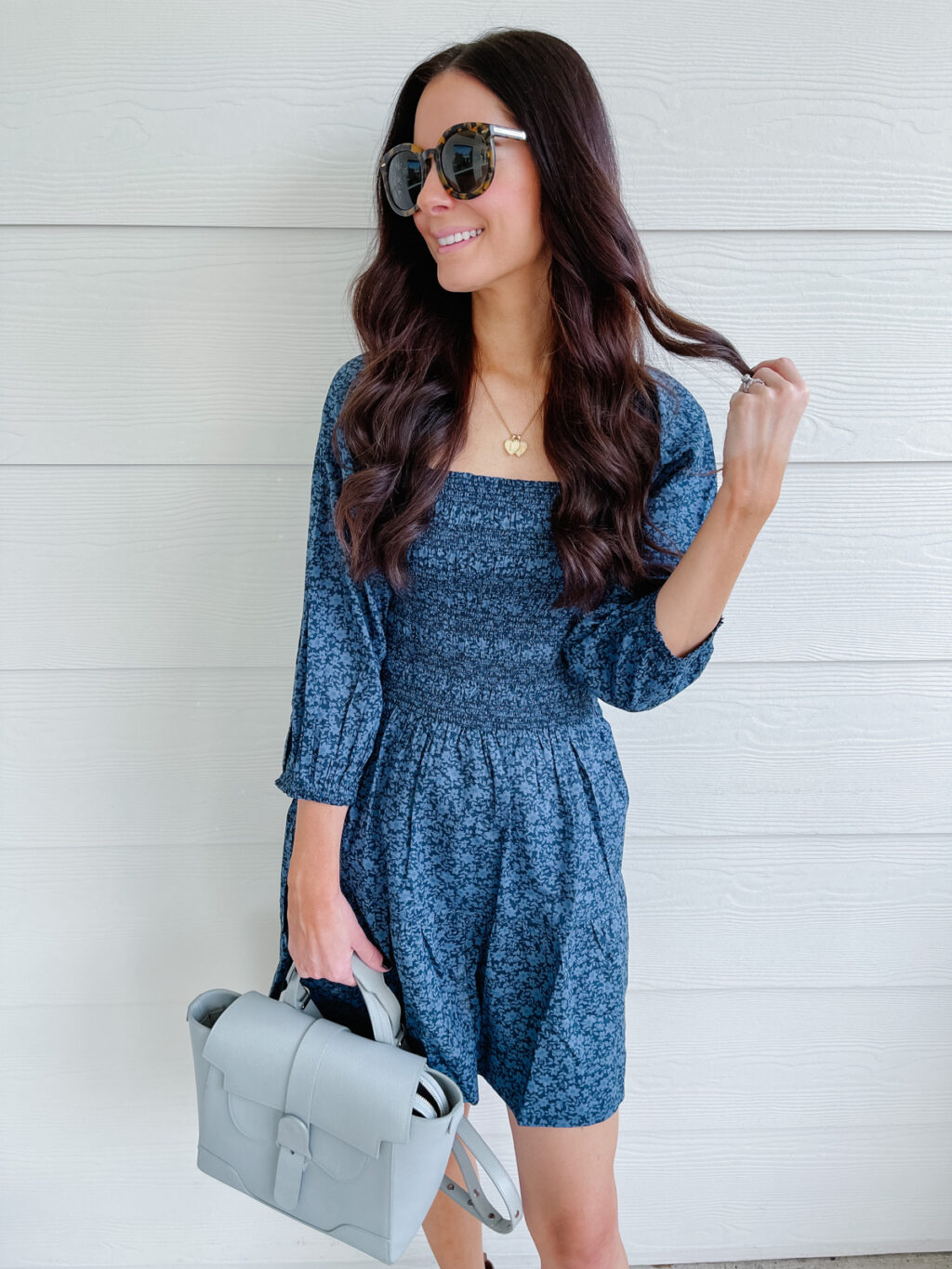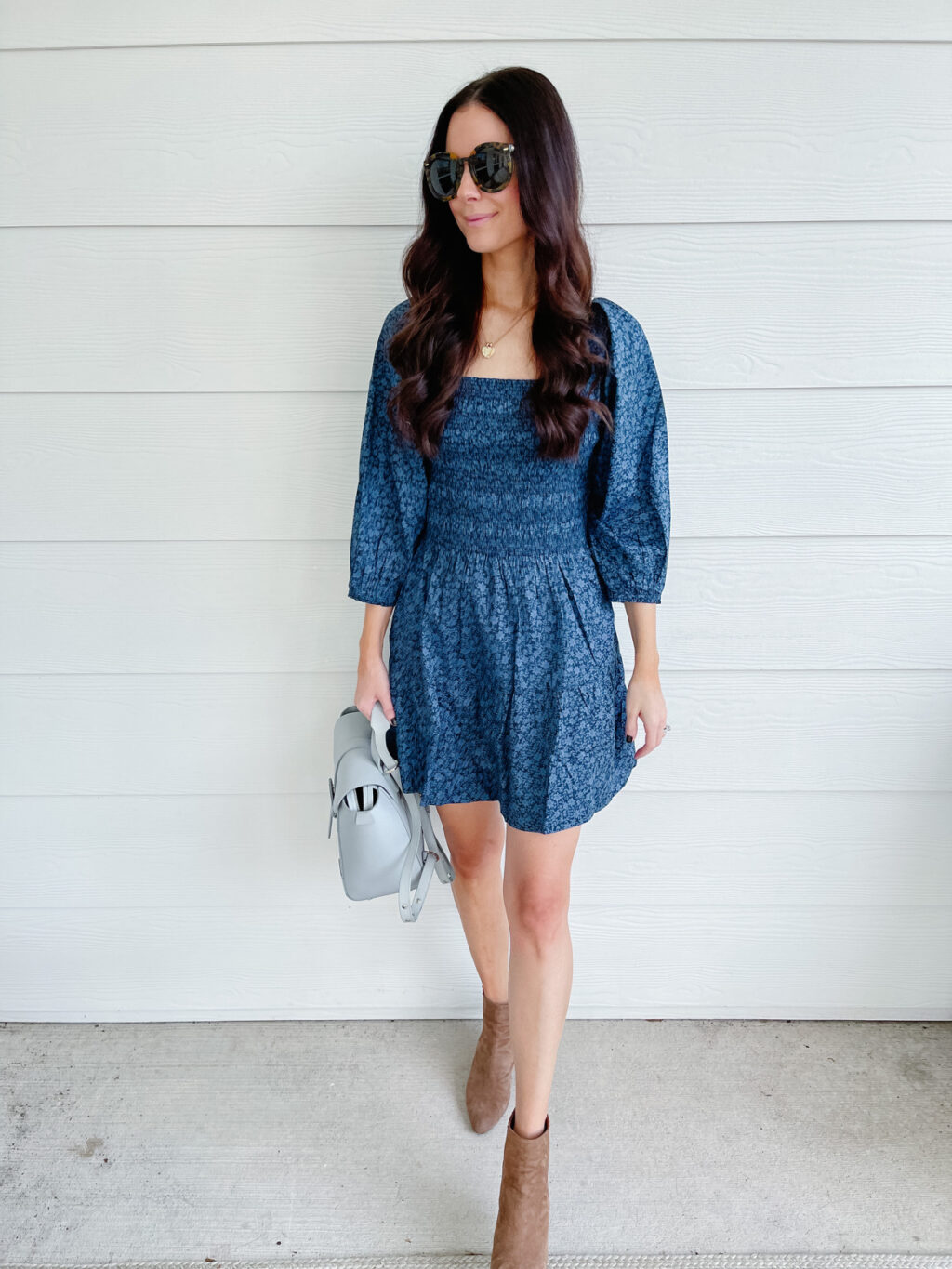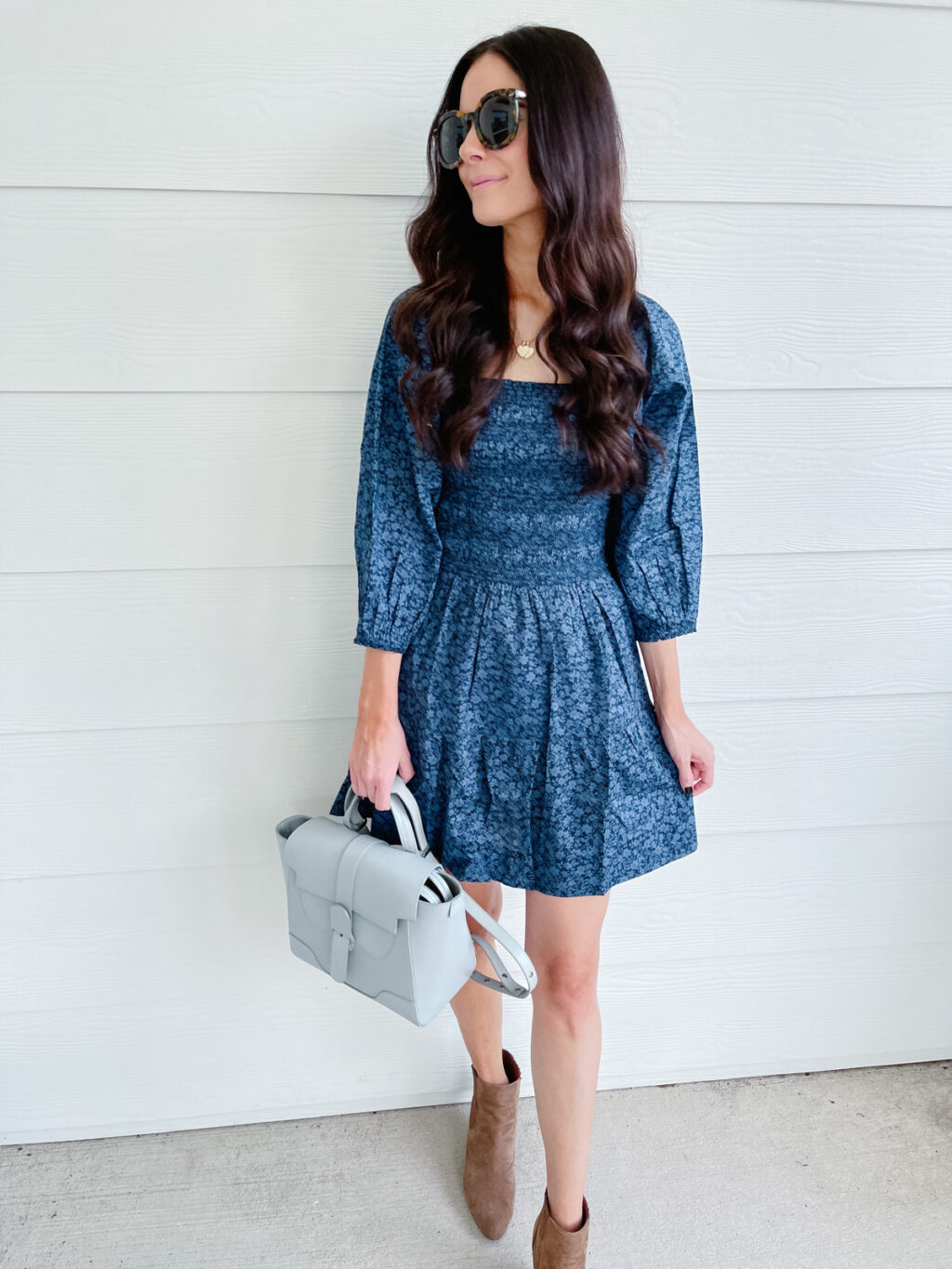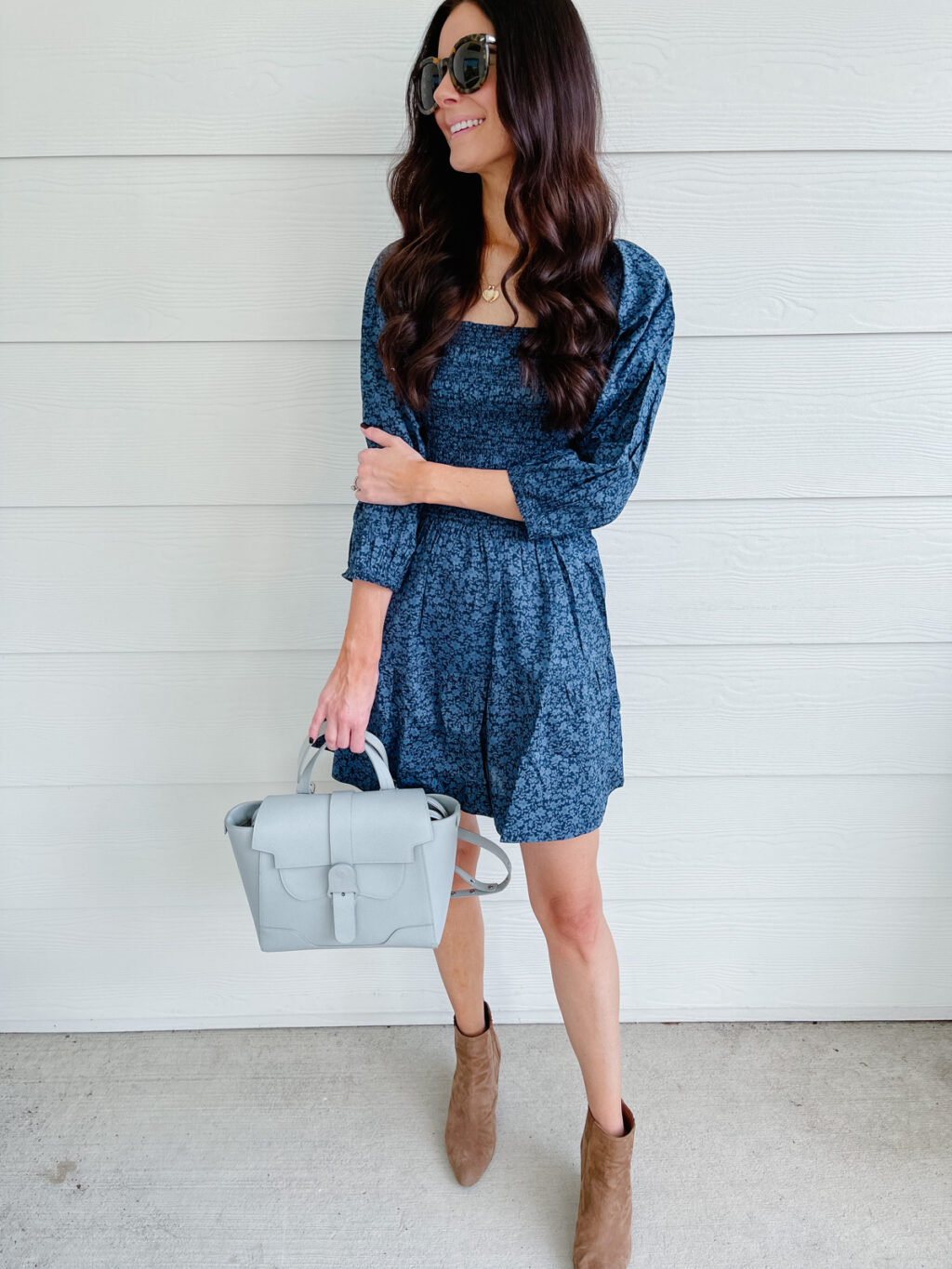 Free Assembly Women's Square Neck Smocked Top (size small) | Scoop Women's Essential Skinny Jeans (size 4)
This top is the same print as the dress and the exact same style, so it's a great option of you love the dress but are more of a jeans and top kind of woman (I get it!) Let's talk about these jeans – they fit so great (I do think I could have gone down a size, which would have been more TTS for me). They are very high waisted, have a hidden button fly and a lot of stretch so they're easy to bend and sit in. Overall, very comfortable and have a designer vibe without the price tag. I love the subtle destructive details on these and that they're not on the knees – makes them feel a little different!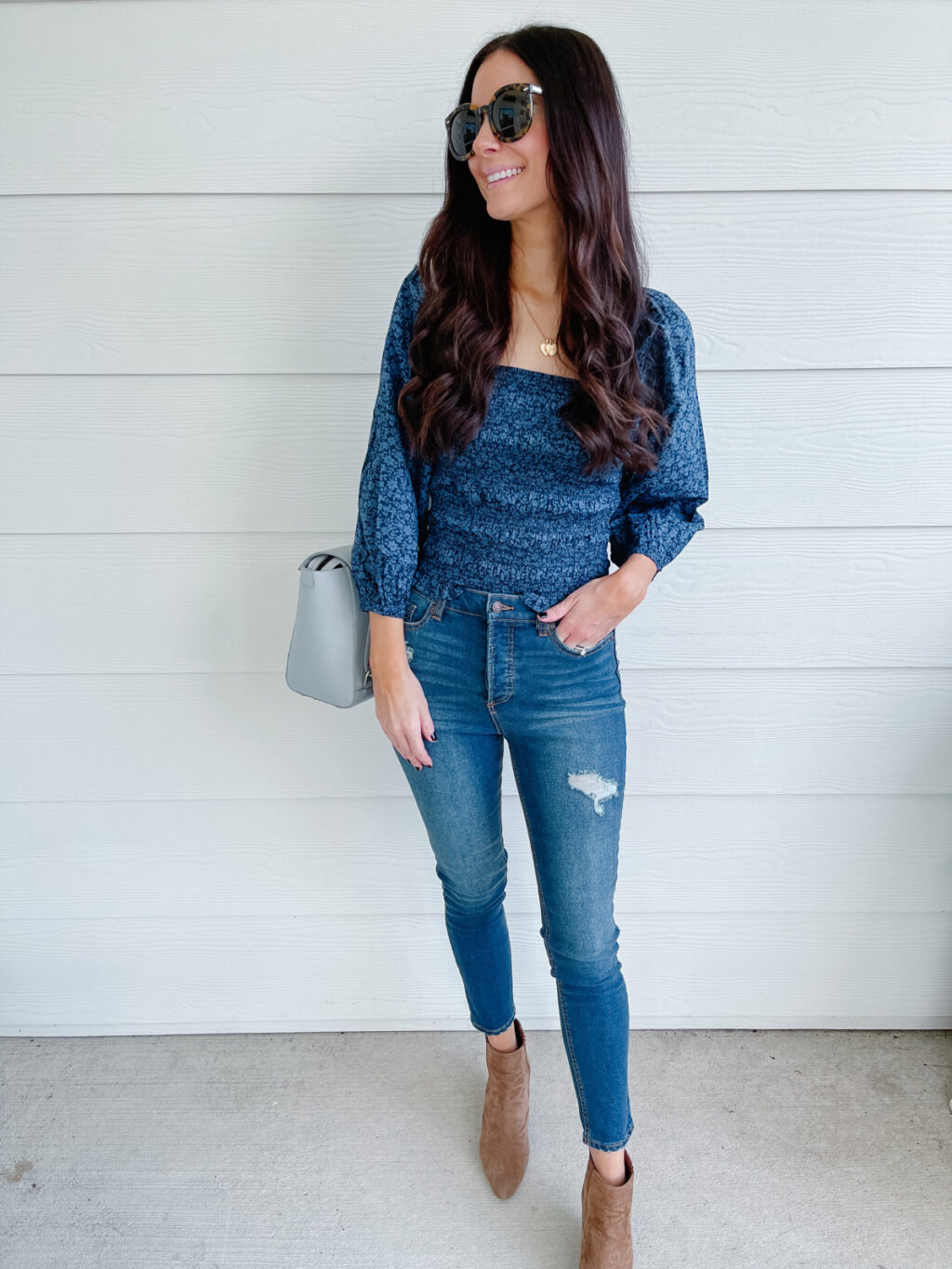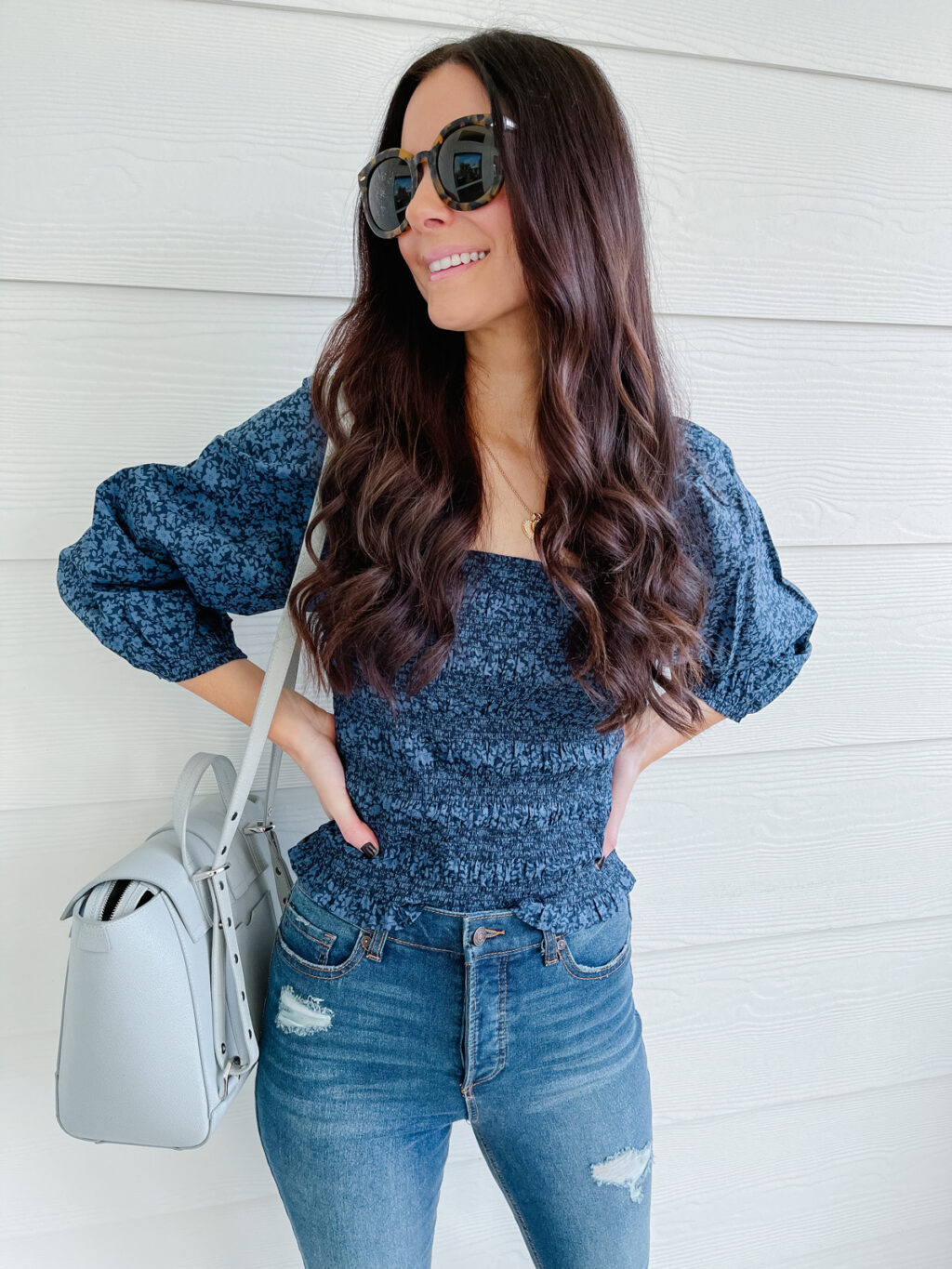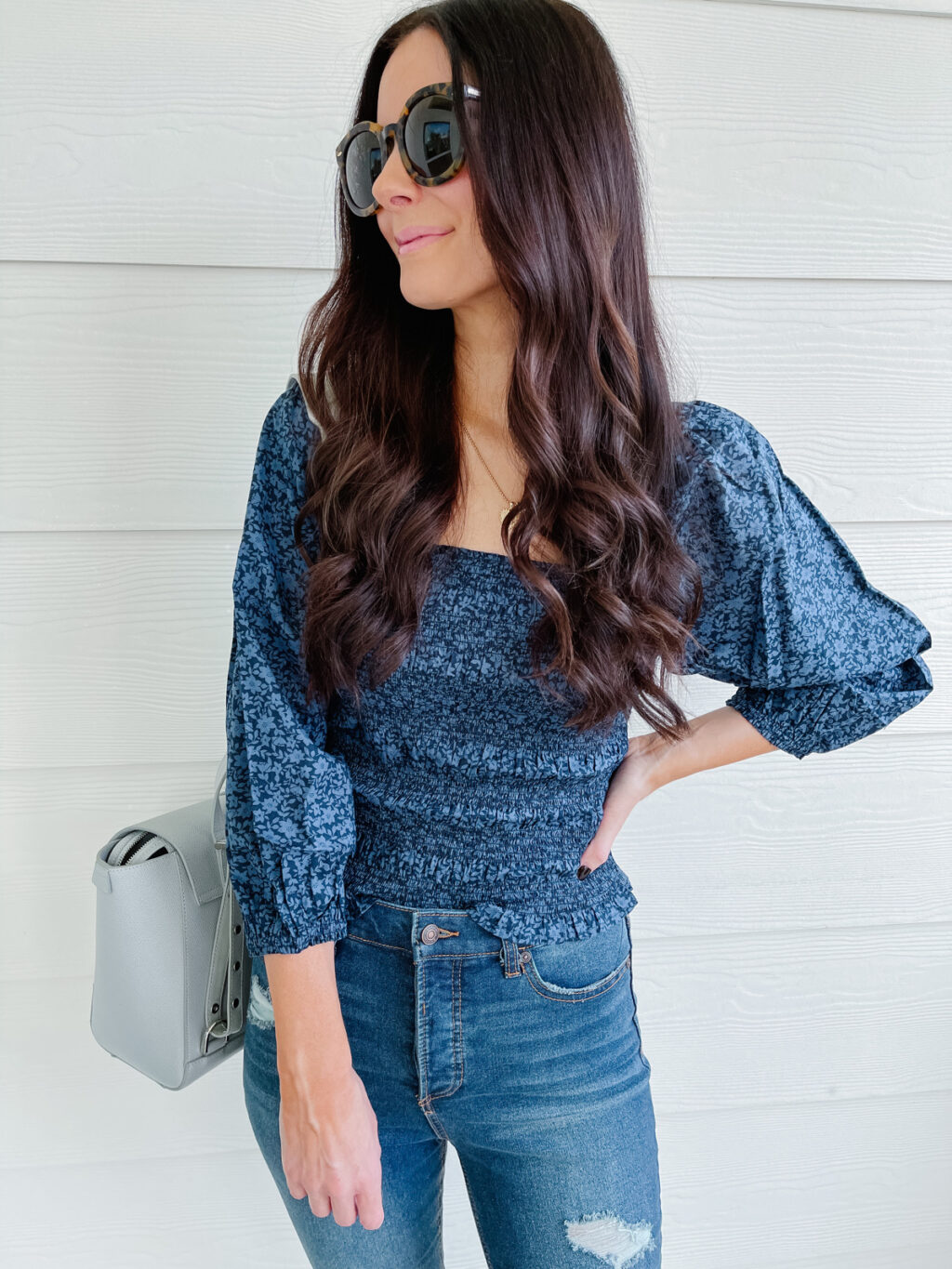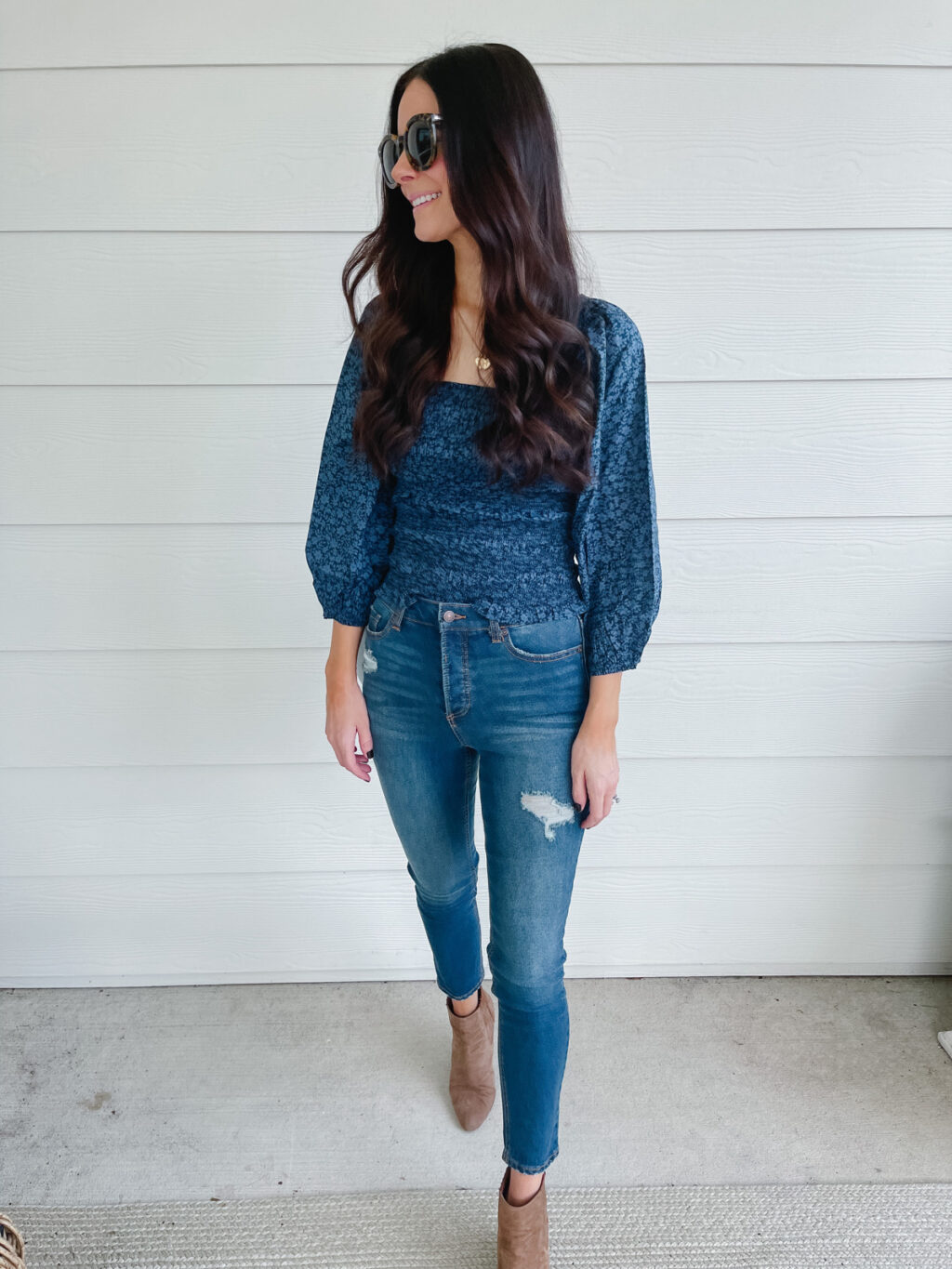 Free Assembly Women's Sailor T-Shirt (size XS) } Scoop Women's Essential Skinny Jeans (size 4)

Timeless wardrobe piece alert! You can NEVER go wrong with a boatneck striped top – you can wear this in a decade and it will still be classic. I love that the main color on this is a very soft beige – it's perfect for fall and the blue stripes are a beautiful shade – not quite navy, not quite cobalt. I sized down to an XS since this has a boxier fit. This is a classic worth investing in and the fabric is nice and thick (not flimsier like a lightweight t-shirt would be).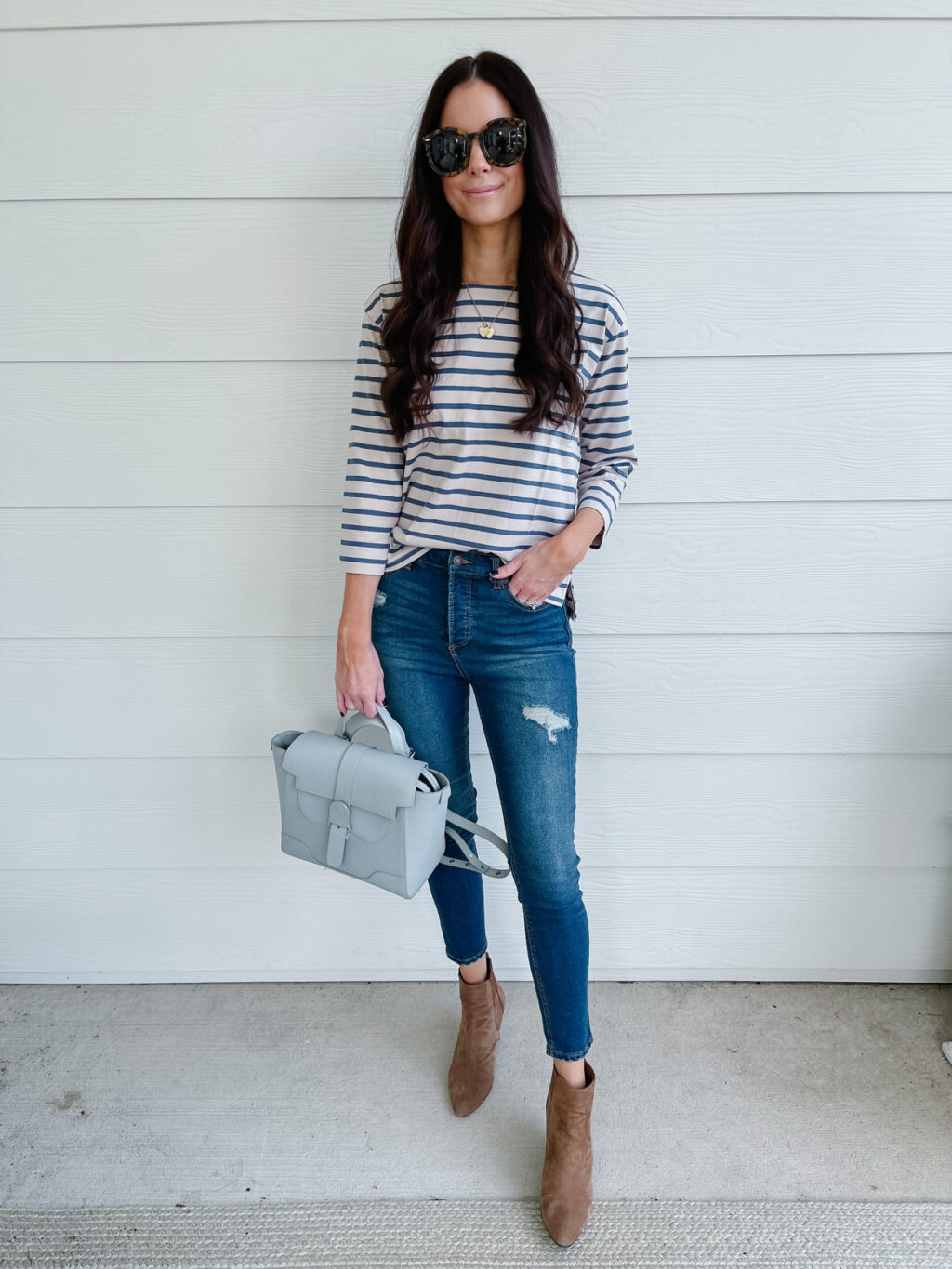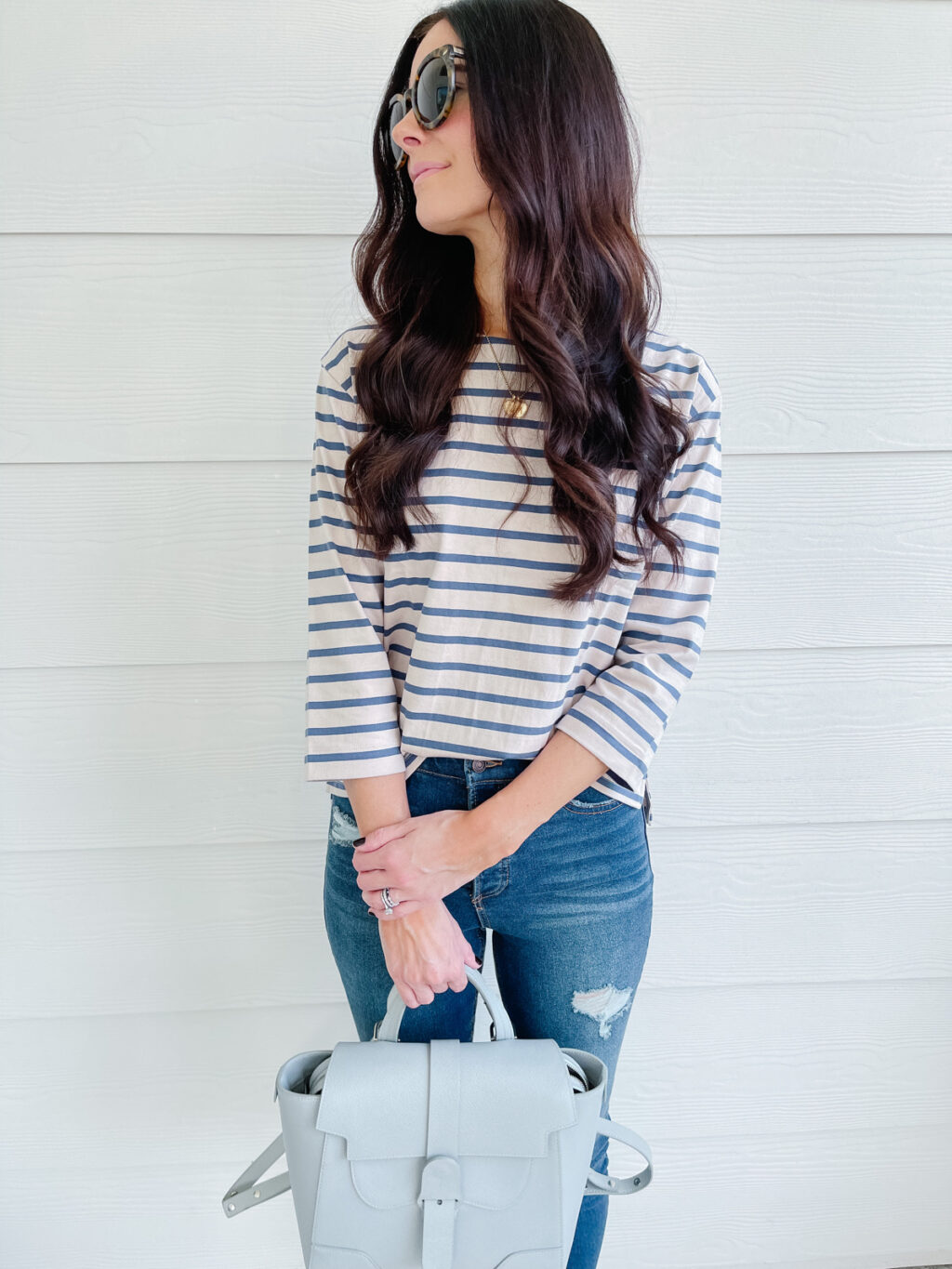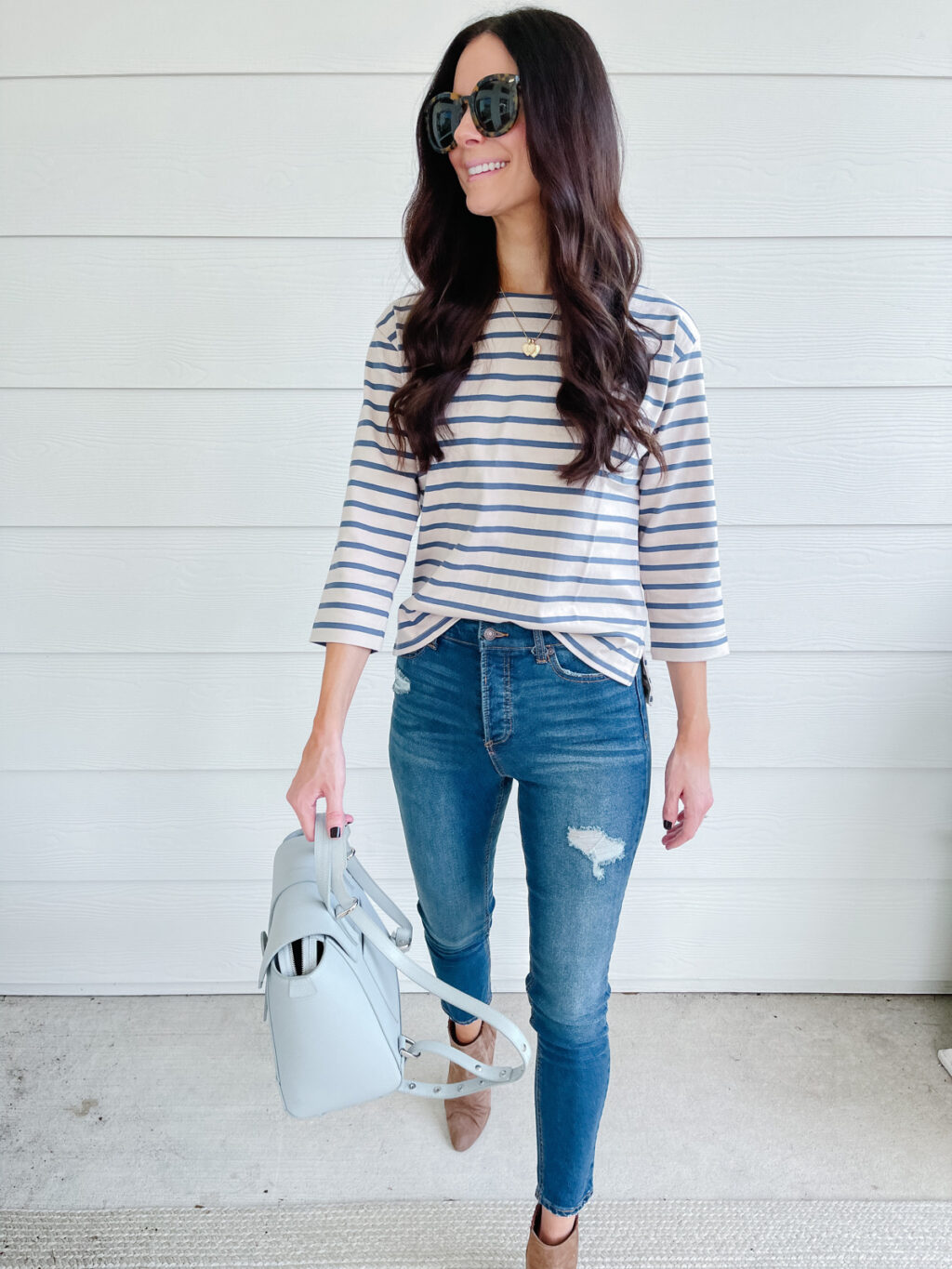 Time and Tru Women's Crewneck Bodysuit (size small) | Scoop Women's Essential Skinny Jeans (size 4)

I know a lot of women are hesitant about the bodysuit trend and I get it – I have a long torso so finding ones that fit well can be a challenge. Let me introduce you to this perfect yet shockingly inexpensive bodysuit with half sleeves from Time & Tru. I was honestly surprised at the quality for the price and the best part is that though I took my normal size small, it's definitely longer through the torso than my other bodysuits. I just love the way bodysuits look with high-waisted jeans – it's so chic and it's also the perfect layering piece if you don't want to tuck anything in or have extra bulk under a jacket, cardigan or blazer. I urge you to try this one!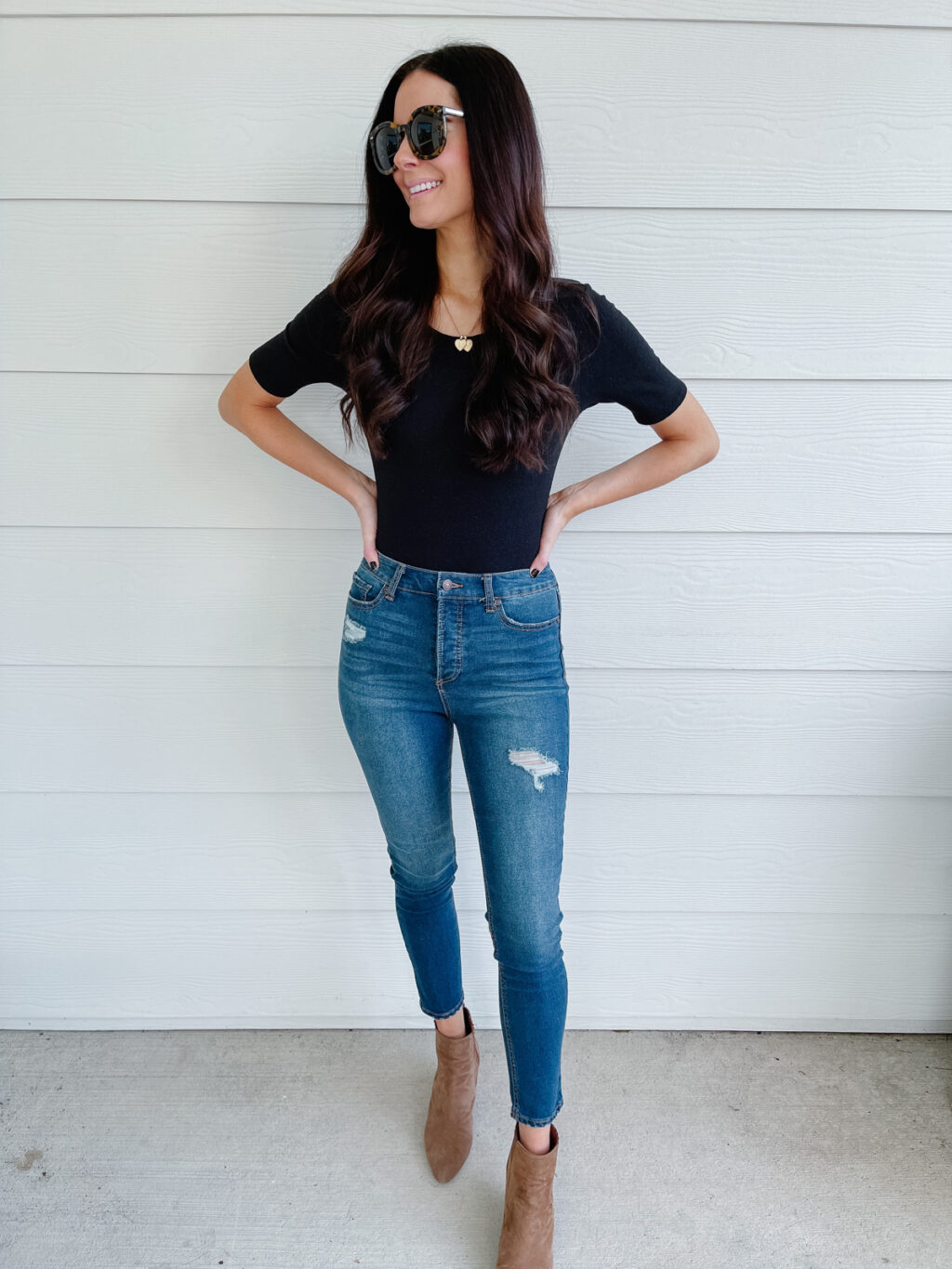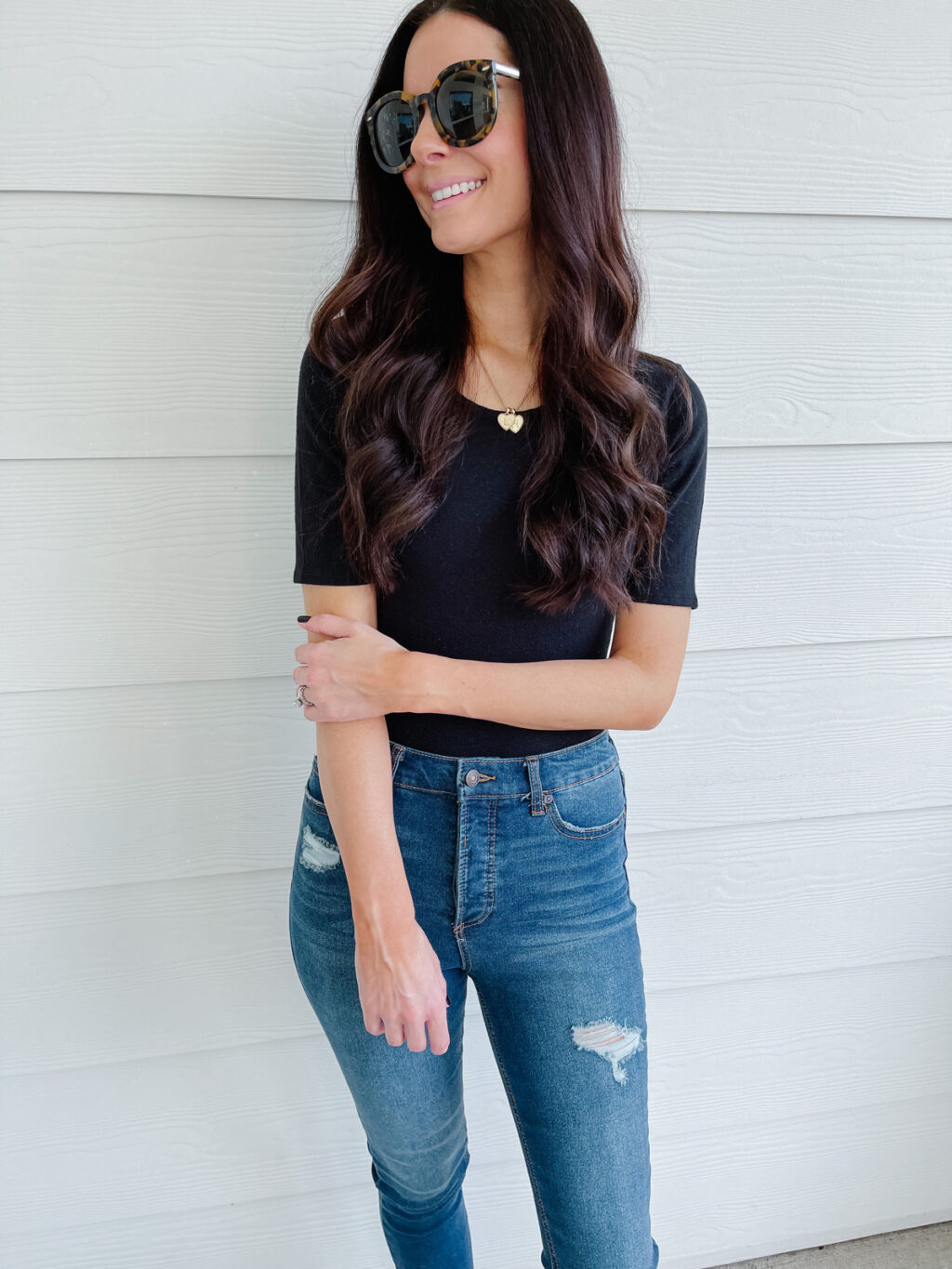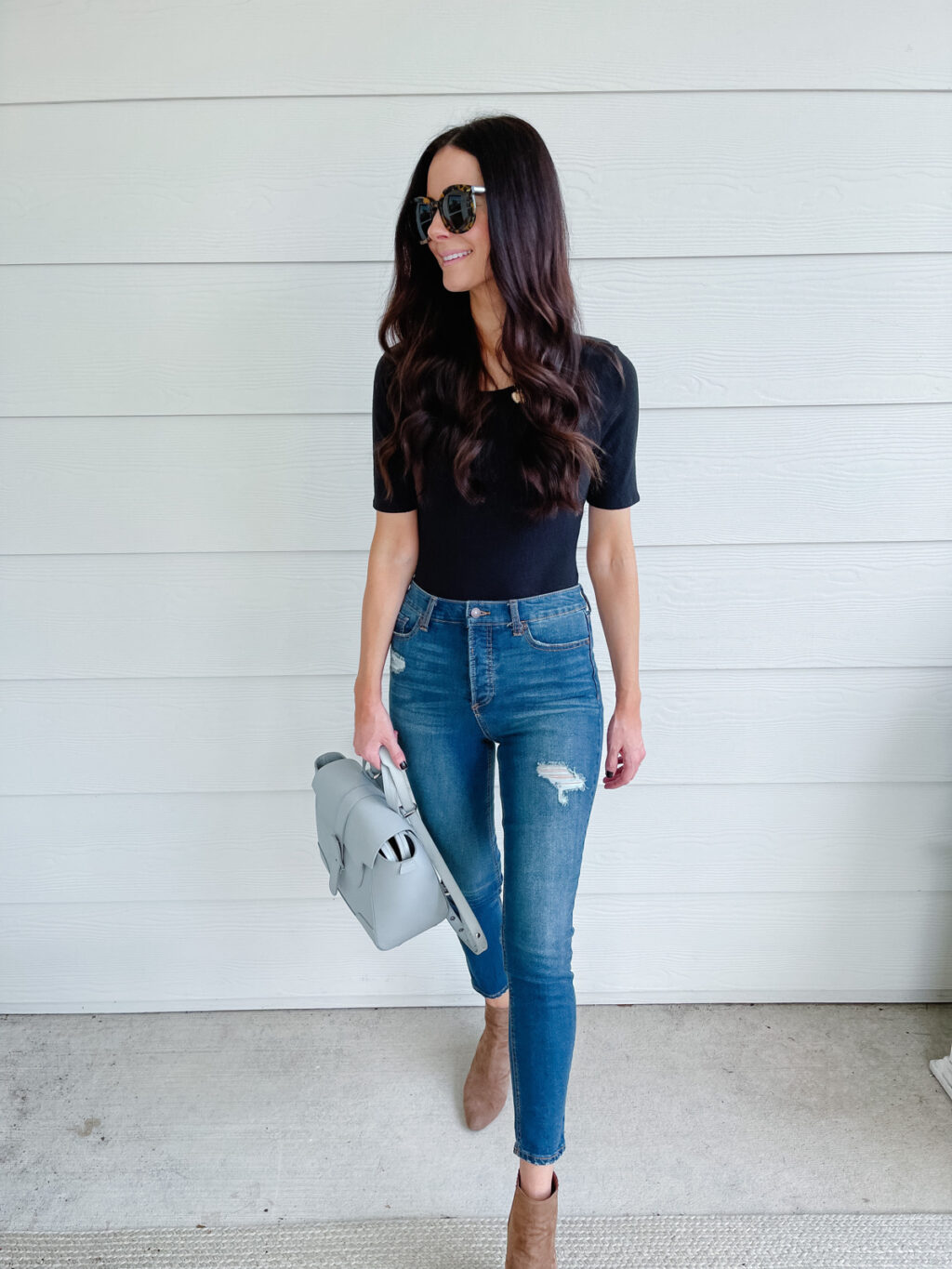 Sofia Jeans by Sofia Vergara Women's Pointelle Sleeve Sweater (size small) | Scoop Women's Cut Hem Crop Flare Jeans (size 2)

Sofia Vergara makes such beautiful pieces and her denim fits like a dream. I ordered this sweater from her collection and it's so pretty and looks and feels more expensive than it is. It has ruffles at both the hem and shoulder and pretty knit work on the sleeves, which are fitted and ribbed at the wrist. It comes in several colors and has holidays written all over it!
The jeans surprised me in a good way – I was worried they'd be too short on me, but my goodness they're perfect with booties! They show just the right amount of ankle and are very "of the moment" since this style of denim is trending big time for fall.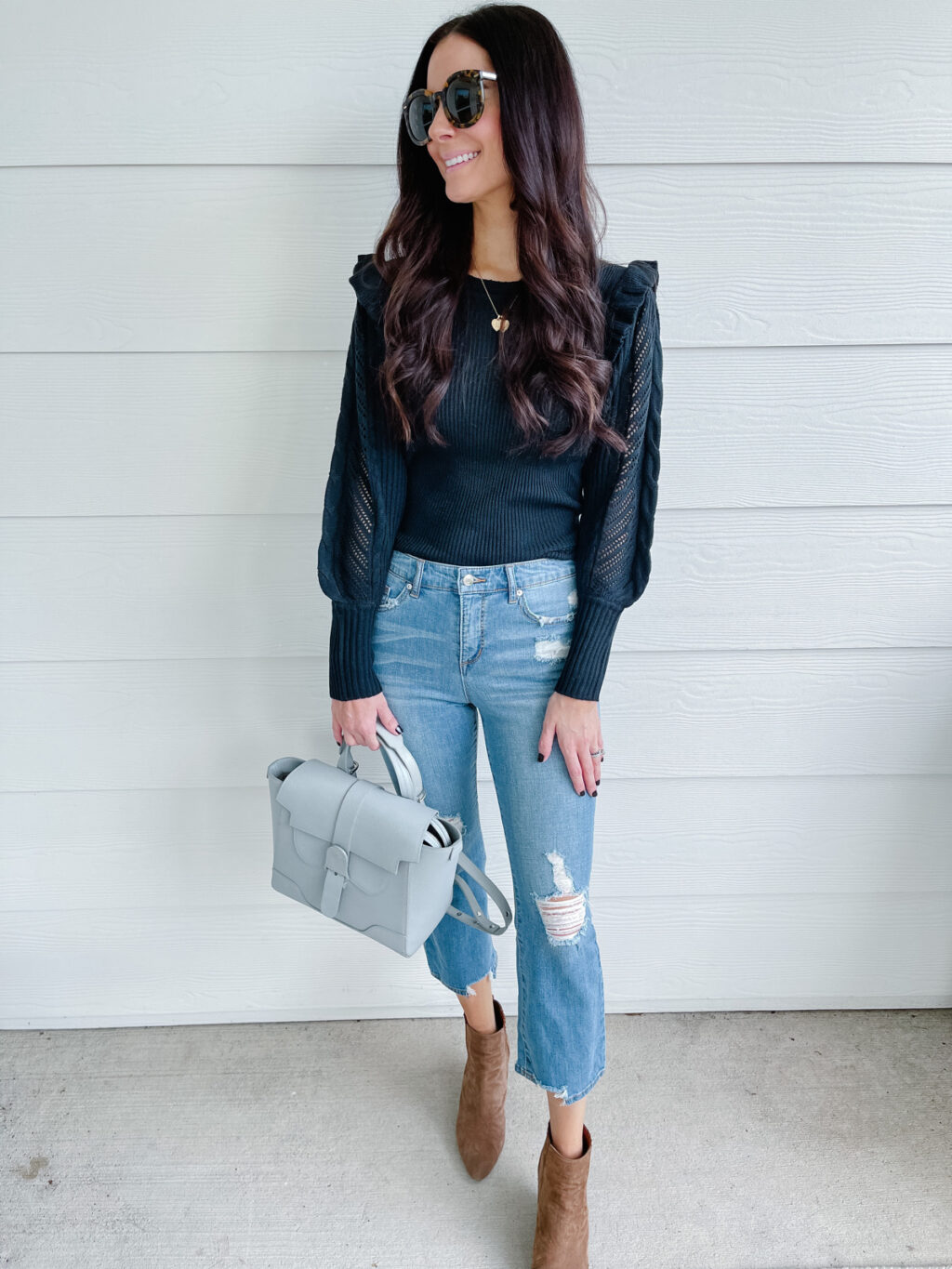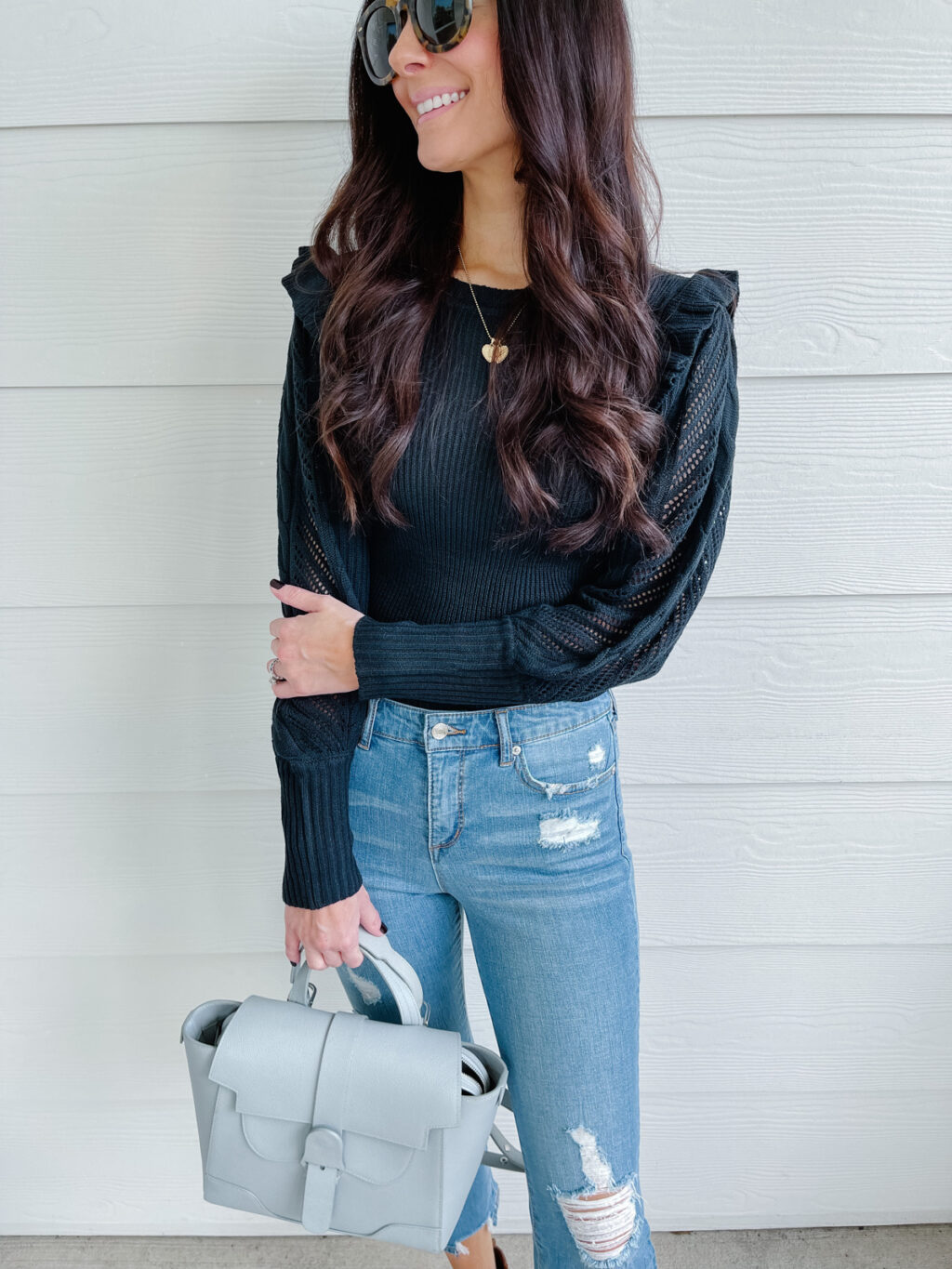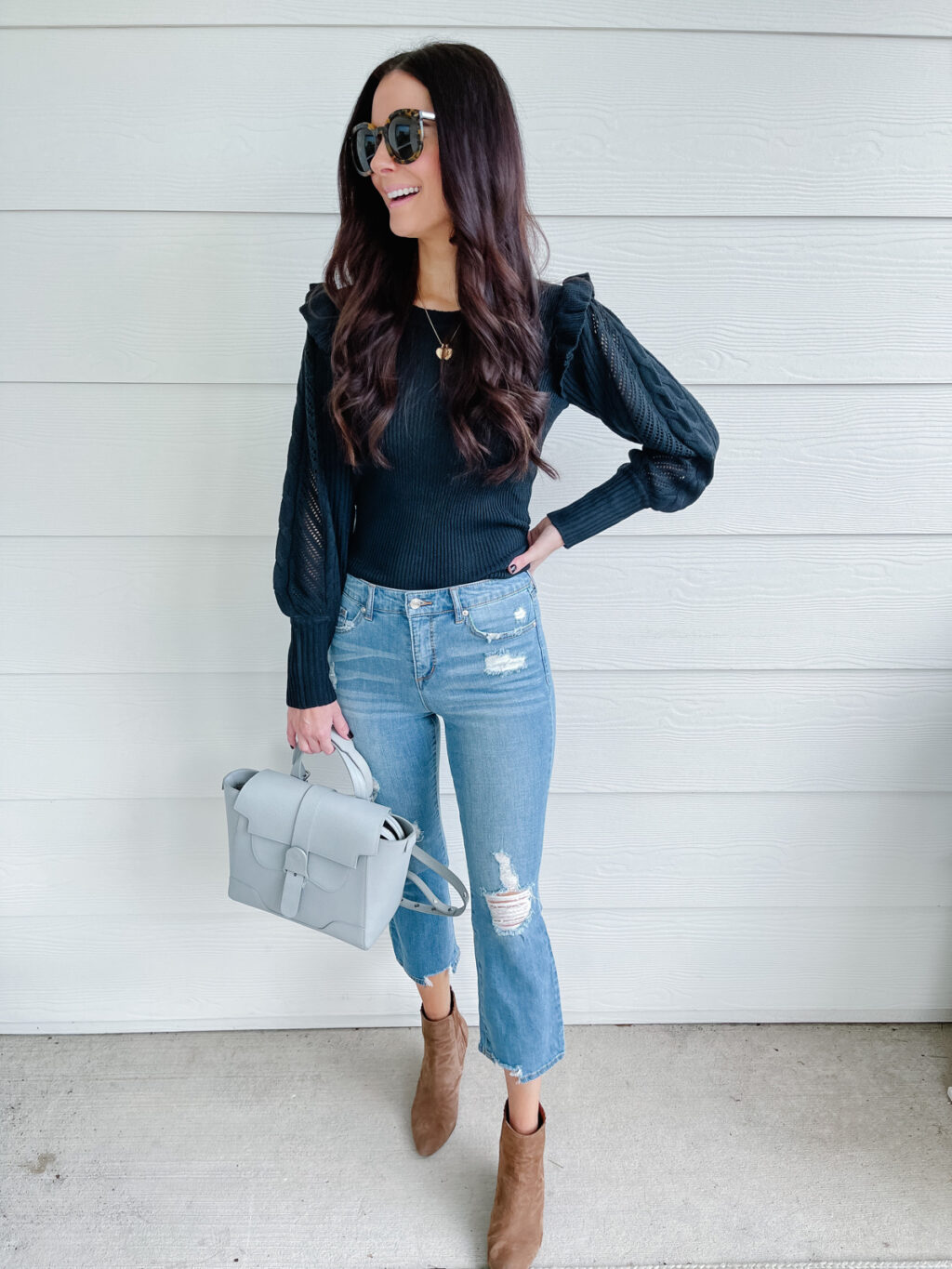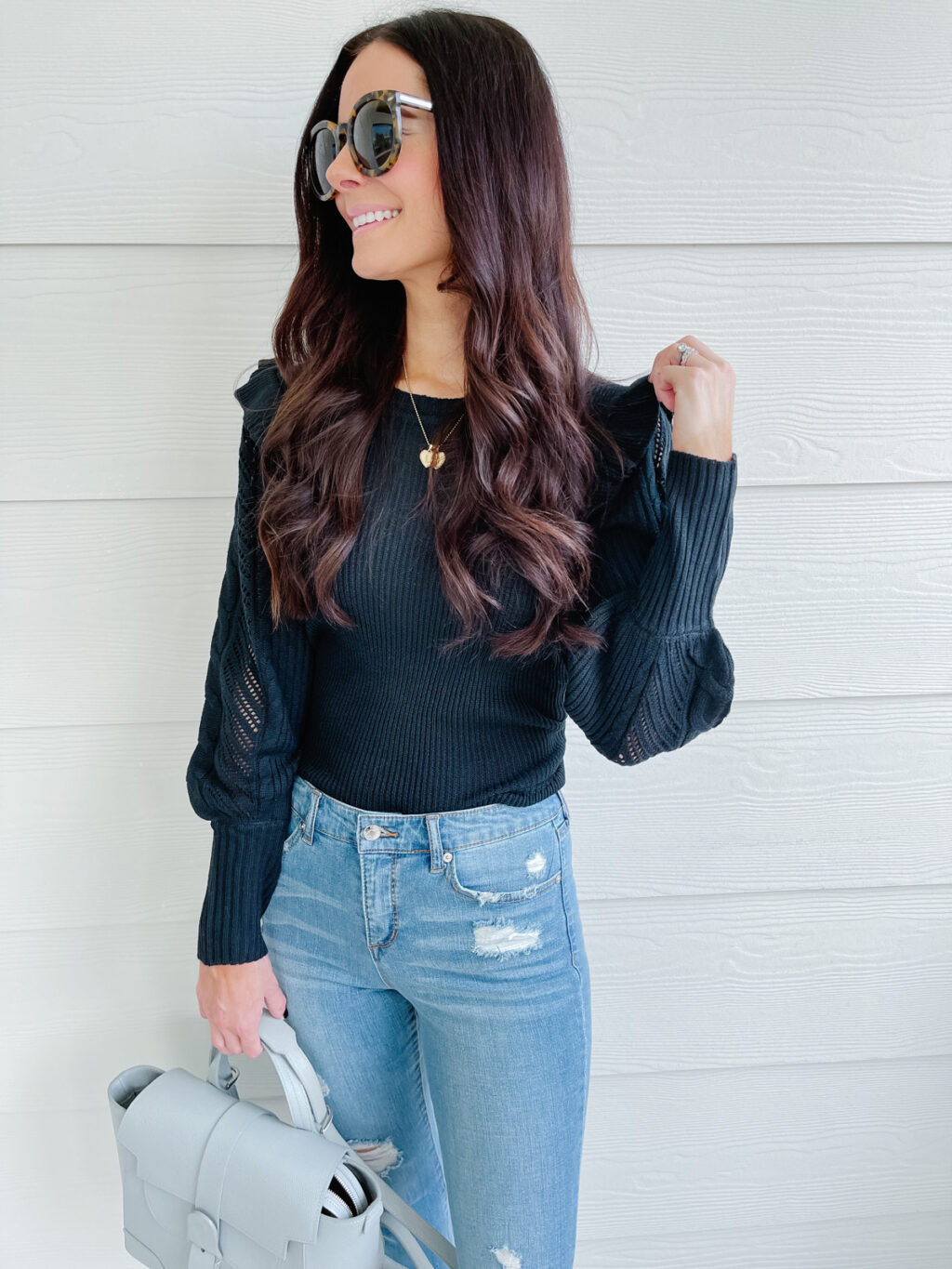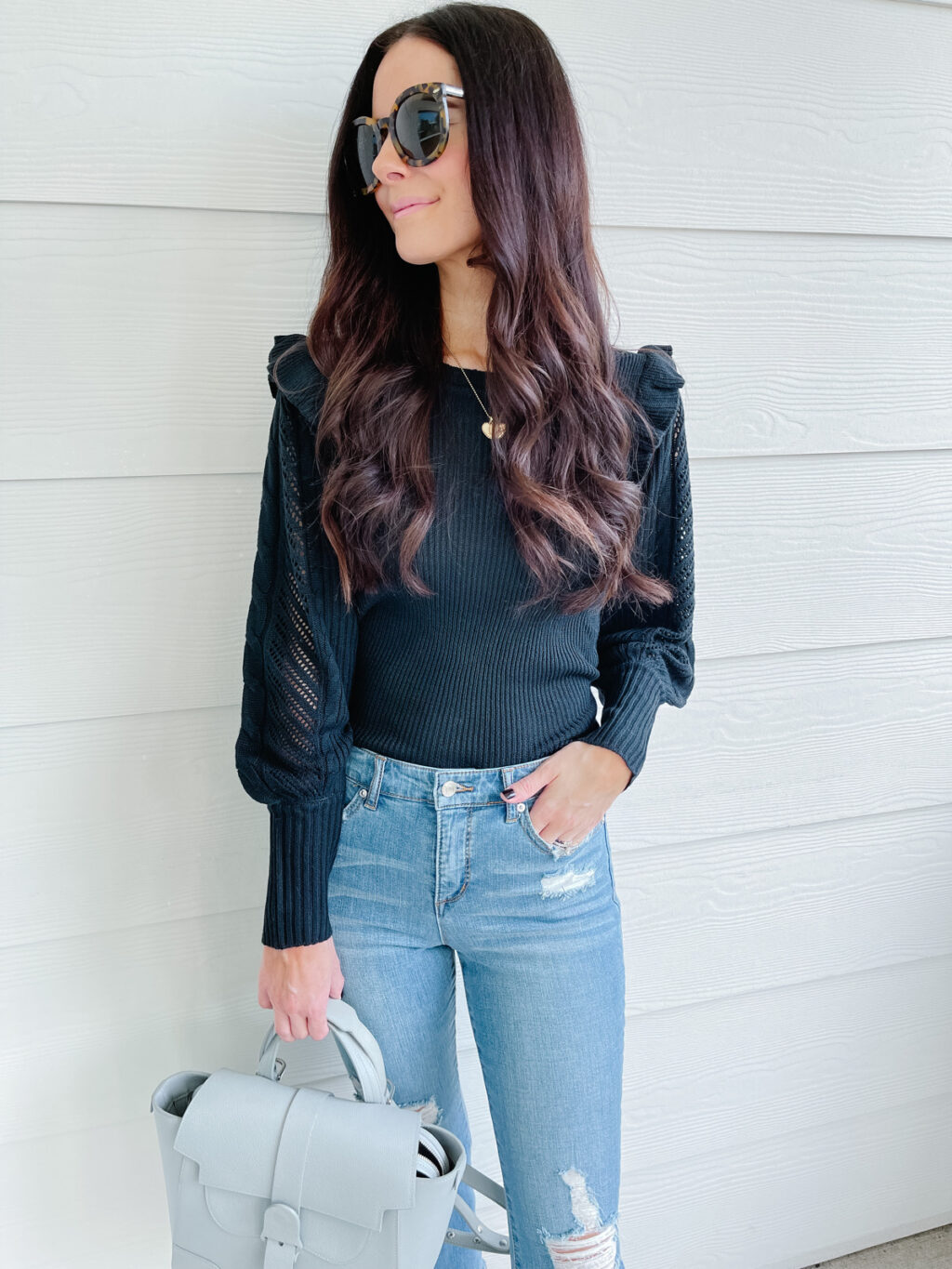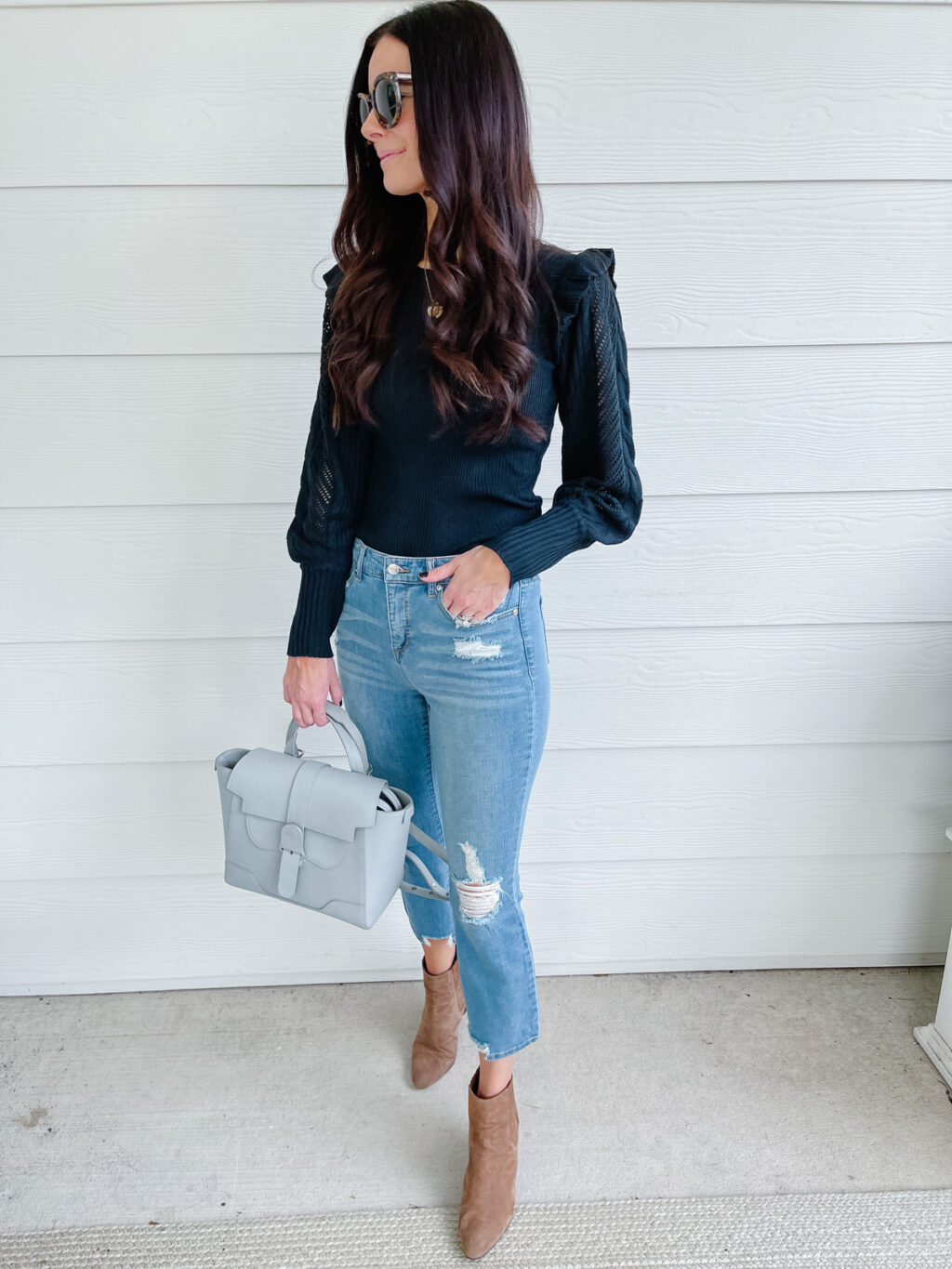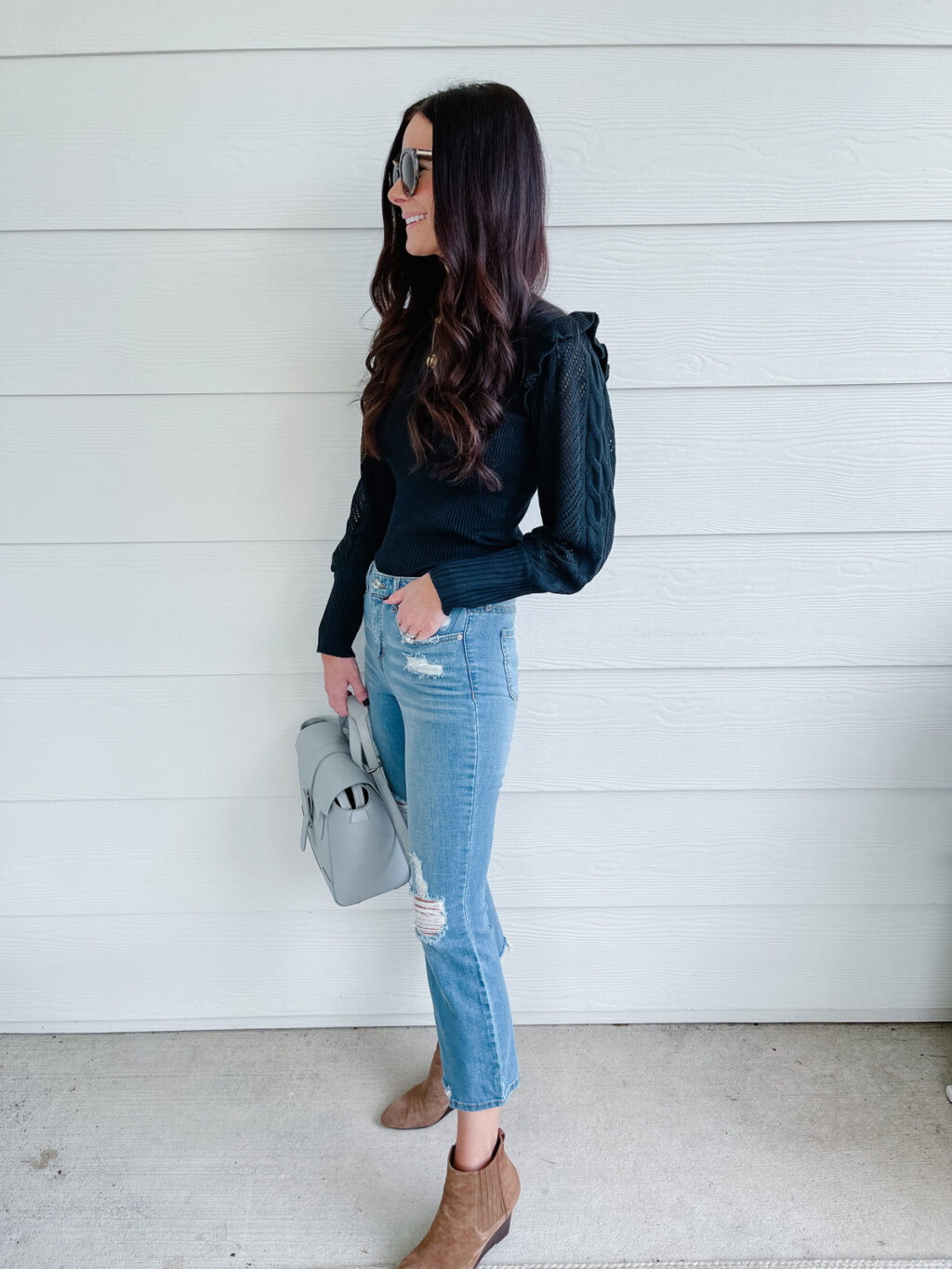 FREE ASSEMBLY WOMEN'S V-NECK POLO SWEATER (size XS) | Scoop Women's Cut Hem Crop Flare Jeans (size 2)
If you've been seeing collared sweaters everywhere lately, you're not alone. This trend is everywhere right now but what I love about this sweater is that it's incredibly soft and the sleeves have a petite balloon fit – it just give it a little something extra. I sized down to an XS and love the fit – it's the perfect sweater for the office, too, you'll feel totally cozy but very polished.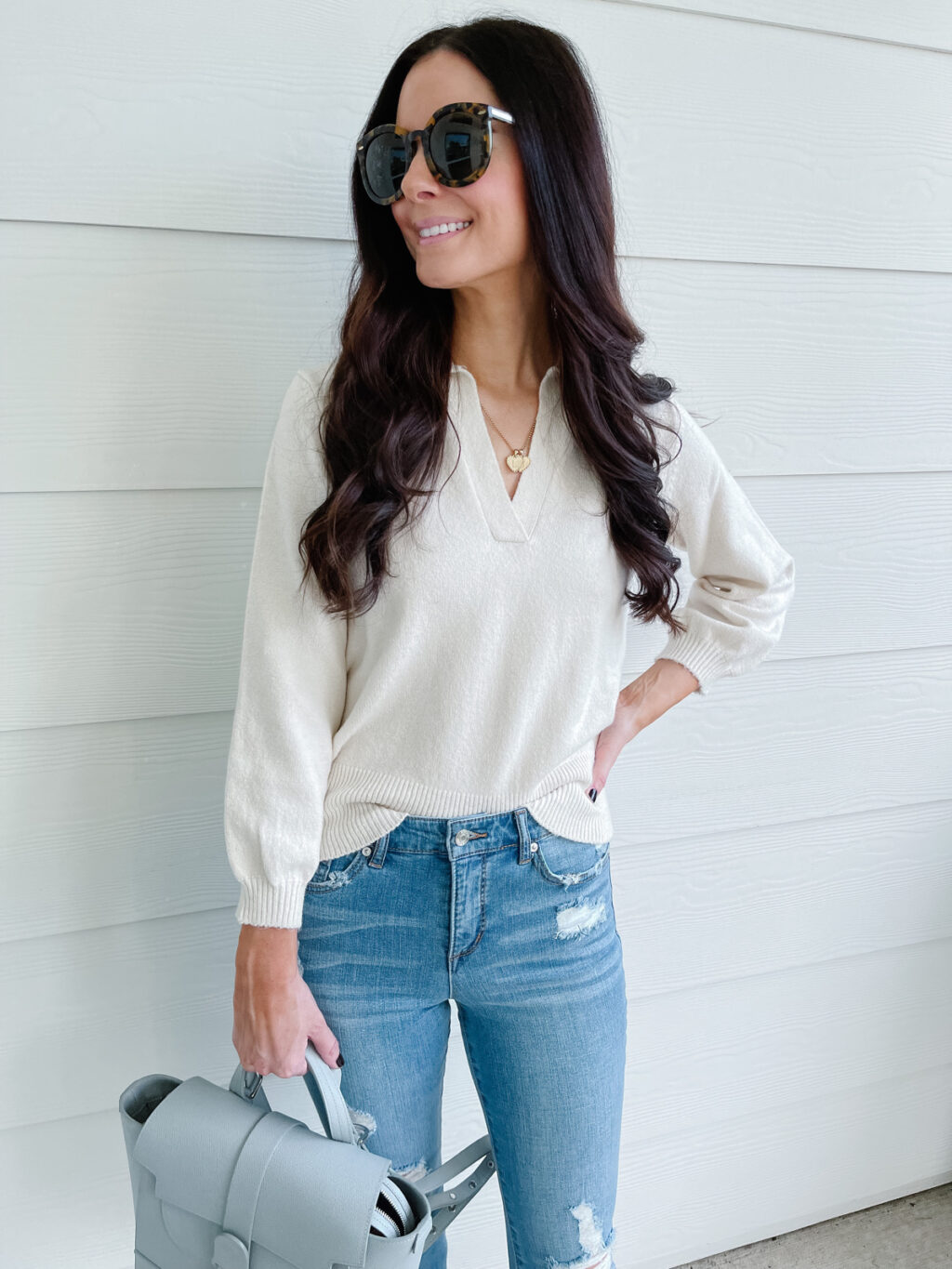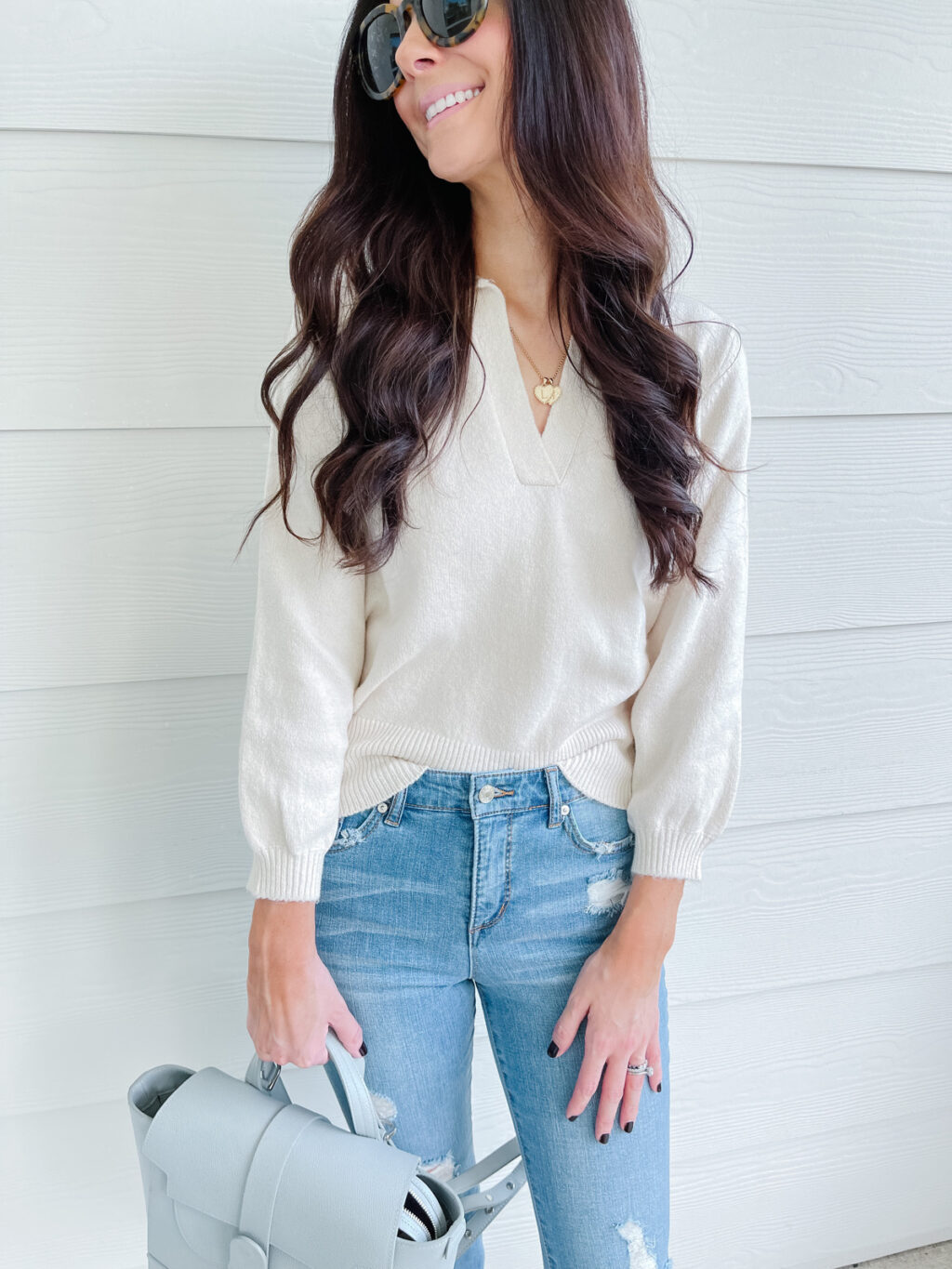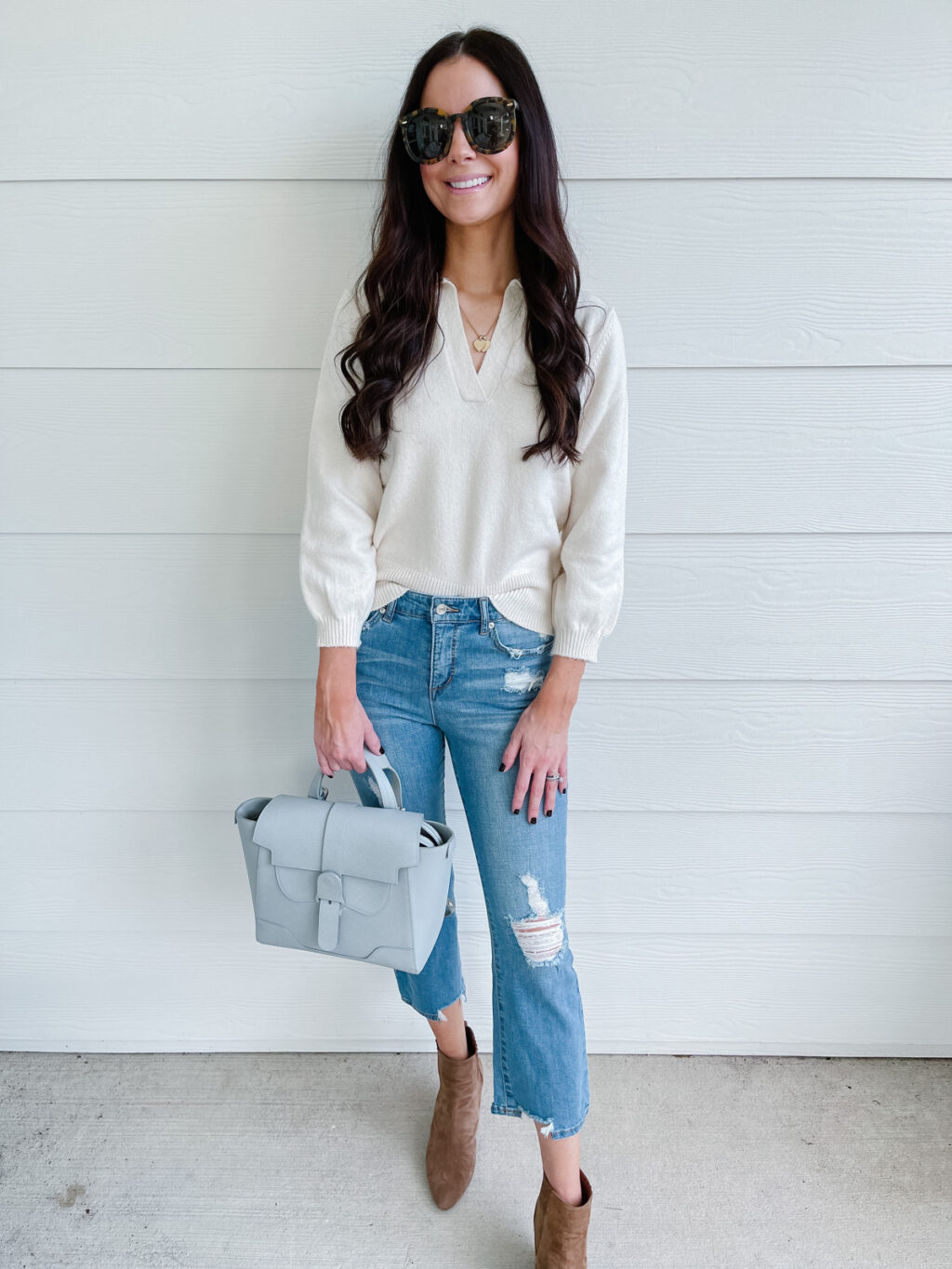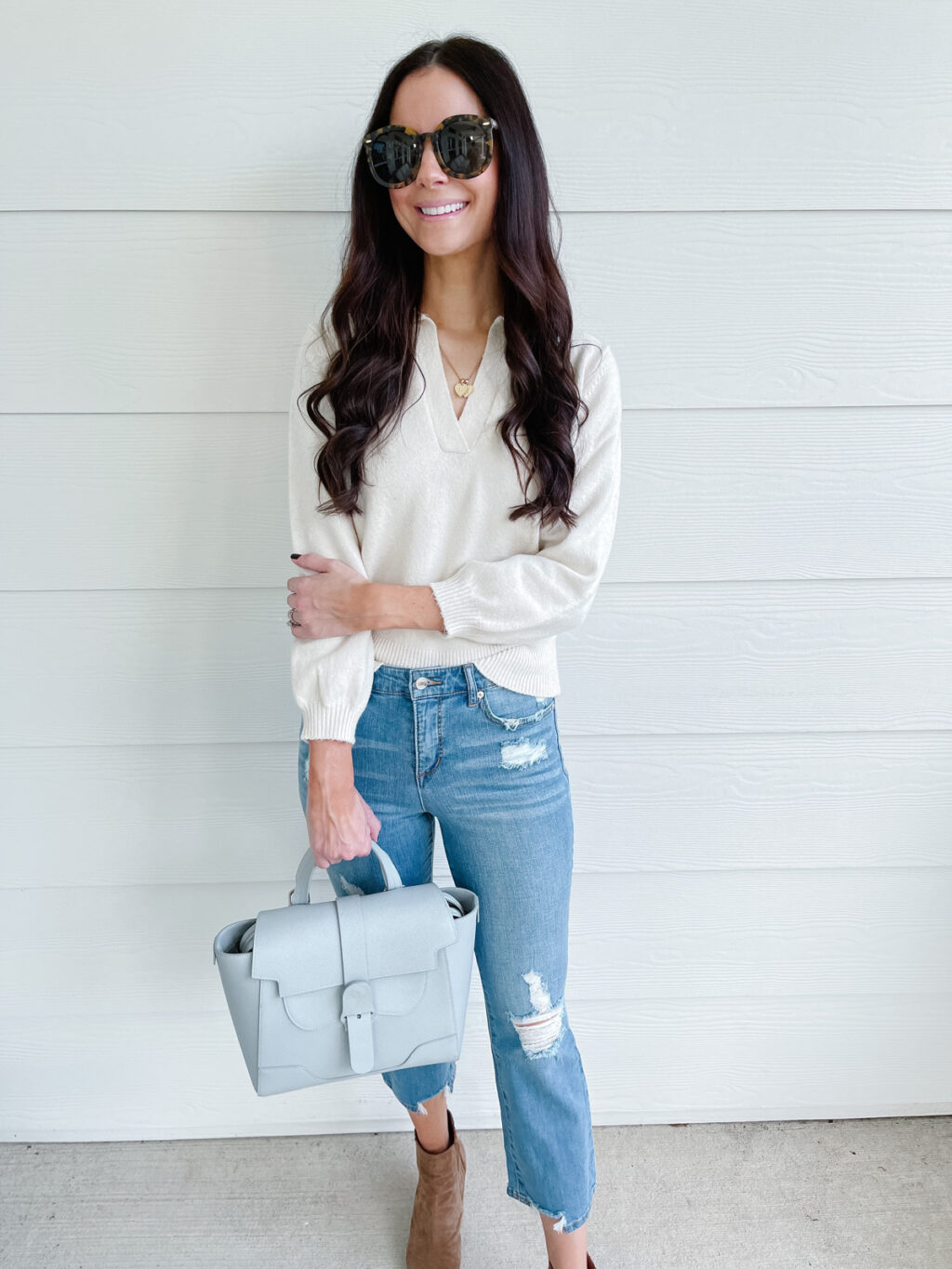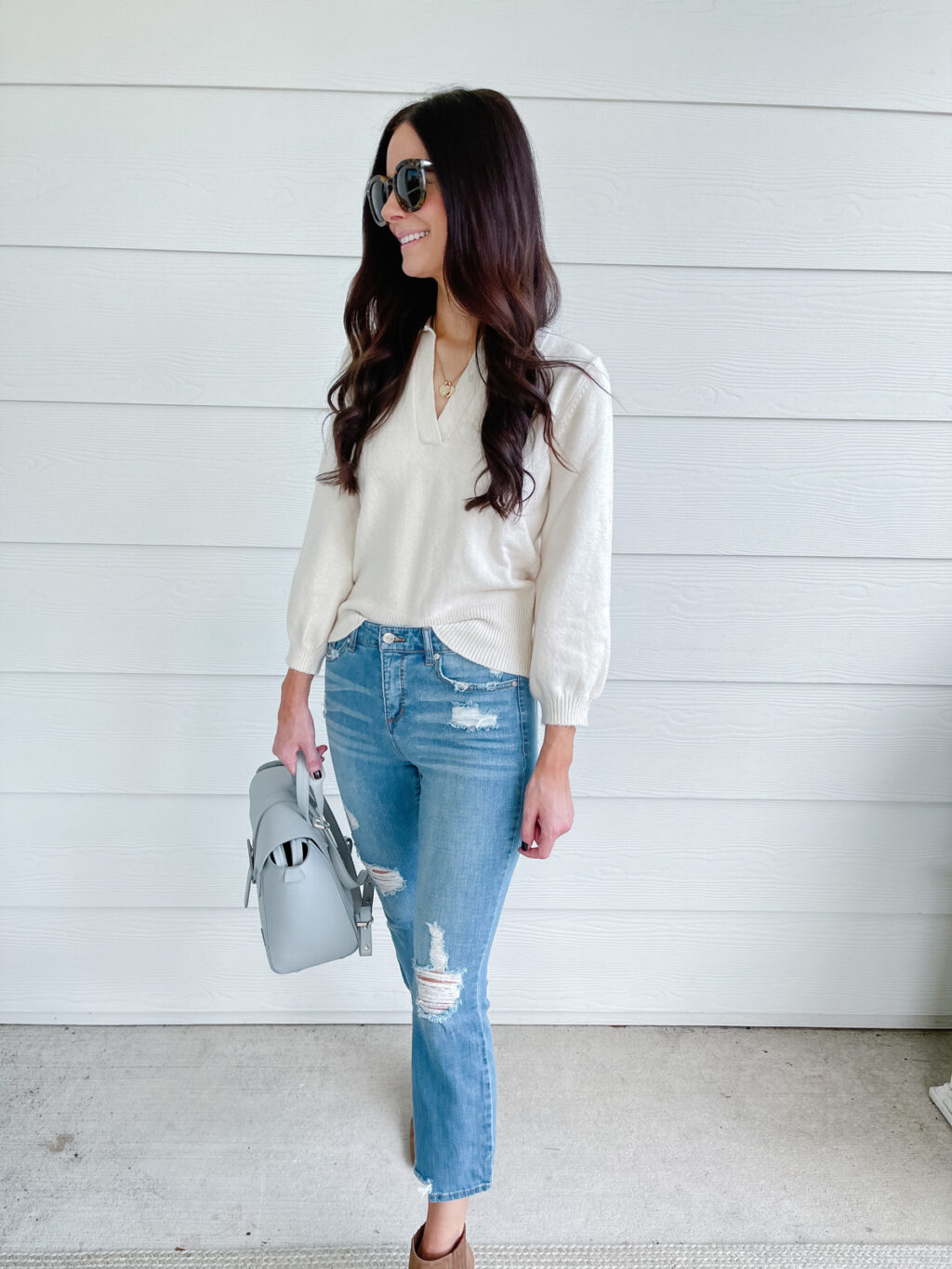 I hope you love these fall style picks from Walmart! I love sharing all of my finds with y'all – have a great week!
SHOP THE POST:


Shop the Post