This post will be very heavily focused on Colleen Hoover books since I get addicted to listening to them. I've been listening to her books on Audible since before seemingly everyone on the Internet started becoming obsessed with her and TBH I'm worried I'll run out soon! She just has this way of pulling in the reader and getting you really invested in the characters.
All synopses are from amazon.com.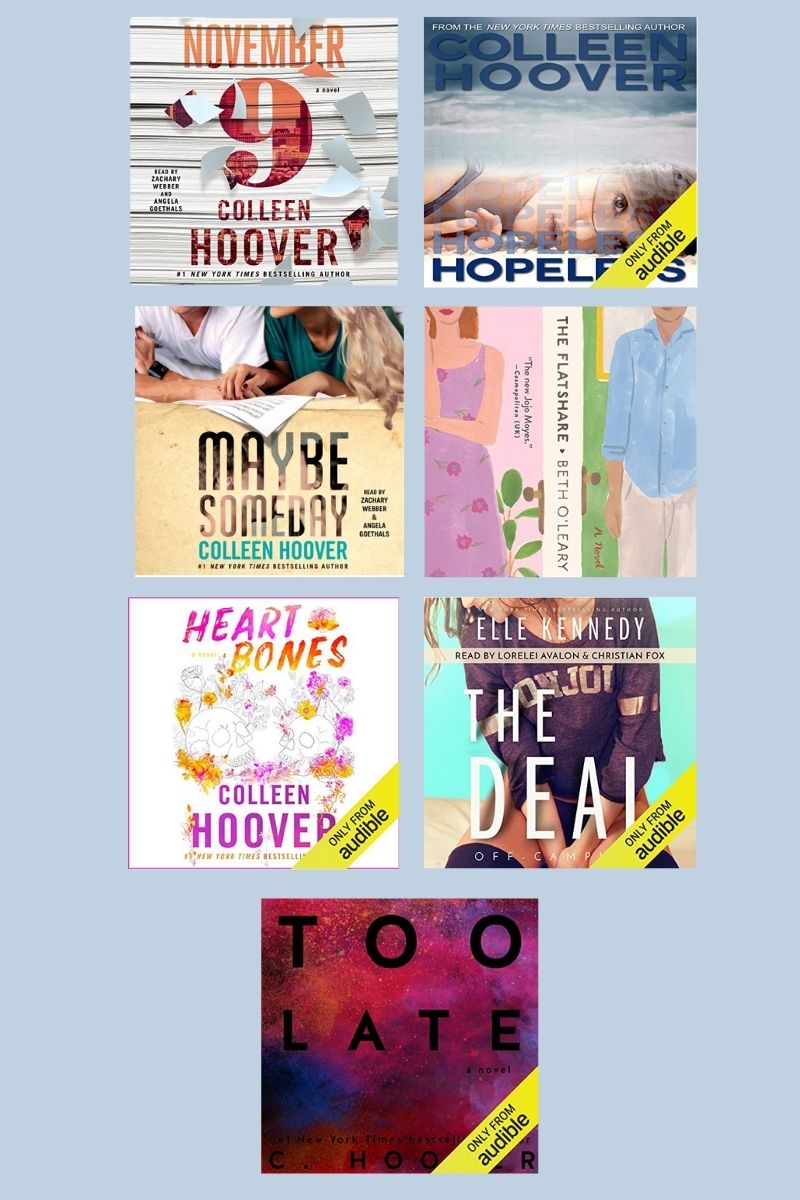 Synopsis: Fallon meets Ben, an aspiring novelist, the day before her scheduled cross-country move. Their untimely attraction leads them to spend Fallon's last day in LA together, and her eventful life becomes the creative inspiration Ben has always sought for his novel. Over time and amidst the various relationships and tribulations of their own separate lives, they continue to meet on the same date every year. Until one day Fallon becomes unsure if Ben has been telling her the truth or fabricating a perfect reality for the sake of the ultimate plot twist.
Can Ben's relationship with Fallon – and simultaneously his novel – be considered a love story if it ends in heartbreak?
My rating – 4.5/5: I loved this one! I must admit I did figure out one of the twists, but even still, it was such a beautiful and heartbreaking story. I loved the relationship between the main characters and the storytelling was really gripping – it's one of those books you try to finish quickly because you just need to know how it ends.
Hopeless – Colleen Hoover

Synopsis: Would you rather know a truth that makes you feel hopeless, or keep believing the lies? Beloved and bestselling author Colleen Hoover returns with the spellbinding story of two young people with devastating pasts who embark on a passionate, intriguing journey to discover the lessons of life, love, trust–and above all, the healing power that only truth can bring.
Sky, a senior in high school, meets Dean Holder, a guy with a promiscuous reputation that rivals her own. From their very first encounter, he terrifies and captivates her. Something about him sparks memories of her deeply troubled past, a time she's tried so hard to bury.
Though Sky is determined to stay far away from him, his unwavering pursuit and enigmatic smile break down her defenses and the intensity of the bond between them grows. But the mysterious Holder has been keeping secrets of his own, and once they are revealed, Sky is changed forever and her ability to trust may be a casualty of the truth.
Only by courageously facing the stark revelations can Sky and Holder hope to heal their emotional scars and find a way to live and love without boundaries. Hopeless is a novel that will leave you breathless, entranced, and remembering your own first love.
My rating – 4.5/5: I can't help myself – Colleen Hoover's books have got me hooked! I noticed recently that all of her books take place in various parts of Texas which is really cool. This story has a lot of heartbreak (and trigger warning, lots of sexual abuse scenes), but though it's a hard listen, I really liked the way the story unfolded as it went from past to present and all of the elements of Sky's past – and he connection to Holder, unravelled. This is another story that will keep you reading or listening – it's intense.
Maybe Someday – Colleen Hoover
Synopsis: At 22 years old, Sydney has a great life: She's in college; working a steady job; in love with her wonderful boyfriend, Hunter; and rooming with her best friend, Tori. But everything changes when she discovers Hunter's cheating on her – and she is left trying to decide what to do next.
Sydney becomes captivated by Ridge, her mysterious neighbor. She can't take her eyes off him or stop listening to his playing his guitar every day out on his balcony. And there's something about Sydney that Ridge can't ignore, either. When their inevitable encounter happens, they soon find themselves needing each other in more ways than one.…
My rating – 4/5: I enjoyed this story and loved the main characters. I like that Colleen's characters vary more than most books – a burn victim in Nov. 9 and in this book, one of the main characters is hard of hearing. The relationship that blossoms between Sydney and Ridge is really sweet and there are lots of ups and downs in their story. Overall I really enjoyed it but perhaps not as much as the previously mentioned ones!
The Flatshare – Beth O'Leary

Synopsis: What if your roommate is your soul mate? A joyful, quirky romantic comedy, Beth O'Leary's The Flatshare is a feel-good audiobook about finding love in the most unexpected of ways. Tiffy and Leon share an apartment. Tiffy and Leon have never met.After a bad breakup, Tiffy Moore needs a place to live. Fast. And cheap. But the apartments in her budget have her wondering if astonishingly colored mold on the walls counts as art.
Desperation makes her open minded, so she answers an ad for a flatshare. Leon, a night shift worker, will take the apartment during the day, and Tiffy can have it nights and weekends. He'll only ever be there when she's at the office. In fact, they'll never even have to meet.
Tiffy and Leon start writing each other notes – first about what day is garbage day, and politely establishing what leftovers are up for grabs, and the evergreen question of whether the toilet seat should stay up or down. Even though they are opposites, they soon become friends. And then maybe more. But falling in love with your roommate is probably a terrible idea…especially if you've never met.\
My rating – 3/5: I don't know if it was the male narrator on this one or not, but I just kind of wanted to get through this one. Don't get me wrong – it was a cute story and concept but in the end, it was kind of a forgettable read.
Heart Bones – Colleen Hoover
Synopsis: Life and a dismal last name are the only two things Beyah's parents ever gave her. After carving her path all on her own, Beyah is well on her way to bigger and better things, thanks to no one but herself. With only two short months separating her from the future she's built and the past she desperately wants to leave behind, an unexpected death leaves Beyah with no place to go during the interim.
Forced to reach out to her last resort, Beyah has to spend the remainder of her summer on a peninsula in Texas with a father she barely knows. Beyah's plan is to keep her head down and let the summer slip by seamlessly, but her new neighbor Samson throws a wrench in that plan.
Samson and Beyah have nothing in common on the surface. She comes from a life of poverty and neglect; he comes from a family of wealth and privilege. But one thing they do have in common is that they're both drawn to sad things. Which means they're drawn to each other.Beyah and Samson agree to stay in the shallow end of a summer fling. What Beyah doesn't realize is that a rip current is coming, and it's about to drag her heart out to sea.
My rating – 4.5/5: Ohhh I loved this one! It was set in Galveston/an island off of Galveston and discussed Hurricane Ike, so it was a time in history I remember clearly. I love the way Colleen's plots unfold as you learn more and more about each character – sometimes I can guess what happens and other times I'm totally thrown off. I really liked both of the main characters and the ending made me cry – that's always a sign of a good read. This one definitely has characters that rise above their upbringing and circumstances.
Synopsis: Hannah Wells has finally found someone who turns her on. But while she might be confident in every other area of her life, she's carting around a full set of baggage when it comes to sex and seduction. If she wants to get her crush's attention, she'll have to step out of her comfort zone and make him take notice, even if it means tutoring the annoying, childish, cocky captain of the hockey team in exchange for a pretend date.
…And it's going to be oh so good. All Garrett Graham has ever wanted is to play professional hockey after graduation, but his plummeting GPA is threatening everything he's worked so hard for. If helping a sarcastic brunette make another guy jealous will help him secure his position on the team, he's all for it. But when one unexpected kiss leads to the wildest sex of both their lives, it doesn't take long for Garrett to realize that pretend isn't going to cut it. Now he just has to convince Hannah that the man she wants looks a lot like him.
My rating – 3.5/5: If you want a steamy novel, this is it. It was a good book and I liked the characters, but I've read some better steamier ones that I'd recommend over this one. Having said that, I still thought it was worth a listen. Trigger warning – there are discussions of rape in this book.
Synopsis: Sloan will go through hell and back for those she loves. And she does, every single day.
After finding herself stuck in a relationship with the dangerous and morally corrupt Asa Jackson, Sloan will do whatever it takes to get by until she's able to find a way out. Nothing will get in her way. Nothing except Carter.
Sloan is the best thing to ever happen to Asa. And if you ask Asa, he'd say he's the best thing to ever happen to Sloan. Despite Sloan's disapproval of Asa's sinister lifestyle, he does exactly what he needs to do in order to stay a step ahead in his business. He also does exactly what he needs to do in order to stay a step ahead of Sloan.
Nothing will get in his way. Nothing except Carter.
This book was originally written as a side project by the author. Please note that the content of this book is more graphic than the content of other books written by this author, hence the distinction between the names. This title is recommended for mature audiences only due to extreme graphic content. Recommended for listeners 18+. Warning: for listeners who might be triggered by sensitive subject matter, this book contains scenes that depict rape, murder, and other graphic violence.
My rating – 5/5: OH.MY.GOSH. This book was very, very dark (see above). If you are very sensitive to that type of content, don't read this one. It's even darker than Verity, if you can believe that. However, I really thought the plot of this book was different and had so many twists and turns as everything unfolded. You really feel for Sloan, the main character, who can't seem to escape a situation she feels trapped in and as you learn more about Asa, though he is without a doubt a horrible and extremely mentally ill person, you do start to develop a tinge of compassion for why he is the way he is (while still acknowledging he is horrible). The book also highlights how race and privilege play a role in who gets punished for the crimes they commit…and who doesn't. Lots of interesting themes explored, but this one isn't for those who can't handle graphic content both violent and sexual. I felt the need to repeat that again because it's a huge part of this story.
What books have you loved lately?