The other day, one of y'all reached out to me on Instagram and said one of the best gifts you had ever given was a pouch with travel essentials like an extra phone cord/charger, etc. That way, the person doesn't have to look for a phone charger or cord when they travel – they can just keep that extra one with all of their travel stuff at all times.
I thought that was such a useful gift and pulled together some gift ideas for women who love to travel – you could gift one item or any combo of these items – functional gifts that the recipient will enjoy every time they travel. I also threw in some fun items like a couple of gold necklaces that you can gift along with a jewelry roll if you need a little something extra to add at an affordable price point. Hope you enjoy this one!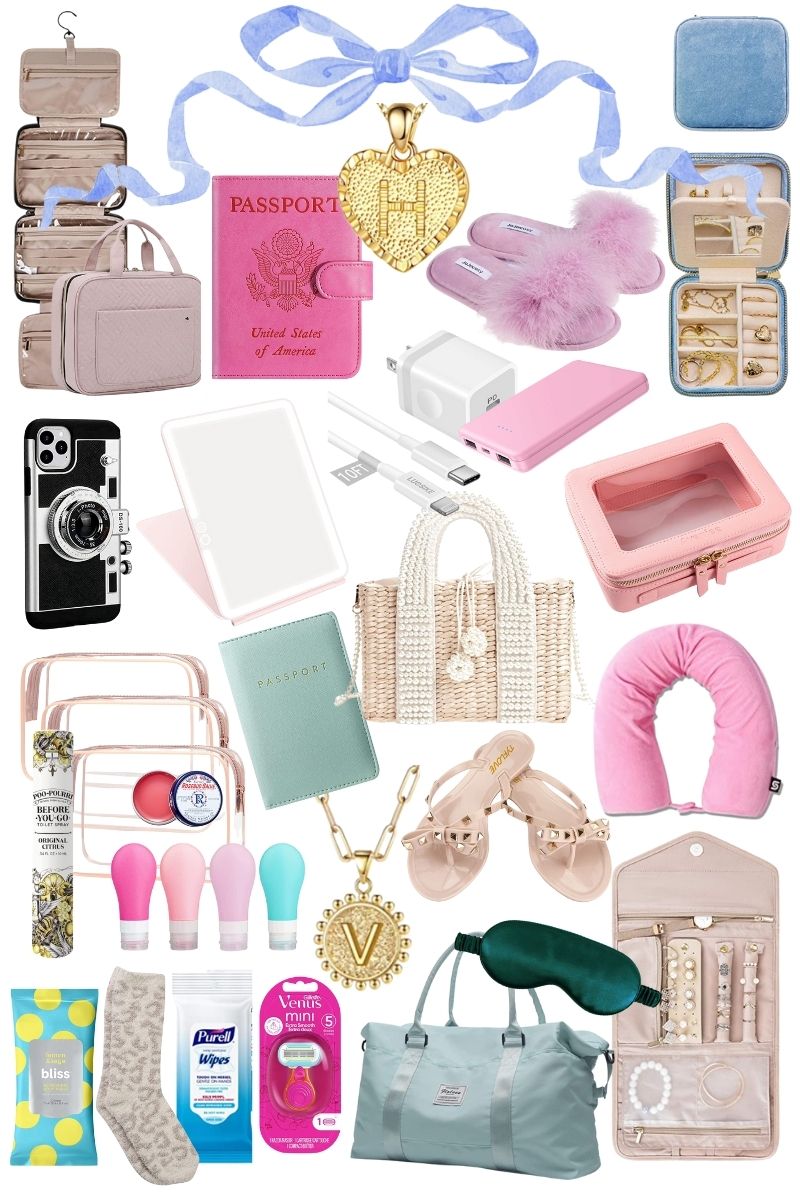 hanging toiletry bag | a must-have when traveling – I prefer these to save on counter space.
velvet travel jewelry case | this cute little velvet box looks so luxe – wrap it in a satin bow and it will look like you spent more! I love that it's small – a great fit for a woman who doesn't wear a ton of jewelry but needs a place to store her everyday items like rings.
painted hearts phone case (and Emily in Paris phone case) | what could be cuter than an "Emily in Paris" phone case for a vacation-bound friend?
pearl straw tote | Ok so this one is kind of extra – BUT I couldn't get over how fabulous it would be for a friend with an upcoming beach vacation or someone attending a wedding (or their own wedding) in a tropical locale!
feathery slippers | I have these and they're amazing. They're not too bulky so they'd be easy to pack which is why I included them – so soft and cushiony!
10 ft iPhone charger & mini portable phone charger | do you ever have enough phone chargers or cords? Because I don't. Gifting one of these means you'll always be remembered for saving the day when someone's phone battery is at 5%…and that's a good place to be!
heart necklace & coin initial necklace | These are beautiful gold initial necklaces you can add to any gift – I love the idea of gifting one alongside one of the travel jewelry pouches.
clear travel zip pouches – blush pink | pink travel cosmetics case with clear top |
travel jewelry roll | I own this one and it's amazing because it has every kind of compartment and securing method for jewelry you can imagine. It also has a very chic velvety chevron exterior.
bliss refreshing body wipes & reusable silicone travel bottles & lip balm & mini potpourri & mini razor & purell wipes | I love the idea of gifting some mini travel essentials along with a clear pouch over makeup case – again, items they can leave in their travel pouches and not have to think about purchasing before traveling.
pink passport case & mint passport holder | These are so cute & fun – would be great to gift on its own or pair it with another gift from this guide.
pink travel pillow | gifting this means the recipient will always think of you when they're comfortably napping on the plane instead of suffering from neck cramps when they fell asleep with their head at an angle that can only be described as "not good."
blue carry on bag | A simple duffle bag that's cuter than a regular gym bag and great if you're an over packer, like yours truly.
folding makeup mirror | for your makeup loving friend – give her the gift of perfectly blended foundation and contour with this mirror that lights up – because hotel room lighting is not always ideal.
studded sandals | perfect for the pool or beach!
cozy socks | add my to the "my feet get freezing on airplanes" list. These are perfect for the friend who's just one heating pad session away from pure bliss.
luxury silk sleep mask (this set comes with earplugs) | I can't sleep without my silk sleep masks – great for the airplane and beyond. Jet lag is tough, make it easier with sweet, sweet darkness.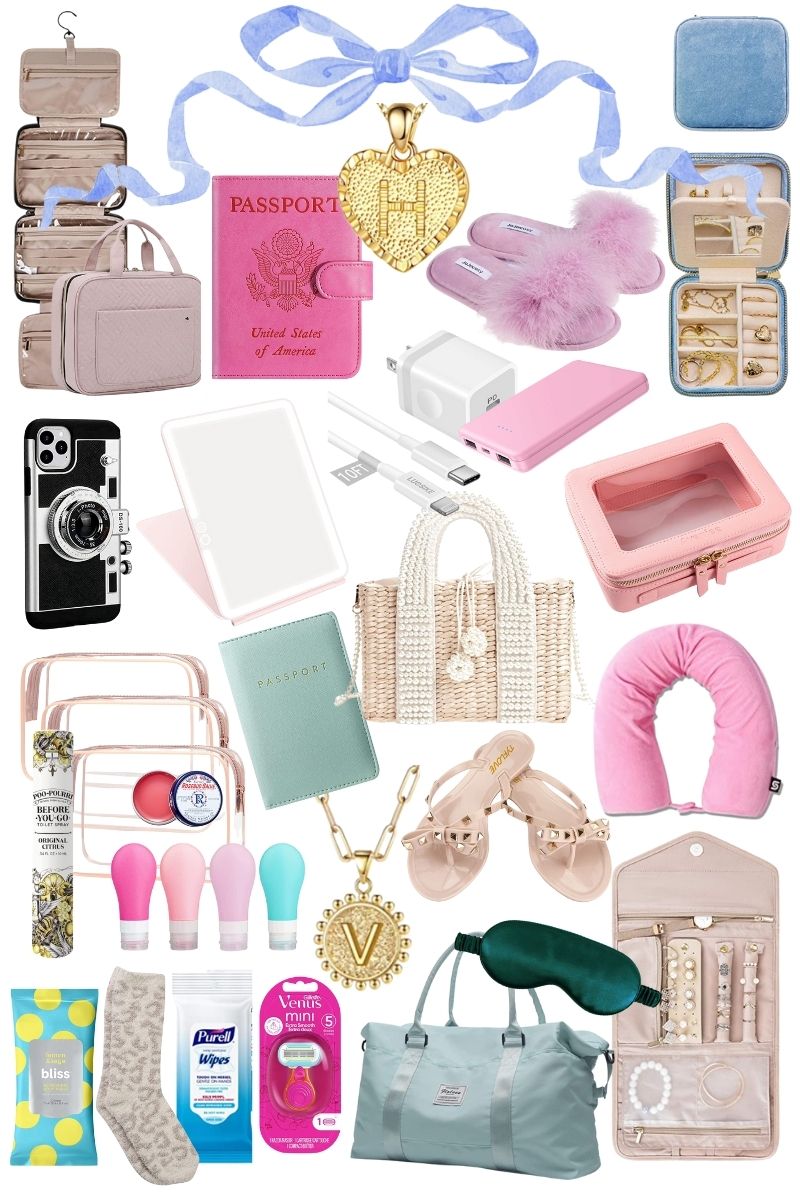 hanging toiletry bag | velvet travel jewelry case | pom pom sweater | painted hearts phone case (and Emily in Paris phone case) | pearl tote | feathery slippers | 10 ft iPhone charger | heart necklace | coin initial necklace | acrylic jewelry organizer | clear travel zip pouches – blush pink | pink travel cosmetics case with clear top | travel jewelry roll | bliss refreshing body wipes | pink passport case | mint passport holder | reusable silicone travel bottles | pink travel pillow | blue carry on bag | mini potpourri | mini razor | purell wipes | mini portable phone charger | folding makeup mirror | studded sandals | cozy socks | luxury silk sleep mask (this set comes with earplugs) | lip balm |