I love sharing my recent amazon orders and today's post is a mix of holiday, beauty, fashion and home items!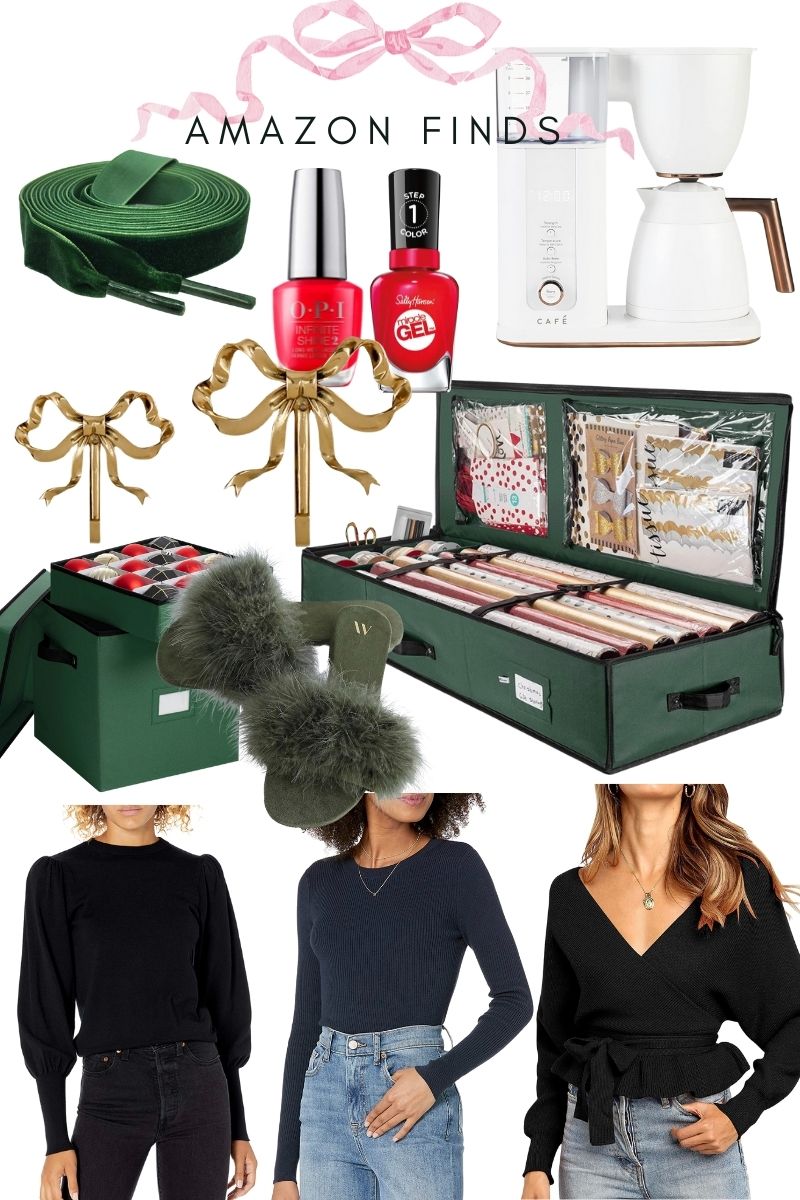 velvet shoe laces: someone in one of my golden goose Facebook groups shared these and I ordered them immediately. They look so chic and luxe with GG sneakers and I can't wait to try them out on mine!
OPI nail polish (Coca Cola red) and Sally Hansen nail polish (red eye): I love trying new red polishes because it's the only color I wear. I've been using the SH formula for a couple of months and it's truly one of my all time favorites and quite long lasting. The OPI is a new one I just ordered to try out!
Cafe drip coffee maker: our range is by the Cafe brand and I've wanted a drip coffee maker for some time (our previous one we got for our wedding so it was time for an upgrade!) I usually drink lattes, but there's something about a classic drip coffee that I crave sometimes.
gold bow hooks: I want to order these for Harper's room! Would be so cute to use in a closet or bathroom as well!
Christmas ornament storage and wrapping paper storage: now's the time to order your holiday/ornament storage solutions! I really want to protect my glass ornaments and have the storage be more compact than what I'm doing now. I also love this large wrapping paper storage system because I have so many rolls just randomly laying in our under-the-stair storage closet.
feathery slippers: I have a pair of slippers similar to these, but I just adore this color so much. It looks like the ones I own come in a similar color – they're soft and cushy, so they might be a more comfortable option!
black padded shoulder sweater: I cannot wait for this to arrive! The sleeves alone make me already know I'll love it.
fitted ribbed sweater: Lately I've been more into fitted tops. For years, I only wore loose fitting tops, but I'm really liking closer fitting tops with high-waisted jeans.
black peplum wrap top: this is on my list to order – I love the waist area that has a ruffled/peplum vibe.
What items have you ordered and loved on amazon lately?!