I love sharing all of the random items I purchase on amazon because I discover some of my best/most useful items when people share their own random buys. I hope you enjoy these posts as much as I do – see below for more information on each item!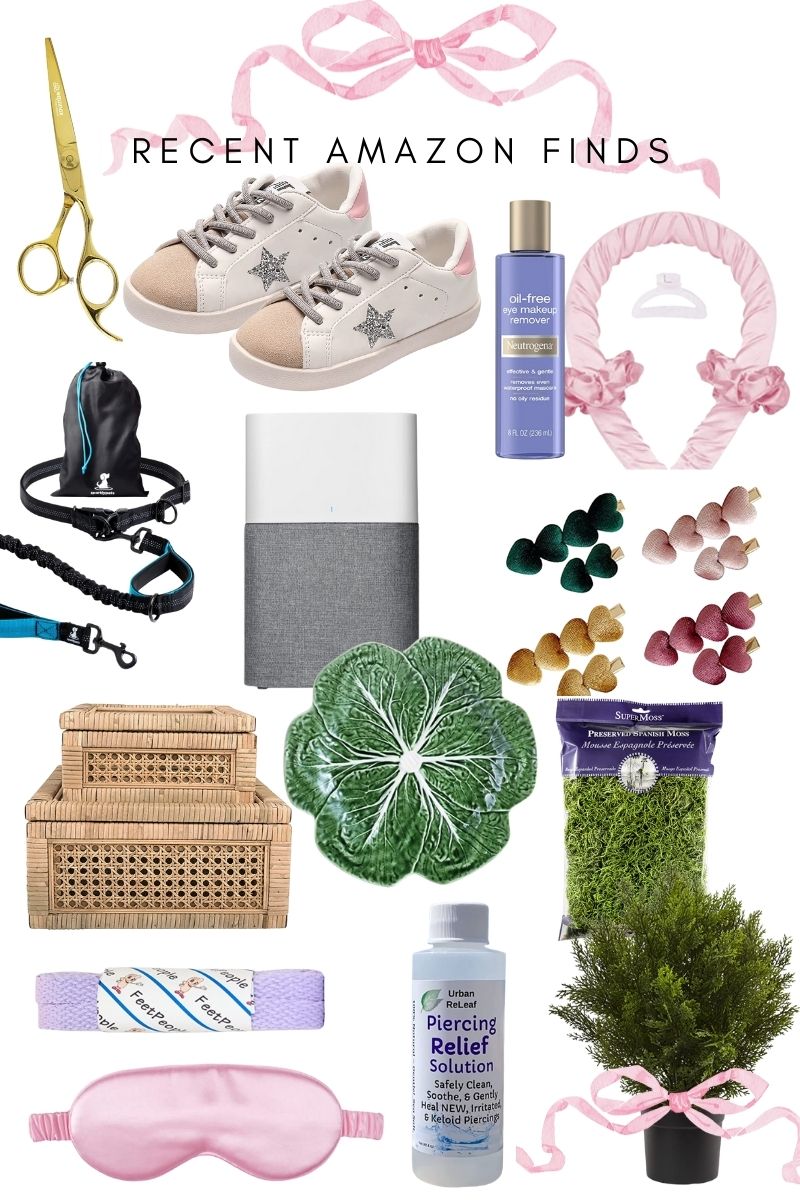 gold hair cutting scissors | it was time to upgrade since we cut Lincoln's hair at home now
star sneakers for H | thought these looked kind of like mini GGs! Can't wait for them to arrive
eye makeup remover (neutrogena) | I love this jumbo bottle size & it removes my waterproof mascara!
waist dog leash (hands-free) | I can't wait to try this for Teddy!
BlueAir air purifier | we now have purifiers in every bedroom and our main living space. If you had any doubt these work, I spent time vacuuming off all of the accumulated dust on the cover of our downstairs unit yesterday and it was thick! Imagine having that in your air instead…highly recommend!
overnight hair curler | this viral tiktok trend got me and I have yet to try it, but will report back. For $10, I couldn't pass it up!
heart shaped velvet hair clips | Love these for little girls…and also for myself, no shame!
cane glass top display boxes (and here too) | I've been wanting these forever and finally ordered – they're beautiful and high quality and look amazing styled on a shelf or coffee table.
cabbageware plates | I know own a set of six of thee Bordallo Pinheiro plates and they're stunning. They add so much texture and beauty to your place settings and are seasonless.
supermoss | if you have faux plants in your home, add this supremos to enhance the look and make the arrangement look more finished/prettier overall. This is my third or fourth bag of this stuff!
artificial cedar bush | I'm using this in our entryway right now for the holidays but it can also be used outdoors! It looks very real.
silk sleep mask | I wash my sleep masks a lot since I don't want them getting grimy with skincare and natural oils, so I do need to repurchase new ones from time to time. I love this one so much and it's inexpensive compared to the brand name ones I own. I cannot sleep without a mask, so these are a must to me!
urban releaf piercing solution | this has been working very well to help heal my cartilage piercing which at one point I almost had to remove. I also switched the earring back to a Lindsey Leigh single diamond stud and that has helped!
lilac shoe laces | I love switching up the laces on my golden goose sneakers and these are the perfect shade!
Happy shopping!