I know a lot of us have home organizing and purging on the mind as we're more than midway though the first month of the new year. I've been doing a ton of projects myself because I love starting the first month of the new year with a "clean slate."
I put together a post with my favorite amazon products that I use in our own home – these are my favorite products for every room from the kitchen, kids rooms, play rooms and more!
cane storage boxed with glass top | love this box for TV remotes and other small items. They look so stylish on a coffee table.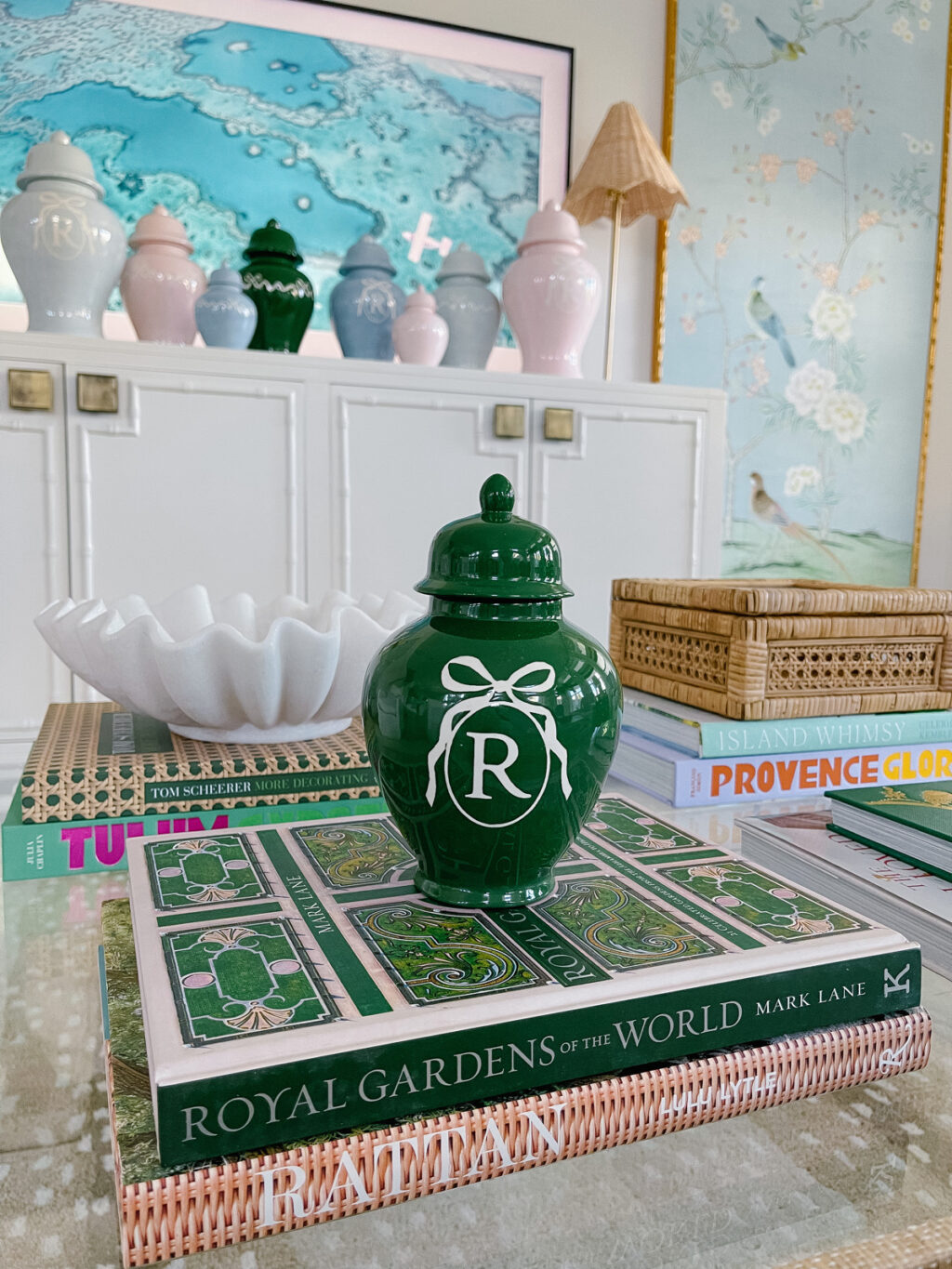 hyacinth storage basket cubes & rectangular hyacinth basket | these baskets are great for toy storage, to use in built-ins, playrooms, pantries – pretty much anywhere goes! They add great warmth and texture.
white metal sliding basket organizer drawer (two tier here) | this is my #1 bathroom organization product – they're amazing for under sinks to store everything from hair products, skin care and more.
plastic 24 piece set of drawer organizers | these are the BEST for makeup and junk drawers. You can configure them any way you like – like a game of tetris!
acrylic jewelry organizer | I use this to store all of my jewelry and earrings – I keep it on the dresser in my closet.
gold over the door hooks | I use this to hold towels and robes in our bathroom.
under the bed rolling storage | these are the best for children's bedrooms – they keep things neat and tidy and stored away. Great for barbies, LEGOs and anything else.
clear deep storage bin | I use these in our playroom to store blocks and bricks, dinosaurs, cars, etc. They're deep and fit lots of toys!
hot hair tools holder | I use this under my sink to store my hairdryer, curing iron and flat iron.
stackable three compartment toy storage bin | these are great for toy storage in bedrooms and playrooms. They're also stackable. I think they're great for closets as well if you wanted to store toys in there.
narrow white bookshelf storage | I recently added this to H's closet to hold more books and it's great for the price point.
acrylic book ledges | both kids have these in their rooms – perfect for holding books and you can install them based on the age of your child so it's easy for then to reach the books. Forward facing books encourage reading.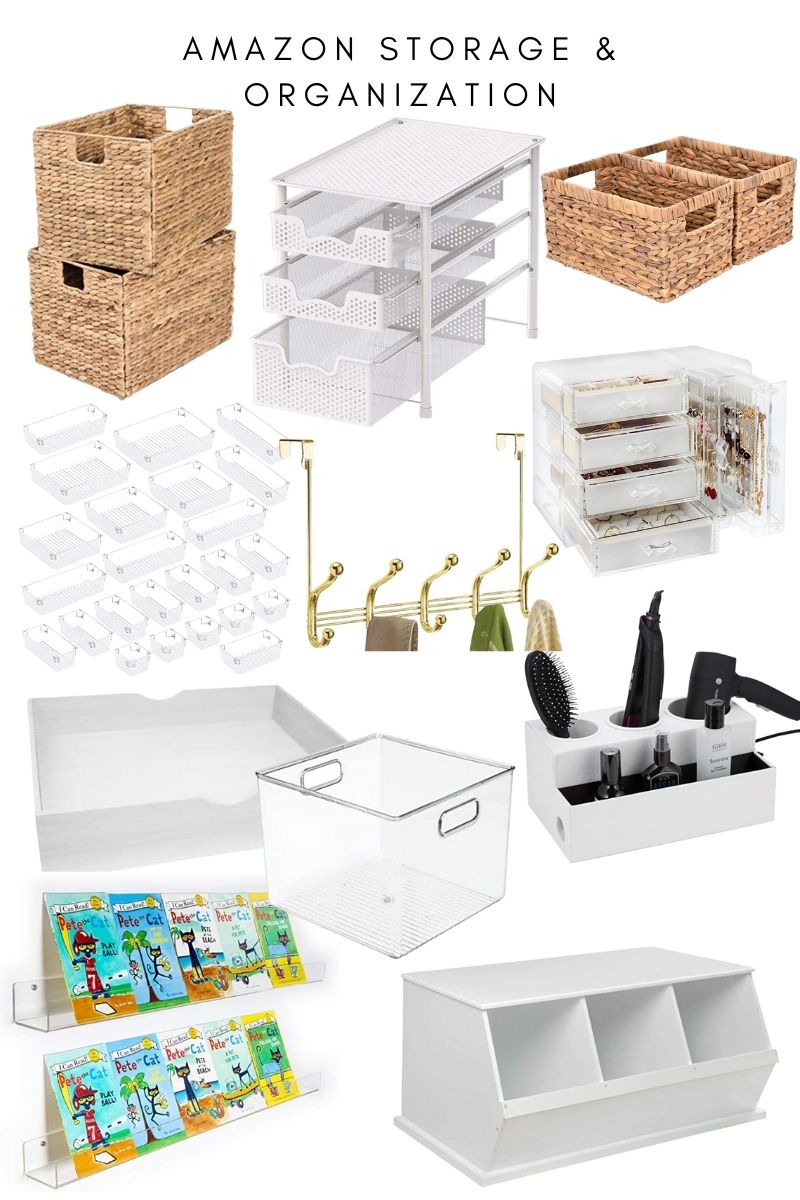 clear expandable spice rack/riser | we have this in our pantry and it holds a TON of spices because it expands. Love how minimal the look is as well.
clear stackable egg holder | I got this for our fridge – the lid means you can stack on top of it.
fridge storage container | these are great to corral smaller items in your fridge or pantry.
clear storage container with lid | I use this in our fridge and playroom. Great for storing smaller items.
tea storage/organizer (smaller option here) | I drink a lot of tea and keep these in our kitchen cabinets to hold and separate all of my favorite flavors.
oxo airtight food storage | we use these to decant the baking supplies in our pantry. So much prettier than bags or flour and sugar. We use them for cereal too.
glass meal prep/food storage containers | these are great to take your lunch to the office because they're glass.
Zip Top Reusable 100% Silicone Food Storage Bags and Containers | I am obsessed with these – we use them a ton for leftovers and they're microwave safe so great for the office or travel. They stand up in the fridge too because of how the bottom is, so no worried about toppling over. They're also much lighter than glass and dishwasher safe.
pink stackable organizer bins | These are great for any space – we particularly like them for a playroom/toy storage.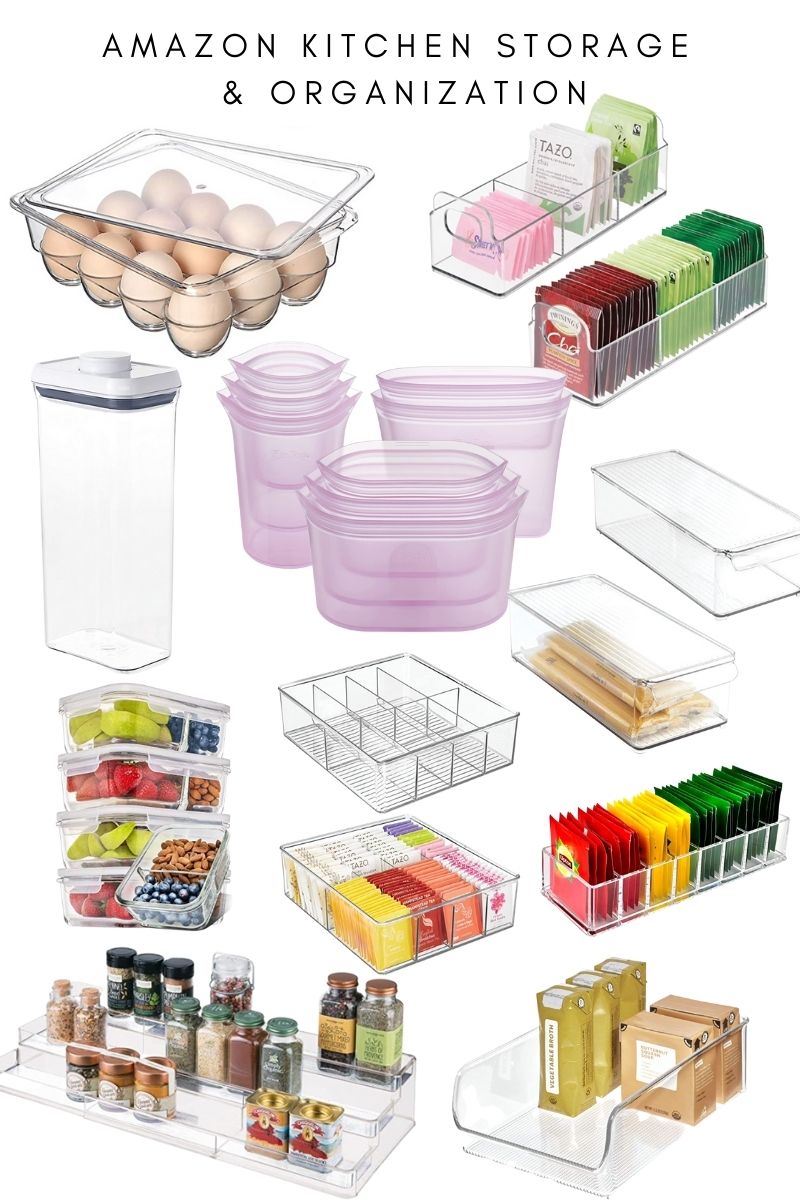 The Container Store also has beautiful options for decorative storage – you can shop these finds here: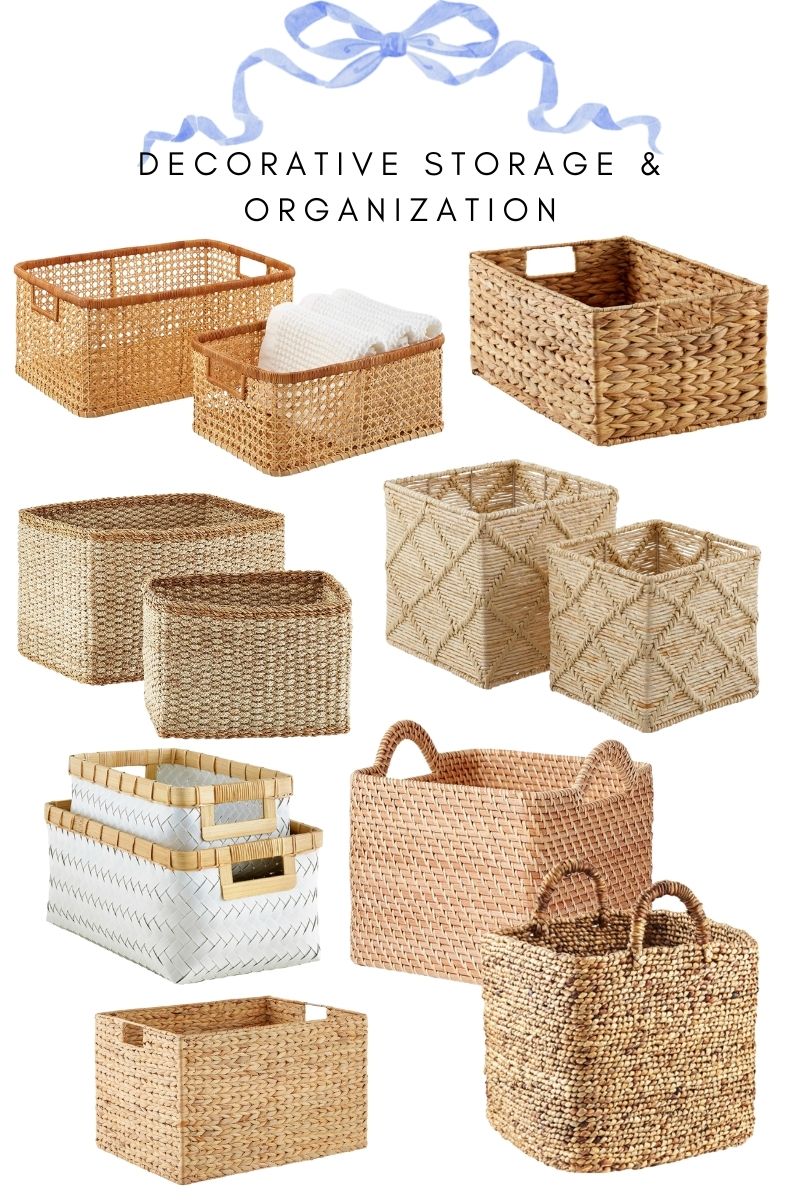 Happy organizing!
Shop the Post