Today's post is a mix of fashion & other random items I've ordered recently on amazon – scroll down for the details!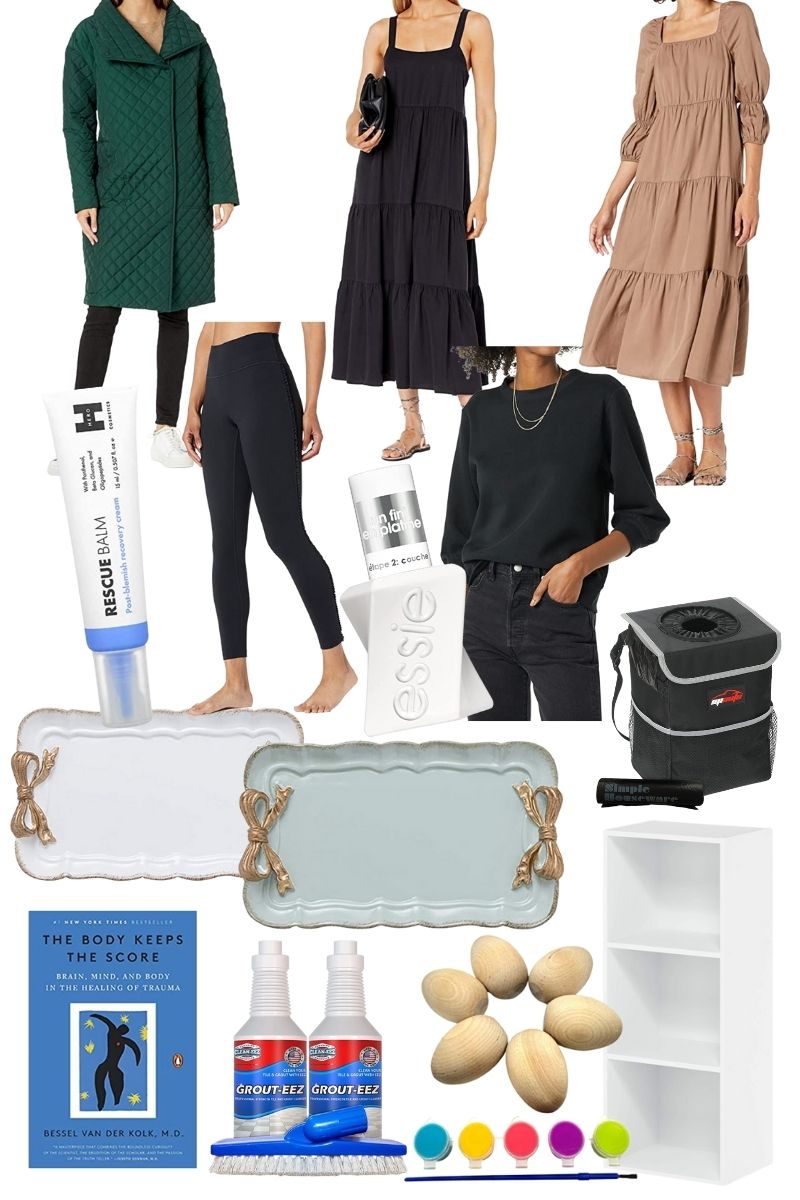 dark green quilted jacket | I love this deep green color & the quilted look. I'll try these all on when they arrive!
tiered black dress | I thought this dress was so pretty and versatile.
tiered puff sleeved dress | A great transitional piece from winter to spring.
fleece crewneck sweatshirt | I can never get enough of sweatshirts with chic details.
black leggings with side trim | I couldn't resist the pretty trim on these leggings.
scalloped bow tray | I got this for H's bathroom – so pretty and feminine and perfect for holding soap and a toothbrush! It would be great for jewelry too.
the body keeps score book | This is a heavy read but I think very necessary. I've learned so much recently about trauma and how it can affect generations and how it programs the brain from childhood. I want to do the work in myself to move past my childhood trauma and this book was highly recommended.
car trash can | our car is full of masks all over the floor and this trash can attaches to the back of the seat so everyone can toss their masks there instead!
rescue balm | This is a product I hope I don't have to use frequently, but it's for the post-breakout redness/pinkness left over by pimples. My skin is so fair that when I do get a blemish, it leaves a mark for quite a while.
paintable wooden eggs (and these) | my painting did not end at ornaments. I ordered these so I could paint them for Easter – I love to paint and so do the kids. Plus, it's another chance to practice my painting skills!
grout cleaner | I saw this on IG – can't remember who shared it. It's supposed to whiten grout. Ours actually isn't that bad since our home is just two years old, but I want to try it now to prevent the grout from getting worse.
Essie gel topcoat | My favorite topcoat – I use it every time I paint why nails (unless I use Dazzle Dry which has its own topcoat).
small bookshelf | I recently added this slim shelf to Harper's closet for extra book storage and it's wonderful. It fits well on the ledge that's already in there and holds quite a lot of books!