I'm trying to be more consistent about sharing beauty product reviews on my blog so they can be referenced at any time!
These are some recent beauty buys that I really love and want to make sure they have a permanent place on my blog – let's get to it!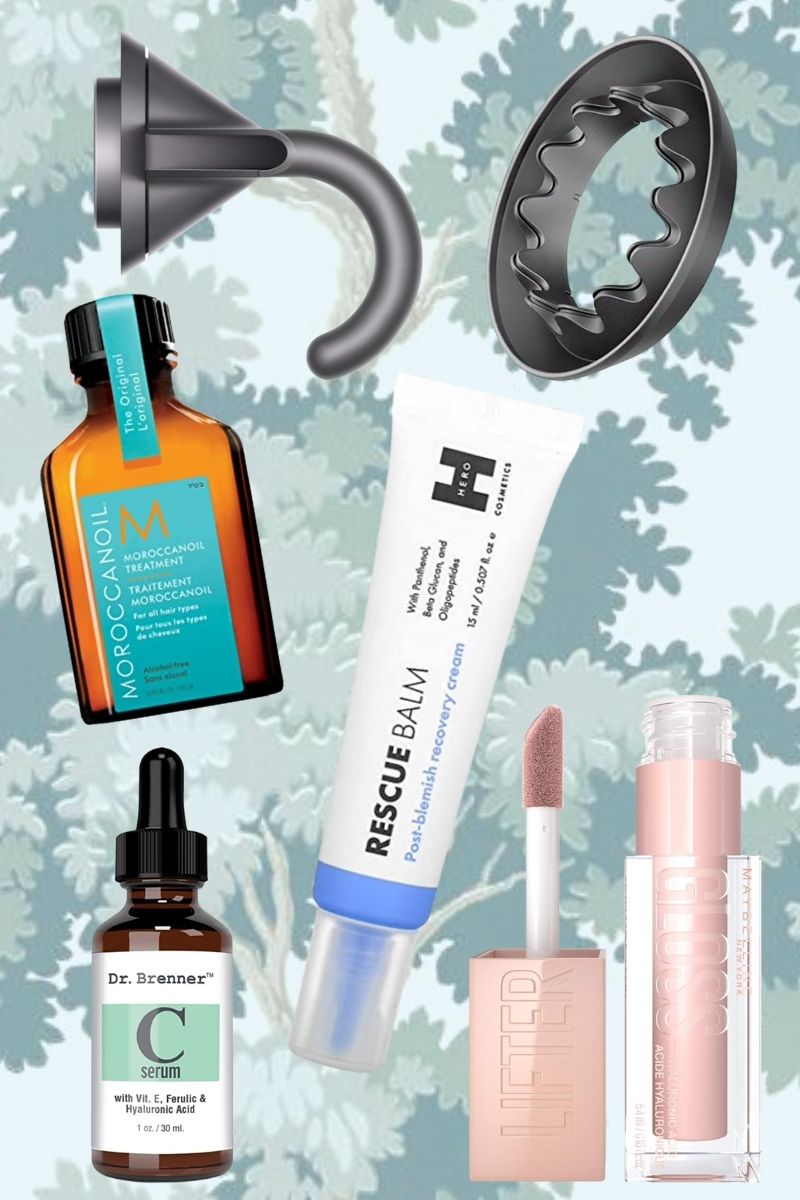 Dyson supersonic hairdryer "gentle" attachment
This attachment has been a game-changer for my hair drying routine. It's an amazon dupe, Dyson doesn't even sell this, but it makes the air flow coming out of the Dyson supersonic hair dryer a little less intense so you get less tangles when blowdrying. The Dyson hair dryer can be too powerful for finer hair – but I prefer using this attachment with the dryer speed at full power versus lowering the speed of the dryer. It's magic and my hair doesn't tangle anymore!
Dyson flyaway attachment (amazon version here)
This attachment is magic! At first I thought it would just smooth the flyaways at the top of my head, but it actually has a flatiron effect on your hair. Like you can skip a flatiron altogether, because this attachment mimics those results with less heat. I truly don't understand how it can work so well, but it was well worth the cost.
Maybelline Lip Lifter Hydrating Lip Gloss with Hyaluronic Acid (ice)
This lip gloss!!! It's so smoothing and moisturizing and feels amazing on your lips. The price is right, too. I have the color ice which is a very soft, very light pink. It looks great on its own or layered over lipstick.
Moroccanoil treatment oil
I don't know why I ever stopped using this oil, but I'm so glad it'd back in may rotation! My colorist Brigitte uses it on me every time I see her, so I got the mini size and it's wonderful because you just use a tiny bit. I apply it from the nape of my neck down to my ends before blowdrying. You can also use it between washes to smooth hair, but I don't find myself needing to do that!
Dr. Brenner Vitamin C serum
This inexpensive vitamin C serum is said to be the closest to the Skinceuticals formula, ingredients wise. I have used 2-3 bottles of it (I alternate with the Timeless vitamin C serum, meaning when I run out of the Dr. Benner, I use Timeless, then when I run out of the I use Dr. Brenner).
BONUS:
Rescue Balm post-blemish treatment
I haven't used this yet, so I don't have feedback, but it gets amazing reviews and a lot of people I follow and trust have recommended it. The next time I get a blemish, I'll use it and report back!
Do you use and love any of these products?!