This post is not intended as medical advice. Please consult your own physician before starting any vitamin or supplement to determine what's right/safe for you. I'm not an expert on this topic, this is just what works for me.
I've been sharing my health journey a lot this year and part of the puzzle for me has been taking several supplements that I was either low on or that I need due to genetic mutations I have (mainly, a heterozygous MTHFR mutation).
I try to get as much of my daily needs from food as I can, but no diet is perfect, so supplements help fill those gaps. Read on about all of the supplements I take and why.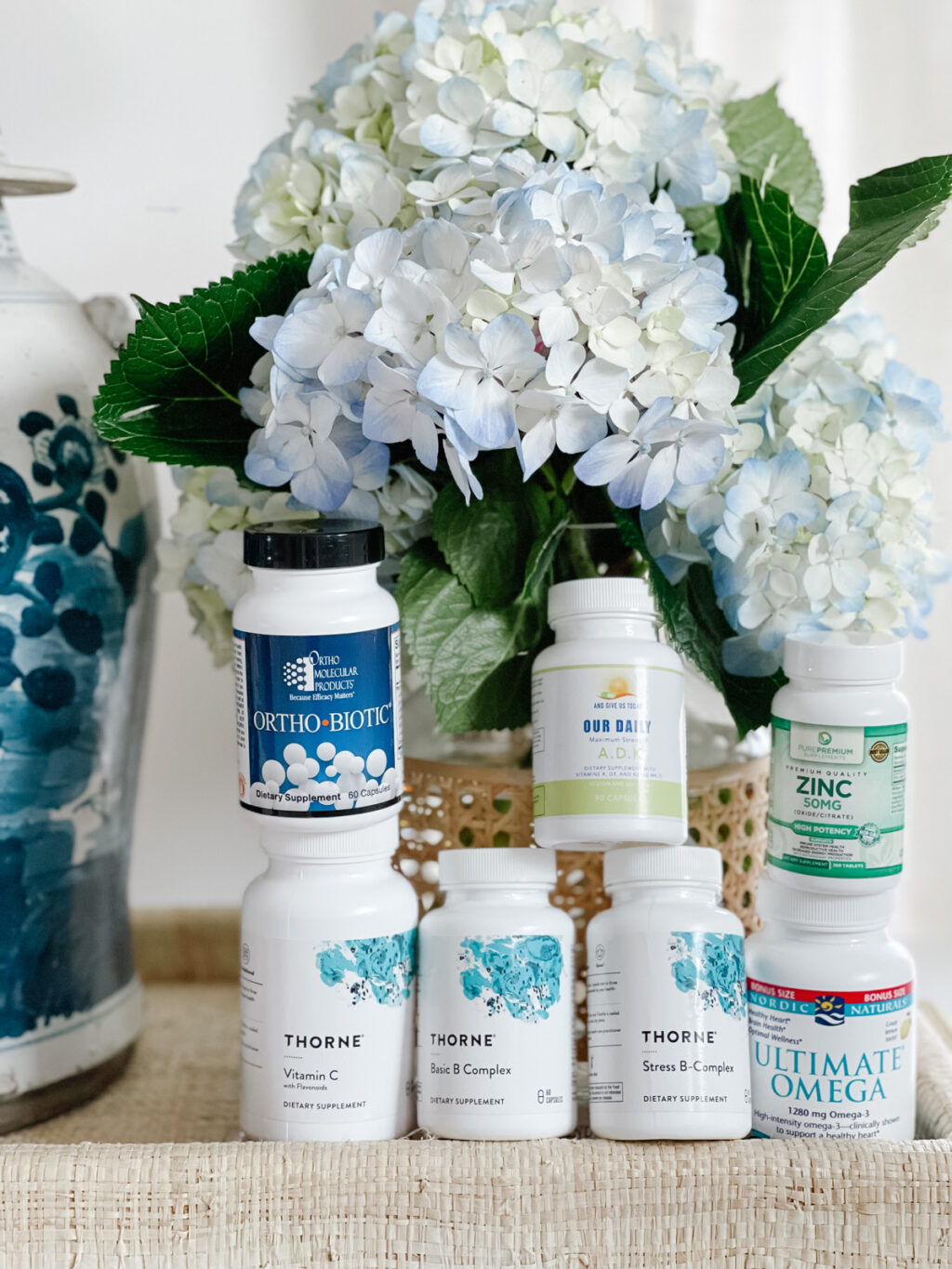 DAYTIME SUPPLEMENTS
VITAMIN D WITH K2
My vitamin D levels have always been really low – in my 20s, they were so low that a doctor put me on a prescription dosage of 50,000 IUI per week. Despite supplementing on and off for the last decade plus and living in a sunny climate, my vitamin D levels continue to be low whenever I do bloodwork.
My functional medicine doctor suggested that lowering inflammation overall and improving my gut health would help ensure my body absorbs and uses the supplements I'm taking. I also learned that when taking vitamin D, it's essential to also take K2 for maximum absorption, so the vitamin D I linked is one that also contains K2. I will get my levels re-tested in a few months and I hope this time I'll see a drastic improvement.
BASIC B COMPLEX (OR VITAMIN B STRESS COMPLEX)
Those with an MTHFR mutation have varying degrees of difficulty absorbing folic acid and it's recommended to take it in its more bioavailable form, which is l-methylfolate. When I was pregnant, I took both high doses of folic acid and a DHA supplement that contained l-methylfolate. I love Thorne brand – their vitamins and supplants are very high quality in my experience and it's a brand that has been recommended by numerous RDs I follow. There is some debate in the medical community over whether or not MTHFR mutations are a big deal since a lot of the population has some form of it – but in my experience the supplements might help or they might do nothing, so I'd rather take one to have my bases covered since vitamin B has many benefits.
I was taking the Stress B complex but I now take Thorne's Basic B complex because I read it actually has more ideal ingredients for those with an MTHFR mutation. Their basic B formula promotes an optimally functioning nervous system and healthy nerve cells; promotes cellular energy by supporting the conversion of carbohydrates into energy, as well as the metabolism of fats and proteins. It contains an optimal balance of eight B vitamins, plus choline, in their active form to enhance absorption in the body.
Thorne's Stress B-Complex contains an optimal balance of essential B vitamins, with extra vitamin B5, to support healthy adrenal function and immune function and although each B vitamin is distinct, they work synergistically in multiple functions throughout the body, including cellular energy production, healthy red blood cell formation, and healthy neurological function.
PROBIOTIC (ORTHO BIOTIC)
This probiotic was prescribed to me by my functional medicine doctor to support microflora balance and maintain a healthy environment for vitamin uptake and optimal immune function. This probiotic was created to maintain GI balance, increase secretory IgA for enhanced gut immunity, support bowel regularity and support digestion and micronutrient absorption.
I made so many changes at once (going gluten-free, starting an SSRI, and a probiotic) that I can't say with 100% certainty that my GI symptoms were improved because of this probiotic, but I am experiencing less frequent bowel issues and nausea. I purchase mine on Fullscript, as they're much less expensive there.
ZINC
I take this zinc supplement several mornings a week. I started taking zinc when the pandemic started because I read that it was great for your overall immune system, reproductive health and energy production. This supplement has an average 5 star rating with over 5900 reviews.
VITAMIN C
Most recently, I started taking Thorne's vitamin C formula for immune support and antioxidant benefits. Vitamin c promotes collagen production, which enhances skin, nail, and hair health (and helps wound healing!) 
NIGHT TIME SUPPLEMENTS

MAGNESIUM
When I first started taking Prozac, I was fine for the first 6 weeks or so. Then, I noticed my motility slowed down, which is sometimes a side effect of SSRIs. I was extremely regular before, like same time everyday regular, and I started to have days where I couldn't go at all.
I have always struggled with IBS and I wonder if due to being stressed a lot, I never had problems going to the bathroom because my intestines were always stressed. I wonder if taking the SSRI and solving the issue underlying most of my health problems (anxiety) calmed my stomach down, thus making me go less often.
In any case – it's too uncomfortable for me to go through, so I knew I had to start taking magnesium to help things along (I was also bloating like crazy). Magnesium has a lot of other health benefits but I am primarily using it to achieve regularity again and so far, it's working!
I use either this Pure Encapsulations magnesium citrate and Oxy Powder by Global Healing. If you decide to try the latter, be very careful and start with one or two pills maximum as it can be very powerful. I drink a lot of water after taking the capsule(s) and always take it right before bed. I don't take these daily – I take one or the other on an as needed basis. I have noticed I'm more regular since taking them, even when I don't take magnesium daily.
I hope this post was helpful to those of you curious about which supplements I take! As I mentioned earlier in this post, please consult your doctor regarding any and all supplements you're taking or plan to take.