My audible addiction continues and I've mostly been listening to feel good/romance books lately (some with a little drama/thrill), and though I love this genre, I'm also looking for a few good thrillers!
I hope you enjoy my reviews – all synopses are taken directly from amazon.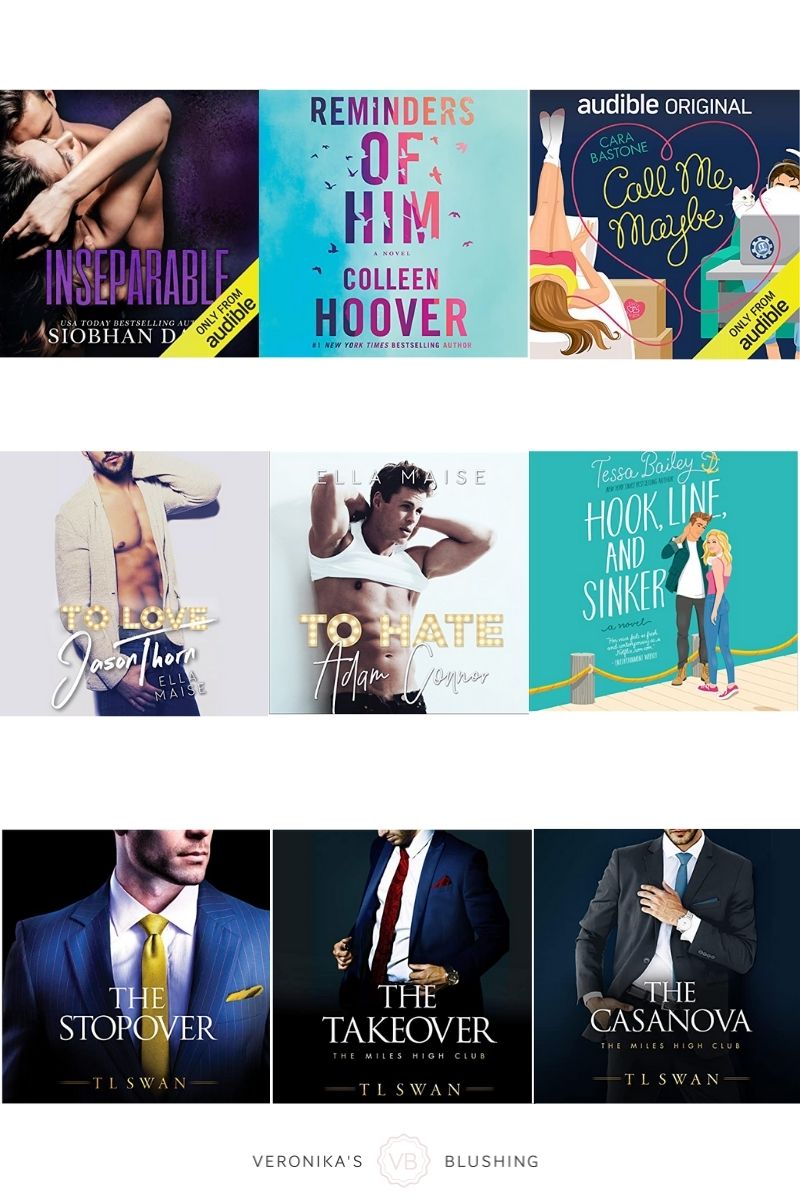 Inseparable (Siobhan Davis)
Synopsis: A childhood promise. An unbreakable bond. One tragic event that shatters everything. It all started with the boys next door. Devin and Ayden were my best friends. We were practically joined at the hip since age two. When we were kids, we thought we were invincible, inseparable, that nothing or no one could come between us. 
But we were wrong. Everything turned to crap our senior year of high school. Devin was turning into a clone of his deadbeat lowlife father – fighting, getting wasted, and screwing his way through every girl in town. I'd been hiding a secret crush on him for years. Afraid to tell him how I felt in case I ruined everything. So, I kept quiet and slowly watched him self-destruct with a constant ache in my heart.
Where Devin was all brooding darkness, Ayden was the shining light. Our star quarterback with the bright future whom everyone loved. But something wasn't right. He was so guarded, and he wouldn't let me in. When Devin publicly shamed me, Ayden took my side, and our awesome-threesome bond was severed. The split was devastating. The heartbreak inevitable.
Ayden and I moved on with our lives, but the pain never lessened, and Devin was never far from our thoughts. Until it all came to a head in college, and one eventful night changed everything. Now, I've lost the two people who matter more to me than life itself. Nothing will ever be the same again.
My rating: 3/5. This was my first listen by this author and it was OK. The ending had a twist that I did figure out beforehand and overall I liked it, but didn't love it.
Reminders of Him (Colleen Hoover)
Synopsis: After serving five years in prison for a tragic mistake, Kenna Rowan returns to the town where it all went wrong, hoping to reunite with her four-year-old daughter. But the bridges Kenna burned are proving impossible to rebuild. Everyone in her daughter's life is determined to shut Kenna out, no matter how hard she works to prove herself.
The only person who hasn't closed the door on her completely is Ledger Ward, a local bar owner and one of the few remaining links to Kenna's daughter. But if anyone were to discover how Ledger is slowly becoming an important part of Kenna's life, both would risk losing the trust of everyone important to them.
The two form a connection despite the pressure surrounding them, but as their romance grows, so does the risk. Kenna must find a way to absolve the mistakes of her past in order to build a future out of hope and healing.
My rating: 5/5. Colleen Hoover is truly magic! I was addicted to this story from the very first chapter and even cried at the end. Such a beautiful story and as always, Colleen has this amazing way at going from present to past in her storylines as everything weaves together and the stories unfold.
Call Me Maybe (Cara Bastone)
Synopsis: Paint your toes. Pick up the wrong coffee and bagel order. Drive from Brooklyn to Jersey in traffic so slow you want to tear your hair out. It's amazing all the useless things I can accomplish while on hold for three hours with customer service. Three hours when I should be getting the Date-in-a-Box website ready to launch at the big business expo in a few days. Except my shiny new website is glitching, and my inner rage-monster is ready to scorch some earth…when he finally picks up. Not the robot voice I expected but a real live human named Kal. He's surprisingly helpful and really knows his stuff, even if he's a little awkward…in an adorable way.
And suddenly I'm flirting with him? And I think he's flirting back.
And suddenly it's been hours, and we're still on the phone talking and ordering each other takeout while he troubleshoots my website.
And suddenly we're exchanging numbers and sending texts and DMs every day, leaving voice mails (who even does that anymore?!).
And suddenly I'm wondering if it's possible for two people to fall in love at first talk. Because I'm falling…hard.
My rating: 3.5/5. This was cute. Not steamy at all, but a sweet romance/fun listen. It's completely different than any audiobook I've ever listened to – in addition to voice actors, there is also ambient sound and sound effects (such as phones ringing, cars driving, texts pinging, etc). At first I wasn't sure about this format, but I ended up enjoying it. The banter in this book is easygoing and it's a light, goodhearted listen. Due to the different audio format, I don't recommend this unless you really love and are used to audiobooks.
To Love Jason Thorn (Ella Maise)
Synopsis: Jason Thorn…my brother's childhood friend. Oh, how stupidly in love with that boy I was. He was the first boy who made me blush, my first official crush. Sounds beautiful so far, right? That excitement that bubbles up inside you, those famous butterflies you feel for the very first time – he was the reason for them all. But you get to live in that fairy tale world only until they crush your hopes and dreams and then stomp on your heart for good measure. And boy did he crush my little heart into pieces.
After the stomping part, he became the boy I did my best to stay away from – and let me tell you, it was pretty hard to do when he slept in the room right across from mine. When tragedy struck his family and they moved away, I was ready to forget he ever existed. Now he's a movie star, the one who makes women of all ages go into a screaming frenzy. Me? I'm Olive, a new writer. Actually, I'm the writer of the book that inspired the movie he is about to star in on the big screen. As of late, I am also referred to as the oh, so very lucky girl who is about to become the wife of Jason Thorn.
My rating: 4.5/5. Ugh. I just loved this book – and the follow-up too! I love Ella's writing style and her characters. Though I loved this book, I liked the second one even better. The one thing that confused me about this book – I kept wondering "how is she not seeing the obvious here." It was almost unbelievable as the reader that she didn't realize what really was? It's hard to explain – but you'll get it when you read it! Nevertheless, loved it.
To Hate Adam Connor (Ella Maise)
Synopsis: So you may ask, who is Adam Connor? He is the recently divorced, Academy Award-winning actor who just moved in next door with his kid. He also happens to be an exquisite male specimen and the most infuriating sly bastard I've ever come across.
While I was being thoughtful by not breaking and entering, and was actually considering going over to offer him a shoulder to cry on (you know, because of his divorce), instead he had me thrown in jail after a small incident. Jail, people! He was supposed to grant me countless orgasms as a thank you, not a jail cell.
After that day, I was mentally plotting ways to strangle him. So what if my body did more than just shiver when he whispered dirty little things in my ear? I can't be held responsible for that.
Even if he and his son were the best things since sliced bread, I couldn't fall for him. No matter what promises he whispered on my skin, my curse wouldn't let us be. I wasn't a damsel in distress – I could save myself, thank you very much – but deep inside, I still hoped Adam Connor would be the hero of my story.
My rating: 5/5. I absolutely loved this book! The way the main characters developed their relationship was really sweet and the characters from the previous book are in this one too. Both books are spicy 😉
Hook, Line and Sinker (Tess Bailey)
Synopsis: King crab fisherman Fox Thornton has a reputation as a sexy, carefree flirt. Everyone knows he's a guaranteed good time—in bed and out—and that's exactly how he prefers it. Until he meets Hannah Bellinger. She's immune to his charm and looks, but she seems to enjoy his…personality? And wants to be friends? Bizarre. But he likes her too much to risk a fling, so platonic pals it is.
Now, Hannah's in town for work, crashing in Fox's spare bedroom. She knows he's a notorious ladies' man, but they're definitely just friends. In fact, she's nursing a hopeless crush on a colleague and Fox is just the person to help with her lackluster love life. Armed with a few tips from Westport's resident Casanova, Hannah sets out to catch her coworker's eye…yet the more time she spends with Fox, the more she wants him instead. As the line between friendship and flirtation begins to blur, Hannah can't deny she loves everything about Fox, but she refuses to be another notch on his bedpost.
Living with his best friend should have been easy. Except now she's walking around in a towel, sleeping right across the hall, and Fox is fantasizing about waking up next to her for the rest of his life and…and…man overboard! He's fallen for her, hook, line, and sinker. Helping her flirt with another guy is pure torture, but maybe if Fox can tackle his inner demons and show Hannah he's all in, she'll choose him instead?
My rating: 5/5. I loved this follow-up to It Happened One Summer. I always get through these quickly because they're just fun listens and have just the right amount of spice. Definitely recommend this one! I also love how the setting is different than most romance books I read and the characters have more unconventional jobs.
The Stopover (TL Swan) THE MILES HIGH CLUB SERIES
Synopsis: I was upgraded to first class on a flight from London to New York. The food, champagne, and service were impeccable. The blue-eyed man sitting next to me, even better. He was suave and intelligent. We talked and laughed, and something clicked. Fate took over and the plane was grounded, and we had an unexpected stopover for the night. With no plans, we made our own. We danced and laughed our way around Boston and had a night of crazy passion that no woman would ever forget. That was twelve months ago, and I haven't heard from him – until today. 
I started a new job and met the CEO. You can imagine my surprise to see those naughty blue eyes dance with delight when he saw me across the mahogany desk. But I'm not that carefree girl anymore. My life has changed, I have responsibilities. I just got an email. He wants to see me in his office for a private meeting at 8:00 a.m. Naughty blue eyes have no place in the workplace. What kind of private meeting does he have in mind?
My rating: 5/5. The entire Miles High Club series (3 parts) is SO GOOD. In fact, I'm reading another one of this author's books right now because I love them. Of the three books, I think The Takeover might have been my favorite, but they're all 5 stars for me and I recommend reading (or listening to) the entire series – I finished them so quickly because I just couldn't wait to see what would happen with each relationship!
The Takeover (TL Swan)
I first met Tristan Miles at a meeting where he was trying to take over my late husband's company. He was powerful, arrogant, and infuriatingly gorgeous, and I hated him with every cell in my body. In the shock of the century, he called me three days later and asked me on a date. I would rather die than date a man like him – though I do have to admit it was good for the ego. Turning him down was the highlight of my year.
Six months later, he was the guest speaker at a conference I attended in France.Still arrogant and infuriating – but this time, surprisingly charming and witty. When he looked at me, I got butterflies. But I can't go there. He's just a player in a hot suit, and I'm just a widow with three unruly sons. I just need this conference to be over. Because everybody knows that Tristan Miles always gets what he wants…and what he wants is me.
The Casanova (TL Swan)
My favorite hobby is infuriating Elliot Miles. Just the sight of my boss's handsome face triggers my sarcasm. God knows how he earns his Casanova reputation—if a million women want him with his personality, what the heck am I doing wrong?
Disgusted with my love life, I join a dating app under a fake name. I start chatting to a man named Edgar. He's not my type and lives on the other side of the world, but we hit off a friendship, laugh and confide in each other.
But lately things are getting weird at work. Elliot's being…attentive. His eyes linger a little longer than they should, and there's a heat behind them that I haven't felt before. And then, in the shock of all shocks, he tells me that my vulnerability is appealing. But when was I vulnerable?
Horror dawns…Has my boss been reading my emails to Edgar? Damn it, why did I use my work email? Oh no, does he know what I really think of him? I'd rather die than ever admit it. Or, even worse: is it possible that the man I loathe in real life is the man I'm falling for online?
What are the best books you've read or listened to lately?