ONE
I got some really good health news this week – my endometrial biopsy came back normal! It gives me a lot of peace of mind to be able to move forward with less stress about my cycles, knowing that what I'm experiencing is normal (for me) and not caused by anything going on in my body. I've also been testing out wearing only pads during my cycle and I swear it's better but can't come up with any logical reason as to why? I hate pads, but let me tell ya, the pads of today are much more advanced than 20 years ago – they're thinner, drier, more absorbent. The brand I'm using/like is the Always Pure Flexfoam.
I also shared on stories this week that I have a mammogram/ultrasound on my breasts scheduled to check on the condition of my 14-year-old implants. I've never had any issues with them, but over the last six months, every once in a while I do have some intermittent discomfort in the right breast – I can't tell if it's from sleeping position or my hormones because it comes and goes, but these scans will help me make a decision on what to do next.
If the scans show my implants are good/intact/no rupture (and I have no reason to believe they won't), I may do a few consults to determine what my options are…or, I may choose to delay another year or so. I knew this day would come because implants aren't lifetime devices (although one newer brand has a 20-year warranty), but I do want to eventually go a bit smaller. Right now I have 400cc under the muscle and would like to go to maybe 275 or 300 max. I do want to clarify that I don't have any health issues related to my implants – I know there are some women who believe they have breast implant illness or that have removed their implants and resolved some health issues – but there are many who remove them and do not experience any symptom relief. The symptoms of BII are so broad, they could be indicative of hundreds of disorders or conditions. If you had yours removed and you're feeling great, I'm happy for you, but they're not an issue for everyone, so please don't feel the need to message me on this – I have truly looked at both sides already.
TWO
Two big beauty wins this week: both are foundations from my recent Sephora order. The first is It Cosmetic's New CC+ Nude Glow foundation. It's super lightweight, medium coverage (perfect!) and evens out the skin while adding a glow. I also adore that it actually smells like sunscreen because it makes me feel like the formula actually has the SPF it advertises. Love this and glad I got it (mine is the color fair).
Tom Ford's traceless soft matte foundation is special. I have an issue with the pump on my bottle, but it's likely just mine and not a product issue. That aside, Tom Ford can literally do no wrong when it comes to foundation. I don't know what kind of miracle chemists they have working there to develop his formulas, but they hit the nail on the head every time – I wore the Tom Ford Soleil Glow foundation (now discontinued) exclusively for at least a year, if not longer. Let's talk about traceless matte – it's VERY skin-like. Undetectable almost. It's supposed to be a soft matte finish and I agree it is, but the formula is thinner and more watery than most other foundations I use and it's just…magic? Applies beautifully to the skin, covers well but not too heavy…it's just lovely and I get why all of the women on TikTok call it their wedding foundation. Is it worth the $86 splurge? For me, yes, because I got it during the sale and I won't use it everyday, saving it for shooting days, special occasions, etc.
THREE
We recently got some new pillows for our living room sofa – I love the artichoke print and the blue perfectly matches our coastal blue Serena & Lily fabric chairs we had reupholstered. The olive green base color is so pretty and the fringe detail is classic.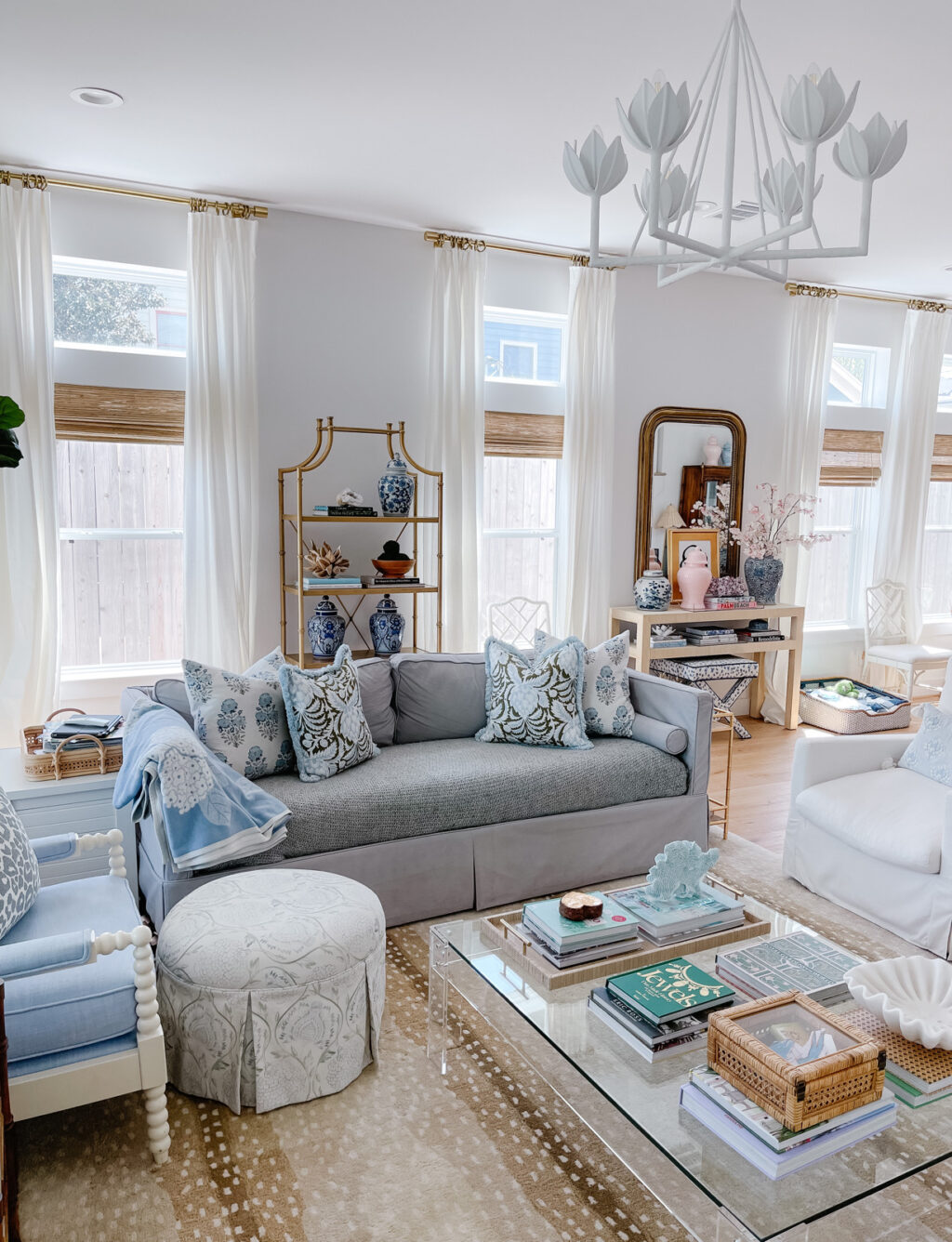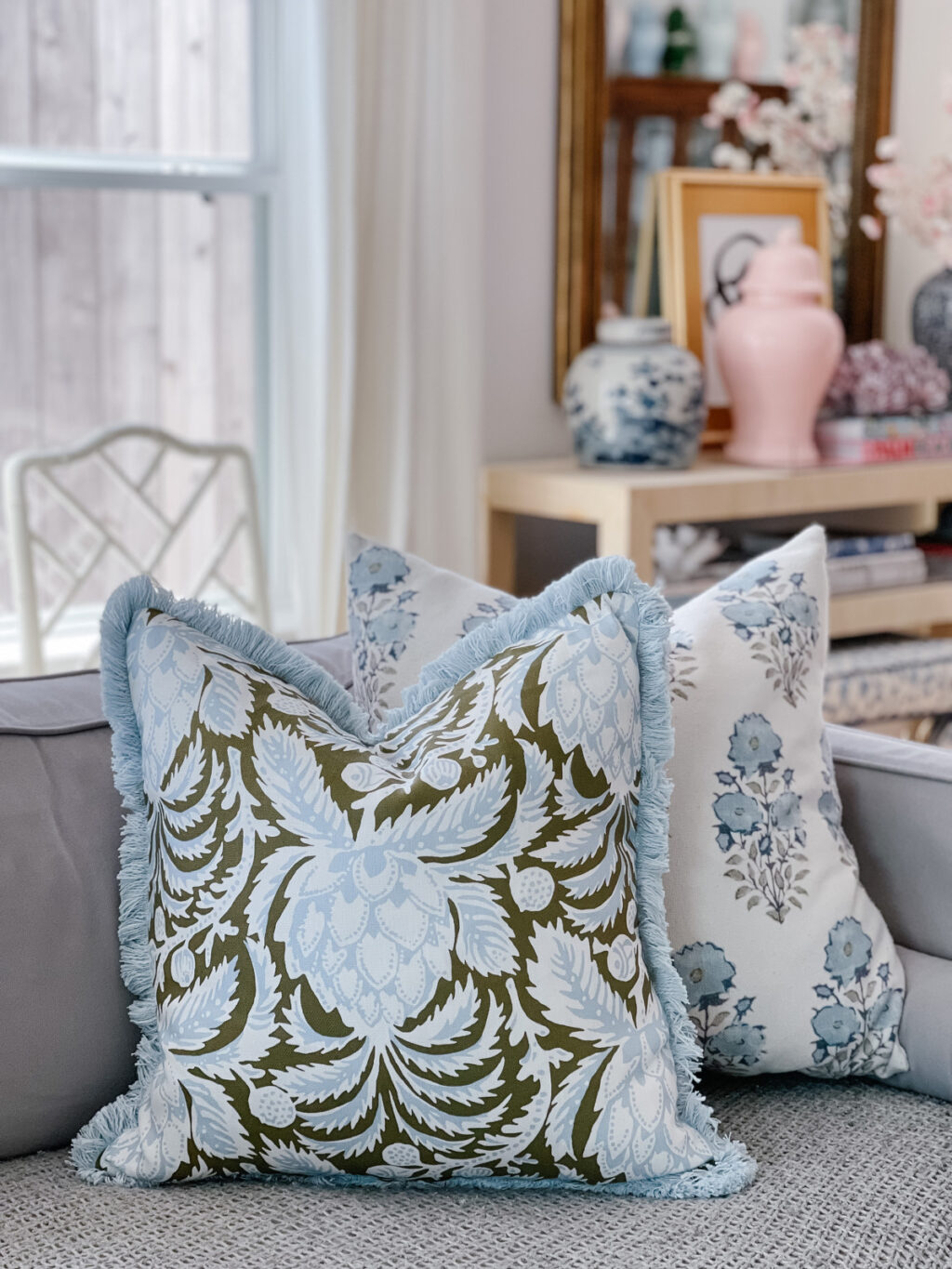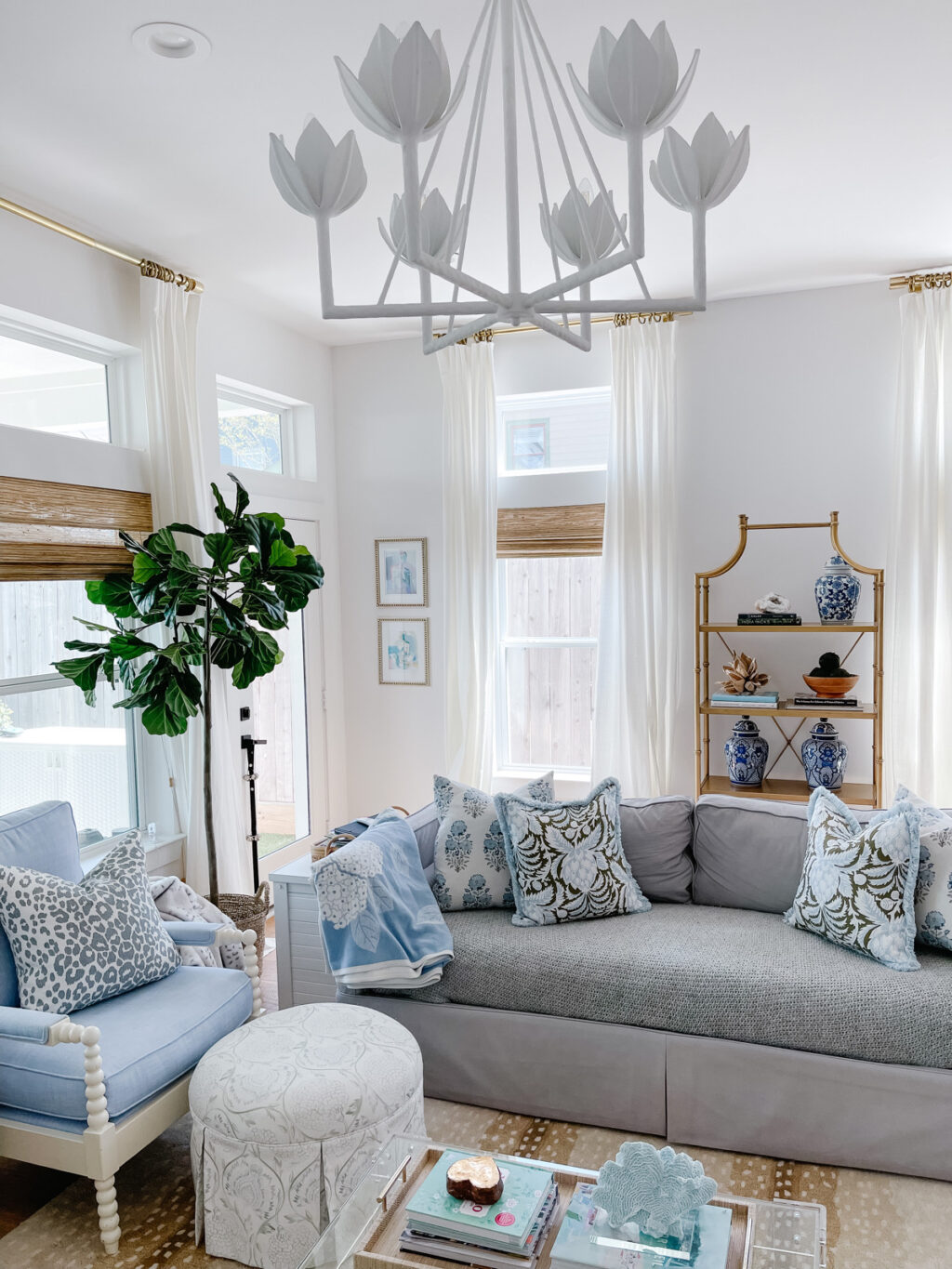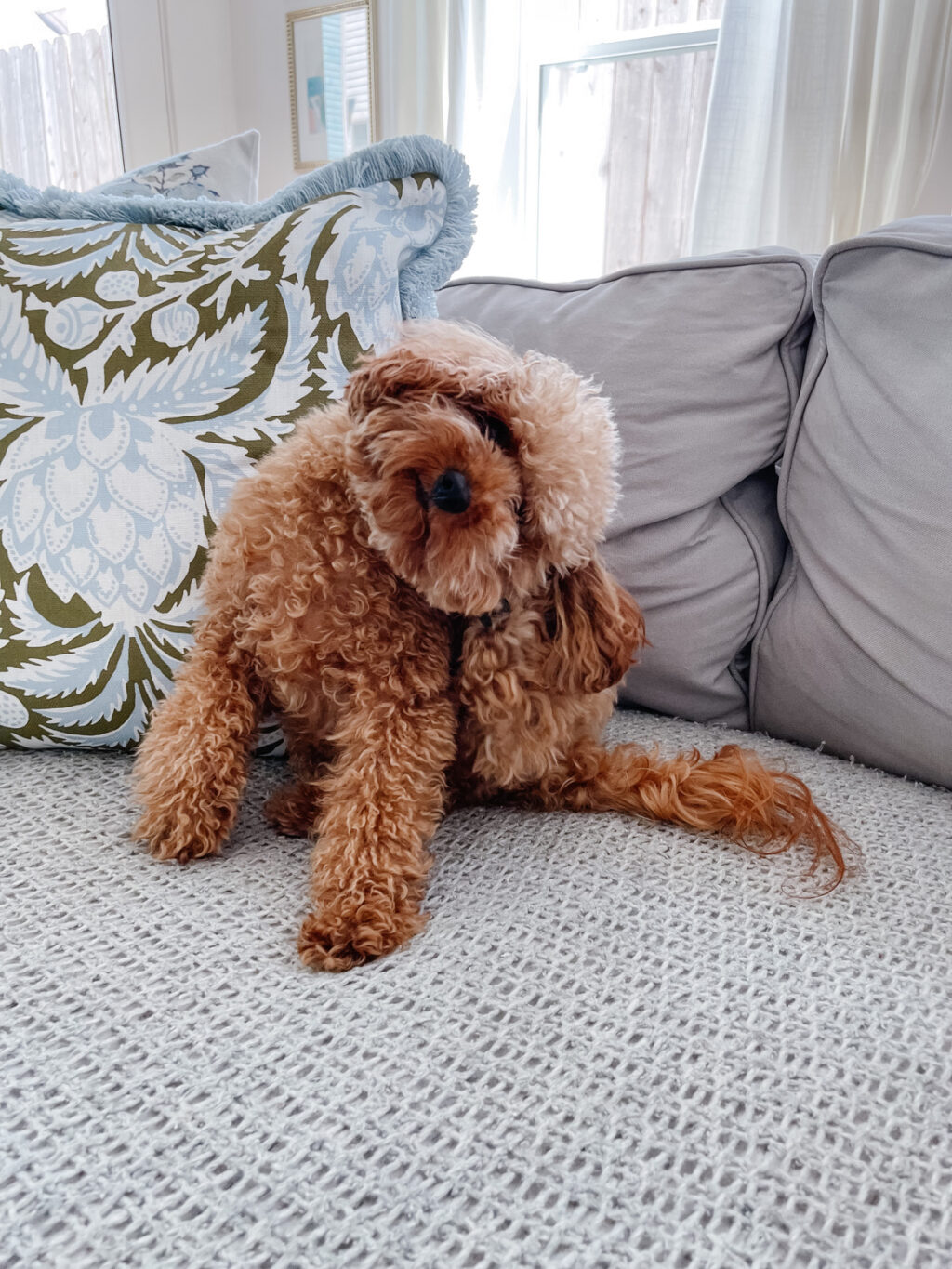 FOUR
Lots of lovely mail this week – including these bow heels I've been waiting on for a month – worth the wait though, I think! I think they're a nice quality for the price and the blue color is just perfect. I ordered a size 10 and they fit great/TTS.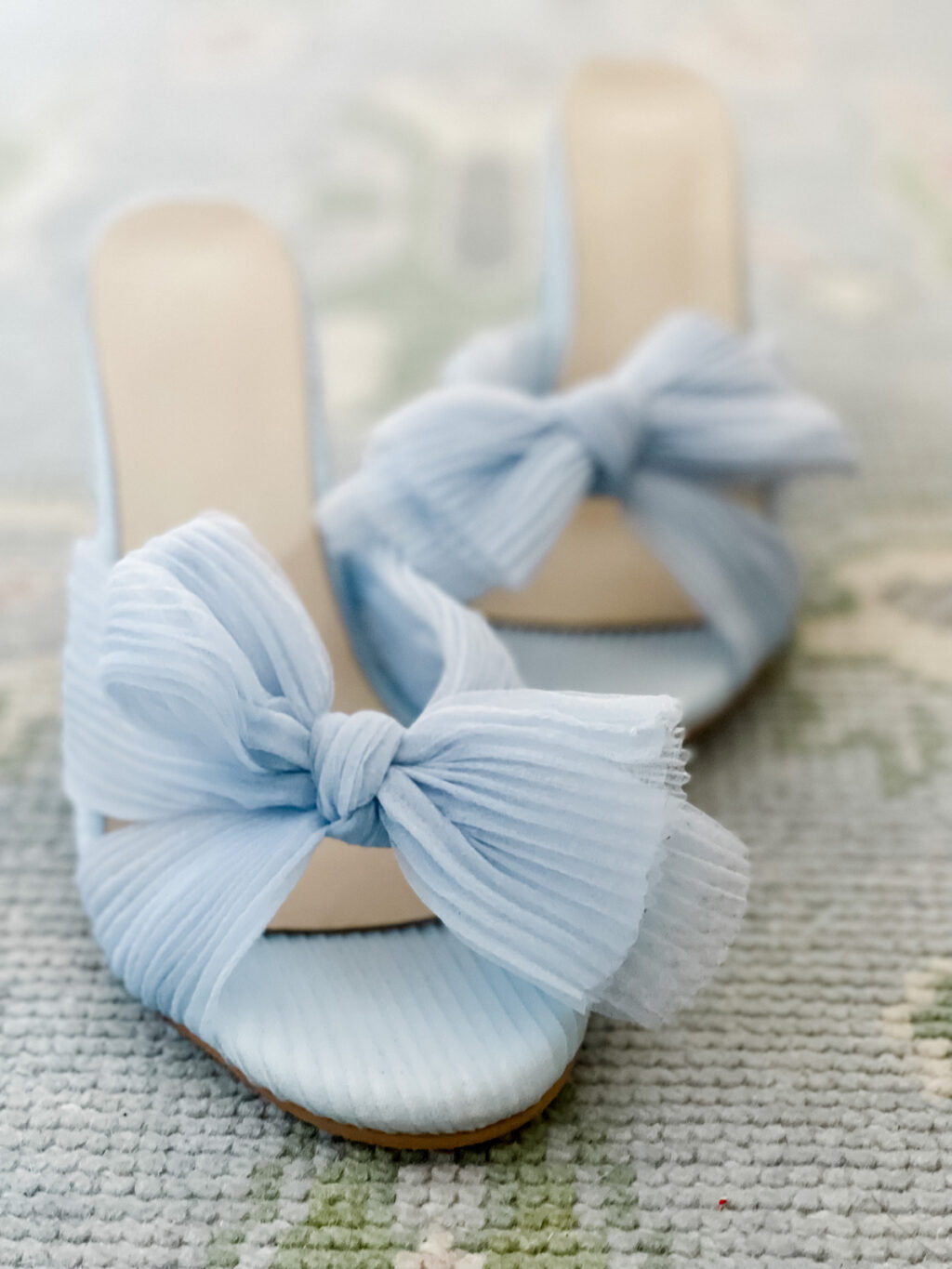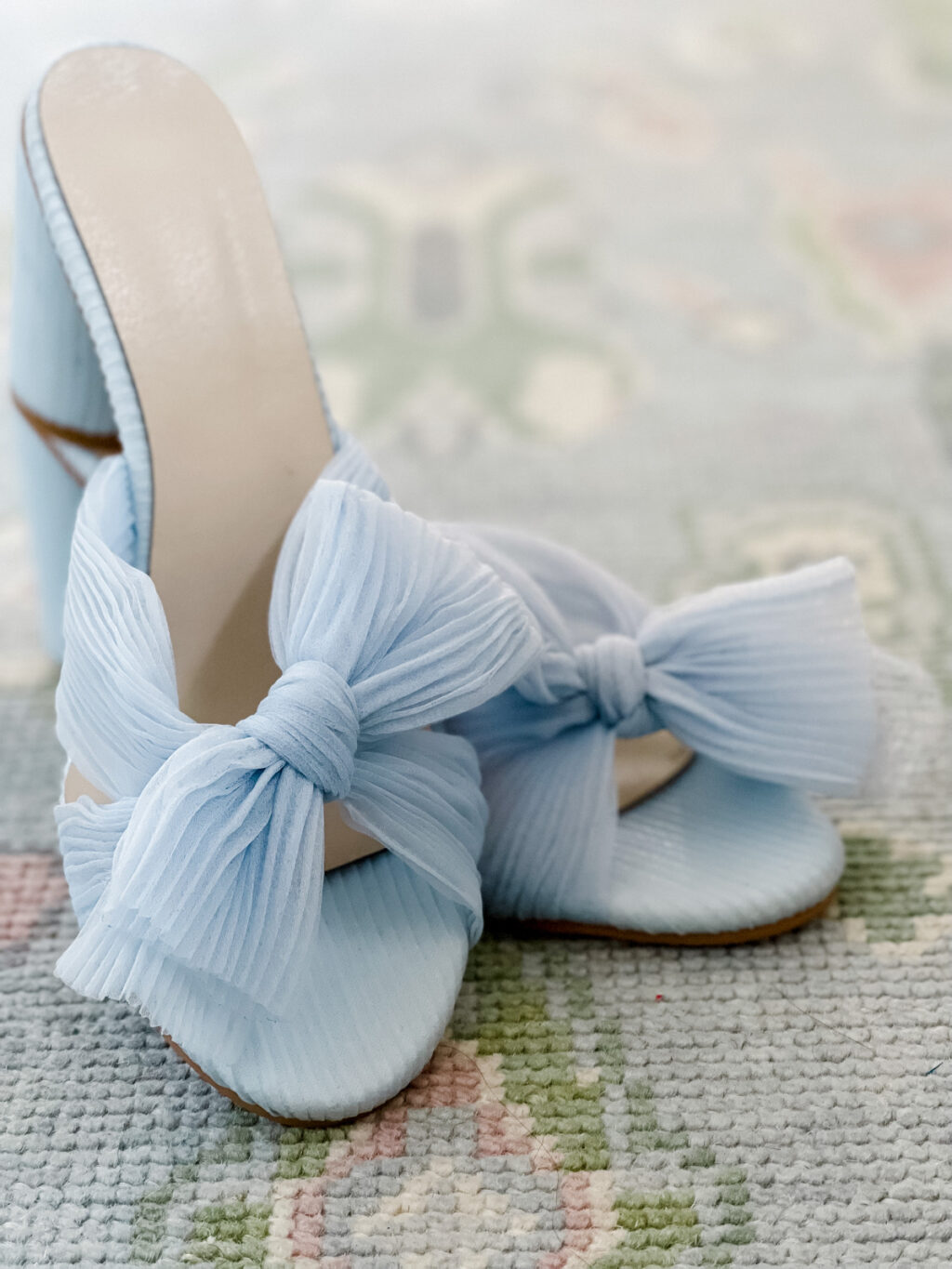 I also got this gingham sports bra on sale – they're basically all I wear and I love this style!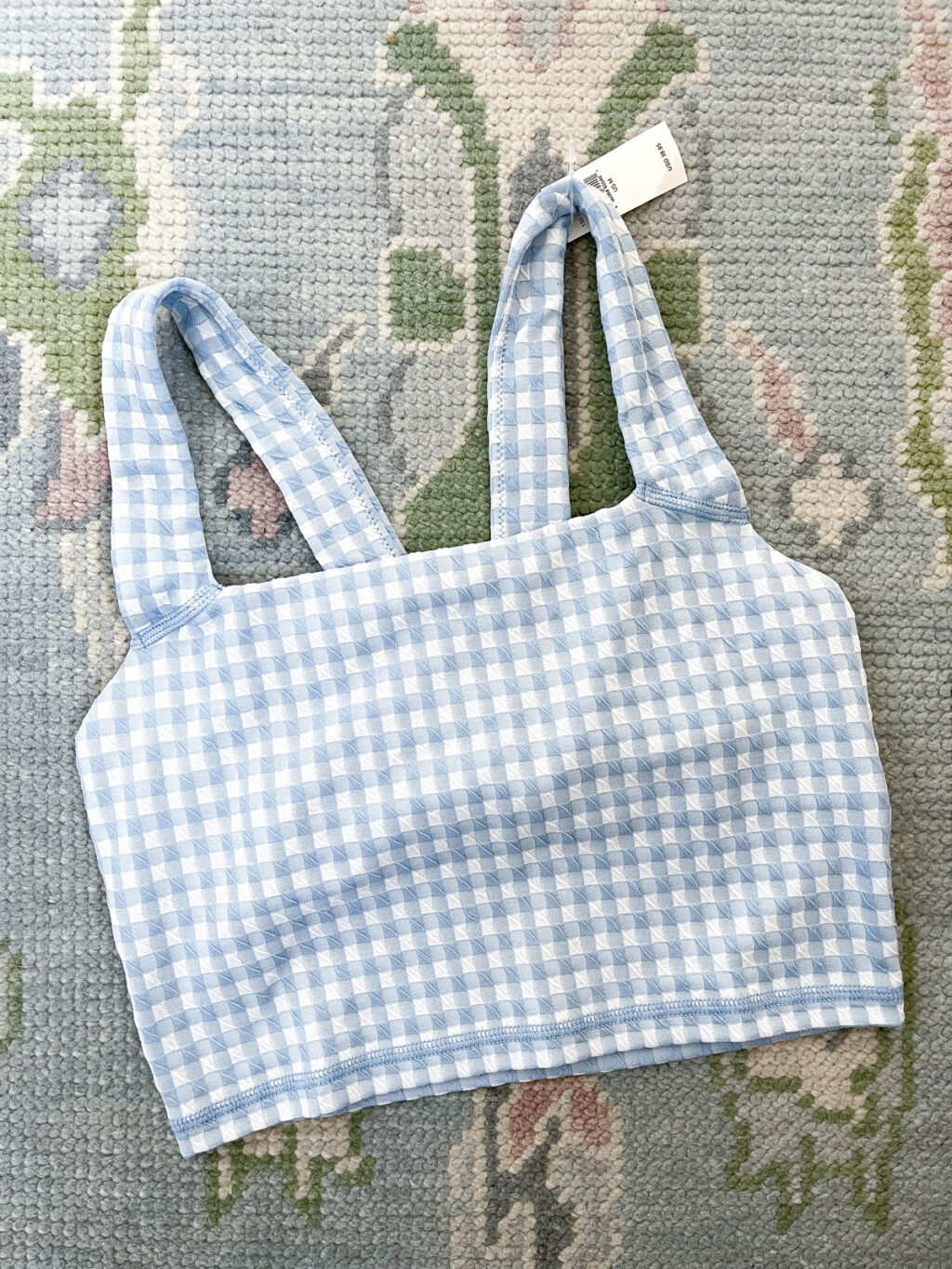 I also got this scalloped swimsuit and beautiful white cover-up from amazon recently and they're so great – the swimsuit is TTS (wearing a small) and the cover-up is affordable and has the prettiest details!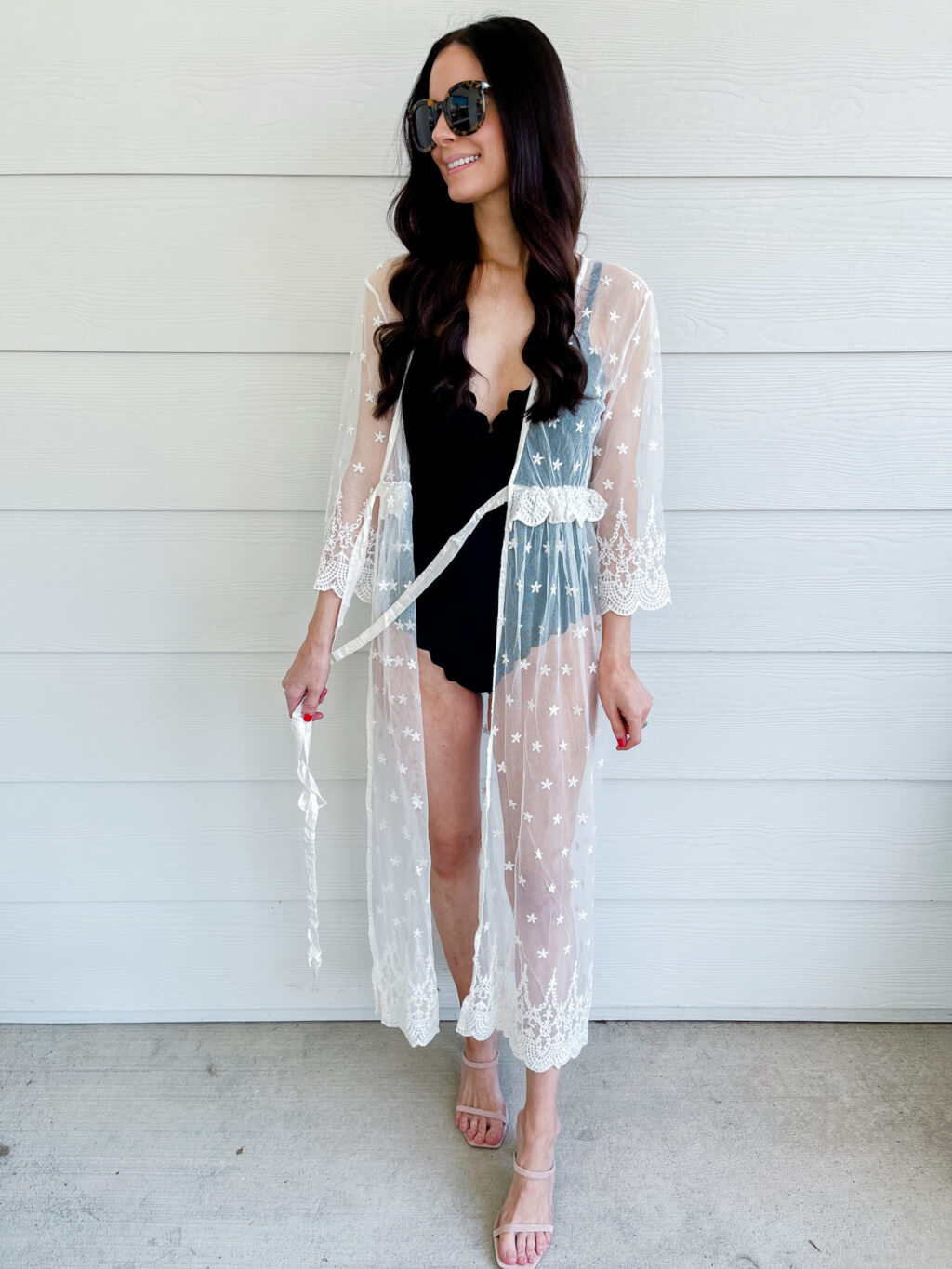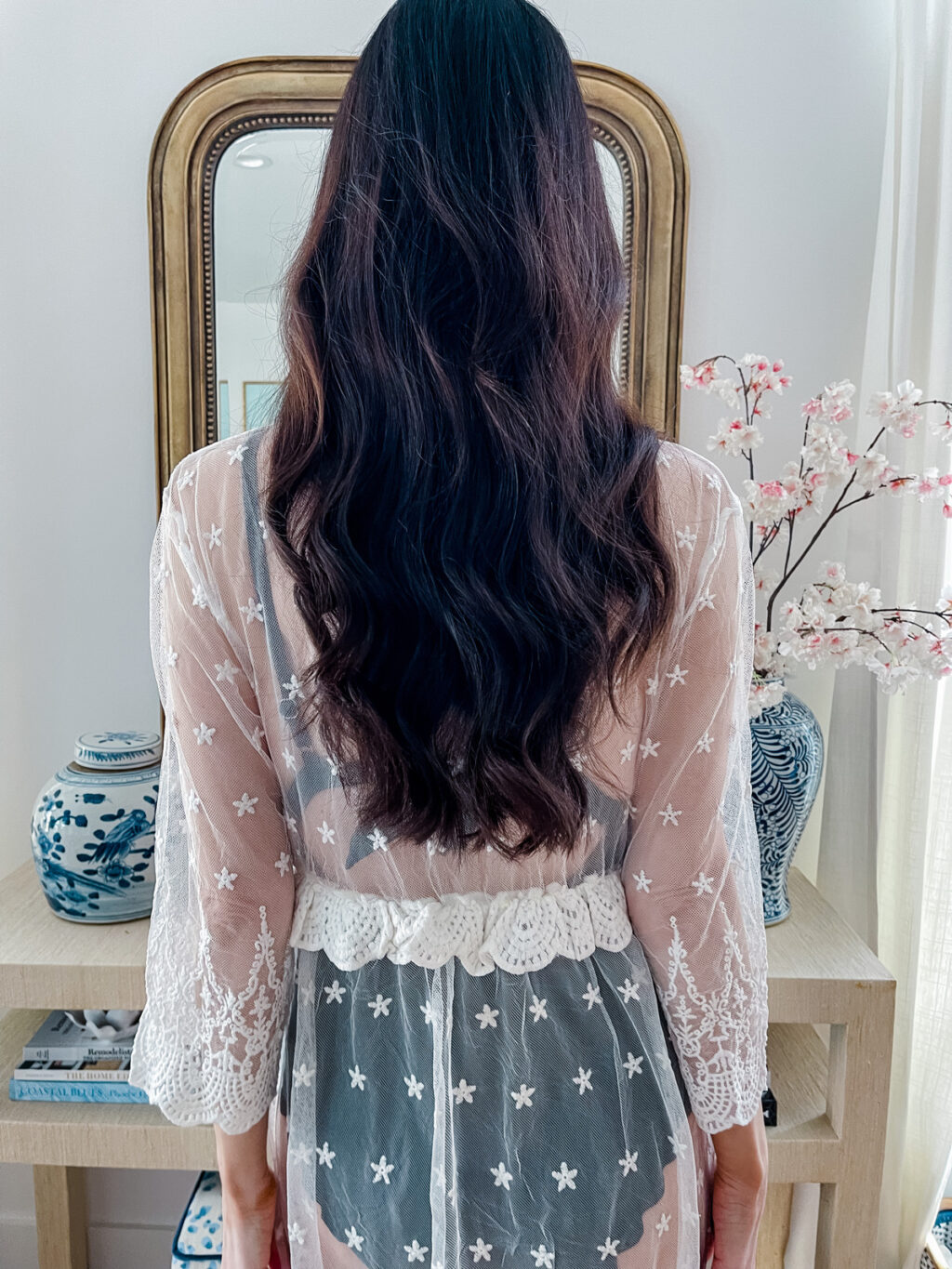 This purple peplum top also came in from Bloomingdales and I love it! I'm wearing the size small and it's perfect with high-waisted jeans.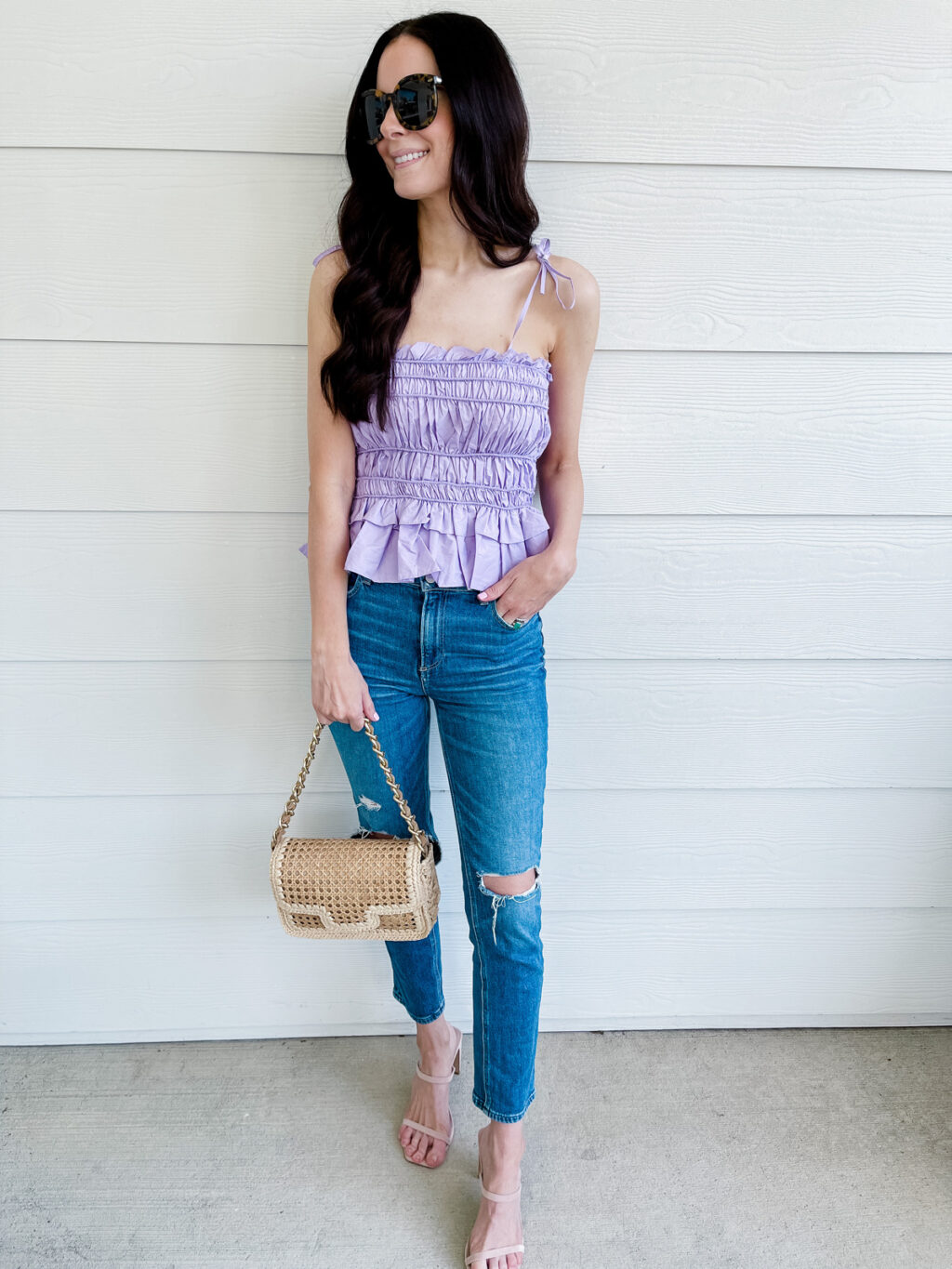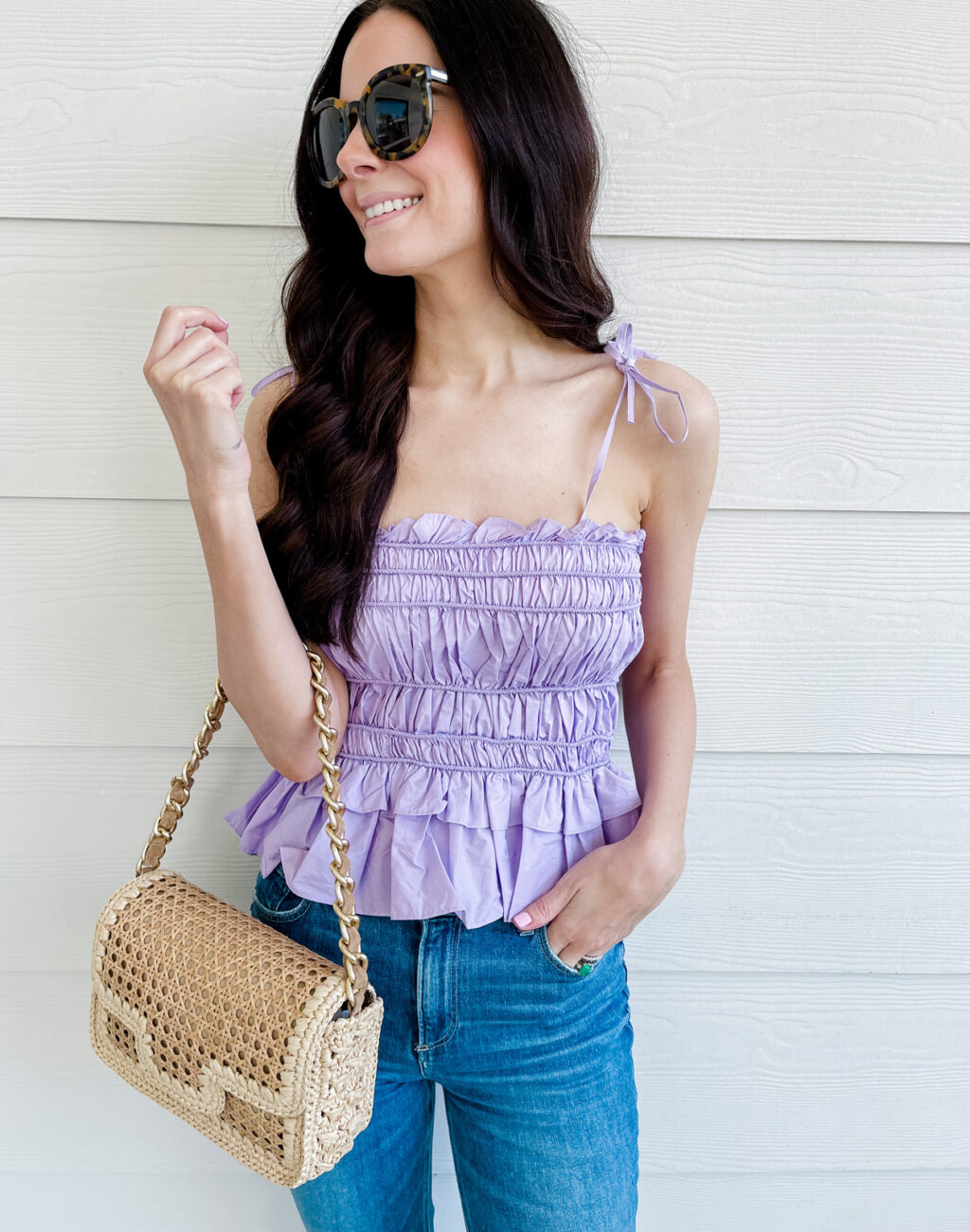 FIVE
Other items I ordered recently:
I finished TL Swan's Miles High Club Series (all three books) and they were all so good I honestly can't decide which was my favorite! They're very spicy and I got attached to all of the characters. I definitely recommend this author – I'm now listening to Our Way.
I hope you have a great weekend!