Prime day was so great this year & I definitely took advantage! Here are some recent amazon purchases of mine!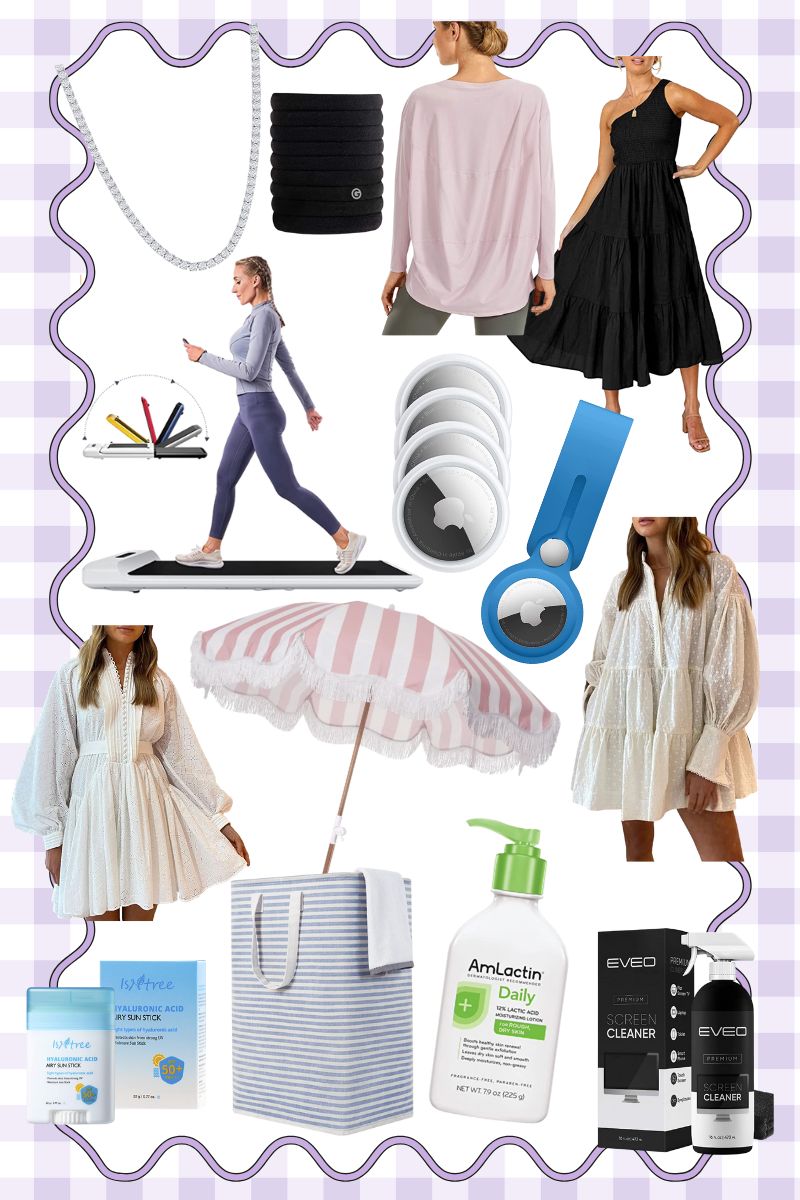 CZ tennis necklace: Y'all know I LOVE a real diamond, but a necklace like this would break the bank and in this economy, faux is the way to go! This one has a lot of great reviews!
Black one-shoulder dress: A LBD, with a twist! I love how this shows a little skin on top but it a perfect midi length!
My favorite no-snag hair elastics: I've been using these for years and they're simply the best and keep my ponytail in place, even when I'm running around on the tennis court.
Long sleeve yoga top: OK, so this is apparently a lookalike for a LLL top and several of y'all DM'd me that you have both and they're identical. I got an XS, but the arms are fitted, so get your true size or size up. Has a more billowy fit at the back!
Walking pad: I finally did it and just ordered a damn walking pad! I've been wanting one since they "went viral" on TikTok. It's way too hot in Houston for hot girl/rich mom walks (it's a joke 😉 ), so this will be great to get more steps in my day. I want to challenge myself to only use social media "for fun" when I'm walking. TBD.
Apple air tags & air tag loops: The best way to track your luggage (or your kids, or keys, or, well, anything!) Highly recommend getting on this train especially with airlines losing luggage like crazy this summer.
White button down swing dress: does this look designer or what?! I will report back when it comes in, but have high hopes.
White textured dress: one of my Instagram friends convinced me to buy this and she's already gotten hers and loves it – can't wait for it to arrive!
Screen cleaner: My laptop screen was legitimately disgusting before using this. Now, it's crystal clean with not a smudge in sight. Perfect for cleaning all screens and your kid's grimey iPads. Buy now, thank me later!
Amlactin Daily: A dermatologist I follow on TikTok recommend this moisturizer for those with KP and it was an immediate add to cart and checkout moment. Affordable, easy to use, good ingredients.
Pink and white beach umbrella: This was a prime day purchase – we play to use it on beach vacations – we have the umbrella that came with our outdoor chairs, but wanted something larger that offers more shade!
SPF stick: I love this Korean sunscreen brand and got the stick version of their SPF because I like using it on our faces for touchups. They're easy for kids to use, too!
Laundry basket with handles: I got this for our primary bathroom because I was sick of rolling our metal one. This one has easy to use handles and I love the clean, classic striped design.
Enjoy your week!