I'm way behind on my audible reviews and have a lot to catch up on from summer! I definitely got to listen less over the summer when the kids were home, but hope to be more consistent this fall.
Of the books I read over the summer, my top recommended reads are:
I hope you enjoy my reviews – all synopses are directly from amazon.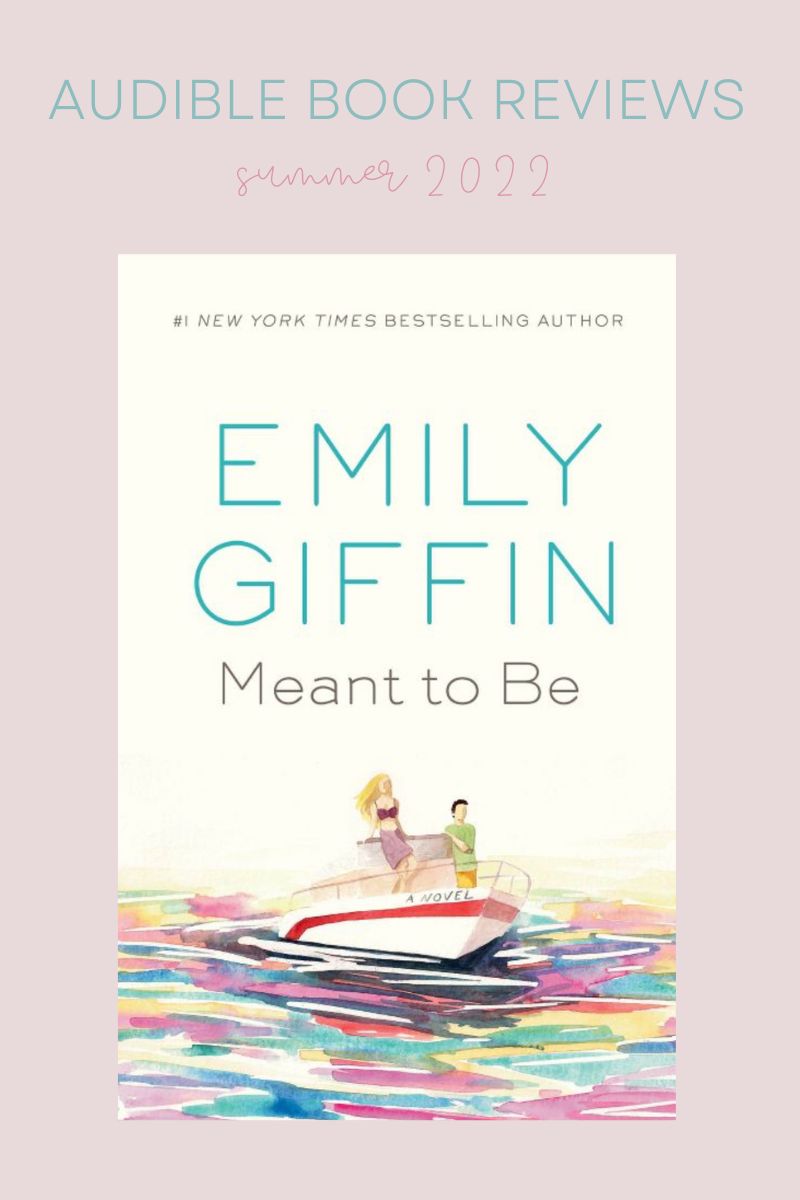 A Not So Meet Cute – Megan Quinn
Synopsis: How did you two meet? The quintessential question asked to every couple. And the answer is usually some bubbly, lovey dovey tale of being struck in the bum by Cupid's arrow. 
My meet cute (well not so meet cute) is slightly different. I was trolling a wealthy neighborhood in Beverly Hills, searching for someone to take me as their bride, you know, to make my arch nemesis jealous who consequently just fired me.
He was stomping around the block like some sort of gorgeous ogre, mumbling about a business deal gone wrong and attempting to finagle his way out of it.
And that's when we bumped into each other. There were no sparks. Not even a hint of blossoming love. But next thing I knew, I was scarfing down free chips and guac, listening to this man lay out all of his problems which led to his big ask . . . he wanted me to be his Vivian Ward, you know, from Pretty Woman–minus the frisky behavior. 
We're talking about living in a mansion, intimate double dates, and pretending we were head over heels in love . . . and engaged. Can you imagine? The absolute audacity. But people do crazy things when they're desperate. And I reeked of desperation. So, I struck up a deal.
My one big mistake, though . . . big . . . HUGE? I accidentally fell for the incomparable Huxley Cane.
My rating: 4/5 – I really enjoyed this book and the main characters. It was a feel-good book with a fun love story and a little spice. Definitely worth a read!
Part of Your World – Abby Jiminez
Synopsis: After a wild bet, gourmet grilled-cheese sandwich, and cuddle with a baby goat, Alexis Montgomery has had her world turned upside down. The cause: Daniel Grant, a ridiculously hot carpenter who's 10 years younger than her and as casual as they come—the complete opposite of sophisticated city-girl Alexis. And yet their chemistry is undeniable.
While her ultra-wealthy parents want her to carry on the family legacy of world-renowned surgeons, Alexis doesn't need glory or fame. She's fine with being a "mere" ER doctor. And every minute she spends with Daniel and the tight-knit town where he lives, she's discovering just what's really important. Yet letting their relationship become anything more than a short-term fling would mean turning her back on her family and giving up the opportunity to help thousands of people.
Bringing Daniel into her world is impossible, and yet she can't just give up the joy she's found with him either. With so many differences between them, how can Alexis possibly choose between her world and his?
My rating: 5/5 – Abby Jimenez can do no wrong – I've truly enjoyed all of her books so much! There's always a great mix of plot, character development and spice.
Our Way – T L Swan
Synopsis: Nathan Mercer, the only man in my life. Loving him was never an option. We met 10 years ago, when we started at the same company on the same day. Both new in town and with nobody else to rely on, we quickly became friends.
And while Nathan went on to rule San Francisco, I'm still doing the same job with the same people. We finish each other's sentences, we spend Christmas together, and he sleeps at my house more than his.
He's beautiful…beyond belief. In another life, he's probably my soul mate. However, lately things have changed. He's started looking at me differently. His eyes drop to my lips as I speak. His hugs are tighter…longer. Our fights are more passionate, his jealousy insane. I know it's all in my head…it has to be.
They say to never love someone who treats you like you're ordinary. I don't. To him I'm a queen. But our story is complicated. And as much as I love Nathan Mercer with all of my heart…He's the one man I can never have.
My Rating: 5/5. Gosh this has to be one of my favorite T L Swan books of all time. I think it was so great because it explored themes of sexuality outside of the traditional box of most romance novels. I absolutely loved the main characters and the way they grew as the story unfolded. I don't want to give too much away, but it's must-read IMO.
Fake – Kylie Scott
Synopsis: When a scandal tarnishes the reputation of hot-as-hell A-lister Patrick Walsh, he needs a reputation rescue, pronto. Enter waitress Norah Peers – a nobody who's average with a capital A. She's available, dependable, and has sworn off men for the rest of her natural born life. In other words: the perfect match for a no-strings fake romance.
For the right amount of money, she can avoid waitressing and play the part of his dependable down-to-earth girlfriend. What she can't avoid – dammit – is the growing steam between them.
But being hounded by the paparazzi and having her life dissected on social media is a panic attack in the making. And while Patrick might be a charming rogue on screen, in real life he's a six-foot-two confusing, gorgeous, brooding grump, who keeps her at a distance…but also makes her feel like this bond between them might be more than just an act.
Being dumped on cue should be no big deal. Except being fake with Patrick is the realist relationship Norah has ever had. What's a girl to do but flip the script, and ask for a re-match made in Hollywood?
My Rating: 3.7/5 – I enjoyed this book, but it was a very similar plot to one I had already read before, so there wasn't a ton of mystery. Having said that, it was a fun story and had a good amount of steam!
Dr. Stanton – T L Swan
Synopsis: I can't tell you the exact moment I fell in love with him. Only that I did. With every glance, every touch, every minute…he stole a little more of me. 
They say that all men are created equal. Well, that's a blatant lie! I know, because I met God's gift to women in Vegas; I pretended he was my husband to get rid of another man. He took our fake marriage seriously, and it became his personal goal to consummate. He spoke to me in French, and I lied to him in German. His laughter was addictive. But I thought what happens in Vegas would stay in Vegas. Until it didn't.
Dr. Stanton turned up where I least expected, and my lies came back to haunt me. The attraction is palpable. The secrets unchangeable. I need him more than air. 
My Rating: 5/5. T L Swan can do no wrong – her books are always among my favorites! I loved this one and it had some unexpected plot twists and plenty of spice. Definitely recommend this one! Also, Dr. Stanton seems extremely hot, lol.
The Selection – Kiera Cass | The Elite – Kiera Cass | The One – Kiera Cass
Synopsis: For 35 girls, the Selection is the chance of a lifetime. The opportunity to escape a rigid caste system, live in a palace, and compete for the heart of gorgeous Prince Maxon. But for America Singer, being Selected is a nightmare. It means turning her back on her secret love with Aspen, who is a caste below her, and competing for a crown she doesn't want. 
Then America meets Prince Maxon – and realizes that the life she's always dreamed of may not compare to a future she never imagined. 
My Rating: 3/5 – this series was very YA – which I don't have a problem with – it was enjoyable and I did get sucked into the series because you have to read all three books to know what happened in the end. I wouldn't classify the series as a must-read, but if you like YA novels and the concept of The Bachelor, you might enjoy this series.
American Royals III: Rivals
Synopsis: Beatrice is queen, and for the American royal family, everything is about to change. 
Relationships will be tested.
Princess Samantha is in love with Lord Marshall Davis—but the more serious they get, the more complicated things become. Is Sam destined to repeat her string of broken relationships…and this time will the broken heart be her own?
Strangers will become friends.
Beatrice is representing America at the greatest convocation of kings and queens in the world. When she meets a glamorous foreign princess, she gets drawn into the inner circle…but at what cost?
And rivals will become allies.
Nina and Daphne have spent years competing for Prince Jefferson. Now they have something in common: they both want to take down manipulative Lady Gabriella Madison. Can these enemies join forces, or will old rivalries stand in the way?
My rating: 4/5 – I love this series and the ending of book three is WILD! Definitely worth the read if you've read the first two books.
Meant to Be – Emily Giffin
Synopsis: The Kingsley family is American royalty, beloved for their military heroics, political service, and unmatched elegance. In 1967, after Joseph S. Kingsley, Jr. is killed in a tragic accident, his charismatic son inherits the weight of that legacy. But Joe III is a free spirit—and a little bit reckless. Despite his best intentions, he has trouble meeting the expectations of a nation, as well as those of his exacting mother, Dottie.
Meanwhile, no one ever expected anything of Cate Cooper. She, too, grew up fatherless—and after her mother marries an abusive man, she is forced to fend for herself. After being discovered by a model scout at age sixteen, Cate decides that her looks may be her only ticket out of the cycle of disappointment that her mother has always inhabited. Before too long, Cate's face is in magazines and on billboards. Yet she feels like a fraud, faking it in a world to which she's never truly belonged.
When Joe and Cate unexpectedly cross paths one afternoon, their connection is instant and intense. But can their relationship survive the glare of the spotlight and the so-called Kingsley curse? In a beautifully written novel that captures a gilded moment in American history, Emily Giffin tells the story of two people searching for belonging and identity, as well as the answer to the question: Are certain love stories meant to be?
My rating: 5/5 – oh my goodness this book was everything and a must-read! Based on the Kennedys, it was a wonderful listen and the ending was just…so good. Definitely add this one to your list – you won't be disappointed!
It's Not Summer Without You – Jenny Han & We'll Always Have Summer – Jenny Han
Synopsis: Can summer be truly summer without Cousins Beach?  It used to be that Belly counted the days until summer, until she was back at Cousins Beach with Conrad and Jeremiah. But not this year. Not after Susannah got sick again and Conrad stopped caring. Everything that was right and good has fallen apart, leaving Belly wishing summer would never come.  
But when Jeremiah calls saying Conrad has disappeared, Belly knows what she must do to make things right again. And it can only happen back at the beach house, the three of them together, the way things used to be. If this summer really and truly is the last summer, it should end the way it started—at Cousins Beach.
My Rating: 4/5 – I got sucked into the Summer I Turned Pretty Netflix series and just had to know what happened in the end. These books are short and narrated by the same actors from the show (the girl who plays Belly and the guy who plays Jeremiah), so the voices are the exact same ones you hear on the show – love the consistency of it, especially since Belly had a very particular way of talking that is instantly recognizable. I was happy with the ending – curious to know if y'all are team Conrad or team Jeremiah?
Getting Real – Emma Chase
Synopsis: Connor Daniels never thought he'd be starting at dating square one again. His career as a successful doctor, and his three boys, are everything to him. It's not exactly a setup conducive to a scorching love life – but he's giving it a shot.
ER nurse Violet Robinson never intended for Connor to find out she's had a crush on him forever. It was a dirty little secret only meant for her dirty dreams. Her heart trips every time he's around – and so do her feet. When Connor sees Violet coasting across the grocery store parking lot – and she falls on her face – he starts falling for the gorgeous young nurse right back.
Dating can be tricky. And life can be beautiful and crazy and unpredictable. But when it gets real, you discover what matters most…and the one person you want loving you through it all.
My Rating: 4/5 – I always enjoy Emma Chase's books and really liked Connor and Violet and how their relationship came to be. There are definitely some sad parts to this book, but I loved the ending and recommend it overall.
One of Us is Dead – Jeneva Rose
Synopsis: Meet the women of Buckhead—a place of expensive cars, huge houses, and competitive friendships.
Shannon was once the queen bee of Buckhead. But she's been unceremoniously dumped by Bryce, her politician husband. When Bryce replaces her with a much younger woman, Shannon sets out to take revenge …
Crystal has stepped into Shannon's old shoes. A young, innocent Texan girl, she simply has no idea what she's up against …
Olivia has waited years to take Shannon's crown as the unofficial queen of Buckhead. Finally, her moment has come. But to take her rightful place, she will need to use every backstabbing, manipulative, underhand trick in the book …
Jenny owns Glow, the most exclusive salon in town. Jenny knows all her clients' secrets and darkest desires. But will she ever tell?
Who amongst these women will be clever enough to survive Buckhead—and who will wind up dead? They say that friendships can be complex, but no one said it could ever be this deadly.
My rating: 3.5/5 – while I wouldn't say this is a must-read, it was good and entertaining. It kept me invested to find out what happens in the end. Having said that, there weren't that many likable characters and like most wealthy towns, lots of disturbing things going on behind the scenes.
Drive – Kate Stewart
Synopsis: Music…the heart's greatest librarian. 
The average song is three and a half minutes long; those three and a half minutes could lead to a slow blink, a glimpse of the past, or catapult the soul into heart-shattering nostalgia.
At the height of my career, I had the life I wanted, the life I'd always envisioned. I'd found my tempo, my rhythm. Then I received a phone call that left me off key.
You see, my favorite songs had a way of playing simultaneously. I was in love with one man's beats and another's lyrics. But when it came to the soundtrack of a life, how could anyone choose a favorite song? So, to erase any doubt, I ditched my first-class ticket and decided to take a drive, fixed on the rearview.
Two days. One playlist. And the long road home to the man who was waiting for me.
My Rating: 5/5 – loved this book so much – definitely a must read! I'm waiting for the second book to come out on audible. I loved the relationships in this book, that it was set in Austin, TX and the way the book explored love overall.
A Thousand Boy Kisses – Tillie Cole
Synopsis: One kiss lasts a moment. But a thousand kisses can last a lifetime. 
One boy. One girl. A bond that is forged in an instant and cherished for a decade. A bond that neither time nor distance can break. A bond that will last forever. Or so they believe.
When 17-year-old Rune Kristiansen returns from his native Norway to the sleepy town of Blossom Grove, Georgia, where he befriended Poppy Litchfield as a child, he has just one thing on his mind: Why had the girl who was one half of his soul, who promised to wait faithfully for his return, cut him off without a word of explanation?
Rune's heart was broken two years ago when Poppy fell silent. When he discovers the truth, he finds that the greatest heartache is yet to come.
My rating: 3/5 – I don't quite know what to make of this book. It wasn't bad – it was just…very YA -reminiscent of the Laurlene McDaniel books I read as a pre-teen/teen. It was pretty predictable – overall it was good, just not sure I'd recommend it over a lot of the other books I've enjoyed this past summer. The male narrator speaks in a Norwegian accent the entire time – I got used to it, but I know some of y'all have a hard tome with accents on audible. There are definitely some cheesy parts and the teen love is a little over dramatized, but within the circumstances of the plot, it makes sense. I hated the ending too. Some might see it as "meant to be" in a Romeo and Juliette kind of way, but it just felt like the wrong ending to me (though I get why the author did it).
What books are you loving? Read all of my audible reviews, here.