As someone with long hair, I've spent the last decade plus perfecting my hair routine to make my hair as healthy as it can be while maintaining my length. When I was younger, I bleached my hair a lot (I was completely blonde) and even used those at home highlighting kits with the cap (week!) I spent years undoing that damage and also went through some postpartum hair loss and texture changes.
Keeping your hair long requires some extra TLC – but these tips apply to anyone, with any hair length who wishes to both maintain and enhance their hair condition and growth. As with all recommendations, please check with your own doctor before starting any kind of supplement or making dietary changes. I'm not an expert, this is just my personal routine.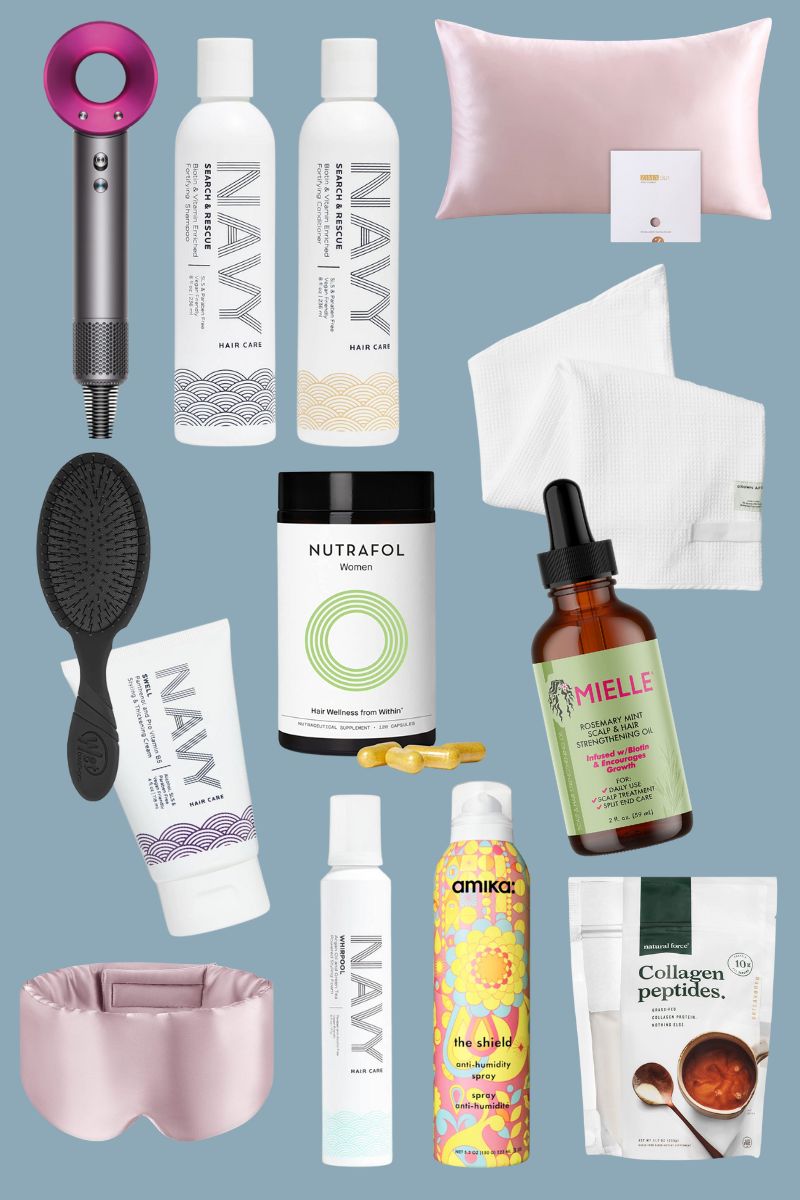 IT STARTS IN THE SHOWER
I've been using Navy Hair Care products for about four years now. I was first introduced to the brand by a friend of mine on Instagram who was using the shampoo and conditioner for postpartum hair loss. Since trying their formulas, they've been a staple in my hair cleansing and styling routine – 80% of my styling products are Navy and their cleansing products are always in my rotation.
Navy's Search & Rescue shampoo and conditioner contains hair-health ingredients like biotin, rosemary and other vitamins. It leaves hair feeling clean and not weight down – but not dry and overcleansed. My biggest tip is to first emulsify the shampoo between your hands before applying it to the scalp. Make sure your scalp is completely soaked with water and massage the shampoo in with your fingertips OR this amazing scalp brush – I use it all the time – it really helps remove build up.
Your can use my discount code VERONIKA for 35% off of your Navy hair care order through end of day this Sunday.
WET BRUSH
I only use a Wet Brush on my hair. I use it on both wet and dry hair & find that it glides through perfectly and doesn't cause breakage.
SWITCH TO A MICROFIBER TOWEL FOR HAIR
I am 100% convinced that switching to the Crown Affair microfiber towel has made a huge difference for my hair. I always use the Crown Affair microfiber towel after washing – it absorbs way more water, so less time spent drying with heat.
NEVER GO TO SLEEP WITH WET HAIR
I know people believe it's healthier to air dry, but it's not, and there's data that proves air drying actually damages hair more than drying with a hair dryer. Hair is in its most fragile state when wet, so sleeping on wet hair isn't a great idea. I used to do it in the throes of busy postpartum life and when I look back, I can see my hair wasn't looking healthy.
ALWAYS USE A HEAT PROTECTANT
Always protect your hair before heat styling. I use Navy's swell thickening cream on my towel-dried hair and then I spray Amika's anti humidity spray all over my hair before drying it with the Dyson.
ROSEMARY OIL
I apply this rosemary oil to my roots before washing my hair, leaving it on for 1-3 hours before washing it out. Rosemary oil is clinically proven to have similar effects to minoxidil (rogaine). I will update if I notice new growth or better hair quality, but it sure doesn't hurt to try it! So many beauty & hair TikTokers swear by this – some even make their own daily rosemary sprays.
BABY LIGHTS ONLY
I recently started adding some lighter pieces to my dark brown hair, but I only get tiny baby lights and very few overall. This helps cut down on how much lightener/bleach goes on your hair, which can/does cause damage. I was basically a solid dark brown for the last several years and that alone helped a lot with my overall hair health – it looked so shiny and well cared for. I know there are so many women who love to be blonde, but if you're considering growing out your hair, consider switching to a lower maintenance color, closer to your natural color.
HEATLESS OVERNIGHT CURLS
I cannot stress enough what a game-changer is has been to use the curling noodle on my hair overnight. Heatless overnight curls protect my hair from daily heat styling and help me to maintain the curls I create with my curling iron. I get amazing, bouncy curls that last with no extra heat on my hair – you can see my tutorial, here.
NUTRAFOL SUPPLEMENT
I take Nutrafol daily – it's the number one hair supplement recommended by dermatologistS and takes 3-6 months of consistent use to see results. They have clinical data that backs the efficacy of the product and overall, I think it's worth it to try for half a year before getting extensions if you struggle with hair growth or fallout.
SILK EVERYTHING (FOR SLEEP)
I use a silk pillowcase and this silk sleep mask. Both protect the hair and skin & prevent hair breakage. It also keeps hair smoother while you sleep! PS dont ever go to bed with wet hair!
LOWER THE HEAT
The Dyson Supersonic hair dryer is truly the best hair dryer I've ever used – Dyson's technology is simply unparalleled. It dried hair quickly, but with less heat. Switching to Dyson hair styling tools has made a huge difference for my hair.
EAT MORE PROTEIN
I add these collagen peptides to my coffee each morning and also try to get an ample amount of protein in my diet. If your hair is brittle, falling out, etc, you should definitely consider eating more protein.
I hope you find some of these tips helpful for your hair routines!