Happy Tuesday! Today I'm sharing some recent amazon purchases + what's in my cart.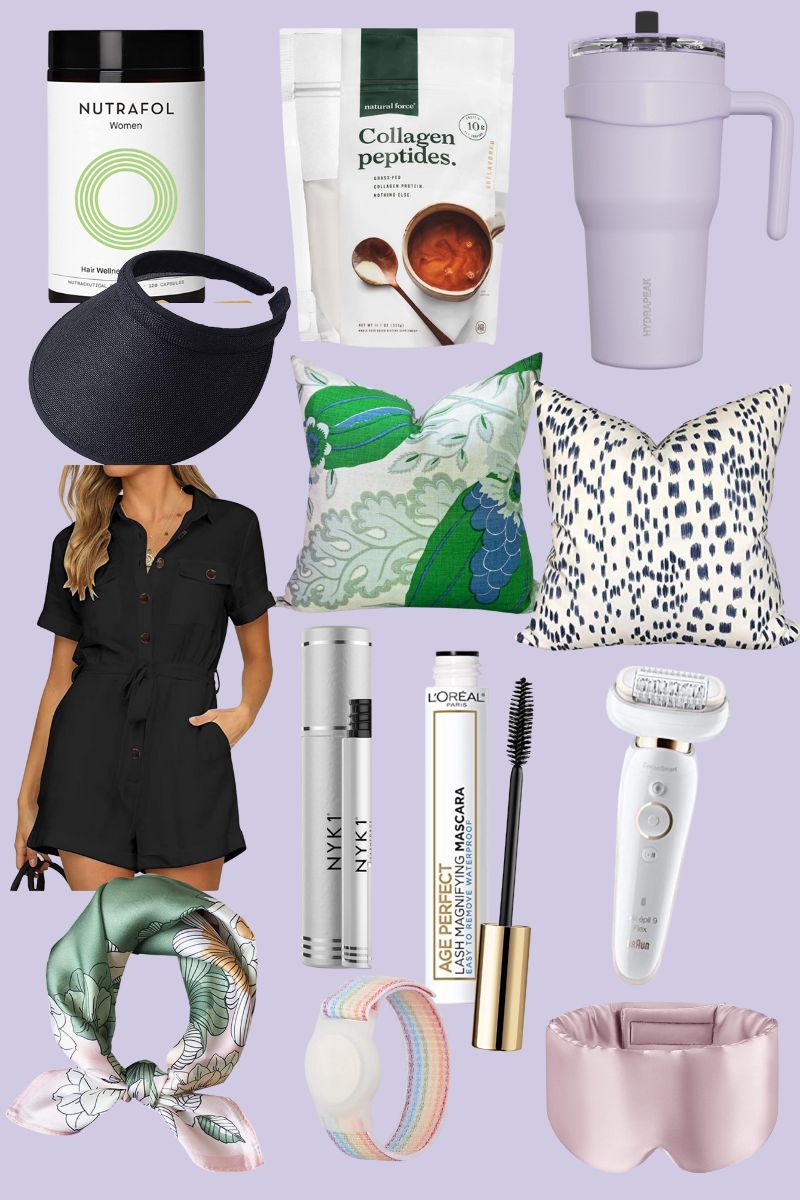 nutrafol for women: I started using Nutrafol a month ago and am committed to using the supplement for six months. Nutrafol has a lot of science backing its efficacy and is the #1 recommended hair supplement by dermatologists.
collagen peptides: You know I'm not a huge proponent of collagen peptides because the science shows you really need more collagen than is in most supplements to gain the clinical benefits. However, this is a very easy way for me to add 10 grams of protein to my coffee each morning with no flavor and 0 grams of sugar. My goal is to eat more protein, so this is a really easy way to add it to my morning routine. This brand is also 3rd party lab tested and has strong reviews on amazon.
visor: I'm always on the lookout for a "rich mom walk" visor and I think the texture of this one along with the extra wide brim is so pretty – it's in my cart!
40 oz tumbler: If you weren't able to get your hands on the Stanley cup in this gorgeous color, this amazon version costs less and is lovely. I like to keep a tumbler of water in every room I frequent throughout the day and loved adding this one to my collection!
green printed pillow | navy and white printed pillow : if you have a playroom or outdoor space that could use a cute pillow but you don't want to splurge, these are prefect for heavy use spaces.
black romper: love this for an early fall look with some cowboy boots! It would look cute paired with this silk neck scarf.
Lash growth serum: I'm hearing about this all over my IG stories – I like that it doesn't have the same active ingredient as latisse, but has rave reviews despite that!
L'Oreal tubing mascara: I'm not usually into mascaras that aren't fully waterproof – but this one is "easy to remove waterproof" since it's a tubing mascara and I have to say I quite like it! I did have to curl my lashes before applying and after it dried (which I don't have to do with my regular waterproof mascaras) but this formula is very lengthening and separates beautifully.
silk sleep mask: gone are the days where a normal sleep mask will do. I got this one a few weeks ago and this pink one is in my cart now. Once you try this, there's no going back. It's more plush, covers more and makes for a lovely sleeping experience for those sensitive to light or sound.
Apple air tag bracelet for kids: This is a great idea if you have a child who walks or bikes home from school, is picked up for after school activities, etc. It allows you to track your child's location in real time. I like that this looks like a watch or bracelet but holds the air tag perfectly. We plan to use these if we go to busy places, for travel, summer camp, etc.
Braun epilator: there are some areas that my at home laser hasn't tackled as much as I'd like (my underarms and bikini) so I got this epilator and wow. Word of warning: it hurts pretty badly when you first start using it. I can use it easily on my arms and legs if needed, but the underarms hurt and I bought numbing cream because I haven't been brave enough to tackle the bikini area. It basically works like waxing since it "plucks" the hair from the root. So it takes way longer for the hairs to grow back, which is awesome because shaving irritates my skin. I'll report back as I use it more, but so far, it's worth the little bit of pain for the longer lasting results.
scalloped sweatshirt: I've talked about this one 1000 times already, but I recently realized it's my most worn amazon top of all time. I reach for it multiple times a week. It's perfect with high waisted leggings because it's a cropped style. I'm going to order a second one because it's just one of my faves of all time. It's sweatshirt material, but very lightweight and thinner than a typical sweatshirt.
Have a great week!