It's here and published before Christmas in case you want to shop any of these items for yourself or someone on your list! The FULL LIST can be found in my amazon storefront & full reviews for each item are below.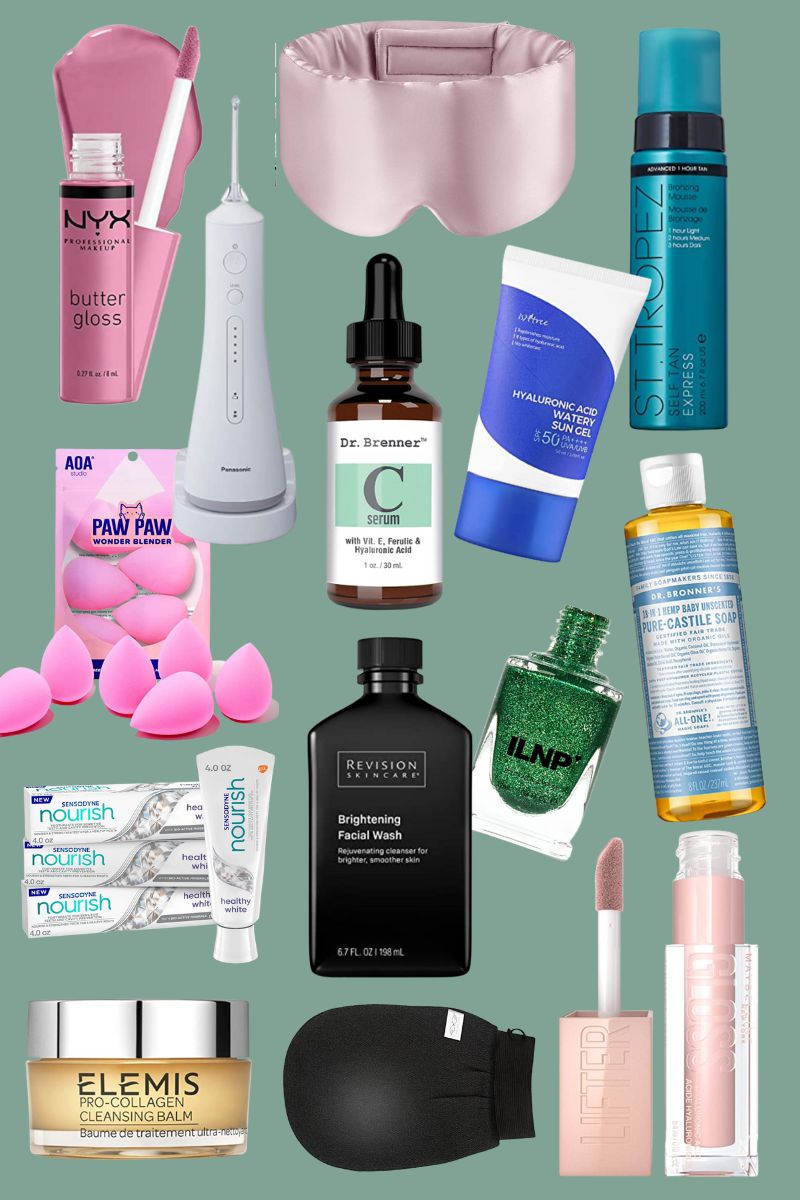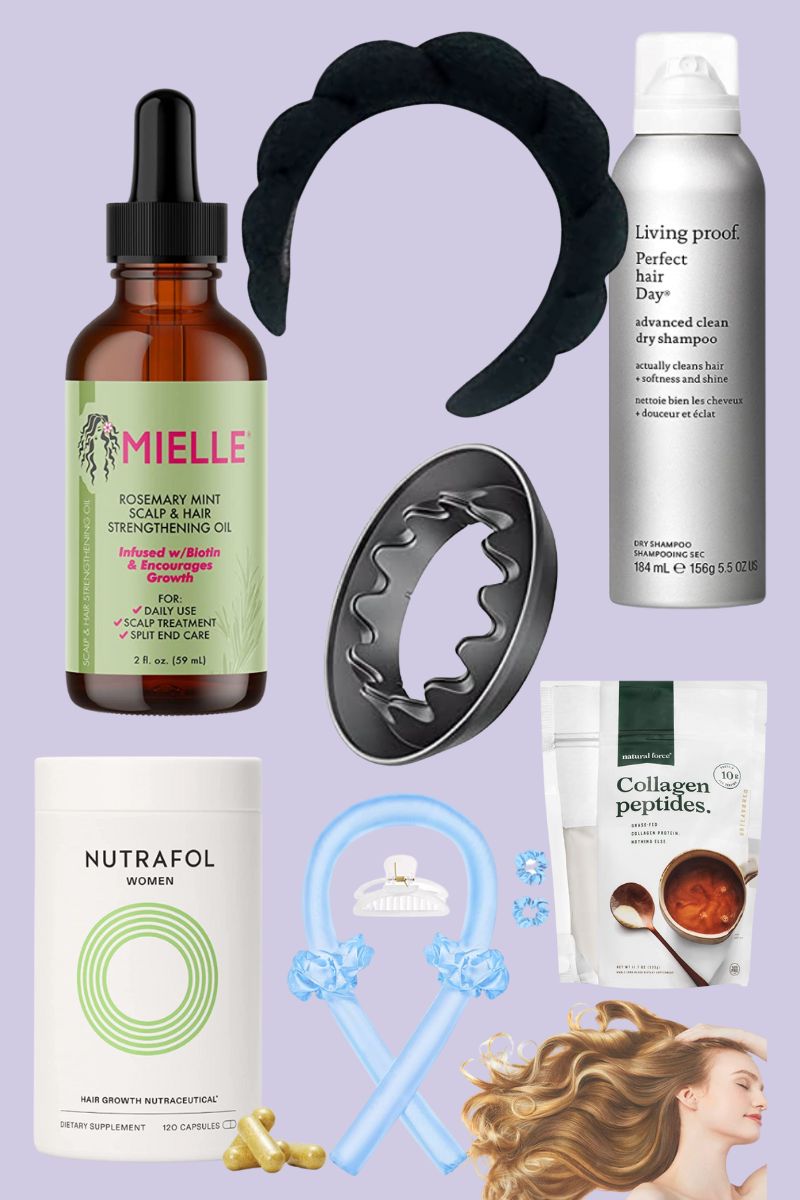 pink makeup sponges | don't bother sending more on Beauty Blenders – these are perfect and way less expensive for essentially the same item. I've ordered other sponges before on amazon and these are the best ones.
Dyson gentle attachment | the dyson supersonic hair dryer is powerful AF, but if your hair is long or on the finer side, this attachment is a game-changer – it prevents tangles by making the powerful air come out a little more gently (but still with a fast drying time).
living proof dry shampoo | simply the best formula and I've tried them all.
Dr. Brenner's vitamin C serum | I like to call this serum Skinceutical's first cousin – the formulas are nearly identical and this one is a fraction of the price.
Sensodyne Nourish toothpaste | I went a little overboard and whitened my teeth too many days in a row this past September and had massive sensitivity that lasted for weeks. I started using this toothpaste and finally saw an improvement.
rosemary hair oil | rosemary is clinically proven to help with hair growth. I apply this to my scalp prior to washing, massage it in and leave it on for 1-3 hours before washing it out.
skincare headband | the best bathroom accessory for hair – love that it's terrycloth and I just think it's such a fun accessory on top of being practical.
glitter nail polish | You know how most glitter polishes are clear lacquer with the glitter? Well, this one is way better because not only is there SO MUCH GLITTER in the formula, there's also a base color so one or two coats gives you full, glittery coverage. I just ordered two more bottles of it in different reds for the holidays!
St. Tropez Express self tanner | simply the best self tanner. I love the express formula because I'm not a sleep in my self tanner type of girl. I apply this all over with the mitt, let it sit for three hours and then shower it all off – perfect color every time! For my face, I use the Tan Luxe face and it's perfect!
collagen peptides | I'm trying to get more protein in my diet and this is an easy way to add 10 grams of protein to your morning coffee. I do one scoop of this flavorless powder in my morning latte.
Elemis cleansing balm | this balm removes your makeup and feels amazing on the skin – also smells very spa-like! I double cleanse with this and follow-up with a gel cleanser.
silk sleep mask | this may be the best purchase of the year, truly. You will never find a better sleep mask because this one is really large so it blocks out all the light and it also covers your ears a bit. I don't wear any sleep masks but this one anymore. IMPORTANT: Buy the light pink color – the black bleeds for several washes – the stains come out of your pillow, but it's easier to just not deal with at all and the pink one doesn't bleed at all.
Nutrafol for women | it's clinically tested and backed by science. Yes, it's a pricey hair growth supplement – but if you grow back your real hair, that saves money on other treatments, extensions, etc. You'll see baby hairs sprouting up all over in 3-6 months.
heatless curling noodle | heatless curls changed all of our lives, didn't they? I am trying other methods now too (leggings, this curling tool), but the OG "pilgrim noodle" was the one that started it all and deserves all the praise.
ISNTREE HA sunscreen | so I basically stopped buying Elta MD because although I LOVE it – I think I love this more? The texture is much more hydrating and just feels amazing on your skin and wears so well under makeup. Has a more cream/fluid like texture and very smooth. I also love Korean beauty and SPF products because they're made with better ingredients.
NYX butter gloss (eclair) | Once I found this, I finally let go of the $56 Tom Ford lip gloss. This color is so perfect, I will literally buy 30 units if it's ever discontinued.
Panasonic water flosser | water flossing was a game changer when I had Invisalign and I still use it everyday even though I'm in my retainer only phase. I even got Harper one since she has braces now. This helps so much with particle and plaque removal. Did you know that your dental health is linked to your heart health? Get flossing, friends.
exfoliation glove | after 5-7 days, my self tanner gets a little faded and splotchy. You must use this before self-tanning again. It's going to slough off any dead skin or patchy areas so you get an even application the next time. Trust. I prefer this over any exfoliating product (like scrubs) that I've tried.
Revision skincare brightening wash | the best gel cleanser – been using this for years and repurchase over and over. The bottle lasts shockingly long – every time I pick it up I wonder how I'm not out of product yet.
Dr. Bronner's Castile soap | I like to use this in the shower to clean more sensitive areas – it was recommend on tiktok once and was apparently dermatologist approved. I just ordered another bottle!
Maybelline lifter gloss (ice) | this super hydrating gloss is so good. The ice color doesn't have a ton of color payoff, but what it does have is the ability to make your lips look plumped, supple and soft. Yes, please.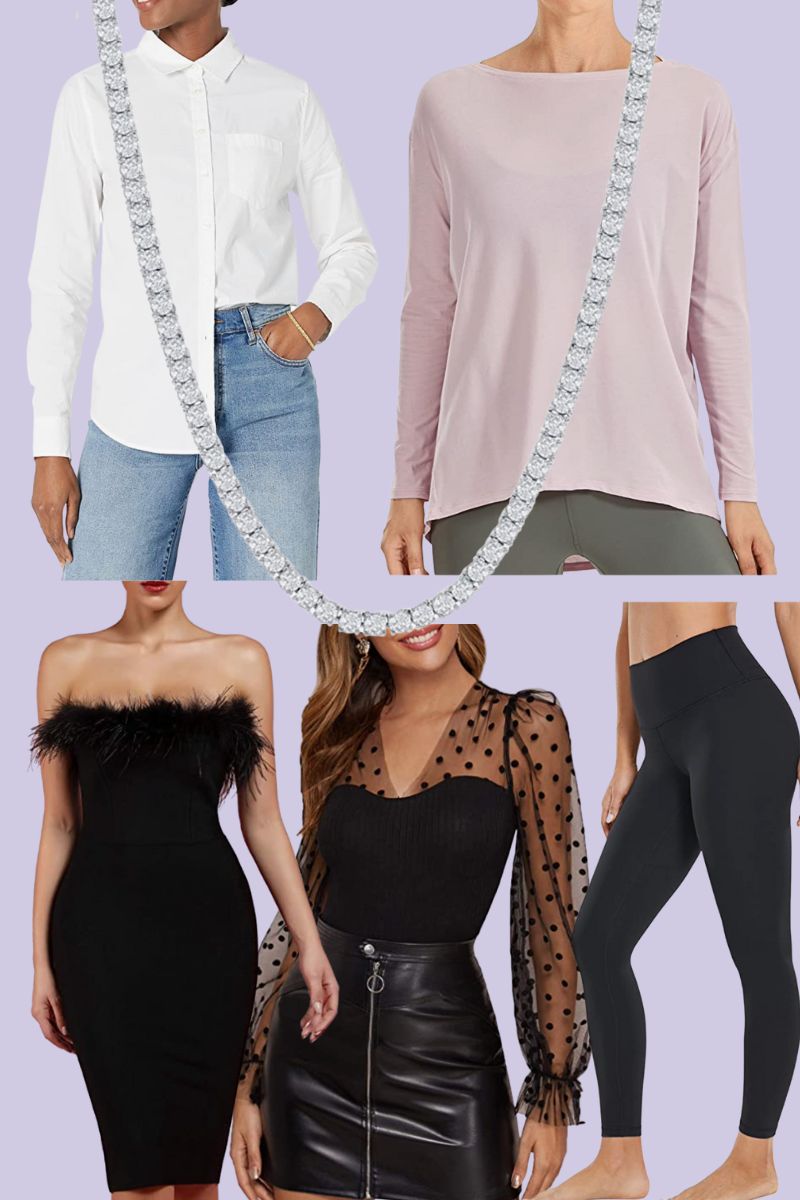 swiss dot top | my most recent amazon purchase is also a favorite for this year. I can't quite get over the price of this top for the style and quality. I got a medium because it looked small in the listing photos, but would have been fine with a small.
butter luxe leggings | I have the OG CRZ leggings but this butter luxe pair is amazing – so smooth and soft and just as flattering as the OG!
white button up | A classic button up that fits amazing and comes in at a great price point. Everyone needs this in their closet.
black dress with feather trim | the style and quality of this dress really impressed me – I love how it fits and have seen dresses identical to it for 2-4 times the cost.
nipple covers | I started using these within the last year and let me tell ya, they're now a wardrobe staple. I don't love bras, so these are perfect for outfits that don't need them but need a little nipple coverage if you know what I mean!
tennis necklace | rich pilates mom vibes, for less. I wear this all the time and it looks pretty real TBH!
CRZ yoga top | this is a lookalike for a popular LLL top – and when I tell you it's amazing – it's lightweight, longer in the back and the perfect athleisure top.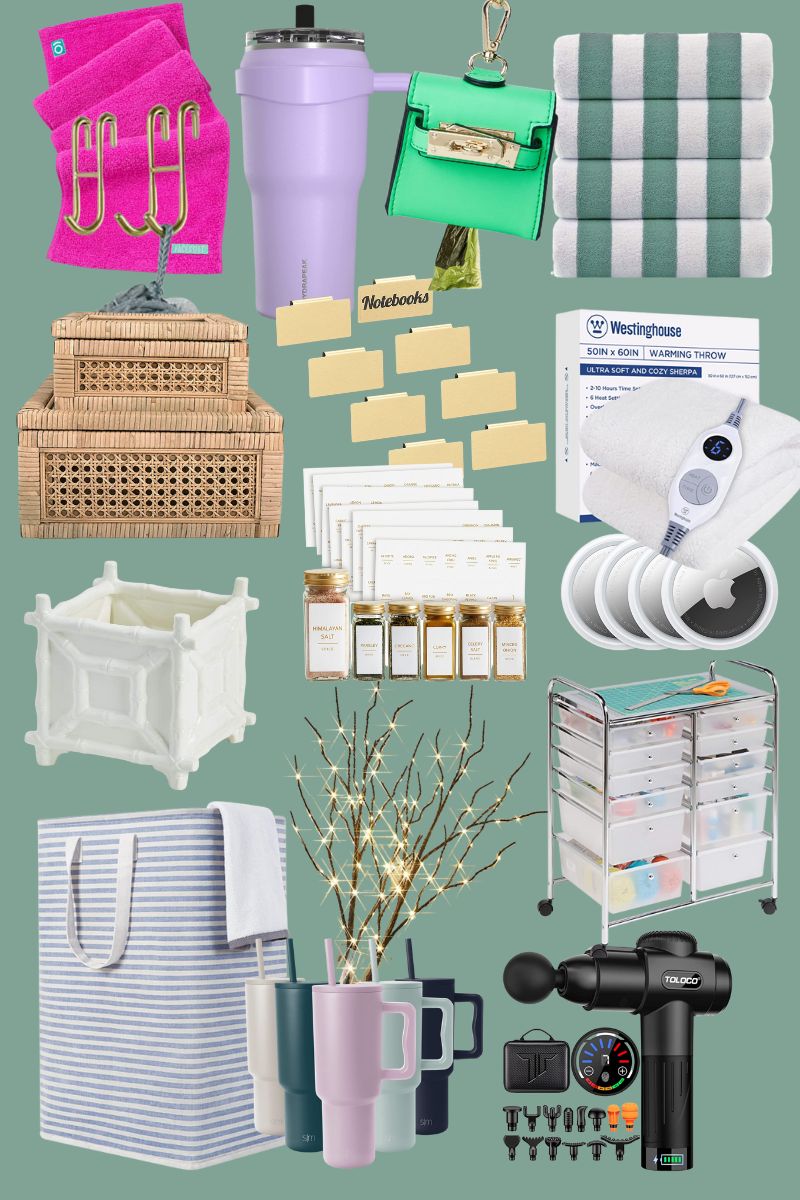 organizing cart on wheels | this cart changed my life, truly. I'm so thankful for it. I used to have a cabinet in my kitchen over flowing with our crafting supplies, but this cart got everything in order and now it's in our under-the-stair storage area tucked away for when we need it.
wireless phone charger | is your phone somehow always at 20% battery? Me too. I keep this in my LLL belt bag for charging on the go.
white bamboo cachepot | this is so random – but I adore this cachepot. It's chic and the perfect size for an orchid, mini Christmas tree, etc.
water resistant pantry labels | I didn't order these initially but now that I know they come in water resistant packs, I got these to switch out my labels so I can wash the canisters.
lighted willow branches | truly one of my favorite holiday decor touches of all time. Add them to your greenery and floral arrangements for the perfect holiday sparkle.
simple modern tumbler | I only like 40 oz tumblers because I drink a lot of water and don't love refilling constantly. This one is stylish and reminiscent of the Stanley, but for less.
heated sherpa blanket | I know I said the silk sleep mask was the best purchase of the year, but then I got down to this part of the post and it's actually this blanket. The way this has changed me…OMG. I don't use heating pads anymore – just this blanket. Had 6 heat levels. Feels like a warm hug, covers more of your body, is washable…I could go on. The cold person in your life will love this gift.
blue striped laundry hamper | the hamper I never knew I needed. We have two in our bathroom and it's so nice because they're very light and have long carrying handles, so that massive load of laundry is easier to transport down the hall.
hydra peak tumbler | another great 40 oz tumbler choice – you can't go wrong with any of these.
gold pantry label clips | these stylish clips are perfect for adding to baskets and bins with labels for a pantry, playroom, office, etc.
dog poop bag holder | bougie AF. You will be the envy of all dog owners in your neighborhood. Why didn't they think of getting a dog poop bag holder that looks like an Hermes? You win at life.
apple air tag | You can use this for luggage or to track anything you lose often. You can even get wrist bands to hold an air tag for your kids. The possibilities are endless.
cane decorative box | things like remotes are necessary in life. This catch-all box will store all the shit everyone leaves on your coffee table in an aesthetically pleasing way. Highly recommend and they're great for shelf-styling too.
tennis towel | this microfiber towel is lovely. A great size and perfect for wiping away sweat on the courts…but just to be clear, I don't sweat, I glisten.
striped bath towels (green) | those fluffy, absorbent towels are a delight. I love the deeper green color and the classic cabana stripe.
gold over the shower hooks | one of my best sellers of all time – we use these on our glass shower frame to hold towels.
massage gun | if you have a lot of tight muscles, this is a must. Has lots of attachments and feels so good for all of those tight areas. Give the gift of less pain.
I hope y'all enjoyed this year's post and thank you for your continued support!