Though I'm a product loyalist almost to a fault, I still love trying new products because technology always evolves, better ingredients and formulas come out, skin and hair needs change, etc. Here are my latest amazon beauty purchases & why I love them.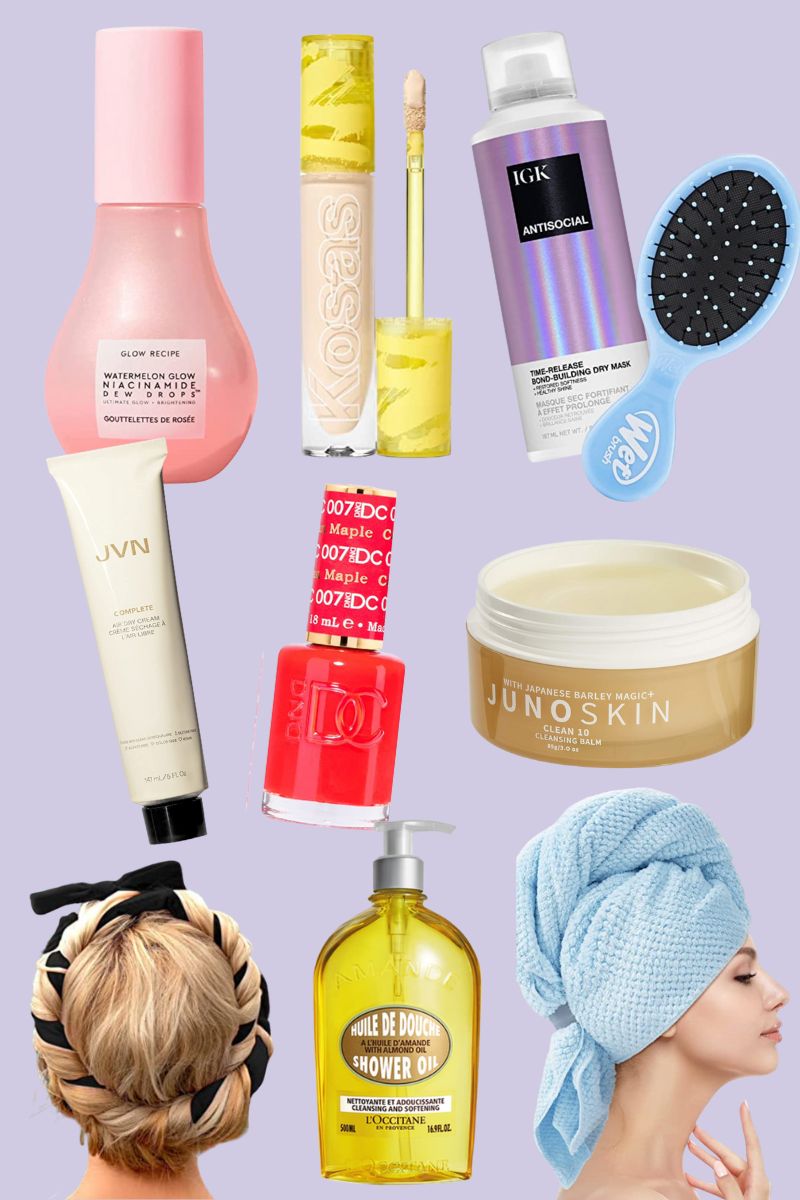 glow recipe watermelon glow | I got a sample of this serum at Sephora and loved it so much that I ordered the full size from amazon's premium beauty section.
kosas concealer | I have not received this yet, but enough of my influencer friends have sweared by it to make me want to try it for my under eye area! I'll report back on this one.
DND nail polish in Canadian Maple | I recently got this polish and it's SO fun for spring. I'm a red nail girl through and through and this color is a BOLD orange red and it's gorgeous. If you like bright colors with personality, this one's for you!
microfiber hair towel | everyone needs a microfiber hair towel, because they're so much better for your hair, absorb more water and decrease drying time, which are all things that improve the health of your hair. This one is similar to my crown affair hair towel, has an elastic loop at the back to secure it in place and is so soft!
IGK antisocial hair mask spray | This product seems to be out of stock everywhere and now I know why. My hairdresser recommended it. Essentially it's like a dry spray on treatment mask that helps repair and soften hair without mess or residue. I used it before putting my hair into my overnight curling noodle and my hair was noticeably softer and smoother the next morning. Definitely a must have for dry hair, damaged hair or just hair you want to keep in good condition!
Junoskin makeup cleansing balm | I purchased this cleansing balm about a month ago to see how it compares to my pricier favorites and I love it. It smells amazing, cleanses so well and rinses off perfectly (I follow it up with this gel based cleanser).
JVN air dry cream | This cream has transformed my daughter's curly hair. After washing, we dry it with the microfiber towel, detangle and then apply a generous amount of this cream from the nape of her neck down to the ends of her hair. The result? More defined curls, her hair is way smoother and stays smooth! It's truly the best product we've ever used on her hair.
L'Occitane Cleansing & Softening Almond Shower Oil | This is one of the few shower items I'll really splurge on. It lasts a very long time because you just need a full pump for your entire body – it lathers beautifully even though it's an oil formula. It feels hydrating and smells amazing.
miniature wet brush | My long hair gets so tangled – I have to brush it multiple times a day. I have one of these in my handbag, my belt bag and my car – great for kids backpacks and travel too!
heatless curls set | I love this set because it's a velvety fabric and has straps that tie in the back/top, so it's easier to secure/keep in place and a little comfier to sleep in than the OG curling noodle.