I have tried a lot of new products this year – mores than usual. I feel like makeup brands are getting really innovative with their offerings, using better ingredients and creating products that actually deliver the results they promise.
I'm shopping the Sephora sale myself & wanted to share in this post all of the NEWER products I've purchased lately so you can save on them if you choose to purchase them now. I'll also list my tried and true products – ones I've been consistently repurchasing for 5-10 years.
ROUGE members can start shopping today at 20% off and VIBs will get 15% off of their orders starting on the 18th! HAPPY SHOPPING & let me know if you have any questions about these products.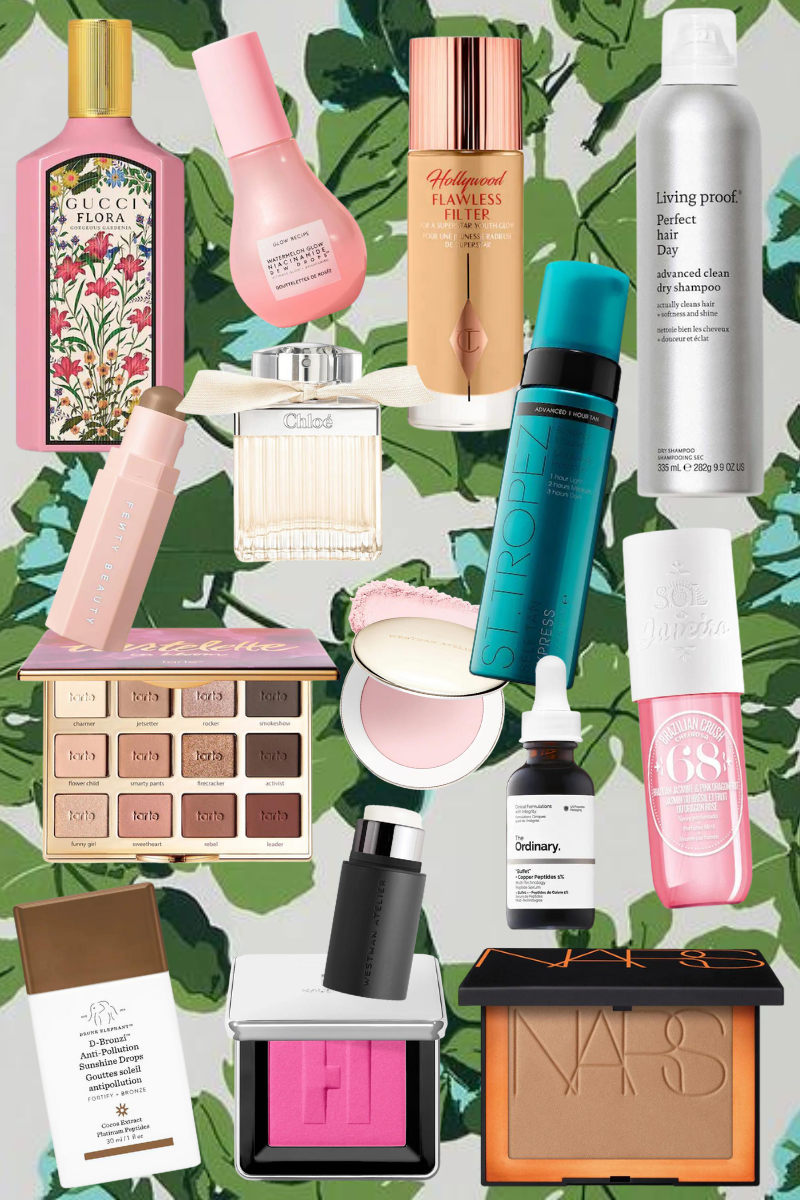 SHOP:


NEWER PRODUCTS I LOVE W/ DETAILED REVIEWS
Drunk Elephant D Bronzi drops
These drops are my favorite beauty discovery of 2023. They have truly changed my entire routine. I used to use self tanner on my face every week, but with my skincare, I noticed it would come off unevenly and also look uneven if I didn't apply it perfectly. These bronzing drops literally take me from fair/pale to even toned and glowing, with a warmth to my skin. They are MAGICAL. I don't even wear foundation most days – just a layer of mineral SPF, these drops mixed with SPF as a second layer and some concealer/powder to finish it off. I sometimes also add the Charlotte Tilbury Hollywood Flawless Filter over the bronzing drops – you really don't need foundation with this unless you have a lot of discoloration or breakouts. I prefer this to using self tanner because the color is nicer, more even and washed off at night, just like makeup. I may still use self tanner for vacations, but this is now part of my routine, every single day.
Rare Beauty by Selena Gomez Positive Light Under Eye
Once I started using this, I stopped using all of my other concealers for the under eye. I find this to be very light and it just gives a little bit of brightness to the under eye without a ton of coverage like traditional concealers. I wouldn't recommend this if you deal with dark circles, but if you're just seeking to brighten the under eye and make your eyes pop – this is great!
Vital Pressed Skincare Blurring Talc-Free Setting Powder
I follow an over 40 creator on TikTok who recommended this powder to set the under eyes. I really like that it's pink toned and talc-free. I think it helps brighten my under eye and set the area without creasing. Westman Atelier is a pricey brand, but I think they use some of the industry's best ingredients in their products.
FENTY contour stick (color amber)
Never did I ever see myself using a contour stick, but this FENTY one in the color Amber is perfect for more fair skin tones. I use it on my nose but I also use it a little above the crease of my eye. I have hooded eyes, so this creates the illusion of a more open eye. I love that amber is a cooler toned bronze because cooler tones create shadows, versus bronzers, which are intended to add warmth. I now use this daily as a part of my routine. I apply it after the DE bronzing drops and concealer and then set everything with powder.
Fenty Diamond Bomb
Where has this magical powder been all my life? I have the color "how many carats" and I use it on the inner corners of my eyes and sometimes on my lids. It's hard tp explain because yes, it can be used as a highlight, but it's more glittery than most – BUT that is why I love it – the glitter is super super fine so it kind of just makes your eyes pop and glow.
Lawless Forget the Filler lip plumping gloss (lavender sorbet)
I purchased this gloss on 5th Ave. in NYC and really enjoy it! It's a beautiful, soft, cool-toned pink and definitely plumps a bit without the burning sensation a lot of those glosses have.
Westman Atelier Lit Up Cream Highlighter Stick
This highlighter is very unique – it has an opalescent undertone with a mix of baby pink, lilac and blue – so beautiful and glowy! I love to use some on the tip of my nose, above my cupid's bow and in the evening, to highlight my cheekbones.It's different than powder highlighters I have and it gives more of a luminescence to the skin. LOVE & will purchase in the full size.
Bright Pink Blush Haus Beauty
I picked up this blush on an in-person trip to Sephora because it's very pigmented and a bright pink – but on the cooler side. Not AS cool as my favorite persona blush, but it has a similar vibe. You need just a tiny bit of product to get a beautiful flush of pink on your cheeks. I think this really nicely mimics the "post workout cheek glow" look.
Glow Recipe Niacidimide Dew Drops
Listen – I'm putting this in my must-have skin category. This feels like a gel/serum hybrid and is so hydrating and smells amazing (very soft). I layer this over vitamin C, before my SPF. It gives skin a dewy glow and can also be mixed WITH your makeup to make it more like a cc cream or tinted moisturizer. I just repurchased this because I'm running low – I can't be without it!
Sol De Janeiro Crush Cherirosa
I'm in my perfume era and love this scent – I like all of the ones by this brand, but Cherirosa is my favorite. I like to use this out of the shower and even spray it in my hair sometimes.
GUCCI flora
I'm purchasing the FULL size of this perfume during this sale. It's beautiful, it's floral, it's feminine. Perfumes are so personal, but this one is just so sweet and special. I like a huge variety of scents, so buy at your own discretion because my scent palette ranges from one end of the spectrum to the other!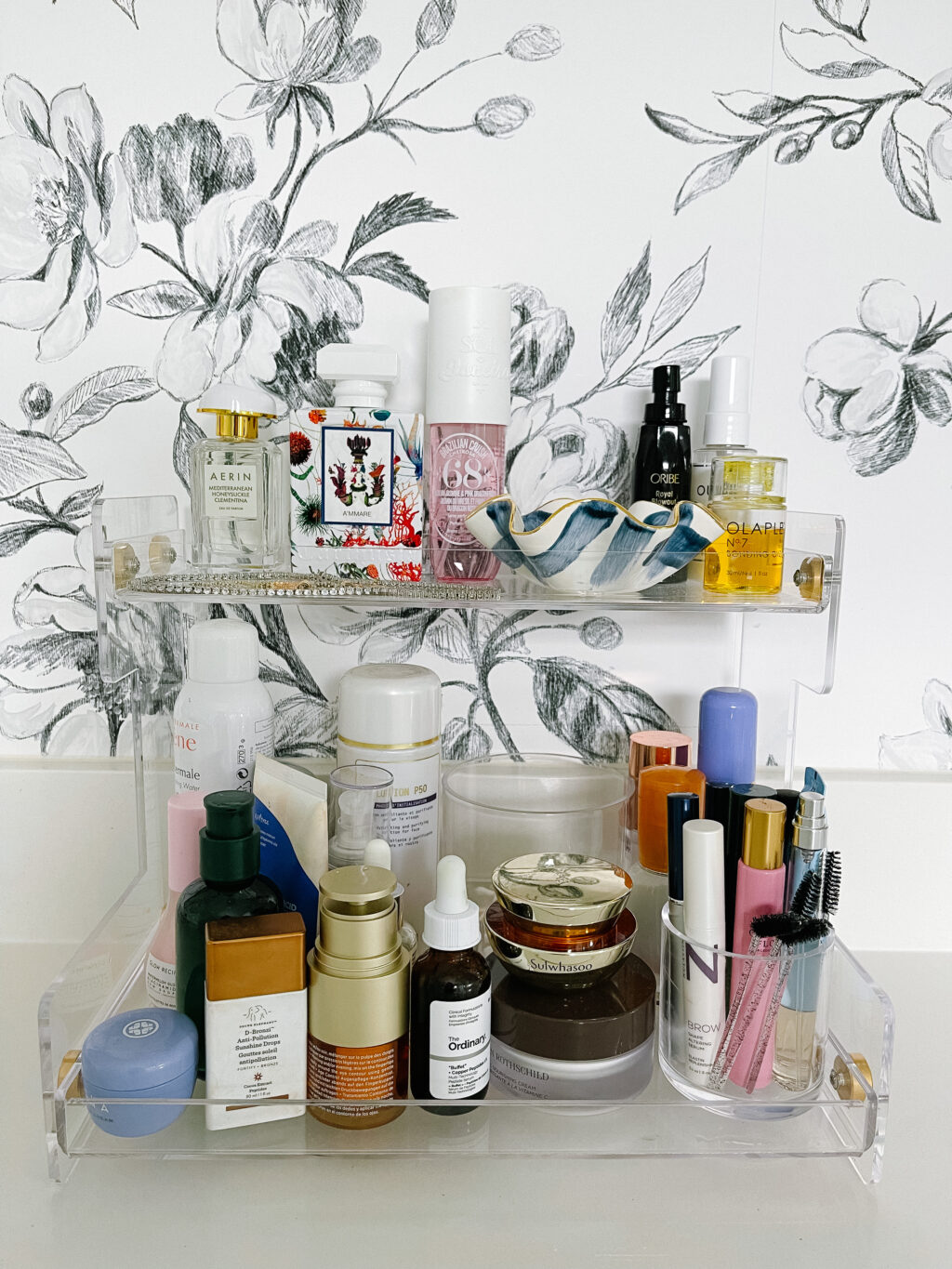 SEPHORA SALE 2023 – TRIED AND TRUE PRODUCTS

Charlotte Tilbury airbrush powder
Hand down my favorite finishing powder to wear over my foundation. I use it very lightly and it's just lovely. I buy a new one during every Sephora sale. I wear the lightest shade.
Charlotte Tilbury Hollywood Flawless Filter
Truly a must-have. I layer this under my foundation or wear it on its own with powder. Gives a luminosity to the skin that's just beautiful. This is a great product for women who don't love wearing makeup because it's just a light skin enhancement, or for women who love to have a glow and luminosity to their skin.
NARS Laguna Bronzer
I will forever praise this bronzer that I've been using for over a decade. Perfect color, easy to apply. I've tried others and always go back to this.
Tarte eyeshadow palette
I got this as a gift at the LTK conference and adore it. I use the lightest matte shade on my brow bone and the two dark brown shades to line my top and bottom lash lines.
SEPHORA SALE HAIR FAVORITES
Living Proof PhD shampoo
I always double wash my hair and this formula is always in my rotation. It just makes hair feel good, period.
Ouai clarifying shampoo
I use this as my first shampoo every other wash. If you was your hair 1-2 times per week and use a lot o products and/or dry shampoo – a clarifying formula is essential and this one is hands down my favorite.
Brigeo deep conditioning mask
This mask is lovely – it's hydrating and doesn't weigh the hair down. It also smells great!

Kerastase ciment thermique
Another product that's been in my rotation for nearly a decade. It's a great heat protectant/leave-in treatment that smooths hair as your blow-dry.
Bumble & Bumble thickening mousse
I rotate between this and Navy's whirlpool. It's a nice formula that isn't drying but helps create volume when you blowdry.
Amika Perk Up dry shampoo
This is a product I haven't yet tried, but I've heard enough positive things on tiktok that I'm adding it to my order.
Living Proof PhD advanced dry shampoo
I didn't think LP's dry shampoo could get even better until they released this formula. It actually cleans the hair and restore volume, without leaving hair feeling powdery or dry.
I hope this post helps if you're on the fence about some products or just looking to try something new!
Shop the Post