It's safe to say I'm completely obsessed with hair products. Because I only wash my hair/do blowouts twice a week (read about my washing/styling routine here), I need products that not only help me style my hair that first day, but that make that style last a few days until the next time I wash and style it.

Several months ago, I cut about 4 inches off of my hair in an attempt to freshen it up and rehab the damaged ends. I'm so glad I did that because my hair needed it and now I'm letting it grow out again since pregnancy is a good time to do that with all of those prenatal vitamins helping things along.

My hair has been kind of strange since I became pregnant with baby #2. I have some baby hairs that stick out at the top from hair loss that I expect happened when I weaned from pumping since I hadn't noticed it prior to that. Additionally, some areas of my roots, particularly at the back/crown, have an odd, rough texture. Taming my hair has been a challenge but two product lines have been getting me through these last few months.

I have blogged/vlogged about both of these lines before- Living Proof and Phyto. I've been using their products for years and have continued to repurchase many of my favorites. Recently I was sent new as well as tried-and-true products from these brands to test out and I wanted to share with y'all my favorites. Some of these may be repeats as I've mentioned them from having used them for years and some are new and awesome discoveries that have made styling my hair a whole lot better.

Let's start with pre-styling products: shampoo. I have been alternating two new favorites— Living Proof's Perfect Hair Day and Phyto's detoxifying formula. I love them both, for different reasons.


I'll start with Living Proof's formula. They had sent me a small sample of this shampoo and I loved it even after the first wash. I went to Ulta the following week and it was completely sold out but luckily my hair salon had it and I snagged a bottle there. This shampoo is amazing. The shampoo itself is a pearlized white and it lathers beautifully. One of the benefits touted by the product is that it helps you style your hair and also keeps it clean longer. I have no idea how this is possible, but I know Living Proof's entire brand is based on the science of its ingredients and I swear it really does make your blowout last and keeps your hair from getting oily (I'm finding myself having to use dry shampoo less frequently). This shampoo is definitely going to hold a permanent spot in my shower (I also like their volumizing formula, but if I had to pick between the two, go with the Perfect Hair Day).

The Phyto shampoo is a clarifying formula and it smells like eucalyptus. It really feels refreshing to wash your hair with it and I love that it's intended to be a detoxifying shampoo because every third/fourth wash or so, I feel I need that to ensure I'm not having product buildup. This is especially important if like me, you tend to only wash your hair a couple of times a week and rely on styling products and dry shampoo to keep your hair looking good in between. The formula is not what you'd expect from a clarifying shampoo— they're usually crystal clear and give you that squeaky-clean hair, but this one is pearly and cleanses deeply while also feeling nourishing and revitalizing, (as cheesy as it seems to say that).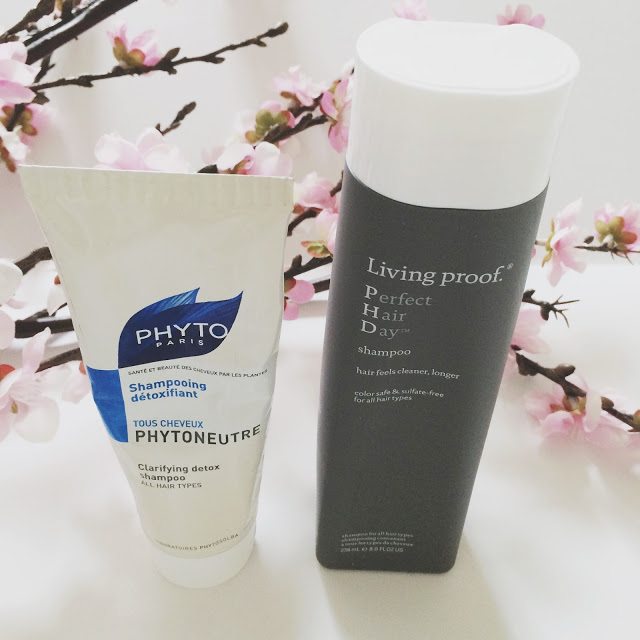 Next up is Living Proof's Perfect Hair Day Night Cap Overnight Protector. I'll admit I didn't know what to make of this product at first—I thought now we needed to use products in our hair before we went to sleep, too? The first time I ever used it, I actually tried a very small amount applied just to the ends of my hair on second-day hair before I went to work for the day. I noticed it immediately helped smooth my slept-on hair and made it look more shapely without weighing it down at all. I've also used it at nighttime to help keep my hair tame, but to be honest, I love it as a second or third-day hair product to smooth out my ends. I don't think it really matters when you use it since it's a leave-in product. Overall, I have been impressed with this product. It's kind of like a smoothing, treatment and polishing cream all in one.

The Restore Instant Repair is a lotion I alternate with a Phyto product that I'll discuss below. It's a rich, creamy product that's meant to help moisturize and protect the hair. I apply it from the nape of my neck down to the ends of my hair, focusing primarily on the ends, and I find it helps smooth my hair as I'm blowing it out and offers additional control and helps prevent damage from heat styling.

Living Proof's Prime Style extender has been a longtime favorite of mine. You can read my original review here. This is a product I have continued to repurchase for years because it's that good. I don't use a skin primer, but I'm all-in when it comes to hair primer. The truth is, I have no idea how it works, I just know that when I use it, I can sleep with my hair in a bun on top of my head, take it down in the morning, brush it, and my hair still looks pretty darn good. Add a texturizing or polishing cream to the ends, and I'm good to go.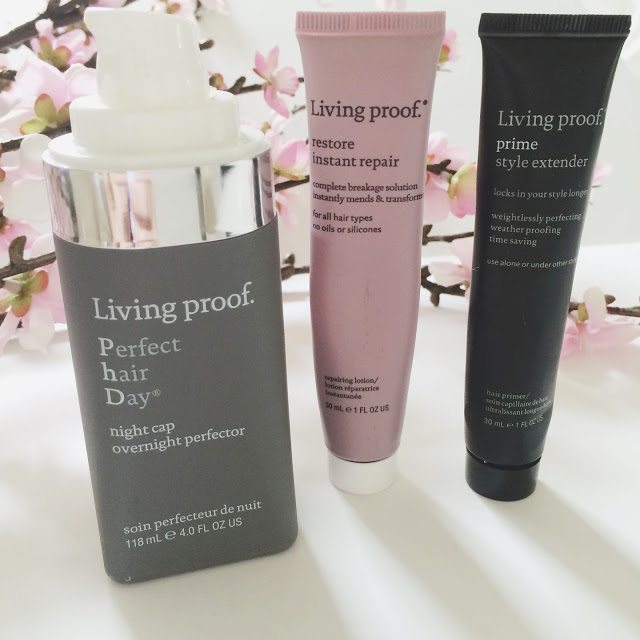 The next three Phyto products are equally amazing— one is their Phytodefrisant straightening balm, which I've used for years— it has a thicker balmy/creamy texture and it seriously helps smooth and tame your hair before a blowout. I use a generous amount from the nape of my neck down and it works wonders. I find that it really helps with creating that finished appearance on the hair after a good blowout with a round brush. It adds moisture and smoothness without feeling it in your hair at all. I particularly enjoy the consistency of this product. It manages to feel incredibly smoothing without having an oily or greasy feeling on the hands.

The second product is phyto's spray volumizer. If you know me, you know I'm a "the bigger the hair, the closer to God" kinda gal, so volumizing products are my jam. This one is meant to be applied to wet/damp hair in sections just at the root and it really does make a difference in your hair's volume when you blow dry. I usually use a spray-foam volumizing product by Redken (Guts 10) which I also love, but this has been wonderful and it creates lasting, non-sticky volume.

Lastly, the huile soyeuse is uber lightweight for a spray oil and that's what I love about it. I actually use this in combination with other products— I will layer it over a smoothing or moisturizing cream before blow drying. It can also be used on its own of course, and I particularly love it if you have fine hair since it's an oil but doesn't leave hair feeling greasy or weighed down. It's a little on the pricier side, but one bottle will last you a very long time.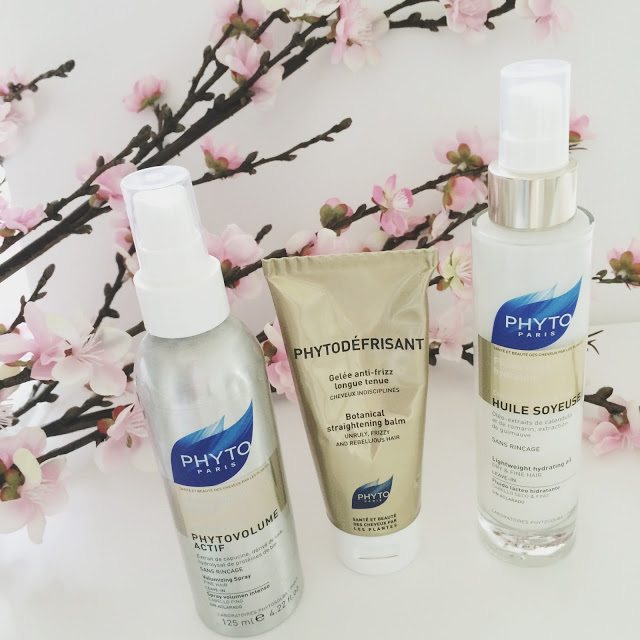 As I mentioned above, I alternate these products (don't worry, I'm not using every single one for every blowout). I will use one volume product on my roots, a hair primer (every time), and then one smoothing cream and spray oil. I have found which mix-and-match combos work for my hair, but I encourage you to experiment and find combinations that work with your hair and hair routine.
Though you would think using multiple products would make your hair feel more oily more quickly, I actually find the opposite to be true. A volume product is key for making you blowout last and keeping roots plumped up but the primer I feel helps extend your style and is a nice base for your other products. Like I said— see what works for you and your hair type by experimenting with different combinations.
I hope y'all enjoyed this post! I love sharing my favorite products and I will be sure to be back with some more makeup/hair/skincare reviews soon!
SHOP THIS POST!

FTC disclaimer: I was sent these products to test out and review on my blog, except for the Perfect Hair Day shampoo, which I purchased on my own. I have also purchased many of these products before writing this post with my own money. All opinions are my honest experiences with the product and I only share products on my blog that I truly love and endorse.