Over the past couple of months, I've learned that the saying "every baby is different" couldn't be more true. I struggled a lot to nurse Harper and ultimately it was the best decision for us both for me to exclusively pump. It was faster, more efficient and she preferred bottles because her latch was never great. We were both happy!
This time around, I was hoping to be able to nurse for the added convenience but I didn't want to get my hopes up either. I was surprised to experience a completely different nursing relationship than the first time around.
As a full disclosure, and this may be a little TMI, but I'm all about being honest about my experiences— I did have inverted nipples when I nursed Harper, which I think paired with her latch issues presented additional challenges. Due to the amount of time I pumped though, my nipples "self-corrected" and are no longer inverted like they had been all my life. I'm not sure if this contributed to easier nursing with Lincoln or not, but I imagine that it would.
I did deal with the same issues most nursing moms do in the beginning— painful engorgement (it was more painful than my c-Section), nipples that hurt so badly they felt like they were going to fall off, struggling to find the right positions to nurse in, etc. It was not easy this time around by any means. What was different is that from the start, Lincoln had a good latch, is an efficient nurser (empties in 10 minutes or less) and my milk production was great. He also loves to nurse and I would say he prefers it to the bottle, especially in the evening hours when he tends to be a little fussier.
I won't lie—there were days I wanted to quit nursing and switch to pumping because it's easy, it's what I know and am the most comfortable with. Those first few weeks of pain were hard to get through and I swear I texted my friends Kristin and Leslie more times than I can count and their encouragement that it gets better really got me through some of those tougher days. I couldn't be more thankful to anyone who lent a listening ear when I was having a rough time.
I usually nurse most in the evening and sometimes at night depending on how the timing works out. I still wake up to pump at night if the baby is still sleeping to keep my supply up before it's more established at the 12 week mark. I also nurse on demand if he seems hungry between feedings. It was important for me that he also take a bottle since he will be in daycare and so that other family members can feed him. He sometimes rejects a bottle if I'm the one feeding him, but usually he takes them.
In terms of challenges, I have a forceful/overactive letdown, which sometimes causes Lincoln to choke a bit at the beginning of the feeding. I have worked on resolving this by hand-expressing into a burp cloth after the initial letdown to ease the flow. I also continue to experience pain with my letdowns— it's pretty intense but it lasts less than a minute, thank God, or I could not continue nursing if I had to feel that the entire time. We're also still dealing with the symptoms from Lincoln's milk protein allergy, but I'm starting to see the light at the end of the tunnel now that I've been on my dairy-free diet for a few weeks. I've also stopped eating beef and have really limited egg products as well. I considered eliminating soy as well, but our pediatrician told me that would be a last resort if there is no improvement.
With all of that said, I'm glad I've had the chance to experience a good nursing relationship with Lincoln. I truly believe that at the end of the day, you have to do what's best for both you and your baby. Reflecting back, I wish I wouldn't have been so hard on myself about making nursing work with Harper. I know I was doing it for myself because it was important to me, but now I realize she was more content when we switched to bottle feeding her the milk. This time around, I didn't put so much pressure on myself. I told myself I would try my best but if nursing didn't work out for any reason, I was happy to feed pumped milk.
So, that's the update on how nursing is going this time around! If any of you mamas didn't have a great experience with your first, just know that the second time around may be totally different (or not) and give yourself some grace if it's not going as you had hoped. You know what's best for your baby and the most important thing is that your baby is fed with love!
I thought it would be helpful to share some of my favorite nursing/pumping products as part of this post. Let me know if there are any you love that I should try!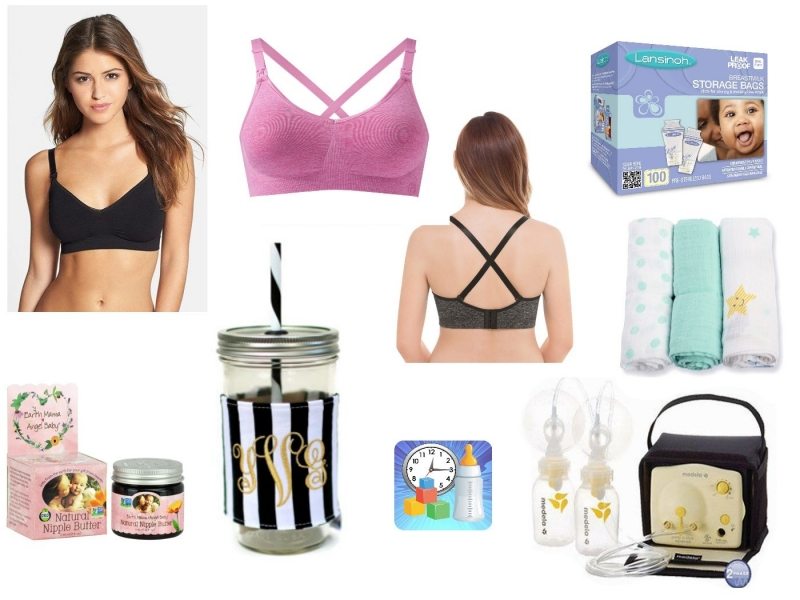 Boob design nursing bras
I had heard of boob design nursing bras before I had Harper but I never picked one up since I didn't nurse longterm. These are high quality and are made of a nice thick, stretchy fabric. The fit is great and the clips are easy to use. I also find that this bra perfectly holds my pumping flanges in place so I can pump hands-free without using additional products. I just place the pumping parts half inside the bra and pull the bra down a bit and it works like a charm!
Bravado nursing bra- body silk seamless yoga bra
This new style in the Bravado nursing collection is awesome. The fabric is incredibly soft, smooth and stretchy and I love that the straps cross in the back. It also has anti-microbial Silverbreeze™ technology that prevents the growth of odor-causing bacteria, which if you're nursing and have postpartum hormonal sweats like I do, you'll greatly appreciate. These are also great for working out!
Lansinoh breastmilk storage bags
These storage bags are awesome. Not only can they hold a lot of milk, but they are easy to open and close and do.not.leak. Seriously, don't even bother with the Medela ones. I can't tell you how many of those leaked. I used them with Harper until I discovered these ones. They're the best and worth every penny.
Lulujo Baby mini muslin cloths
I was always using my huge muslin swaddle blankets as burp cloths. They're so soft and were always around. Then, Lulujo baby sent me their mini muslin cloths and they're just what I needed. It saves me from having to constantly wash my big swaddle blankets and they're they perfect size to use as burp cloths and to hand express milk like I have to. It's the same soft fabric, but mini!
Earth Mama Angel Baby Nipple Butter
It's no surprise this nipple butter has a near-perfect rating on Amazon. It's so good and my nipples are thankful for it. In the beginning I was using it a ton, but now that I'm not in pain all the time, I usually just apply it at night before bed. It's all-natural, GMO-free and works so well at keeping nipples moisturized and helping to heal them when they're dry, cracked and yes, even bleeding (the horror, seriously!)
Caroline Randall Made personalized tumbler
I always drink a lot of water, but when I'm nursing, I seriously feel parched constantly. I refill my tumbler what seems like a thousand times a day. I even have to drink a ton in the middle of the night after pumping. Hydration is so important for your milk supply and having a cute tumbler is a good way to encourage yourself to drink more— it's easier to drink more from a straw and tumblers hold more than the average cup, mug or glass. Plus— how cute is the little monogrammed sleeve? Love it!
Baby Connect App
I included this in my last essentials post with Harper but I seriously wish all first-time parents knew about this. I was so stressed when Harper was born because of her weight gain issues in the beginning and I could never remember when her last feed was or what time I last changed her diaper. Once I got this app, I started to feel reassured about everything. I knew how many diapers she had that day, how much I had bottle fed and nursed her and how much I had pumped as well. This time around, I started using the app at the hospital a day or two after Lincoln was born. Your mind is all over the place when you're caring for a newborn and the exhaustion doesn't help. This app allows you to track all you do and it gave me a lot of peace of mind. I've even whipped it up during those pediatrician appointments in those early days to communicate to the doctor about things like wet and dirty diapers, how often baby feeds, etc. Such an essential— and as a bonus, you can export all of the entires into an excel sheet whenever you like. When I finished pumping with Harper I sent myself the excel sheet and added up the total amount of gallons I had pumped over a yearlong period and then Kevin and I joked about how many gas tanks that would fill. LOL…it's the little things.
Medela PISA breast pump
Did you know that your insurance likely covers a free breast pump for you? I didn't realize this when Harper was born so I paid out-of-pocket for a pricey Medela pump. This time around I knew about this benefit so through my insurance I ordered another Medela PISA pump. This is just the simple one that comes in its own box versus the one I bought with Harper which is built into a tote (it's this one). Just to be clear, it's the same pump in different "packaging." I keep one pump on my nightstand and this smaller one in my living room near my couch where I pump during the day. I actually prefer this smaller one because it's so easy to tote around if I need to. I could easily take it into the car or anywhere, really. Eventually I plan to keep one pump at work and one at home, but it's been nice having one on each floor during my maternity leave. I have always liked this pump though I know some other brands work better for different people.
I hope this post was helpful for you nursing and/or pumping moms and moms-to-be! Please let me know if you have any questions!