I'm loving these Friday Five posts because it's a chance for me to kind of be all over the place with things I want to share.
O N E
First things first, something kind of exciting happened this week and it makes it so much easier to shop online if shopping from your Instagram feed is your jam. No more need for liketoknow.it emails— now there's a liketoknow.it app, and when you download it, you get all of your likes and screenshots ready to shop in the app. Yes, I said screenshots. More details about how to use the app are below, but it's a game-changer. So much easier than waiting for emails or going to someone's liketoknow.it page— everything you like and screenshot (even on snapchat!) is shoppable right from the liketoknow.it app. You can download it here.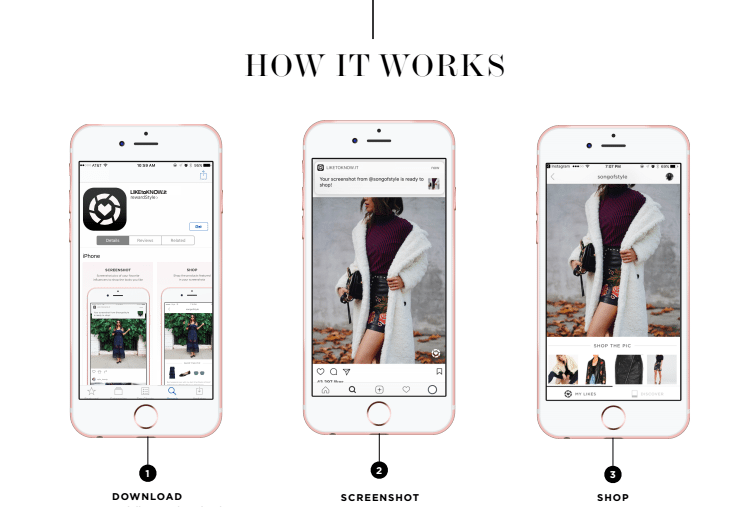 T W O
I made it to the gym four days again this week (and may go once over the weekend) and though I'm not really seeing a ton of results yet physically, I'm much stronger than when I started, can lift heavier weights and I feel better overall. Feeling sore from a great workout is the best!
So— here's where I need your help! I want to purchase this FitBit and I'm sure many of you have one— what do you think? I want to track my workouts and sleep. My husband suggested I get an Apple watch, but I'm thinking that's way more than I need. Let me know your thoughts in the comments.
By the way, I've been wearing my new shoes for my workouts and they're great. I sized half a size up than my usual and they're a perfect fit.
 T H R E E
Our new headboard is set to arrive sometime in April and I can't wait! We chose the Suzanne Kasler "linen blanc" fabric so I'm eager to see it come together. I also ordered these pillows recently and they should arrive soon.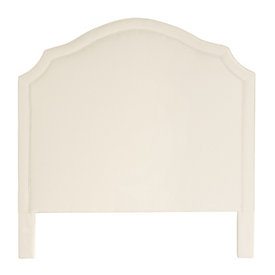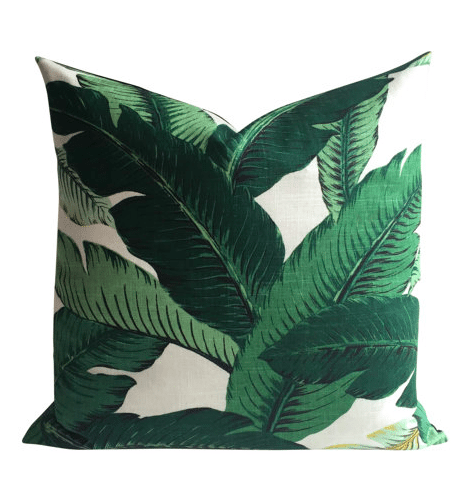 F O U R
Speaking of home decor, we're replacing our dining room chairs and the new ones should arrive next week. I love our upholstered dining chairs, but after we hung our new mirror, I was experimenting with our bamboo armchairs and I loved how they "opened-up" the space. The upholstered chairs are quite tall and opaque, so they take up a lot of visual space in the room. I think the open-back design of the bamboo chairs, which are also lighter in color and shorter, will make the space feel airy. I ordered the armless chairs since we already have the two bamboo armchairs to use as end caps if needed.
I'm planning to start trying to eat dinner at our dining table. We always eat at our kitchen island, but it's not conducive to family bonding and discussion since we aren't facing one another. I was always so worried about "ruining our table" because it's unfinished wood, but it already has flaws since the wood is reclaimed and I'll use place mats and hope for the best. Lincoln will still use a high chair but because the height is adjustable, we can pull it right up to the table.
Do you have family dinners at your table? I would love to hear about your family dinner traditions!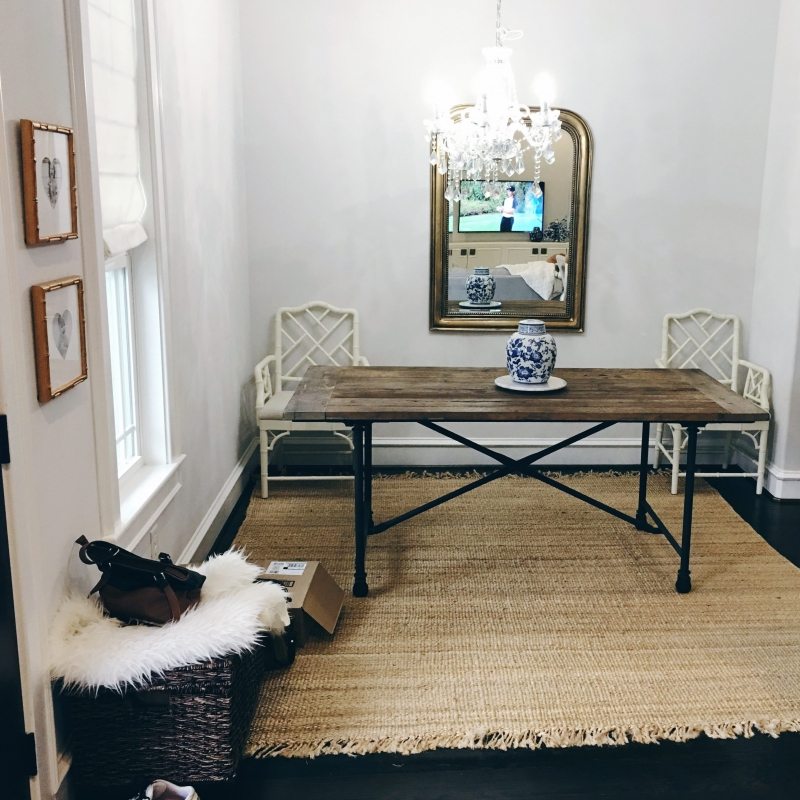 F I V E
I've been listening to a lot of podcasts lately about living with intention, balancing life as a working mother, and more (The Lively Show is excellent for these). I've always enjoyed sharing posts about working motherhood (y'all know I'm very passionate about my work) and since the topic is fresh on my mind, I decided to share some thoughts today. I'm sure many of you have heard of or read Sheryl Sandberg's book "Lean In." I haven't read it, so I can't comment on its full range of content, but one of the reasons I haven't read it is because, to be honest, I don't want to lean in.
But I have to preface all of this by saying I agree with many things in the book— there are still too few women in leadership roles, men should be equal partners, etc. (you can read a discussion guide for the book, here to get a general sense of what is covered in each chapter). I also think Sandberg wants to encourage more women to strive for leadership positions to make it better for our daughters and their daughters, which is critical. So, this is not a critique of the book, this is more of a reflection about our overworked society that celebrates people for coming in early and staying late, when really, I can't imagine anyone would choose to live that way if those expectations and pressures did not exist.
I worked hard to be promoted and I'm happy with where I am in my career, doing work I enjoy and find valuable and fulfilling. I don't want to "lean in" if that means waking up really early to answer emails (instead of exercising), being at work all day, and then coming home to work some more after the kids are asleep. Quite frankly, that sounds awful to me. Granted, I do work on my blog some evenings, but it doesn't feel like work because it's fun and if I don't feel like doing it— I simply don't.
America glorifies being busy and our culture supports (and sometimes, expects) people to be addicted to their work. How often do you find yourself responding "keeping busy!" when someone asks how you're doing? Probably more than you think, and it's because we are taught that busy= success. Busy= what we should strive for. Busy= productive. But at what cost?
If we ever want anything to change — and that includes people being happier and more productive at work, then we need to give people time to spend with their families, take care of themselves, pursue their interests, etc. People who work constantly eventually burn out, stop thinking creatively and critically and lose passion for what they do— and that's not the kind of life I want. Of course there are occasionally times where I have a late meeting or have to attend to a work matter over the weekend— but that is the exception, not the norm, and I want it that way. Sometimes it seems like it's not okay to want balance. That you don't "care enough" if you want to work your 8 hours and leave to be with your kids. I'm fortunate to work in an environment where many people are in my same position (with families), but that doesn't mean you never feel any pressure, whether it's self-imposed or not.
This year, one focus of mine is to be unapologetic about my desire for balance. To never feel guilty for leaving at 8 hours on the dot. Instead, I'll focus on how much I accomplish being a mother of two, a wife, working full-time and running this blog. I'll focus on how every year, I exceed the results expected of me on my work evaluation, and remind myself of this regularly. I'll focus on how much happier I feel when I release myself of the guilt I sometimes feel for not wanting to lean in. Isn't it OK to be happy as we are?
Below are some links to articles I've found to be good reads on this topic. The first, from The Guardian, is about Americans being addicted to work. An excerpt:
"Ladies, it's not sustainable. We have interpreted the call to take our place at the table as a call to office addiction. Worse than that, we've dressed this addiction up as female empowerment and equality. Now I know that isn't Sandberg's, or anyone else's intention. I often preach that women need to put themselves forward for more opportunities but the message has been confused. It's not "do more, do more and then do some more". It's not a call for long hours over having a life."
The second, from The Washington Post, suggests we recline instead of leaning in. An excerpt:
"Here's the thing: We've created a world in which ubiquity is valued above all. If you're not at your desk every night until nine, your commitment to the job is questioned. If you're not checking email 24/7, you're not a reliable colleague."
Another must-read is this piece, from The Atlantic, titled "Why Women Still Can't Have It All." It's a really lengthy piece, but very much worth the read.
What are your thoughts on this topic?